Winter 2021/2022 Hiking Gear Rental Sale!

Hike in Whistler News: November 10th, 2021: We are celebrating winter with a huge sale!  25% off everything!  We rent the best hiking gear at the best prices and with the best service.  We deliver and pick up anywhere in Whistler for free.  If you are driving up from Vancouver to go to Garibaldi Provincial Park, we deliver/pickup to the Rubble Creek trailhead for free as well!(on rental bookings over $100).  Let us do all the gear planning, maintenance and cleanup for you!  Pick up your gear at the trailhead and we will pick it up when you are done! We rent everything you could possibly need to hike in Whistler and beyond. We Rent complete hiking kits, so all you need is to bring clothes, food and drinks. All our hiking gear is top quality, ultralight and very expensive.. but not for you. We rent our top quality gear at bargain prices and all summer long we are taking 20% off our already amazingly low prices!
Searching Availability...
Madeley Lake Accessible Again!
Hike in Whistler Blog: July 8th, 2020: One of Whistler's most impressive drive-to mountain lakes, Madeley Lake is accessible once again. It appears a large public outcry forced, or at least embarrassed Whistler Olympic Park into opening the gate that was installed in the springtime barring public access. They have also removed the sign on the gate warning that entering the area is considered trespassing. Whistler Sport Legacies managed to gain control over this road in recent years by arguing the necessity to groom it in the winter. Evidently a forest service road cannot be legally groomed for skiing, so granting Whistler Sport Legacies the lease on Madeley Lake Road must have seemed like a harmless decision. To then parlay that decision into blocking the road in the summer to the public seems very dishonest.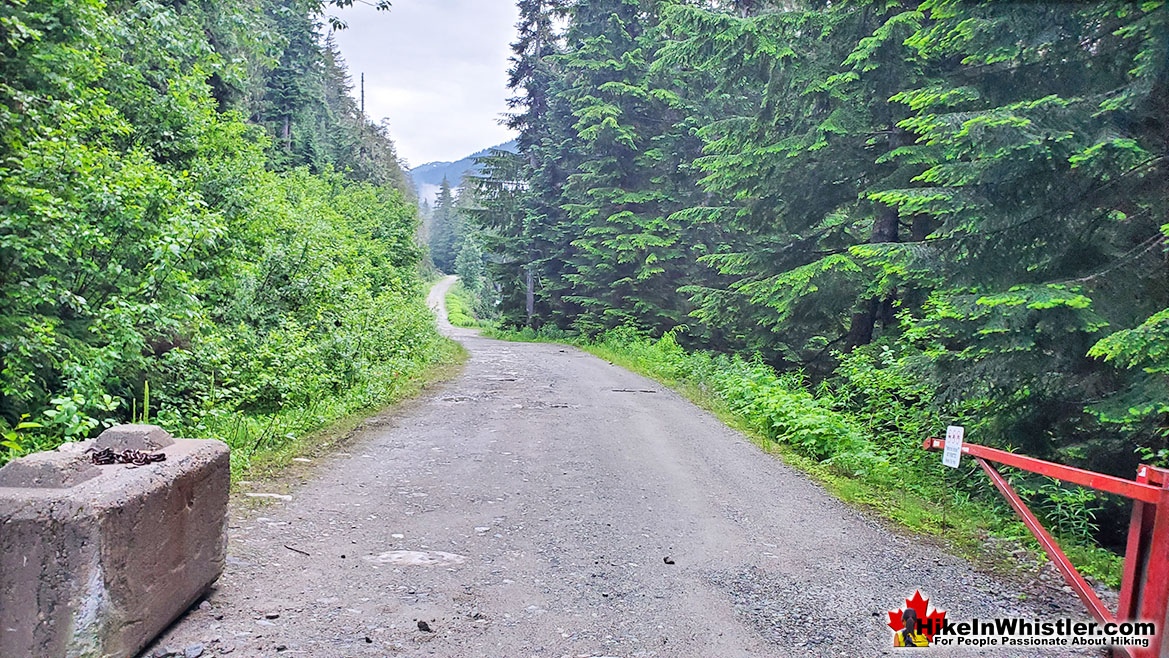 Considerable hiking trail maintenance work in the last few years has gone on around Madeley Lake, which links it to Hanging Lake and Rainbow Lake. Obviously the trail work would not have been done if the trail was to be blocked by Whistler Olympic Park. The most shocking thing about Whistler Sport Legacies installing the gate is that no one seems to have known about it. Continued here...
Madeley Lake Closed?
Hike in Whistler Blog: June 13th, 2020: One of Callaghan Valley's beautiful places appears to be now blocked from the public. Madeley Lake, about as perfectly idyllic a lake can possibly get, and home to a wonderful, secluded, free and decades old campsite, is now blocked by a locked gate. Whistler Olympic Park, which was constructed for the 2010 Olympics resides at the end of Callaghan Road. Madeley Lake is found in the beautiful wilderness beyond, at the end of an old logging road. Just before Whistler Olympic Park and near the end of the paved Callaghan Road, you can turn left onto Callaghan Lake FSR. After about 300 metres Madeley Lake Road veers off to the right. It seems that Whistler Olympic Park quietly expanded to encompass Madeley Lake Road and Madeley Lake.

Though the Olympics came and went 10 years ago, only this year they have decided to prohibit the public from the access road to Madeley Lake that predates Whistler Olympic Park by several decades. The new gate reads, "Warning, entering Whistler Olympic Park core area, you are required to have a ticket or you are trespassing."
Happy New Year Hiking Gear Rental Sale!

Hike in Whistler News: January 1st, 2020: Happy new year in Whistler and the snow is finally falling.  We have winter down sleeping bags for rent that are incredibly compact, lightweight and very, very, very, very warm!  Our sleeping bags are rated to -12c/10f!!  We also rent MSR Evo Elite snowshoes which are about as good as it gets for snowshoes.  Well designed, easy to use and very comfortable, Evo Ascent snowshoes are ideal for Whistler's beautiful snowshoe trails!  To celebrate the new year in Whistler we are offering 15% off everything until March 31st 2020!  That's 15% off our already low prices on snowshoes, sleeping bags, tents, hiking stoves, backpacks, sleeping pads and a lot more.  We don't just ren

t the best quality hiking gear at bargain prices, but we deliver and pick it up for free.  That means you can arrive in Whistler, check into your hotel and your gear will be waiting for you in your room!  When you are finished exploring the amazing trails in and around Whistler and Garibaldi Provincial Park you can drop everything off at the Bell Desk or Front Desk of your hotel.  It doesn't get any easier or more convenient than that!
Northair Mine Ravens Mural
Hike in Whistler Blog: December 21st, 2019: Way up in the Callaghan Valley on the back side of Mount Sproatt is an abandoned gold mine.  Old cement foundations and two unexpectedly beautiful lakes mark the location of Northair Mine, abandoned in 1982.  For about 5 years it was a fairly productive gold mine that extracted 5 tons of gold.  Largely forgotten for years, in the last decade it has come to life with colour of graffiti artists and muralist.  New this past year Kris Kupskay, aka Kups has created a marvellous mural on the broad, south facing, outside wall of the cement foundations.  The walls were almost completely free of paint just a decade ago.  In 2014 some murals started appearing, including the funny blue Get to High Ground mural and the Robot Snake by REKO in 2014.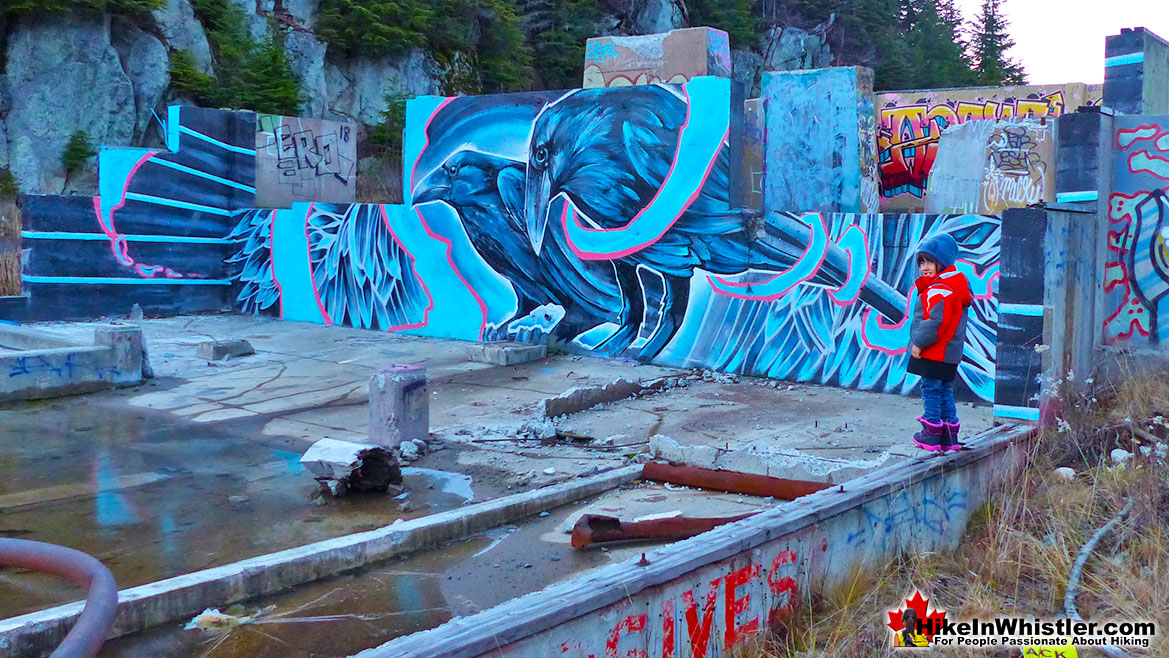 In 2019 Northair Mine has become pretty beautiful with a staggering collection of murals and graffiti art.  With uneven collection of foundation walls you find yourself wandering around as if looking at an art exhibit.. which it sort of is.  Especially when you consider Kris Kupskay is a much in demand, professional muralist.  His new Ravens mural has definitely given the place a surreal and beautiful aspect to it that it never had before.  Northair Mine has always been a pretty surreal place, hidden up in the wilderness and the addition of beautiful and colourful murals makes it even more special.  Northair Mine's beautiful new murals continued...
Where is Corrie Lake?

Hike in Whistler News: December 3rd, 2019: Corrie Lake is the surreal looking lake that can be seen across the valley from Whistler Mountain.  While hiking the High Note trail along Whistler Mountain it slowly comes into view, seemingly hanging in the forest on an otherwise steep sided, broad mountain.  The broad mountain that Corrie Lake sits within is called Corrie Ridge, which extend from Corrie Peak to Gentian Ridge.  The ridge is named Corrie Ridge because Corrie Peak is the highest peak along the ridge.  Corrie Lake, Corrie Peak, Corrie Ridge, Corrie Glacier and Corrie Creek all derive their name from the observation in 1916 by provincial botanist John Davidson who compared the lake to the corries of Lochnagar and Braeriach in the Cairngorms of Scotland.  Corries are glacier carved lakes usually found on the north facing slopes of mountains in the northern hemisphere.  Corries in the western world are more commonly called cirques, though corrie is generally used in the United Kingdom.  A corrie or cirque results from a north-facing glacier repeatedly gouging out a hollow where a lake forms.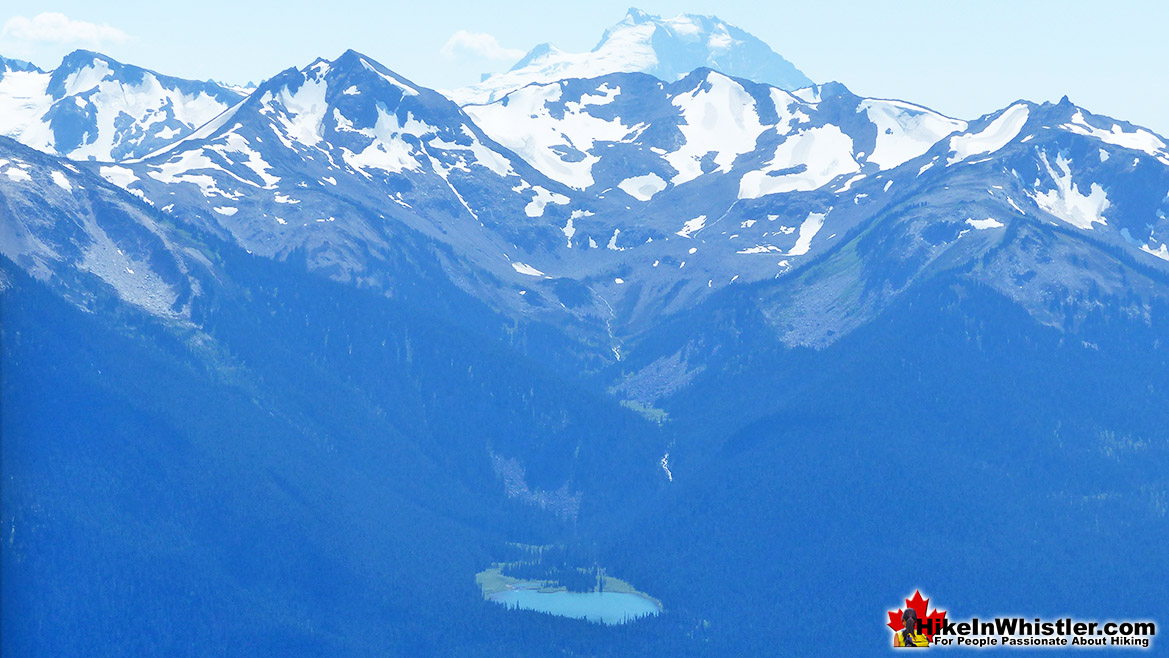 What is an Aiguille?

Hike in Whistler News: November 26th, 2019: An aiguille is a narrow, sharply pointed mountain peak, from the French word for needle.  Rethel Mountain next to Wedgemount Lake has a prominent aiguille which can be seen high up the mountain from the shore of Wedgemount Lake.  Wedgemount Lake in Garibaldi Provincial Park is one of the most impressive hikes in Whistler.  Another good place to see an aiguille is at Levette Lake, south of Whistler, near Squamish.  Looking across the lake you get a great view of the Tantalus Range and this marvellous aiguille shown here.  Levette Lake is a hidden little lake found just a short drive up Squamish Valley Road.  Whistler Glossary A to Z: Aiguille continued here...

For a look at some of the interesting geology, geography, history and amazing sights in and around Whistler, take a look at our glossary of Whistler.  The growing list includes: Ablation Zone, Accumulation Zone, Aiguille, A River Runs Through It, The Barrier, Bears,  Bivouac, Cloudraker Skybridge, Coast Mountains, Deadfall, Erratic, The Fissile, Fitzsimmons Range, Garibaldi Ranges, Garibaldi Volcanic Belt, Gemel, Green Lake, Hoary Marmot, Krummholz, Mt Garibaldi, Mt James Turner, Northair Mine, Overlord, Peak2Peak, Roundhouse, Rubble Creek, Spearhead Range, The Table, and Usnea(aka Old Man's Beard).
Whistler Fall Camping - Cal-Cheak Campground
Hike in Whistler Blog: October 22nd, 2019: The Cal-Cheak campground just south of Whistler sits in a tranquil, huge tree forest, nestled between Callaghan Creek and Cheakamus River.  Both Callaghan Creek and Cheakamus River are huge and chaotic torrents of turquoise water that surround the campground on three sides.  Cal-Cheak Recreation Site is divided into three campsite areas, Callaghan Camp is adjacent to Callaghan Creek, the North Camp is along Cheakamus River, and the South Camp has both merging around it.  The Cal-Cheak suspension bridge spans Callaghan Creek just before it flows into Cheakamus River.  Over fifty, well spaced and organized, drive-in campsites are dispersed throughout the forest and you are never more than a stones throw from a water view.  The Sea to Sky Trail runs right through the middle of Cal-Cheak and splits into two routes heading south on either side of Cheakamus River.
The trails meet again a couple kilometres downriver after the Whistler Bungee Bridge which crosses Cheakamus River at a dizzying height.  Another couple kilometres away, the Sea to Sky Trail takes you through Brandywine Falls Provincial Park, yet another beautiful sight within walking distance from your camp.  With the excellent location and beautiful setting, you would expect Cal-Cheak to be expensive, but it is remarkably cheap.  Whistler Fall Camping: Cal-Cheak Campground continued...
Whistler Fall Hiking - Jane Lakes
Hike in Whistler Blog: October 10th, 2019: Jane Lakes consist of three lakes that are well hidden in the vast wilderness adjacent to Whistler's Interpretive Forest.  West Jane Lake, East Jane Lake and Little Jane Lake are all so engulfed in the forest that they remain unseen until just a few metres away from the shore.  So hidden in fact, that when you do catch a glimpse of West Jane Lake, the biggest of the three, you can't help but be shocked at the sudden sprawling view.  It's not so much the grand size of West Jane Lake, though it is shockingly, unexpectedly, wonderfully huge.  But the absolutely perfect reflection off the mirror-like surface of the lake to show Black Tusk as you've never seen it before.  The wondrous geologic anomaly that captivates hikers in Garibaldi Park, skiers on Whistler Mountain and everyone that has driven almost anywhere in Whistler, is now both surprisingly close and perfectly twinned by the mirror reflection off the water. 
West Jane Lake is just 700 metres long, but the first vantage point you get when you see it through the trees seems to magnify it.  You kind of expect a small lake, like Newt Lake on Cougar Mountain, or Alpha Lake in Creekside.  But this lake has sections of vertical cliffs and a substantial and unbroken wilderness around it.  The forest is so deep around the lake that, even if there were other people around, you would never spot them.  No visible trails across the lake, no cut trees, no other hikers.  Nothing at all.  Just absolute silence.  Fall hiking in Whistler has a subtle serenity that you just don't get in the much busier summer months.  Whistler Fall Hiking: Jane Lakes continued here...
Extreme Bear Activity Closed Rubble Creek Today

Hike in Whistler News: September 29th, 2019: The Rubble Creek trailhead to Garibaldi Lake was closed today at 9am due to aggressive bear activity.  Two BC Parks trucks were parked at the trailhead and two large signs blocking the trail.  One of the BC Parks staff enforcing the trail closure at the trailhead explained that yesterday two or more black bears were exhibiting aggressive behaviour to hikers on the trail.  Black bears are frequently seen in Garibaldi Park and generally retreat from approaching hikers.  He said that two or more black bears were reportedly acting aggressively along the trail and posing a danger to hikers.  The encounters were reported late yesterday and the trail will be closed this morning for an undetermined length of time.  When asked for a guess at how long the trail might be closed, he said it would be unlikely in the next few hours.  He went on to explain that he is waiting for the conservation officers to arrive and then they will search for the aggressive bears.  If they are found to be aggressive they will be killed.  The problem, he went on to say, is that they may not be easily and quickly found, so the search may have to continue for several hours, or even days.  He did point out that if there are aggressive bears in the area, they will not shy away from people and likely be found later this morning.  He was waiting on the conservation officers at 9am this morning, but was unsure how quickly they would arrive.  So he expected the trailhead to be inaccessible to the public for at least the rest of today.

At the Rubble Creek trailhead this morning at 9am there were about 40 cars parked and a steady stream of cars driving up.  With plenty of hikers at Garibaldi Lake and Taylor Meadows waking up this morning, they will be surprised to find another BC Parks Ranger blocking the trail back to their cars.  The conservation officers may be escorting hikers down to the trailhead this morning, though hikers wanting to hike up to Garibaldi Lake today will have to wait until the area is cleared for safety.  In the meantime, many of the disappointed hikers at Rubble Creek drove up to the next trailhead for Garibaldi Park.  The Cheakamus Lake trailhead at 930am was already packed and a steady stream of cars on their way up the bumpy 8 kilometre access road to find a spot to park along the side of the road.  At the trailhead there were plenty of discussions going on about whether to hike to Panorama Ridge and/or Black Tusk from this direction and camp at Helm Creek or hike the easier and shorter trail to Cheakamus Lake.
Whistler Fall Camping - Newt Lake
Hike in Whistler Blog: September 25th, 2019: Newt Lake is a fantastic, emerald coloured and very hidden lake up on the far side of Cougar Mountain.  In the busy summer months you are not likely to see anyone on the trail or at the lake.  In the much quieter fall months, you almost certainly won't.  The unmarked trailhead is found at the end of the Ancient Cedars trail between the "TREES IN THE ANCIENT CEDARS… DOUGLAS-FIR" info board and the bridge.  Unmarked and obscured by deadfall, the Newt Lake trail is actually very well marked with ribbons and tree markers.  After you climb over or around the fallen tree that blocks the trailhead, the trail is pretty easy to follow.  As long as you hike roughly parallel to the small creek which can be seen and/or heard on your right for a couple hundred metres.  The wildness of forest is readily apparent as the trail zig-zags around fallen trees and the creek is a continuous tangle of criss-crossing trees.  The sky is almost entirely blocked by the tangle of trees above and what light that does get through reflects off the sea of yellow, fall leaves.
Devils club grows in big patches at Ancient Cedars and along the start of the Newt Lake trail.  The Newt Lake trail is pretty tough, steep and wildly overgrown, but at just 2.4 kilometres it is short enough to be more fun than difficult.  And owing to the wildness of the forest and chaotic terrain, you focus a lot on the next tree marker and constantly changing topography and never get bored.  One minute you are marvelling at an ancient, fallen tree lined with dozens of baby trees growing out of it, the next you are staring at a decades old, octopus-like tree with roots grasping a car sized boulder.  In another moment the trail takes you up a sharp ridge and above the dark canopy of trees and you find yourself blinded by the sun and surrounded by weather battered, mangled trees(aka: krummholz) covered in usnea(aka: old man's beard).  Whistler Fall Camping: Newt Lake continued here...
A River Runs Through It Emerald Pool
Hike in Whistler News: September 11th, 2019: The notoriously difficult biking trail in the wilderness between Emerald Forest and Rainbow Park is a pretty fun place to wander around.  It zig-zags through the deep stretch of forest with Alta Lake Road along one side and the train tracks and the River of Golden Dreams on the other.  A River Runs Through It, or ARRTI as it is more affectionately called by the locals who love it, is buried in such a thick forest that you often only see slivers of sky above and wandering off the trail leads you to bizarre and beautiful places.  A skeleton relic of a 1976 Chevrolet Vega is so consumed by the forest that it is nearly invisible.  A dirt road once existed here that now ends in a tangle of forest with this decades old abandoned car near its end.  A trail appears to have been cut in the previous week here and upon encountering this obstacle, the trail had to be cut in an abrupt arc around the car.  The recently chainsawed trail continues through the forest for a couple hundred metres to a big clearing a stones throw from the train tracks.  Back on ARRTI, just up from the bridge over Twentyone Mile Creek is a tranquil little emerald world.  An enormous water pipe under Alta Lake Road allows the huge torrents of water pass under and continue to meet the River of Golden Dreams.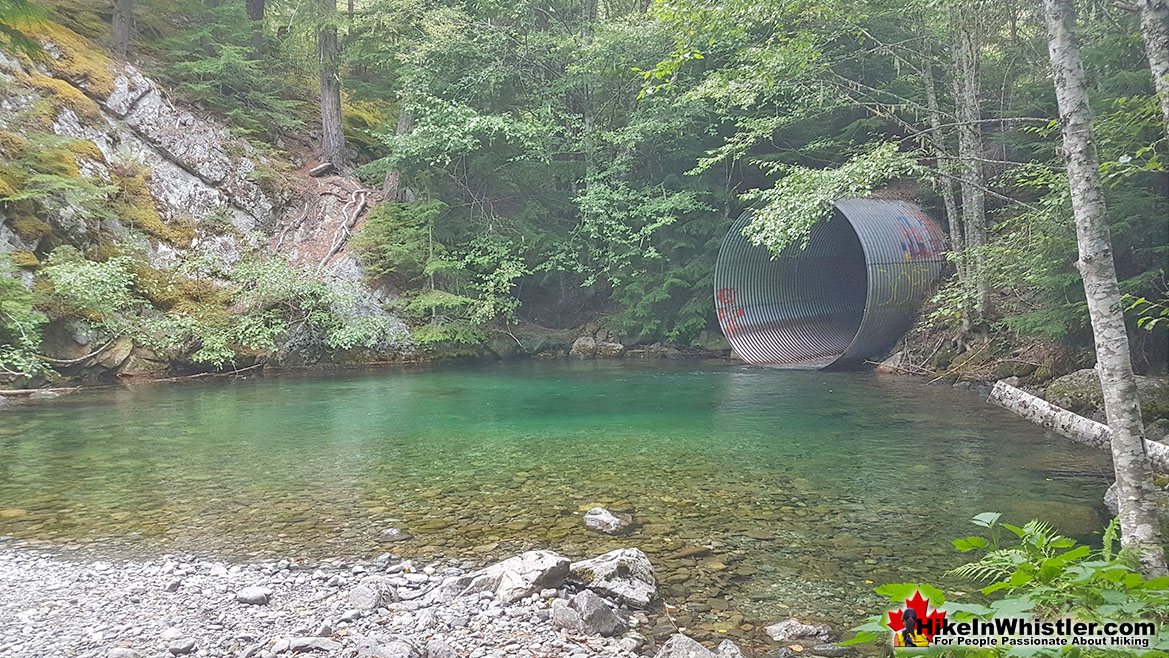 This time of year, Twentyone Mile Creek is not so much a huge crashing creek, as it is a tame little creek.  With such a small amount of water flowing through, the huge creek bed of large polished boulders is dry and unexpectedly beautiful.  A big and tranquil emerald coloured pool is nestled next to Alta Lake Road. The water pipe, which is big enough to drive a car through, is channelling barely a trickle.  With the road so far above it is easy to forget it is there.  Serene and beautiful in September, but in a few weeks the rainy days of October will transform this quiet creek into a chaotic, crashing creek once again.  A River Runs Through It continued here...
Whistler Train Wreck - Prism Mural
Hike in Whistler Blog: May 16th, 2019: The Prism mural can be found perched at the edge of Cheakamus River near the Whistler Train Wreck suspension bridge.  After you cross the bridge and approach Whistler Train Wreck you see an information board and the first two wrecked and marvellously painted boxcars.  The one on the left has the beautiful Hidden Agenda mural painted inside, painted by Kris Kupskay(aka: Kups) in 2011.  On the boxcar on the right, and on other side you will find the beautiful mural of a cartoonish character staring at a prism.  The masked creature with horns is surrounded by bright, blue graffiti style lettering.
The Prism mural is one of the original murals from 2011 that still remains intact.  Whistler Train Wreck went from a curiously interesting, old train wreck site, to a brilliant collection of stunning murals during that one summer night in 2011.  Whistler Train Wreck - The Prism Mural continued here...
Whistler Interpretive Forest Trailhead

Hike in Whistler News: May 14th, 2019: The Whistler Interpretive Forest trailhead parking area is almost finished its big redesign.  A nice retaining wall, outhouses, picnic tables and nice picnic area.  Last fall large mapboards were installed to replace the old, outdated one.  Now there are excellent and huge maps of the area's hiking trails and all sorts of useful information.  The Whistler Interpretive Forest trailhead parking is the base to many hiking and biking trails in the area.  The Whistler Interpretive Forest trails emanate from the parking lot.  The Sea to Sky Trail runs along the edge here as well.  The Rainbow-Sproatt Flank Trail across the highway in Function Junction uses this parking lot as well.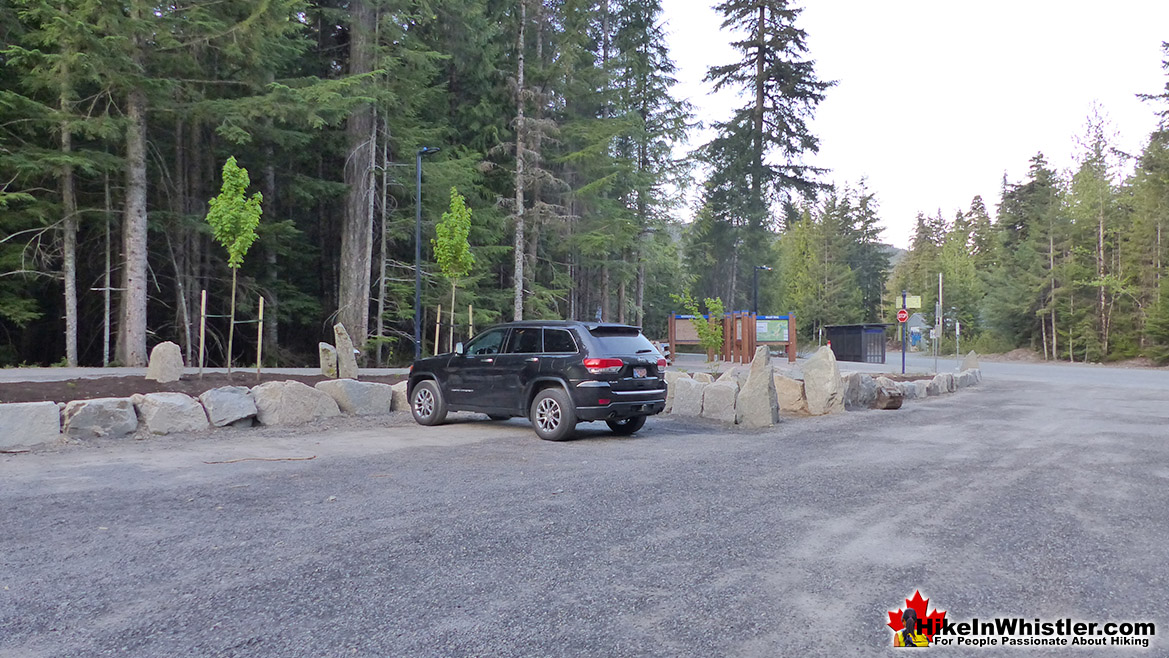 The finishing touches are going in this week and the new Whistler Interpretive Forest trailhead parking lot renovation should be finished next week.  More info for Cheakamus River and Whistler Interpretive Forest...
Whistler Train Wreck - Greatness Mural
Hike in Whistler Blog: May 10th, 2019: Whistler Train Wreck is home to several stunning murals painted on the old wrecked boxcars.  Mixed with graffiti art, some of murals stand out from the rest.  In 2014 a beautiful mural was painted at Whistler Train Wreck in an unmistakably Salish style.  A killer whale stretches in an abrupt arc with other surreal looking animal faces meshed along the body.  Framed by a pink border and a large, golden sun-like disk behind, the brightly designed mural stands out sharply against the mess of graffiti covering the rest of the boxcar.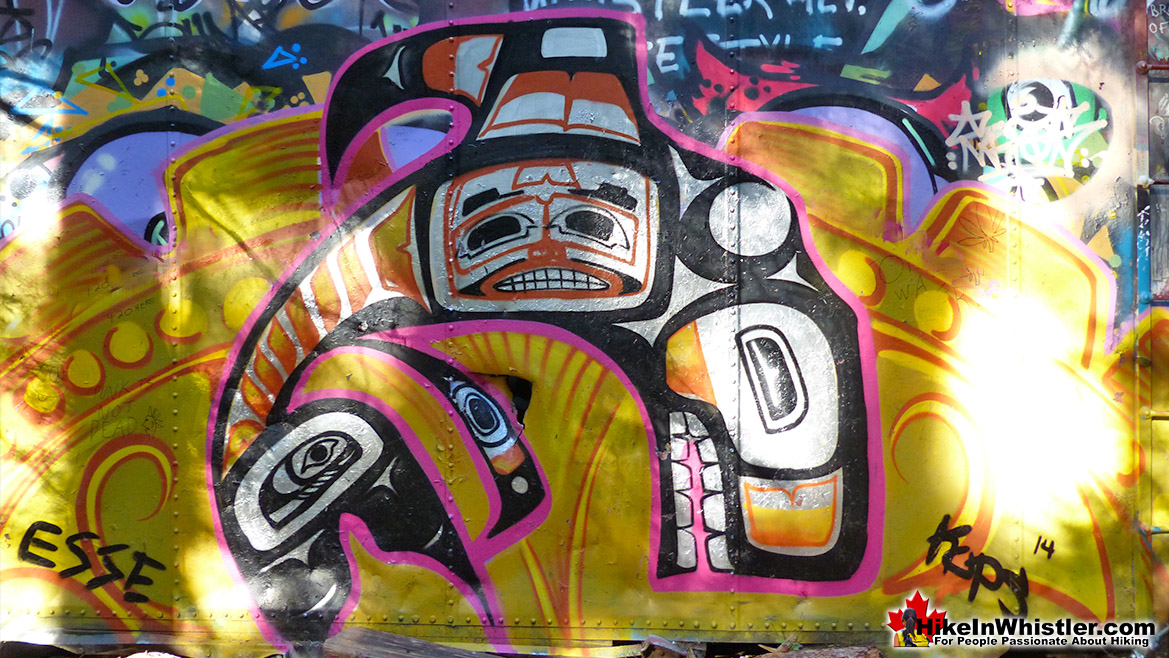 At one end of the boxcar a small, stencilled square of writing: "If you want to achieve greatness, stop asking for permission." This beautiful mural, signed by the Kups in 2014 is one of several of Kris Kupskay's(aka: Kups) beautiful murals that make, or made Whistler Train Wreck an amazing place to visit.  Whistler Train Wreck - Greatness Mural by Kups continued here...
Cheakamus Lake Access Blocked Until "Spring 2019"

Hike in Whistler News: May 9th, 2019: The access road to the Cheakamus Lake trailhead is currently blocked by logging vehicles with an annoyingly vague date for completion.  The sign reads: "Do not proceed past this point.  Active logging is occurring ahead.  Logging trucks and equipment are using the road.  The Cheakamus Lake Forest Service Road is closed until spring 2019 as the Cheakamus Community Forest conducts fuel-thinning activities to decrease the risk of wildfires.  Rehabilitation work will be done in the spring to ensure all trails are available for public.  The Farside trail will remain open up to the MacLaurin Crossing suspension bridge.  There is no trail access beyond."  There is no indication of when they might be finished, but it appears they are far from finished.  Driving up early in the morning or late in the evening likely won't work as they will park their construction vehicles to block the road.  Today they were hacking away at the forest about two kilometres from sign pictured below.
As this construction will probably drag on for weeks, there is a good alternative(if you are adventurous) to get to Cheakamus Lake.  The Westside Main forest service road runs along the opposite side of Cheakamus River and takes you almost the same distance along the river.  This is the same road that you use to get to Logger's Lake.  If you keep driving past Logger's Lake you will come to the dead end at the big yellow(locked) gate to the Black Tusk microwave tower road.  Running almost parallel to this road, on the left you will see a deactivated forest service road.  You should park in the large area at the start of this road and not try to drive down it. This old road runs along Cheakamus River until it ends at Helm Creek.  If you can manage to get across Helm Creek you will connect onto the Helm Creek trail, which after just a couple hundred metres reaches the Helm Creek bridge over Cheakamus River.  This trail connects to the Cheakamus Lake trail 1.5 kilometres from the trailhead.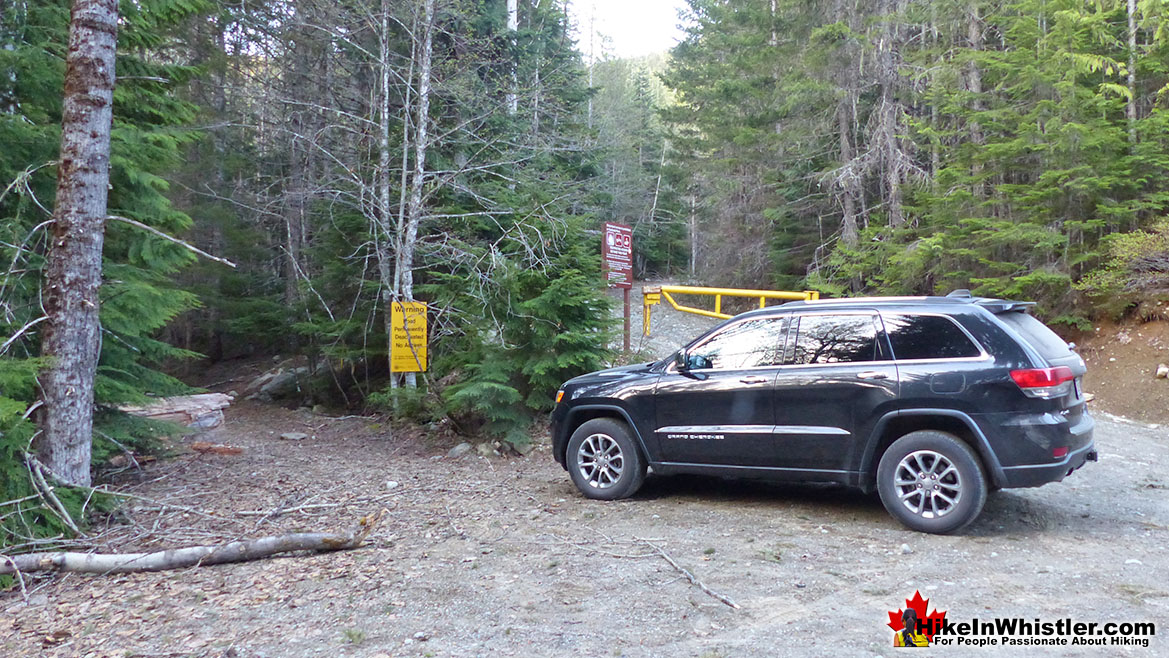 Pictured above on May 9th, 2019 is the start of the deactivated forest service road on the left and the locked yellow gate to the Black Tusk microwave tower on the right.  There is a large unmarked parking area here so you don't have to worry about blocking either road.  Keep in mind that you may be wasting your time hiking this way if you are unable to cross Helm Creek, which of course does not have a bridge.  You will have to get wet crossing it and do so at your own risk as water levels vary dramatically.
Whistler Train Wreck - Kups Mic Man
Hike in Whistler Blog: May 8th, 2019: After crossing the bridge to Whistler Train Wreck you come to the Hidden Agenda car and sloping down to the edge overlooking Cheakamus River is the Prism Car.  The next wrecked boxcar you come to is the Mic Man car.  This train wreck turned canvas is the most painted car in all of Whistler Train Wreck.  It first came to life with brilliant colour back in 2011, when Kris Kupskay(aka: Kups) painted a brilliantly surreal, cartoonish mural of a zombie-like man singing into a microphone.  He is wearing a mask over his head like an old school wrestler from the 70's would have worn.  On the forehead of the mask it appears to be a Canadian flag.  His zombie-like sideways stare can be seen through the eye holes and mouth/nose hole. 
The mural covers the entire side of the train car and it seems likely that most or all of it was done by Kups.  No obvious "Kups" signature could be spotted, however along the end of the very mangled boxcar the mural seems to continue and there the Kups signature was located.  Whistler Train Wreck - Mic Man continued here...
Whistler Train Wreck - Kups Zombie
Hike in Whistler Blog: May 5th, 2019: The summer of 2011 was the time when some local Whistler artists ventured into the wilderness between the crashing Cheakamus River and train tracks that cut through the middle of Whistler.  Of the marvellous works of art that were painted that summer, Kris Kupskay(aka: Kups) has the most impressive and long lasting murals in Whistler Train Wreck.  One bizarre and beautiful mural hides further out from the other wrecked train cars.  Walking into the woods for about 5 minutes brings you to the stunning Kups Zombie.  This large, colourful mural covers half the side of one of the old train wrecks and stretches from bottom to top.  Painted by Kris Kupskay in 2011 during the Train Wreck Paint Jam organized by another local legend in Whistler, Chili Thom.  Several murals created at the Paint Jam in 2011 were gorgeous.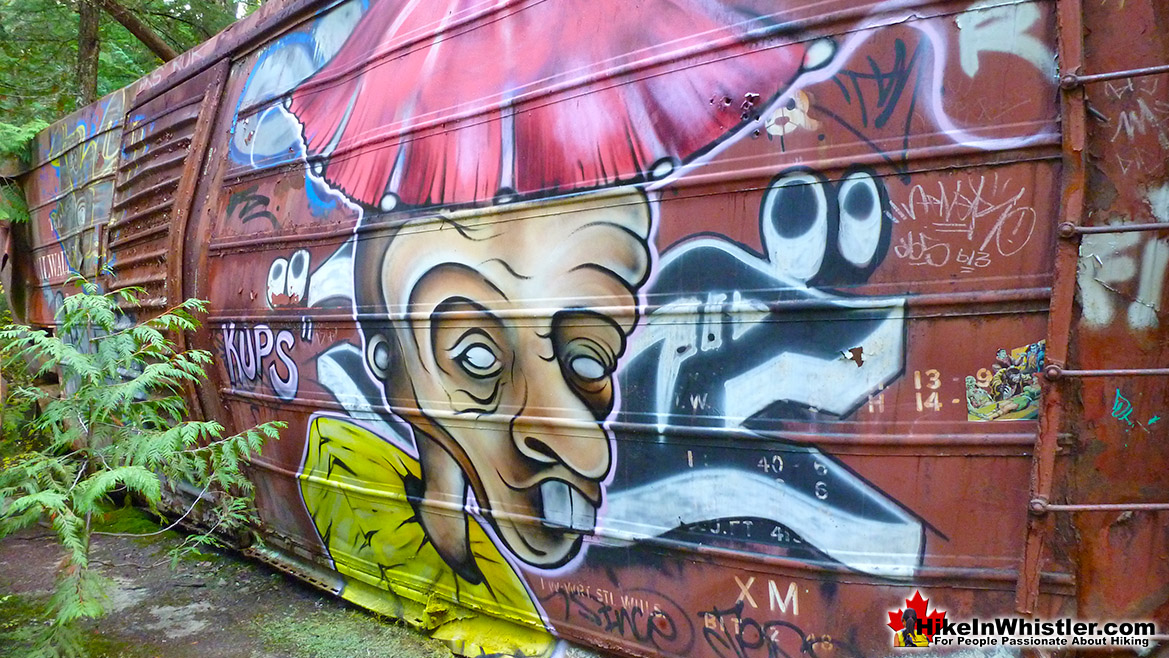 Brilliantly coloured and surreal in such an unusual, tranquil and hidden forest with seven mangled train boxcars scattered.  Whistler Train Wreck went from a curiously interesting, old train wreck site, to a brilliant collection of stunning murals during that one summer night in 2011.  Whistler Train Wreck - Kups Zombie continued here...
Whistler Train Wreck - Hidden
Hike in Whistler Blog: May 3rd, 2019: The beautiful murals that make Whistler Train Wreck the magical place it is today, began appearing in 2011.  Artists ranging from aspiring graffiti artists that mostly remain unnamed, to tremendously gifted professional mural artists like Kris Kupskay.  Kris Kupskay(aka: Kups) is a prolific mural artist with stunning works that can be seen all over Whistler and the lower mainland.  One of his hauntingly beautiful murals can be found inside the first boxcar you come to after crossing the bridge into Whistler Train Wreck.  Though most of the murals at Whistler Train Wreck are big, bright and hard to miss, others are not so easy to spot.. yet stunningly beautiful.  On the outside of the Hidden Agenda car, on the end facing away from the river you will find a strange, usually brightly coloured metal wheel attached to the car.  As the car is laying on its side, the wheel would have been at the top of a ladder and must have been used to open and close something.  The ladder is also still there, mangled, horizontal and usually brightly coloured similar to the wheel.  Around the same time Kups was painting the Hidden Agenda mural, another marvellous work of art was created in this unlikely spot.  Easy to miss, the Hidden mural covered more than half of the outside end of the boxcar.
What makes the Hidden mural so impressive is not just the intricate texture and seemingly chaotic colouring, but the fact that the corrugated metal of the 'canvas' was incorporated into it.  The arm of the figure in the centre runs along the deep bend in the metal and continues into the shadow that defines the legs.  We haven't figured out the artist behind this mesmerizing mural, but we're working on it.  Sadly this extraordinary work of art didn't last long before being covered by a pointless and random collage of junk graffiti.  Whistler Train Wreck - Hidden continued here...
Whistler Train Wreck - The Hidden Agenda
Hike in Whistler Blog: April 29th, 2019: Back in 2011 a group of Whistler artists met at Whistler Train Wreck and transformed it from a bland array of wrecked train cars into a stunning, surreal art exhibit.  The seven mangled train wrecks lay scattered in the forest along Cheakamus River for decades, before being brought to life by talented Whistler mural artists.  The Train Wreck Paint Jam, an all day, all night graffiti artist party organized by Chili Thom and Kris Kupskay.  Chili Thom, who recently passed away in 2016, was a cherished local artist with over 400 stunning paintings of Whistler and British Columbia landscapes.  Kris Kupskay(aka: Kups) is an insanely gifted mural artist with startlingly beautiful works just about everywhere you look in Whistler.  Many of the most stunning paintings in Whistler Train Wreck are Kups creations.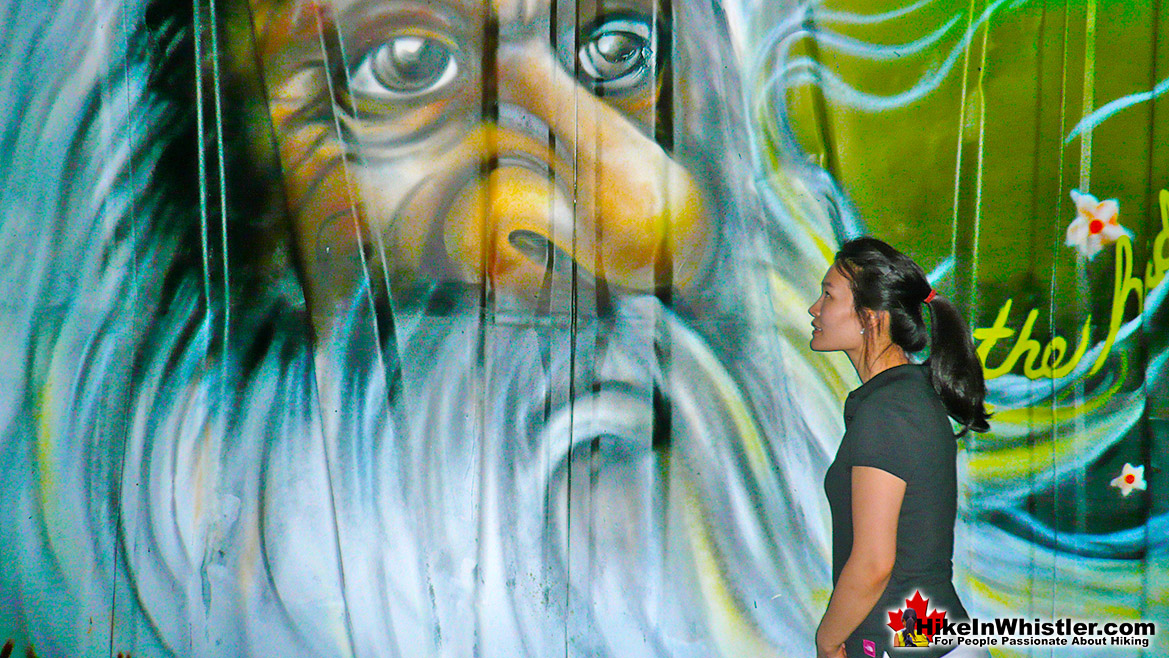 The first train wreck you come across after you cross the bridge over Cheakamus River has The Hidden Agenda mural inside.  This enormous mural from floor to ceiling of an old man with a flowing white beard stretching out to the words, the hidden agenda...  Whistler Train Wreck - The Hidden Agenda continued here...
Rubble Creek Trailhead Park Open
Hike in Whistler Blog: April 8th, 2019: The Rubble Creek trailhead to Garibaldi Provincial Park is finally accessible by car.  The snow buried access road is mostly free of snow.  Just a few short patches of snow that most cars shouldn't have a problem getting past.  The top parking area is currently closed and under construction.  Piles of cut trees are stacked up in the parking lot and the large trailhead information board has been cut down and lays partway down the parking lot on its side.  Looks like a war zone while construction crews expand the upper parking lot and reconfigure Garibaldi Park's most popular trailhead.  The Rubble Creek trailhead is the main access point for many of the best hikes and sights in Garibaldi Provincial Park.  Rubble Creek is located midway between Whistler and Squamish, just 2 kilometres from the Sea to Sky Highway.  The name Rubble Creek is evidently quite appropriate when you reach the parking lot and see the remnants of what must have been a terrific rock slide not that long ago.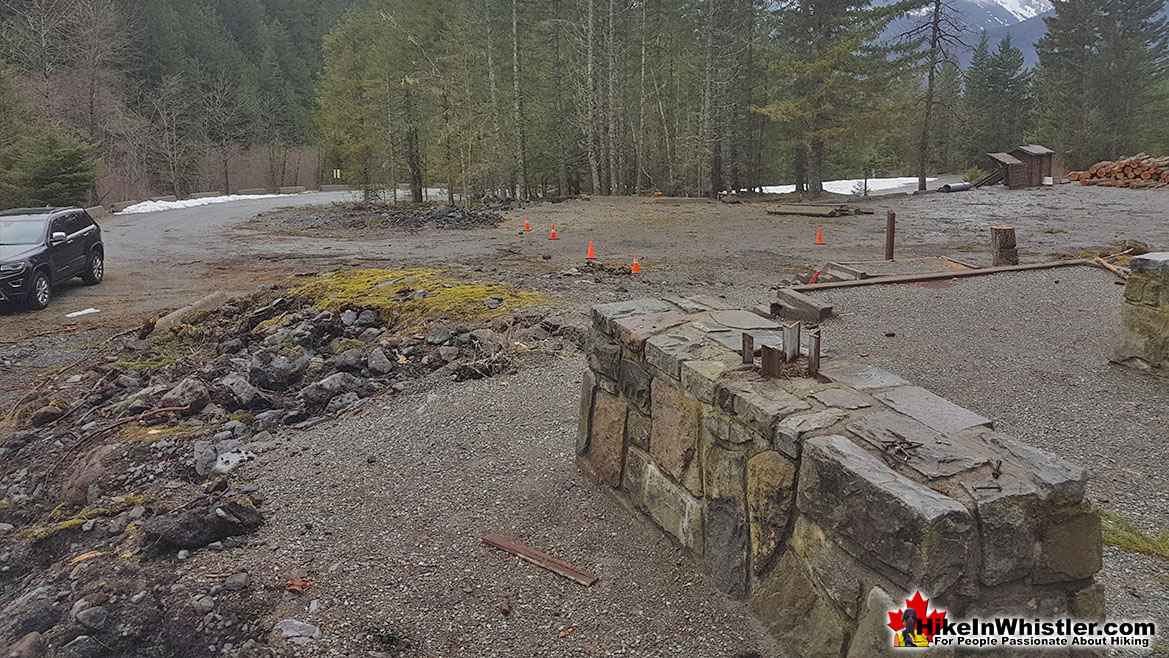 Giant boulders fill the river and river valley that sharply ascends up the valley toward The Barrier and Garibaldi Lake.  The Barrier is a magnificently abrupt and unstable rock formation that holds back Lesser Garibaldi Lake and just two kilometres further, Garibaldi Lake.  Rubble Creek Trailhead Open continued here...
Callaghan Valley Plane Crash
Hike in Whistler Blog: September 20th, 2018: Alexander Falls, high up in the Callaghan Valley in Whistler has some interesting historical murals and a mysterious plaque. The information board with as short history of the areas surrounding the falls, complete with museum-like pictures of the regions logging history. One depicts, "A Land of Giants" and describes, with photos, how incredibly huge trees were cut down and moved. One picture from 1910, shows 10 men sitting on an enormous, felled tree and looking tiny by comparison.  The depiction goes on to show how First Nations people felled trees as long as 8000 years ago. The history of logging continues to present day logging practices in British Columbia and around Whistler are depicted in another nice museum-like mural on BC's "Green Advantage" and sustainable future. The drive to Alexander Falls is very nice. As soon as you turn off from the Sea to Sky Highway into the Callaghan Valley you ascend quickly into the mountains. Bears along the roadside are frequently seen as they seem to have a particular fondness for the fields of grass that grow in the sunny meadows that surround this recently constructed, paved road.  On the viewing platform there is a memorial plaque that reads: "In Memory of F/O Gerald S. Stubbs and F/O James E. Miller. Members of 409 Squadron who perished in this area on 22 March 1956."

This memorial refers to a mysterious plane crash of a Canadian fighter plane who's occupants have never been found. For several years it was thought that the plane went down in the Pacific as it was flying over from Vancouver Island on a routine training flight in a T-33 Silver Star. Indeed, the search took place over an area 32 kilometres northeast of Comox(Vancouver Island). A considerable distance from where you are at Alexander Falls. The search eventually wrapped up with the assumption that the plane went down in the ocean.  Callaghan Plane Crash continued here...
November 23rd, 2021:
Wonderful winter 2021/2022 hiking gear rental sale.  25% off everything!  Use code: WINTER on checkout.  We now rent 4 season tents!  MSR ...
Read More
October 21th, 2018:
Pack smart by putting heavier items close to your back and higher up your pack.  Be organized and think of keeping important things ...
Read More
May 3rd, 2019:
The beautiful murals that make
Whistler Train Wreck
the magical place it is today, began appearing in 2011.  Artists ranging from aspiring ...
Read More
December 27th, 2021:
The Rubble Creek trailhead to Garibaldi Provincial Park is not being snowplowed this winter(2021/2022).  Last winter, after years of ...
Read More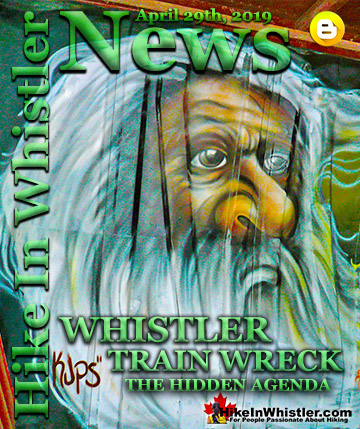 April 29th, 2019:
Back in 2011 a group of Whistler artists met at
Whistler Train Wreck
and transformed it from a bland array of wrecked train cars into a ...
Read More
Read More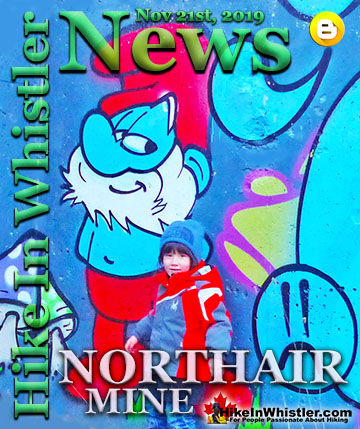 December 21st, 2019:
Way up in the 
Callaghan Valley
on the back side of
Mount Sproatt
is an abandoned gold mine.  Old cement foundations and two ...
Read More
Whistler & Garibaldi Hiking

Alexander Falls  

Ancient Cedars  

Black Tusk  

Blackcomb Mountain  

Brandywine Falls  

Brandywine Meadows  

Brew Lake  

Callaghan Lake  

Cheakamus Lake  

Cheakamus River  

Cirque Lake 

Flank Trail 

Garibaldi Lake 

Garibaldi Park 

Helm Creek  

Jane Lakes 

Joffre Lakes  

Keyhole Hot Springs  

Logger's Lake  

Madeley Lake  

Meager Hot Springs 

Nairn Falls  

Newt Lake 

Panorama Ridge 

Parkhurst Ghost Town 

Rainbow Falls  

Rainbow Lake 

Ring Lake  

Russet Lake  

Sea to Sky Trail 

Skookumchuck Hot Springs  

Sloquet Hot Springs 

Sproatt East 

Sproatt West  

Taylor Meadows  

Train Wreck  

Wedgemount Lake  

Whistler Mountain

January 

February 

March 

April 

May 

June 

July 

August 

September 

October 

November 

December