Taylor Meadows is a very scenic campsite and great alternative to the much busier and more well known, Garibaldi Lake campsite. Located in Garibaldi Provincial Park between Garibaldi Lake and Black Tusk, Taylor Meadows is best hiked to from the same trailhead as Garibaldi Lake at Rubble Creek. There are 40 tent platforms, toilets, a good water source and food cache, all in the lush forest of Taylor Meadows with great views of Black Tusk.
Idyllic, flower filled valley below Black Tusk
Well organized campground in deep wilderness
Multiple hikes can be done from the meadows
Deluxe tent pads & frequent maintenance
Elevation gain flattens at the meadows
Black Tusk looms beautifully very near
More of a crossroads than a destination
No glacier views like you get at Garibaldi Lake
No convenient lake to swim in
Crowded campsite, fills up quickly
Generally Taylor Meadows is not a destination on its own, but part of a circle route to the spectacular Garibaldi Provincial Park sights in the area.  For example, hiking from the Black Tusk(Garibaldi) Rubble Creek trailhead to Taylor Meadows, Taylor Meadows to Black Tusk or Panorama Ridge, then return via Garibaldi Lake and back down to Rubble Creek.  This makes for a long hike at 30 kilometres(19 miles), which is why tenting at this perfectly beautiful, and perfectly located Taylor Meadows campsite is a great idea.  The trail to Taylor Meadows from Rubble Creek is well marked, well used and with plenty of signs and mapboards.  Expect to take well over two hours to reach Taylor Meadows from the trailhead/parking at Rubble Creek. Taylor Meadows gets very busy at times as well with 40 campsites with full service (water, security, etc). There are some small rivers close by but no swimming. The draw for Taylor Meadows camping is the wonderful location. It lays in a beautiful forested meadow full of hills and flowers and views of the towering Black Tusk. It has a less crowded feel than Garibaldi Lake does, though bear in mind that even when crowded these campsites don't feel crowded - they are just that organized and thick with trees and terrain.
Taylor Meadows Wider Area Map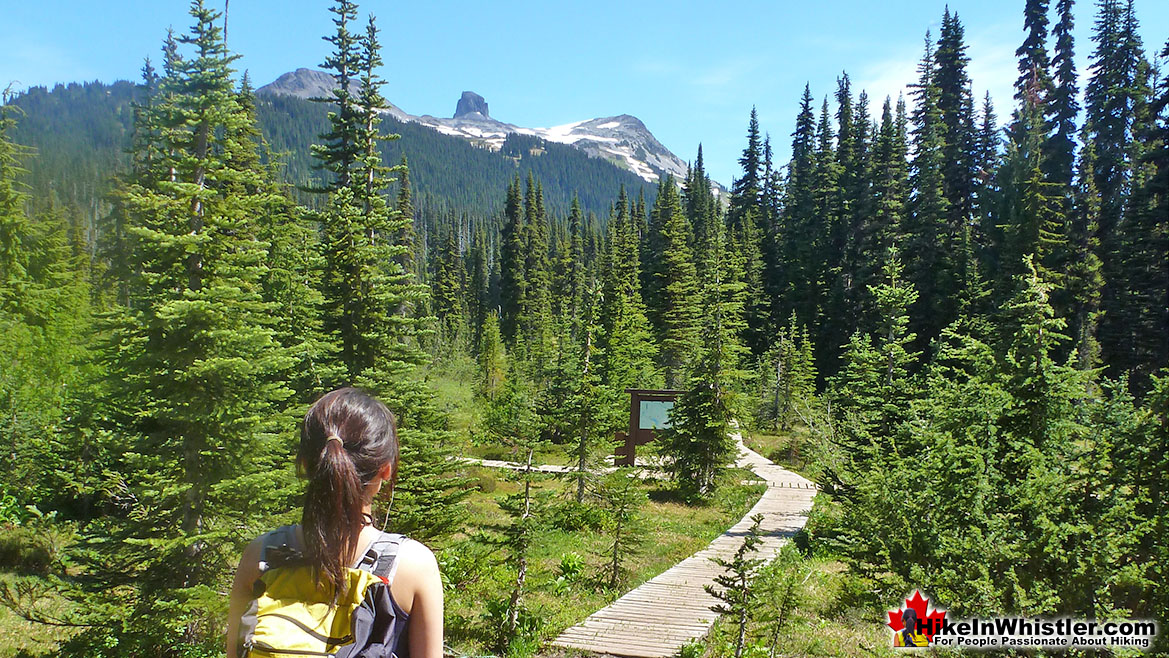 Books About Whistler Trees

Plants of the Whistler Region is an excellent book that includes great pictures and descriptions of most trees you will find in Whistler. Small enough to fit in your pocket and comprehensive enough to identify most things you will encounter growing in the forests of Whistler. Along with conifer trees and broadleaf trees the book has chapters on flowers, berries, ferns and shrubs. You can find Plants of the Whistler Region on Amazon, the Whistler Library and at Armchair Books in Whistler Village. The author Collin Varner has a wonderful series of Plants of.. books on various regions beyond Whistler.  Plants of Vancouver and the Lower Mainland, Plants of the Gulf and San Juan Islands and Southern Vancouver Island, and Plants of the West Coast Trail.  Another great book that takes a specific look at a wonderful tree found in Whistler is The Yew Tree: A Thousand Whispers by Hal Hartzell.  About as comprehensive as a book on yew trees can be.  Culture, history, modern uses and specific to Whistler and Part 4 of the book specifically deals with the Pacific Yew.  From an extensive look at Native Americans use of the Pacific Yew to a more recent examination of this amazing tree.  If you have any interest in this extraordinary tree you will find it hard to put this wonderful book down.
**We participate in the Amazon Services LLC Associates Program and earn a small commission on purchases we link through to Amazon at no extra cost to you.  We only link to books and products we love and highly recommend.  Thanks for your support!**
Whistler & Garibaldi Hiking

Alexander Falls  

Ancient Cedars  

Black Tusk  

Blackcomb Mountain  

Brandywine Falls  

Brandywine Meadows  

Brew Lake  

Callaghan Lake  

Cheakamus Lake  

Cheakamus River  

Cirque Lake 

Flank Trail 

Garibaldi Lake 

Garibaldi Park 

Helm Creek  

Jane Lakes 

Joffre Lakes  

Keyhole Hot Springs  

Logger's Lake  

Madeley Lake  

Meager Hot Springs 

Nairn Falls  

Newt Lake 

Panorama Ridge 

Parkhurst Ghost Town 

Rainbow Falls  

Rainbow Lake 

Ring Lake  

Russet Lake  

Sea to Sky Trail 

Skookumchuck Hot Springs  

Sloquet Hot Springs 

Sproatt East 

Sproatt West  

Taylor Meadows  

Train Wreck  

Wedgemount Lake  

Whistler Mountain

January 

February 

March 

April 

May 

June 

July 

August 

September 

October 

November 

December