September 20th, 2018: Alexander Falls, high up in the Callaghan Valley in Whistler has some interesting historical murals and a mysterious plaque. The information board with as short history of the areas surrounding the falls, complete with museum-like pictures of the regions logging history. One depicts, "A Land of Giants" and describes, with photos, how incredibly huge trees were cut down and moved. One picture from 1910, shows 10 men sitting on an enormous, felled tree and looking tiny by comparison.
Whistler & Garibaldi Hiking

Alexander Falls  

Ancient Cedars  

Black Tusk  

Blackcomb Mountain  

Brandywine Falls  

Brandywine Meadows  

Brew Lake  

Callaghan Lake  

Cheakamus Lake  

Cheakamus River  

Cirque Lake 

Flank Trail 

Garibaldi Lake 

Garibaldi Park 

Helm Creek  

Jane Lakes 

Joffre Lakes  

Keyhole Hot Springs  

Logger's Lake  

Madeley Lake  

Meager Hot Springs 

Nairn Falls  

Newt Lake 

Panorama Ridge  

Parkhurst Ghost Town  

Rainbow Falls  

Rainbow Lake 

Ring Lake  

Russet Lake  

Sea to Sky Trail 

Skookumchuck Hot Springs  

Sloquet Hot Springs  

Mount Sproatt  

Taylor Meadows  

Train Wreck  

Wedgemount Lake  

Whistler Mountain

January 

February 

March 

April 

May 

June 

July 

August 

September 

October 

November 

December
The depiction goes on to show how First Nations people felled trees as long as 8000 years ago. The history of logging continues to present day logging practices in British Columbia and around Whistler are depicted in another nice museum-like mural on BC's "Green Advantage" and sustainable future. The drive to Alexander Falls is very nice. As soon as you turn off from the Sea to Sky Highway into the Callaghan Valley you ascend quickly into the mountains. Bears along the roadside are frequently seen as they seem to have a particular fondness for the fields of grass that grow in the sunny meadows that surround this recently constructed, paved road.  On the viewing platform there is a memorial plaque that reads: "In Memory of F/O Gerald S. Stubbs and F/O James E. Miller. Members of 409 Squadron who perished in this area on 22 March 1956." This memorial refers to a mysterious plane crash of a Canadian fighter plane who's occupants have never been found. For several years it was thought that the plane went down in the Pacific as it was flying over from Vancouver Island on a routine training flight in a T-33 Silver Star. Indeed, the search took place over an area 32 kilometres northeast of Comox(Vancouver Island). A considerable distance from where you are at Alexander Falls. The search eventually wrapped up with the assumption that the plane went down in the ocean.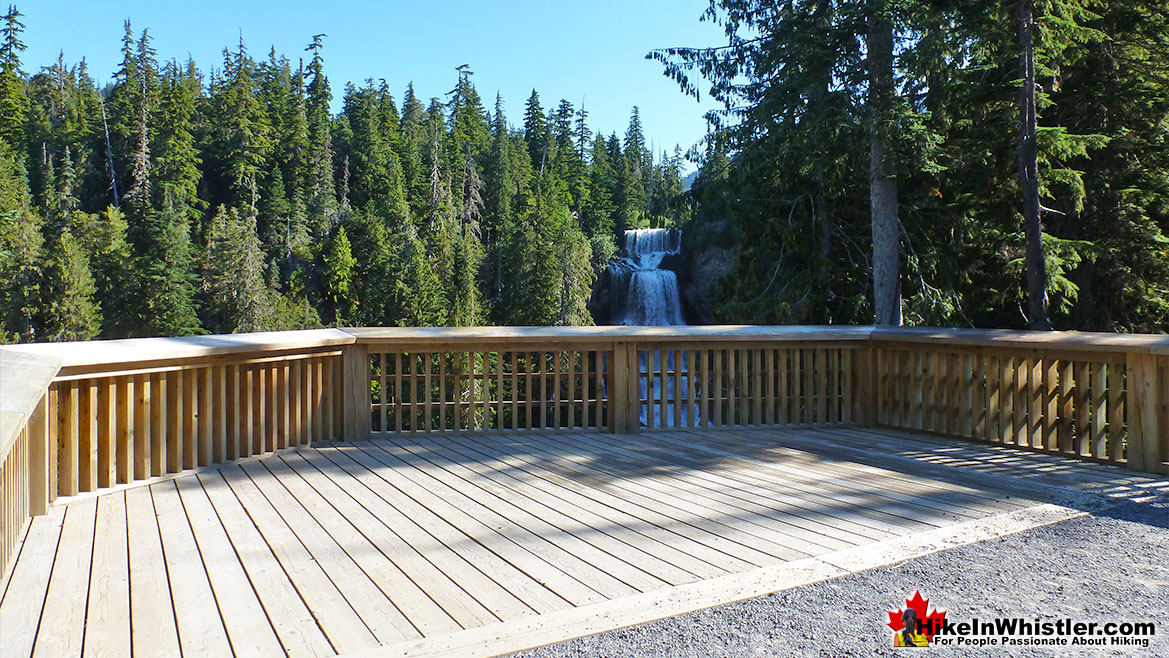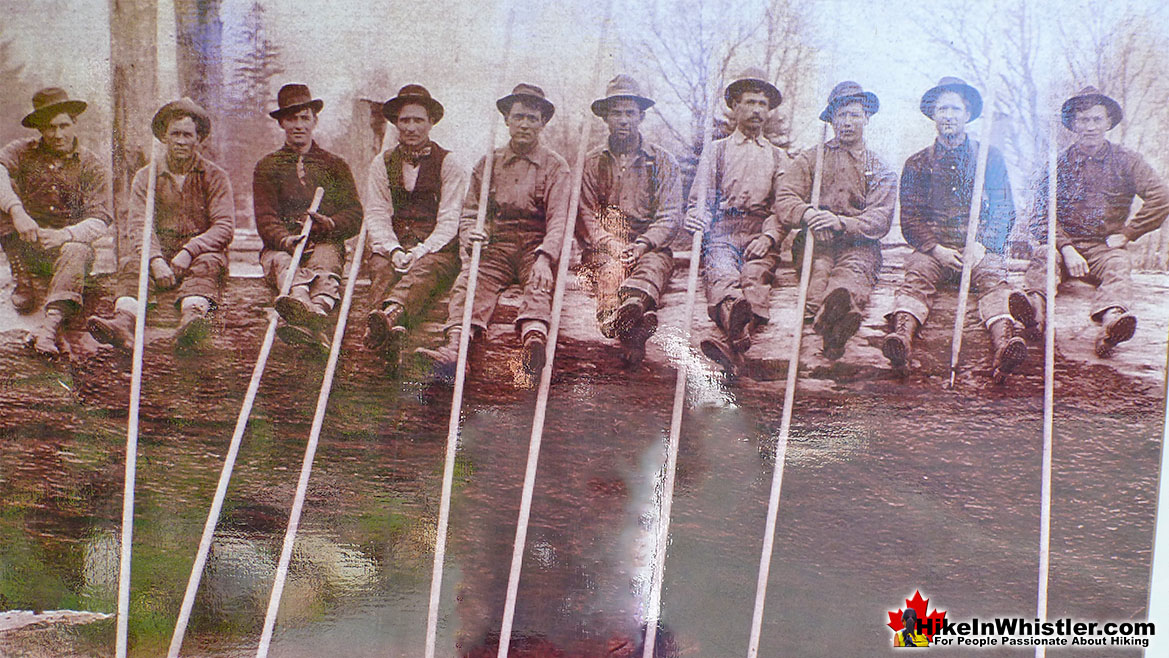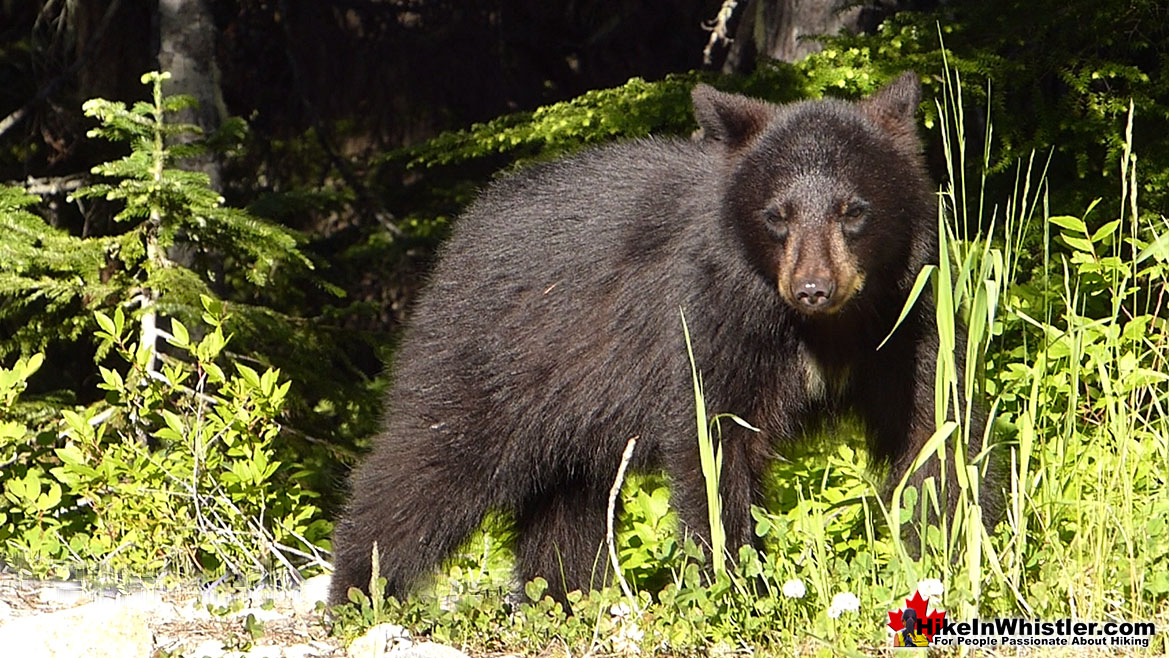 Two decades later, in the early 1970's, a hiker named Howard Rode found the canopy of the long lost T-33 high up on Mt Callaghan. Rode wrote down the serial number off the canopy and notified the military, who were surprised to discover was the canopy of Stubbs and Miller's plane. A search of the area found no other wreckage. Not surprising if you have hiked in the area. The terrain is a chaotic mix of deep forest, steep terrain, and a maze of enormous erratics and fallen trees. In this type of terrain, you can rarely make out landmarks or get a clear sight of where you are going. Searching the area is extremely difficult and the search area that seems small on paper, is monstrous on the ground.  It took two more decades for another clue to be found. In 1997 a member of Whistler Search and Rescue spotted plane wreckage as he flew over the area. Four kilometres south and down the valley of where the original canopy was found! Finally, the wreckage could be examined for clues to what had happened. The cause was determined to be fuel starvation. No sign of Stubbs and Miller were found, despite a lot of searching. Another decade would pass before a clue to the two missing airmen was found. A helmet was found directly between the wreckage and the canopy. Just a helmet. Another set of searches went on, and remarkably, still nothing else found.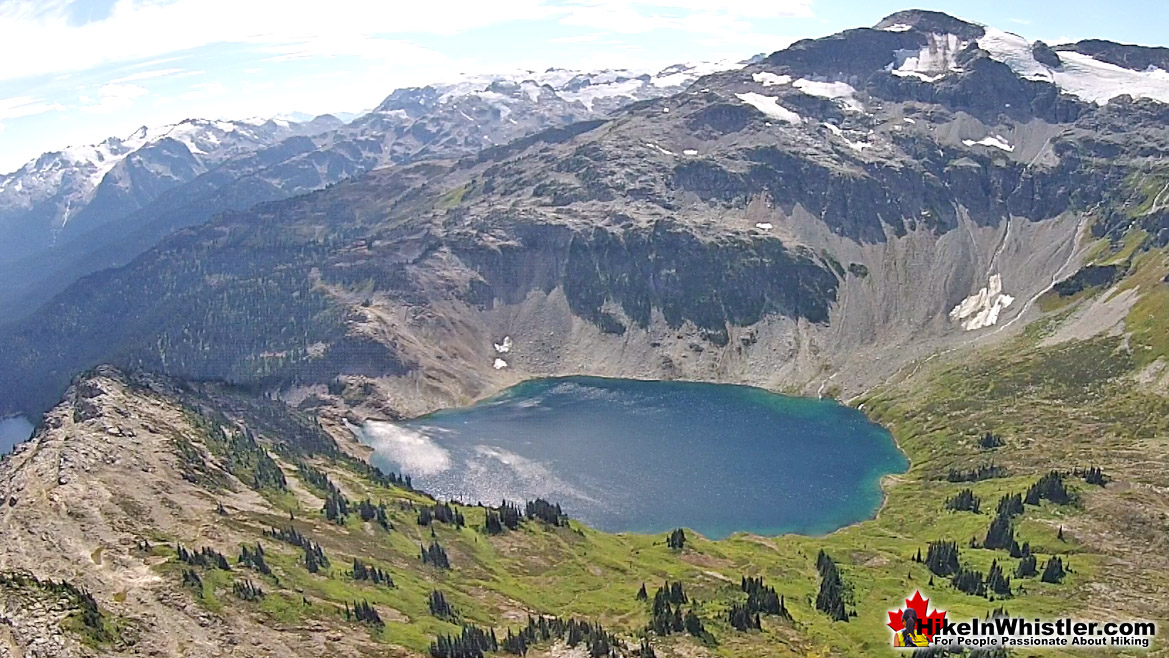 Somewhere between the wreckage and the canopy, the ejected seats of the fighter plane still lay hidden. Pilots eject from a T-33 with the seats and parachute down to safety. It now seemed evident that Stubbs and Miller ejected the plane before it crashed and possibly survived. Surviving the crash may have been the easy part. Finding civilisation over brutal terrain, deep with snow and in freezing winter temperatures. In March 1956, just like most years, the snow on Mt Callaghan is measured in metres. Eventually another clue will be found as hiking trails continue to be developed in the area and the number of hikers combing the dense forest increase. 
The Callaghan Valley in Whistler

The Callaghan Valley is home to some great places to see. Just past the Alexander Falls parking lot on your left you will see a sign for Callaghan Lake Provincial Park. If you turn left here you can either drive straight up a very bad logging road for 8.5 kilometres to Callaghan Lake. Callaghan Lake Provincial Park has only a couple short trails.  There is, however, a the Cirque Lake trail at the end of the lake takes you to paradise! Cirque Lake is found high above Callaghan Lake and up quite a steep, but short 2 kilometre trail.  Well worth the hike, but you have to have a canoe/kayak to get to the trailhead.  If you want a quick look at a very pretty mountain lake, take the first right at the start of this logging road that takes you to Madeley Lake. On a sunny summer day, few places in Whistler are more serene and beautiful. A short trail from the end of the road, behind the lake takes you down to a lovely and sunny shore of this crystal clear lake. It is also a free campground that is very nice. Northair Mine is close by and a very interesting place to see, though you need a 4x4 to get up the increasingly deteriorating forest service road.
Whistler Hiking Glossary

Ablation Zone 

Accumulation Zone  

Adit Lakes 

Aiguille 

Alpine Zone  

Arborlith 

Arête  

ARRTI 

Armchair Glacier 

The Barrier  

Battleship Islands 

Bears  

Bench  

Bergschrund 

Bivouac  

Bungee Bridge  

Bushwhack 

Cairn 

Carter, Neal 

Chimney 

Cirque 

Cloudraker  

Coast Douglas-fir 

Coast Mountains  

Col  

Columnar Jointing 

Cordilleran 

Cornice  

Corrie Lake 

Crevasse  

Dalgleish, Alec 

Deadfall  

Emerald Forest 

Erratic 

The Fissile  

Fitzsimmons Creek 

Fitzsimmons Range  

Fyles, Tom 

Garibaldi Ranges 

Garibaldi Volcanic Belt 

Gemel  

Glacier Window 

Green Lake 

Hoary Marmot 

Krummholz 

Lodgepole Pine 

Moraine 

Mt Garibaldi 

Mt James Turner  

Mountain Hemlock 

Northair Mine  

North Arm 

Nunatuk  

Nurse Stump 

Overlord  

Pacific Yew 

Paper Birch  

Parkhurst Cat  

Parkhurst RD8 

Parkhurst Cletrac 

Parkhurst Plow Tree 

Parkhurst Ridge  

Parkhurst Sawmill  

Parkhurst Wye 

Peak 2 Peak  

Rainbow Lodge 

Roundhouse 

Rubble Creek  

Scree 

Spearhead Range 

Tarn 

The Table  

Townsend, Charles 

Usnea  

Waterbar  

Western Hemlock 

Western Redcedar  

Whistler Spruce 

Winram, Mills
Read more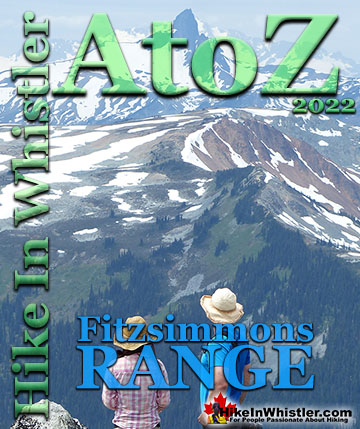 Read more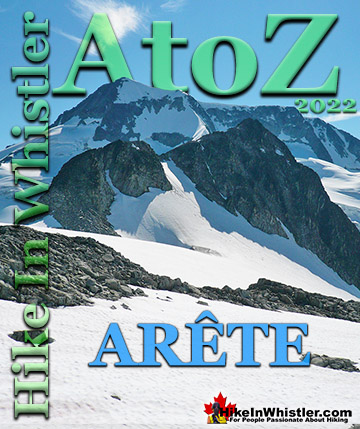 Arête: a thin ridge of rock formed by two glaciers parallel to each other. Sometimes formed from two cirques meeting. From the French for edge or ridge.  Around ...
Read more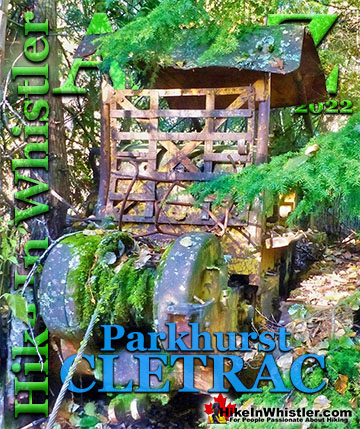 Read more
Bushwhack is a term often used in Canada and the United States to refer to hiking off-trail where no trail exists.  Literally means 'bush' and 'whack'.  To ...
Read more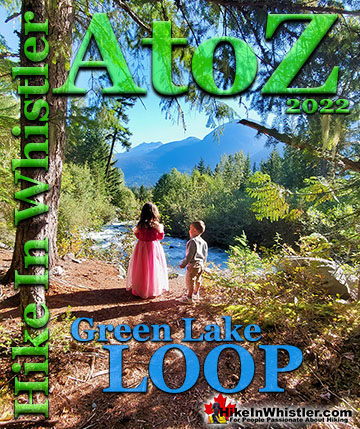 The Green Lake Loop is the original trail that runs around the back side of
Green Lake
.  Before the Sea to Sky Highway was cut through the valley in 1964, ...
Read more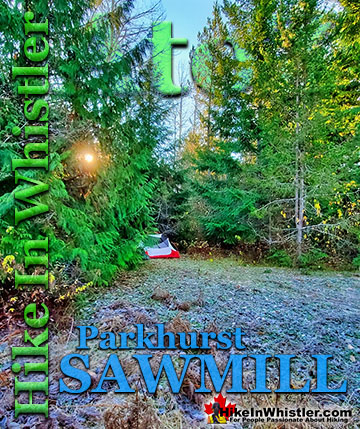 The sawmill at
Parkhurst
operated on the triangle of land that juts out into 
Green Lake
and also extended north between the train tracks and the lake.  The ...
Read more
Whistler & Garibaldi Park Hiking

Alexander Falls  

Ancient Cedars  

Black Tusk  

Blackcomb Mountain  

Brandywine Falls  

Brandywine Meadows  

Brew Lake  

Callaghan Lake  

Cheakamus Lake  

Cheakamus River  

Cirque Lake 

Flank Trail 

Garibaldi Lake 

Garibaldi Park 

Helm Creek  

Jane Lakes 

Joffre Lakes  

Keyhole Hot Springs  

Logger's Lake  

Madeley Lake  

Meager Hot Springs 

Nairn Falls  

Newt Lake 

Panorama Ridge  

Parkhurst Ghost Town  

Rainbow Falls  

Rainbow Lake 

Ring Lake  

Russet Lake  

Sea to Sky Trail 

Skookumchuck Hot Springs  

Sloquet Hot Springs  

Mount Sproatt  

Taylor Meadows  

Train Wreck  

Wedgemount Lake  

Whistler Mountain

January 

February 

March 

April 

May 

June 

July 

August 

September 

October 

November 

December