There are plenty of beautiful and free snowshoe trails in Whistler and Garibaldi Provincial Park.  From the surreal paintings of Whistler Train Wreck to the magnificent mountain serenity of Wedgemount Lake in Garibaldi Park.  Trails range from extremely easy, like the short, flat trails to Brandywine Falls and Rainbow Park.  To challenging and long trails to places like Elfin Lakes, Taylor Meadows and Wedgemount Lake. 
Whistler Snowshoe Trails
Blueberry Trail 

Brandywine Falls 

Cheakamus River 

Elfin Lakes 
Flank Trail 

Joffre Lakes 

Nairn Falls 
Parkhurst Ghost Town 
Rainbow Falls 

Rainbow Lake 

Rainbow Park 

Sproatt East 

Taylor Meadows 

Train Wreck 

Wedgemount Lake 
Whistler & Garibaldi Hiking

Alexander Falls  

Ancient Cedars  

Black Tusk  

Blackcomb Mountain  

Brandywine Falls  

Brandywine Meadows  

Brew Lake  

Callaghan Lake  

Cheakamus Lake  

Cheakamus River  

Cirque Lake 

Flank Trail 

Garibaldi Lake 

Garibaldi Park 

Helm Creek  

Jane Lakes 

Joffre Lakes  

Keyhole Hot Springs  

Logger's Lake  

Madeley Lake  

Meager Hot Springs 

Nairn Falls  

Newt Lake 

Panorama Ridge 

Parkhurst Ghost Town 

Rainbow Falls  

Rainbow Lake 

Ring Lake  

Russet Lake  

Sea to Sky Trail 

Skookumchuck Hot Springs  

Sloquet Hot Springs 

Sproatt East 

Sproatt West  

Taylor Meadows  

Train Wreck  

Wedgemount Lake  

Whistler Mountain

January 

February 

March 

April 

May 

June 

July 

August 

September 

October 

November 

December
Whistler even has a growing network of snowshoe trails to Parkhurst Ghost Town on the far side of Green Lake.  There are a couple pay-use snowshoeing areas in Whistler, however most free trails are as good or better.  Whistler Train Wreck is an easy/moderate snowshoe trail that takes you through a deep forest, over Cheakamus River via a very pretty suspension bridge, and to a series of decades old, wrecked train cars.  Elfin Lakes in Garibaldi Provincial Park is another beautiful place to snowshoe.  Located at the south end of Garibaldi Park, the Elfin Lakes trailhead is found in Squamish.  The trail is not overly difficult, however it is quite long.  A consistently uphill, 11 kilometre(13.7 mile) trail through some spectacular scenery takes you to the marvelous Elfin Lakes hut.  For easier snowshoeing, Rainbow Falls is a good option.  Located just a short drive from Whistler Village, the Rainbow Trail is a beautiful trek through the forest in a winter wonderland to a hidden waterfall surrounded by deep pillows of powdery snow.  For more challenging snowshoeing, Joffre Lakes Provincial Park is hard to beat.  A long, though beautiful drive into the mountains, north of Pemberton takes you to this moderately challenging, 11 kilometre(6.8mile) roundtrip snowshoe trail.  The frequently steep, winding trail takes you through a winter paradise and around, or over three frozen lakes.  Back in Whistler, an excellent place to snowshoe is to Parkhurst Ghost Town.  Sitting on the far side of Green Lake, Parkhurst was a thriving logging community several decades ago.  It has since been abandoned except for intermittent squatter communities over the years.
Joffre Lakes Hike in Whistler January

Joffre Lakes Provincial Park, if you don't mind the drive, is possibly the nicest snowshoe trail you could try in January. It is only moderately difficult and gets you right into deep forest and deep snow.  It is located about 90 minutes north of Whistler Village via Highway 99(Sea to Sky Highway).  Joffre Lakes can be a challenging trail if the weather is very cold, raining or snowing.  If you are new to snowshoeing, you should try another, easier trail as in bad weather you can get dangerously lost.  If you include the drive to and from Whistler, this is an all day outing.  If you are lucky enough in January to get sunny weather, this trail is beautiful, and the drive to the trailhead is very scenic as well.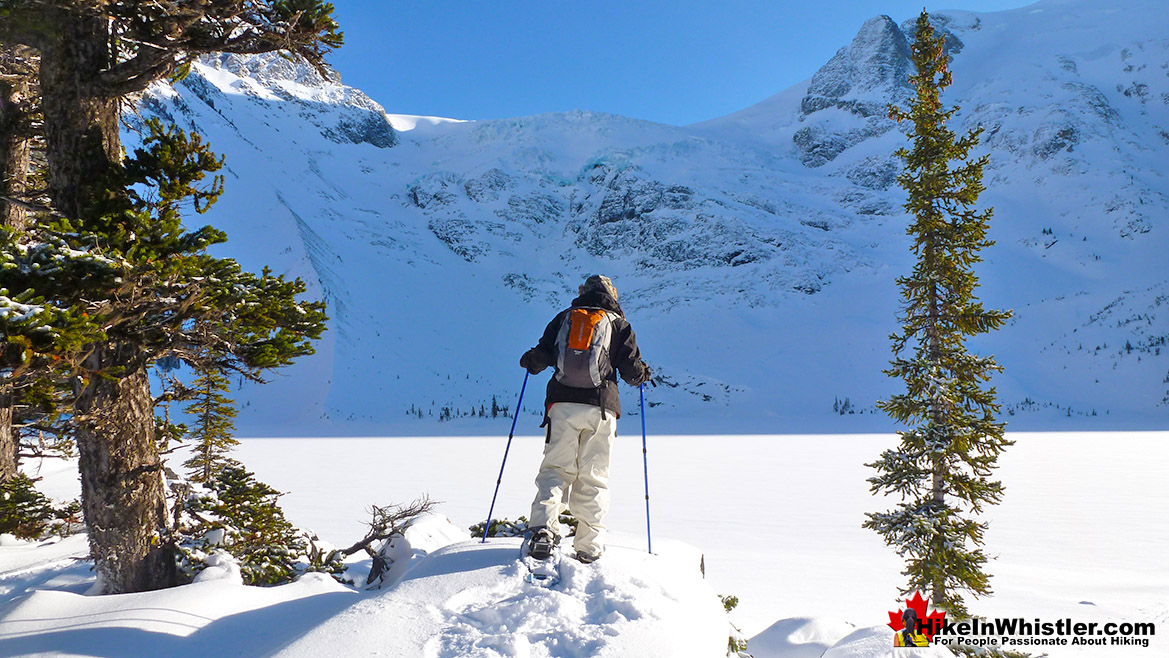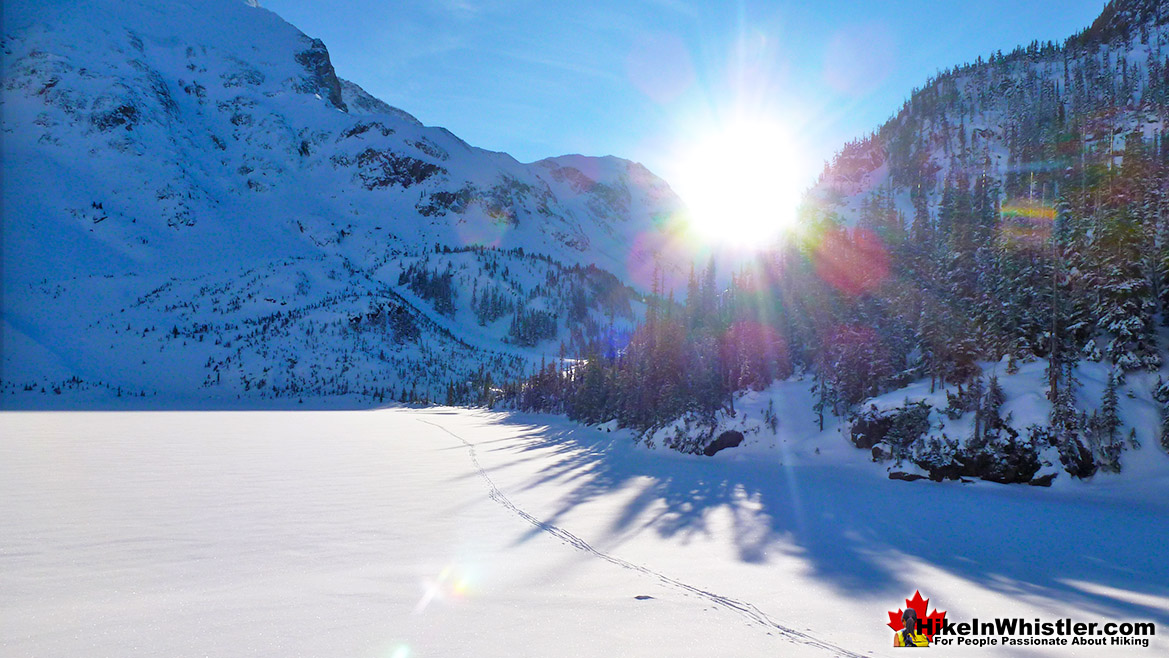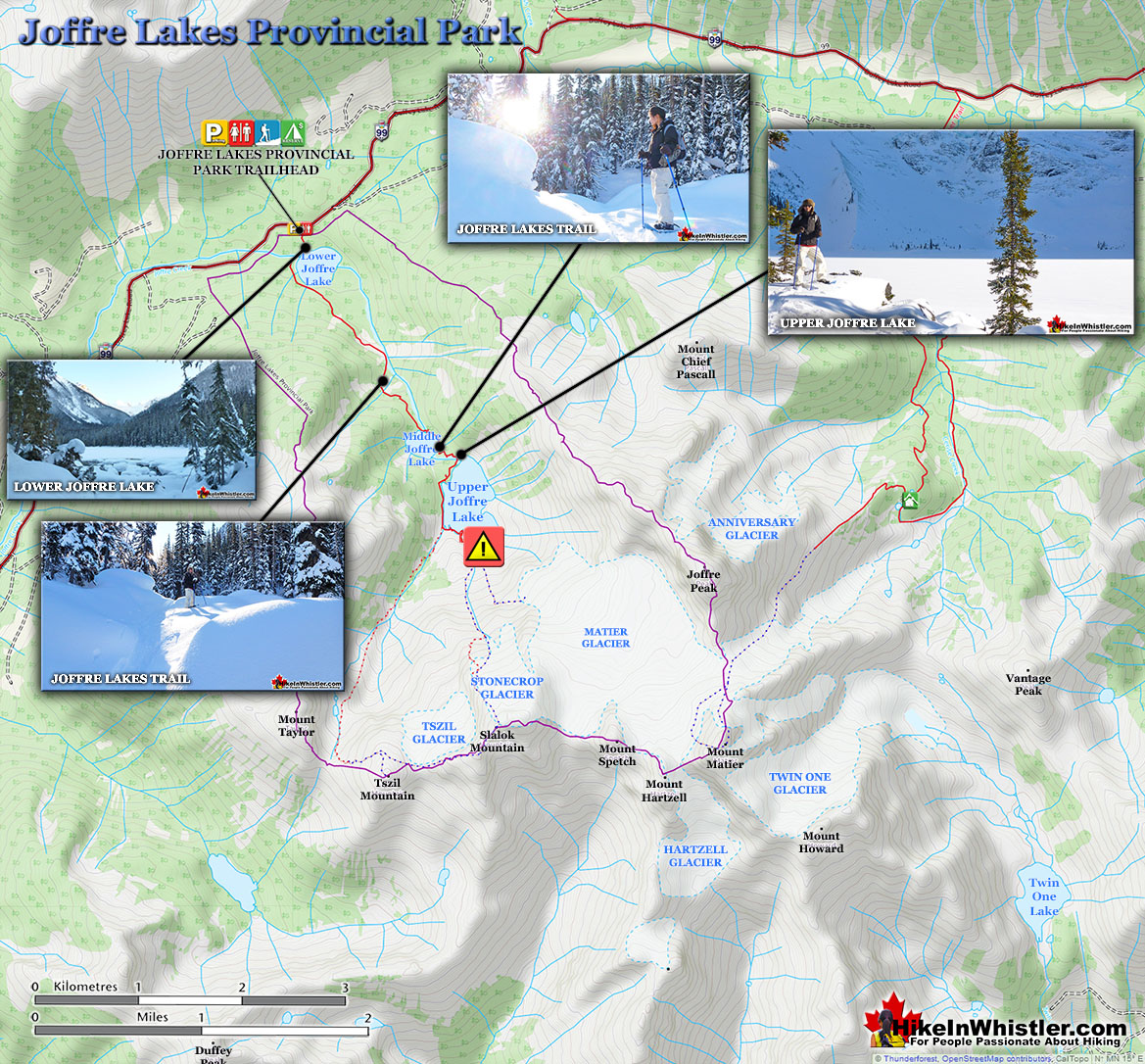 Parkhurst Ghost Town Hike in Whistler January

Closer to Whistler Village, Parkhurst Ghost Town is an amazing trail any time of the year.  In snow it is quite an adventure.  It is located just a short, 10 minute drive north of Whistler Village and is, for the most part an easy snowshoe trail.  If you can find your way to the marked trail from the unmarked route where you can park, then you will find the trail well marked with flagging tape.  Parkhurst was a logging town several decades ago that has been long abandoned.  Now it exists as an interesting array of old machinery and a couple ancient looking houses.  What makes this trail amazing is not just the ghost town itself, but the town's setting.  High up on a ridge overlooking Green Lake, the views are sensational.  Depending on how deep the snow is and how close you park to the Parkhurst trailhead, expect to take two or three hours, roundtrip on an average January day.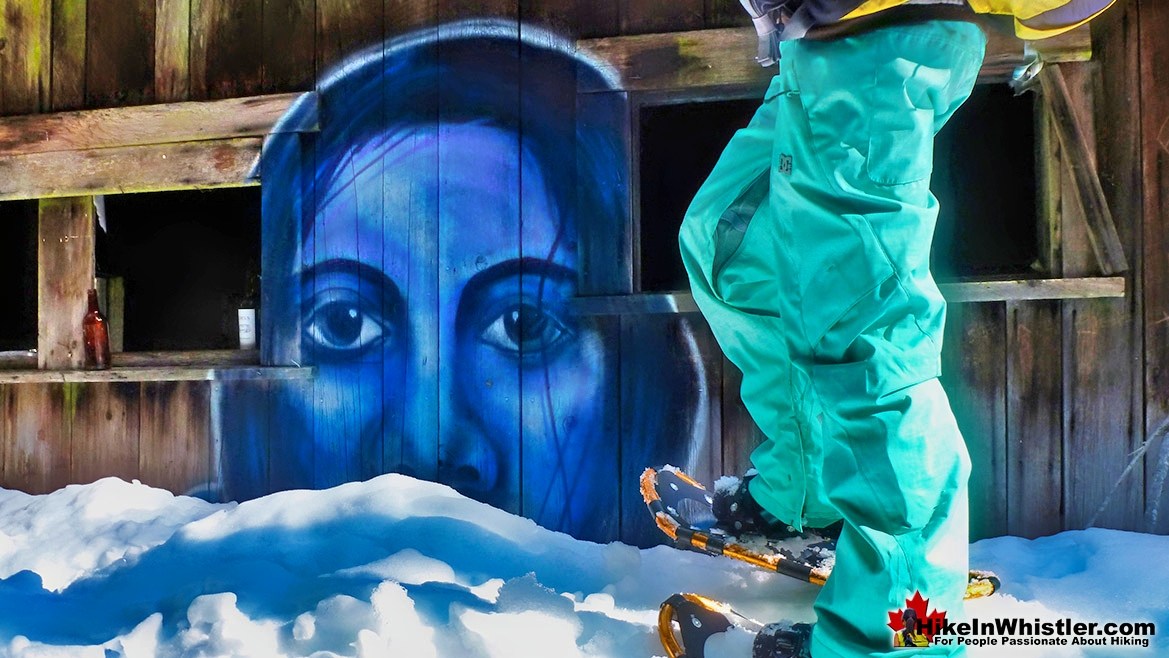 Winter Route to Parkhurst
Green Lake freezes over for much of the winter which makes getting to Parkhurst very easy, convenient and close.  Green Lake Park is found just off the highway and located directly across from Parkhurst.  You can park right at the park and walk across in about 5 minutes.  Be very cautious when trying this route as the lake has to be sufficiently frozen to safely cross, which is sometimes tricky to figure out.  Often the lake is frozen over and snow covered, yet some sections of the lake are dangerously thin.  If the weather has been -10 or colder for a couple weeks there is a good chance the ice is thick enough.  Your next step is to go to Green Lake Park and check the ice thickness at the edge near the shore.  You may be able to identify if it is safe to walk on, but if in doubt don't risk it.  If the ice is thick and safe you are best to walk across in the direction of the huge Parkhurst D8 tractor.  There you will find a trail that enters the forest, crosses the train tracks and continues up to the Parkhurst Loop Trail.  Alternatively, you can not cross the train tracks, but instead bushwhack through the forest on your left into the area that was once the Parkhurst Sawmill.
Parkhurst Ghost Town - January Snowshoeing Whistler
Train Wreck Hike in Whistler January

Parkhurst is a short drive north of Whistler Village, but south of the Village exists another similarly beautiful trail.  The Whistler Train Wreck is another ghostly area of decaying wreckage left from the 1950's.  A train slid off the tracks here and down along the beautiful Cheakamus River.  Seven interestingly mangled train cars now lay in over a kilometre of forest.  The decades have added an amazing array of artwork on these massive train cars.  The trail to Train Wreck takes you through a very interesting zig-zagging route through the wilderness south of Function Junction.  You pass under the Sea to Sky Highway via the highway overpass then along various stunning viewpoints of the Cheakamus River.  In January the Cheakamus River is wonderfully frozen with torrents of water crashing under, over and through the ice.  Train Wreck, roundtrip on an average January day should take you less than an hour at a quick pace and a couple hours at a leisurely walk.  If it hasn't snowed in more than three days, you should be fine doing the hike without snowshoes as the trail will be packed down by others.
Across the highway from Train Wreck is another beautiful trail that follows along the edge of Cheakamus River for two kilometres then crosses a suspension bridge and returns along the other side.  Cheakamus River is a spectacular, crashing and huge river that often has vertical cliffs on either side, making the trail amazing to hike.  In January the trail is often buried in over a metre of snow, making it quite a winter adventure.  The trail is fairly popular, so if it hasn't snows significantly in Whistler in the previous couple days, you likely won't need to bother with snowshoes.
Whistler Train Wreck - January Snowshoeing Whistler
Snowshoeing Rainbow Falls in January

Rainbow Falls, just north of Whistler Village is another easy snowshoe trail in January.  This always up and down and zig-zagging trail is possibly the easiest way to see deep, wilderness snow in Whistler in January.  Snow accumulates deep and fast here, it seems.  And the short trail to Rainbow Falls, buried deep in this winter wonderland is located in a cute little wintry oasis.  Along with Rainbow Falls, the zig-zagging trail takes you to a bridge over the river, with more great views.  Kids love this trail as it is easy, yet very scenic and adults love it for the same reasons.  Rainbow Falls can be done in less than and hour and is just a short 10 minute drive north of Whistler Village.  Located very near to Rainbow Park, another beautiful place to visit in January or any time of the year.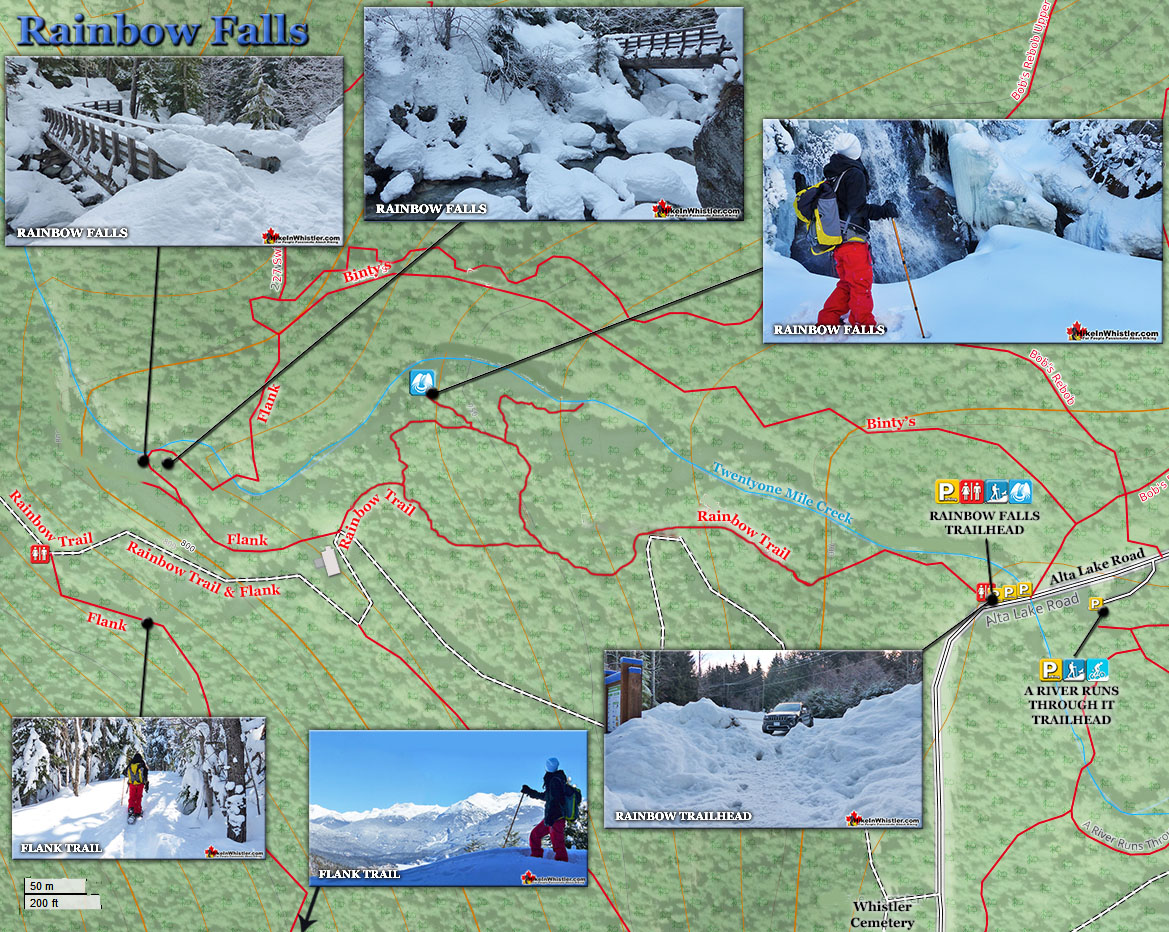 Rainbow Falls - January Snowshoeing Whistler
Snowshoeing the Flank Trail in January

If you continue beyond Rainbow Falls along the Rainbow Trail as if going to Rainbow Lake, you will come to the Flank Trail.  The Rainbow Sproatt Flank Trail cuts along the edge of Mount Sproatt.  Once you get on the Flank Trail from the Rainbow Trail, you have hiked most of the elevation.  The Flank Trail then runs along with amazing views across to Whistler Mountain, Blackcomb Mountain and Wedge Mountain.  Below you, you look down on Alta Lake and tiny people, like ants, skating on the lake.  Endless viewpoints along the Flank Trail slow your progress and you will likely only hike or snowshoe for a couple kilometres before taking in enough sights to turn back home.  This trail is well marked and very wide, making it easy to follow and navigate.  Signs at every junction make it easy to find your way and though you may get lost on your way back.  Getting lost usually only means, finding your way to a different place on Alta Lake Road, just a short walk back to your car.  All in all, expect to take a couple hours to hike or snowshoe this small section of the Flank Trail.
The Flank Trail - January Snowshoeing Whistler
Snowshoeing Rainbow Park in January

Rainbow Park is located just across from the trailhead to Rainbow Falls, Rainbow Lake and the Flank Trail.  The year-round parking for Rainbow Park is just a couple hundred metres past the "Rainbow Trail" parking area at the edge of Alta Lake Road.  Rainbow Park is a must see place in Whistler, especially in January.  In January Alta Lake is frozen solid, usually a hockey game is being played somewhere on the lake and the views are beautiful.  Whistler Mountain and Blackcomb Mountain are best seen from here.  Just far enough to take them both in at once, yet still close enough to easily make out the ski runs in the daytime and the bright lights from the snow groomers at night.  Just a 10 minute drive from Whistler Village and a 1 minute walk from your car to the lake and beautiful sights.  If you want a fun, easy and short snowshoe trail you can drive to the end of Lorimer Road, just three minutes from Whistler Village.  You can then snowshoe the easy, 1 kilometre Valley Trail to Rainbow Park.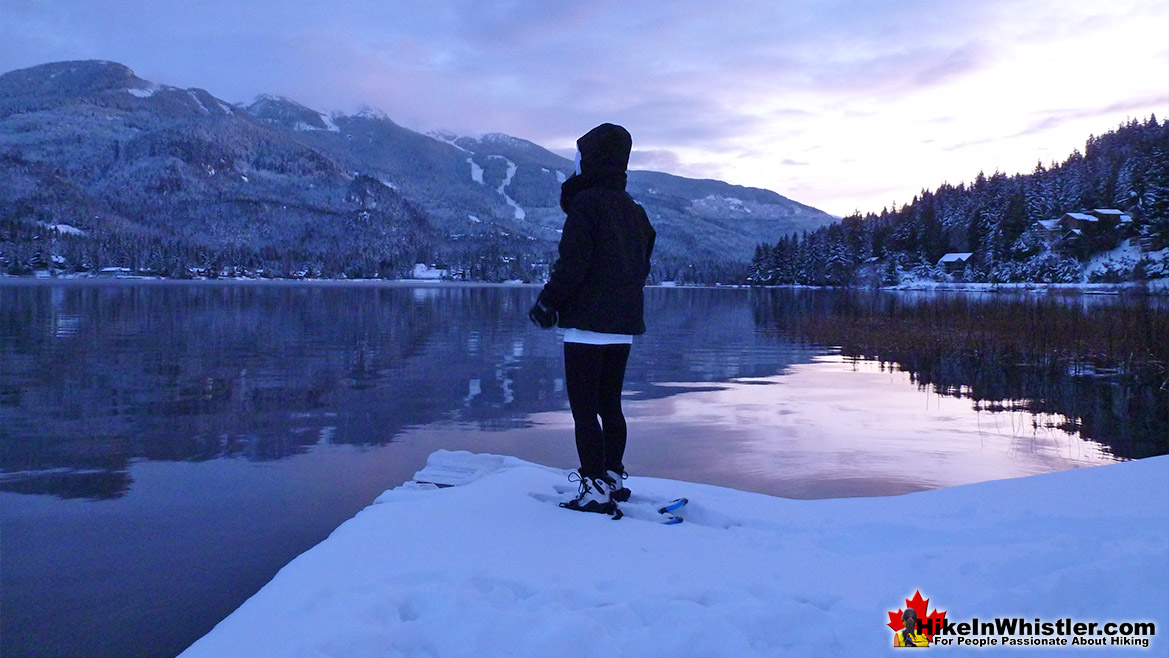 Rainbow Park - January Snowshoeing Whistler
Snowshoeing Blueberry Hill in January

The Blueberry Trail is a relatively unknown, though very scenic trail that ascends quickly up to a cliff viewpoint high above Alta Lake.  Geographically, the Blueberry Trail is directly across Alta Lake from Rainbow Park.  Rainbow Park can be accessed from either end via the neighbourhoods of Whistler Cay at the end of Crabapple Drive, or in Alta Vista at the end of St Anton Way.  Either trailhead is just a five minute drive from Whistler Village and both are conveniently close to Whistler's Valley Trail.  If it has not snowed heavily in the last couple days, you will likely not need snowshoes for the Blueberry Trail as the snow will have been packed down by others.  Blueberry Park gets its name from the hill that rises above it named Blueberry Hill.  So well hidden that you won't find either trailhead unless you search for them despite being on all the maps in Whistler.  The trailheads do have small trail signs and once you are on the trail it is easy to follow, even in deep snow.  Though at times steep, the trail is short.  The high point of the trail, about midway, is only 1.2k from either trailhead.  There is a small clearing at the edge of quite a high cliff that is a great vantage point to the lake.  People skating, cross country skiing or walking appear as little black dots scattered across the frozen lake.  As snowshoeing trails go, this one is a great, fun, short workout to a beautiful vantage point.  Dogs are allowed here as well.  Blueberry Park is a very scenic park on Alta Lake that most Whistler locals don't even know about.  If you have been to Rainbow Park you would have noticed four piers across Alta Lake surrounded by forest.  These public piers sit along the edge of Blueberry Park, with the Blueberry Trail running from one side of the forest to the other.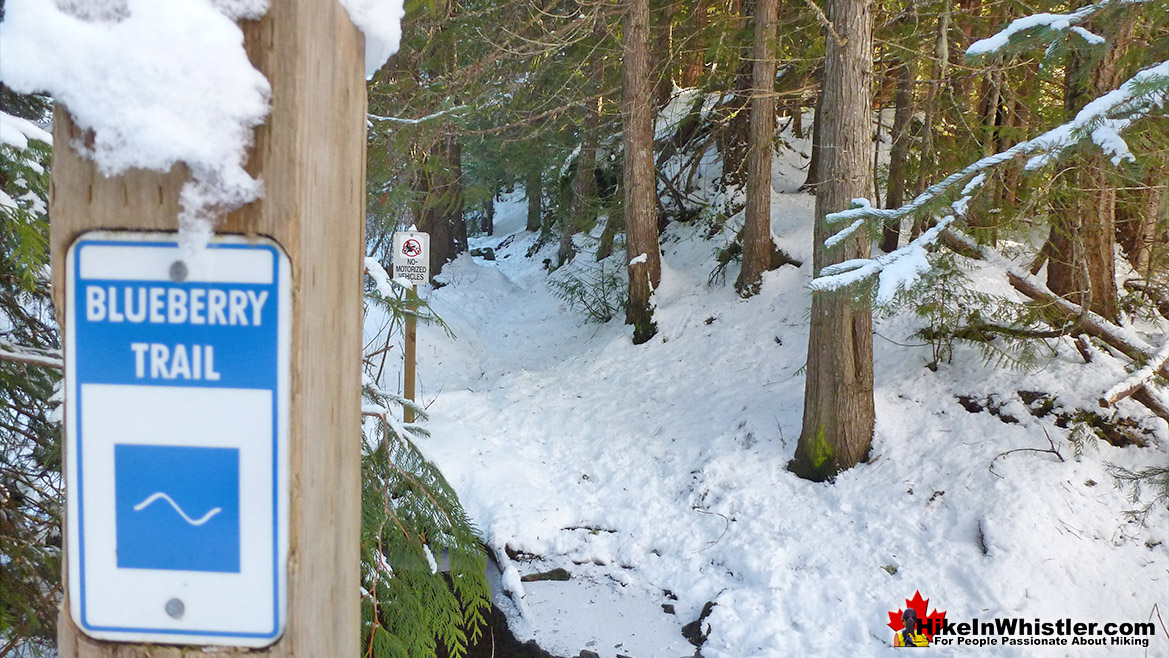 Blueberry Trail - January Snowshoeing Whistler
Skookumchuck Hot Springs in January

For something out-of-the-ordinary to do in January, taking a beautiful 2-3 hour drive north of Whistler to Skookumchuck Hot Springs is an amazing adventure.  These rustic hot springs are located on the beautifully crashing Lillooet River at the far end of the beautiful Lillooet Lake.  It is easily manageable to do as a wonderful day trip from Whistler, or if you have a tent or camper as an overnight trip at the nice, adjoining campsite.  In January, you will find Skookumchuck very quiet and peaceful.  You may even have the entire place to yourselves.  The drive to get there is mostly along Lillooet Lake, which is snow plowed all winter.  There is a small charge to use the springs by day, and an overnight camping charge if you plan to stay.  Open 24 hours per day, 7 days a week, 365 days per year.  No reservations and Skookumchuck is available for camping, first come, first served.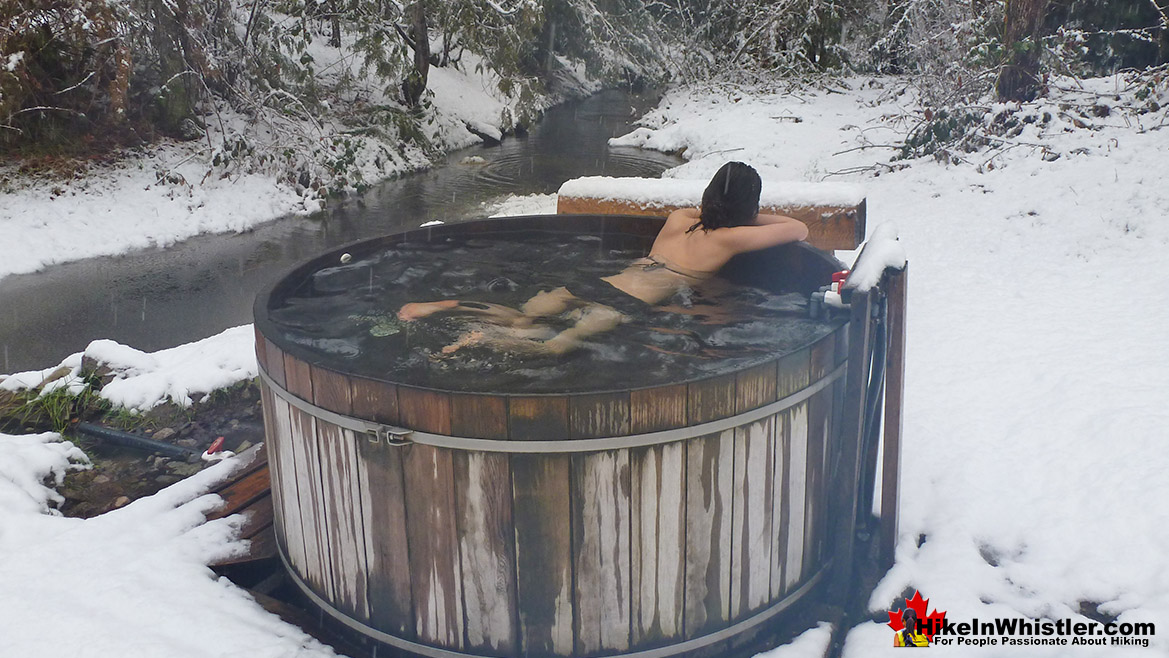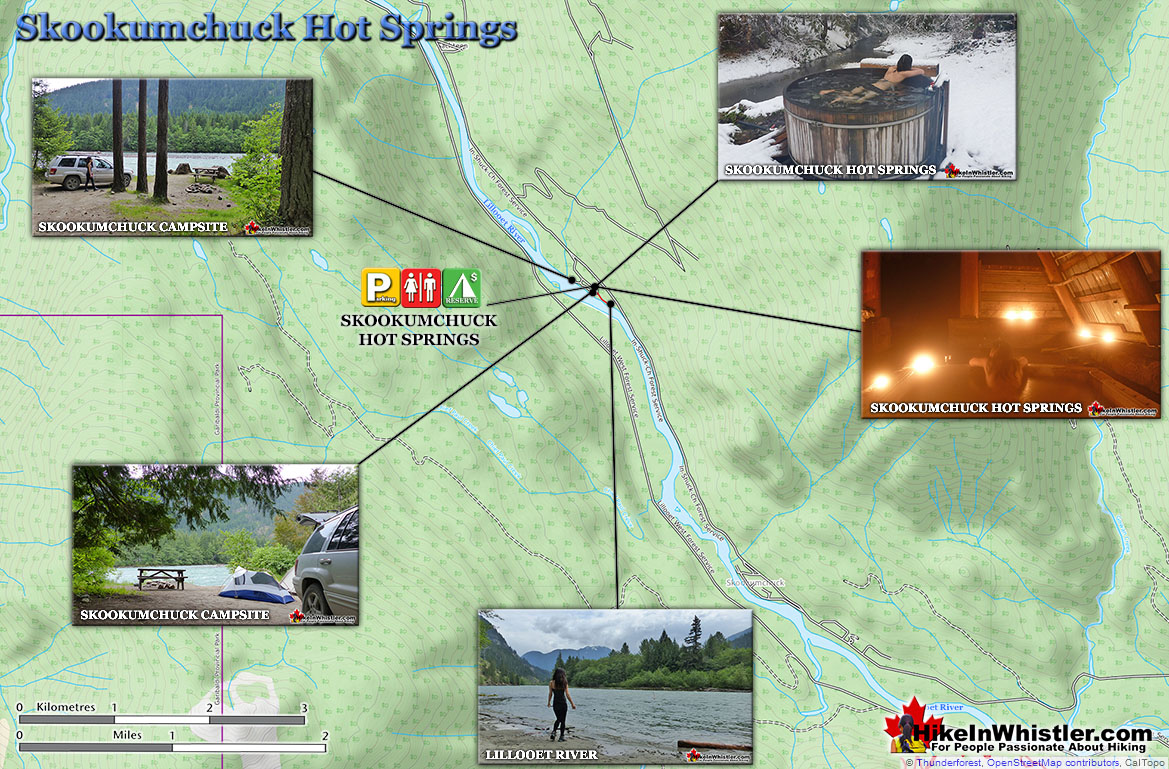 Skookumchuck Hot Springs - Best of Whistler January
Snowshoeing Nairn Falls in January

Just a 20 minute drive north of Whistler Village on the Sea to Sky Highway is the beautiful Nairn Falls Provincial Park.  A nice, easy and short trail takes you to these crashing and deep falls that have carved potholes in the rock over the years.  Though Nairn Falls campground is very large and busy much of the year, in January the place is a ghost town.  Not open for camping, the park is quiet, snowy and serene.  Unless there has been heavy and recent snowfall, the 1.2 kilometre trail doesn't require snowshoes and is easy and flat.  It runs along Green River, which you may have guessed, comes from Green Lake in Whistler.  Whether you hike to the falls or just wander from your car to the nice viewpoints over Green River, the short and scenic drive from Whistler is well worth it.  Pemberton, the cute little town 5 minutes up the road from Nairn Falls is a great place for lunch or a coffee as well.
Nairn Falls - January Snowshoeing Whistler
Alexander Falls Provincial Park

If you would rather just jump in your car, take a beautiful drive directly to an amazing waterfalls viewpoint, then Alexander Falls is perfect for you.  Up on the mountains of Callaghan Valley, where some of the 2010 Olympic Games events were held, sits Alexander Falls.  A large viewing platform sits directly across from them and you can literally park your car 1 metre from this platform.  Alexander Falls are similar to Brandywine Falls in that they abruptly fall from a high and very vertical cliff to a chasm far below.  Just a 2 minute drive past Alexander Falls is Whistler Olympic Park.  In January this huge facility is open 9-5 and has a restaurant as well as cross country skiing rentals available for their groomed runs.  Plenty of Olympic sights to see as well.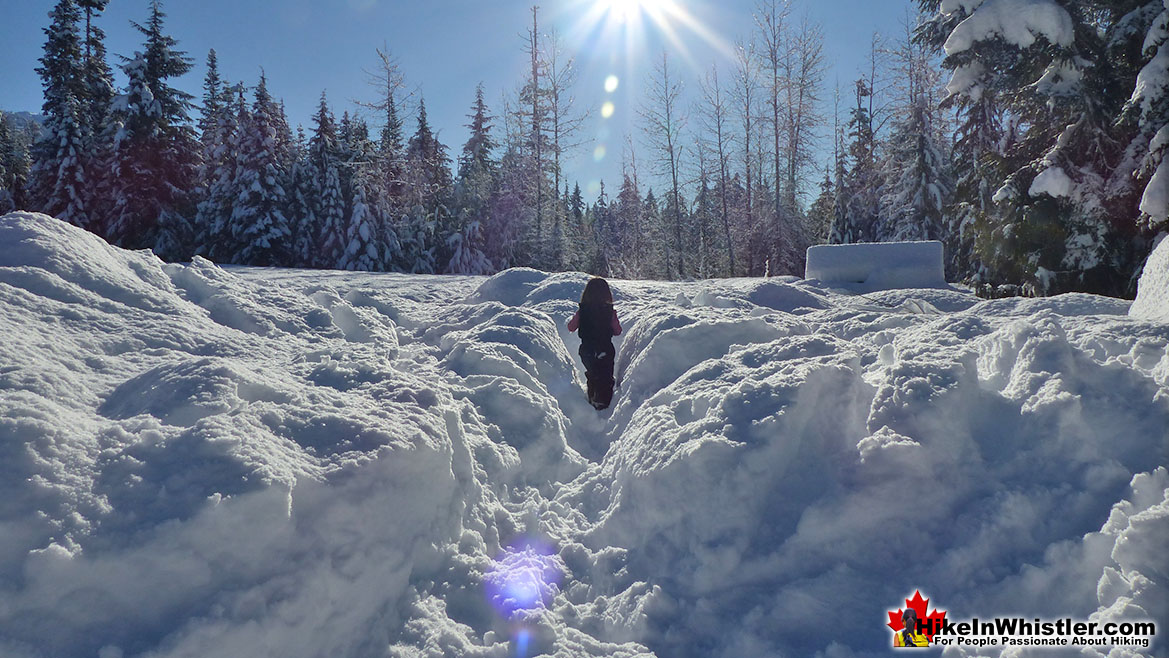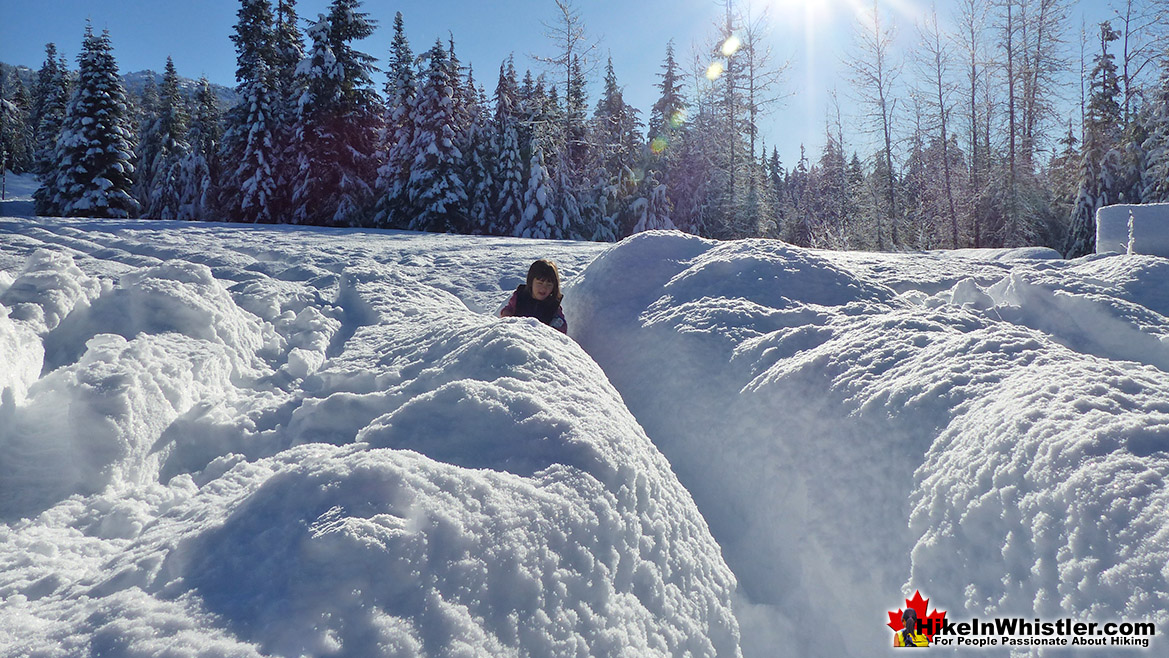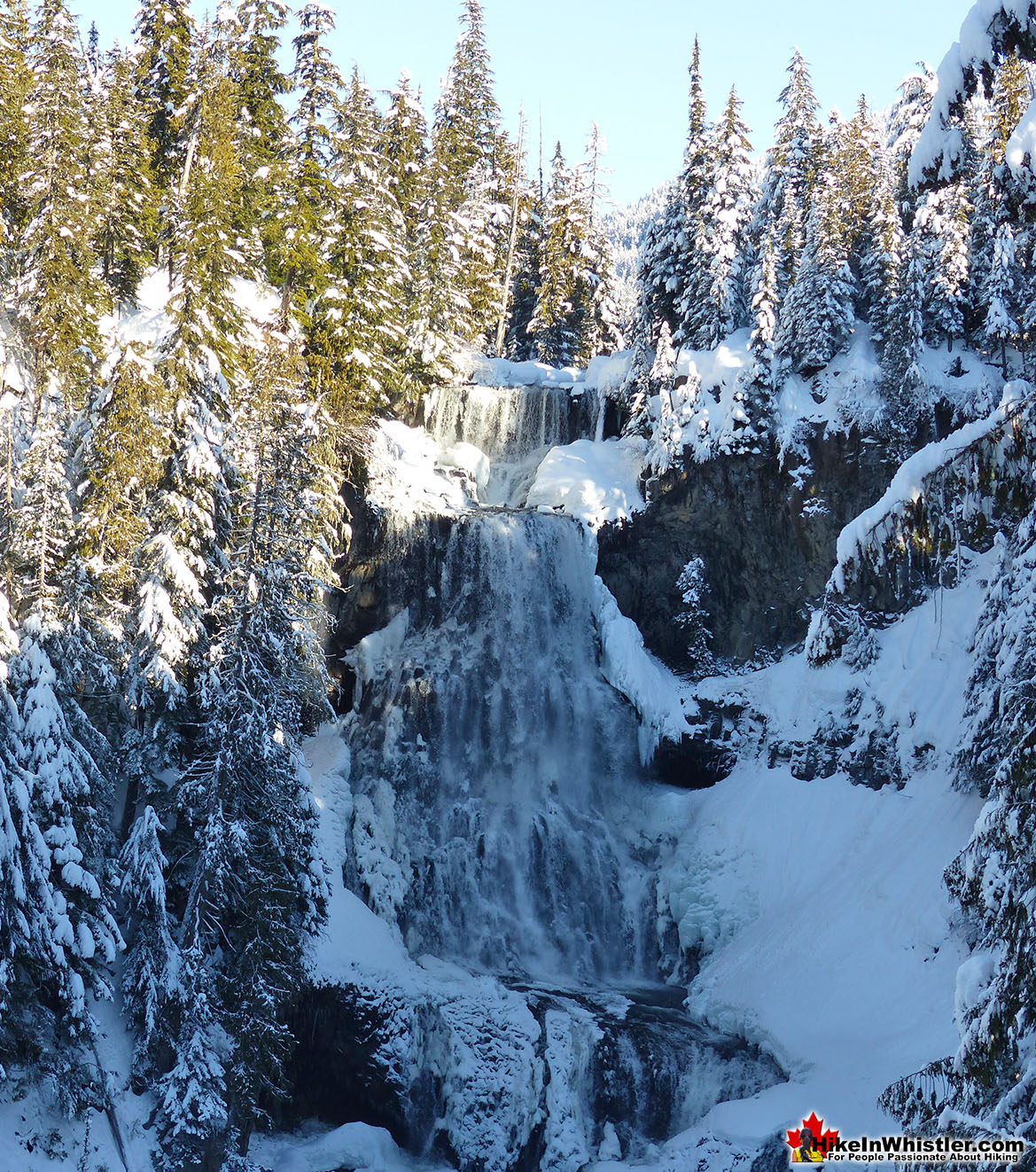 Alexander Falls Provincial Park
Snowshoeing Brandywine Falls in January

Just south of the Cheakamus River and Train Wreck trails is a wonderful place to snowshoe in December, Brandywine Falls. Brandywine Falls Provincial Park is located along the Sea to Sky Highway, 15 minutes south of Whistler and BC Parks has locked the parking lot during winter for years.  In 2021, despite the ever-increasing popularity of the park, has now put up tow away zone signs along the large turnaround area outside the gate.  With no decent parking alternatives nearby this has prevented thousands of people from enjoying this beautiful park and one of the best, and free attractions along the Sea to Sky Highway.  Some wintertime visitors to Brandywine Falls know to park at the Bungee Bridge down the very potholed Cal-Cheak forest service road.  As inconvenient as this sounds, it is actually a pretty nice alternative as the Bungee Bridge is a worthwhile sight on its own and the 3 kilometre trail to Brandywine Falls is nice and easy.  There are quite a few highlights along the Bungee Bridge to Brandywine Falls trail.  The Bungee Bridge is quite an impressive sight to see spanning Cheakamus River high above the tree tops.  Whistler Bungee is open year-round which is why the road is plowed in the winter and drivable.  When they have bookings you will see people bungee jumping off the bridge and there is a great viewing area across from the bridge at the edge of the cliffs.  Cheakamus River is a beautiful, crashing river cutting through a deep canyon far below and seeing it from such a height is fantastic.  The Sea to Sky Trail is another highlight of this hike as it is easy to follow, wide and well defined with signs at every junction.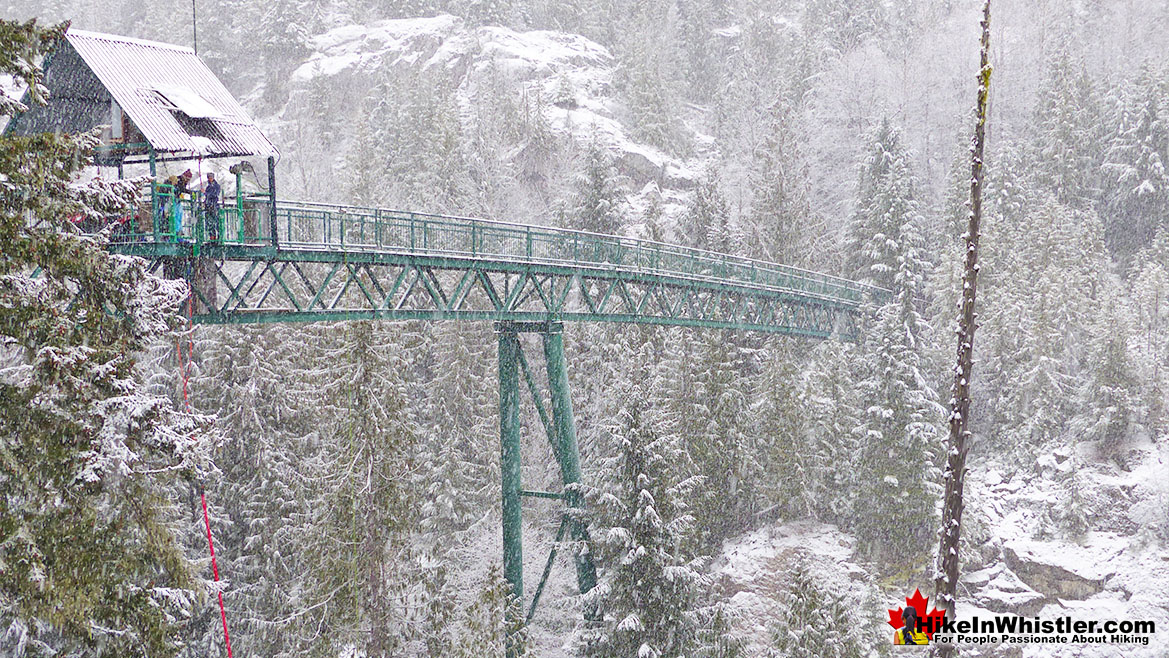 Brandywine Falls - January Snowshoeing Whistler
Snowshoeing Taylor Meadows in January

If you are after a very challenging snowshoeing adventure in January, then you may be up for Taylor Meadows in Garibaldi Provincial Park.  This 16 kilometre roundtrip snowshoe trail takes you deep into the wilderness beyond Whistler.  In January the trail is usually a metre or two deep with snow and once you reach the alpine the views open up to reveal Black Tusk.  You can vary the route to or from Taylor Meadows to include Garibaldi Lake, which will be frozen.  The area is popular with skiers and split-boarders all winter so the trail will be packed down and easy to follow.  Just the sheer distance you need to snowshoe makes Taylor Meadows very difficult.  In minus 15c weather in deep snow, 16 kilometres feels like 30k.  As long as you are prepared for bitterly cold weather and have the right gear, you will love Taylor Meadows in January.  Getting close to Black Tusk, blanketed in snow is amazing to see and well worth the exertion.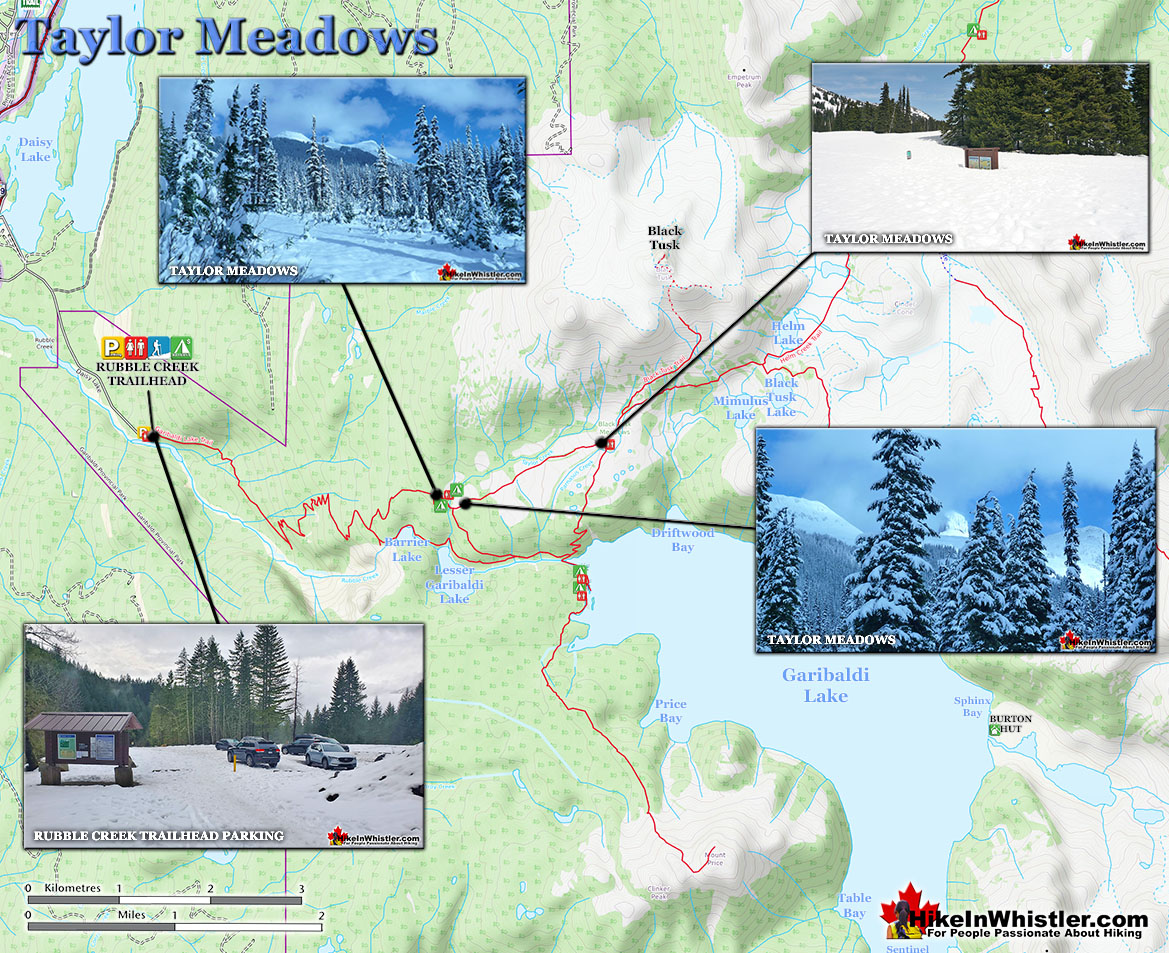 Taylor Meadows - January Snowshoeing Whistler
Snowshoeing Cheakamus River in January

Cheakamus River is a beautiful, crashing, turquoise coloured river that flows from Cheakamus Lake, through Whistler Interpretive Forest at Cheakamus Crossing, then down past Brandywine Falls to Daisy Lake.  Also a popular kayaking route, the main attraction to Cheakamus River is the wonderful and quite extensive network of hiking and biking trails that run along either side of it.  The Riverside trail and the Farside trail run on either side of Cheakamus River and connect at both ends by bridges.  Connecting to the Riverside trail is the short trail to Logger's Lake, which in turn is surrounded by more hiking and biking trails.  The Lake Loop trail, Crater Rim trail, the Ridge trail, Upper Ridge trail, and the Lower Ridge trail.  On the Farside trail along Cheakamus River you can connect to Cheakamus Road(gravel road) and hike 6 kilometres up to the Cheakamus Lake trailhead.  On the other side of the neighbourhood of Cheakamus Crossing, which Cheakamus River bends around keeping the Sea to Sky Highway and train tracks on its opposite side, you find still more hiking and biking trails.  Trash trail hugs the river all the way to the beautiful bridge to Whistler Train Wreck.  Or, continue past the bridge to connect with the Sea to Sky Trail.  For the most part, however, if you are talking about the Cheakamus River trails you are likely talking about the Farside and Riverside trails in Whistler's Interpretive Forest.  Eight kilometres south of Whistler Village and surrounding the recently constructed neighbourhood of Cheakamus Crossing is Whistler Interpretive Forest.  This beautiful forest surrounds the Cheakamus River and has been cut and replanted in several areas in the past decades. Hiking and biking trails have sprung up over the years making the area a wonderful place to explore. Unfortunately, the Interpretive Forest is day-use only, no camping is permitted.  The main highlights of the Interpretive Forest are the Cheakamus River trails, and the extraordinary Logger's Lake.  Logger's Lake, just a short hike from the Cheakamus River suspension bridge, sits within a 10000 year old, extinct volcano and is a hiking destination on its own.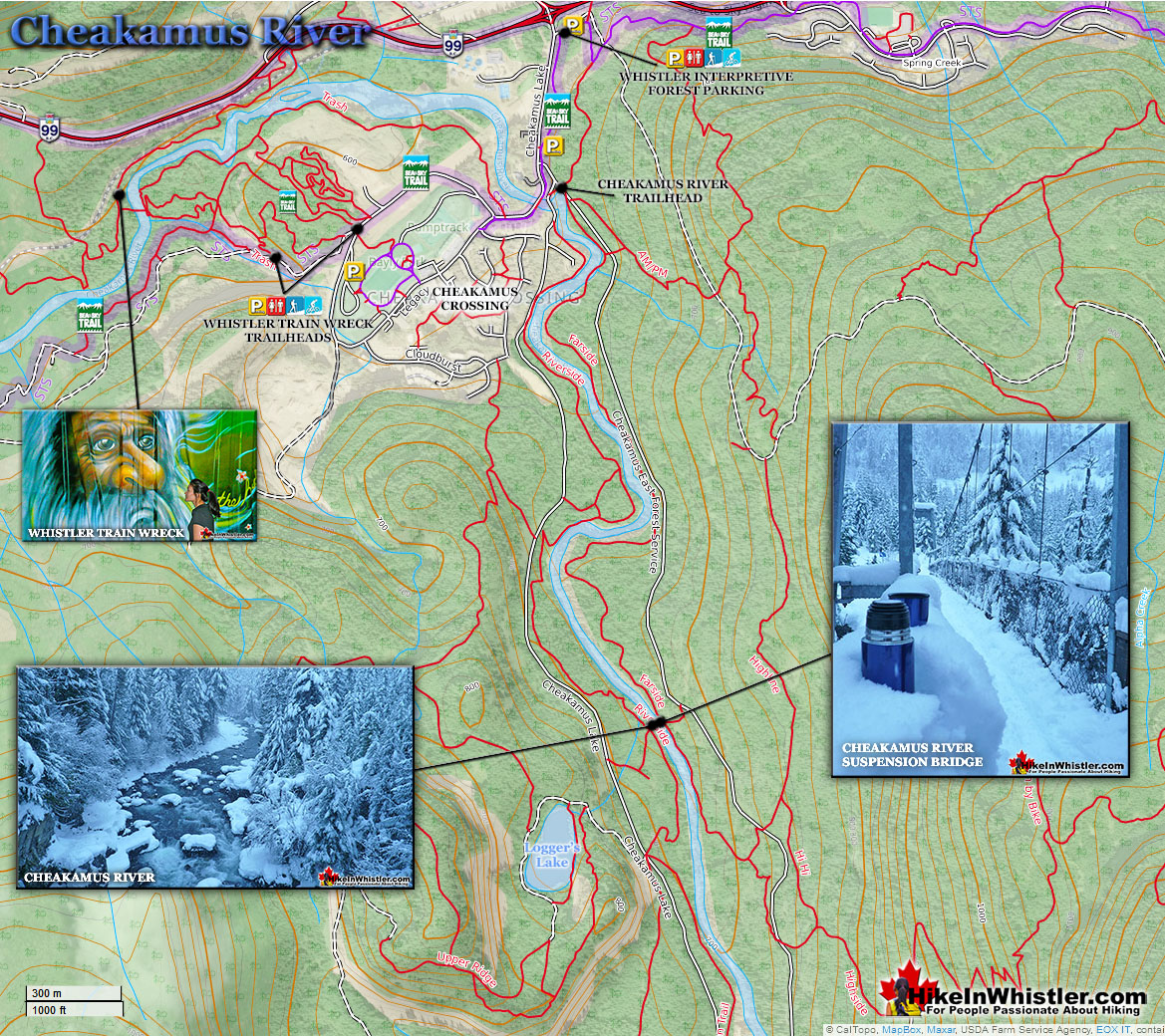 Cheakamus River - January Snowshoeing Whistler
Hiking in Whistler and Garibaldi Park by Month!

Whistler Hiking Glossary A to Z

Explore BC Hiking Destinations!