Callaghan Lake Provincial Park is a relatively untouched wilderness of rugged mountainous terrain. The valley walls were formed by relatively recent glaciation. Evidence of this can be seen in the considerable glacial till and slide materials visible across the lake. Around the lake you will see talus slopes, flat rock benches, cirques, hanging valleys, tarns, waterfalls and upland plateaus with bogs.
Beautiful drive through Callaghan Valley
Drive right to free campsites & lake shore
Beautiful mountain lake in deep wilderness
Lots of secluded places to paddle to
Cirque Lake trail starts at the far end of the lake
The Callaghan Valley is relatively serene

Plenty of exploring if you have a boat

Snow often blocks access road into June
No marked hiking trails around the lake
Campground is notorious for loud parties
Whistler & Garibaldi Hiking

Alexander Falls  

Ancient Cedars  

Black Tusk  

Blackcomb Mountain  

Brandywine Falls  

Brandywine Meadows  

Brew Lake  

Callaghan Lake  

Cheakamus Lake  

Cheakamus River  

Cirque Lake 

Flank Trail 

Garibaldi Lake 

Garibaldi Park 

Helm Creek  

Jane Lakes 

Joffre Lakes  

Keyhole Hot Springs  

Logger's Lake  

Madeley Lake  

Meager Hot Springs 

Nairn Falls  

Newt Lake 

Panorama Ridge 

Parkhurst Ghost Town 

Rainbow Falls  

Rainbow Lake 

Ring Lake  

Russet Lake  

Sea to Sky Trail 

Skookumchuck Hot Springs  

Sloquet Hot Springs 

Sproatt East 

Sproatt West  

Taylor Meadows  

Train Wreck  

Wedgemount Lake  

Whistler Mountain

January 

February 

March 

April 

May 

June 

July 

August 

September 

October 

November 

December
The wildlife that reside in the area include bobcats, cougars, coyotes, minks, wolverines, wolves, bears, deer, mountain goats and occasionally moose and grizzly bears.  Callaghan Lake is not really a hiking destination but more of a drive to campsite on a beautiful lake, and gateway to some beautiful intermediate hikes.  The campsite is small and looks a bit like a parking lot with about a dozen spots to put up a tent near your vehicle.  There is a small boat launch at the campsite and the lake is large and beautiful to paddle. Surrounded by snowy mountains and nice rock outcrops the lake is good for fishing.  The hiking trails are minimal here due to the steepness and deep forest surrounding the lake. From the main parking area some short trails extend in either direction.  The trails to the left go for just a few dozen metres before ending at the lake and river outflow. The trail in the other direction(right if facing the lake from the parking area), takes you around the bottom of the lake and quickly fades into a bit of a bushwhacking route. You can, if you are determined, follow this route around the right side of the lake to its top end and connect to the Cirque Lake trail. The bushwhacking is not that bad and you can stay within sight of the lake the entire time.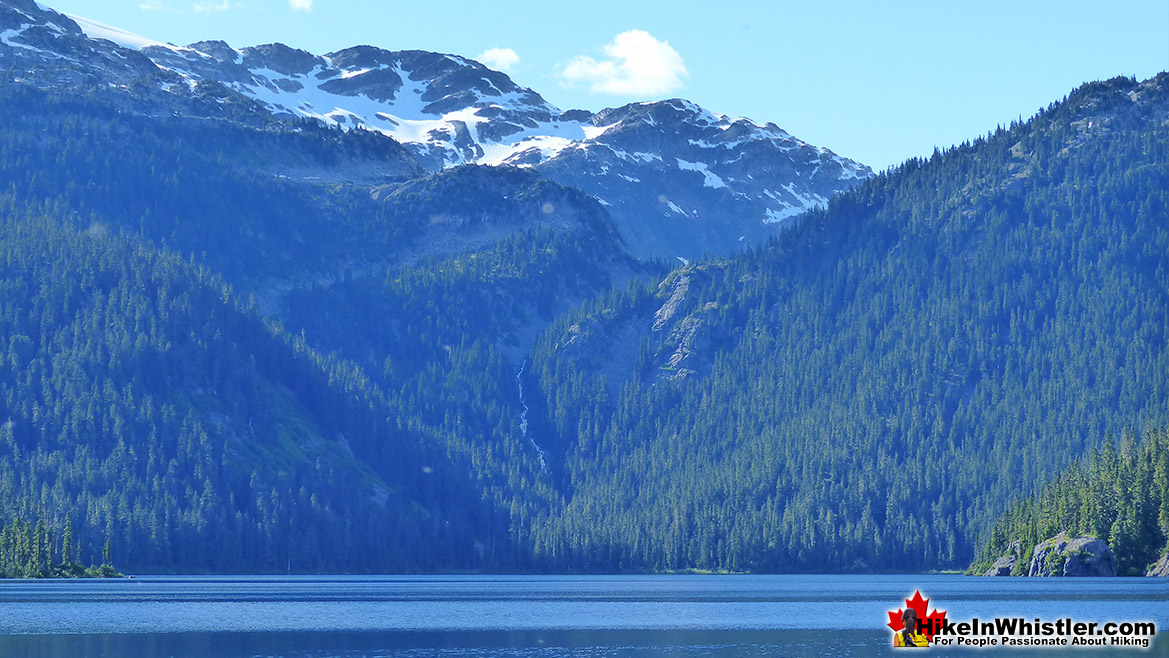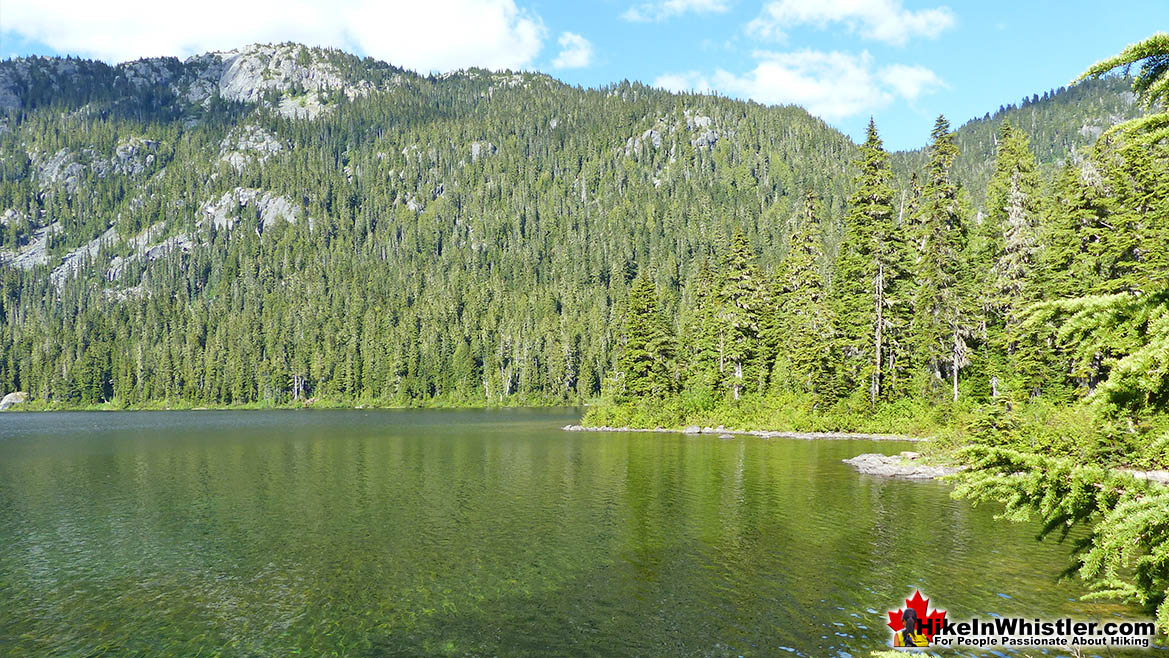 Hiking Trails Near Callaghan Lake

At the far end of the lake the rustic and very steep Cirque Lake trail runs along the side of the loudly crashing Cirque Falls all the way to the breathtaking Cirque Lake.  If you are motivated and have a canoe this is an amazing area to hike in mostly untouched wilderness where the alpine allows for hiking in several directions to countless lakes and glaciers beyond. Callaghan Lake Provincial Park is also the start of another little known though beautiful hike deep into the Callaghan Valley, Ring Lake and Conflict Lake.  Conflict lake is 5 kilometres from the trailhead and is fun, easy and beautiful as the trail takes your through lush forests, meadows and creeks. From Conflict lake to Ring Lake is a more difficult and at time hard to follow trail. The snow persists very lake on this trail (often until late July), but the lake is magnificent and worth the trek. The Callaghan Valley is dog friendly unlike Garibaldi Provincial Park, but extreme caution is needed due to this being grizzly territory. If you see a bear here, it will probably be a grizzly. There are no camping facilities at Ring & Conflict lakes and expect to only find a flat place to put your tent, possibly on snow.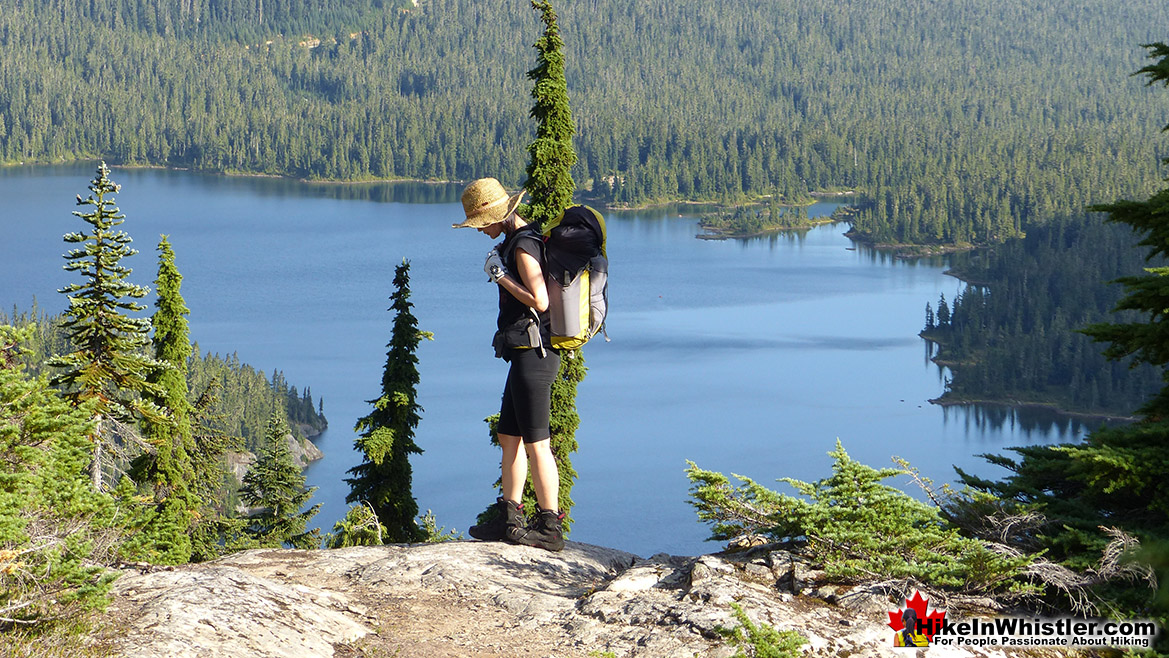 Callaghan Lake Provincial Park Trail Maps

Callaghan Lake Provincial Park encompasses quite a large area, however the campground on the lake is what most perceive to be the park. In fact the park stretches far beyond the end of the lake and to encompass Cirque Lake and Telemagique Lake. Both lakes are stunning, however only Cirque Lake has a marked trail to it. Telemagique is accessible via a bushwhacking route that starts at the parking area for Madeley Lake campground. Callaghan Lake itself doesn't have any trails beyond the very short bits at the campground. There is a route around the right side of the lake. It is overgrown at the start, but opens up as you round the first bend. The Cirque Lake trail is very steep and short at just a couple kilometres. The trail starts at the far end of Callaghan Lake. Be careful as this trail is easy to lose at times and especially in low light. Be prepared or you may end up lost on a cliff in the dark. The unmarked Ring Lake and Conflict Lake trailhead starts just outside the Callaghan Lake campground. Ring Lake is a very pretty and remote lake with a peak similar to Black Tusk. Little Ring Mountain is a little brother to Black Tusk across the valley, with its similar structure and stark black colour. 
Camping & Bivouacking at Callaghan Lake

The Callaghan Lake campsite is free to use and is notorious for being a bit rowdy during summer weekends.  It does tend to get busy during the summer months and every year the popularity of Callaghan Lake seems to increase dramatically.  The Callaghan Valley was a somewhat forgotten expanse of wilderness just a decade ago until the arrival of the 2010 Olympic Games.  In 2009, the gravel logging road that began near the Sea to Sky Highway was widened and paved.  At the end of it was constructed one of the event areas for the Olympic Games.  This opened up the area to a lot of new tourist activities.  Soon bear viewing companies sprang up and the area became well known as an easy and reliable place to see bears from the comfort of your car.  And finally, the phenomenal increase in popularity of hiking in and around Whistler and the relative lack of new hiking trails and campsites has meant that lovely spots like Callaghan Lake are often overcrowded.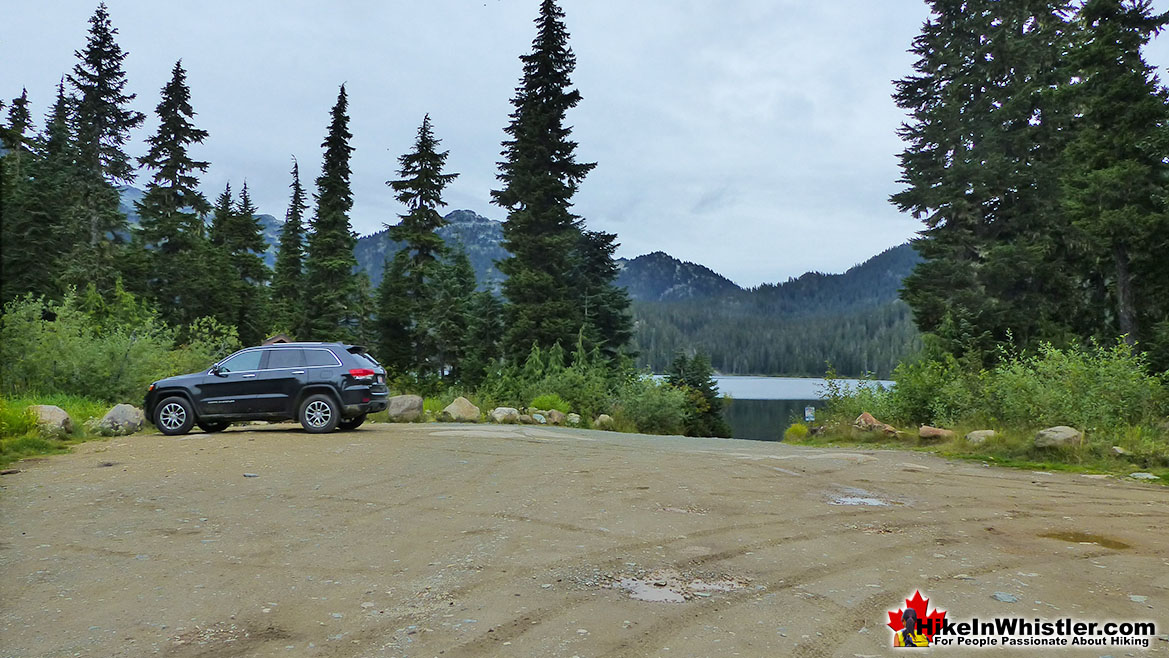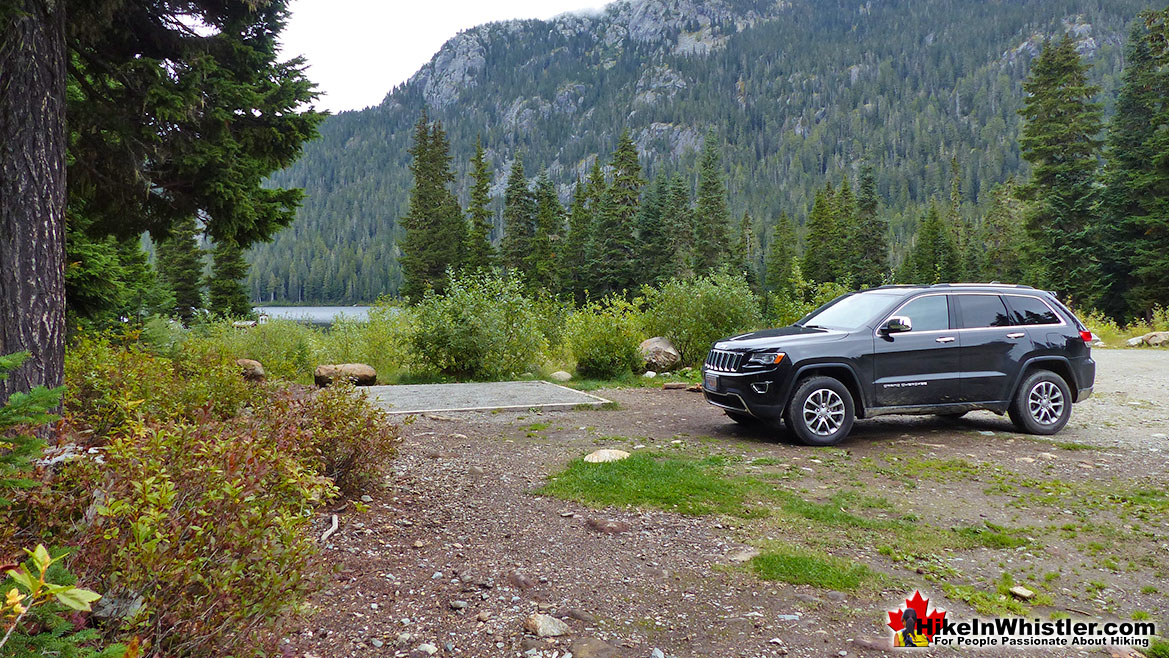 Facilities at Callaghan Lake


Callaghan Lake Provincial Park is still a free campsite and you won't find any elaborate amenities. There is a gravel slope in the campground, perfect for sliding a canoe into the crystal clear water. There are several well laid out tent sites adjacent to parking. Car camping is a much loved pastime with Canadians, and you will always find it going on at Callaghan Lake. There are good outhouses in the campground. The amenities are few, which has the added benefit of keeping the place wild and natural. As you slide into the water and are invariably astonished at the impossibly clear, light green water. Swimming in Callaghan Lake is always very cold, however you can float in a canoe, kayak, paddleboard, etc for hours. Just metres from the launch you see nothing but a perfect alpine lake and bright green forest leading up to snowy mountain peaks. The only signs of humanity disappear behind the trees moments after you move from the campground. Cirque Lake is even more astoundingly untouched. The rough and tough trail is faint at best, and at Cirque Lake you won't see a hint of previous visitors, except one small little fire ring near the shore.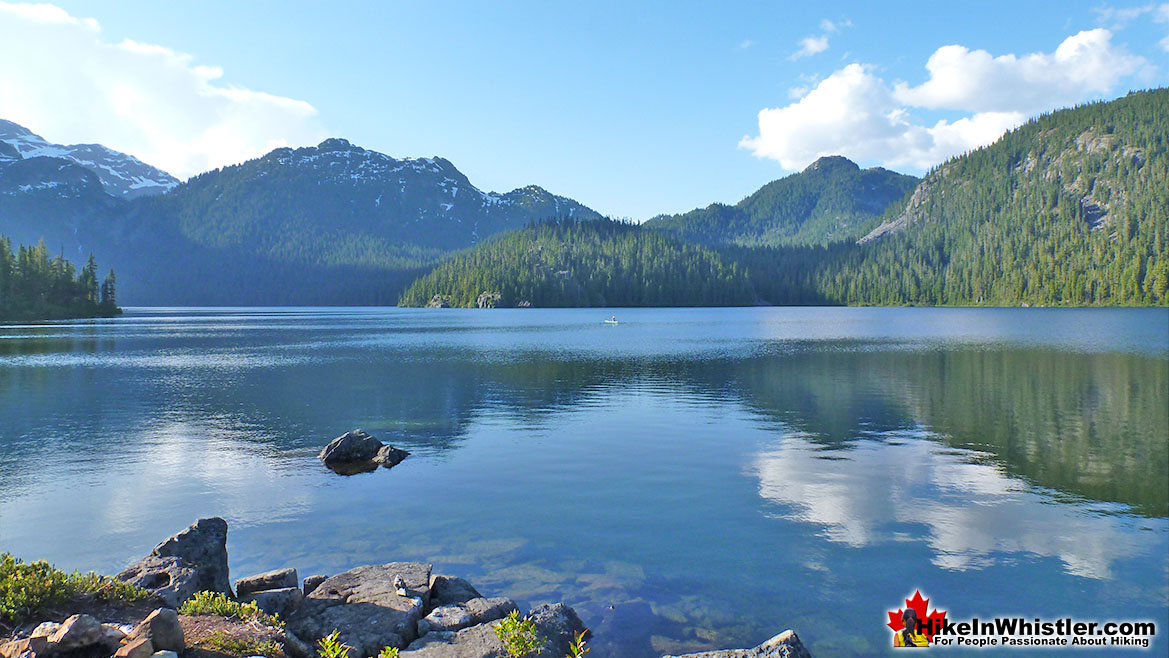 Restrictions and Concerns at Callaghan Lake

Callaghan Lake Provincial Park is a wild and mostly untouched wilderness with no restrictions. There is a fire ban most of the summer in and around Whistler to help prevent forest fires, however there are several fire rings at the campsite. But having a fire elsewhere is prohibited when the hot, dry, summer weather kicks in. Dogs are welcome and fishing is quite popular here. Callaghan Lake and Cirque Lake were stocked with rainbow trout back in 1972 and fly fishing the far shores are popular. Keep in mind that the access road to Callaghan Lake Provincial Park is gated until the 15th of May every year as the area is pay to use in the winter. 
Wildlife in Callaghan Lake Provincial Park

Wildlife in the Callaghan Valley is fantastically varied. Owing to the fact that it lays on the quieter side of Whistler and its location in an extensive wilderness, means few BC animals don't live here. If you take a look at Brandywine Meadows on Google Earth, and zoom out, you see the vast wilderness stretching to the ocean. Because of this, you are far more likely to encounter a grizzly bear at Brandywine Meadows, than at Garibaldi Lake, for example. The good news(or bad news) is that you are still not likely to see one. Grizzly bear encounters are so rare in and around Whistler and surrounding mountains, that most years only see a distant snapshot of a grizzly taken by an excited tour guide or lucky hiker. The problem with rarely seeing grizzlies, is that you forget they are out there. Grizzles are far more dangerous than black bears.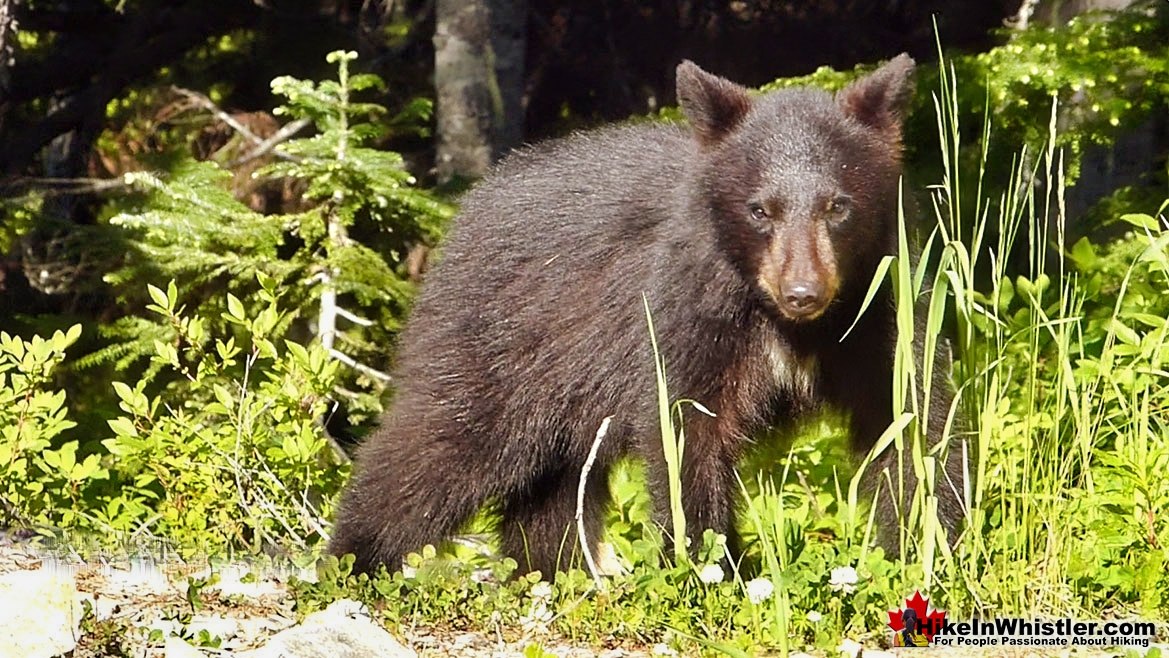 Encountering Black Bears
Black bears are extremely retiring and Whistler has never had an unprovoked bear attack, ever. Every couple years someone comes home to find a bear found their way into their house and frightened, charges and claws them as they escape. Grizzlies on the other hand, are much more likely to become aggressive when encountering humans. Though you will likely never encounter a grizzly in the park, you will likely see a black bear. Often one crosses your path on the drive up, and less frequently you see on on the trail or around the lake. Other animals that roam this vast wilderness, yet are rarely spotted are wolverines, moose, mountain goats, bobcats, coyotes, minks, and somewhat more often, black-tailed deer.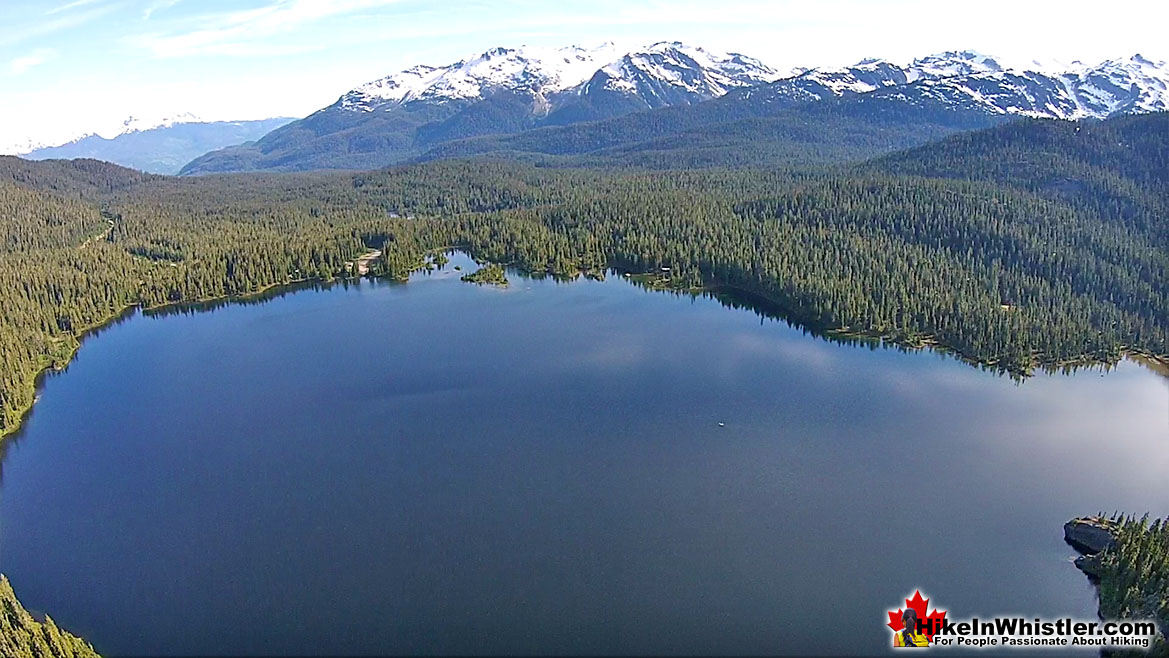 History of Callaghan Lake Provincial Park

Callaghan Lake Provincial Park has a colourful history. Back in the 1980's BCParks had their eye on creating a 100 square kilometre park around Callaghan Lake. At the same time a plan to build a ski resort was in the works. The ski resort plans were derailed by government intervention and in 1997 Callaghan Lake Provincial Park was established. The original 100 square kilometre plan was reduced to just 26.67 square kilometres. At Alexander Falls, just before the turnoff to the 8 kilometre logging road to Callaghan Lake there is a bit of history of the area to see. At the falls viewing area/parking lot there is a nice information board with as short history of the areas surrounding Alexander Falls, complete with museum-like pictures of the regions logging history.  One depicts, "A Land of Giants" and describes, with photos, how incredibly huge trees were cut down and moved. One picture from 1910, shows 10 men sitting on an enormous, felled tree and looking tiny by comparison. The depiction goes on to show how First Nations people felled trees as long as 8000 years ago. The history of logging continues to present day logging practices in British Columbia and around Whistler are depicted in another nice museum-like mural on BC's "Green Advantage" and sustainable future. The drive to Alexander Falls is very nice. As soon as you turn off from the Sea to Sky Highway into the Callaghan Valley you ascend quickly into the mountains. Bears along the roadside are frequently seen as they seem to have a particular fondness for the fields of grass that grow in the sunny meadows that surround this recently constructed, paved road.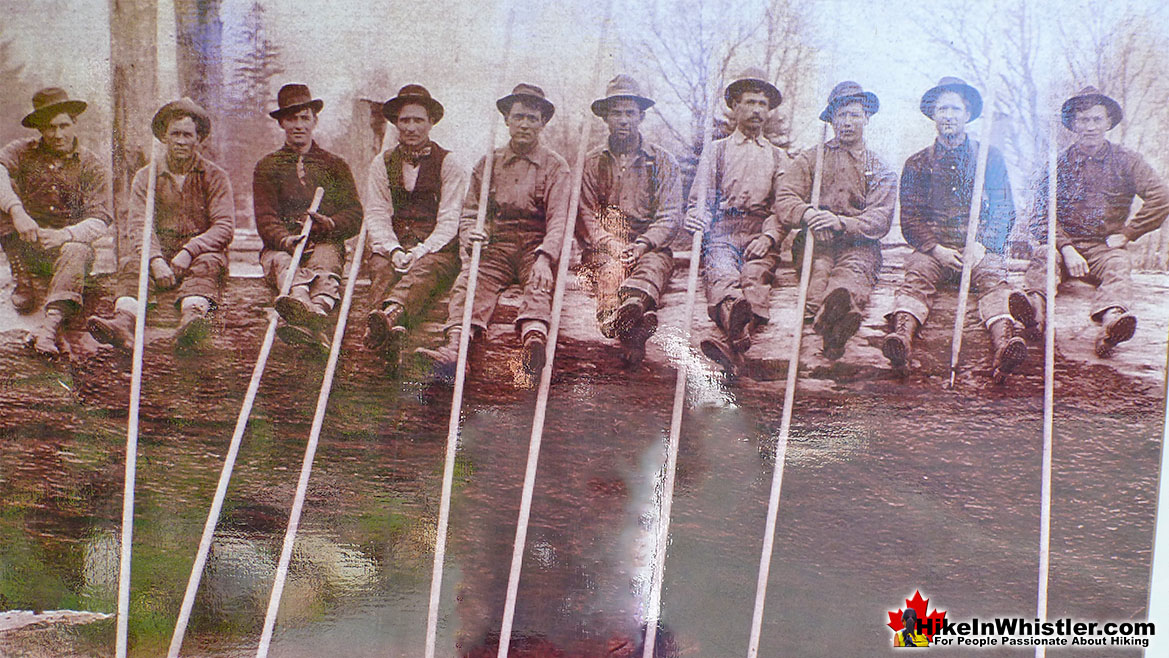 On the viewing platform there is a memorial plaque that reads: "In Memory of F/O Gerald S. Stubbs and F/O James E. Miller. Members of 409 Squadron who perished in this area on 22 March 1956." This memorial refers to a mysterious plane crash of a Canadian fighter plane who's occupants have never been found. For several years it was thought that the plane went down in the Pacific as it was flying over from Vancouver Island on a routine training flight in a T-33 Silver Star. Indeed, the search took place over an area 32 kilometres northeast of Comox(Vancouver Island). A considerable distance from where you are at Alexander Falls. The search eventually wrapped up with the assumption that the plane went down in the ocean.

Two decades later, in the early 1970's, a hiker named Howard Rode found the canopy of the long lost T-33 high up on Mt Callaghan. Rode wrote down the serial number off the canopy and notified the military, who were surprised to discover was the canopy of Stubbs and Miller's plane. A search of the area found no other wreckage. Not surprising if you have hiked in the area. The terrain is a chaotic mix of deep forest, steep terrain, and a maze of enormous erratic and fallen trees. In this type of terrain, you can rarely make out landmarks or get a clear sight of where you are going. Searching the area is extremely difficult and the search area that seems small on paper, is monstrous on the ground.  It took two more decades for another clue to be found. In 1997 a member of Whistler Search and Rescue spotted plane wreckage as he flew over the area. Four kilometres south and down the valley of where the original canopy was found! Finally, the wreckage could be examined for clues to what had happened. The cause was determined to be fuel starvation. No sign of Stubbs and Miller were found, despite a lot of searching. Another decade would pass before a clue to the two missing airmen was found. A helmet was found directly between the wreckage and the canopy. Just a helmet. Another set of searches went on, and remarkably, still nothing else found.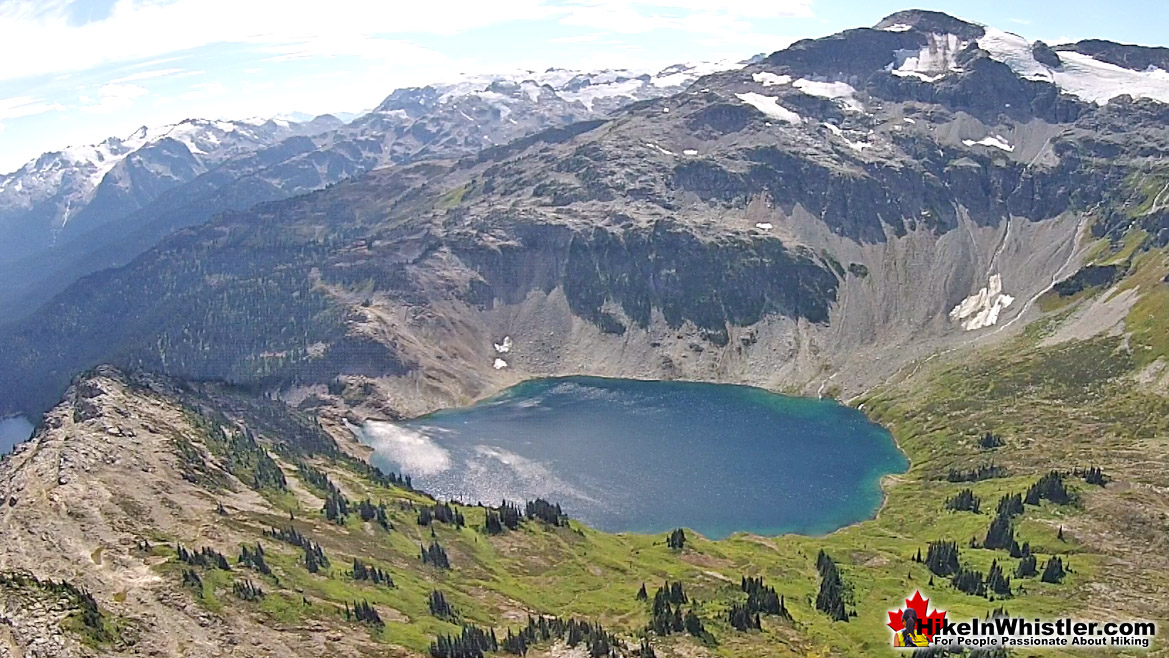 Somewhere between the wreckage and the canopy, the ejected seats of the fighter plane still lay hidden. Pilots eject from a T-33 with the seats and parachute down to safety. It now seemed evident that Stubbs and Miller ejected the plane before it crashed and possibly survived. Surviving the crash may have been the easy part. Finding civilisation over brutal terrain, deep with snow and in freezing winter temperatures. In March 1956, just like most years, the snow on Mt Callaghan is measured in metres. Eventually another clue will be found as hiking trails continue to be developed in the area and the number of hikers combing the dense forest increase.
Directions to Callaghan Lake


Callaghan Lake Provincial Park is less than an hours drive from Whistler Village and most of the drive is quite beautiful. From Whistler drive 13.8 kilometres towards Vancouver on the Sea to Sky Highway. Turn right onto Callaghan Valley Road at the sign for Whistler Olympic Park. Drive up the beautiful, winding road for 9.6 kilometres. The sign for Callaghan Lake Provincial Park will be just after Alexander Falls Provincial Park and just before Whistler Olympic Park. You will turn left, cross a bridge and drive up the horrendously potholed Callaghan Lake FSR for 8.5 kilometres.  Most vehicles can make it to the lake but with extreme caution and care at several waterbars and the frequent and very deep potholes.  The deep waterbars start immediately on the road, so you will know right away if your car will make it.  You often see full size motorhomes at the campsite so as long as you drive slow, most vehicles should make it slowly but surely.  This logging road is usually deep with snow until mid June.  If you attempt to drive this road in early summer, be sure to bring a shovel and rope in case you find yourself stuck in the snow. You will have spotty cell reception all the way to the Callaghan campsite, however you may have to walk along the road until you catch a usable signal.  Access to Callaghan Lake FSR is blocked by a chain at the bridge until May 15th every year.  A huge pile of snow is plowed to block Callaghan Lake FSR just past the bridge.  It keeps people from driving up and getting stuck in the snow on the higher elevations.  When this snow pile melts, it is a good indication that the road to Callaghan Lake may be clear as well.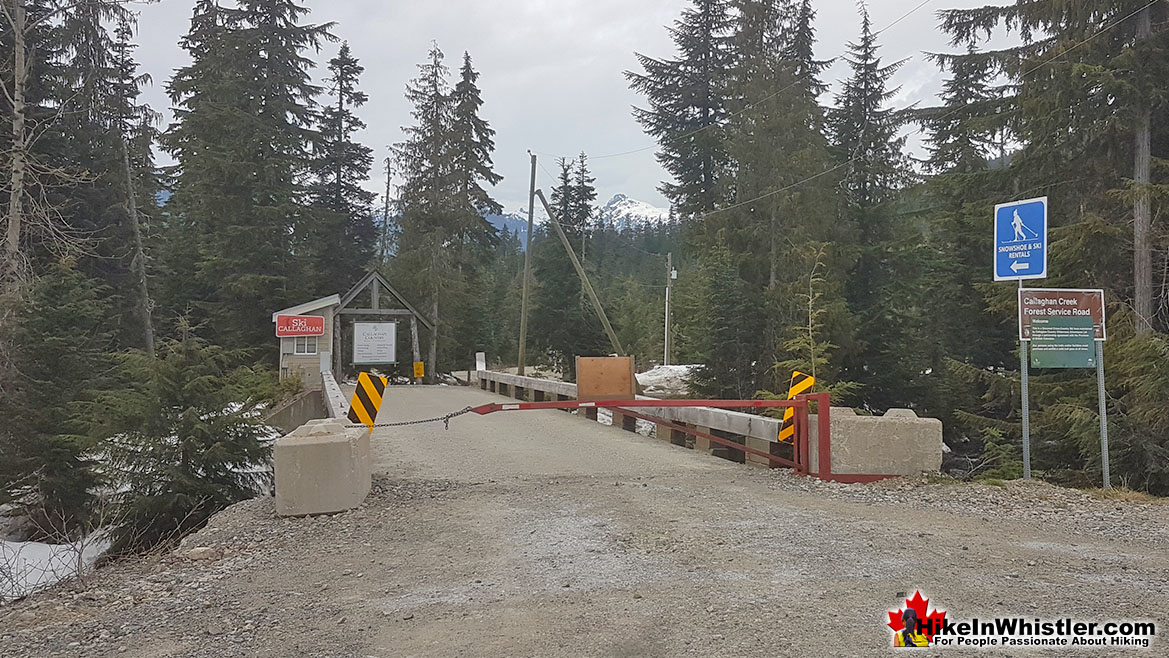 Since the upgrade from gravel to paved road, Callaghan Valley Road from the highway is new, wide, smooth pavement. This along with the broad contours, tough ascent and excellent scenery have made it a destination for tremendous numbers of road bikers. Doing it on a road bike from Whistler Village would be a considerable trek, on a mountain bike it would be extremely long just getting to the turnoff to the gravel road to the lake. Another 8.5 kilometres of uphill slog. Still it is feasible for the extremely fit and determined. Can you get to the Callaghan Lake trailhead by public transit? No, because Whistler Transit buses don't extend past Function Junction. Callaghan Valley is twice that distance. Taxis are a good option to get to the trailhead, however, you will get dropped just past Alexander Falls as they won't go up the bumpy, potholed logging road to the park.
More Great Hiking Around Callaghan Lake

The Callaghan Valley lays quietly across from Whistler despite being home to some incredible hikes. Ring & Conflict Lake and Cirque Lake are two phenomenal hiking destinations in the valley that few people have even heard of. Cirque Lake resides high above Callaghan Lake at the end of a very steep, though very short hike that runs startlingly close to the almost vertical falls that empty Cirque Lake. Ring & Conflict Lake sit high up in the mountains 10 kilometres west of Callaghan Lake.  You will never, or at least comparatively rarely see anyone on the trails to Cirque Lake, Ring & Conflict Lake for several reasons. First is location. Despite the Callaghan Valley being tremendously beautiful geographically. The distant mountains are snow covered, even in September.  The lakes are emerald coloured and crystal clear.  The forests are an untouched blanket of beautiful green. The creeks, rivers and waterfalls are everywhere in your view or if not in view, heard as distant sounds of running water. Despite this beauty, it seems that the biggest reason for the Callaghan Valley's lack of use as a hiking destination is its location next to Garibaldi Park. The beautiful and well known park focuses all the throngs of hikers in the justifiably popular areas of Garibaldi Lake, Black Tusk, Taylor Meadows, Wedgemount Lake and Elfin Lakes.  Laying outside this monstrously famous Provincial Park exists the relatively untouched and unknown Callaghan Valley.  The second big reason of course is that the hikes in the Callaghan Valley are unmaintained or at least rarely maintained.  The campsite at Callaghan Lake is maintained to a very high standard, however the trail to Cirque Lake evidently doesn't fall into any park jurisdiction and finding the unmarked trailhead is a challenge.  There are flagging tapes along the trail after the trailhead.  The third reason, at least for Cirque Lake, for being hardly hiked is the fact that the unmarked trailhead starts at the far end of Callaghan Lake.  So you need to canoe or otherwise, boat there.  This added impediment surely contributes to this wonderful trail, continuing to be infrequently hiked.  The fourth, more practical, yet inexplicable reason is that the road to Callaghan Lake Provincial Park is horribly unmaintained.  Obviously grading this poor logging road is expensive, however it is beyond neglected. Boulders, waterbars and potholes exist on this road to such a high degree that the neglect seems malicious. In fact, the moment you leave the deluxe road to the Olympic Nordic Centre the monstrous potholes begin, presumably scaring away any 4x4 lacking tourists Callaghan Lake Provincial Park bound.  The Callaghan Valley gets a lot of drive in traffic since the recent paving of the road and installation of Whistler Olympic Park for the 2010 Olympics.  This road is open year-round and in the summer is frequented by bear watchers.  The grass along the road is a favourite for bears and in the summer months consistently ensures at least a couple bears along the route to the Callaghan Valley.  Whistler has quite a few beautiful waterfalls to see.  From Squamish there is Shannon Falls, then Brandywine Falls closer to Whistler. Rainbow Falls in Whistler and Nairn Falls twenty minutes north.  Out of these, Alexander Falls in the Callaghan Valley is both impressively huge and convenient to see.  It is located just before the turnoff to Callaghan Lake.  You can drive to the viewing platform and actually see the falls without leaving your car.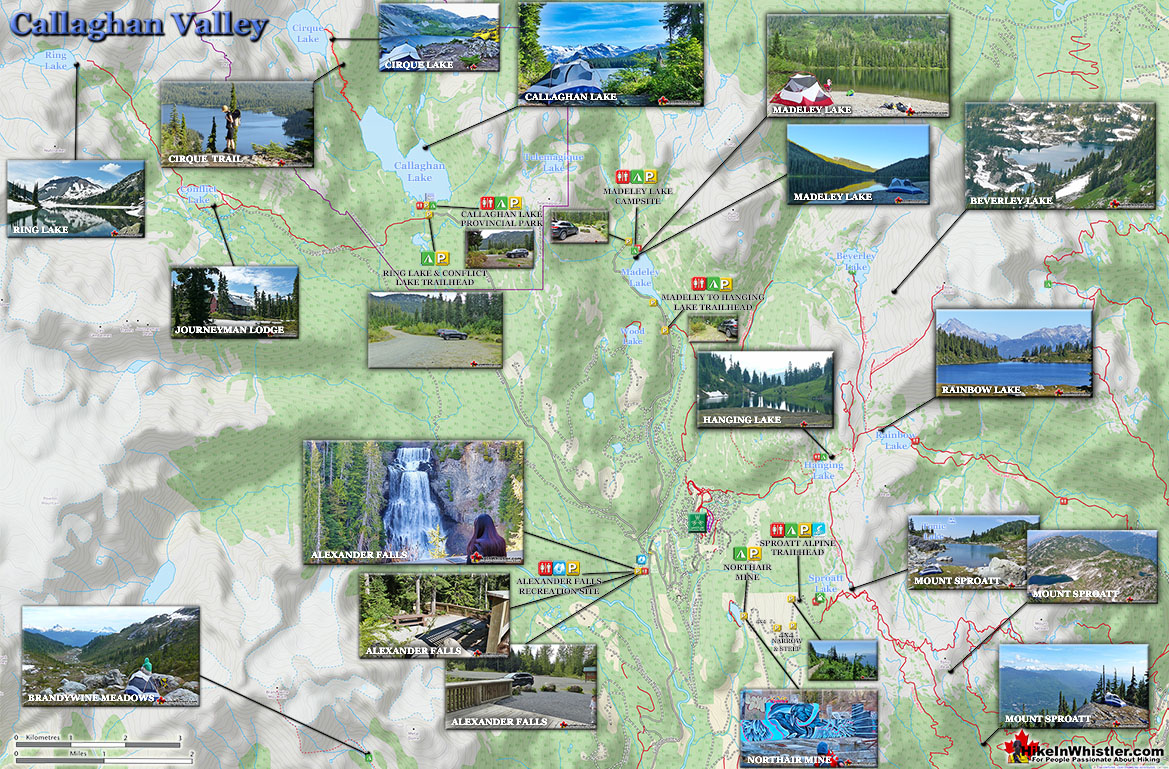 Fantastic Books About Geology in BC


Here are two excellent books on the Geology of British Columbia.  In Search of Ancient British Columbia by Barbara Huck is one of our favourites.  It focuses on southern BC and covers each individual region separately.  The Lower Mainland chapter explains the geology, paleontology and archaeology of the region stretching from Vancouver, Sea to Sky, Garibaldi Park and north to Mount Meager and Meager Hot Springs.  Quite a lot of the book is devoted to how the last ice age shaped the land and inhabitants of southern BC.  The chapters on Vancouver Island are particularly good as the geological history was particularly chaotic and the history of glaciation around present day Victoria is very interesting.  Geology of British Columbia: A Journey Through Time by Sydney Cannings, JoAnne Nelson and Richard Cannings is a beautiful history of BC's geology and the 200 million year history of creatures living in this extraordinary corner of the world.  The authors take us on a journey through time, describing the collisions of island chains called terrains, the sliding of plates, the erupting of volcanoes, and the movement of glaciers that created British Columbia as we know it today.  They also describe the rich legacy of fossils left behind as a result of all this geological activity.
**We participate in the Amazon Services LLC Associates Program and earn a small commission on purchases we link through to Amazon at no extra cost to you.  We only link to books and products we love and highly recommend.  Thanks for your support!**
Whistler & Garibaldi Park Hiking

Alexander Falls  

Ancient Cedars  

Black Tusk  

Blackcomb Mountain  

Brandywine Falls  

Brandywine Meadows  

Brew Lake  

Callaghan Lake  

Cheakamus Lake  

Cheakamus River  

Cirque Lake 

Flank Trail 

Garibaldi Lake 

Garibaldi Park 

Helm Creek  

Jane Lakes 

Joffre Lakes  

Keyhole Hot Springs  

Logger's Lake  

Madeley Lake  

Meager Hot Springs 

Nairn Falls  

Newt Lake 

Panorama Ridge 

Parkhurst Ghost Town 

Rainbow Falls  

Rainbow Lake 

Ring Lake  

Russet Lake  

Sea to Sky Trail 

Skookumchuck Hot Springs  

Sloquet Hot Springs 

Sproatt East 

Sproatt West  

Taylor Meadows  

Train Wreck  

Wedgemount Lake  

Whistler Mountain

January 

February 

March 

April 

May 

June 

July 

August 

September 

October 

November 

December