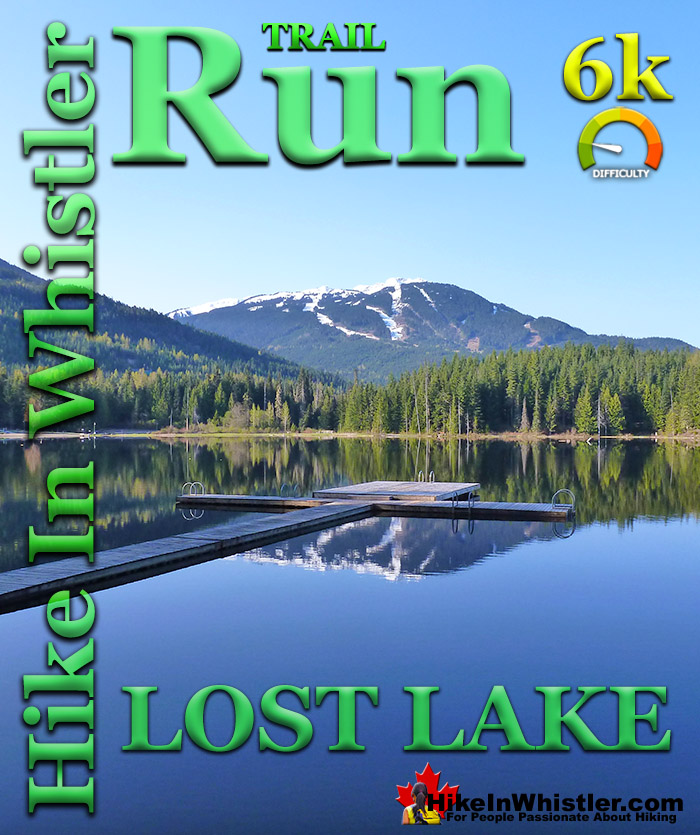 The Lost Lake 6k is a nice 6 kilometre(3.7 mile) running route that takes you from Whistler Village out and around Lost Lake.  Lost Lake, along with the Whistler Golf Course 5k trail run are two of the most convenient and scenic trail runs adjacent to Whistler Village.  Both can be started in Whistler Village and both have almost constant views and easy to follow routes.  Depending on where you are in the Village you can access the Lost Lake Park via many different directions, however the Fitzsimmons Trail between Lot 1 and Lot 2 is possibly the nicest.
Whistler & Garibaldi Hiking

Alexander Falls  

Ancient Cedars  

Black Tusk  

Blackcomb Mountain  

Brandywine Falls  

Brandywine Meadows  

Brew Lake  

Callaghan Lake  

Cheakamus Lake  

Cheakamus River  

Cirque Lake 

Flank Trail 

Garibaldi Lake 

Garibaldi Park 

Helm Creek  

Jane Lakes 

Joffre Lakes  

Keyhole Hot Springs  

Logger's Lake  

Madeley Lake  

Meager Hot Springs 

Nairn Falls  

Newt Lake 

Panorama Ridge 

Parkhurst Ghost Town 

Rainbow Falls  

Rainbow Lake 

Ring Lake  

Russet Lake  

Sea to Sky Trail 

Skookumchuck Hot Springs  

Sloquet Hot Springs 

Sproatt East 

Sproatt West  

Taylor Meadows  

Train Wreck  

Wedgemount Lake  

Whistler Mountain

January 

February 

March 

April 

May 

June 

July 

August 

September 

October 

November 

December

Whistler Golf 5k 

Blueberry Hill 6k 

Lost Lake 6k 

Alta Lake 8k 

Fitzsimmons 9k 

Alta Green Lost 15k 
Running from Whistler Village, you come to the beautiful covered bridge crossing over Fitzsimmons Creek and a great area by the river to see before continuing your run.  Across the bridge you follow the paved trail to your left, then the gravel trail along the far shore of Fitzsimmons Creek.  This takes you under Lorimer Road and to the entrance to Lost Lake Park.  The Lost Lake 6k takes you to, then around Lost Lake, which lays at the heart of the deeply forested Lost Lake Park.  The wide trail runs around this very picturesque lake through a wonderful forest. This area has been developed into a large network of biking trails which also makes it a paradise for runners.  The sheer number of the trails allows them to remain relatively serene and devoid of people despite their popularity.  There are a seemingly infinite number of variations on running routes in the Lost Lake area.  Lost Lake has a very popular beach at one end and in the height of summer can get busy as it is the most convenient beach from Whistler Village.  There are several swimming platforms out in the lake as well as a wonderful and huge pier along the right hand side of the lake.  An amazing place to catch the sunsets over Whistler Mountain.  In the winter months when there is snow in Whistler, Lost Lake becomes a cross country and snowshoeing area and there is a charge to access the main trails around the lake.  Usually from mid December to early April.  Lost Lake is very popular with bears and during the summer months a bear encounter is very likely.  Whistler bears are very wary of people, so if you encounter one on the trail, they will almost always run into the forest when they notice you.  Keep your distance and make some noise and give them the opportunity to make their exit.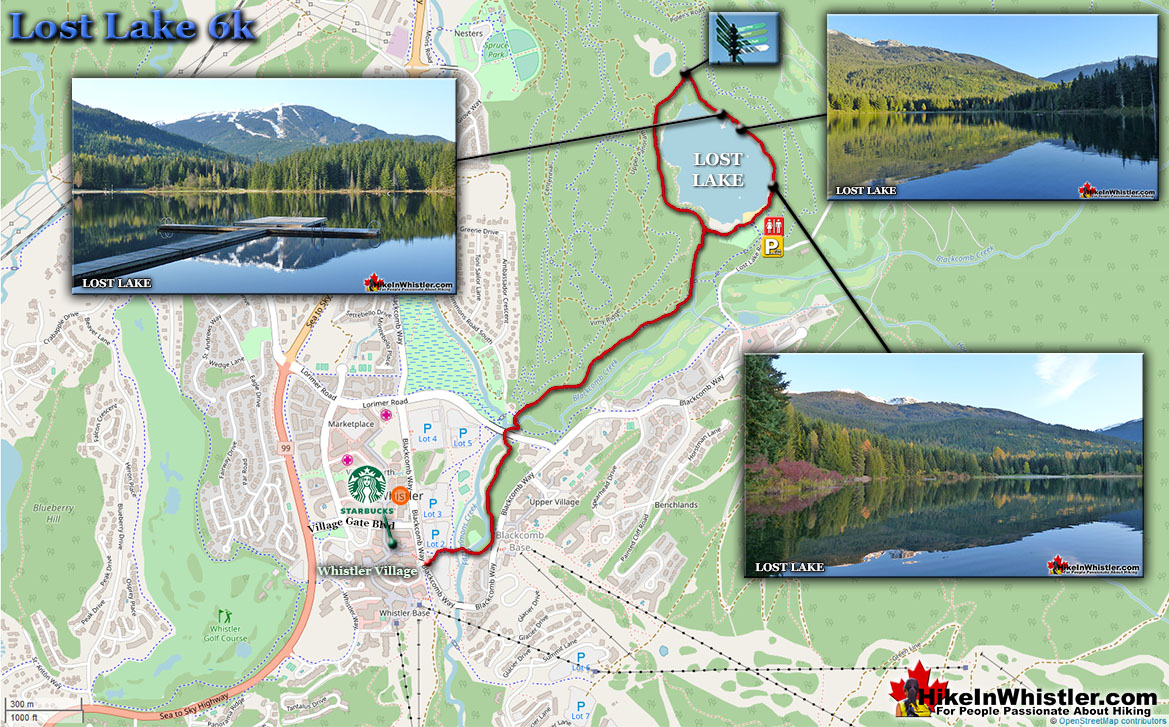 Lost Lake Park has washrooms near the main beach at Lost Lake.  Whistler Village has washroom facilities everywhere you look.  The Upper Village shown on the above map has washrooms in Blackcomb Daylodge, as well as Merlins(pub & restaurant).  There are more coffee shops and restaurants in the Upper Village, well worth visiting if you have time.  Portobello's is especially to be recommended.  It is a bakery, specialty coffee shop and amazing restaurant, with made-to-order sandwiches, perfectly suited for a picnic at Lost Lake.  You will find it in the Upper Village along the main, pedestrian only causeway in the lower lobby of the Fairmont Chateau Whistler(Portobello's has it's own entrance).  Beyond Lost Lake there are washrooms at the Nicklaus North Golf Club.  The restaurant here is amazing.  Always seems to have food and drink specials and non-golfers are always welcome.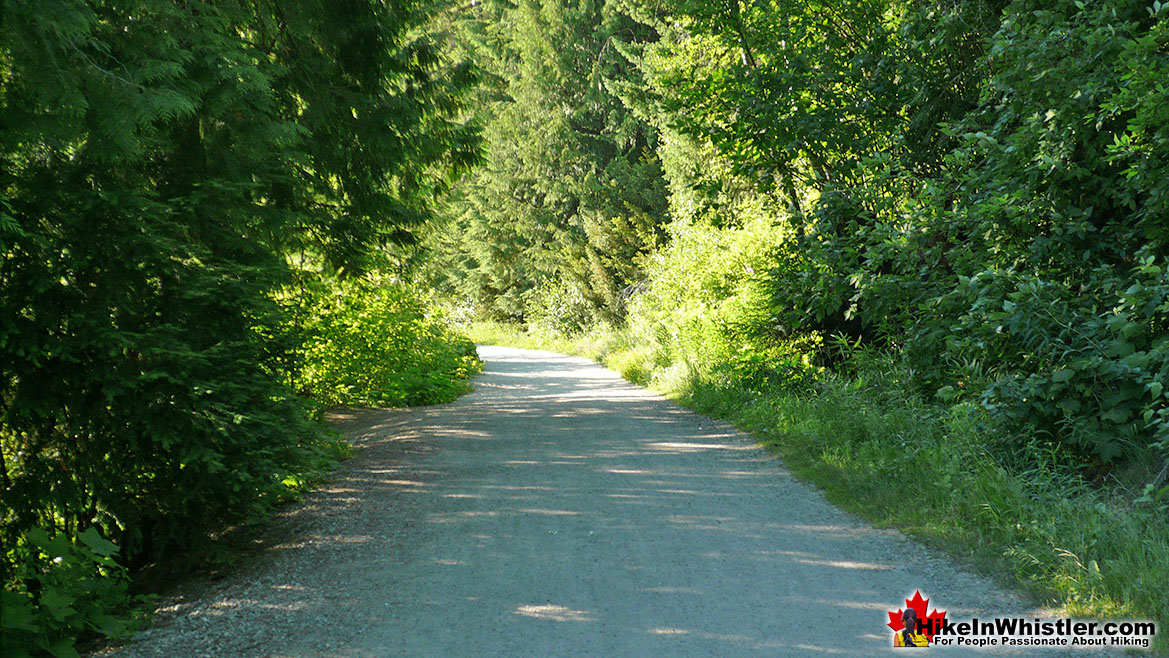 The Lost Lake trail and the Valley Trail on either side of Lost Lake Park are very dog friendly with the exception of the sandy, main beach at Lost Lake.  Continue on the paved trail past this beach and the trail becomes gravel near the washrooms as it bends left along the lake.  After a minute or two you will notice a sign for "Canine Cove" and a great little beach reserved just for your dog.  They think of everything in Whistler and even the floating docks and the piers have doggie accessible ramps that make it easy for your dog to climb onto.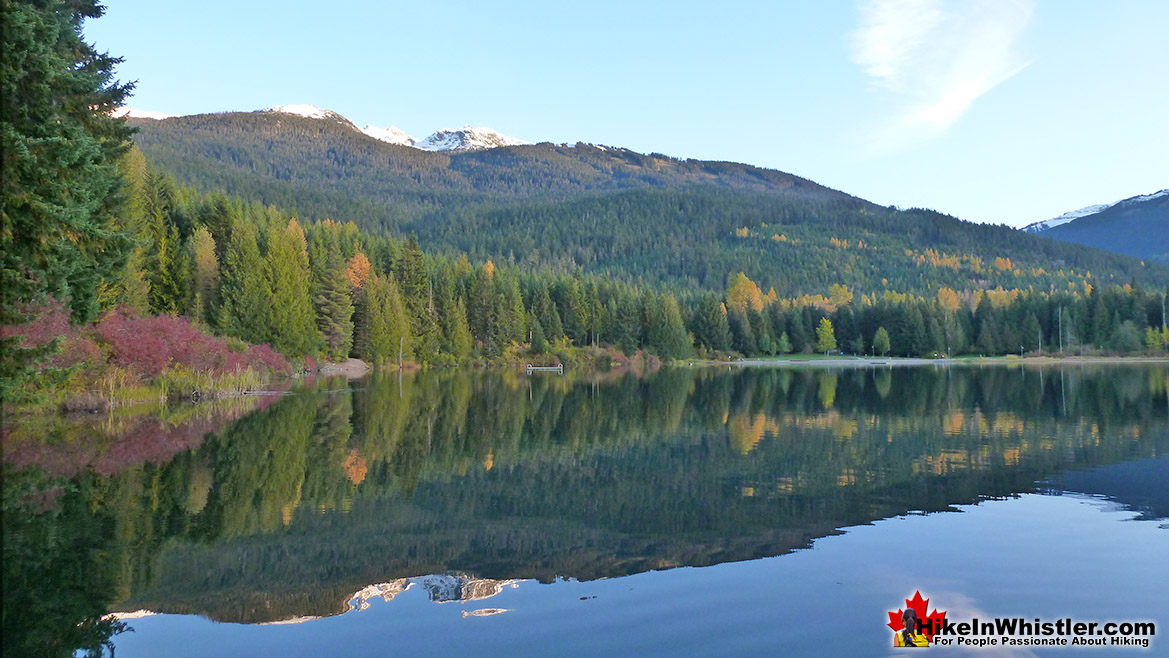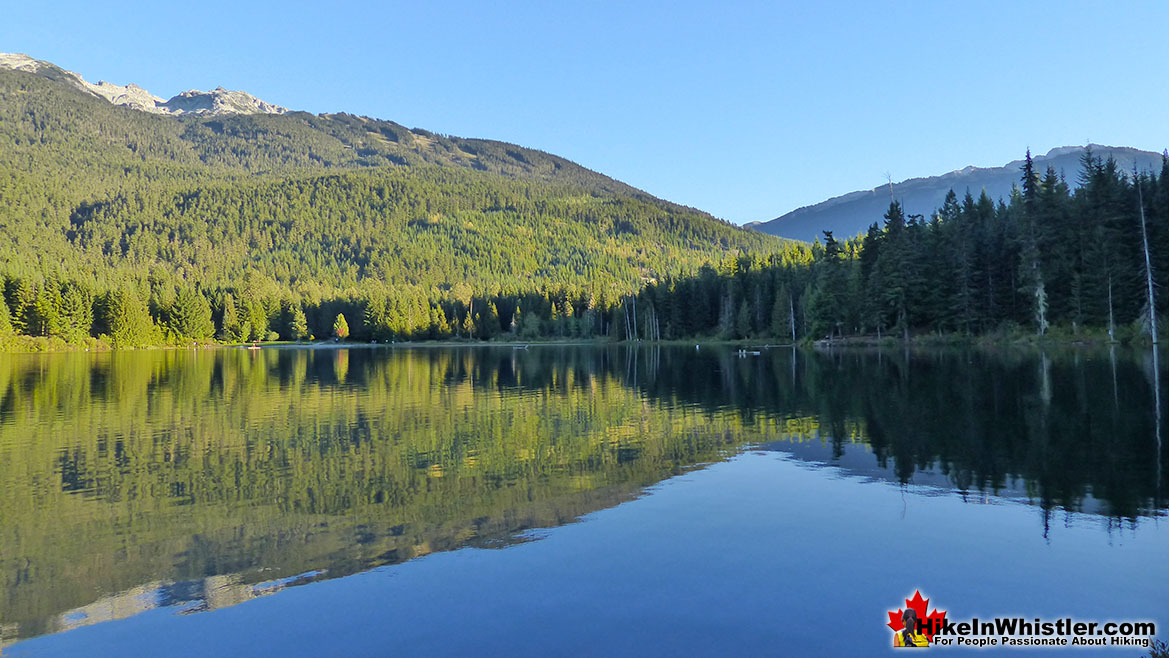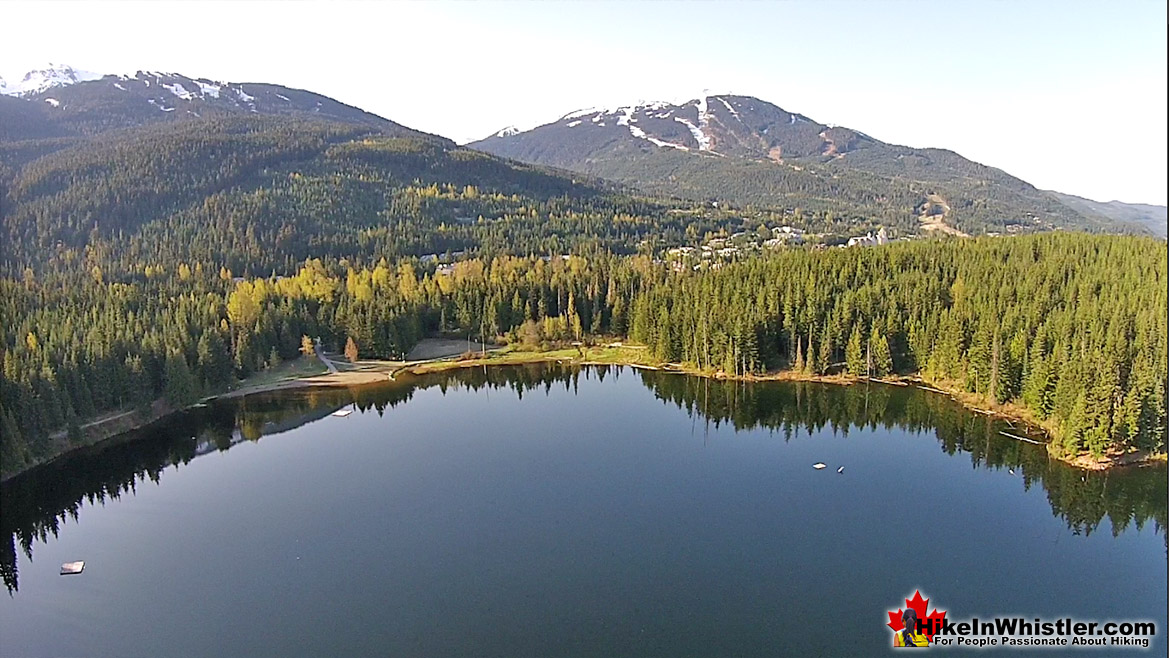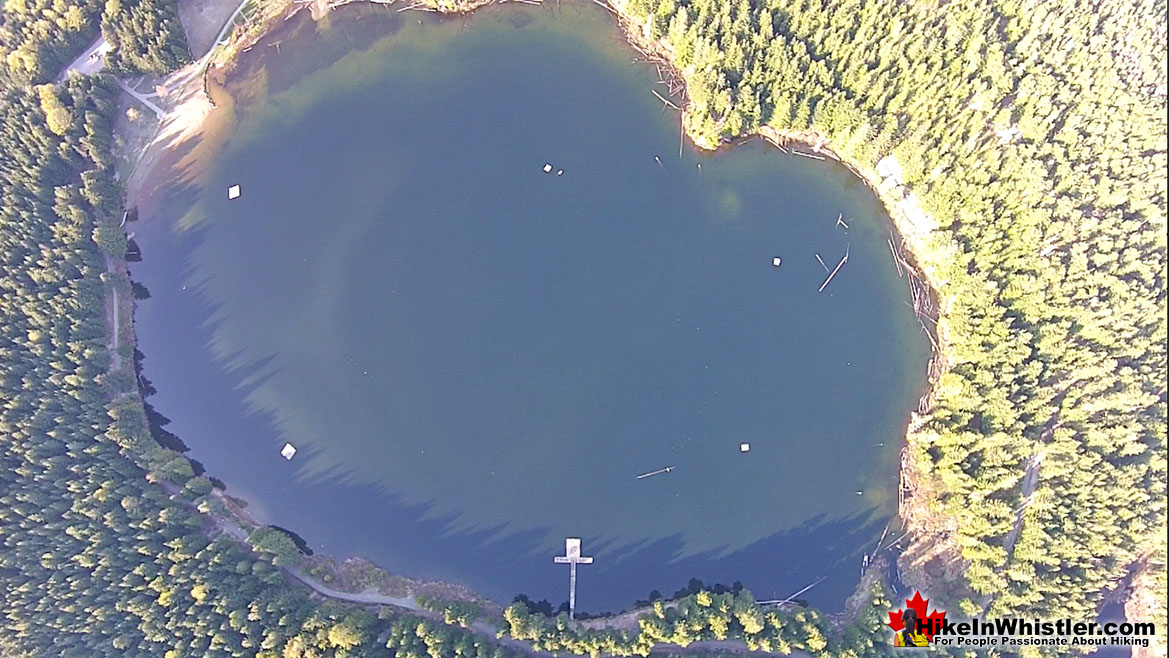 More Whistler Running

There are plenty of great running trails in Whistler.  The Whistler Golf Course 5k is one of the easiest and most convenient.  The Blueberry Hill 6k follows part of the same route along Whistler Golf Course, as well as an interesting and challenging section that runs up and over Blueberry Hill. Though only a kilometre longer than the golf course route, the Blueberry Hill 6k has some steep uphill and downhill sections.  Much more challenging and rewarding than the golf course run, it requires a bit more routefinding and a couple streets to navigate through.  The Whistler Golf Course 5k is easy, relaxing and you don't have to think about where you are going as the route is quite clear.  The Lost Lake 6k is similarly easy to follow and quite a bit of nice scenery.  As with the Whistler Golf Course 5k and the Blueberry Hill 6k, the Lost Lake 6k starts right from Whistler Village.  The trail takes you out and around Lost Lake and back to the Village through an amazingly serene and relaxing forest.  The Alta Lake 8k is another beautiful running route that starts and finishes in Whistler Village at the Whistler Golf Course clubhouse.  It takes you around Alta Lake, through several beautiful lakeside parks and hardly a minute goes by without a gorgeous mountain, lake or forest view.  The Fitzsimmons 9k also begins in Whistler Village and takes you around one side of Lost Lake before continuing out to and across Fitzsimmons Creek, where you then run alongside the river back to where you started in Whistler Village.  The Alta Green Lost 15k is a beautiful combination of parts of the previous trails.  It takes you from Whistler Village, around Alta Lake along the Alta Lake 8k route.  Instead of bending back to Whistler Village, you continue running north, along the River of Golden Dreams until you reach Green Lake.  After you run across the amazingly scenic boardwalk bridge across Green Lake, you cross Fitzsimmons Creek and run along the far shore of Lost Lake and back to Whistler Village.
Whistler's Best Running Trails!
Whistler & Garibaldi Park Best Hiking by Month!

Explore BC Hiking Destinations!