June 13th, 2020: One of Callaghan Valley's beautiful places appears to be now blocked from the public. Madeley Lake, about as perfectly idyllic a lake can possibly get, and home to a wonderful, secluded, free and decades old campsite, is now blocked by a locked gate. Whistler Olympic Park, which was constructed for the 2010 Olympics resides at the end of Callaghan Road. Madeley Lake is found in the beautiful wilderness beyond, at the end of an old logging road.
Whistler & Garibaldi Hiking

Alexander Falls  

Ancient Cedars  

Black Tusk  

Blackcomb Mountain  

Brandywine Falls  

Brandywine Meadows  

Brew Lake  

Callaghan Lake  

Cheakamus Lake  

Cheakamus River  

Cirque Lake 

Flank Trail 

Garibaldi Lake 

Garibaldi Park 

Helm Creek  

Jane Lakes 

Joffre Lakes  

Keyhole Hot Springs  

Logger's Lake  

Madeley Lake  

Meager Hot Springs 

Nairn Falls  

Newt Lake 

Panorama Ridge 

Parkhurst Ghost Town 

Rainbow Falls  

Rainbow Lake 

Ring Lake  

Russet Lake  

Sea to Sky Trail 

Skookumchuck Hot Springs  

Sloquet Hot Springs 

Sproatt East 

Sproatt West  

Taylor Meadows  

Train Wreck  

Wedgemount Lake  

Whistler Mountain

January 

February 

March 

April 

May 

June 

July 

August 

September 

October 

November 

December
Alexander Falls 
Brandywine Falls  
Cirque Falls  
Holloway Falls 
Keyhole Falls 
Nairn Falls 
Rainbow Falls 
Shannon Falls 
Train Wreck Falls 
Wedgemount Falls
Just before Whistler Olympic Park and near the end of the paved Callaghan Road, you can turn left onto Callaghan Lake FSR. After about 300 metres Madeley Lake Road veers off to the right. It seems that Whistler Olympic Park quietly expanded to encompass Madeley Lake Road and Madeley Lake. Though the Olympics came and went 10 years ago, only this year they have decided to prohibit the public from the access road to Madeley Lake that predates Whistler Olympic Park by several decades. The new gate reads, "Warning, entering Whistler Olympic Park core area, you are required to have a ticket or you are trespassing." Another sign prohibits motorized vehicles past the gate. As Whistler Olympic Park is closed until late June, it appears that Madeley Lake is closed to everyone. At least a dozen websites, including two run by Whistler have recent articles about Madeley Lake and Madeley Lake trail that connects it to Hanging Lake. None of the sites seem to have any knowledge of the closure and all recommend Madeley Lake as a beautiful, hidden paradise in Whistler.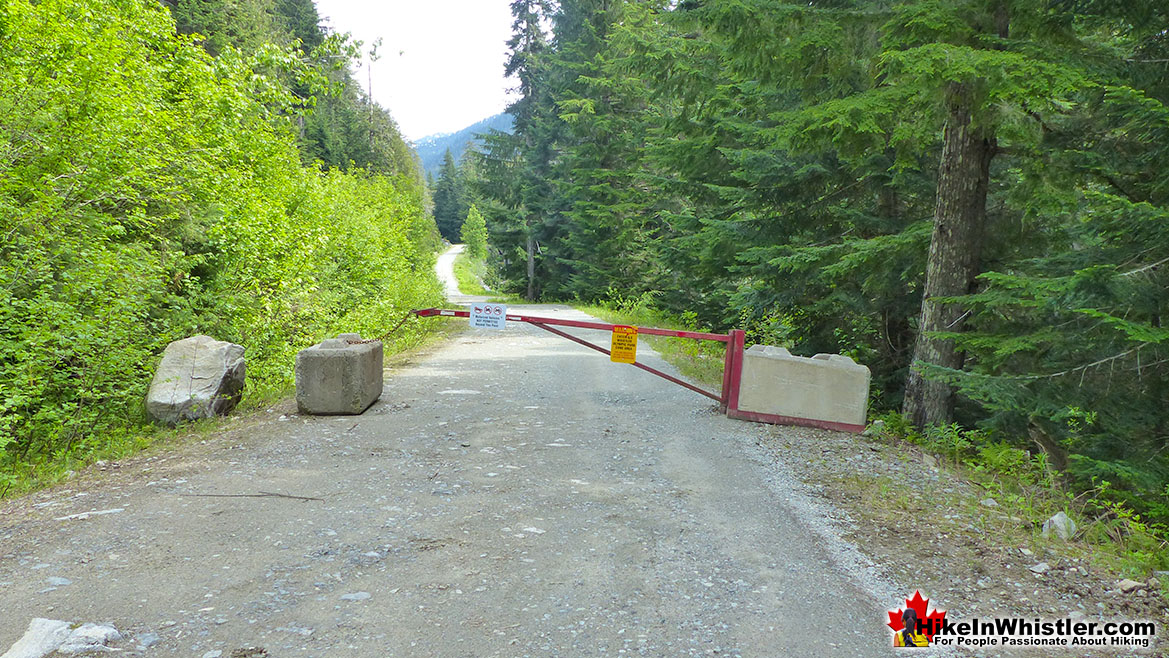 Beautiful Madeley Lake
Madeley Lake is a wonderfully remote feeling place and the campsite is not maintained.  There are a few picnic tables, an outhouse, several fire rings and several clearings for tents. Madeley Lake sits in a forgotten corner of Whistler's Callaghan Valley. Camping here is free and compared to every other campsite in and around Whistler, it is arguably the nicest. Tranquil, great rocky beach with a crashing river flowing by. Well laid out tent sites in a deep forest, sun facing and you can drink straight from the river which comes from a glacier at nearby Telemagique Lake.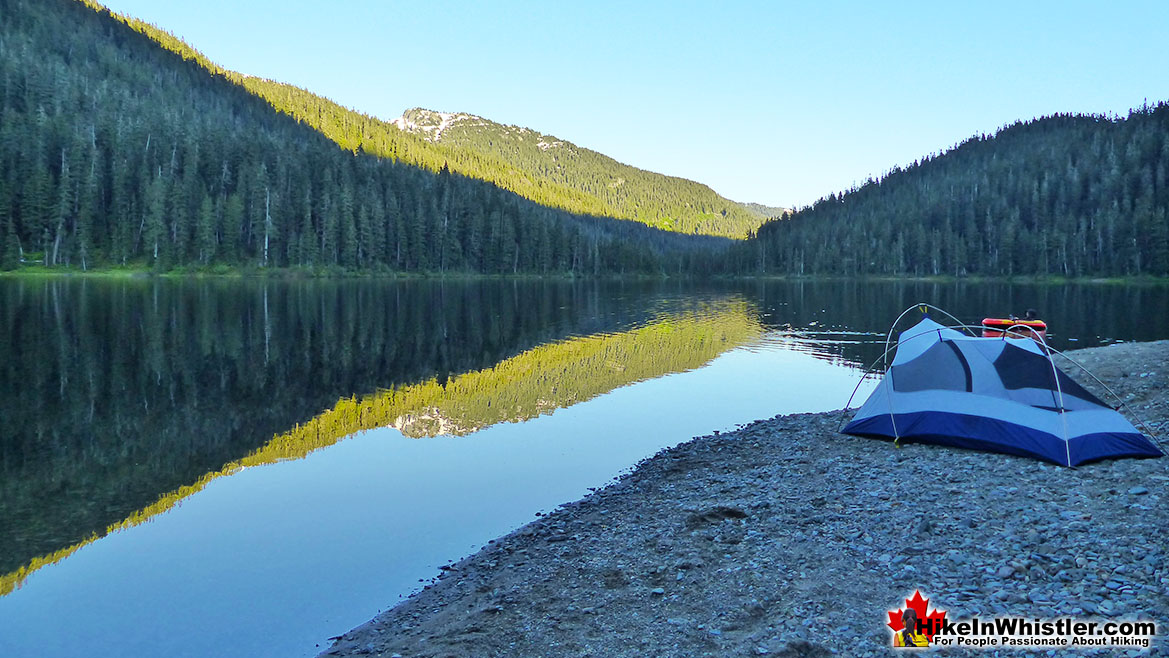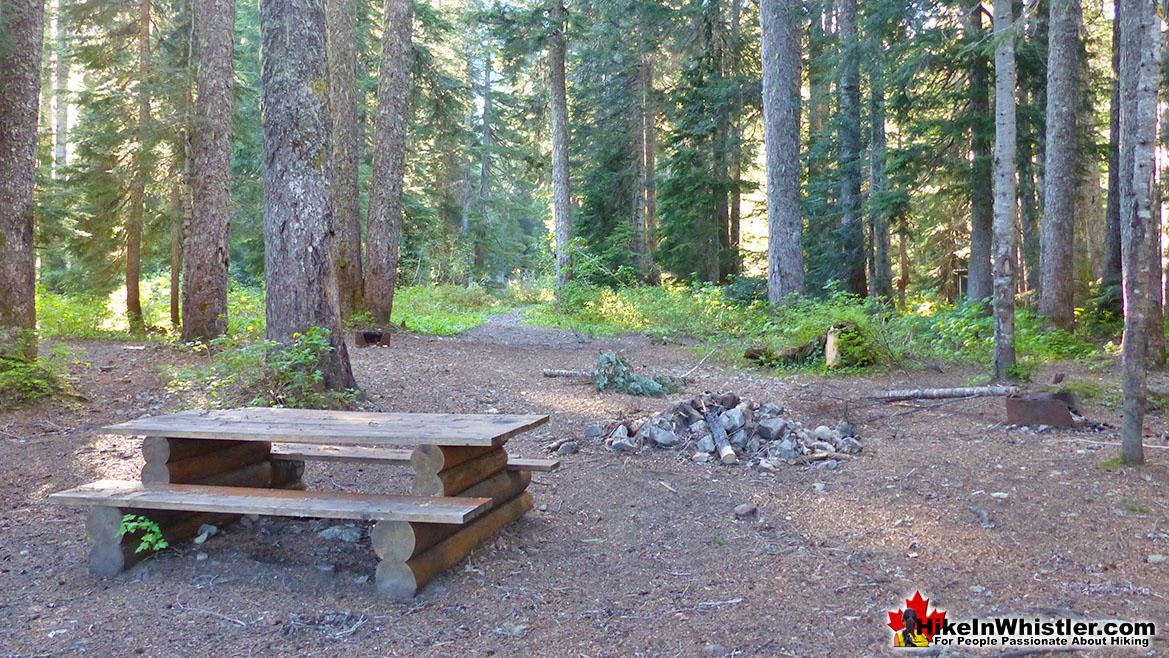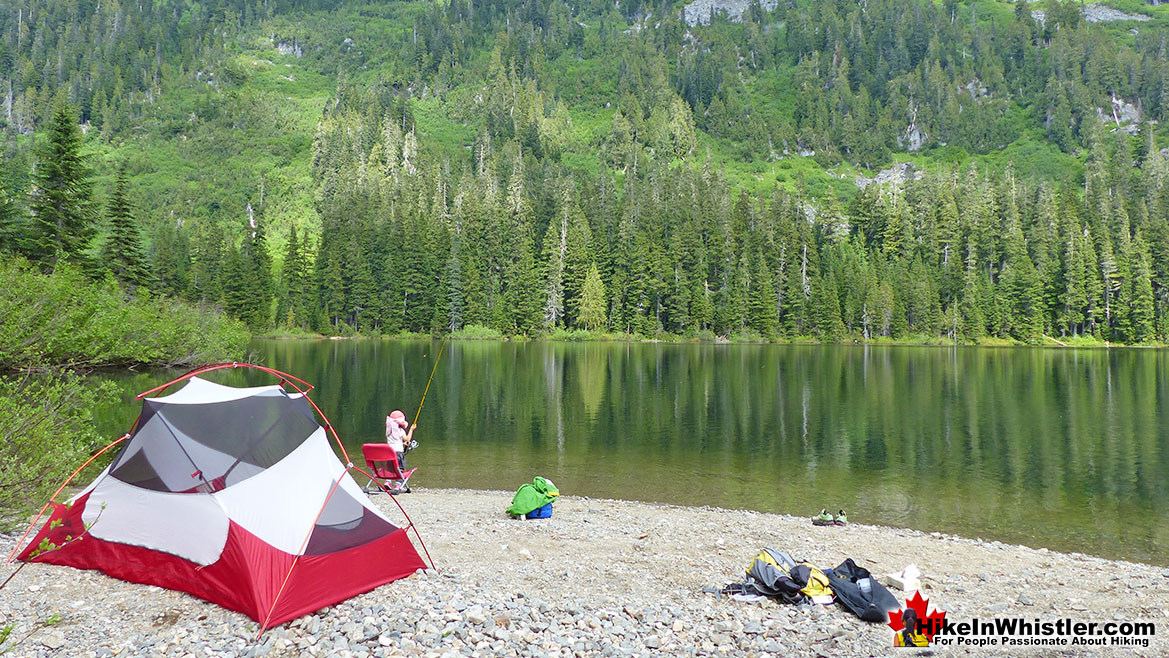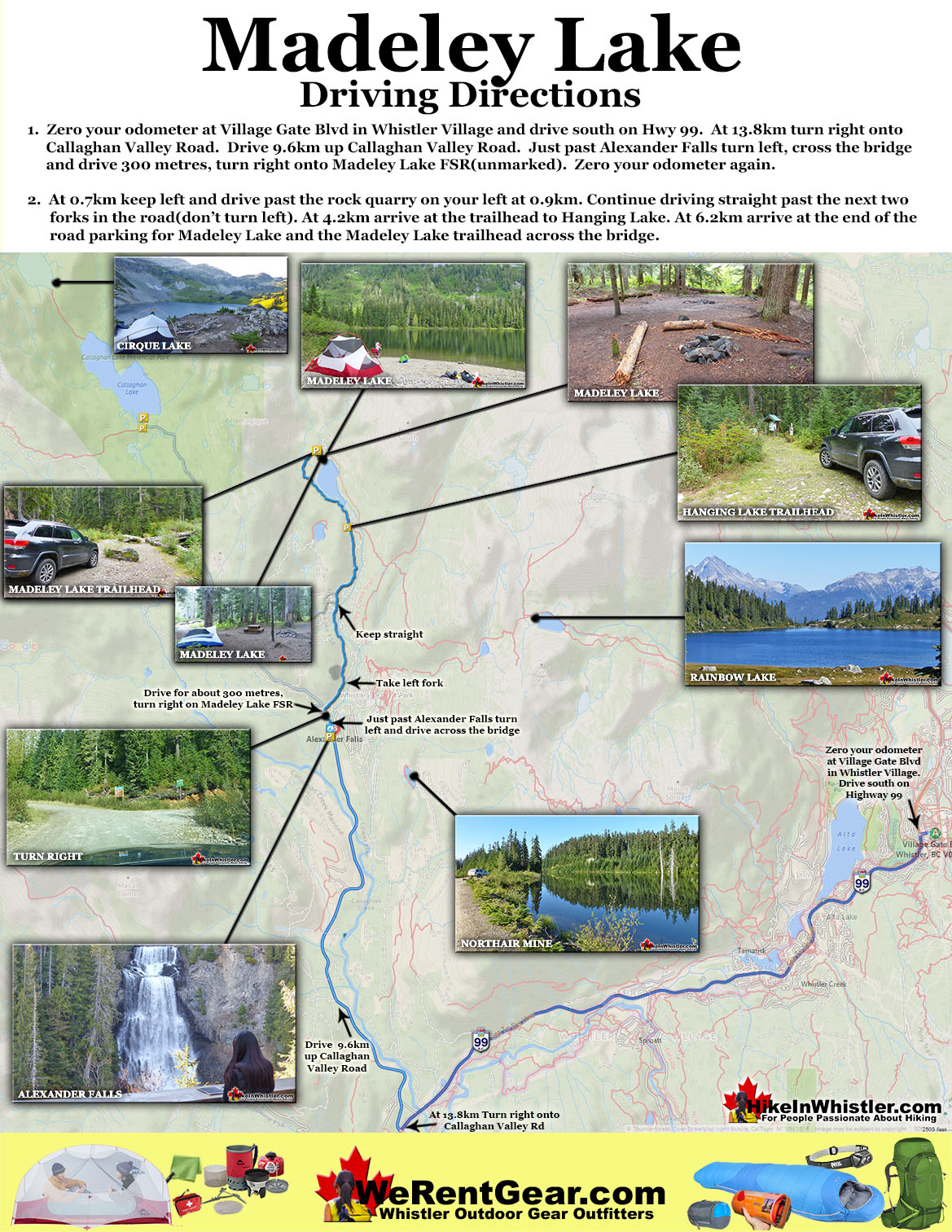 Whistler & Garibaldi Hiking

Alexander Falls  

Ancient Cedars  

Black Tusk  

Blackcomb Mountain  

Brandywine Falls  

Brandywine Meadows  

Brew Lake  

Callaghan Lake  

Cheakamus Lake  

Cheakamus River  

Cirque Lake 

Flank Trail 

Garibaldi Lake 

Garibaldi Park 

Helm Creek  

Jane Lakes 

Joffre Lakes  

Keyhole Hot Springs  

Logger's Lake  

Madeley Lake  

Meager Hot Springs 

Nairn Falls  

Newt Lake 

Panorama Ridge 

Parkhurst Ghost Town 

Rainbow Falls  

Rainbow Lake 

Ring Lake  

Russet Lake  

Sea to Sky Trail 

Skookumchuck Hot Springs  

Sloquet Hot Springs 

Sproatt East 

Sproatt West  

Taylor Meadows  

Train Wreck  

Wedgemount Lake  

Whistler Mountain

January 

February 

March 

April 

May 

June 

July 

August 

September 

October 

November 

December