Hiking in Whistler in October is often unexpectedly stunning.  The days are much shorter and colder but the mountains are alive with colour from the fall leaves.  On the higher elevations there is often a dusting of snow that makes everything look amazing.  Picking a full moon evening to hike in a place like Joffre Lakes, Russet Lake or Wedgemount Lake makes for an incredible night in the mountains.
Whistler & Garibaldi Hiking

Alexander Falls  

Ancient Cedars  

Black Tusk  

Blackcomb Mountain  

Brandywine Falls  

Brandywine Meadows  

Brew Lake  

Callaghan Lake  

Cheakamus Lake  

Cheakamus River  

Cirque Lake 

Flank Trail 

Garibaldi Lake 

Garibaldi Park 

Helm Creek  

Jane Lakes 

Joffre Lakes  

Keyhole Hot Springs  

Logger's Lake  

Madeley Lake  

Meager Hot Springs 

Nairn Falls  

Newt Lake 

Panorama Ridge 

Parkhurst Ghost Town 

Rainbow Falls  

Rainbow Lake 

Ring Lake  

Russet Lake  

Sea to Sky Trail 

Skookumchuck Hot Springs  

Sloquet Hot Springs 

Sproatt East 

Sproatt West  

Taylor Meadows  

Train Wreck  

Wedgemount Lake  

Whistler Mountain

January 

February 

March 

April 

May 

June 

July 

August 

September 

October 

November 

December
Wedgemount Lake is a beautiful hike to do in October.  Just 7 kilometres to the unbelievable Wedgemount Lake which leads to easy access to the impressive Wedgemount Glacier, and several amazing mountain hikes beyond.  Wedgemount Lake has a beautiful, and free to use little hut if you don't want to tent or sleep under the stars as many do, though usually in the warmer summer nights.  The trail to Wedgemount Lake is very steep as you climb 1220 metres in just 7 kilometres! The trail is fairly uneventful as you climb through deep forest.  Wedgemount Lake sits in a massive valley surrounded by abrupt and rocky peaks.  The terrain is dominated by the colour grey.  Grey rocks and massive grey erratics are scattered everywhere.  The Wedge Hut sits in the midst a pile of truck sized erratics, adding to the brutal attraction of this wonderful corner of Garibaldi Provincial Park in Whistler.  Wedgemount Lake is one of the most spectacular hikes in Garibaldi Park. Though it is a relentlessly exhausting, steep trail, it is mercifully short at only 7 kilometres one way. The elevation gain in that short distance is over 1200 metres which makes it a much steeper hike than all the other Whistler area hiking trails. Compared with other Whistler and Garibaldi Provincial Park hikes, Wedgemount Lake is half the roundtrip distance of either Black Tusk or Panorama Ridge, for example, at 13.5 kilometres and 15 kilometres respectively one way.
Best Whistler Hiking October – Wedgemount Lake

At a fast hiking pace you can reach Wedgemount Lake from the trailhead in just an hour and a half but at a leisurely or backpack laden pace you will likely take over two hours. The trail is well marked and well used.  The steepness of the trail doesn't require any technical skill, however that last kilometre before the lake you will be scrambling on all fours quite a bit. The elevation gain makes a tremendous difference when carrying a heavy backpack and unprepared for the exertion.  There is hardly a section of the trail that is not steeply uphill. The first 15 minutes takes you into the deep forest as you hike parallel to Wedgemount Creek. This crashing creek can be heard from quite a distance and gives you a hint of the steepness of the trail to come. The source of Wedgemount Creek is of course Wedgemount Lake which tumbles down almost 300 metres in the spectacular Wedgemount Falls. You will be able to see Wedgemount Falls around the 5 kilometre mark along the trail.  Unfortunately, it is far off to the right in the distance. Despite the distance, you will hear it loud and clear and occasionally get a great, though distant, view of it.  Click here for more info for Wedgemount Lake in Garibaldi Provincial Park.
Wedgemount Lake Tent View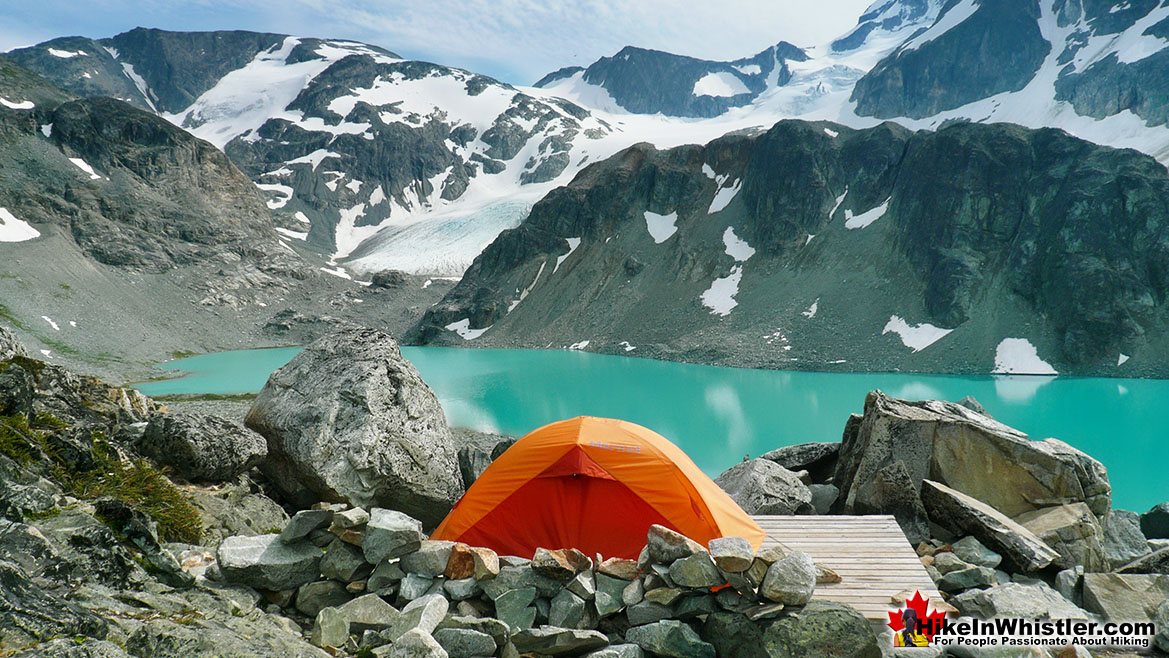 Wedgemount Glacier
Wedgemount Lake Shoreline View of Wedgemount Glacier
More Best Whistler Hiking - Wedgemount Lake
Best Whistler Hiking October – Russet Lake

Russet Lake, in Garibaldi Provincial Park is the wonderfully expansive hiking area located at the junction where Whistler Mountain and Blackcomb Mountain meet.  Or more accurately, where the two mountain ranges, the Spearhead Range(Blackcomb) and Fitzsimmons Range(Whistler) meet at Overlord Mountain.  Among the various ways to reach Russet Lake, possibly the most impressive are the approaches from either the Musical Bumps trail or the High Note trail.  Unfortunately in October the Whistler Gondola stops running so you will have to access Russet Lake via the somewhat tedious, Singing Pass trail.  Though Russet Lake is not terribly impressive in terms of size or colour, the valley around it is remarkably beautiful.  The colours change from moment to moment in and extraordinary way.  The distinctive colour of The Fissile and the stark grey of the mountains around contrast amazingly with the blue of the lake and green grass in the valley.  So many different factors fill the place with colour.  In October, fall leaves cover much of the Singing Pass trail and though the days are short and colder, you will likely have the trail and lake to yourselves.
Adit Lakes Near Russet Lake
The Fissile and Russet Lake
Overlord and Overlord Glacier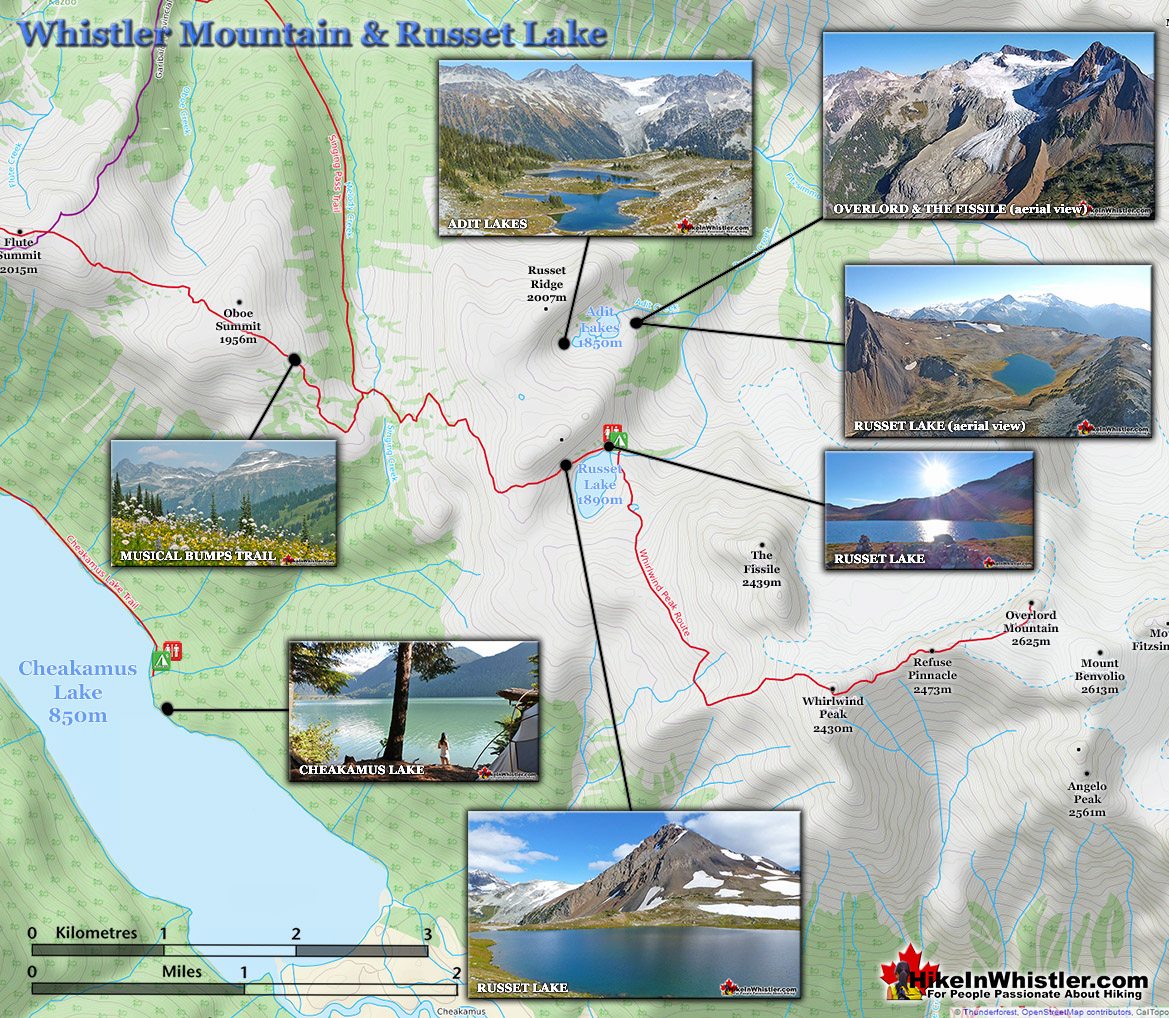 More Best Whistler Hiking - Russet Lake
Best Whistler Hiking October – Cirque Lake

Cirque Lake in the Callaghan Valley (30 minutes south of Whistler Village), is a great and remote hike to try in October.  The trailhead at the far end of Callaghan Lake is reached by canoe.  Located well off the radar in the Callaghan Valley, Cirque is a tough, very steep, though short hike to an extraordinarily beautiful cirque lake, high above Callaghan Lake.  A cirque lake is formed out of a few interesting, alpine occurrences, combining.  To form a cirque lake, a glacier must be a combination of size, a certain slope and more unexpectedly, a certain angle away from the sun. In the northern hemisphere, this means the glacier must be on the northeast slope of the mountain, away from the suns rays and the prevailing winds. Thick snow, protected in this way, grows thicker into glacial ice, then a process of freeze-thaw called nivation, chews at the lower rocks, hollowing out a deep basin. Eventually a magnificently circular lake is formed with steep sloping sides all around.  Cirque Lake is a wonderful example of this interesting glacier formed world in the mountains.  Largely sheltered from the wind, your campsite at Cirque Lake will be spectacularly serene, and the lake before you, incredible.
Beautiful Cirque Lake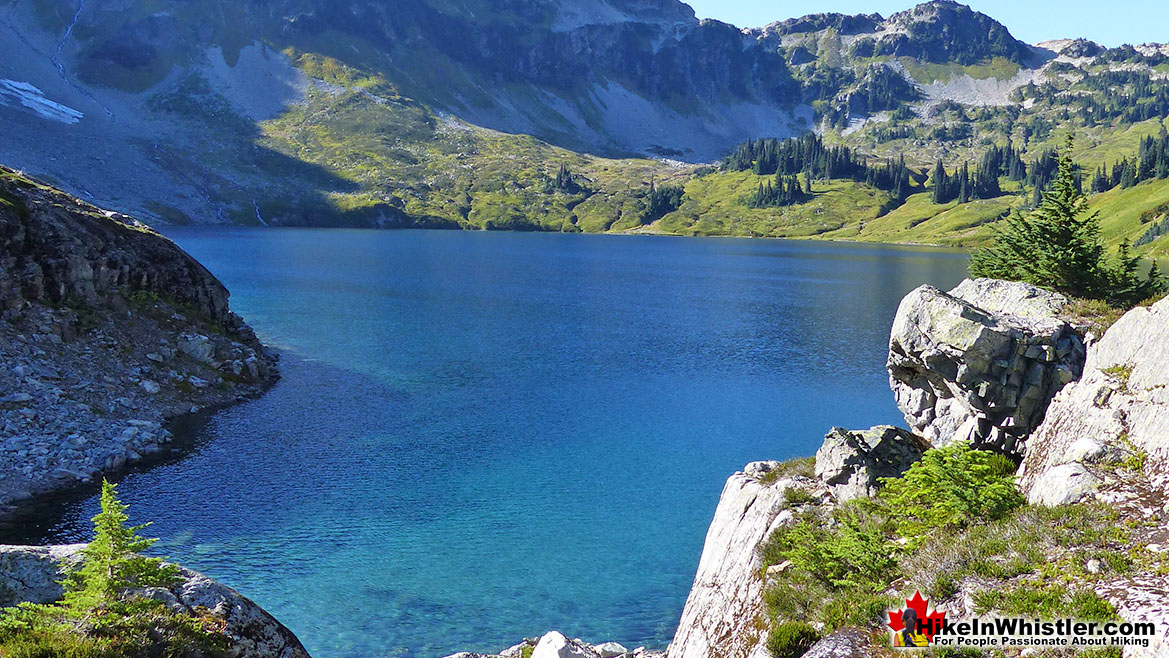 Cirque Lake Aerial View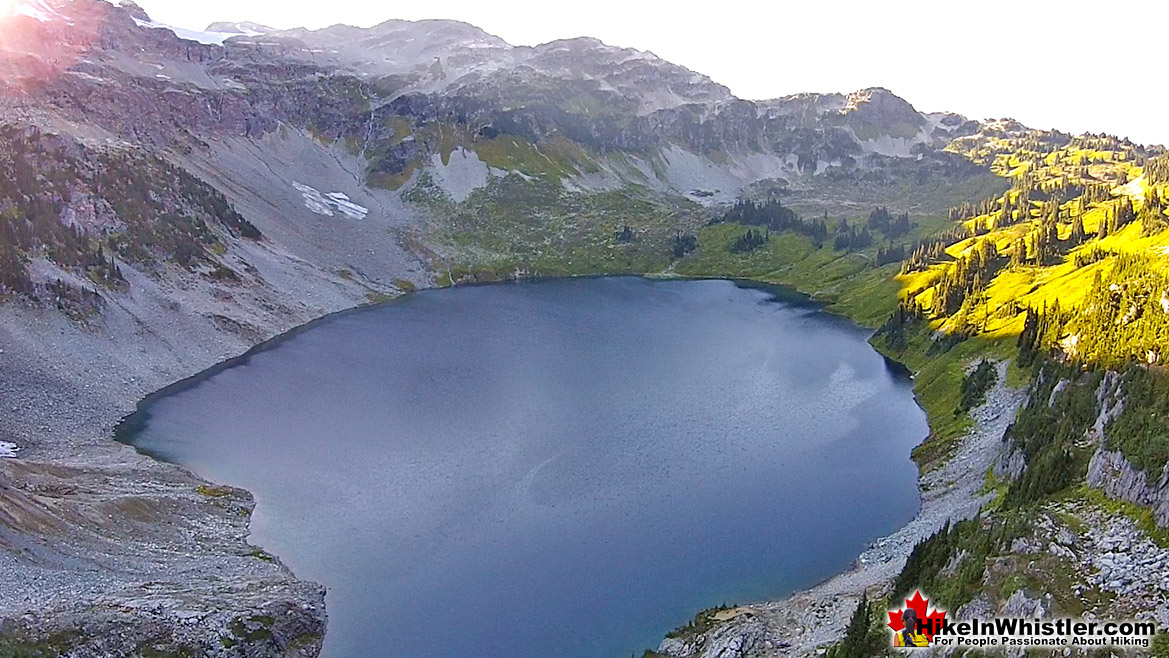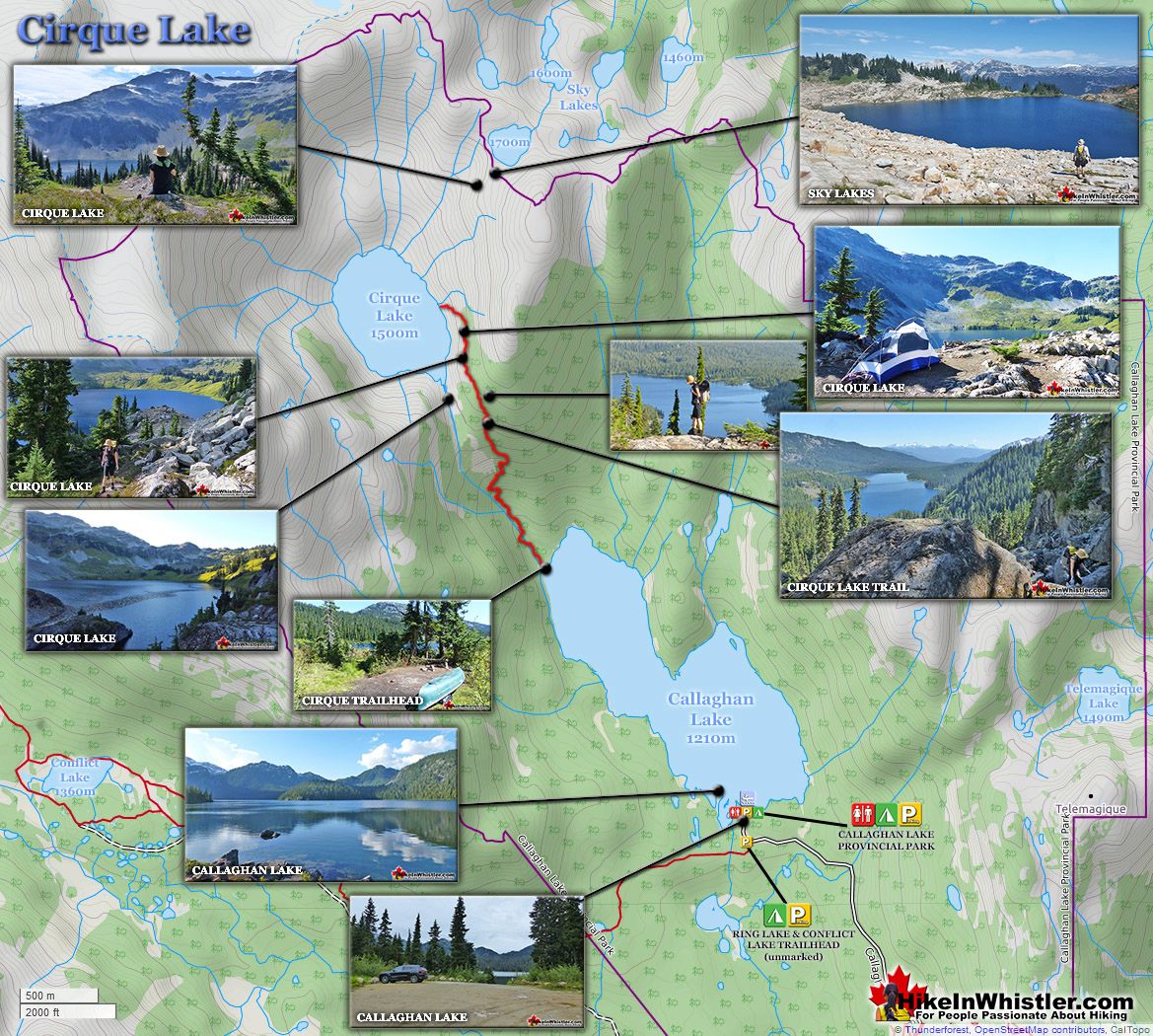 More Best Whistler Hiking - Cirque Lake
Best Whistler Hiking October – Ancient Cedars

Another great place to go hiking in October is Ancient Cedars.  Just a short drive from Whistler Village takes you up Cougar Mountain along a bumpy logging road to this 5 kilometre roundtrip hike to some of Whistler's most impressive trees.  Ancient Cedars was inadvertently missed by logging years ago and has now become a cherished forest of massive trees.  The easy/moderate 2.5 kilometre(1.6 mile) hiking trail to Ancient Cedars should take you less than two hours roundtrip.  Though the trail is fairly mellow and certainly kid friendly, it is consistently uphill.  With a toddler on your shoulders you will be breathing hard for much of the 30 minute hike to the gratifyingly flat circle route through the wonderful grove of giant cedars.  Unlike most other Whistler hiking trails, Ancient Cedars is dog friendly and your dog will love it.  Well into the wild wilderness, far from civilization, your dog will have a wide open forest trail to frolic in.  Unfortunately snow makes the road undrivable much of the year, so you can only reliably get up there around mid June to early to mid November. They are extraordinarily huge and some are estimated to be a thousand years old.  Most of these giants stretch toward the sky, but some lay along the forest floor giving you an even closer grasp of their size. If you bring kids along, they will disappear into the endless, natural playground.  Ancient Cedars is great to visit in the spring and fall months as you rarely see people and never feel mosquitoes. The problem is the trailhead is up a long way into the mountains and snow at this elevation persists until April and sometimes May. Snow, along with the steep access road make driving to the trailhead impossible for most cars until it disappears. Summer is great for seeing Ancient Cedars and Showh Lakes in particular.
Ancient Cedars is Gorgeous in October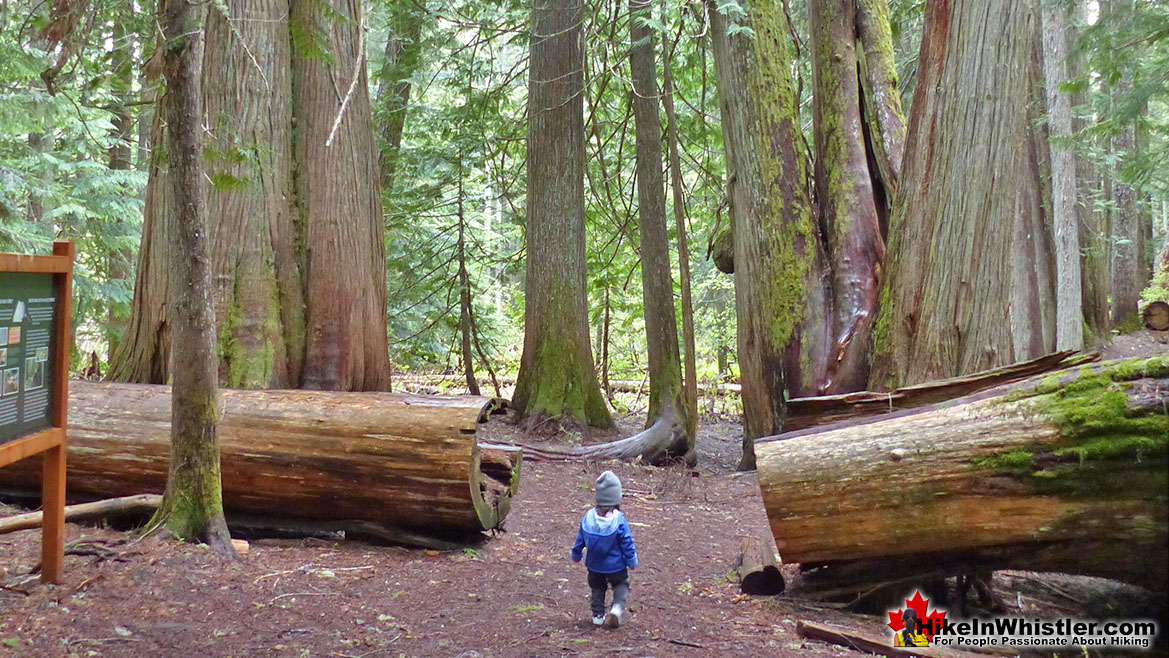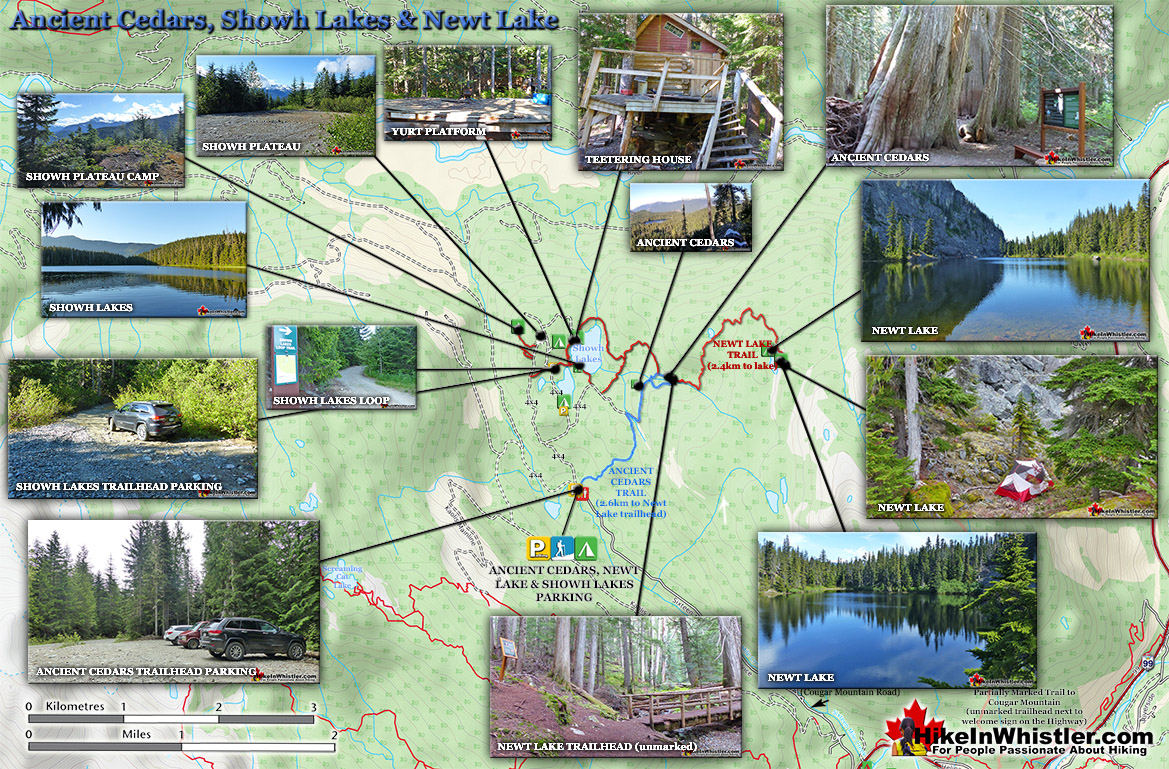 Best Whistler Hiking October – Parkhurst Ghost Town

Parkhurst Ghost Town is another great October hike.  Whistler has an absurd number of wonderful and free hiking trails and Parkhurst Ghost Town certainly ranks as one of the most unusual, exotic and interesting.  Parkhurst was a little logging town perched on the edge of Green Lake way before Whistler was Whistler.  Up on the ridge where Parkhurst sits, the views are sensational. Green Lake far below, a solid unnatural looking mass of green.  Blackcomb Mountain and Whistler Mountain out in the distance to the left and Rainbow Mountain across and beyond the lake.  Some of the most picturesque hikes of the year can be done in October, but you do have to be prepared to deal with the cold, wet and darkness that comes with fall in Whistler.
The Blue Face House in Parkhurst Ghost Town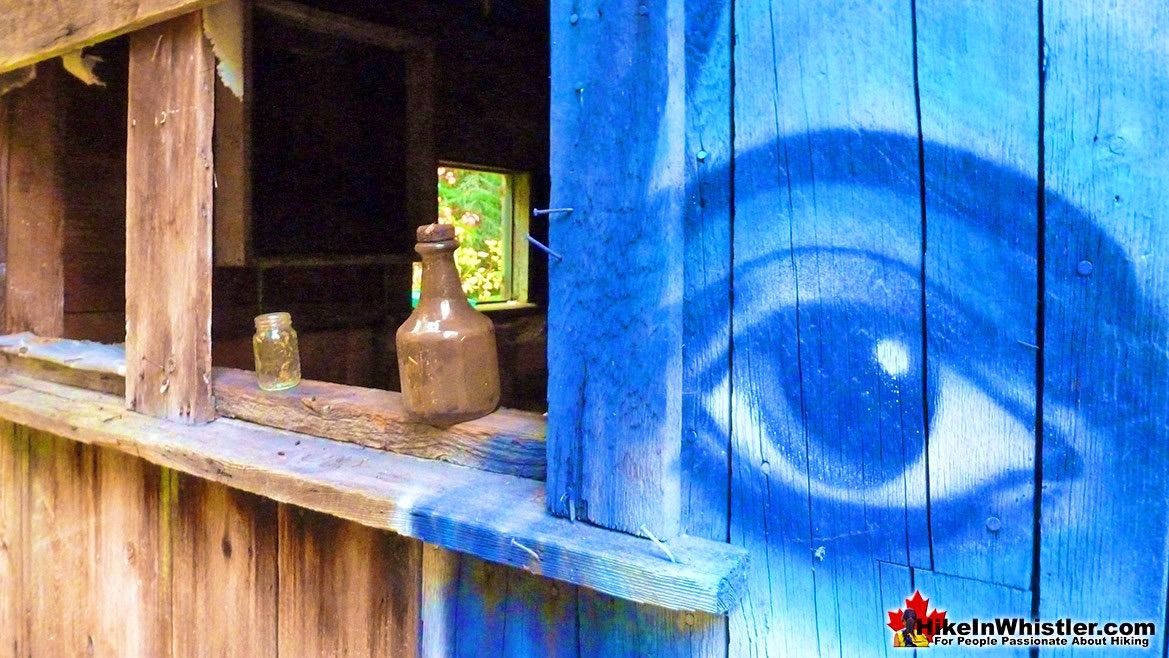 One route, one of several ways to get to it, runs along the scenic Green River and next to the still active train tracks that run through Whistler.  There always seems to be something to see.  From the beautiful meadow along the train tracks, to the suddenly deep forest where you have to play a game of finding the next, pink tree marker or risk wandering off the trail.  The trail markers are numerous, and though getting lost is inevitable, you can only stray a few metres before, the river or steep terrain push you back onto the marked trail.  Once up on the ridge above Green Lake where Parkhurst is located, the forest takes on a spooky feel.  Trees are all far apart and with branches only high up give the forest a unnaturally lifeless look.
As recent as the 90's a few houses remained standing, but the merciless winters with crushing snow has collapsed all but one house. There are a couple half collapsed relics, but for the most part the town has disintegrated.  Unexpectedly, even in the deep snow of winter, stumbling on remnants of the old town are frequent. Countless half collapsed houses lay in the picturesque forest that has grown since the town was abandoned.  Finding the abandoned vehicles in the town is like a game as you wander around the maze of trails.  The old rusty car, the even older truck, and an ancient and enormous logging tractor perched as it was decades ago, on the edge of Green Lake.  Quite a marvel to see.  Like a giant museum exhibit that looks like it could still be there in a thousand years from now. Just steps from the impressive tractor, if you are lucky and persistent, you can find another extraordinary part of abandoned tractor. This huge and solid piece of steel, left so long ago, has had trees grow in and around it.  A large tree, over 50 years old now grows in a triangle shape through this ancient machinery.  Squeezing into the only shape it could, but bewildering to see. If you do find it you will probably circle it over and over, trying to figure out how it managed to grown its way through.
Best Whistler Hiking October – Cheakamus Lake

Cheakamus Lake and Rainbow Lake are amazing in October as they have such wonderful forests.  Cheakamus Lake is a wonderfully relaxing way to get in the wilderness easily and quickly from Whistler Village.  The trail begins on the far side of Whistler Mountain, 8 kilometres from the Sea to Sky Highway at Cheakamus Crossing and Function Junction.  This 8 kilometre stretch of logging road is fairly bumpy and potholed, but does have the benefit of allowing you to drive the elevation gain instead of hiking it.  You can easily manage this road in a car, however carefully and slowly in parts.  Once you reach the trailhead/parking the entire 7 kilometre trail to Cheakamus Lake has barely any elevation gain.  In fact, this makes it one of the few trails in Whistler and Garibaldi Park that can boast that.  The nearby Garibaldi Lake trail and the Wedgemount Lake trail make you work for the views, however, the Cheakamus Lake trail hardly makes you work at all.  The trail to Cheakamus Lake takes you through an amazing forest of giant cedars that fill the forest with their amazing aroma.
The Wonderful Cheakamus Lake Trail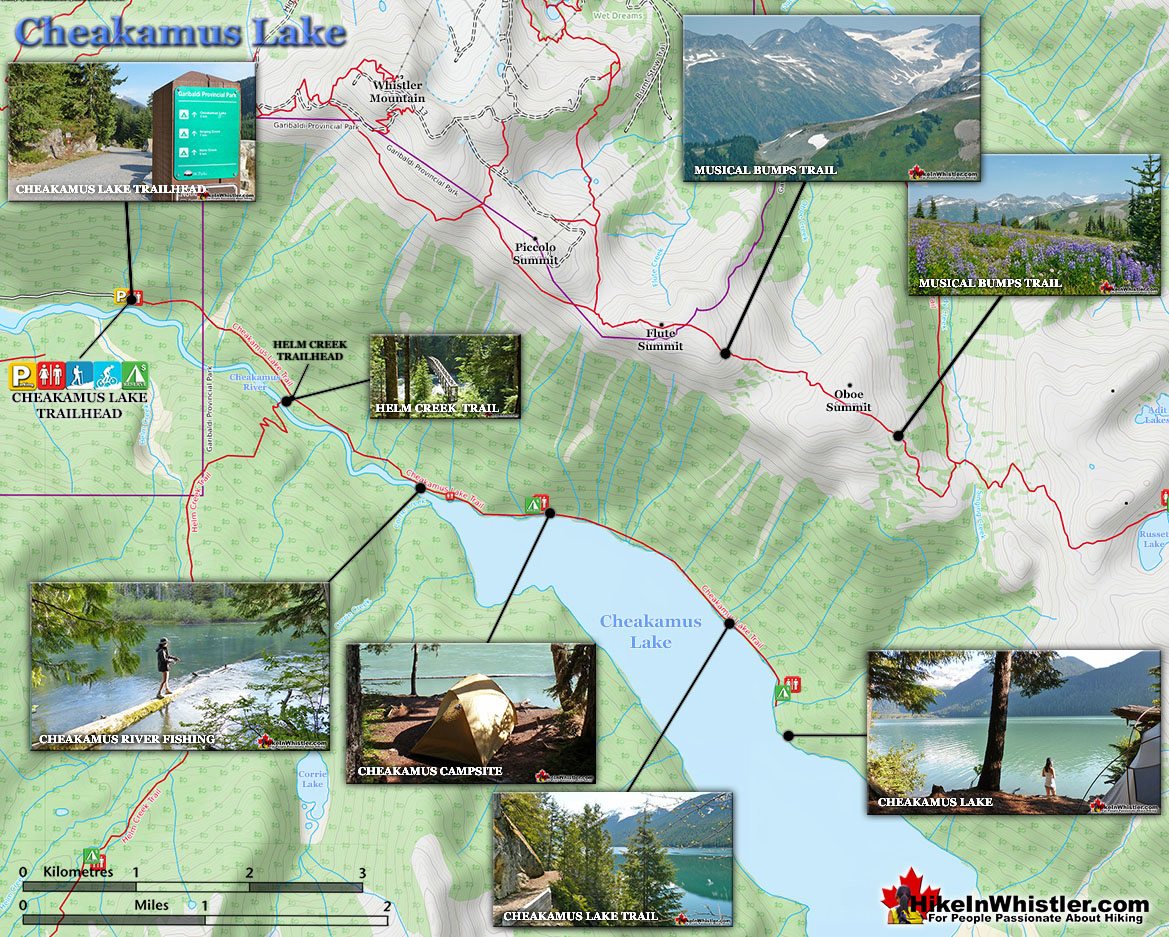 Best Whistler Hiking October – Rainbow Lake

The Rainbow Lake trail is a convenient and popular trail near Whistler Village.  It is a consistently uphill and very beautiful trail with several water (bridge) crossings and waterfalls on the way to the picture-perfect lake.  There are a few views of the valley across to Whistler Mountain, Blackcomb Mountain, and Wedge Mountain.  Few views, though fantastic.  Rainbow Lake itself is beautiful and has branching trails that extend further beyond the lake.  There are several highlights along the Rainbow Trail.  Several waterfall and idyllic creek crossings as well as two somewhat elaborate bridges.  Located in such a hostile environment that one of these bridges has to be removed annually before the huge snowfalls come in December.
Rainbow Lake is Incredible in October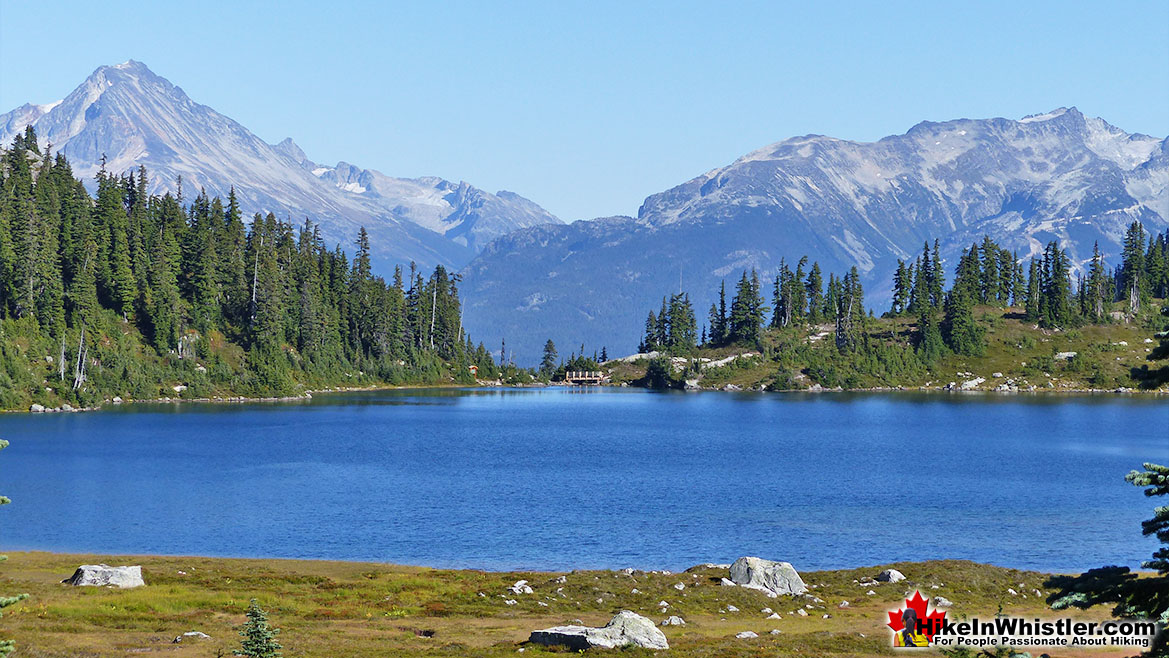 Best Whistler Hiking October – Rainbow Falls

The short, scenic and easy hiking trail to Rainbow Falls is located just a short, half kilometre from the Rainbow Lake or Rainbow Trail trailhead. The trail begins by ascending into deep forest and the trail winds left, right, up and down constantly.  21 Mile Creek, always on your right can be either seen or heard as you hike through beautiful forest to the somewhat hidden Rainbow Falls.  21 Mile Creek begins, 8 kilometres away as it drains from Rainbow Lake, making its way eventually to the River of Golden Dreams, before finally draining into Green Lake north of Whistler Village.  A couple minutes into the Rainbow Trail and you come to a fork in the path. You can take either path as they rejoin further up the trail, however taking the right fork is more scenic and only a little more of a steep climb. A second fork in the trail appears a couple minutes later again, and once again taking the right fork is better. You will then come to a small trail sign indicating "Rainbow Falls". This short trail takes you to the little oasis that Rainbow Falls flows into.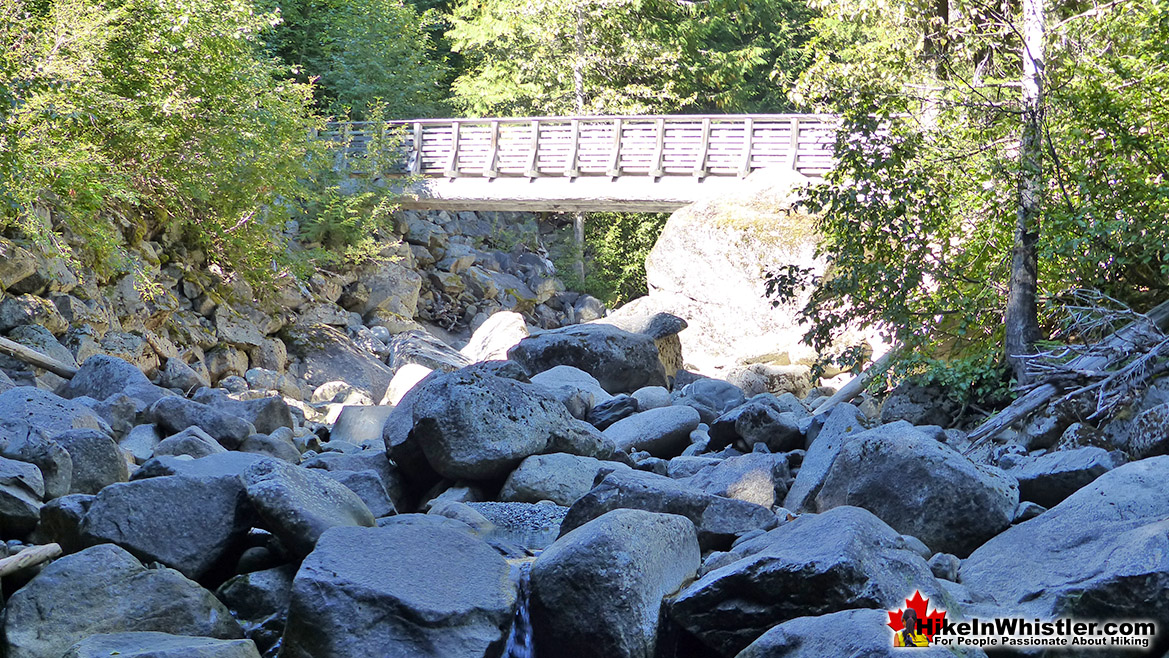 The Rainbow-Sproatt Flank Trail
After seeing Rainbow Falls, there are a couple more nice vantage points just a short hike further up the Rainbow Trail.  If you backtrack from the falls and rejoin the Rainbow Trail, you will zig-zag up some short switchbacks, before coming out to the gravel access road to the water treatment building. Here you will find a nice mapboard showing the Rainbow Trail and some of the connecting trails.  This section of trail overlaps with the 40 kilometre, Rainbow-Sproatt Flank Trail, so you will see some "Flank Trail" signs as well as Rainbow Lake signs.  If you follow the Flank Trail as it ascends past the water treatment building on its right side, you will quickly come to the beautiful bridge across Twentyone Mile Creek. This is a great vantage point over this very scenic creek. The Flank Trail continues for several kilometres beyond this bridge, eventually coming out near Ancient Cedars, well north of Whistler Village.
Best Whistler Hiking October – Wayside Park

Wayside Park in Whistler is one of several idyllic parks on Alta Lake.  Rainbow Park, Lakeside Park and Blueberry Park are also along the shore of this huge lake that cover much of the valley edged by Whistler Village.  These four parks, all on Whistler's beautiful Valley Trail system, ensure that you are never far from one of several amazing vantage points over Alta Lake.  Wayside Park sits near the bottom end of Alta Lake and at just 3 kilometres from Whistler Village is just an hours walk or 10 minute bike ride away.  The Valley Trail is a huge spider web network of paved walking/biking/running trails that connect Whistler Village to dozens of beautiful parks and sights.  Over 40 kilometres of trails throughout Whistler, with directions at every junction make the Valley Trail much more than just a transportation network.  It's an interpretive tour of the area, where you can wander on foot or by bike and use the signs at each junction to choose your route.  Wayside Park is one of several beautiful beach parks in Whistler on the Valley Trail.  You can reach all these parks by car or better yet you set out on foot or by bike from Whistler Village.  For more walking trails, parks and beaches in Whistler click here.
Best Whistler Hiking October – Lost Lake

Lost Lake is a tranquil and secluded lake in the forest that extends from Whistler Village.  Just a 20 minute, leisurely walk or 5 minute bike ride along the well signed Valley Trail will lead you to this beautiful little lake.  The wide and paved Valley Trail turns into a wide and gravel trail as you enter Lost Lake Park.  The main trail around the lake is a popular running route from Whistler Village as roundtrip from the Village, around Lost Lake and back to the Village in just 6 kilometres.  There are plenty of nice viewpoints along the main trail as well as quite a few short trails that lead to several access points to the lake, some with great places to sit and relax in the sun and take in the view.  Lost Lake has a very popular beach at one end and in the height of summer can get busy as it is the most convenient beach from Whistler Village.  For more walking trails, parks and beaches in Whistler click here.
Best Whistler Hiking October – Blueberry Park

Blueberry Park is a very scenic and somewhat hidden park on Alta Lake just two kilometres from Whistler Village.  If you have been to Rainbow Park you would have noticed three piers across Alta Lake surrounded by forest.  These public piers sit at the edge of Blueberry Park, with the Blueberry Trail running from one side of the forest to the other.  The park covers most of the hill beyond these piers and stretches between and connects the neighbourhoods of Whistler Cay and Alta Vista.  The beautiful, deep forest trail runs from the shores of Alta Lake in Alta Vista, up and across Blueberry Hill and descends again to reach Whistler Cay.  Along the trail there are several beautiful viewpoints of Alta Lake in the foreground and the enormous Mount Sproatt beyond.  Lakeside Park at Alta Lake in Whistler is a beautiful beach park just a short distance from Whistler Village.  Located on the Valley Trail, it is just 2 kilometres or a 30 minute walk, or 10 minute bike ride away.  Similar to Rainbow Park across the lake, Lakeside Park has a concession stand for food and drinks, picnic tables, BBQ stands, canoe and kayak rentals a huge grass field, pier, a sandy beach and an elaborate little kids play are.  Swimming and relaxing are the main draws to Lakeside Park, but fishing off the piers is a common sight as well.  For more walking trails, parks and beaches in Whistler click here.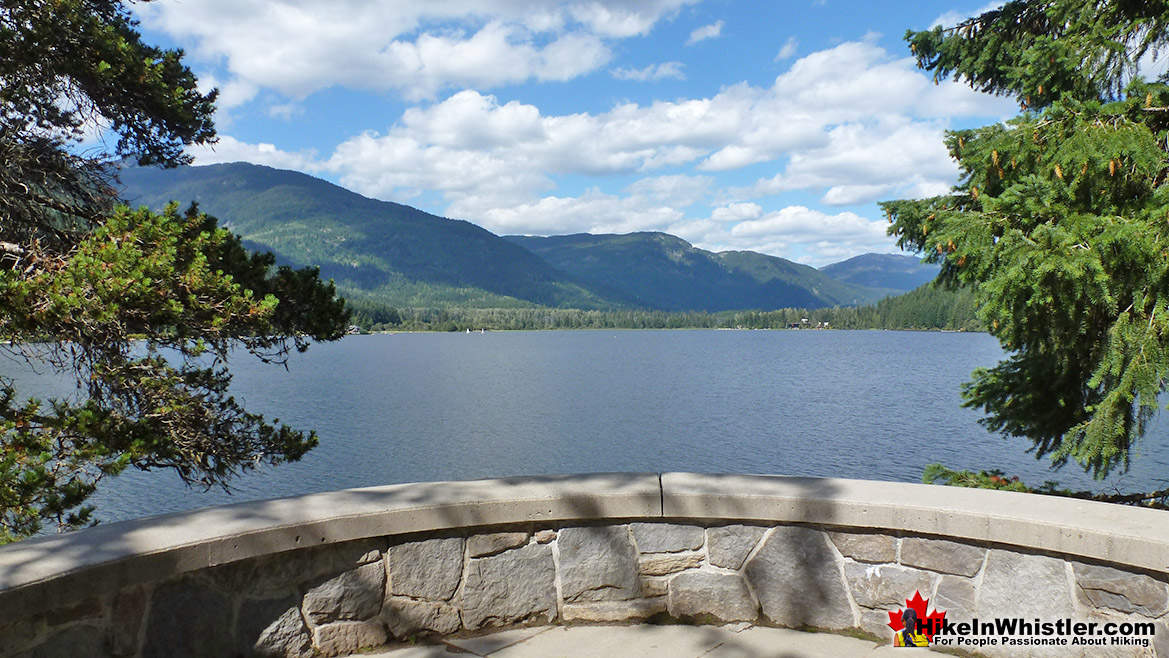 Best Whistler Hiking October – Alpha Lake Park

Alpha Lake Park is a beautiful park on the shores of Alpha Lake in Creekside, just 5 kilometres south of Whistler Village.  Located partway along Lake Placid Road just past the Husky and Nita Lake Lodge.  This quiet residential street leads to this park that is home to tennis courts, a basketball court, beach volleyball, dog park, a kids play park, a floating dock, a pier and biking/walking/running trails everywhere you look.  Alpha Lake Park has a much more local feel to it than other Whistler parks such as the popular Rainbow Park, Lakeside Park and Lost Lake Park.  The abundance of trees and the irregular shoreline make the relatively small size of Alpha Lake seem quite a bit bigger than it is.  Trails run around both sides of Alpha Lake.  The wide and paved Valley Trail runs along the shore on the near side and a gravel trail runs along the far side.  For more walking trails, parks and beaches in Whistler click here.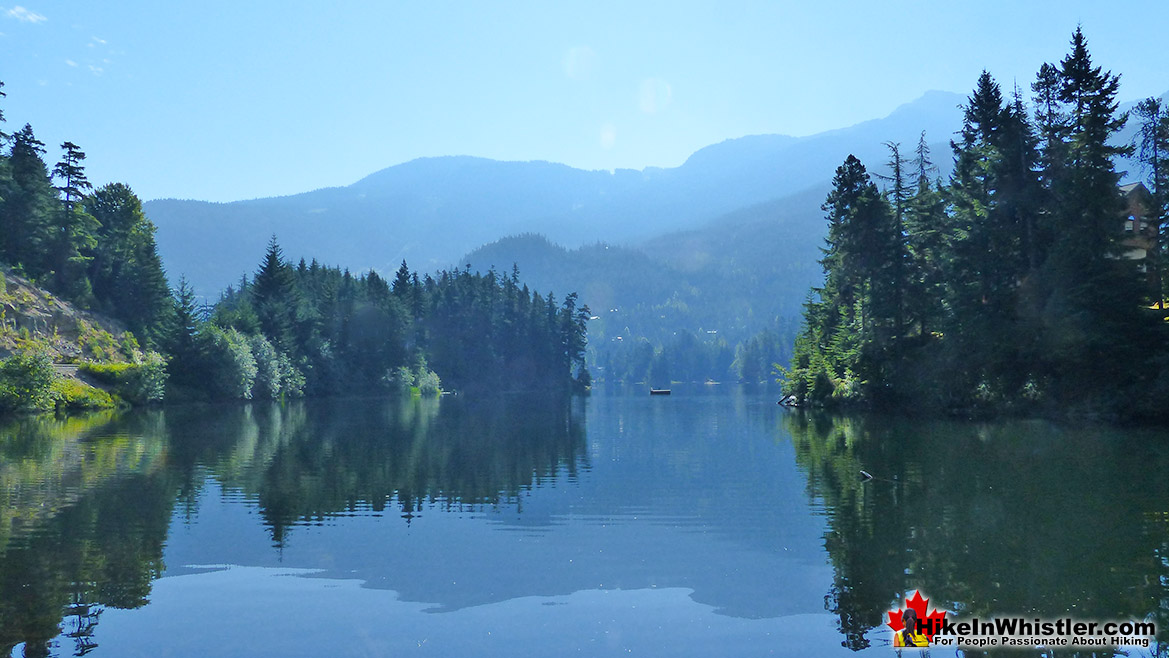 Hiking in Whistler and Garibaldi Park by Month!

Whistler Hiking Glossary A to Z

Explore BC Hiking Destinations!