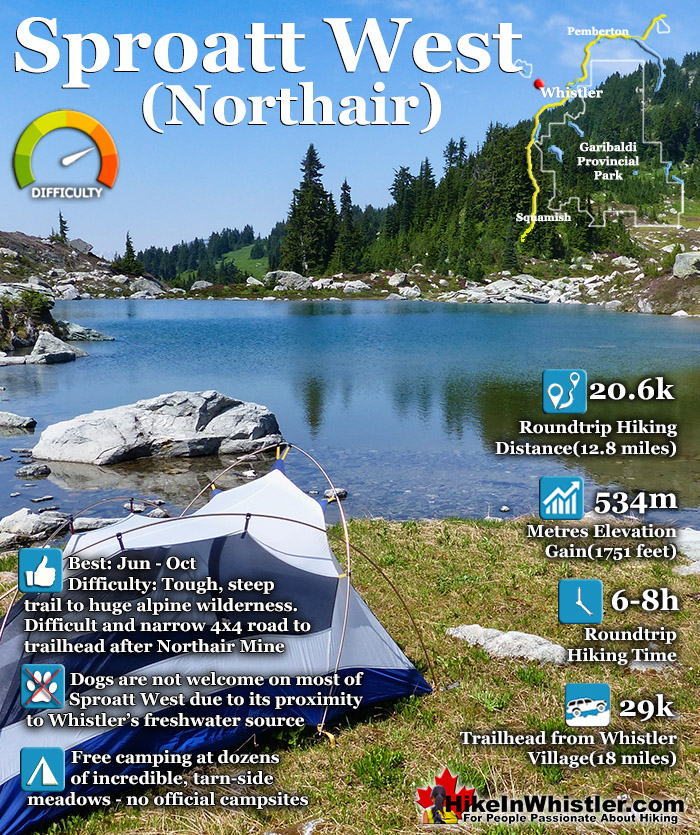 Mount Sproatt, or as it is known locally as just Sproatt, is one of the many towering mountains visible from Whistler Village. Above and beyond Alta Lake, directly across from Whistler Mountain and Blackcomb Mountain, you will see this quiet giant. Its unremarkable appearance hides the growing network of trails that stretch through some startlingly beautiful terrain.
Huge network of trails

Wild, hostile terrain rarely visited by humans
Connecting trails to Rainbow, Hanging & Madeley
No crowds & endless idyllic tarns to swim
Dozens of perfect spots for a tent
Vast terrain full of adventurous routes

Challenging and very rewarding

Easy to get lost in the vast alpine
No grand turquoise lakes like Wedge

Need a 4x4 to get close to the trailhead

Whistler & Garibaldi Hiking

Alexander Falls  

Ancient Cedars  

Black Tusk  

Blackcomb Mountain  

Brandywine Falls  

Brandywine Meadows  

Brew Lake  

Callaghan Lake  

Cheakamus Lake  

Cheakamus River  

Cirque Lake 

Flank Trail 

Garibaldi Lake 

Garibaldi Park 

Helm Creek  

Jane Lakes 

Joffre Lakes  

Keyhole Hot Springs  

Logger's Lake  

Madeley Lake  

Meager Hot Springs 

Nairn Falls  

Newt Lake 

Panorama Ridge 

Parkhurst Ghost Town 

Rainbow Falls  

Rainbow Lake 

Ring Lake  

Russet Lake  

Sea to Sky Trail 

Skookumchuck Hot Springs  

Sloquet Hot Springs 

Sproatt East 

Sproatt West  

Taylor Meadows  

Train Wreck  

Wedgemount Lake  

Whistler Mountain

January 

February 

March 

April 

May 

June 

July 

August 

September 

October 

November 

December
Next time you walk through Whistler Village and cross the pedestrian bridge with Village Gate Boulevard below you, you will see Mount Sproatt in the distance. It is the rocky giant, abruptly steep on one end and gently sloping on the other.  What you can't see from Whistler Village is the extraordinarily beautiful alpine paradise that lays beyond it. Lakes and tarns everywhere and fields of alpine flowers and wonderfully mangled, yet strikingly beautiful forests of krummholz.  Hostile looking fields of boulders and absurdly placed erratics the size of RV's. Beyond, of course, endless stunning view of distant, snowy mountains. From the towering elevation of most of the seemingly endless array of Mount Sproatt trails, you often look across or even down on distant mountains.  Rainbow Mountain looks incredible from much of the trail. Four teeth-like, jagged grey peaks in a row that face you from a side that most have never seen.  At just 5 kilometres away Rainbow looks enormous.  A couple kilometres closer you spot Hanging Lake and the Lord of the Rings style valley that stretches 2 kilometres from its shores to the abrupt cliffs at your feet. Several times along the trail you see the clearly defined ski runs on Whistler Mountain and Blackcomb Mountain and once in a while you can spot Alta Lake far below and Whistler Village beyond.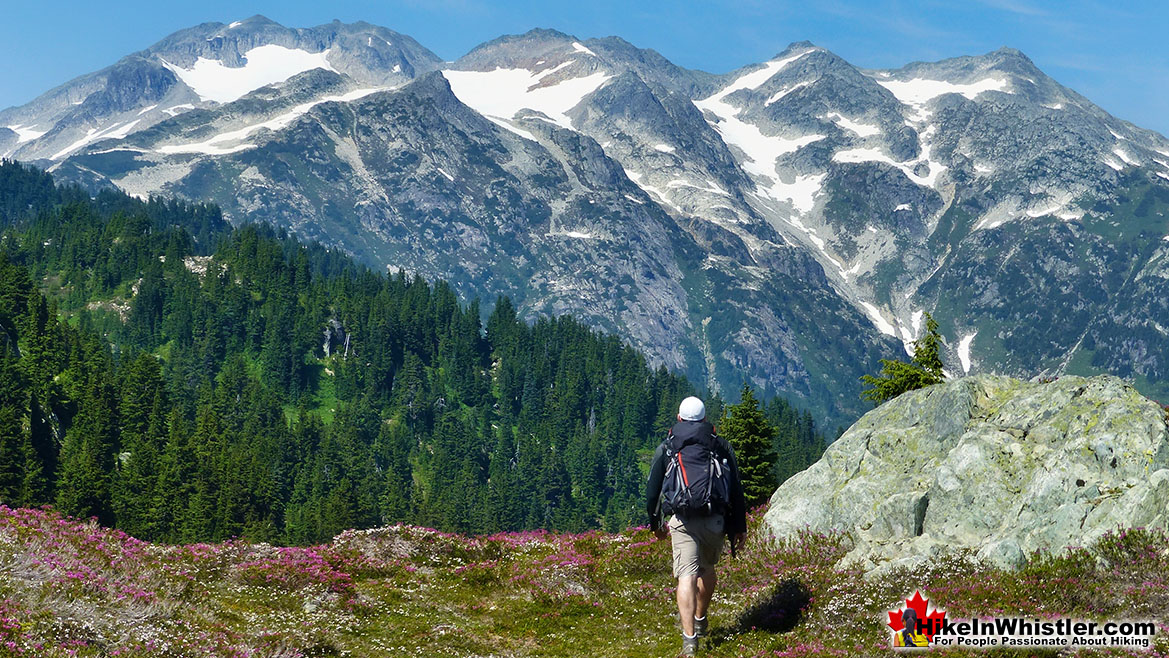 Hiking Routes and Trails on Sproatt
There are a several ways to hike to the summit of Mount Sproatt, though two main routes stand out, Sproatt West and Sproatt East.  The Sproatt West (Northair) route starts way up in the Callaghan Valley past the old, abandoned Northair Mine.  An increasingly brutal 4x4 road extends past the old, abandoned gold mine for a couple kilometres before ending at the start of the first of many named trails on Sproatt, With a Twist.  With a Twist takes you up into the alpine along a beautiful and very scenic route through the expansive wilderness.  After 3.3 kilometres, With a Twist ends at a fork in the trail.  Right descends down the mountain towards Function Junction via the Into the Mystic trail.  The left fork keeps you in the alpine heading towards the summit of Mount Sproatt along the On the Rocks trail.  On the Rocks is 3.6 kilometres long and takes you through more magnificent alpine and past Tonic Peak(1803m).  On the Rocks ends at another trail fork.  Right leads down toward Function Junction on the Lord of the Squirrels trail.  The trail to the left continues on to the Mount Sproatt for 2.5 kilometrs to the summit viewpoint via the Happy Hour trail.  The summit viewpoint has a big viewing platform overlooking Whistler Valley.  The actual summit of Sproatt is about 600 metres back from the viewpoint and towers over the valley at 1834 metres.  Though the viewpoint is a few metres lower in elevation, its position is more steeply overlooking the valley and much nicer.
The Sproatt West Route
The Sproatt West route is beautiful, scenic and wild, though a bit tricky to find as there are few signs along the way and the access road is steep and narrow.  Of course the difficulties in finding and getting to the trailhead ensures that Sproatt remains much quieter than the often crowded Garibaldi Park, Blackcomb Mountain and Whistler Mountain trails.  Sproatt also has a deficiency that is both a negative and a positive, depending on your point of view.  It doesn't have a picturesque, emerald mountain lake like Joffre, Wedge or Garibaldi.  This keeps the crowds away, but takes away a clear destination or goal when hiking Sproatt.  You do have some great little lakes and tarns on Sproatt, but most are within Whistler watershed area and swimming or camping are not allowed.  The few lakes and tarns outside the watershed are still quite nice.  Sproatt Lake at the start of the hike is a beautiful little mountain lake.  The tarn a couple kilometres in is gorgeous, and though only a couple metres deep is a wonderful place to go for a swim.  Further along the trail you pass more cute little tarns and a great one at the start of Lord of the Squirrels.  Another nice one sits in between the summit of Sproatt and the Sproatt viewing platform overlooking the valley.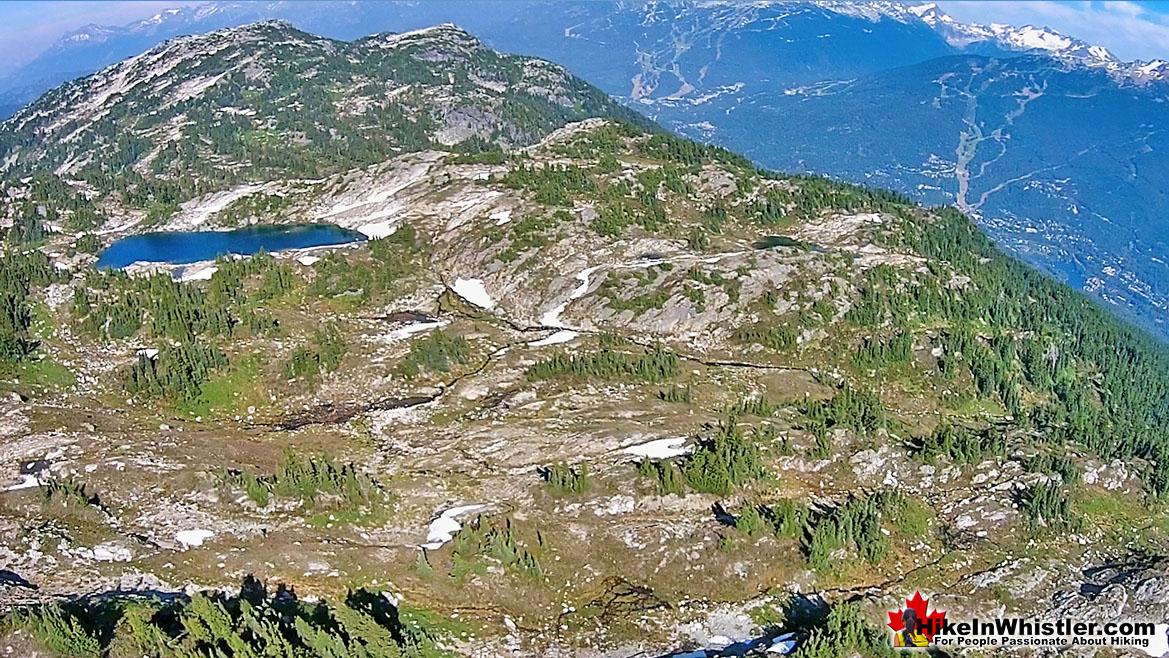 Sproatt West Camping
Camping is pretty impressive in the huge alpine of Sproatt, though you do have to keep out of the watershed boundary.  The Sproatt West route criss-crosses the boundary line for much of the route, so finding a place outside the watershed to put up a tent is quite easy.  Once you get near the summit of Sproatt you are well outside the boundary.  Beyond the viewing platform you can descend down and connect to the Sproatt East trail which is entirely outside the watershed and camping is both remote and spectacular.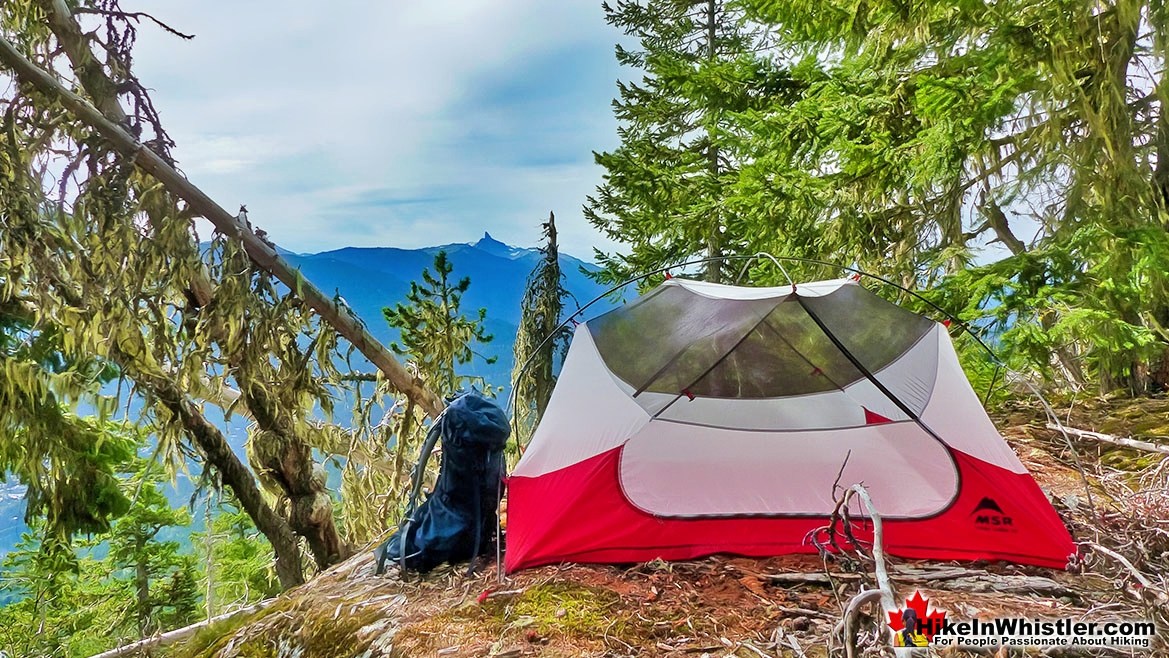 Linear and Circle Routes on Mount Sproatt
Finding a linear or circle route to hike on Sproatt is quite easy as well.  If you can get dropped off at Northair Mine you can hike all the way through to Whistler Village via the Sproatt East trail.  The Sproatt East trail connects down to the neighbourhood of Stonebridge, which connects to other trails leading to Alta Lake and on to Whistler Village.  Various circle routes can be made on Sproatt if you connect various trails, such as Pot of Gold to Hanging Lake and Rainbow Lake.  The Rainbow Lake trail descends down to Flank which cuts across the valley connecting to dozens of trails back up Sproatt.  If you are doing the popular linear route from the Sproatt West (Northair) trail to the viewpoint near the summit of Mount Sproatt you are looking at 20.6 kilometres roundtrip(12.8 miles).  From start to finish you will likely take somewhere in between 6 and 8 hours.  Overall the elevation gain is 534 metres though that is deceiving as you are almost constantly ascending and descending the numerous valleys and peaks of Sproatt.  You have to make sure to give yourself lots of time on Sproatt to hike as well as to get to the start of the trail near Northair Mine, which is 29 kilometres from Whistler Village, high up in the Callaghan Valley.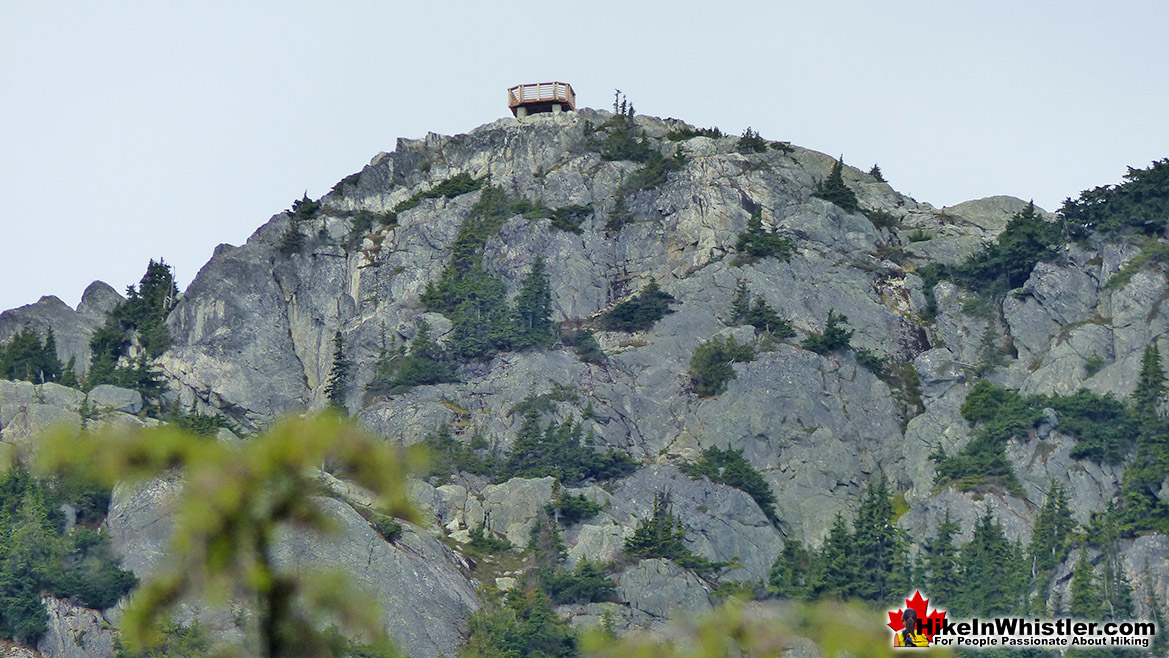 Convenient and Close to Whistler
Another great feature of Sproatt is its relative closeness to Whistler.  You can start or finish hiking Whistler Village, Rainbow Park, Function Junction, Alpine, Alpha Lake, Nita Lake or even the gravel pit at the end of Lorimer Road.  Flank which connects to everything on Sproatt is linked by dozens of trails and gravel roads.  Northair Mine near the start of the Sproatt West route is along The Flank Trail, though Flank is a gravel road at this point.  The highlights of Sproatt are the vast alpine wilderness, the valleys of wildflowers, the challenging, yet beautiful terrain, the relative solitude, the expansive trail network, the ability to camp almost anywhere and the astoundingly varied terrain that keeps you guessing as to what is around the next bend.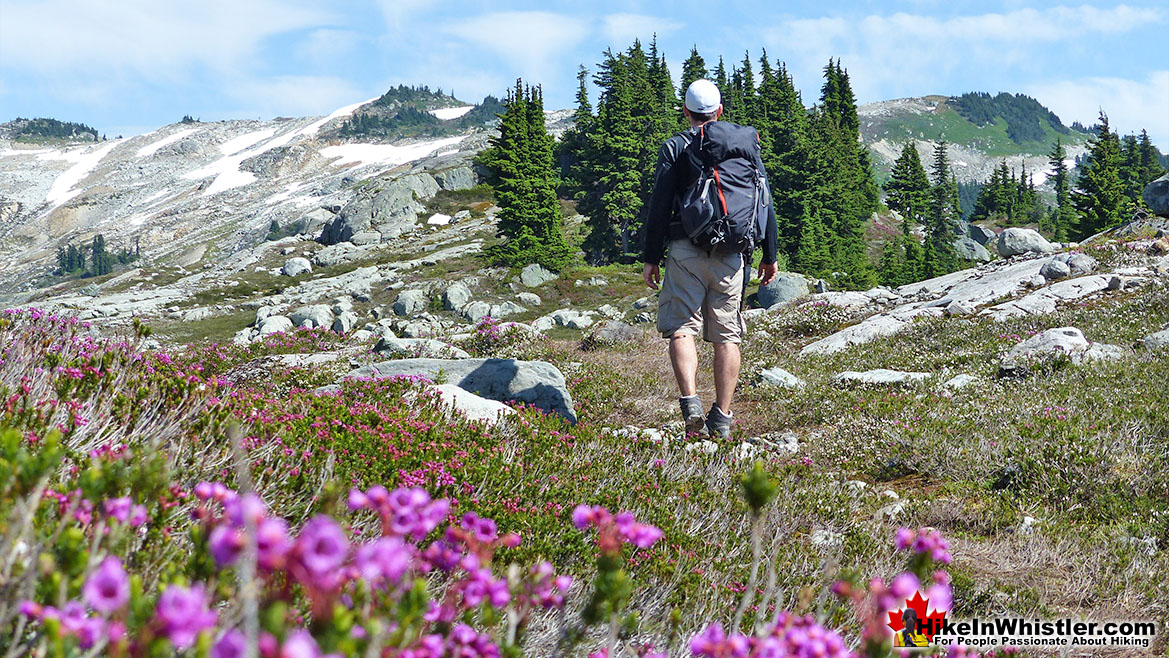 Dogs Not Welcome Along Sproatt West
Unfortunately dogs are not allowed on the Sproatt West route as it straddles Whistler's watershed all along the route.  Another drawback of is the somewhat short season to access it due to snow.  The Sproatt West (Northair) side is inaccessible due to snow from November to Apri, and the trails are often snow covered in October, May and June.  One final possible drawback to hiking on Sproatt is that in late summer in the last few years there have been trail closures due to grizzly bear sightings.  As soon as someone reports seeing one, or thinking they have, the trail closure signs go up for a couple weeks.  Grizzly bear sightings seem to all be roughly in the Hanging Lake area which is why the Rainbow Trail to Rainbow Lake is often closed in the fall, due to it being the main trailhead that links to Hanging Lake.  The hiking trails in Whistler and Garibaldi Park rarely report grizzly bear sightings, but Sproatt gets them every year now.  Whistler Olympic Park, just down from Northair Mine at the far side of Sproatt also gets sightings about once a year now.
Mount Sproatt Hiking Map

The Sproatt West trailhead is found high up in the Callaghan Valley about two kilometres past Northair Mine.  From the paved Callaghan Valley Road, you turn right onto Callaghan Creek FSR.  For a couple kilometres the road is pretty good, though there are plenty of big potholes.  After 2km the gravel road bends sharply left and gets steep and narrow, with the occasional waterbar.  Most vehicles should be able to make it to Northair Mine, though having a 4x4 makes it a lot easier and faster.  From Northair Mine you have another 2km of much more challenging driving.  The steep gravel road narrows quite a bit and the waterbars get deeper.  The road gets increasingly more narrow as you go and there are some inviting clearings to pull off the road and continue hiking.  If you do manage to make it all the way there are a couple big, grassy clearings to park and even camp.  Not a bad place to camp as the views over the valley facing north west are sensational.  This unmarked spot overlooking the valley is more or less the start of the Sproatt West trail.  You pass an old, falling down map board as you hike up the gravel trail which bends into the forest ascending up Sproatt.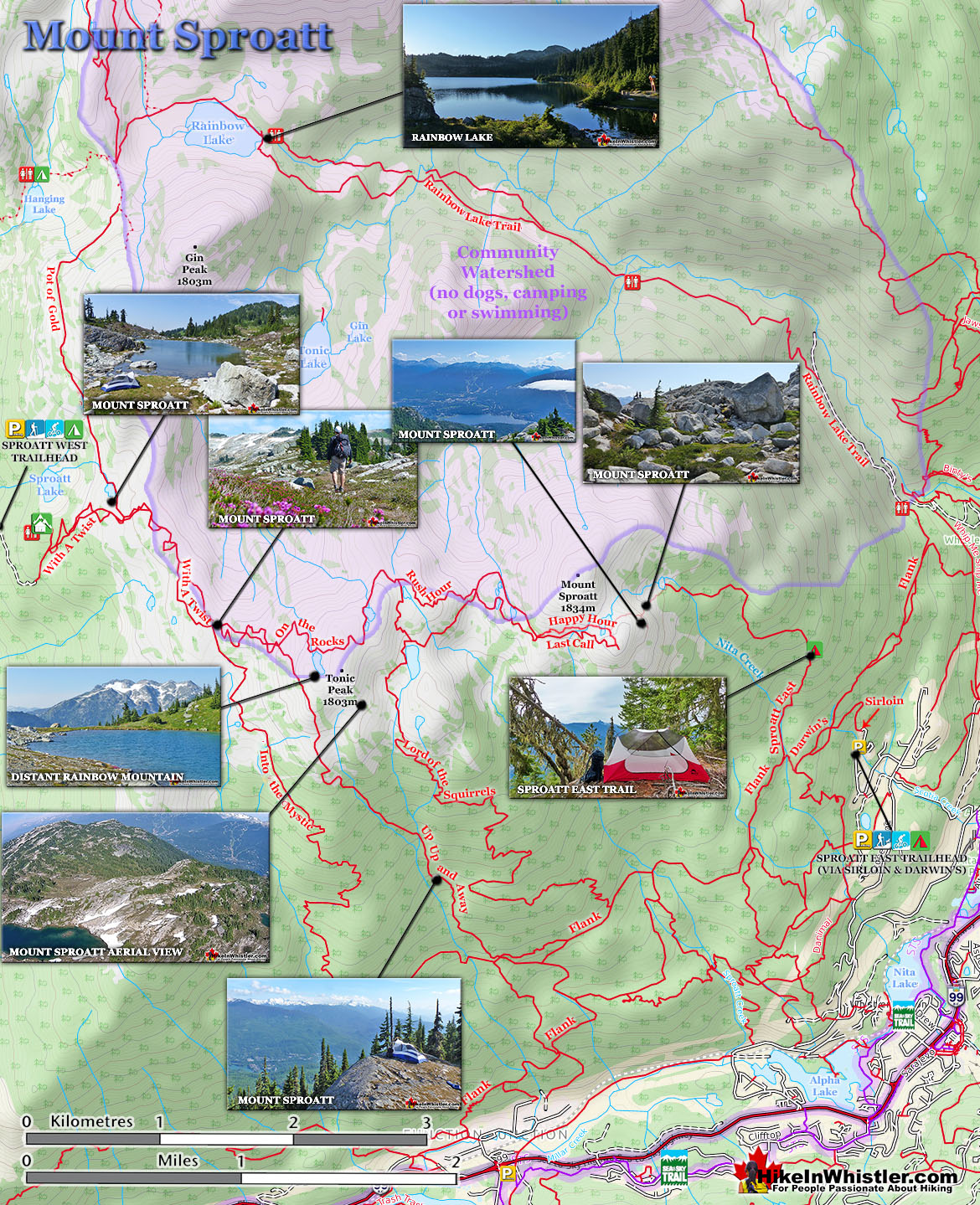 Sproatt West Trail Stats:
Driving There: 45-60 minutes south of Whistler Village(29 kilometres/18 miles)  Hiking Distance: 10.3 kilometres/6.4 miles, one way from the trailhead to Sproatt summit.  Hiking Time: 3-4 hours there and 3-4 hours back.  Start Elevation: 1300 metres/4265 feet.  End Elevation: 1834 metres/6017 feet.   Elevation Gain: 534 metres/1751 feet.  Fees: None  Campsites: No  Camping Allowed: Yes  Difficulty: Challenging, steep alpine terrain  Kid Friendly: Yes, though too long for some  Stroller Friendly: No  Dog Friendly: No
The Sproatt West Trail
The Sproatt West trail more or less starts at the point where you feel you can't drive any further.  Depending on your vehicle you may not get much further than Northair Mine.  An average SUV can fairly easily make it another kilometre up the increasingly narrow and steep old logging road up the west side of Sproatt.  Fortunately there are several clearings along the way with plenty of room to park and walk the final kilometre or so to the actual trail that departs from the gravel road. 
Road Beyond Northair Mine
The old logging road is actually quite scenic and you get tremendous views down the Callaghan Valley.  You even catch the occasional glimpse of Northair Mine far below, recognizable by its lake in the midst of unbroken forest.  Though the valley was logged fairly recently it has managed to grow back quickly and thousands of small trees porcupine the valley.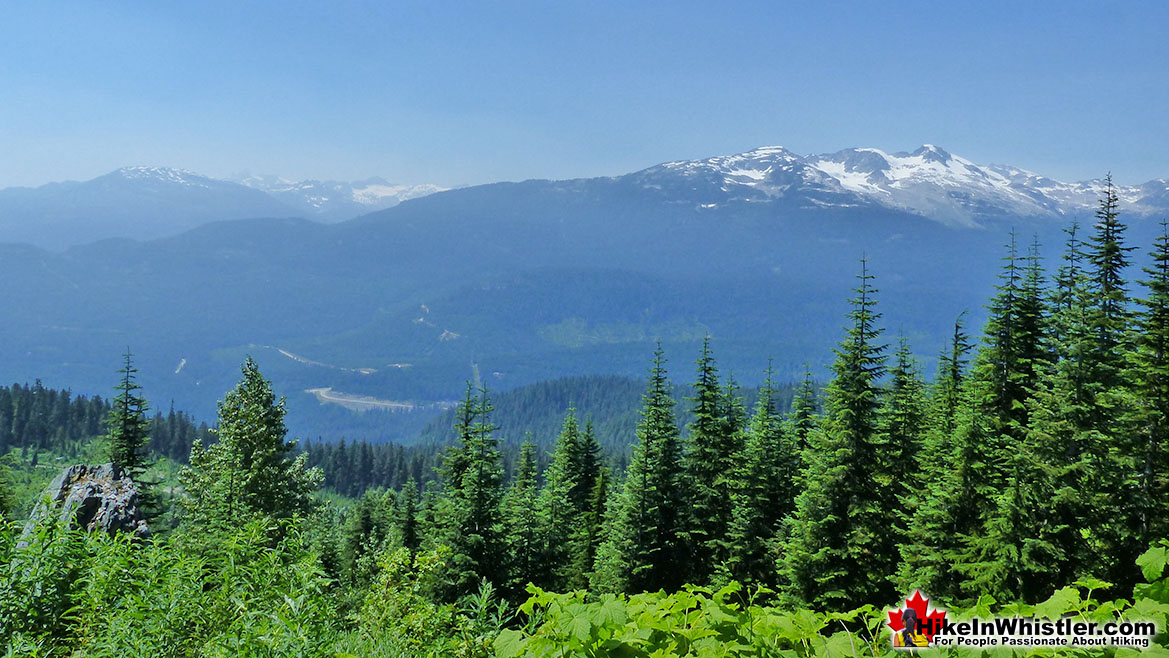 Nearing the end of the gravel road it continues to narrow into more of an ATV/Snowmobile trail and bigger 4x4's would be spilling over the sides.  Small 4x4's however, should be able to make it this far if you don't mind a bit of narrow branch scraping along the way.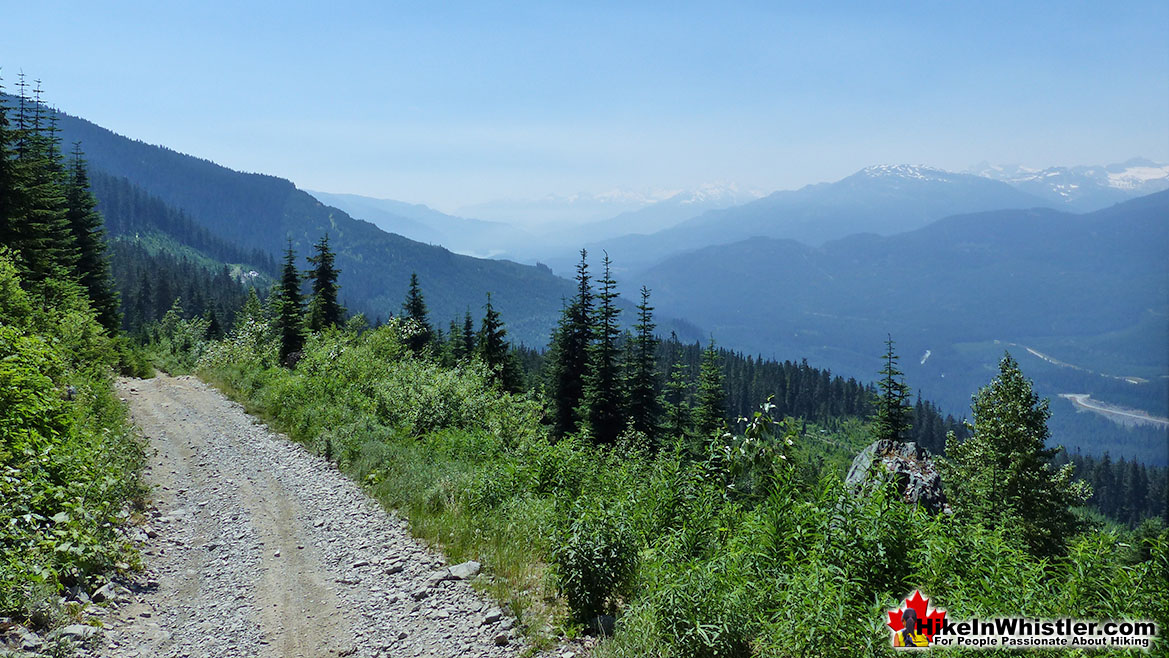 If you manage to drive this far you will come to a fantastic clearing overlooking the valley and room enough for a car or two to park and even a couple of tents.  There is usually a small fire ring in the clearing as well and million dollar views towering over the valley.  Pretty impressive already... and you are still on the access road, though only a few metres from the trail that departs from it.
 The trail bends a couple times before passing an old mapboard of Callaghan Valley which defines the snowmobile/ATV boundary of the mountain that is outside Whistler's watershed.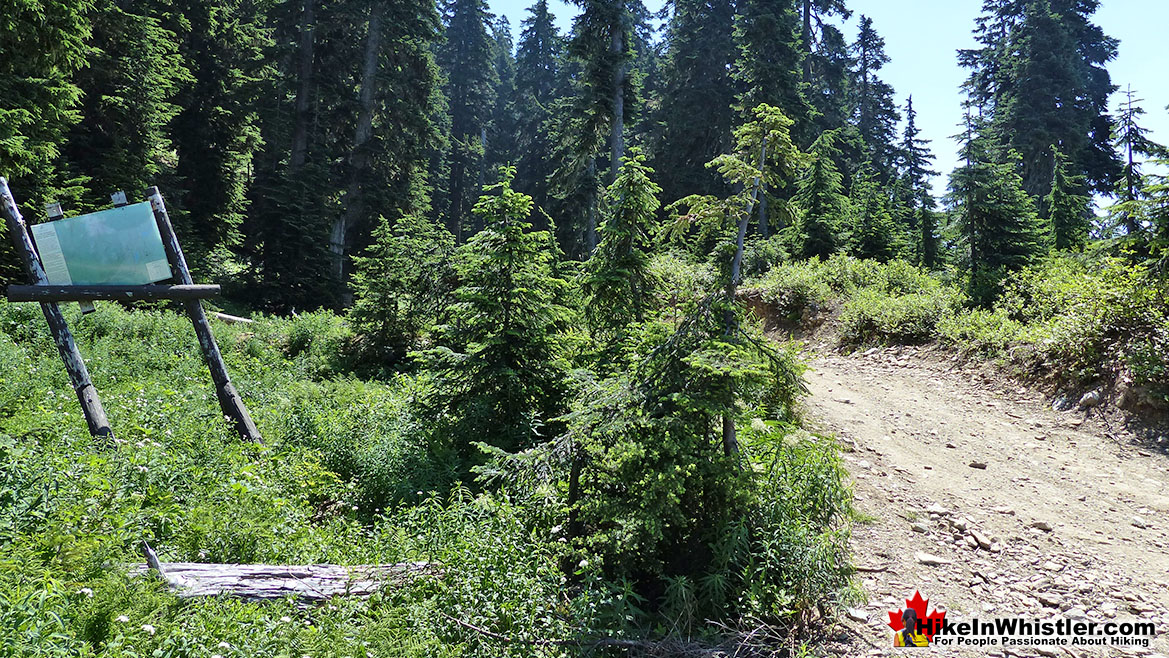 The trail then narrows and finally feels like a hiking trail as it ascends into the forest and soon merges with the With a Twist trail, the first of many connecting hiking and biking trails that wind over Mount Sproatt.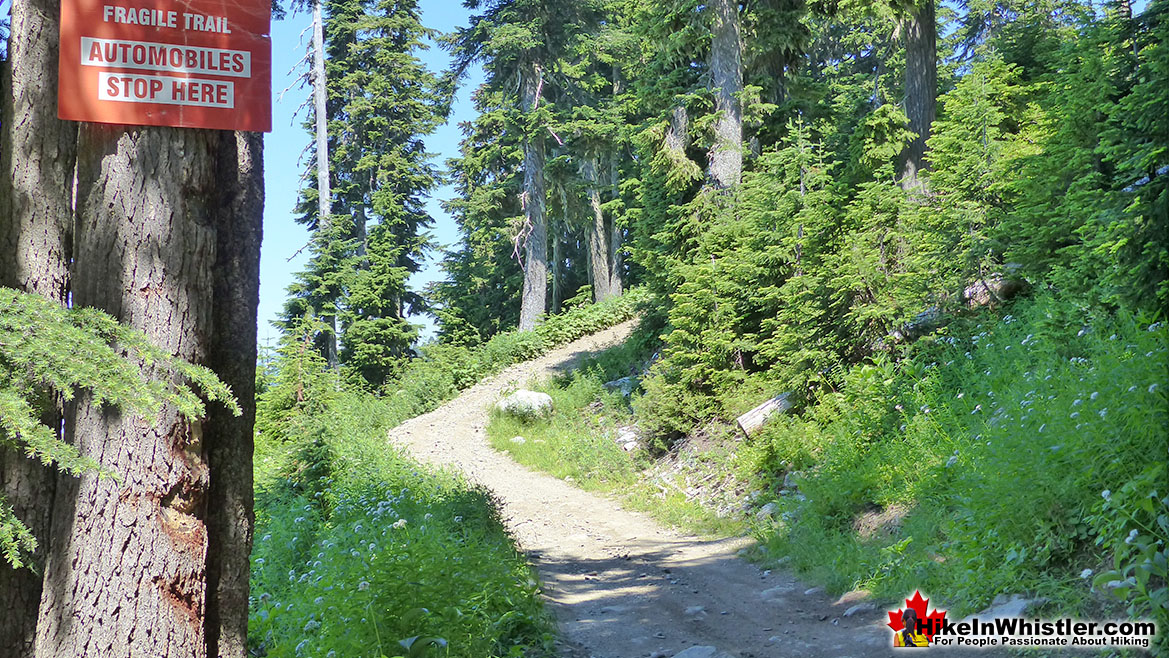 The trail emerges from the forest into a clearing and further up  you come to the snowmobile hut that overlooks Sproatt Lake.  Canadian Wilderness Adventures operates year-round in the area and the cabin hosts dinners with many of their tours.  Unfortunately, the cabin is only accessible by Canadian Wilderness Adventures and you will find the door locked.
Though the cabin is inaccessible, the view from the side porch is wonderful.  Sproatt Lake sits down in a small valley surrounded by wild and beautiful green meadows and forest.  A faint trail leads down to the lake from the cabin and it is the first of many chances for a swim in the spectacular alpine of Sproatt.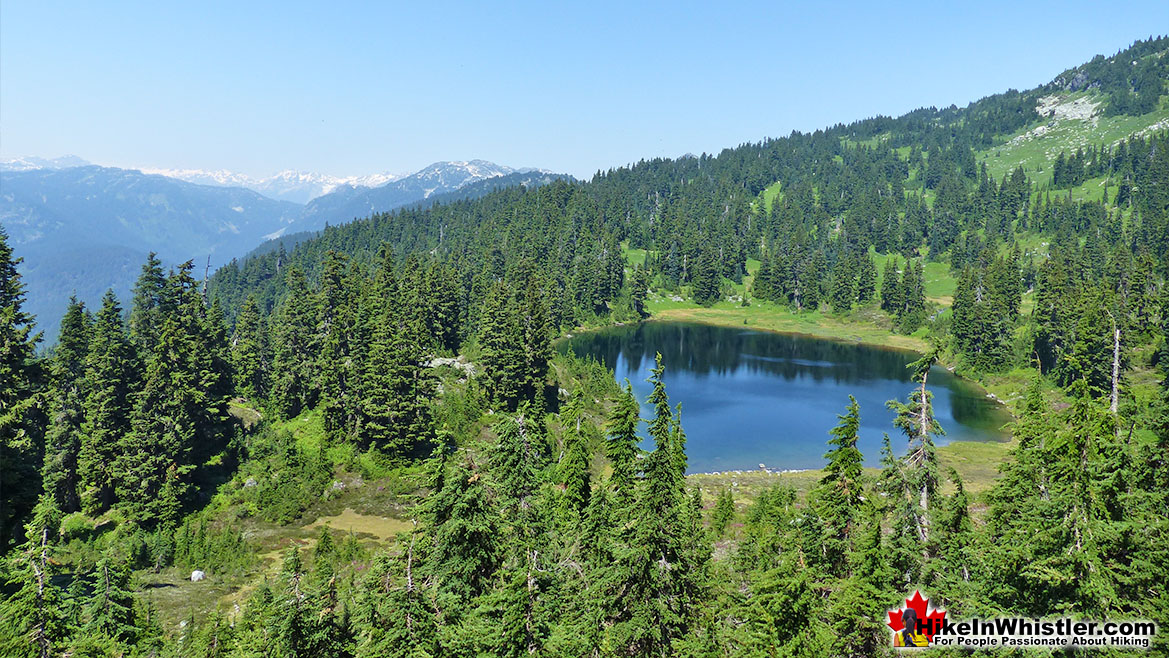 Continuing along With a Twist you soon come to a cute little tarn in a rocky valley.  A grassy area near the shore is a perfect spot for a tent in this little pocket of paradise.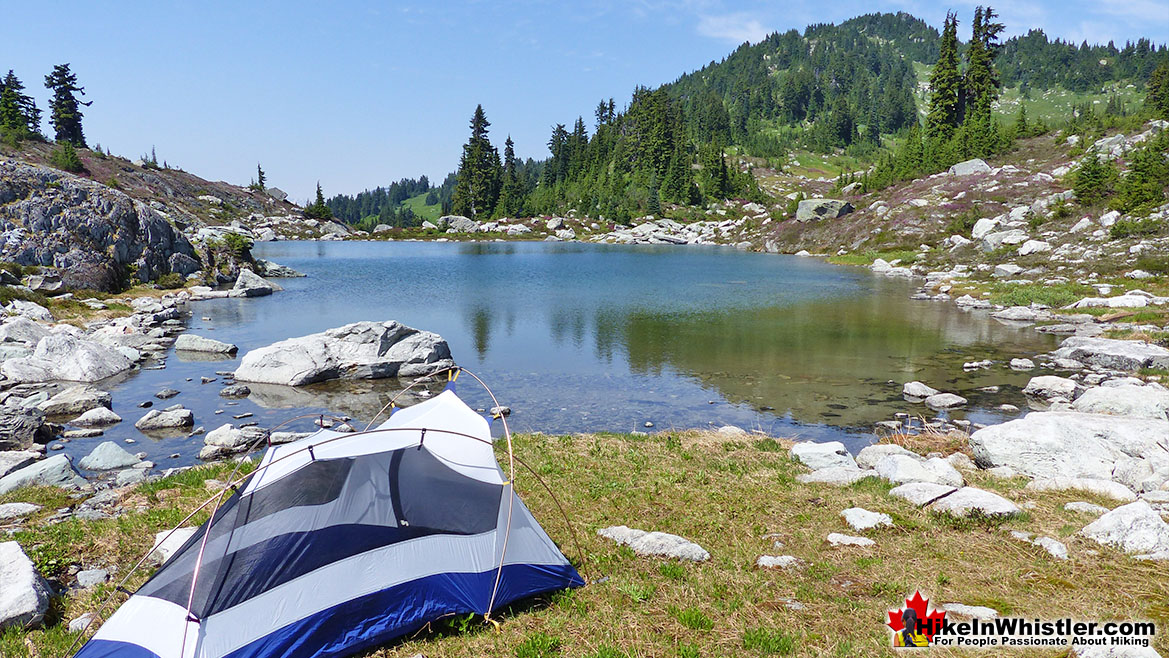 Beautiful Spots for a Tent
Room with a view and a pool.  Because tarns are small and shallow they warm up in the summer sun and are not bone chilling like big alpine lakes such as Wedgemount Lake, Cheakamus Lake and Garibaldi Lake.  The Pot of Gold trail wraps around the far side of this tarn and winds its way north for 3.7 kilometres to emerge between Hanging Lake and Rainbow Lake.  Bending past Hanging Lake you can hike the Madeley Lake trail for 6.7 kilometres to beautiful Madeley Lake.  Camping is allowed at both lakes and they both have very basic campsites and outhouses.  If you turn right from Pot of Gold you will be on the 8.5 kilometre Rainbow Trail which passes by Rainbow Lake and down the valley along Twentyone Mile Creek to Alta Lake Road at the Rainbow Lake and Rainbow Falls trailhead.  Near Rainbow Lake you will also pass a faint trail extending north to Beverley Lake.  This is a very remote feeling lake where camping and swimming are allowed.  Another faint route branches off from the Beverley Lake trail and takes you up to the summit of Rainbow Mountain.  The Beverley Lake trail is about 3.5 kilometres long and the Rainbow Mountain route is about the same, though it depends on the route you take through the chaotic, though beautiful boulder and snow fields.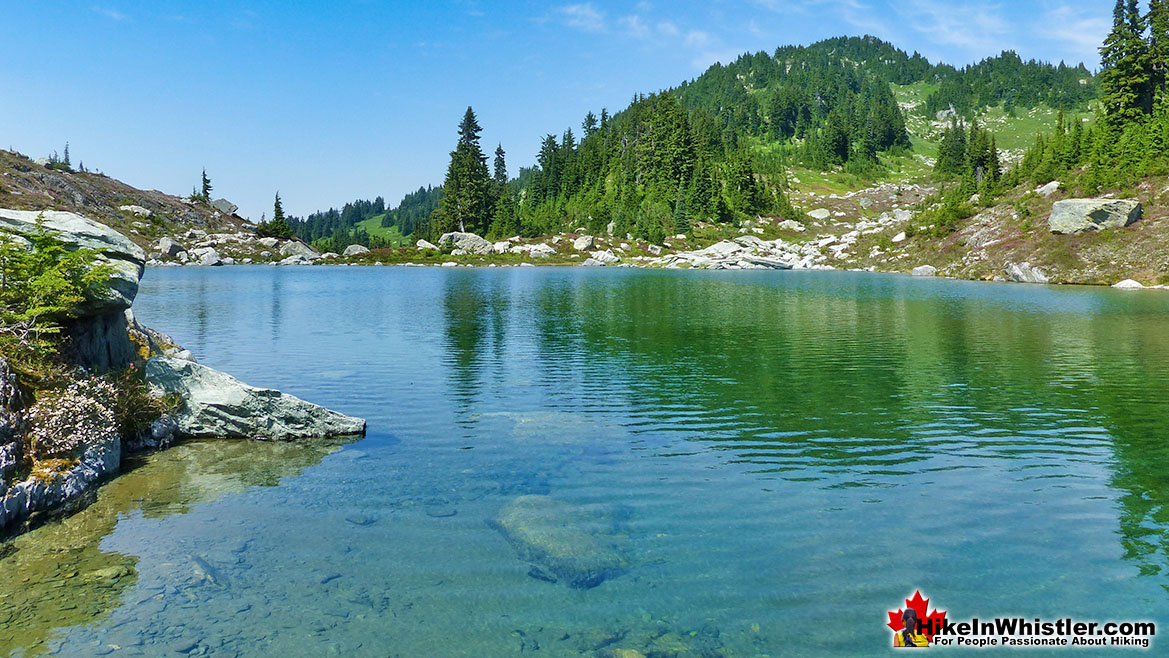 With a Twist Trail
Back on the Sproatt West route hiking along With a Twist you pass another idyllic little tarn that beckons you for another swim.  This gorgeous terrain typifies Mount Sproatt with its striking combination of hostile, rocky terrain and green, grassy meadows, untouched forest and stunning pools of water hidden from civilization.  Around you the alpine terrain opens up  and even though you see the faint trail you are on, you can see in all directions routes into the wilderness and up meadows to mountain peaks.  Looking off the the right a grassy meadow leads up to a rocky peak called Gin Peak(1803 metres).  Gin Peak overlooks Rainbow Lake as well as Gin and Tonic lakes.  Both the lakes and Gin Peak are not too hard to get to and both are under two kilometres from the tarn you are standing next to.
With a Twist continues through the wonderfully jagged and rocky alpine of Sproatt and everywhere you look you get commanding views of the surrounding mountains.  With every bend in the trail you find yourself looking across to a different panorama of dozens of snowy peaks.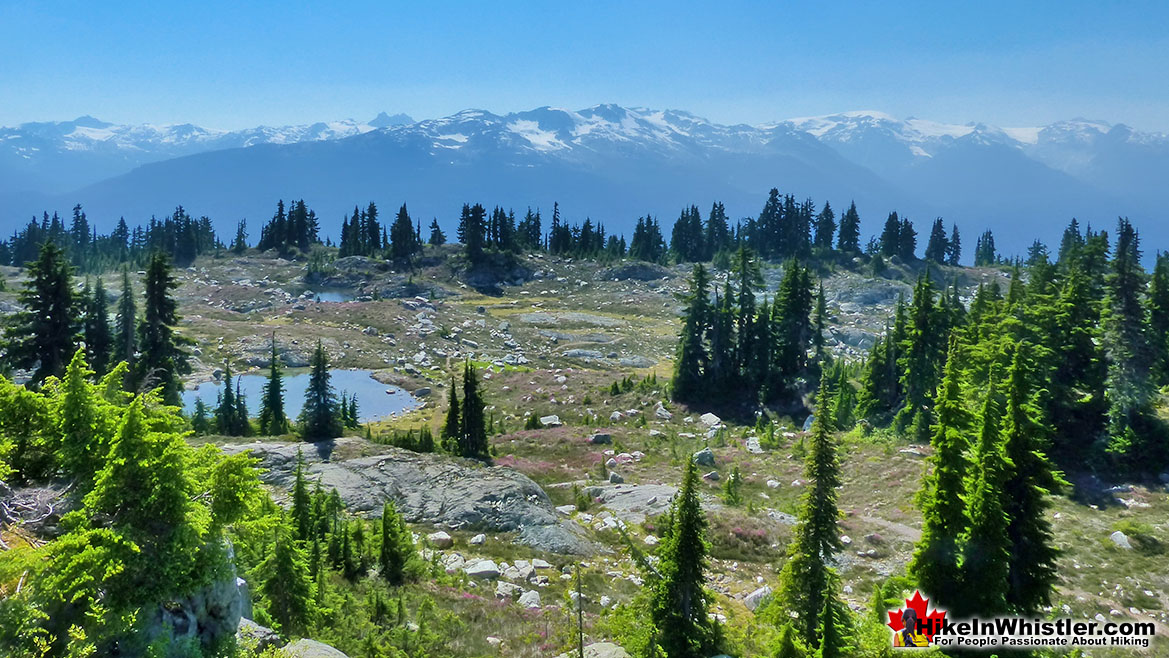 Rounding another bend along With a Twist you get a spectacular view of Gin Lake at the bottom of a valley.  Rainbow Mountain towers in the distance with a profile much different than you get from Whistler Valley.  From the valley at places like Rainbow Park, Rainbow Mountain is a single snowy peak.  From Sproatt it is a broad mountain with multiple peaks extending down the valley.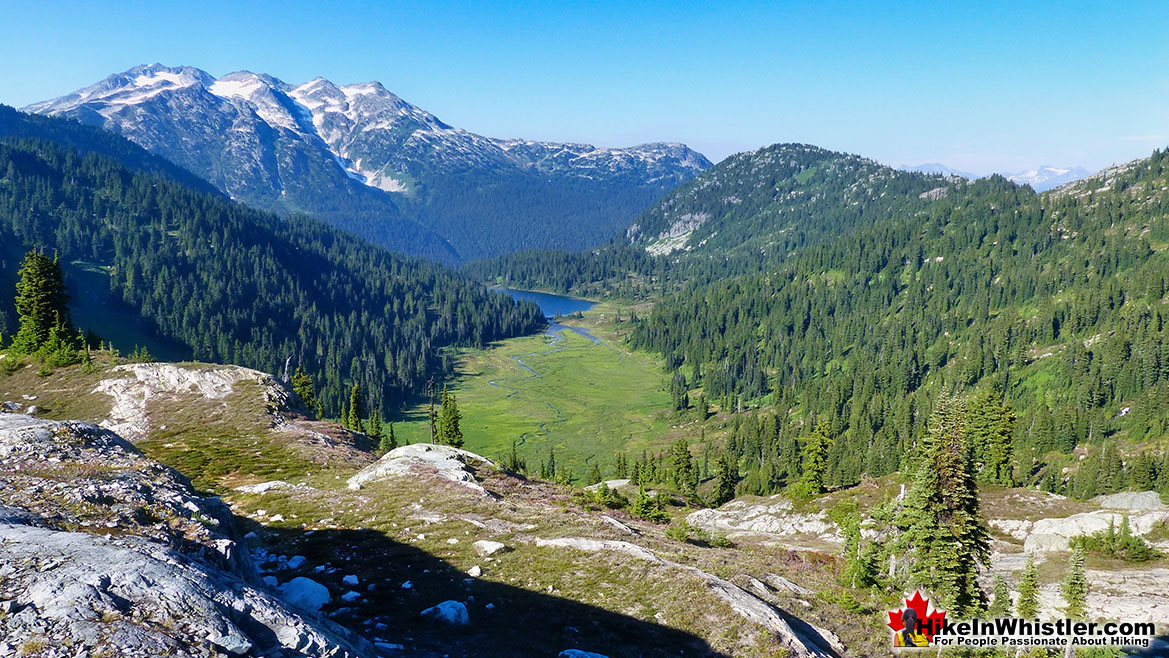 Zooming in on Gin Lake is looks like a hidden paradise in a pristine valley.  Unfortunately it sits well within Whistler's watershed and swimming, camping, fishing, etc are not allowed.  With a Twist now runs along the border of the watershed then merges into On the Rocks which also more or less skirts the boundary all the way to the summit of Mount Sproatt.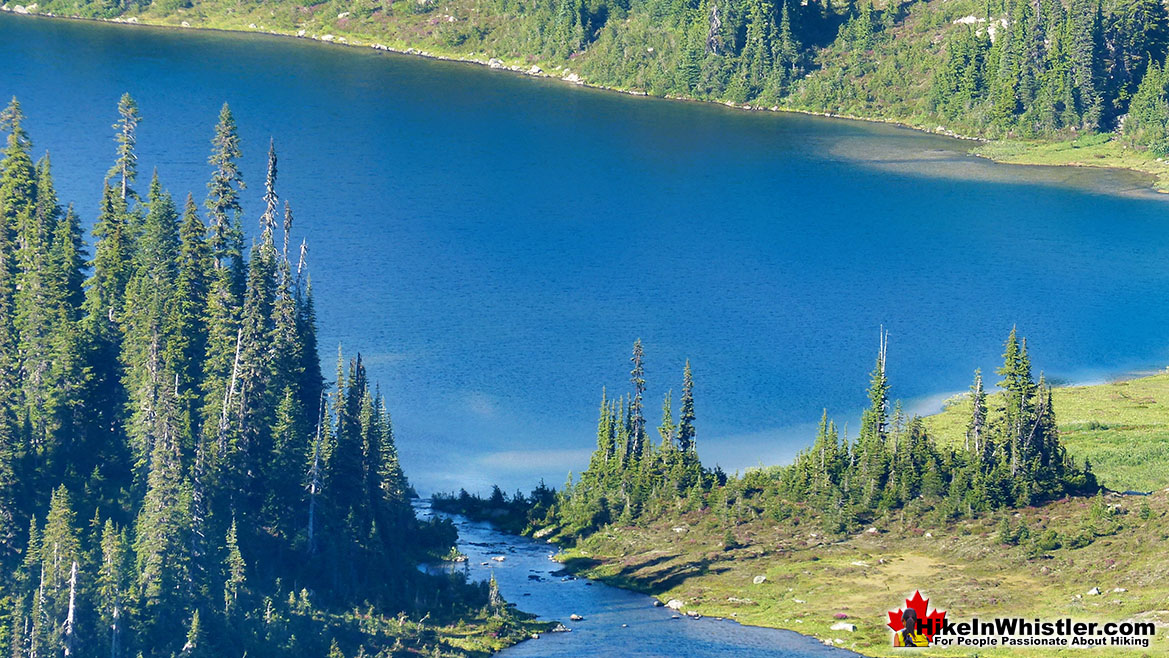 Sproatt West On the Rocks Trail
On the Rocks is a 3.6 kilometre section of the Sproatt West trail that continues to bend sharply though the beautiful and surprisingly expansive alpine of Sproatt.  During the last ice age when the valley was under a glacier about two kilometres thick, the summit of Sproatt was ground down into the broad and rocky form we see today.  On the Rocks takes you past Tonic Peak, which at 1803 metres is just a few metres lower than Mount Sproatt which stands at 1834 metres.  Close to Tonic Peak you find yourself next to another stunning tarn.  Sitting at the edge of this one you get a magnificent view of Rainbow's jagged peaks.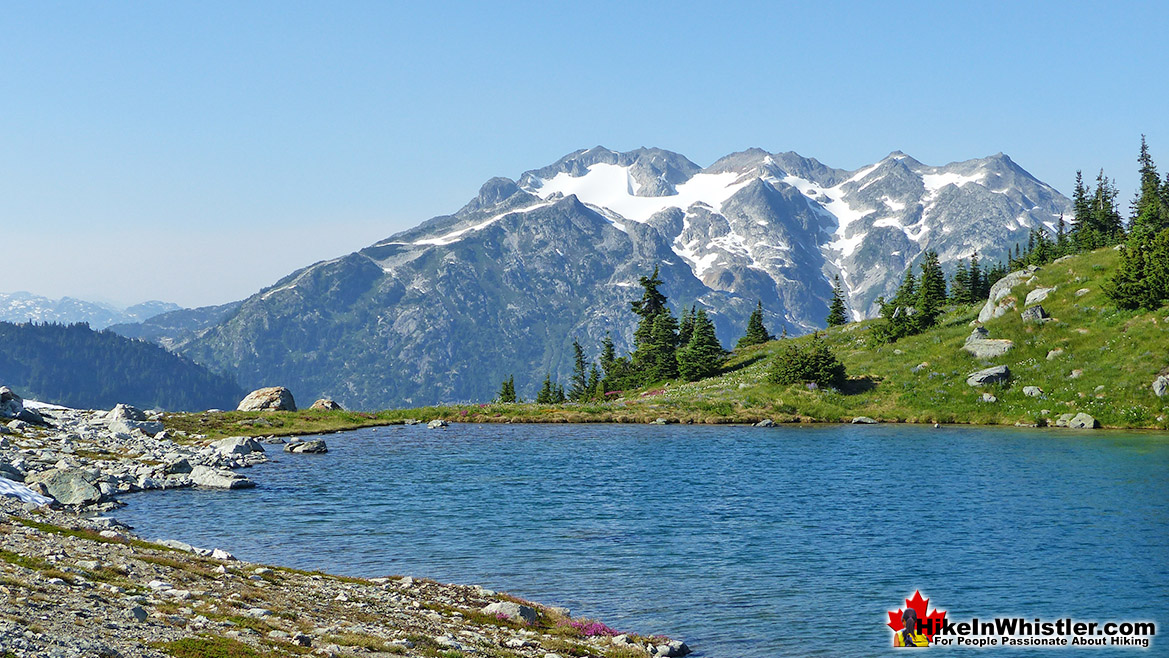 Looking across to Rainbow Mountain with Gin Lake in the valley on the left.
An aerial view above Tonic Peak looking across to the summit of Sproatt with Blackcomb Mountain and Whistler Mountain in the far right distance.
History of Mount Sproatt

Little is known about who named Mount Sproatt or who it is named after.  It is thought that it was named after someone as the surname 'Sproatt' was a common surname at the time.  Naming convention for a mountain named after someone is to use 'Mount' before the person's name, otherwise it would be Sproatt Mountain.  Whistler has quite an interesting and detailed recorded history in which name origins are well known and the few inhabitants in the region a century ago are also fairly well documented.  The unknown origin of Sproatt seems a little unusual.  Interestingly, the earliest known written reference to Sproatt comes from the 1917 BC Mines Report which identifies a mining claim on "Sproat Mountain".  The other early reference to Sproatt that is also cited by the BC Geographical Names database is the original 1928 topographical map of Garibaldi Park which has it shown as "Sproatt Mt".  Locals in Whistler seem to always refer to it as Sproatt Mountain, which may be due to the way it feels more natural to say than the slightly awkward 'Mount Sproatt'.  These points would seem to be irrelevant however, considering that 'sproatt' is not a word in the English language anyway… but it actually is a word, though somewhat of an obscure word, 'sproat'.  Sproat is a noun, defined as: A type of fish hook with a wide and slightly flattened bend, short front, and the point set well inwards.  Named after the inventor, W.H. Sproat.  With the first known printed reference in 1917 of "Sproat Mountain", it is reasonable to assume that it was named in the years just prior to that year.  In 1914 Rainbow Lodge was built at Alta Lake and it was largely marketed as a destination for fishing.  Which is a possible link to the fishing reference, though why would you name a mountain after a fish hook?  There is an interesting similarity to the shape of Sproatt to a sproat hook, which increasingly looks more obvious the more you look at it.  If you were to trace a sproat hook onto a map it covers the steep approaches to Sproatt and the open part of the hook is where the old trails went up the mountain from Alpha Lake and Nita Lake.
Maybe It is wildly speculative, however you can imagine early settlers like Harry Horstman describing his various routes up to his cabin on Sproatt from his land near Alpha Lake.  He might have described the mountains steep sides forming a sproat shape curving around the east, north and west sides, with the more gradual access coming from the south and bending east in the alpine.  In the early 1900's using a hook shaped reference when explaining how to approach a mountain may have been a good way to do it.  The origin of Sproatt's name may eventually be discovered as the Whistler Museum continuously adds to its marvellous collection by donations and maybe one day we will hear of an account of how it was named.  Below are photos of Harry Horstman on Mount Sproatt over the years.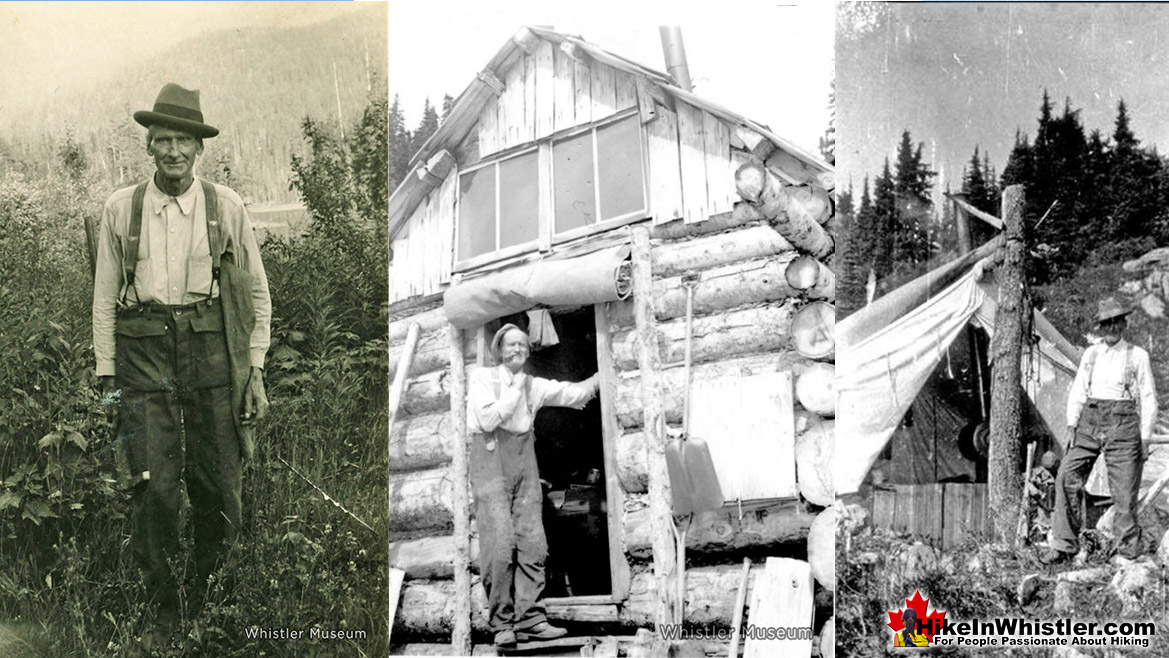 Harry Horstman on Sproatt
Harry Horstman is the name most associated with the history of Mount Sproatt.  He arrived from Kansas in the area around in 1912 and acquired some land at the south and north ends of Alpha Lake and grew vegetables and farmed chickens.  He apparently dreamed of striking it rich by finding gold or a rich vein of copper on Mount Sproatt and dug several tunnels into the mountain in his search.  An eccentric and reclusive character he is fondly remembered in Whistler in part because of the numerous excellent photos of him.  The grainy, black and white photos are strikingly candid glimpses of him in front of his cabin on Sproatt, or at Rainbow Lodge, or various other interesting places in Whistler.  Each photo takes you back to the moment it was taken in a way that a posed for photo never can.  He spent decades hiking between his farm on Alpha Lake and to his cabin on Sproatt until health declined in the late 1930's.  He eventually moved to an old age home in Kamloops and died there in 1946 at age 75.  Horstman Glacier on Blackcomb Mountain is named after him.
Geology of Mount Sproatt

Hiking on Mount Sproatt you encounter many remnants of the massive glacier that filled the valley thousands of years ago.  On a mountain that is largely covered in forest, scree slopes and boulder fields, you occasionally come across areas of smooth bedrock.  Ground and gouged by centuries of glaciers pushing through the valley.  Along the Flank Trail you encounter a particularly impressive area of scoured rock along A Rockwork Orange.  This popular bike trail takes you up an over dramatically abrupt and steep rock faces with beautifully gouged shapes to them.  The trail, on a sunny day, is a stunning place to relax in with its panoramic view of Alta Lake and Wedge, Blackcomb and Whistler mountains across the valley.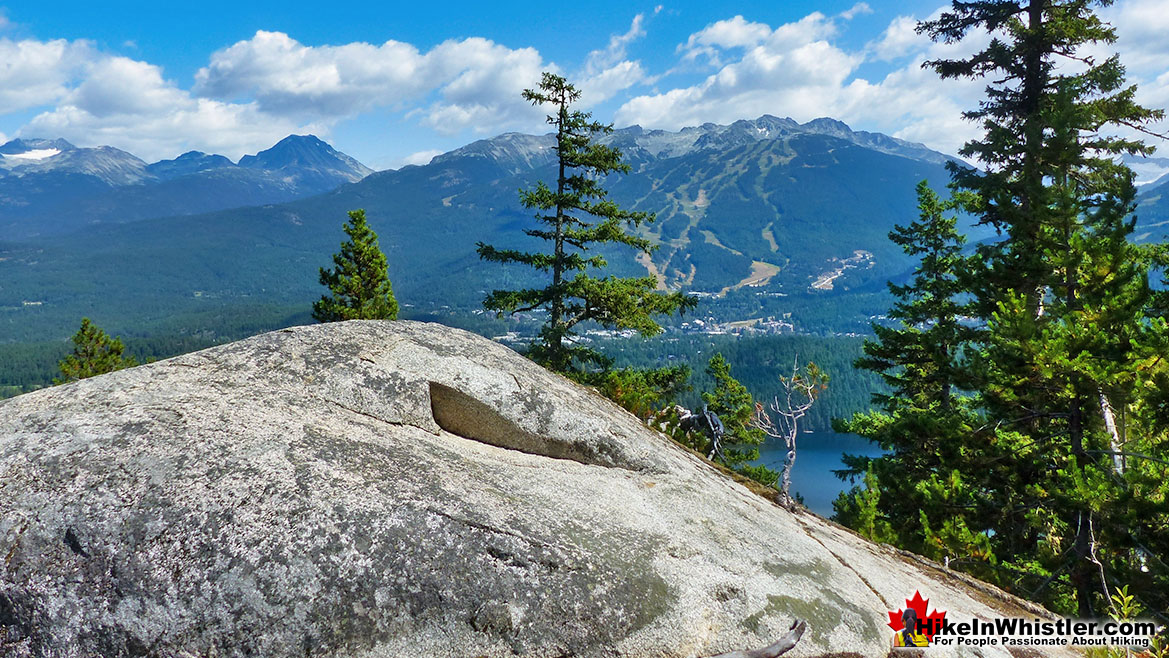 Camping Along the Sproatt West Trail

There are dozens of amazing places to put up a tent along the vast Mount Sproatt trail network, though none are marked or maintained.  Sproatt is the wonderfully wild alpine side of Whistler Valley, so you simply spot an amazing cliff outcrop, serene tarn, or majestic alpine lake, and set up your tent.  One thing to keep in mind, however, is that much of the Sproatt West trail straddles the border of Whistler's water supply and camping is not allowed in the watershed area.  There are mapboards that show the watershed areas, but an easy way to understand where you can and can't camp is by looking at the flow of water where you want to camp.  If the streams and lakes around you flow toward Rainbow Lake and Twentyone Mile Creek, then you can't camp.  The dividing line is the ridge that runs from Mount Sproatt to Tonic Peak, then bends north to Gin Peak.  Rainbow Lake and Twentyone Mile Creek are north and east of this ridge, so camping is OK, west and south of this.  The entire trail from Function Junction to the alpine is good for camping and there are endless beautiful, rock outcrops/cliffs to camp, though water is often not convenient.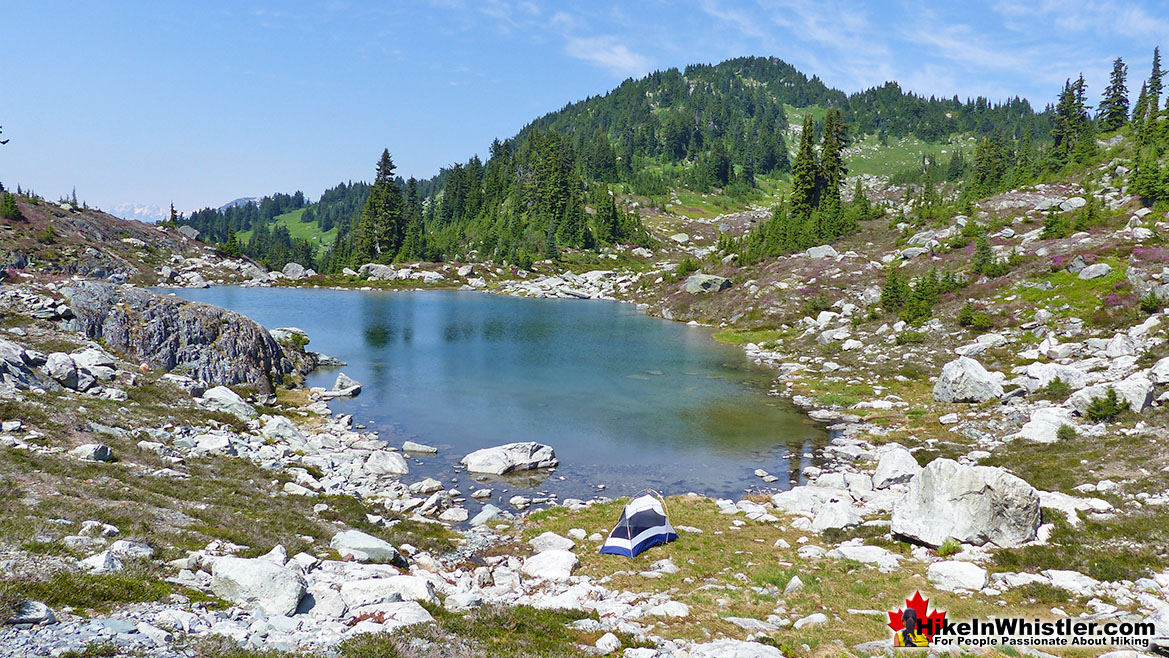 Canadian Wilderness Hut on Sproatt

There is an alpine hut near the start of the Sproatt West trail.  It is owned by Canadian Wilderness Adventures as their snowmobile hut.  Canadian has a tenure in the area to run snowmobile tours here in the winter.  There is a lock on the door, however it has an amazing view of the valley below and Sproatt Lake, and stopping there for lunch on their sundeck is very scenic.  Out of courtesy to Canadian Wilderness Adventures, you should not disturb anything of theirs.  There is a nice trail from the hut to Sproatt Lake that you will see from the hut's sundeck.  It descends down the valley and only takes about 8 minutes to the lake.  The hut is located just past a trail junction and large clearing where you will see a large mapboard and atv tracks through the mud and grass.  The trail to Mount Sproatt branches off to the right just before this clearing and the hut is straight past the clearing and mapboard.
Facilities on Sproatt

Mount Sproatt is wonderfully wild and almost entirely devoid of human made structures.  There is the very nice viewing platform overlooking the valley just down from the summit of Sproatt.  For most hiking, biking or skiing on Sproatt this is the destination instead of the actual summit, several metres above and behind the viewpoint.  From the Sproatt West trailhead the viewing platform is 10.3 kilometres(6.4 miles).
Restrictions and Concerns for the Sproatt West Trail


Many Whistler area hiking trails are not dog friendly, and unfortunately the Sproatt West trail goes through Whistler's watershed and therefore prohibits dogs.  Many of Mount Sproatt's creeks flow into Whistler's water supply and dogs are strictly forbidden anywhere close to water sources.  Dogs also pose an increasingly possibility of encountering grizzly bears on Sproatt.  Grizzly bear sightings on the Mount Sproatt side of the valley have increased over the past few summers.  For the foreseeable future, it seems, encounters with grizzly bears on Mount Sproatt will be not as rare as previous years.  Dog encounters with bears is well-known to drastically increase the chance of provoking a bear to sudden bursts of unpredictability.  Campfires are also prohibited on Mount Sproatt due to the significant risk of wildfires in BC.  Camping is allowed, as much of Mount Sproatt is on Crown Land, however definitely not on the watershed side of the mountain. 
Wildlife on Mount Sproatt

Black bears roam around on Sproatt and in recent years there have been the occasional grizzly bear sighting in late summer and early fall.  This tends to happen on the west side of Sproatt and also around Hanging Lake and Madeley Lake, which are northwest of Rainbow Lake.  The sightings tend to cause a panic and signs go up at some trailheads preventing access due to grizzly bear in area.  The nearby Rainbow Trail to Rainbow Lake is the main access trail to Hanging Lake tends to be one of the main trail temporary closures every year.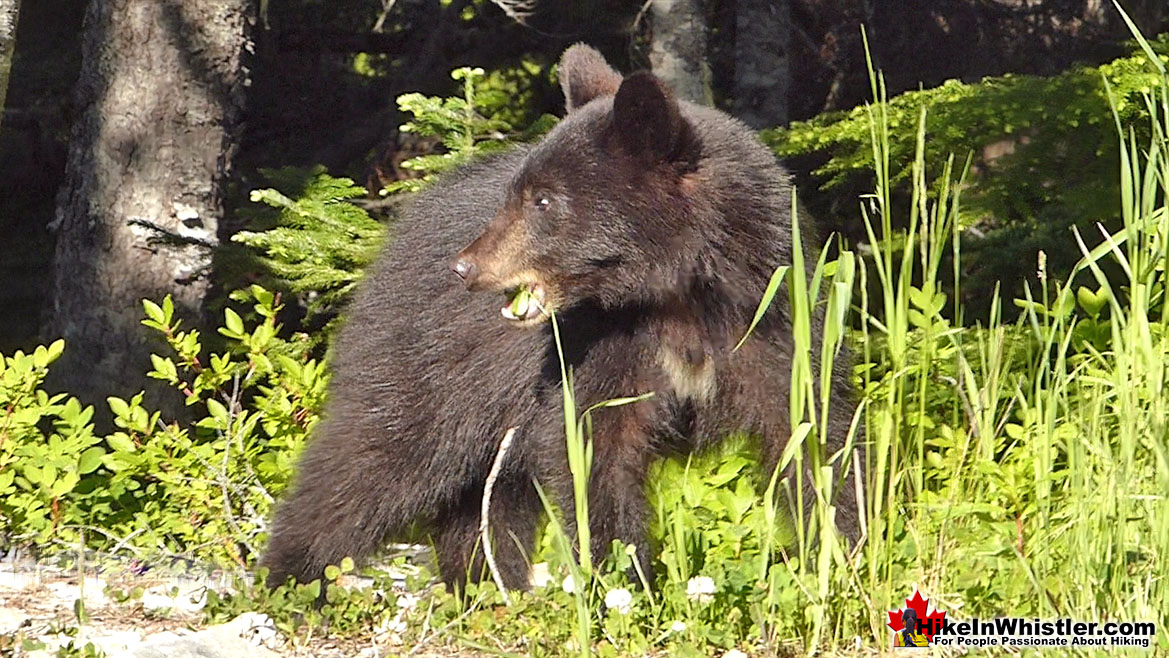 Getting to the Sproatt West Trailhead

If you have a 4x4 and don't mind some adventurous logging roads then you should use the Sproatt West (Northair Mine) trailhead for Sproatt is a great choice. This end of the trail is spectacular right from the start and the logging road to access it is pretty scenic well. The logging road gives you almost constant views looking down over the Callaghan Valley and the hiking trail from this end opens up to the alpine much faster than the other trails for Sproatt.  Depending on how close you park to the trailhead, you could be in the alpine in as little as 30 minutes.  Unfortunately it requires a very capable 4x4 and brave driver to get to the trailhead.  You can however, get reasonably close to the trailhead by parking a kilometre or two past Northair Mine which gets you about 30-45 minutes to the trailhead and another 30 minutes to the alpine. To get to the Sproatt West (Northair Mine) requires some 4x4 driving and some tricky navigating.  You may be able to drive to Northair Mine without a 4x4 as you occasionally see a car parked there, there are a couple deep washouts 2 kilometres before the mine.  These washouts are no problem for an average 4x4, but a car would likely have some difficulty.  Northair Mine is located way up in the beautiful Callaghan Valley.  From Whistler Village, drive south on the Sea to Sky Highway for 13.8 kilometres and turn right onto Callaghan Valley Road.  Drive up into the Callaghan Valley for 7.6 kilometres and just after you cross the bridge over Callaghan Creek turn right onto the Callaghan Creek forest service road.  The gravel road is pretty good for the first couple kilometres until you make a sharp left turn and the road deteriorates quickly.  Still manageable by most vehicles, however there are a couple very deep waterbars that might surprise you.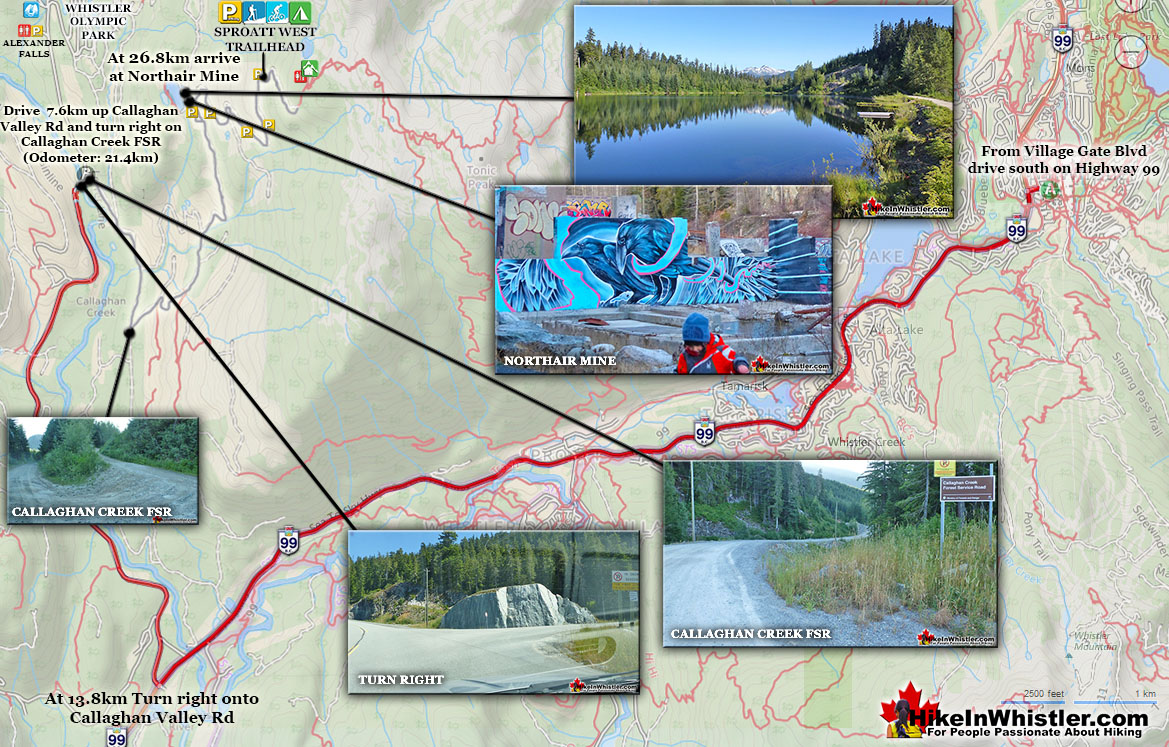 Sproatt West Trailhead Map
Also, the Sproatt West trailhead to the is almost 4 kilometres past the turnoff to Northair Mine and the old FSR road quickly becomes narrow, steep and plenty of boulder sections.  There are several good places along the way to pull out, park, or turn around and surprisingly, there are only a few mild washouts.  A good idea if you are not keen on difficult 4x4 roads is to either park at Northair Mine and walk, or drive the first kilometre and park at one of the clearings along the route.  The worst part of the road between Northair Mine and the trailhead is about 1.6k to 2.2k where it becomes quite narrow, steep and the boulders and ruts are big and deep.  Past this section the road becomes surprisingly good for the remaining couple of kilometres until nearer the trailhead.  Keep in mind that there are no trailhead signs except a large mapboard sign for the Sproatt alpine.  It is huge and hard to miss, despite falling over and sliding into a gully.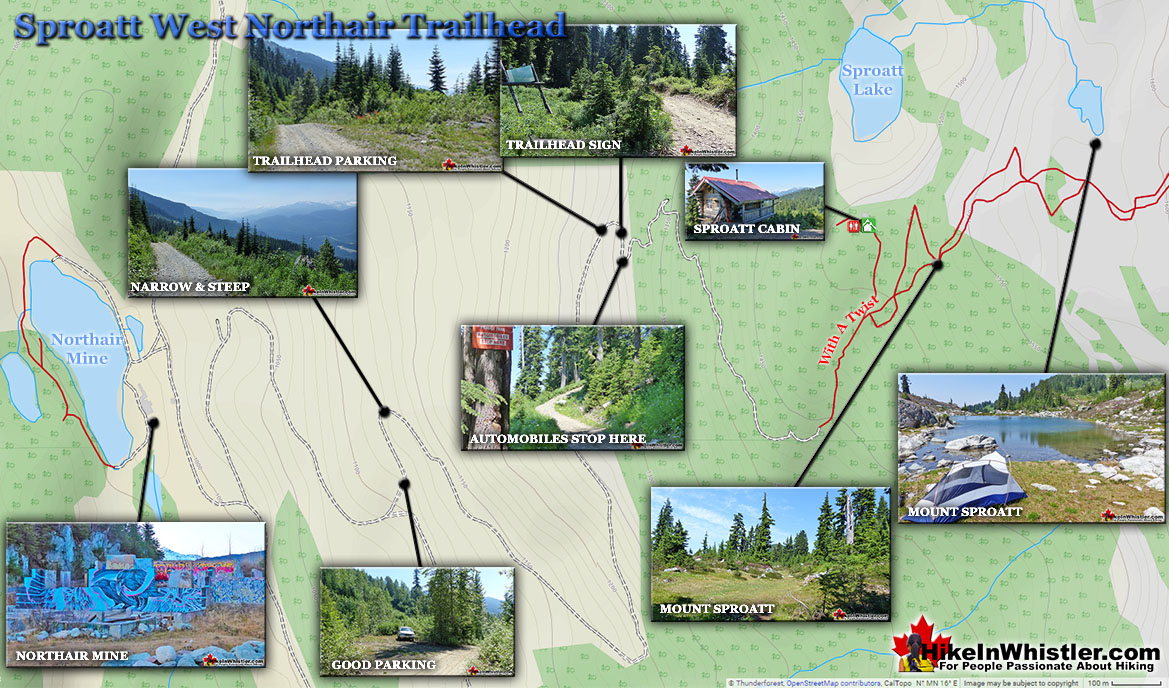 Northair Mine
Northair Mine is a surreal little world of colourful murals on abandoned cement foundations, surrounded by an astoundingly tranquil little lake in a secluded forest.  Just a short logging road off of the Callaghan Valley Road takes you to this unusual little abandoned mine.  You would have driven by the turnoff if you have been to Whistler Olympic Park or Alexander Falls, both of which are just a couple kilometres away.  Northair Mine gets its name from the Vancouver based mining company the Northair Group.  The mine was in production from 1976 and extracted 5 tons of gold before being abandoned in 1982. Today it is a bizarre little world in the mountains that has become an incredible place to escape the world and camp out under the stars.  Northair Mine is tricky to find and even when you near it, the turnoff is not obvious.  The access road takes you high into the mountains and is only free of snow in May most years.  In 2016, for example, the snow melted enough for vehicle access during the first week in May.  Driving to Northair Mine is along a bumpy, potholed, old logging road drivable by most vehicles, though at least one deep washout may give even SUV's some difficulty.  Once Northair Mine comes into view it is quite a sight.  The area that surrounds the old ruins is unexpectedly huge.  About 2 kilometres long, edged by a cliff on one side and a beautiful lake on the other.
 More Hiking Around Sproatt

There are several hiking trails and sights to see around Mount Sproatt. The Rainbow Trail to Rainbow Falls and Rainbow Lake can be found further along the Flank Trail near Rainbow Park in Whistler.  The Madeley Lake trail runs over the edge of Mount Sproatt and connects Madeley Lake to Hanging Lake and then to Rainbow Lake.  Hanging Lake can be reached by a fairly easy trail off of the Sproatt West route.  Northair Mine near the Callaghan Valley end of the trail is a surreal little world in the mountains.  There are cement foundations adorned with graffiti, two lakes and all sorts of curiosities to explore.  Northair Mine is a great place to camp if you can manage to get your vehicle past the washouts on the bad forest service road to it.  Alexander Falls, one of Whistler's most amazing waterfalls to see is easy to drive to, without a 4x4.  The Callaghan Valley has several other great places to hike. Callaghan Lake Provincial Park has some short trails at this beautiful lake as well as free campsites.  Cirque Lake is a challenging, though short trail that begins at the far end of Callaghan Lake.  The Ring Lake & Conflict Lake trail also starts from near Callaghan Lake Provincial Park.
Alexander Falls - Sights Near Sproatt

Alexander Falls is a very impressive 43 metre/141 foot waterfall just 30 to 40 minutes south of Whistler in the Callaghan Valley. Open year-round and located just before Whistler Olympic Park where several of the 2010 Olympic events were held. There is a nice viewing platform on the edge of the cliff across from the falls which crash fantastically into the valley below.  The parking area and viewing platform at Alexander Falls is one big area just 40 metres from the main road, just before Whistler Olympic Park.  The adventurous can find the obscure trail that leads to both the top of the falls as well as, with great difficulty, to the base of the falls.  Alexander Falls is certainly one of the nicest spots for a picnic in Whistler.  The picnic areas are numerous, the surrounding forest is gorgeous and wild and Alexander Falls crashes loud and beautiful in the background.  Continued here...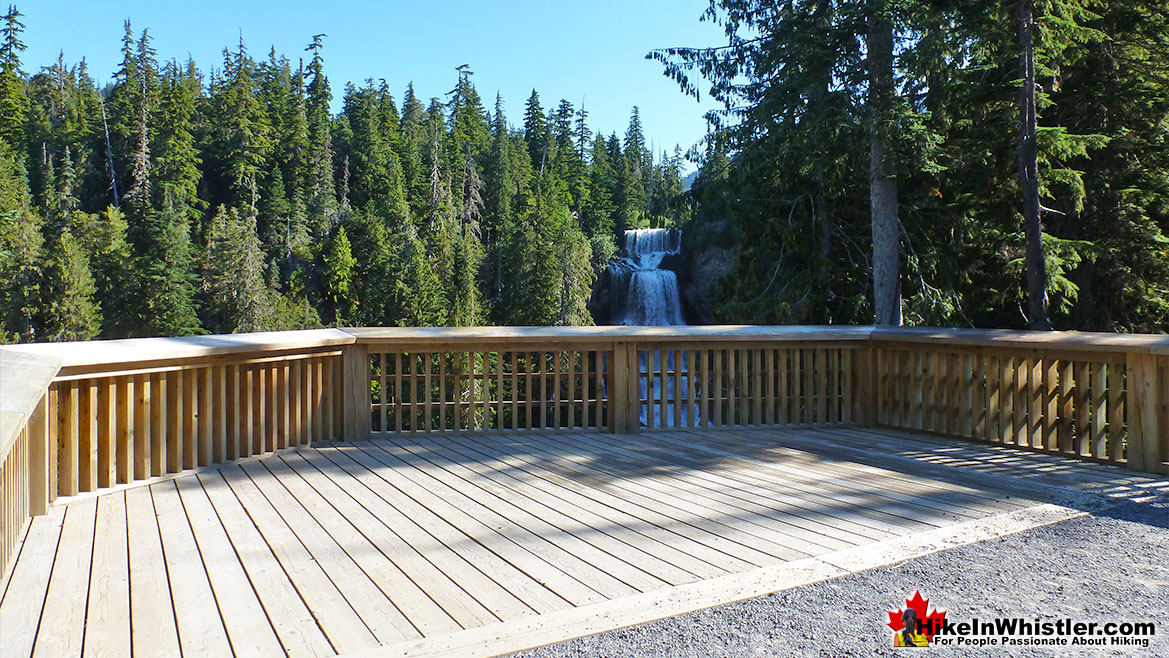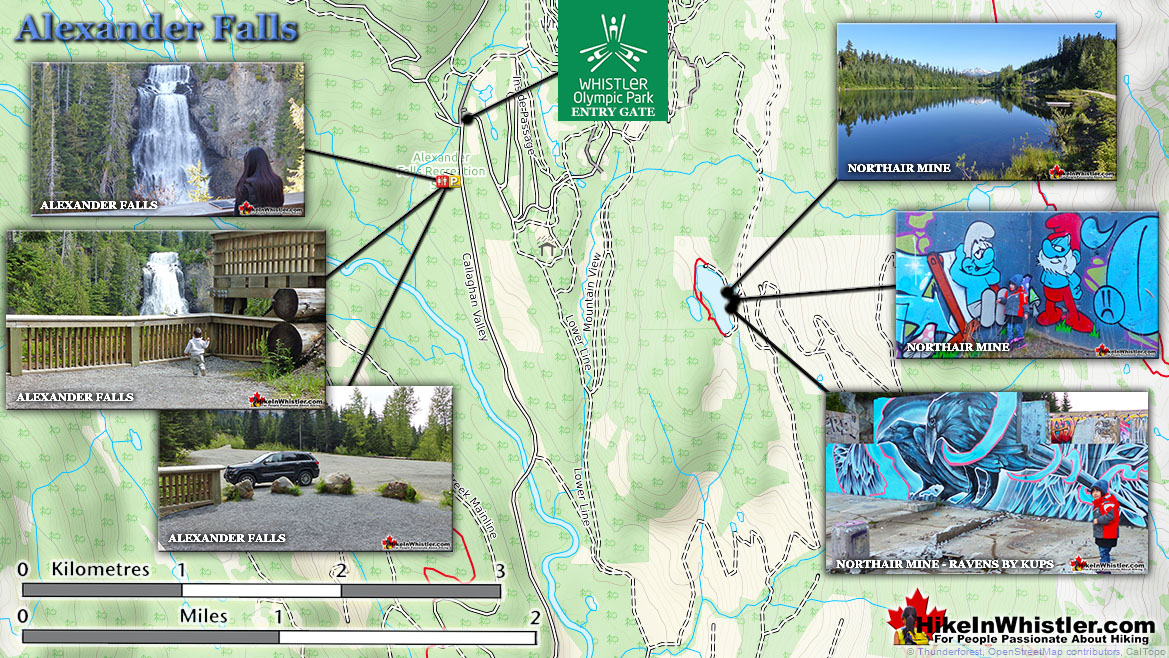 Madeley Lake - Hikes Near Sproatt

Madeley Lake is a beautiful, remote mountain lake hidden high up in the Callaghan Valley.  From Whistler Village expect to take 40 minutes to drive there.  You can drive directly to the lake, however the access road is pretty bad with deep aterbars.  An average 4x4 can make it quite easily, though most cars with have great difficulty driving over the numerous deep water cut gouges in the road.  Located near Alexander Falls, Madeley Lake is close to several beautiful places.  This is an amazing place to camp.  If looking for solitude at a paradise, mountain lake, Madeley Lake is hard to beat. Though somewhat popular with fishing, you are still likely to rarely see anyone at the lake in the summer and never in the fall.  Once in a while you will see a car or two at the trailhead to Hanging Lake.  If you have a canoe, Madeley Lake is a great place to paddle around or just float in the sun.  Continued here...
Rainbow Lake - Hikes Near Sproatt

The Rainbow Trail is a convenient and popular trail near Whistler Village that takes you to Rainbow Lake as well as the Rainbow-Sproatt Flank Trail, Rainbow Falls, Hanging Lake, Madeley Lake, Beverley Lake, Rainbow Mountain... and even Whistler Olympic Park if you are determined.  It is a consistently uphill and very beautiful trail with several water (bridge) crossings and waterfalls on the way to the picture-perfect lake.  There are a few views of the valley across to Whistler Mountain, Blackcomb Mountain, and Wedge Mountain.  Few views, though fantastic.  Rainbow Lake itself is in a gorgeous alpine valley with branching trails that extend further beyond the lake in at least three directions.  Along with the waterfalls, bridge crossings and valley views, the Rainbow Trail passes through deep forest with some impressively huge trees.  Continued here...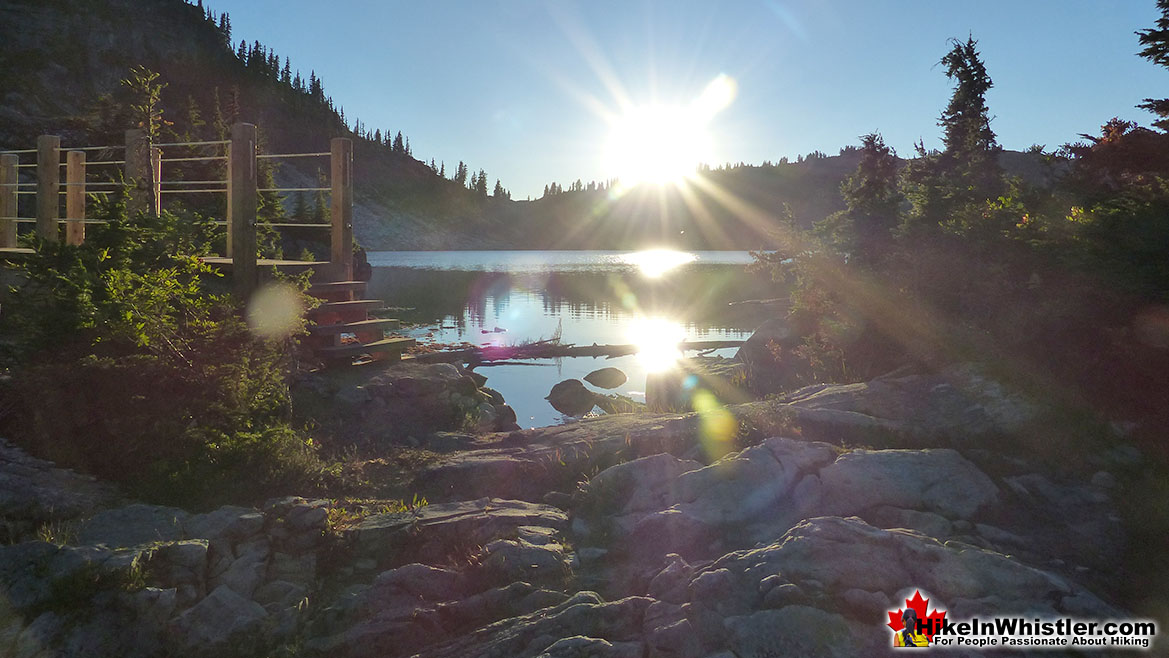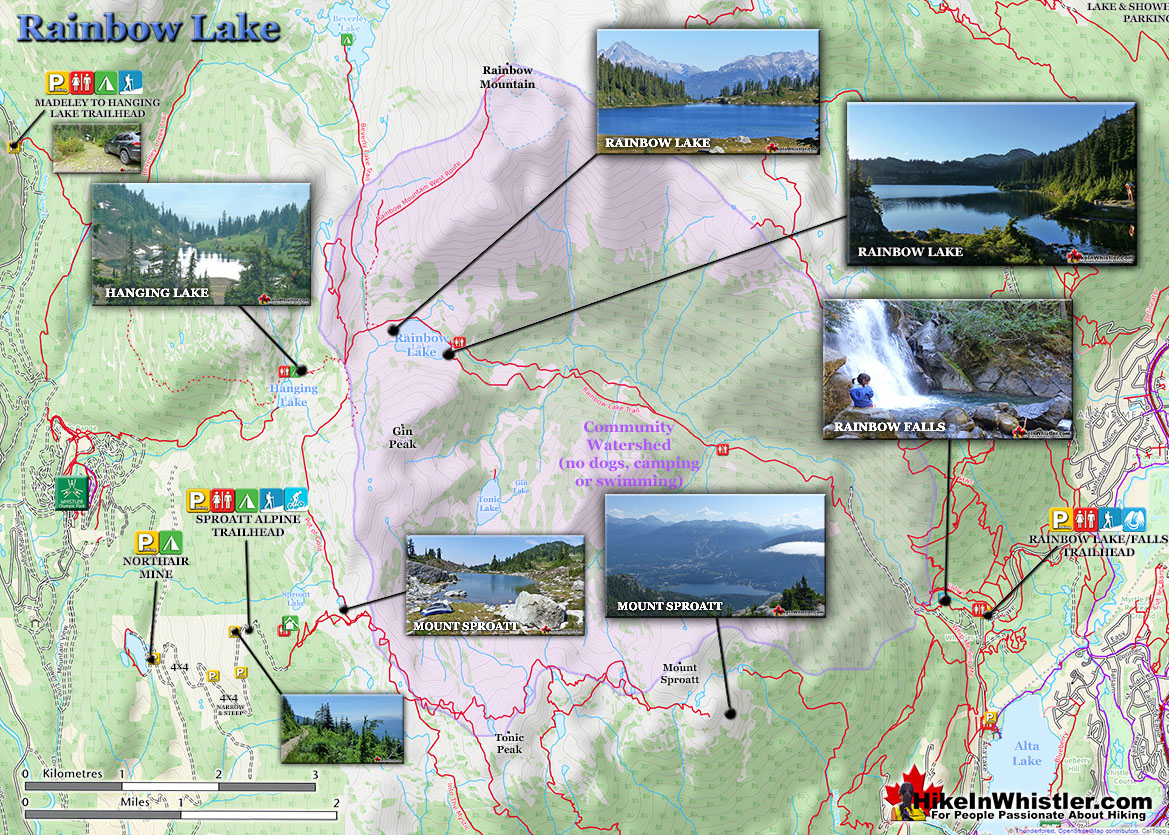 Whistler's Best Hiking Trails!
Whistler & Garibaldi Park Best Hiking by Month!

Explore BC Hiking Destinations!