Russet Lake is a surreal little paradise that lays at the base of The Fissile, in Garibaldi Provincial Park. The Fissile is the strikingly bronze mountain visible from Whistler Village.  From the Village look into the distance at the Peak2Peak Gondola hanging between Whistler Mountain and Blackcomb Mountain and you will see The Fissile. Its pyramid shape in the distance perfectly separates the two mountains.
At least 5 amazing routes to this hidden paradise
The Fissile looms ominously over the lake
Overlord Glacier fills the valley below and across
Part of the Spearhead Traverse

Every direction you look is shockingly beautiful
Adit Lakes is a hidden world nearby

Scrambling routes up & beyond The Fissile!

Musical Bumps Trail to Russet is very beautiful

Russet Lake is not as beautiful as other lakes
The old 5k access road is inaccessible due to slide
Whistler & Garibaldi Hiking

Alexander Falls  

Ancient Cedars  

Black Tusk  

Blackcomb Mountain  

Brandywine Falls  

Brandywine Meadows  

Brew Lake  

Callaghan Lake  

Cheakamus Lake  

Cheakamus River  

Cirque Lake 

Flank Trail 

Garibaldi Lake 

Garibaldi Park 

Helm Creek  

Jane Lakes 

Joffre Lakes  

Keyhole Hot Springs  

Logger's Lake  

Madeley Lake  

Meager Hot Springs 

Nairn Falls  

Newt Lake 

Panorama Ridge 

Parkhurst Ghost Town 

Rainbow Falls  

Rainbow Lake 

Ring Lake  

Russet Lake  

Sea to Sky Trail 

Skookumchuck Hot Springs  

Sloquet Hot Springs 

Sproatt East 

Sproatt West  

Taylor Meadows  

Train Wreck  

Wedgemount Lake  

Whistler Mountain

January 

February 

March 

April 

May 

June 

July 

August 

September 

October 

November 

December
Though Russet Lake is not terribly impressive in terms of size or colour, the valley around it is remarkably beautiful. The colours change from moment to moment in and extraordinary way. The distinctive colour of The Fissile and the stark grey of the mountains around contrast amazingly with the blue of the lake and green grass in the valley. So many different factors fill the place with colour.  There are several ways to get to hike Russet Lake.  The Singing Pass trail from the base of Whistler Mountain near the Whistler Gondola. The Musical Bumps trail that begins near the top of the Whistler Gondola.  Both routes take you deep into the magnificent Fitzsimmons Range.  The Fitzsimmons Range runs east from the summit of Whistler Mountain to Russett Lake.  Fitzsimmons Creek cuts between Whistler Mountain and Blackcomb Mountain, parallel to the Singing Pass trail.  Where the Fitzsimmons Range ends at Fitzsimmons Creek, the Spearhead Range begins and continues along a set of peaks resembling spearheads to Blackcomb Mountain.  These peaks include The Spearhead, Mount Trorey, Tremor, Shatter, Shudder, Quiver, and more.
Trails to Russet Lake
The High Note trail that begins at the top of the Peak Chair on Whistler Mountain. There is an increasingly popular route that begins from Blackcomb Mountain.  And finally, a very infrequently hiked route from Cheakamus Lake that runs along Singing Creek. In short, the three ways to get to Russet Lake are 1. Musical Bumps (direct route and beautiful), 2. High Note trail(a bit longer but even more beautiful), and the Singing Pass trail (not as nice as the previous two and constantly uphill, but no expensive gondola charge).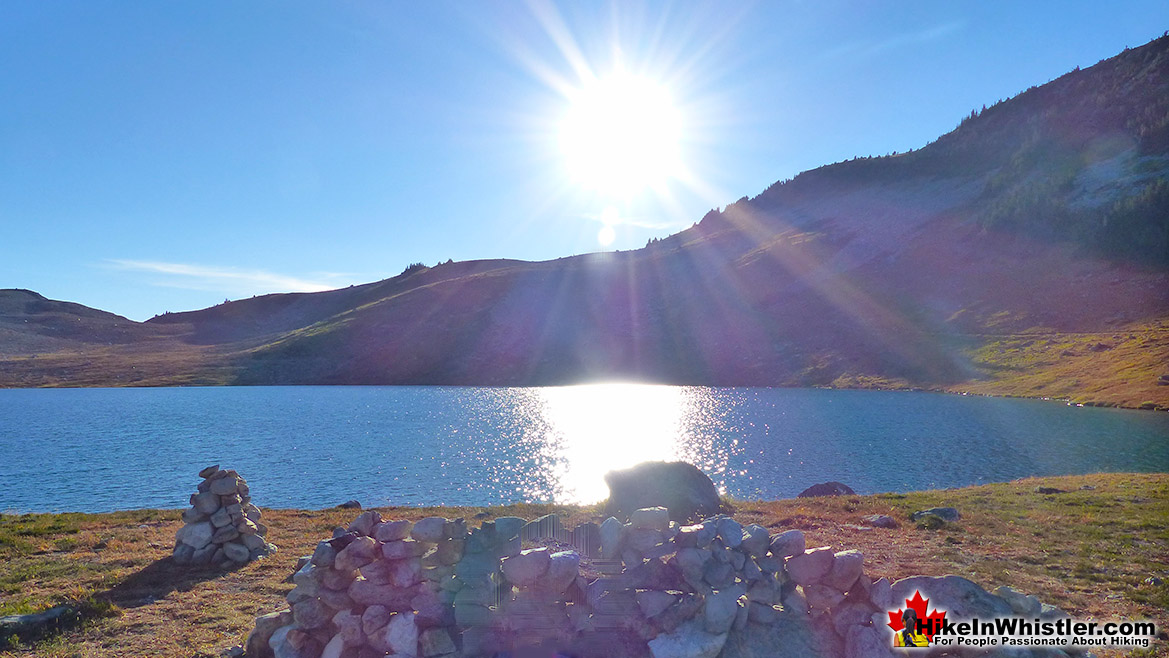 Comparing the Trails to Russet Lake
All three routes are have signs and well established trails. None are very difficult with the exception of being long trails. Though each can be done in a day, 28 kilometres of hiking in one day is quite a long way.  Russet Lake is a beautiful place to camp and has an elaborate new 38 bed hut available to use by anyone for $45 per person.  It is pretty huge and is kept at a minimum temperature of 5c along with propane burners, cooking supplies, pots, plates etc.  It has a propane generator that charges batteries for LED lighting and USB charging ports for your gadgets.  There are also vent heaters and plenty of ventilation as well as basic toilet facilities.  Sadly the original Russet Lake Hut, aka the Himmelsbach Hut was removed recently.  This much loved little hut was built in just three days in 1968 by the BC Mountaineering Club.  The following year they built the Wedge Hut at Wedgemount Lake in almost the same design.  The much cherished Wedge Hut is still in its original location overlooking Wedgemount Lake and hopefully will remain for some time.  The Russet Lake hut is in the process of being relocated to Mount Sproatt to be used only by rangers.
Tent camping is very nice at Russet Lake and your tent view will almost certainly be extraordinary.  From a idyllic stream flowing past, or the towering Fissile, or Russet Lake, or Overlord Mountain, or the valley below with Overlord Glacier, you have plenty of choices to greet you in the morning from your tent.  There no fancy tent platforms like you get at Wedgemount Lake, but plenty of flat tent clearings to choose from. There is a considerable amount of exploring available in the valley around Russet Lake. The Fissile is a difficult but very feasible hike from Russet Lake.  Below Russet Lake is a very accessible Overlord Glacier as well as a bonanza of glacier formed landscape features, inviting hours of interesting exploration.  Above Russet Lake there is a beautiful snow covered ridge that commands incredible views all around and if you have the energy and makes for a spectacular sunset setting.
Russet Lake via the Musical Bumps Trail(12.5k)

Taking the High Note trail that begins at the Roundhouse Lodge on Whistler Mountain is arguably the best route to Russet Lake.  It is fairly direct(12.5 kilometres) to Russet Lake, and full of incredible views. Alpine forests, massive valleys, small alpine lakes, dramatic mountain views all around.  The trail has considerable elevation gain and loss though.  The trail is well marked with signs directing you along the Musical Bumps trail.  You won't see Russet Lake signs until you reach the trail junction at the Singing Pass trail.  This route is a very popular trail running route in Whistler.  From the Roundhouse Lodge to the Village is 24 kilometres, and much of it downhill.  To find the Russet Lake trailhead, take the Whistler Gondola up to the Roundhouse Lodge.  Walk out of the gondola and past the Peak2Peak Gondola building, up a gravel slope about 50 metres.  On your left you will see a trailhead for the Harmony Meadows trail and the Harmony Lake trail.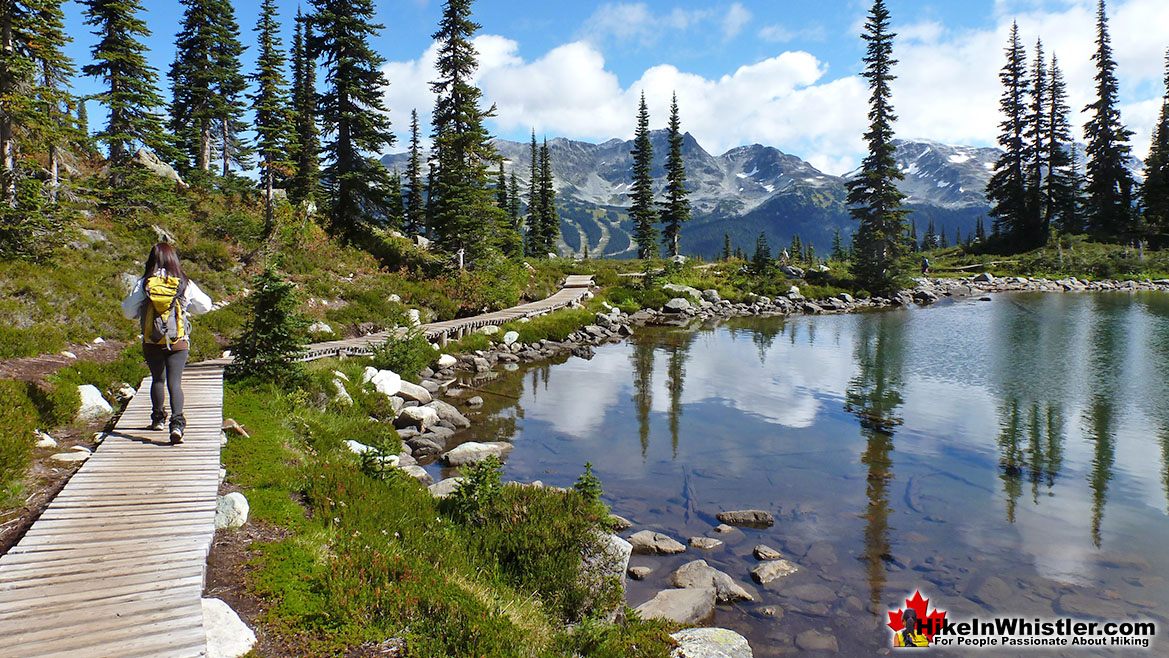 The Harmony Meadows trail is a section of the old Musical Bumps trail that has been renamed.  So now you take the Harmony Meadows trail to the High Note trail, then come to the new, official Musical Bumps trailhead.  But locals still tend to refer to the Musical Bumps trail as starting at the Roundhouse Lodge and finishing where it meets the Singing Pass trail.  The Harmony Lake trail runs roughly parallel to the Harmony Meadows trail and also meets the High Note trail and continues to the new Musical Bumps trailhead.  Taken together, the Harmony Meadows trail and the Harmony Lake trail form a nice, though often very steep, loop trail starting and finishing at the Roundhouse Lodge.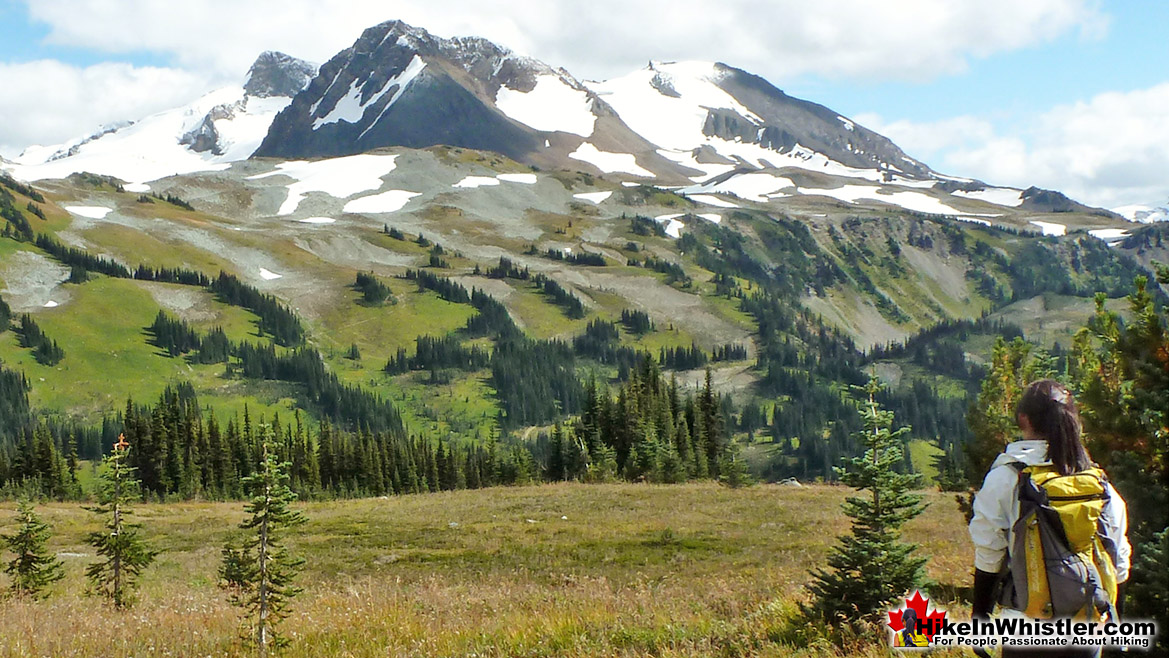 Trail names have been evolving over the recent years and keep in mind that you may not see any mention of Russet Lake, Singing Pass trail, or even the Musical Bumps trail until you get a couple kilometres into the trail. From the Roundhouse Lodge, look for the trail marked as Harmony Lake trail and continue onto the High Note trail.  See the map below.  At the bottom right corner, the Musical Bumps trail continues to Russet Lake, where the High Note trail bends to the right, towards Whistler Peak. The Musical Bumps trail next takes you to Flute Summit. At Flute Summit follow the signs to Singing Pass.  The signs on this route are sometimes confusing as some get destroyed during the winter.  Just be sure to aim for Flute Summit, then Singing Pass, then Russet Lake. From Russet Lake, you can return to Whistler Village the way you came, or via the High Note trail, or via the Singing Pass trail, which brings you back to Whistler Village.
Russet Lake via the High Note trail(14.5k)

The Peak Chair, High Note trail route to Russet Lake is the most scenic, however two kilometres longer than the Musical Bumps Route.  The 2k is well worth it though for the views from the High Note trail as well as the Peak Chair.  Any time  of year the Peak Chair is like a carnival ride, exhilarating, and wonderful, but in the summer, it's surreal as well.  Great walls of snow pass under you far below, as you glide upward at times at a shocking degree. The incline of the ride is extreme, so steep as the breathtaking scenery cannot even distract fully from the nervousness you will surely feel as you glance down, 20 metres to the boulder field below. Then you arrive, the peak of Whistler Mountain, what a magnificent way to start a hike.  You are still four hours from Russet Lake, but the adventure is well underway.
From the top of the Peak chair, follow the signs for the High Note trail and Singing Pass. The trail is 14.5 kilometres with several ascents and descents on the way.  The High Note trail eventually joins with the Musical Bumps trail part way along and continues to the junction of the Singing Pass trail.  Left goes to Whistler Village and right goes to Russet Lake(3 kilometres).
Village to Russet Lake via Singing Pass(14.5k)

The Singing Pass trail has the great benefit of being free.  The other two routes require purchasing a lift ticket for the Whistler Gondola.  The Singing Pass trail is 14.5 kilometres to Russet Lake and constantly uphill, though by no means difficult.  It is a relentless ascent, however, and fairly boring.  The trail is fairly uneventful as is runs through deep forest for much of the first 10 kilometres.  The trail has a couple of washouts.  One, about 40 minutes into the trail is quite bad.  Looks like a large avalanche across the trail, trees, loose dirt.  It is passable though with a little scrambling,  but be prepared for this inconvenience. This area has  caused some confusion in recent years as for a time the Whistler Info Centre mistakenly called the Singing Pass trail closed because of this section.  Also, in recent years there have been cases of bridge damage along the trail, however, parks staff quickly repair the bridges.  Keep this in mind when hiking this trail, certainly in June, you will find extensive damage to the trail left over from the winter.  Usually just fallen trees criss-crossing the trail, but don't be surprised if you come to a washed out bridge that has to be scrambled across with some difficulty. After this the trail is well maintained with small bridges over cute creeks.  At 10.5k it finally opens up to the alpine.  The views immediately become magnificent.  The junction at 11.5k splits the trail.  Left goes to Russet Lake (3k), and right goes to Whistler Mountain via the Musical Bumps trail.  If you are confident in making the Whistler Gondola during open hours, returning to Whistler by this route is a beautiful option.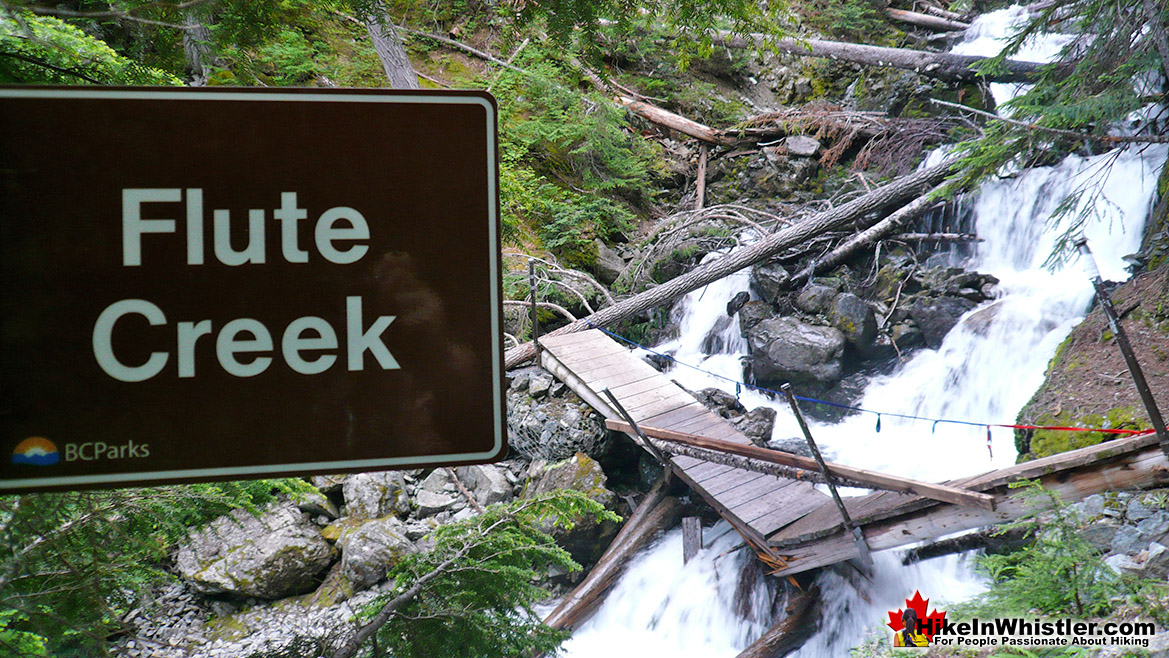 Russet Lake Trail Map

The Singing Pass trail is free to hike, though you still have to pay for overnight camping if you are staying. The Musical Bumps trail will cost you a lift pass to get up to the start of the trail on Whistler Mountain. Musical Bumps can be reached in a couple ways. The nicest route is via the High Note trail at the top of Whistler Mountain. The slightly more direct route is by getting on the Musical Bumps trail near the Roundhouse Lodge.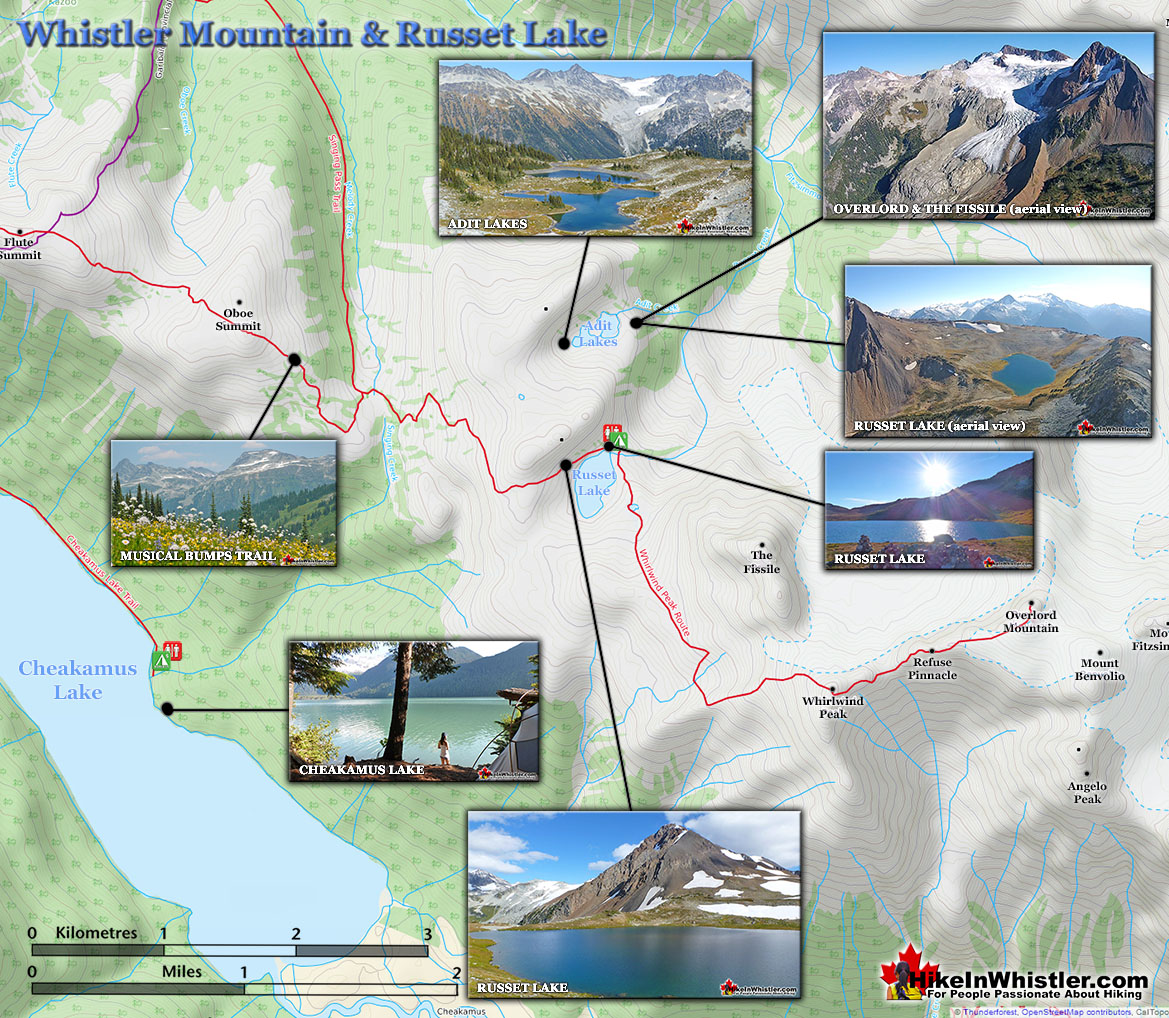 Camping at Russet Lake in Garibaldi Park


Russet Lake campground has just a few spots to put up a tent. You will find several gravel clearings and some with rock cairns to block the wind. Officially there are only 7 tent areas, however you can manage quite a few more if the rest are taken. The enormous Kees and Claire Memorial Hut is also available to use by anyone for $45 per bed. You have to reserve ahead of time on the Spearhead Huts site here.  Russet Lake is in a stunning valley at the shore of Russet Lake and overlooking a glacier valley with Overlord Glacier far below.  On a busy day you might see dozens of tents in the grass and gravel meadow that surrounds the lake.  Like other Garibaldi Park campgrounds, Russet Lake is open year-round, but mostly used in the summer months.  Russet Lake is part of the winter skiing/snowboarding route, the Spearhead Traverse.  Popular in the winter for hardcore skiers and snowboarders, two more huts are planned for construction along the Spearhead Traverse that effectively connects Whistler Mountain to Blackcomb Mountain.  If you plan to camp at Russet Lake there are 20 tent spots available to book: $10 Adult - $5 Kids(6-15) Book online on the BC Parks site here - The new Kees and Claire Hut can be booked here for $45 per bed/per night.  Both the campsites and the Kees and Claire Hut must be booked in advance.
Camping in Garibaldi Provincial Park
Day hiking in Garibaldi Provincial Park is free and parking at all the trailheads is free as well.  If you are camping overnight in Garibaldi Park you will have to pay a campsite fee.  There are ten official BC Parks campsites in Garibaldi Park with dedicated and very well designed tent pads, platforms or clearings at each.  They are all now reservable year-round, with the exception of the Red Heather campsite near Elfin Lakes which is only open for winter camping.  In 2018, for the first time you can legally register and pay to camp in the backcountry beyond the official campsites.  The areas you can wilderness camp is quite restricted in an effort to not overrun the park and maintain some control over the massive numbers of hikers in the park.  Backcountry Camping Permits for Garibaldi Park cost $10 per person, per night.  Children 6-16 years old pay $5 per person, per night and kids under 6 years old are free.  Staying at the Elfin Lakes hut costs a bit more at $15 per adult, per night and kids 6-15 pay $10 per person, per night.  Kids under 6 are free.  The Elfin Lakes hut fee includes your backcountry camping permit, so one adult staying in the hut pays a total of $15.  Campsite fees must be paid online in advance at the BC Parks Garibaldi Provincial Park reservations page.
The campsites open year-round in Garibaldi Provincial Park include: Garibaldi Lake campground which has 50 well laid out tent pads and clearings in the beautiful forest just steps from the shore of Garibaldi Lake.  Not far from the campsite at Garibaldi Lake you have another large and very beautiful campground at Taylor Meadows.  The Taylor Meadows campground has 40 very nice tent clearings and platforms dispersed in the marvellous forest with Black Tusk looming in the distance.  Beyond Black Tusk and Panorama Ridge you come to another beautiful Garibaldi Park campground at Helm Creek.  Helm Creek has 30 tent pads is a nice meadow with stunning views of Black Tusk.  Down the valley from Helm Creek you cross Cheakamus River and have two more campgrounds along the shore of Cheakamus Lake.  The Cheakamus Lake campground has 8 tent clearings in a beautiful forest along the edge of the lake.  Further along the shore of Cheakamus Lake you come to another campground, the Singing Creek campground with another 6 beautiful tent clearings at the edge of the lake near Singing Creek.  High up in the alpine of Whistler Mountain you have Russet Lake with 7 nice tent clearings near the shore of the lake and overlooking the mighty Overlord Glacier far below.
Blackcomb Mountain lays just across the valley from Russet Lake and Wedge Mountain, the tallest mountain in the Garibaldi Ranges is home to another Garibaldi Park campground, the Wedgemount Lake campground.  This beautiful campsite has 20 tent pads and clearings scattered through the huge boulder field overlooking the lake and along the gravel and grassy shore of the lake.  Back down in the southern end of Garibaldi Park are the campsites at and near Elfin Lakes.  Elfin Lakes campsite has 35 tent pads and the huge and inviting Elfin Lakes hut has 33 bunk spots!  Ten kilometres past Elfin Lakes you come to another campsite at Rampart Ponds, just 1.5 kilometres from Mamquam Lake and with 12 tent clearings.  All Garibaldi Park campgrounds are well maintained and often very busy.  Remember that you must pack out what you pack in as there are no garbage facilities at the campsites.  You will find fresh water at all the campsites and along nearly all the trails.  Some areas like at Garibaldi Lake or Elfin Lakes you should filter or treat the water you drink.  At other campsites such as Helm Creek, Singing Creek, Wedgemount Lake, Taylor Meadows or Russet Lake, treating water flowing from a glacier poses little risk of giardia(beaver fever).
Garibaldi Provincial Park Reservations
In 2018 a lot of changes with Garibaldi Provincial Park's campsite reservations.  The first big change is that overnight camping fees are required at all campgrounds, year-round.  It is still free to day hike in the park, but sleeping in the park requires a reservation and camping fees apply in all areas of Garibaldi Park.  You can't pay by cash or at the trailheads or at the campgrounds.  Reservations must be made in advance via the BC Parks online reservation service or at the call center.  It is a pretty organized and fair reservation system.  Fairly easy to use online and reasonably priced.  The revenue goes into maintaining trails, access roads, parking lots, park buildings and snow removal.  Staying at the Elfin Lakes hut costs a bit more at $15 per adult, per night and kids 6-15 pay $10 per person, per night.  Kids under 6 are free.  The Elfin Lakes hut fee includes your backcountry camping permit, so one adult staying in the hut pays a total of $15.  If you want to stay in the Wedgemount Lake hut you simply buy a campsite pass and if the hut has an empty bed when you arrive, you take it.  There are no reservations for the Wedgemount Lake Hut, and the rule is simply first come, first served.
The second big change this year for Garibaldi Park is that for the first time you can legally register and pay to camp in the backcountry beyond the official campsites.  Wilderness camping permits are available to mountaineers, climbers, ski tourers, and other visitors with advanced skills in wilderness travel and camping, within the wilderness camping zone.  The areas you can wilderness camp is quite restricted in an effort to not overrun the park and maintain some control over the massive numbers of hikers in the park.  Backcountry Camping Permits for Garibaldi Park cost the same as the campsite fees: $10 per person, per night.  Children 6-16 years old pay $5 per person, per night and kids under 6 years old are free. 
There are two ways to book a reservation to camp in Garibaldi Provincial Park.  You can book online here.  For mobile devices, scroll to bottom of page and click "Switch to Full Site".  Or via the Call Centre (an additional $5 surcharge applies): 1-800-689-9025 (toll free Canada) +1-519-826-6850 (International) 7:00 am-7:00 pm seven days a week.  Some of the Garibaldi Park trailheads don't have reliable cell coverage, so don't forget to book your reservation  before you start hiking!  When you book online or by phone you will need the following information.  Your arrival date, your desired campground, your group size.  Then you have to pick the number of tent pads your party requires.  At tent pad is 10 feet by 10 feet and usually accommodates one tent.  Each tent pad can fit a maximum of 4 people.   For Elfin Shelter choose one "tent pad" per party (up to 4 people).  Choose your itinerary for each night.  Click "reserve"  Fill in the permit holder and camping party information.   Pay for your reservation with your credit card.
Facilities at Russet Lake

There are few facilities at Russet Lake aside from the Kees and Claire Hut.  Like the rest of Garibaldi Provincial Park there are no garbage facilities, so you have to pack out what you pack in. One outhouse, and 20 tent clearings. Some with cairns to block the wind. They are in a beautiful setting and the whole campground overlooks the mighty Overlord Glacier and is flanked by The Fissile. Fresh water can be found from the fast flowing creek that spills out of Russet Lake. You can drink directly from the creek as it is clean glacier water, however you will see BC Parks warnings to treat or boil water.
Restrictions and Concerns at Russet Lake




As with much of Garibaldi Provincial Park, dogs are not welcome. Fires are also prohibited due to the extreme forest fire risk as well as no available firewood. The trees in the alpine take forever to grow and chopping one down for a fire would be pretty insulting to such a beautiful place. Bikes are also prohibited on Whistler Mountain, except of course in the bike park. The wonderful and long 11.5 kilometre Singing Pass trail would be wonderful to ride out, however this is not allowed either. You almost always see bike tracks on the Singing Pass trail, despite the prohibition. If you are caught by BCParks staff they will confiscate your front tire and you will have to retrieve it the next day. There are also no motorized vehicles allowed around Russet Lake or in any of Garibaldi Provincial Park.
Wildlife at Russet Lake

Russet Lake is home to hoary marmots that love to live in the boulder fields that surround the lake. You will hear them before you see them as they whistle quite loudly when they know people or predators are around. Hoary marmots are the cute, invariably pudgy, twenty plus pound ground squirrels that have evolved to live quite happily in the hostile alpine areas of much of the world. In the northwest of North America, marmots have a distinct grey in their hair, a hoary colour, so have been named hoary marmots. They manage to survive quite happily in the alpine, largely by hibernating for 8 months of the year and largely for having a surprisingly varied array of food in such an inhospitable environment. They live off of grasses, berries, lichens, mosses, and roots and flowers. And live quite well it seems, as they always look chubby, which has one great drawback. They are sought after by bears and wolves. They have a wonderful defense system though. They are constantly on watch and whistle loudly at the first sign of danger, alerting the colony. The prevalence of these "whistlers" as they came to be locally called, in the early days of London Mountain resulted in it's name being changed to Whistler Mountain in the 60's. Hiking on Whistler Mountain, Blackcomb Mountain or to Wedgemount Lake in the summer, will almost guarantee an encounter with a chubby, jolly little Whistler hoary marmot.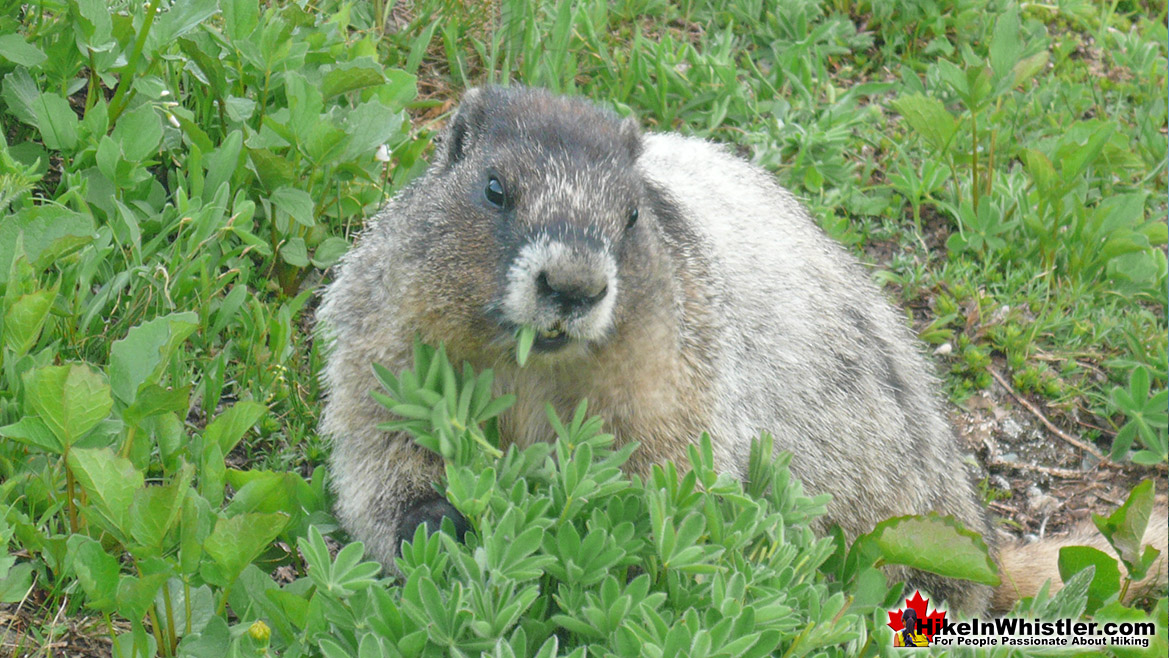 Whistler is home to plenty of black bears, though sightings near Russet Lake are infrequent.  At lower elevations seeing a bear is far more likely.  Riding up the gondolas to Whistler Mountain or Blackcomb Mountain will almost guarantee you a bear sighting in the summer months.  It is not unusual to see multiple bears on the 22 minute gondola ride up Whistler Mountain.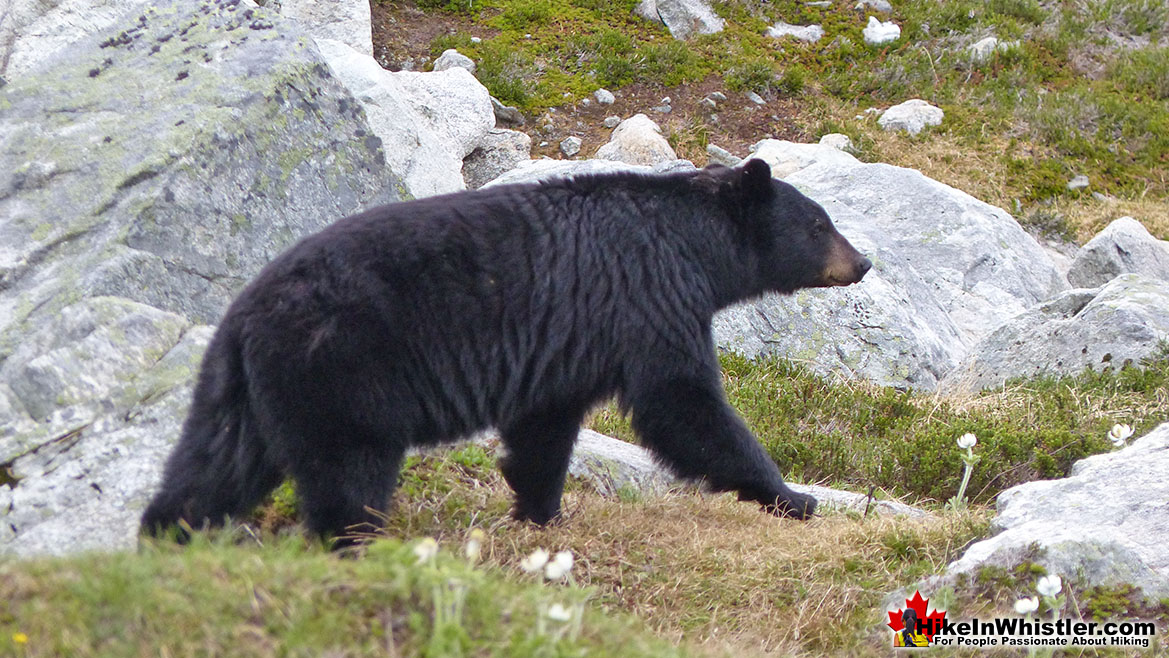 Trailhead & Parking Directions to the Singing Pass Trail


Overnight parking for Russet Lake/Singing Pass is located in Whistler Village in Lot 4.  Parking is very well organized and central in Whistler Village, so as you drive into Whistler Village by either Village Gate Boulevard or Lorimer Road, just look for the parking lot signs.  From the highway, turn onto either Lorimer Rd or Village Gate, then in two blocks you will come to Blackcomb Way.  From Village Gate turn left to see the entrance to the four huge, connected parking lots(Lot 1, Lot 2, Lot 3 and Lot 4).  From Lorimer Rd, you can continue past Blackcomb Way and find a more direct, side entrance to Lot 4 (right off of Lorimer Rd).  Make sure to pay close attention to where you can legally park overnight for the Singing Pass trail.  There is a dedicated parking section for Garibaldi Park hikers. The Singing Pass, Garibaldi Provincial Park trailhead is just down from Lot 4 at the base of Whistler Mountain(under the Blackcomb Gondola). the trailhead(about 1.5k from Lot 4).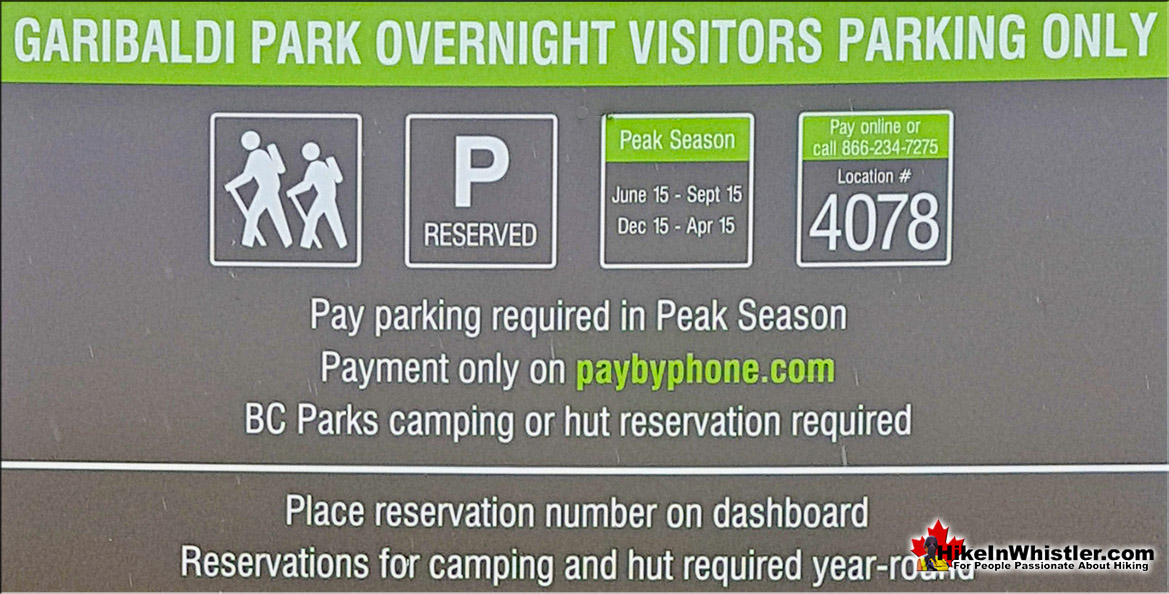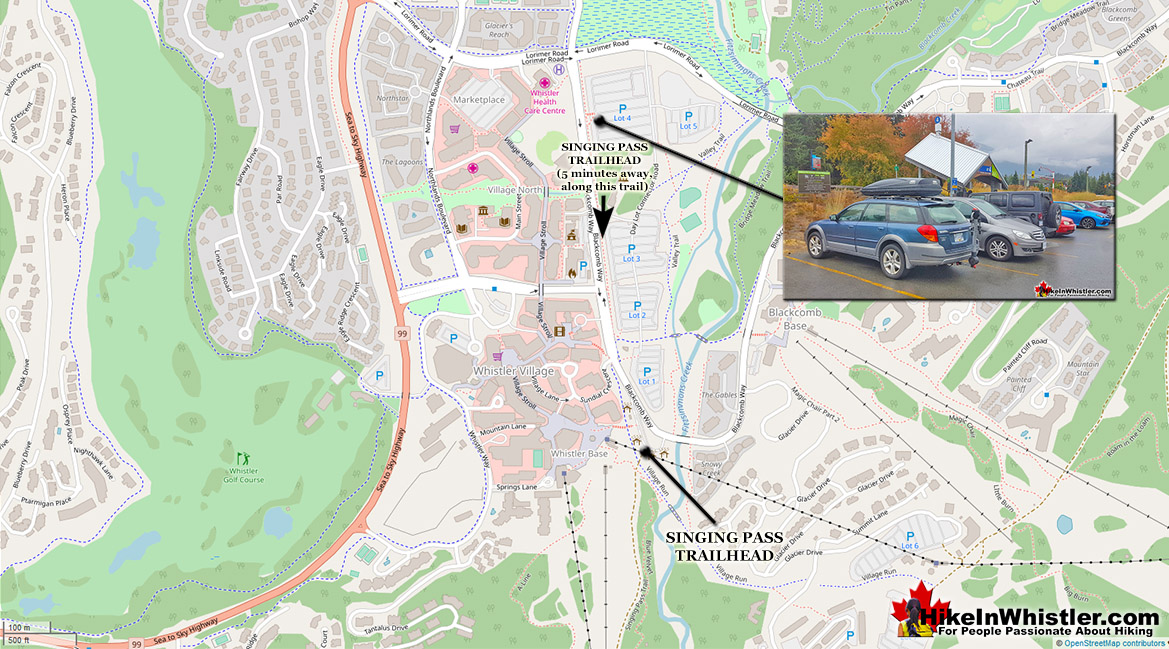 Books About Geology in BC


Here are two excellent books on the Geology of British Columbia.  In Search of Ancient British Columbia by Barbara Huck is one of our favourites.  It focuses on southern BC and covers each individual region separately.  The Lower Mainland chapter explains the geology, paleontology and archaeology of the region stretching from Vancouver, Sea to Sky, Garibaldi Park and north to Mount Meager and Meager Hot Springs.  Quite a lot of the book is devoted to how the last ice age shaped the land and inhabitants of southern BC.  The chapters on Vancouver Island are particularly good as the geological history was particularly chaotic and the history of glaciation around present day Victoria is very interesting.  Roadside Geology of Southern British Columbia by Bill Mathews and JWH Monger is a wonderful geologic history of BC and covers some great features along the Sea to Sky Highway.
**We participate in the Amazon Services LLC Associates Program and earn a small commission on purchases we link through to Amazon at no extra cost to you.  We only link to books and products we love and highly recommend.  Thanks for your support!**
Whistler & Garibaldi Park Hiking

Alexander Falls  

Ancient Cedars  

Black Tusk  

Blackcomb Mountain  

Brandywine Falls  

Brandywine Meadows  

Brew Lake  

Callaghan Lake  

Cheakamus Lake  

Cheakamus River  

Cirque Lake 

Flank Trail 

Garibaldi Lake 

Garibaldi Park 

Helm Creek  

Jane Lakes 

Joffre Lakes  

Keyhole Hot Springs  

Logger's Lake  

Madeley Lake  

Meager Hot Springs 

Nairn Falls  

Newt Lake 

Panorama Ridge 

Parkhurst Ghost Town 

Rainbow Falls  

Rainbow Lake 

Ring Lake  

Russet Lake  

Sea to Sky Trail 

Skookumchuck Hot Springs  

Sloquet Hot Springs 

Sproatt East 

Sproatt West  

Taylor Meadows  

Train Wreck  

Wedgemount Lake  

Whistler Mountain

January 

February 

March 

April 

May 

June 

July 

August 

September 

October 

November 

December