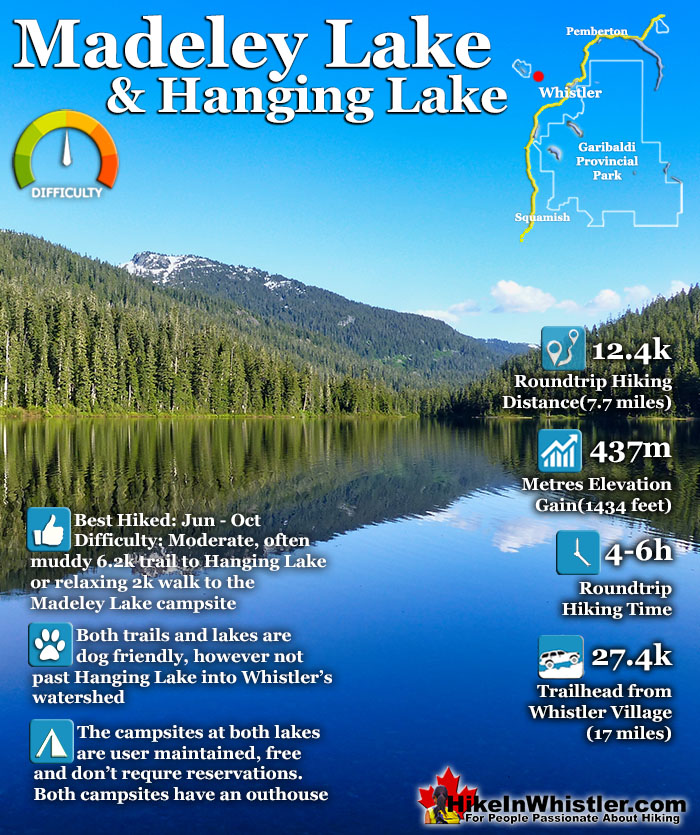 Madeley Lake is a gorgeous mountain lake located high up in the Callaghan Valley just a short drive past Alexander Falls.  From Whistler Village it takes about 50 minutes to drive the 27.4 kilometres to get to the parking area for both Madeley Lake and Hanging Lake.  A new gate installed in 2022 blocks Madeley Lake FSR which continues two kilometres to the far end of Madeley Lake near the campsite.   
Amazing, remote feeling corner of Whistler
Driving there is very scenic and beautiful
Madeley has a cute beach
Tidy & cute campsite with picnic tables & fire rings
Beach is south facing & always sunny
Free campsites at both lakes
Madeley Creek flows through the campsite
Stunning mountain views all around
Swimming is amazing, though freezing!
Whistler Olympic Park blocks the road
Whistler & Garibaldi Hiking

Alexander Falls  

Ancient Cedars  

Black Tusk  

Blackcomb Mountain  

Brandywine Falls  

Brandywine Meadows  

Brew Lake  

Callaghan Lake  

Cheakamus Lake  

Cheakamus River  

Cirque Lake 

Flank Trail 

Garibaldi Lake 

Garibaldi Park 

Helm Creek  

Jane Lakes 

Joffre Lakes  

Keyhole Hot Springs  

Logger's Lake  

Madeley Lake  

Meager Hot Springs 

Nairn Falls  

Newt Lake 

Panorama Ridge 

Parkhurst Ghost Town 

Rainbow Falls  

Rainbow Lake 

Ring Lake  

Russet Lake  

Sea to Sky Trail 

Skookumchuck Hot Springs  

Sloquet Hot Springs 

Sproatt East 

Sproatt West  

Taylor Meadows  

Train Wreck  

Wedgemount Lake  

Whistler Mountain
Visiting Madeley Lake now involves a boring walk up the old logging road to get there.  It also makes bringing a canoe, kayak or paddleboard to the lake out of the question for most.  This parking area is also where you find the trailhead for the Madeley-Hanging Lake trail.  The Madeley-Hanging Lake trail is a moderately challenging trail that ascends through the forest for 6.2 kilometres to the free campsite at Hanging Lake.  The trail connects to the Rainbow Trail, reaching Rainbow Lake in just one kilometre.  At the south end of the lake, the Rainbow Trail takes you 8 kilometres down the valley to emerge at the Rainbow Trail trailhead on Alta Lake Road.  These two trails meet at Rainbow Lake and the trails combined are known as the Rainbow Madeley trail, which is 16.1 kilometres long, trailhead to trailhead.  Rainbow Lake is the source of much of Whistler's water supply and therefore camping, swimming and dogs are not allowed.  Hanging Lake is just outside the watershed area and none of the restrictions apply.  Camping is free at the Hanging Lake campsite which is unmaintained.  The campsite at Madeley Lake is also free and well outside the watershed area so there are no restrictions.  Beautiful Madeley Lake is the main attraction and the trail to Hanging Lake is not very popular, especially compared to the increasingly busy Rainbow Trail which is conveniently located in Whistler off Alta Lake Road, not far from Rainbow Park.  The Hanging Lake campsite is popular in the summer, though nearly everyone hikes there via the Rainbow Trail instead of the Madeley-Hanging Lake trail.  Hanging Lake is nice, though Rainbow Lake and Madeley Lake are beautiful by comparison.  Out of the three lakes, Madeley is the best by far in terms of scenery, serenity and size. 
Beautiful Madeley Lake
Madeley is the largest of the three lakes and situated in a south facing valley aimed directly at the sun.  The small pebble beach at the far end at the campsite is amazing and always sunny.  The beach slopes steeply into the lake and perfect for jumping in if you can stand the always freezing cold the glacier fed water.  The campsite is spread throughout the forest behind this beach extending along the shore as well as along Madeley Creek which is filled with boulders and crisscrossed with deadfall trees.  A few metal fire pits can be found in various clearings around the campsite as well as a couple of picnic tables and one very old outhouse in the forest.  The campsite extends along the far end of Madeley Lake through a gorgeous and deep old forest.  A trail skirts around the top of the lake and continues around the far side of the lake.  The battered old trail is sometimes hard to follow, but it continues along the lake and connects to the Madeley-Hanging Lake trail just a few hundred metres from the trailhead parking area for both lakes.  Most hikers avoid this section around the back side of Madeley Lake and start their hike to Hanging Lake from the trailhead at the parking area.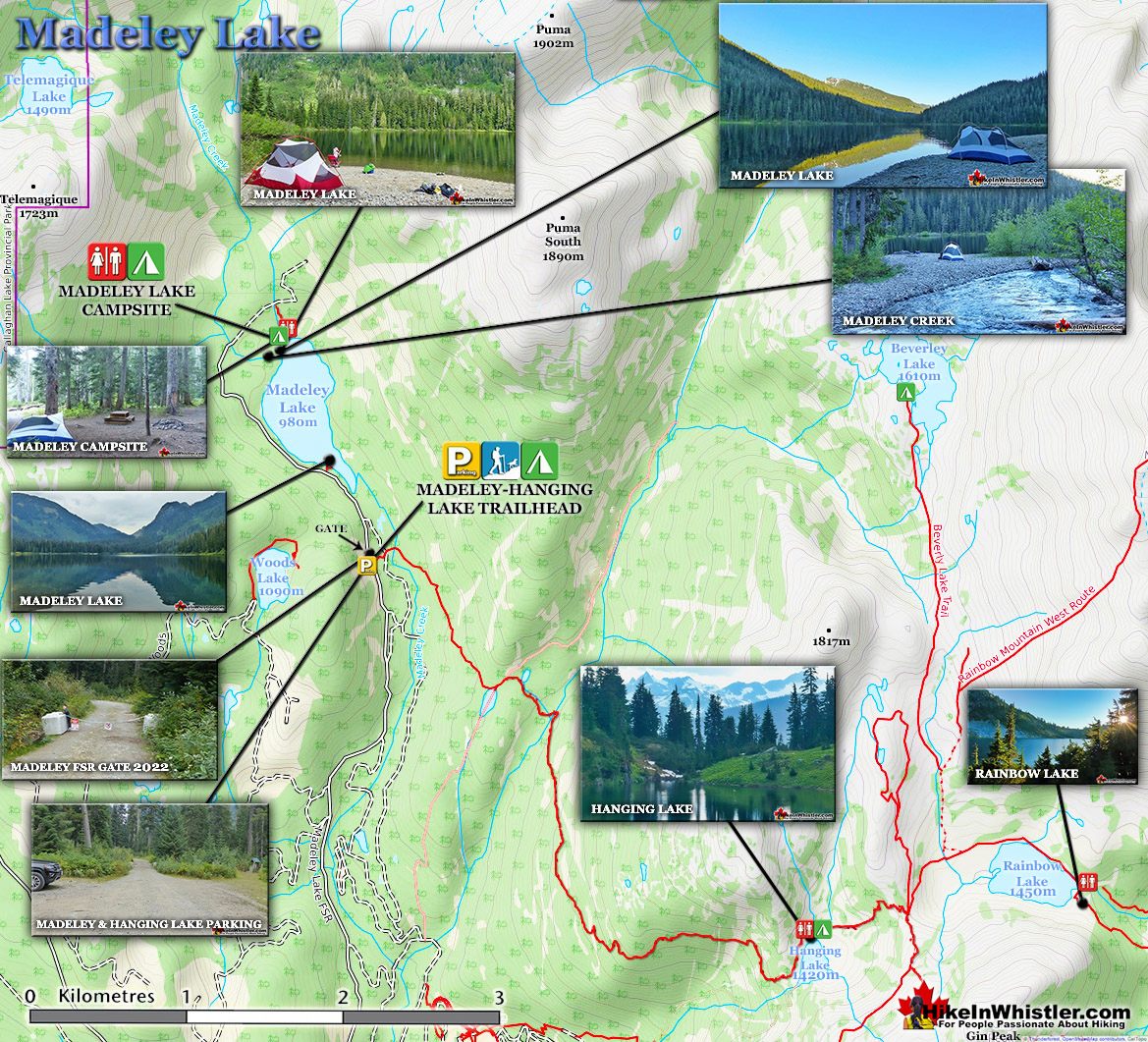 Madeley Lake Trail Stats:
Driving There: 50 minutes from Whistler Village(27.4 kilometres/17 miles)  Hiking Distance to Madeley Lake: 500 metres to lake or 2 kilometres to campsite.  Hiking Time: 20 minutes to lake or 45 minutes to campsite.  Elevation Gain: Minimal  Fees: None  Campsites: Yes  Camping Allowed: Yes  Difficulty: Easy walk along Madeley FSR.  Kid Friendly: Yes.  Stroller Friendly: Yes.  Dog Friendly: Yes
Madeley-Hanging Lake Trail Stats:
Driving There: 50 minutes from Whistler Village(27.4 kilometres/17 miles)  Hiking Distance to Hanging Lake: 6.2 kilometres/3.8 miles to campsite.  Hiking Time: 2-3 hours to Hanging Lake.  Elevation Gain: 437 metres/1434 feet.  Fees: None  Campsites: Yes  Camping Allowed: Yes  Difficulty: Moderate, though can be challenging due to overgrown trail, deadfall, creek crossing, muddy and steep trail.  Kid Friendly: Not very fun for kids.  Stroller Friendly: No.  Dog Friendly: Yes
Highlights of Madeley Lake and Hanging Lake
Highlights of Madeley Lake and Hanging Lake are tilted toward Madeley Lake.  It is easy to get to, is wonderfully scenic, has a gorgeous, free campsite in a secluded forest.  Swimming is great, though very cold.  There is lots of freshwater flowing past the campsite and the forest in all directions is fun and easy to explore.  The Madeley-Hanging Lake trail is not terribly nice.  Not much scenery and some wet and muddy sections hard to avoid.  Hanging Lake is not great, however a free campsite high up in the mountains near Whistler is fantastic.  Both lakes give you that wonderful feeling of being far from civilisation and deep in the wilderness.  It is not unusual to encounter no one at either lake or along the trail.
Amazing Madeley Lake Campsite Beach View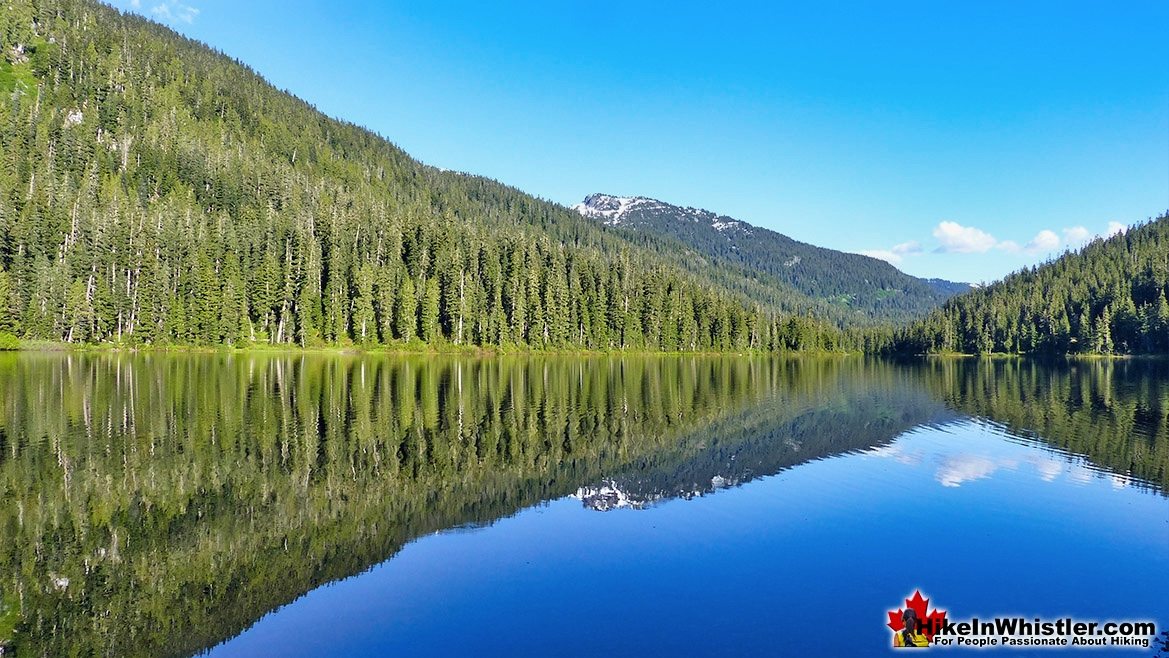 Madeley Lake Campsite
Madeley Lake Fishing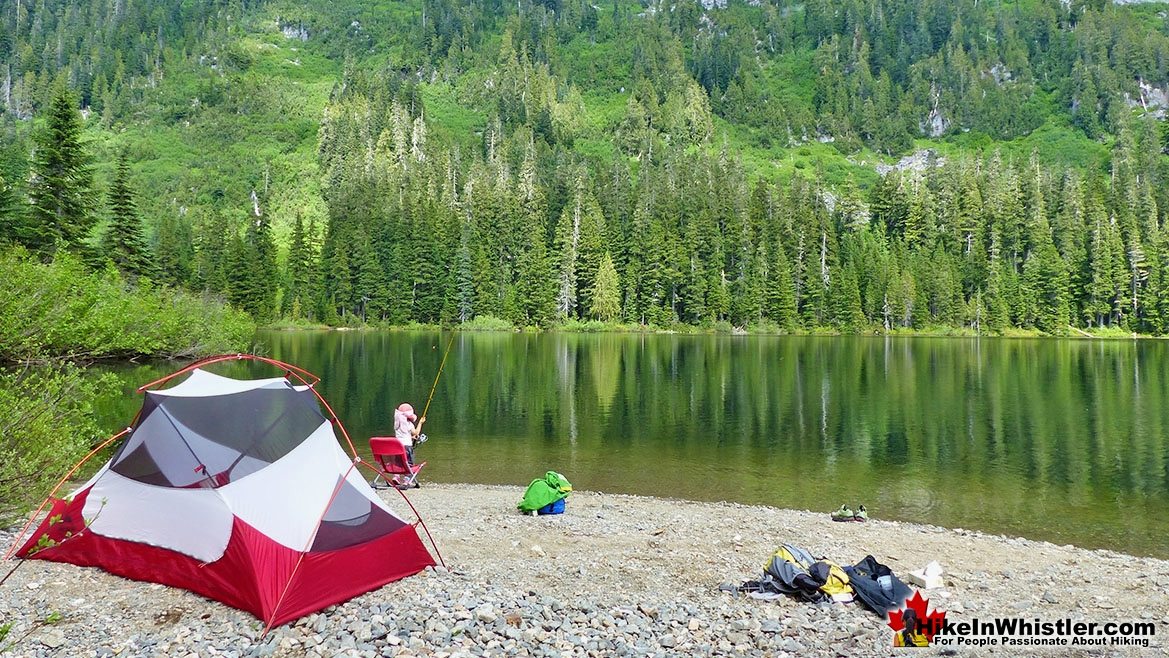 Beautiful Madeley Creek
Aerial View of the Madeley Beach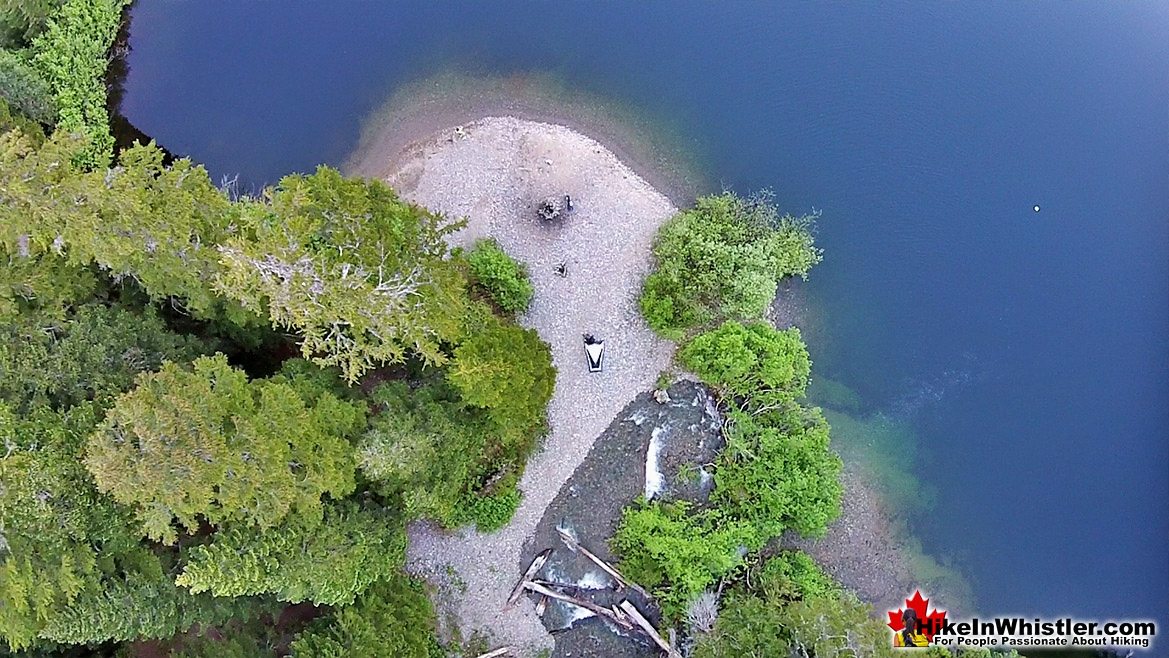 Hanging Lake in the Mountains
The Madeley-Hanging Lake Trail

The Madeley-Hanging Lake trail is a 6.2 kilometre/3.8 mile route through deep forest to the Hanging Lake campsite, with an elevation gain of 437 metres/1434 feet.  Madeley-Hanging Lake trail is a section of the 16.1 kilometre Rainbow Madeley Lakes trail with one end at the Rainbow Trail trailhead and the other end at the the Madeley-Hanging Lake trailhead.  The trailhead sign at the start of the Rainbow Trail calls it the "Rainbow Madeley Lakes Trail - East Trailhead" and the Madeley-Hanging Lake end the "Rainbow Madeley Lakes Trail - West Trailhead".  This seems appropriate, though usually the trail is done in sections with the section to Rainbow Lake being the most popular by far.  This section is of course referred to as the Rainbow Lake trail or Rainbow Trail.  The west end, or Madeley Lake end of the trail is usually called the Hanging Lake trail or Madeley-Hanging Lake trail.
Rainbow Madeley Lakes Trail - West Trailhead Sign (Madeley-Hanging Lake Trail)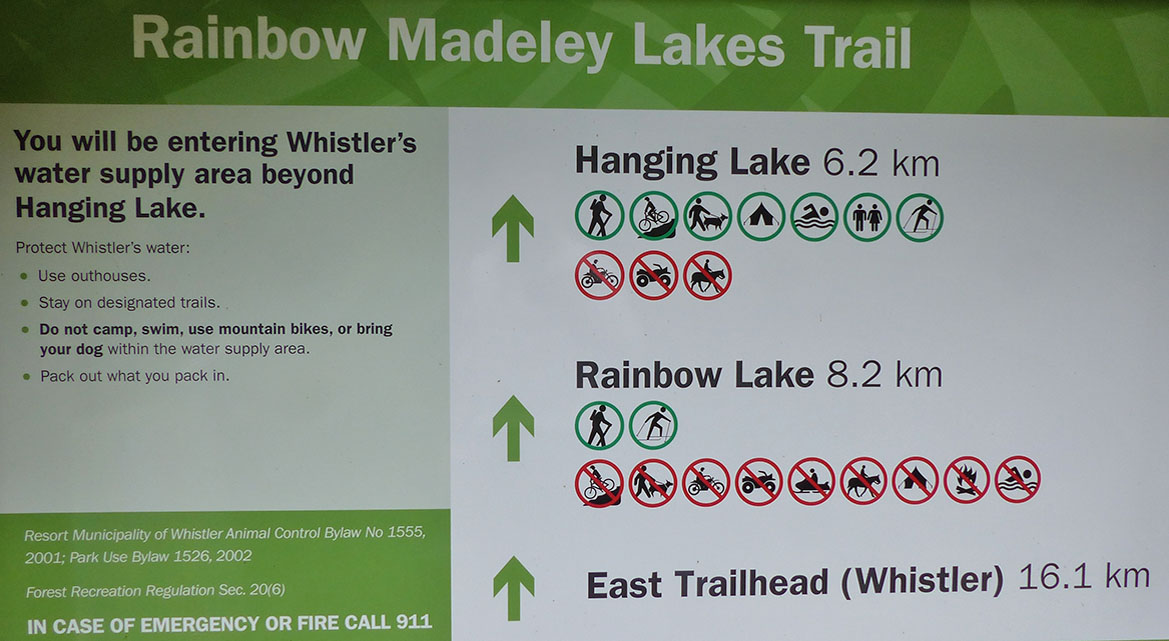 Rainbow Madeley Lakes Trail - East Trailhead Sign (Rainbow Trail)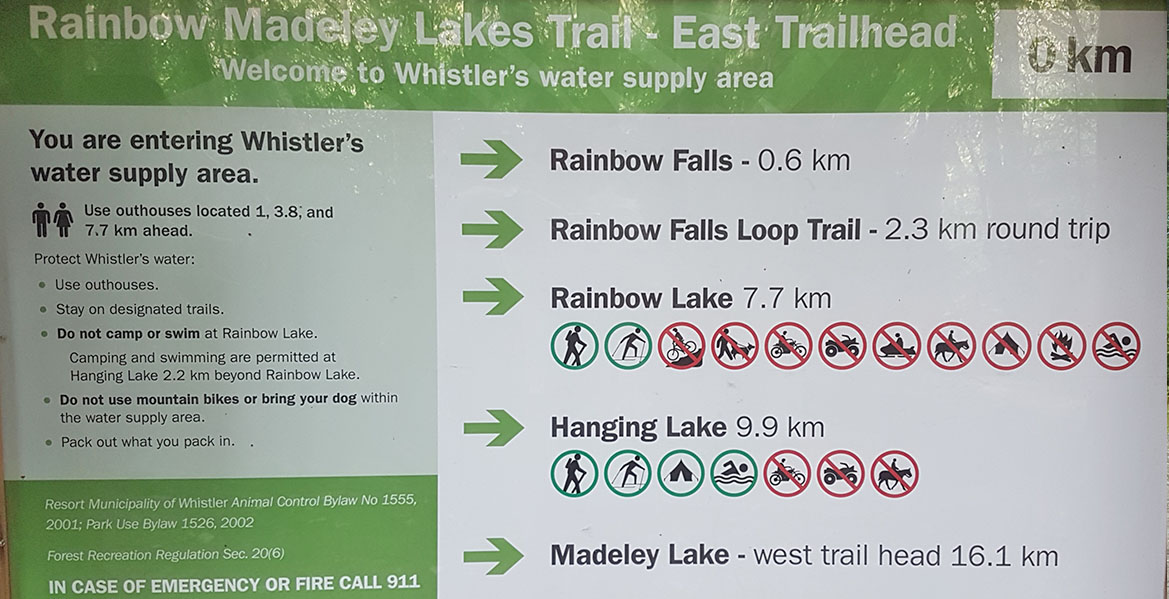 Camping at Hanging Lake


Hanging Lake is located just before Rainbow Lake. Though ugly in comparison to Rainbow Lake, Hanging Lake has a nice camping area and is dog friendly and swimming friendly. The campsite has an outhouse and several clearings for tents.  Rainbow Lake is the source of Whistler's drinking water and camping, dogs, swimming and fishing are prohibited.  This makes Hanging Lake is a good alternative, though the Madeley-Hanging Lake trailhead is considerably less convenient to get to than the Rainbow Trail trailhead.  The watershed dividing line for dogs allowed and not allowed runs between Rainbow Lake and Hanging Lake and is marked with a huge sign.  The trail from Madeley Lake to Hanging Lake is nice, however at times muddy. The access road to the Madeley-Hanging Lake trailhead is often free of snow by mid June to mid November most years, though this can vary by several weeks from year to year.
Camping at Madeley Lake



The campsite at the end of Madeley Lake consists of several clearings in the forest, widely dispersed and feels wonderfully far from civilisation. The sun rises over the lake in the morning and lights up the forest which opens up to a nice little pebble beach also facing the sunshine.  In previous years you could also camp at the nearby Alexander Falls, however this is no longer allowed.  Also, keep in mind that this whole area in the winter is taken over by Callaghan Country and Whistler Olympic Park so access via skis comes with a usage charge.  Another campsite option in the area is the beautiful and large campsite area at Callaghan Lake Provincial Park nearby. Madeley Lake, Hanging Lake and Callaghan Lake are all free of charge for camping.  Madeley Lake is a wonderfully remote feeling place and the campsite is not maintained.  There are a few picnic tables, an outhouse, several fire rings and several clearings for tents. Madeley Lake sits in a forgotten corner of Whistler's Callaghan Valley, and the campsite is arguably the nicest. Tranquil, great rocky beach with a crashing river flowing by. Well laid out tent sites in a deep forest, sun facing and you can drink straight from Madeley Creek which mostly comes from Telemagique Lake.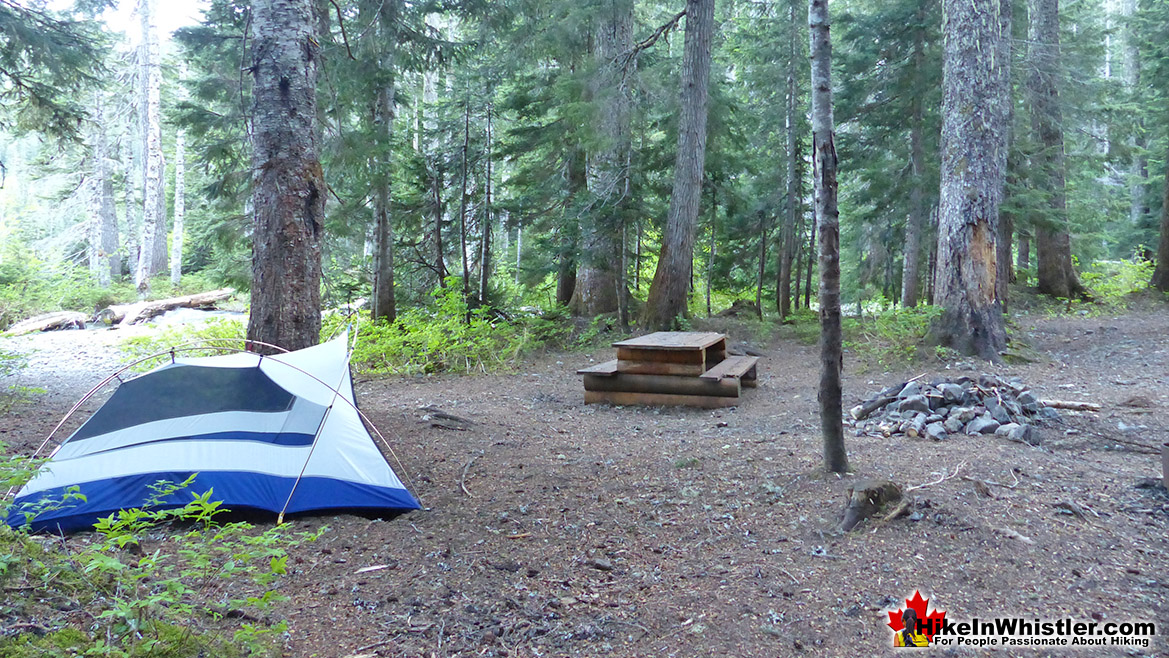 Restrictions and Concerns at Madeley Lake

There are not really any restrictions at Madeley Lake. Free camping, dog friendly, and fires are OK in the fire rings. Though during dry periods in the summertime, you will see a "no fires" sign in the campground. The Madeley-Hanging Lake trail is very dog friendly but keep in mind that it is often a muddy, so your car will get muddy if you don't take him for a swim at the end. Beyond Hanging Lake you will come to a large sign indicating that Rainbow Lake is Whistler's water source and dogs, swimming, fishing, etc are prohibited. There are plenty of other dog friendly trails around Whistler.
Wildlife at Madeley Lake

Lots of black bears inhabit the forest around Madeley Lake and the Callaghan Valley. So many that you will occasionally see a bear watching tour across the lake. They drive up Callaghan Valley road and then up to Madeley Lake. Often seeing multiple bears on the drive to the lake. The Callaghan Valley is also home to grizzly bears. Occasionally you hear of someone photographing a grizzly bear in the area. If you encounter a black bear, don't worry too much as they are rarely aggressive in Whistler. If you encounter a grizzly bear, you should be worried. Though sightings are rare and there has never been a grizzly bear attack, or unprovoked black bear attack in Whistler, it is still possible. Much more so than an encounter with a black bear.  Black bears are timid and fearful of humans, whereas grizzly bears are far more likely to become aggressive if you get in their space.  The worrying thing about grizzly bears is though you are extremely unlikely to ever see one in and around Whistler, if you do happen upon one, you will be in a lot of danger if it is inclined to find you a threat.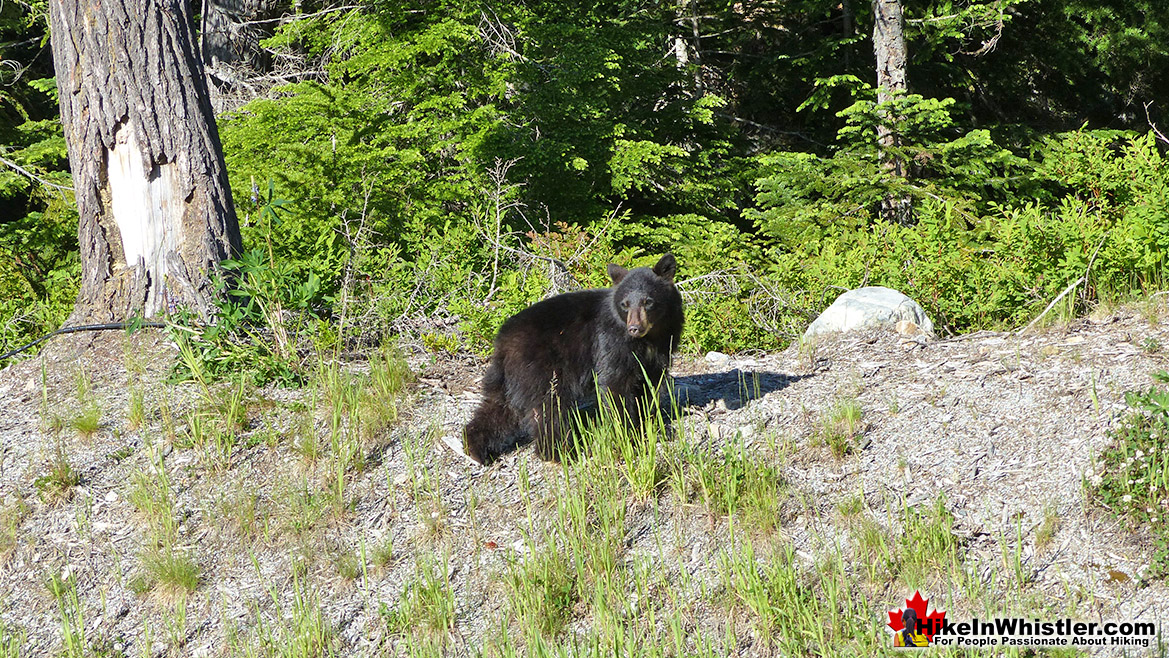 History of Madeley Lake

Why is Madeley Lake sometimes mislabelled Powell Lake on some maps, including Google maps?  Most maps show it correctly as Madeley Lake and the forest service road to get there is signed as the Madeley Lake FSR.  Madeley Lake has been locally known by that name in recent memory as well as identified at Madeley Lake in many Forest Service records.  Madeley Lake is named as a memorial to remember Canadian Army Lieutenant William A. Madeley, from Squamish; killed in action 15 June 1945.  This would indicate the name was established in 1945 or soon after.  The origin of the Powell Lake name is from a brief period of time in the 1970's when a mining company worked the area.  The Lakewood Mining Company discovered a high tungsten geochemistry in the west shore of Madeley Lake.  An extremely rare, yellow fluorescent material named powellite.  The Lakewood Mining Company geologists referred to Madeley Lake as Powell Lake.  Around the lake itself, signs and mapboards show it as Madeley Lake, which seems to reinforce this name as the correct, and official name to use despite Google's continued use of Powell Lake.
Getting to Madeley Lake


Biking and public transit options to get to Madeley Lake are not good. Far away from any bus routes, you may be able to make your way to Whistler Olympic Park by a local tour or taxi, but then you still have a fair distance to hike to the lake. Driving to Madeley Lake is the only realistic and convenient option for most. From Whistler drive 13.8 kilometres towards Vancouver on the Sea to Sky highway, then turn right at the sign for Whistler Olympic Park. Drive up the beautiful, winding road for 9.6 kilometres. The sign for Callaghan Lake will be just after Alexander Falls and just before Whistler Olympic Park, you will turn left, cross a bridge and after about 300 metres turn right onto another logging road(Madeley Lake FSR).  You may want to zero your odometer here again because in 700 metres there is a fork in the road that you have to bear left.  At 900 metres you will drive past the rock quarry on your left.  At 2.4km you will come to another fork in the road, keep to the right and continue straight.  At 4.2km the road will end at the new gate Whistler Olympic Park installed in 2022 at the Hanging Lake trailhead parking area.  The campsite at Madeley Lake is about 2 kilometres from this new gate.  **the access road to Madeley Lake is often impassable due to snow until mid June.  In 2018, June 12th was the first day a high clearance 4x4 made it through the last deep snow section about 1 kilometre from the lake.  Most SUV's managed to get through by about the 16th of June.  Cars had to wait until late June to get through.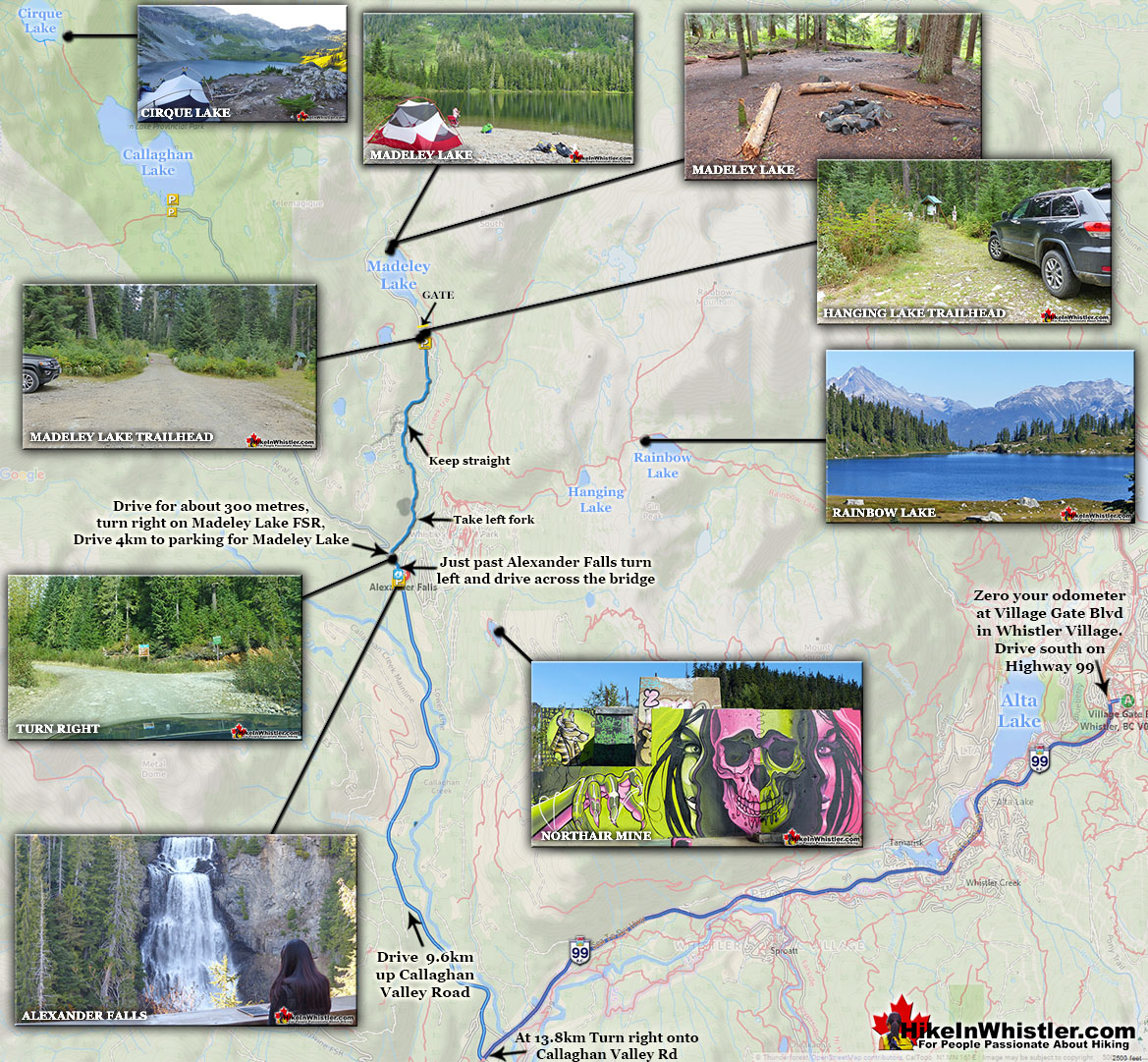 Hikes and Sights Near Madeley Lake

Madeley Lake is located high up in Callaghan Valley.  This enormous, wild and beautiful valley is surrounded by mountains and a variety of gorgeous mountains, lakes, waterfalls, glaciers and hiking trails.  Callaghan Lake Provincial Park is located up the logging road you would have turned off of to drive up to Madeley Lake.  Callaghan Lake is a large and very tranquil lake in a pristine forest surrounded by snowy mountains.  The small campsite is right on the shore of the lake and you can drive right to the edge of the water.  Canoeing on Callaghan Lake is about as peaceful an experience you can get as you often have the entire lake and surrounding wilderness to yourself.  Sometimes the campsite gets busy, but rarely the lake.  At the far end of the lake is the unmarked and hard to spot trailhead to Cirque Lake, an even more remote and idyllic lake.  Steep sided, almost like a large volcano's crater, Cirque Lake is a little corner of paradise far removed from the increasingly chaotic Garibaldi Park across the valley.  Back at Madeley Lake you will find the Madeley to Hanging Lake trail.  Hanging Lake is a good place to camp as you cannot camp in the watershed around Rainbow Lake, which Hanging Lake is close to.  Rainbow Lake is where Whistler's water supply comes from and though you cannot camp in the watershed, the hiking is terrific.  The Rainbow Trail starts down in the Whistler Valley, not far from Rainbow Park on Alta Lake.
Alexander Falls Near Madeley Lake

Alexander Falls is a very impressive 43 metre/141 foot waterfall just 30 to 40 minutes south of Whistler in the Callaghan Valley. Open year-round and located just before Whistler Olympic Park where several of the 2010 Olympic events were held. There is a nice viewing platform on the edge of the cliff across from the falls which crash fantastically into the valley below.  The parking area and viewing platform at Alexander Falls is one big area just 40 metres from the main road, just before Whistler Olympic Park.  The adventurous can find the obscure trail that leads to both the top of the falls as well as, with great difficulty, to the base of the falls.  Alexander Falls is certainly one of the nicest spots for a picnic in Whistler.  The picnic areas are numerous, the surrounding forest is gorgeous and wild and Alexander Falls crashes loud and beautiful in the background.  Continued here...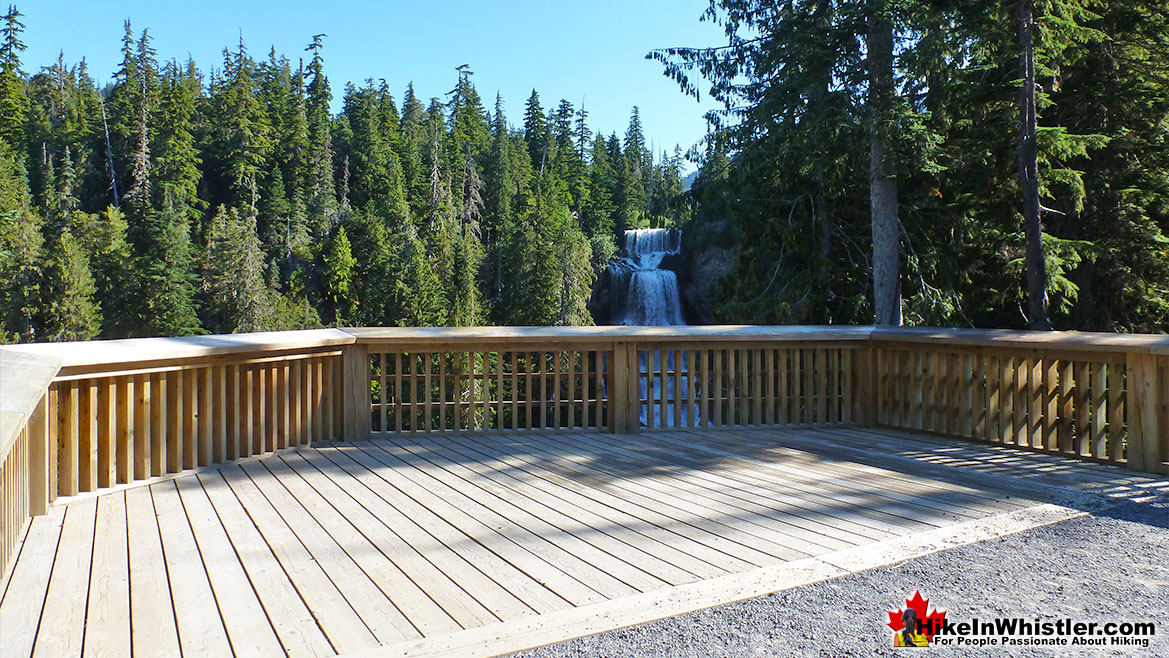 Callaghan Lake - Hikes Near Madeley Lake

Callaghan Lake Provincial Park is a relatively untouched wilderness of rugged mountainous terrain. The valley walls were formed by relatively recent glaciation. Evidence of this can be seen in the considerable glacial till and slide materials visible across the lake. Around the lake you will see talus slopes, flat rock benches, cirques, hanging valleys, tarns, waterfalls and upland plateaus with bogs.  The wildlife that reside in the area include bobcats, cougars, coyotes, minks, wolverines, wolves, bears, deer, mountain goats and occasionally moose and grizzly bears.  Callaghan Lake is not really a hiking destination but more of a drive to campsite on a beautiful lake, and gateway to some beautiful intermediate hikes.  The campsite is small and looks a bit like a parking lot with about a dozen spots to put up a tent near your vehicle.  There is a small boat launch at the campsite and the lake is large and beautiful to paddle. Surrounded by snowy mountains and nice rock outcrops the lake is good for fishing.  The hiking trails are minimal here due to the steepness and deep forest surrounding the lake. From the main parking area some short trails extend in either direction.  Continued here...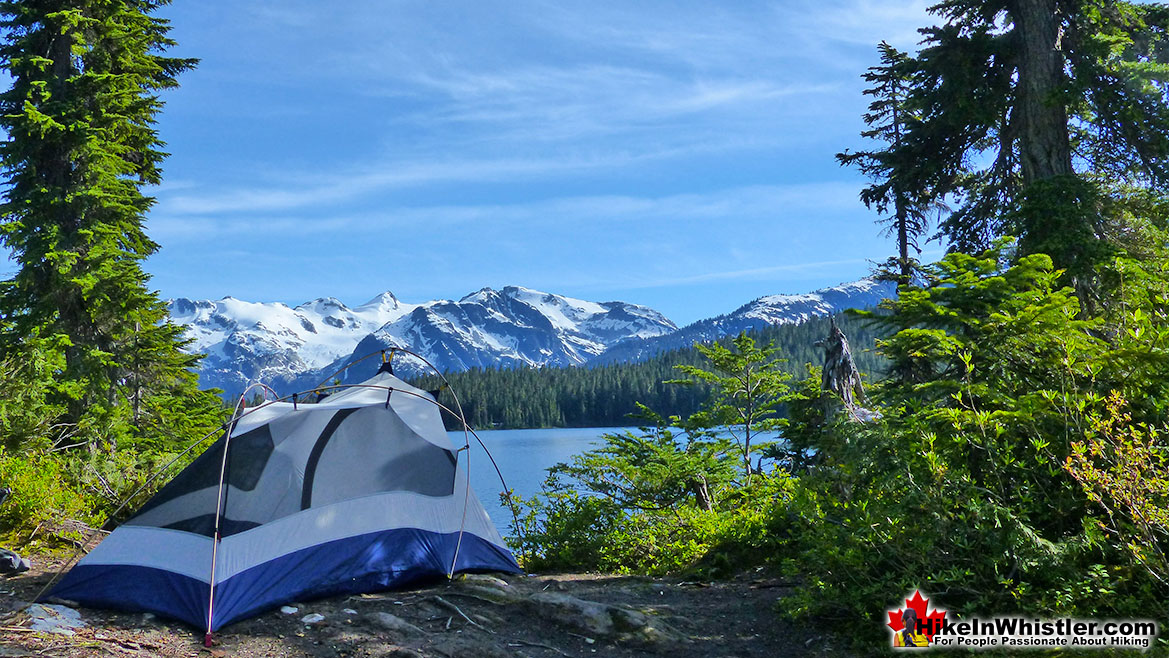 Cirque Lake - Hikes Near Madeley Lake

Cirque Lake is a wild and beautiful lake that hides high above and beyond Callaghan Lake in Callaghan Lake Provincial Park.  What makes Cirque Lake special among the other sensationally beautiful lakes in the Whistler area is both its location and geologically formed shape.  It sits high above Callaghan Lake, which itself is a gorgeous, mountain lake.  The remoteness of Callaghan Lake is a bit of a mirage due to the fact that you can drive right to it!  Callaghan Lake is accessible via an 8 kilometre weather battered and very potholed forest service road. The entire road is cratered with deep potholes, cut by frequent cross-ditches, and more recently a small section collapsing into the valley below. This logging road begins high up in the Callaghan Valley, which itself is largely overlooked by travellers to Whistler. The Callaghan Valley is home to quite a few natural and man-made attractions. Brandywine Meadows, Alexander Falls, Northair Mine and Mount Sproatt are all found in the valley. Though Cirque Lake appears far up into the wilderness, the amount of hiking required to reach it is only about two kilometres.  Also, two kilometres of canoeing is required to reach the trailhead at the far end of Callaghan Lake. But for such an enchantingly beautiful, mountain lake, the exertion to reach it is remarkably little. The other attribute of Cirque Lake that makes it special, is its cirque structure. From the moment you catch sight of Cirque Lake, the abruptly steep sides all around give you the humbling feeling that you are inside a volcano. A volcano filled with emerald water and ringed by grassy meadows and crumbling, near vertical cliffs.  Cirque Lake is not formed out of an extinct volcano, but rather a depression in the north side of Mount Callaghan carved out by a glacier.  This fairly common phenomenon is called a cirque, and Cirque Lake is a beautiful example of one and the reason for its name.  Beautiful Cirque Lake continued here...
Ring Lake - Hikes Near Madeley Lake

Ring Lake is a fantastically serene and wonderfully remote lake similar to Cirque Lake, but considerably farther to hike to reach it. The 10 kilometre(6.2 mile) hike takes you through a rarely hiked forest, then to an idyllic meadow filled with ponds and ringed with distant, mountains, then finally up an over some steep terrain to reveal this very hidden lake. 5 kilometres(3.1 miles) into the hike you come to Conflict Lake with trails running around it.  Journeyman Lodge sits near Conflict Lake. A wilderness lodge operated by Callaghan Country, a tour company that operates in the valley. They offer a range of alpine activities, far more serene than across the valley on Whistler Mountain and Blackcomb Mountain. Signs along the trail and at Conflict Lake indicate which trail to take to reach Ring Lake, a further 5 kilometres from Conflict Lake.  The trail from Conflict Lake to Ring Lake passes through a huge valley for a couple kilometres, then abruptly ascends on the right side of the valley. The trail is poorly marked in this section and you have to keep bearing right to avoid descending back into the valley. The trail is occasionally maintained, however owing to heavy winter snow, the trail gets pretty brutalized every winter.  Because of the winter destruction, the visible trail in some parts disappears and you find yourself wondering if you are still on your way to Ring Lake. The key to staying on the right route, you quickly figure out, is to keep to the right side of the valley. Three kilometres of, at times very steep, but not technical trail gets you to the magnificent Ring Lake and the imposing Ring Mountain across the emerald green water.  Continued here...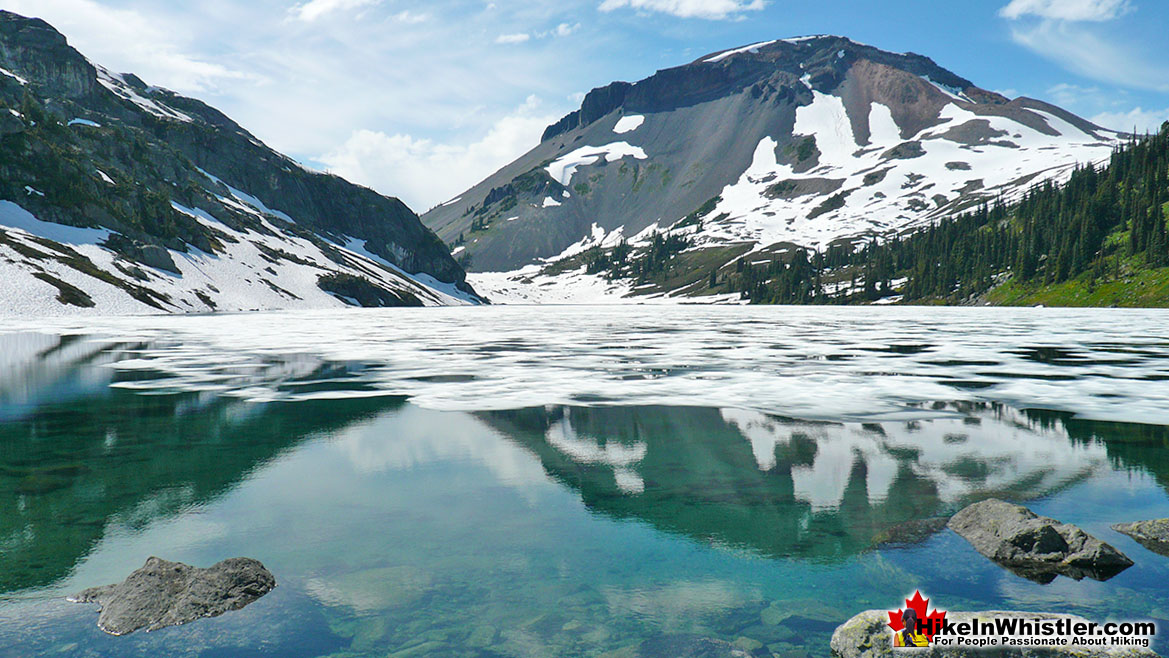 Rainbow Lake - Hikes Near Madeley Lake

Rainbow Lake is one of the original hiking trails in Whistler that has existed well before Whistler was called Whistler. The 8 kilometre trail is challenging though beautiful as it passes through an impressively huge forest of giant trees. There are several wonderful bridge crossings and crashing river views. Rainbow Lake itself is surreal and beautiful.  An unnaturally bright, green meadow extends from one side of the lake and a field of starkly white erratics litter the landscape along the shores of the crystal clear lake. Rainbow Lake is Whistler's water source so swimming, fishing, dogs and camping are not allowed.  There are, you will quickly notice upon reaching Rainbow Lake, that a trail continues past the lake then forks.  If you hiked up from the Madeley Lake trail to Hanging Lake, Rainbow Lake is just a 20 minute hike past Hanging Lake.  The Rainbow Trail is a convenient and popular trail near Whistler Village that takes you to Rainbow Lake as well as the Rainbow-Sproatt Flank Trail, Rainbow Falls, Hanging Lake, Madeley Lake, Beverley Lake, Rainbow Mountain... and even Whistler Olympic Park if you are determined.  It is a consistently uphill and very beautiful trail with several water (bridge) crossings and waterfalls on the way to the picture-perfect lake.  There are a few views of the valley across to Whistler Mountain, Blackcomb Mountain, and Wedge Mountain.  Few views, though fantastic.  Rainbow Lake itself is in a gorgeous alpine valley with branching trails that extend further beyond the lake in at least three directions.  Along with the waterfalls, bridge crossings and valley views, the Rainbow Trail passes through deep forest with some impressively huge trees.  Continued here...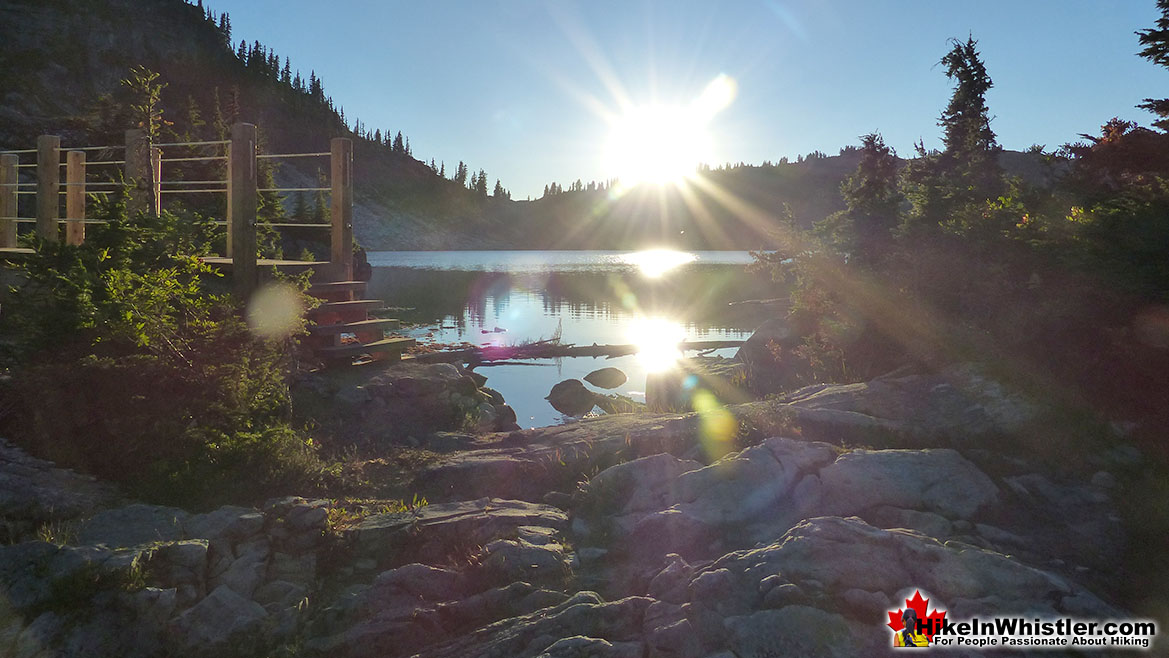 Northair Mine Near Madeley Lake

Northair Mine is a surreal little world of colourful murals on abandoned cement foundations, surrounded by an astoundingly tranquil little lake in a secluded forest.  Just a short logging road off of the Callaghan Valley Road takes you to this unusual little abandoned mine.  You would have driven by the turnoff if you have been to Whistler Olympic Park or Alexander Falls, both of which are just a couple kilometres away.  Northair Mine gets its name from the Vancouver based mining company the Northair Group.  The mine was in production from 1976 and extracted 5 tons of gold before being abandoned in 1982. Today it is a bizarre little world in the mountains that has become an incredible place to escape the world and camp out under the stars.  Northair Mine is tricky to find and even when you near it, the turnoff is not obvious.  The access road takes you high into the mountains and is only free of snow in May most years.  In 2016, for example, the snow melted enough for vehicle access during the first week in May.  Driving to Northair Mine is along a bumpy, potholed, old logging road drivable by most vehicles, though at least one deep washout may give even SUV's some difficulty.  Once Northair Mine comes into view it is quite a sight.  The area that surrounds the old ruins is unexpectedly huge.  About 2 kilometres long, edged by a cliff on one side and a beautiful lake on the other.  Graffiti art covers some of the cement pilings and scattered remnants indicate that this skeleton of a building has been home to its share of gatherings since being abandoned.  Whistler's cherished Flank Trail passes right by Northair Mine near its terminus at Whistler Olympic Park.  Although, the Rainbow-Sproatt Flank Trail effectively ends far south of the Northair Mine, it piggybacks on the logging road that extends up and past the mine.  With the massive construction that preceded the 2010 Olympics, the Callaghan Valley had a luxuriously wide, paved road built high up into the mountains here.  Northair Mine continued here..
Mount Sproatt - Hikes Near Madeley Lake

Mount Sproatt, or as it is known locally as  just Sproatt, is one of the many towering mountains visible from Whistler Village. Above and beyond Alta Lake, directly across from Whistler Mountain and Blackcomb Mountain, you will see this quiet giant. Its unremarkable appearance hides the growing network of trails that stretch through some startlingly beautiful terrain.  Next time you walk through Whistler Village and cross the pedestrian bridge(with Village Gate Boulevard below you), you will see Mount Sproatt in the distance. It is the rocky giant, abruptly steep on one end and gently sloping on the other. At its summit you may be able to make out the small weather recording structure.  What you can't see from Whistler Village is the extraordinarily beautiful alpine paradise that lays beyond it. Lakes and tarns everywhere you look. Fields of alpine flowers and wonderfully mangled, yet strikingly beautiful forests of krummholz.  Hostile looking fields of boulders and absurdly placed erratics the size of RV's. Beyond, of course, endless stunning view of distant, snowy mountains. From the towering elevation of much of the Mount Sproatt hiking trail network, you often look across or even down on distant mountains.  Sproatt West trail continued here...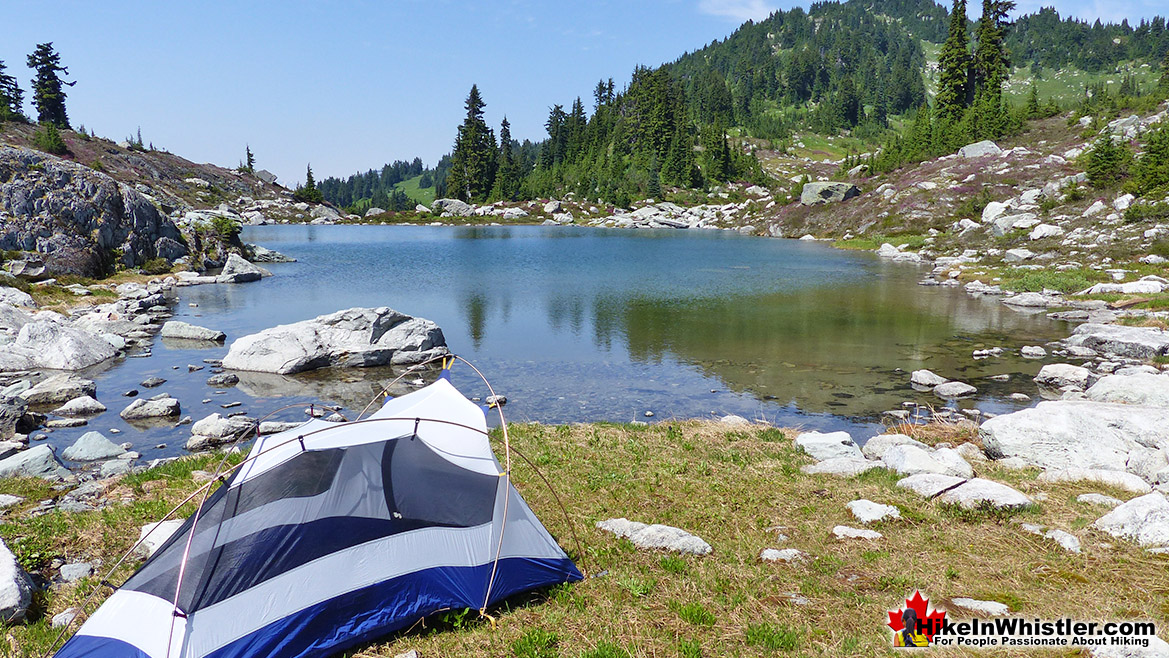 Whistler's Best Hiking Trails!
Whistler & Garibaldi Park Best Hiking by Month!

Explore BC Hiking Destinations!