Madeley Lake, misnamed "Powell Lake" on some maps, is a well hidden, though easily drivable lake in beautiful Callaghan Valley. Unlike the terrible gravel road(4x4 recommended) to Callaghan Lake, the relatively smooth gravel road to Madeley Lake is drivable by most cars. Just a 10 minute drive from the main, paved road to Whistler Olympic Park, Madeley makes a great side-trip on the way to or from this 2010 Olympic attraction.
Amazing, remote feeling corner of Whistler
Driving there is very scenic and beautiful
Perfect little rocky beach and great for swimming
Tidy & cute campsite with picnic tables & fire rings
Beach is south facing & always sunny
Free campsite
Freshwater creek flows through the campsite
Stunning mountain views all around
Swimming is amazing, although freezing!
Access road blocked by snow until mid May
Just metres past the turnoff to Alexander Falls, turn left at the sign for Callaghan Lake Provincial Park. Cross the bridge and follow the terribly potholed logging road for about 300 metres, turn right at the first logging road that branches off to the right(Madeley Road).  Follow this logging road for about 8 minutes until Madeley Lake appears on your right.  There is a large map board at the trailhead to Hanging Lake, Rainbow Lake and Mount Sproatt.  You can park here or continue past this and drive to the end of the lake and small campsite area(park and look for the small trailhead sign across the bridge). This is an unmaintained area camping area and for the most park you will feel very far from civilization despite being just a couple kilometres from Whistler Olympic Park.  This is an amazing place to camp.  If looking for solitude at a paradise, mountain lake, Madeley Lake is hard to beat. Though somewhat popular with fishing, you are still likely to rarely see anyone at the lake in the summer and never in the fall.  Once in a while you will see a car or two at the trailhead to Hanging Lake.  If you have a canoe, Madeley is a great place to paddle around or just float in the sun. Hanging Lake is located just before Rainbow Lake.  Though ugly in comparison to Rainbow Lake, Hanging Lake has a nice camping area and is dog friendly and swimming friendly. Rainbow Lake is the source of Whistler's drinking water and camping, dogs, swimming and fishing are prohibited.  Though all of these prohibitions are unfortunately, routinely flouted at Rainbow Lake, Hanging Lake is a good alternative.  The dividing line for dogs allowed and not allowed runs between Rainbow Lake and Hanging Lake and is marked with a huge sign.
The trail from Madeley Lake to Hanging Lake is nice, however at times muddy. Free of snow, usually early June to November most years, this trail is a great way to avoid the much busier Rainbow Lake trail that starts from the Whistler side of this area. If you can arrange to have someone drop you off at the trailhead you can hike all the way to Whistler Village via the Rainbow Lake Trail and the Valley Trail.  The entire distance is about 23 kilometres and should only take about 6 hours, much of it steadily descending the beautiful Rainbow Lake Trail. The route is well marked and there are several map-boards along the route ensuring you find your way safely.
Madeley Lake Trail Map

This trail map shows the Madeley Lake trail to Hanging Lake as well as the Rainbow Lake Trail to Rainbow Lake and down to Whistler near Rainbow Park on Alta Lake. To print: Right Click on the map, save image as, save to desktop, then open the image and print on standard size printer paper. Cell coverage is sometimes spotty in the Callaghan Valley, however generally good nearer to Rainbow Lake. You will likely be able to access the internet and this map if you have a data plan, however saving this image may be a good idea especially if you are venturing out toward Beverly Lake where the trail is hard to find and follow.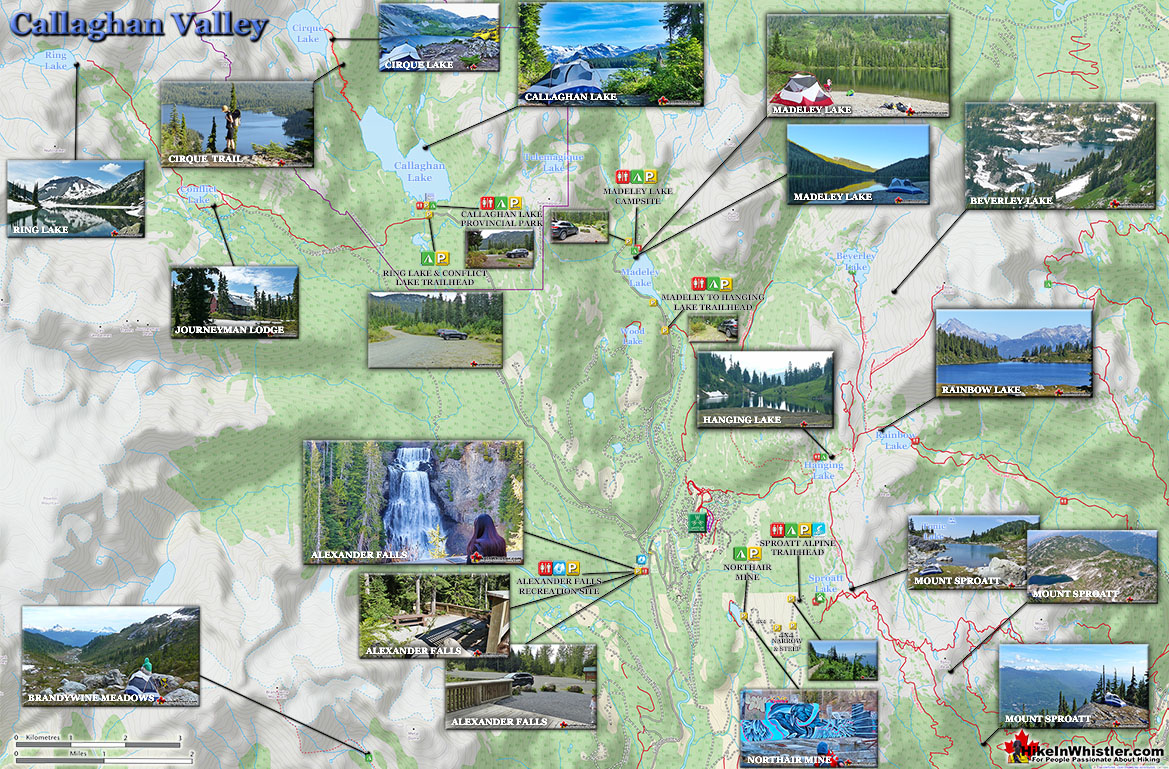 Garibaldi Park Wildlife & History

Plants of the Whistler Region is an excellent book that includes great pictures and descriptions of most trees you will find in Whistler. Small enough to fit in your pocket and comprehensive enough to identify most things you will encounter growing in the forests of Whistler. Along with conifer trees and broadleaf trees the book has chapters on flowers, berries, ferns and shrubs. You can find Plants of the Whistler Region on Amazon, the Whistler Library and at Armchair Books in Whistler Village. The author Collin Varner has a wonderful series of Plants of.. books on various regions beyond Whistler. Plants of Vancouver and the Lower Mainland, Plants of the Gulf and San Juan Islands and Southern Vancouver Island, and Plants of the West Coast Trail. In the last couple years he has started a new series of books. The Flora and Fauna of Coastal British Columbia and the Pacific Northwest and Edible and Medicinal Flora of the West Coast: British Columbia and the Pacific Northwest.  A Passion for Mountains by Kathryn Bridge is a fascinating look at Don and Phyllis Munday's prolific exploration of the mountains in BC.  Based out of Vancouver, they were dominant figures of the climbing community in the early 1900's.  In 1923 they visited their friend Neal Carter in Alta Lake(Whistler) and explored the mountains around the valley.. many for the first time!
**We participate in the Amazon Services LLC Associates Program and earn a small commission on purchases we link through to Amazon at no extra cost to you.  We only link to books and products we love and highly recommend.  Thanks for your support!**
Whistler & Garibaldi Hiking

Alexander Falls  

Ancient Cedars  

Black Tusk  

Blackcomb Mountain  

Brandywine Falls  

Brandywine Meadows  

Brew Lake  

Callaghan Lake  

Cheakamus Lake  

Cheakamus River  

Cirque Lake 

Flank Trail 

Garibaldi Lake 

Garibaldi Park 

Helm Creek  

Jane Lakes 

Joffre Lakes  

Keyhole Hot Springs  

Logger's Lake  

Madeley Lake  

Meager Hot Springs 

Nairn Falls  

Newt Lake 

Panorama Ridge 

Parkhurst Ghost Town 

Rainbow Falls  

Rainbow Lake 

Ring Lake  

Russet Lake  

Sea to Sky Trail 

Skookumchuck Hot Springs  

Sloquet Hot Springs 

Sproatt East 

Sproatt West  

Taylor Meadows  

Train Wreck  

Wedgemount Lake  

Whistler Mountain

January 

February 

March 

April 

May 

June 

July 

August 

September 

October 

November 

December