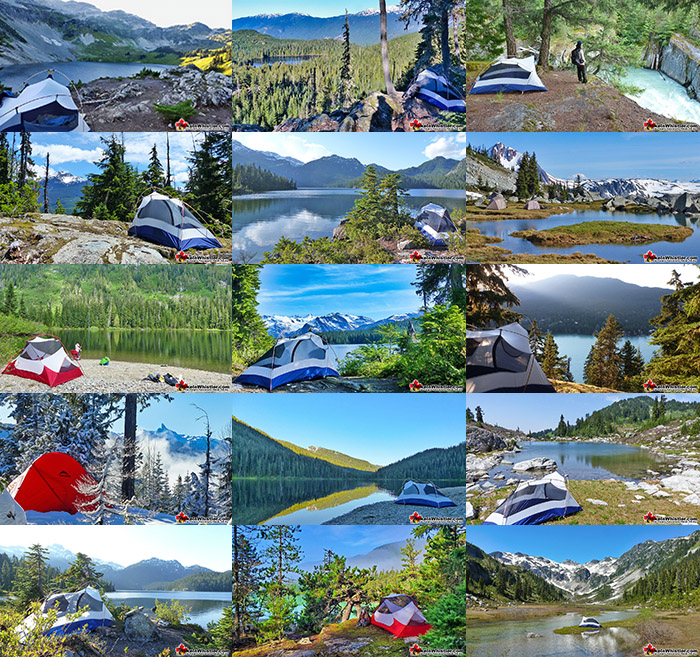 Whistler is surrounded by an immense wilderness dotted with spectacular, hidden lakes and amazing places to set up a tent.  Decades of logging activity has left a network of forest service roads that has opened easy access to these places.  Some of these you can drive to and some you may need a 4x4 to comfortably get to.
Free Whistler Camping
Some places to camp for free you can drive to, some require a short hike and others are fairly long hikes to reach. Beautiful Callaghan Valley is home to several incredible and free places to camp. Callaghan Lake has a great free drive-to campsite just steps from this spectacular alpine lake. If you have a canoe, you can paddle to the end of Callaghan Lake and hike the short, but steep trail up to Cirque Lake. This gorgeous lake is deep in the alpine wilderness and because it is tricky to get to it is usually a secluded paradise all to yourself. Also in Callaghan Valley is Madeley Lake with a nice free campsite that, until recently you could drive to. Whistler Olympic Park put a gate up two kilometres from the campsite, so now you have to hike along the logging road to get there. Closer to Whistler is a free, drive-to option located near the far end of Green Lake along Green River at the Sea to Sky Highway turnoff for Wedgemount Lake. It is not an official campsite and it is just outside the Whistler Municipal boundary and therefore on Crown land and camping is allowed. You often see dozens of RV's parked there, just steps from Green River. Another great place to camp for free is found just past Ancient Cedars at Showh Lakes. You can drive right to these two amazing alpine lakes and find a few wonderful places to put up a tent in paradise. There are countless locations near Whistler to camp for free that you have to hike to. Many are located at beautiful mountain lakes such as, Jane Lakes, Newt Lake, Brew Lake and Hanging Lake. Brandywine Meadows is another gorgeous and free place to camp that requires a hike to reach, though the hike is well worth it to reach this amazing valley surrounded by mountains. When you are backcountry camping in Whistler always leave no trace, especially at places you have camped for free so you don't ruin it for others. Campfires are usually banned everywhere in Whistler in the summer, so check to see if you are allowed before you head out. Bears are numerous in and around Whistler, so be extremely careful not to attract them with food smells and don't leave any attractants out at night.
BC Parks Arbitrary Camping Bans
Sadly, legal backcountry camping around Whistler is being eroded away and arbitrarily prohibited by BC Parks. Callaghan Lake Park is one example of this where camping is only permitted at the one campsite, preventing legal camping at the wealth of spectacular locations in the vast wilderness within the park. The recently created Callaghan Conservancy adjacent to Callaghan Lake Park and encompassing the amazing region around Ring Lake has also declared no backcountry camping allowed. This is particularly frustrating as the popular mountains near Ring Lake are beyond a reasonable day hiking distance and best done from a base camp. Garibaldi Provincial Park is also to blame for this frustrating trend. Despite decades of rapidly increasing visitors to the park, they have not significantly increased access with new trails, new trailheads or new campsites. Instead of opening up the park to accommodate the increased numbers, they restrict access and stubbornly refuse to build trails and campsites. Garibaldi Provincial Park has only five official trailheads to access the park and no new trailheads have been added for over 60 years! 
Free Camping Near Whistler
1. Madeley Lake



Madeley Lake, high up in Callaghan Valley has a wonderful and free campsite in the deep forest on the far end of the lake. There are picnic tables, one outhouse, fire rings and a trail that extends along the side of the lake. This is a rustic, campsite that is not maintained and has no reservation system. There is a great little pebble beach with a great view over this stunning mountain lake. You can park 2km from the campsite, so you do have to hike in along the boring logging road. Dogs are allowed, swimming is fantastic, though freezing cold and fishing is good. From Whistler Village to the trailhead parking is 27.4km and the drive up Callaghan Valley to get there is very scenic. More... 
2. Cirque Lake



Cirque Lake is a gorgeous hidden lake high above and beyond Callaghan Lake at the remote top end of Callaghan Lake Park. To reach the trailhead you have to canoe the length of Callaghan Lake then hike the steep, but short 2km trail up to paradise. There is just a small clearing big enough for a tent or two overlooking the lake. Callaghan Lake Park has an absurd restriction on backcountry camping in this enormous and remote wilderness park. They limit camping to the small, busy, unmaintained Callaghan Lake campsite, so stealth, leave no trace camping is your only option at Cirque Lake. From Whistler Village to the Callaghan Lake campsite is 32km. You can park here for free and launch your canoe to paddle the 2km to the unmarked Cirque Lake trailhead. More...
3. Callaghan Lake



Callaghan Lake Park has a free campsite that is accessible by car, though the access road is brutal with potholes and deep waterbars. It is always surprising to find small cars and big RV's at Callaghan Lake despite the awful road. The campsite has several clearings for tents just steps from the lake. This is the only place in this huge park that you are allowed to camp, though there are countless amazing tent sites in the vast wilderness across the lake such as the one pictured here. In recent years BC Parks has become primarily concerned with not building new trails and campsites and restricting public access whenever possible. This all but forces people to sneak around and find stealth camping alternatives in order to find nice place to camp in a gorgeous and secluded setting. More...
4. Parkhurst Ghost Town

Parkhurst Ghost Town is found on the far side of Green Lake at the northern edge of Whistler. You can canoe there in 5 minutes from the boat launch across the lake, or hike there is just 45 minutes from the trailhead 13km from Whistler Village. There are dozens of great places put up a tent in the sprawling forest around the old logging town abandoned in the 1950's. Parkhurst is a stealth campers paradise with a vast spider web of trails leading to numerous wonderful, somewhat hidden, and often surreal places to spend the night. One thing to keep in mind, however is that camping in Parkhurst is officially not allowed as it lays within the boundaries of the Resort Municipality of Whistler. If you are reasonably stealthy and leave no trace you will not be noticed. More...
5. Brandywine Meadows
The Brandywine Meadows trailhead is just 21 kilometres from Whistler Village and the short, but steep 3.1 kilometre trail takes you to a wonderful paradise valley surrounded by mountains. Located on Crown land, camping is free, legal and you will find many stunning places to set up your tent along the glacier fed creek that flows through the valley. Brandywine Mountain is one of several popular peaks to tackle from this wonderfully serene valley. Unlike many trails and places to camp around Whistler, Brandywine Meadows is dog friendly. Once you set off on the trail, you encounter few signs of humanity and only wild and beautiful wilderness. The old gravel road to the trailhead is not too bad until you get close to the trailhead parking. Some cars may have trouble driving the last kilometre and have to park and hike to the trailhead. More...
6. Newt Lake
Newt Lake is a little known lake up on the back side of Cougar Mountain. The unmarked Newt Lake trail extends from the popular Ancient Cedars trail and takes you through a wild and storm battered forest to this hidden paradise. Enormous boulders cover one side of the lake and surround a little meadow and cliff that jut out into the lake. An absolutely spectacular remote, serene, surreal and wildly beautiful place to camp and a perfect cliff to jump from into this pristine lake that is rarely visited. Flat areas suitable for a tent are limited, though there is a grassy section reasonably flat.   From the Ancient Cedars trailhead to Newt Lake is just 5km and not overly difficult though once you leave the Ancient Cedars trail and start the Newt Lake trail you will find it steep and hard to follow. Newt Lake is dog friendly and free to camp. More...
7. Brew Lake
Brew Lake is a nice alpine lake where there are no restrictions on camping as it is located on Crown land. The trailhead is a bit tricky to find and the access road is overgrown, narrow and deteriorating rapidly. A 4x4 is needed if you want to get reasonably close to the trailhead as the road gets narrow, steep, windy and boulder strewn the further you drive. If you have a car, you can drive as far as you are comfortable, park and hike a couple kilometres to the trailhead. The steep and challenging 5 kilometre Brew Lake trail gets you to this wonderful alpine lake with lots of perfect tent spots along the shore. Rarely busy, you likely will have the lake to yourself. There are no facilities except a hut up on Brew Mountain that is pay use and mostly used in the winter. More...
8. Sproatt West
Mount Sproatt is the big and somewhat unimpressive looking mountain directly across the valley from Whistler Mountain. It is not until you venture up the far side of Mount Sproatt that you discover a wildly beautiful and often stunning alpine paradise. In the last decades dozens of trails have been built opening up access from nearly all directions. Grassy meadows, tiny lakes and a rocky landscape that is hostile looking, yet strangely beautiful. The Sproatt West access is found way up Callaghan Valley past Northair Mine and about 29km from Whistler Village. Finding a perfect spot for your tent next to a tarn is easy and a spectacular way to spend a night under the stars. More...
9. Jane Lakes
Jane Lakes are two beautiful lakes deep in the forest near Cheakamus Crossing. From Whistler Village the trailhead is just 12.5 kilometres away and the 4.1 kilometre trail is a bit steep, but not overly challenging. The trail is quite scenic with great views of distant mountains and you pass by two amazing walls of columnar jointing. These extraordinary hexagonal pillars of rock are formed when lava cools against a glacier. There are several hidden clearings in the forest along the trails that circle both lakes. Jane Lakes is located on Crown land and just outside Whistler Interpretive Forest, camping is not restricted and absolutely amazing at these wild and wonderfully remote, deep forest lakes. More...
10. Showh Lakes
Showh Lakes are two beautiful mountain lakes that are easily accessible by car. Located just past Ancient Cedars, these lakes are gorgeous and seldom visited. A very rough old logging road runs along one side of the lakes and there are some very easy to find places to camp. There are also some hidden 4x4 roads leading up to wonderful plateaus ideal for camping. The Sixteen Mile Creek FSR is brutally potholed, though regular, non 4x4 cars can make it to the Ancient Cedars parking. Driving further past to Showh Lakes you need a 4x4. There appears to be no restrictions against camping in this area which is listed as a Recreation Sites and Trails BC managed recreation site. More...
11. Hanging Lake
Hanging Lake is a nice, free hike-to campsite near the very popular Rainbow Lake. Rainbow Lake is in Whistler's watershed so dogs, camping and swimming are not allowed, which makes Hanging Lake a great alternative at just 2 kilometres from Rainbow Lake. There are two main trailheads for Hanging Lake, the Rainbow Lake trailhead and the Madeley-Hanging Lake trailhead in Callaghan Valley. The Madeley-Hanging Lake trailhead is just 6.2km to Hanging Lake, whereas Hanging Lake from the Rainbow trailhead is 10km. Hanging Lake is dog friendly and swimming friendly. The basic, unmaintained wilderness campsite has an outhouse and several clearings for tents. More...
12. Green River
At the Sea to Sky highway turnoff to Wedgemount Lake, 12km north of Whistler Village, there is a nice picnic area along Green River. Picnic tables, serenity and the hugely crashing Green River make this a decent place to camp, though the opposite side of the river, along the gravel road and along the river is where most camp. Just outside Whistler's Municipal boundary, this area is Crown land which makes it legal to camp on. The beautiful, crashing river and lots of places to put up a tent near the Green River bridge make it an ideal setting. This area is quite well known and you often see a dozen or more vans and campers parked in the wide open area across the bridge. Along the river are some hidden spots for tents as well. Nearby Parkhurst Ghost Town is also great for free camping. More...
13. Sproatt East
The connecting trails to the Sproatt East trail begin high up in the luxury neighbourhood Stonebridge. This starting point is already very high up the flank of Mount Sproatt and 15 minutes into the trail you come to beautiful viewpoints looking down on Whistler Valley. Another 15 minutes of hiking and you come to towering pillars of rock with even more impressive views. Along the way you will notice several fantastic places to camp. The Sproatt East trail is close to, but entirely outside Whistler's watershed. It is, however, within Whistler's Municipal boundary and therefore technically not legal to camp. The wilderness is vast and off the radar for most so stealth, leave no trace camping would never be noticed. More...
The Best of Whistler, Garibaldi Park & Sea to Sky!

Best Whistler and Garibaldi Park Hiking by Month!
Whistler & Garibaldi Park Hiking Trails

Explore BC Hiking Destinations!