Crevasse: is a split or crack in the glacier surface, often with near vertical walls.  Crevasses form out of the constant movement of a glacier over irregular terrain.  Crevasses are both revered for their dramatic beauty and feared for their inherent danger.  Crevasses are often dozens of metres deep and less than a metre wide.  The fear of slipping into one of these treacherously narrowing chasms is well founded. 
Whistler & Garibaldi Hiking

Alexander Falls  

Ancient Cedars  

Black Tusk  

Blackcomb Mountain  

Brandywine Falls  

Brandywine Meadows  

Brew Lake  

Callaghan Lake  

Cheakamus Lake  

Cheakamus River  

Cirque Lake 

Flank Trail 

Garibaldi Lake 

Garibaldi Park 

Helm Creek  

Jane Lakes 

Joffre Lakes  

Keyhole Hot Springs  

Logger's Lake  

Madeley Lake  

Meager Hot Springs 

Nairn Falls  

Newt Lake 

Panorama Ridge 

Parkhurst Ghost Town 

Rainbow Falls  

Rainbow Lake 

Ring Lake  

Russet Lake  

Sea to Sky Trail 

Skookumchuck Hot Springs  

Sloquet Hot Springs 

Sproatt East 

Sproatt West  

Taylor Meadows  

Train Wreck  

Wedgemount Lake  

Whistler Mountain

January 

February 

March 

April 

May 

June 

July 

August 

September 

October 

November 

December
When learning about safe glacier travel and roping techniques, extracting someone from a crevasse is a huge part of the training.  Crevasses are sometimes hidden by recent snow and thus instantly plunging through a snow bridge is a constant worry during glacier travel.  Across the valley from Panorama Ridge you will see hundreds of crevasses.  Panorama Ridge is easily one of the most amazing hikes in Garibaldi Park.  The 15 kilometre hike from the trailhead at Rubble Creek to Panorama Ridge takes you through beautiful and deep forests, across countless idyllic streams, through meadows filled with flowers, and past dozens of jaw dropping viewpoints.  The amazing views start once you reach Taylor Meadows and get even more spectacular as the trail progresses.  Another beautiful place in Garibaldi Park to see crevasses is Russet Lake.  Russet Lake is alpine lake that sits at the base of The Fissile and overlooks Overlord Glacier.  The Fissile is the strikingly bronze coloured mountain visible from many places in Whistler Village.  While walking in Whistler Village look into the distance at the Peak 2 Peak hanging between Whistler and Blackcomb and you will see The Fissile.
Overlord Glacier Crevasses
Overlord Glacier in Garibaldi Park is criss-crossed with many crevasses.  Easily visible from Russet Lake and Blackcomb Mountain's Overlord trail, Overlord Glacier is one of Whistler's easiest glaciers to view.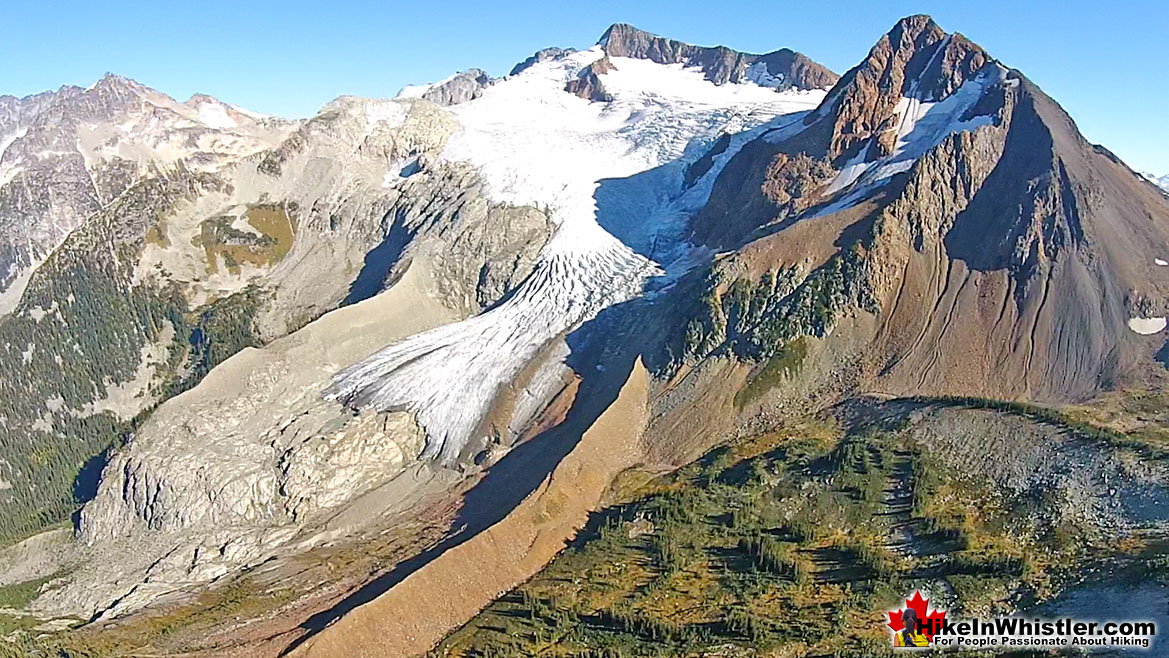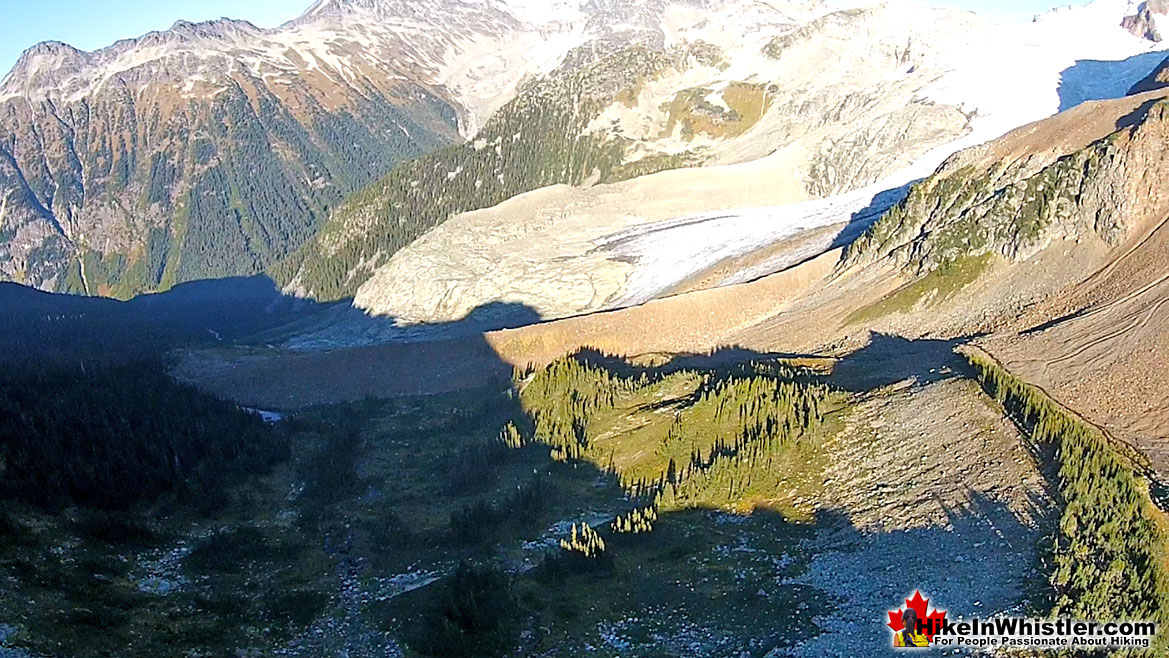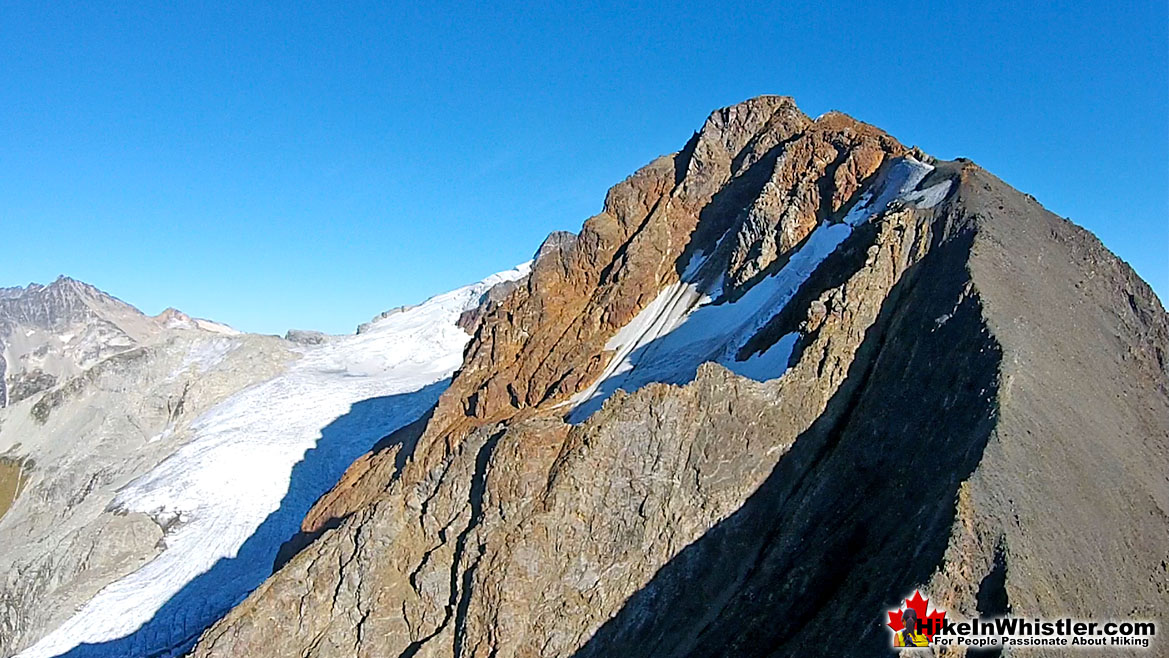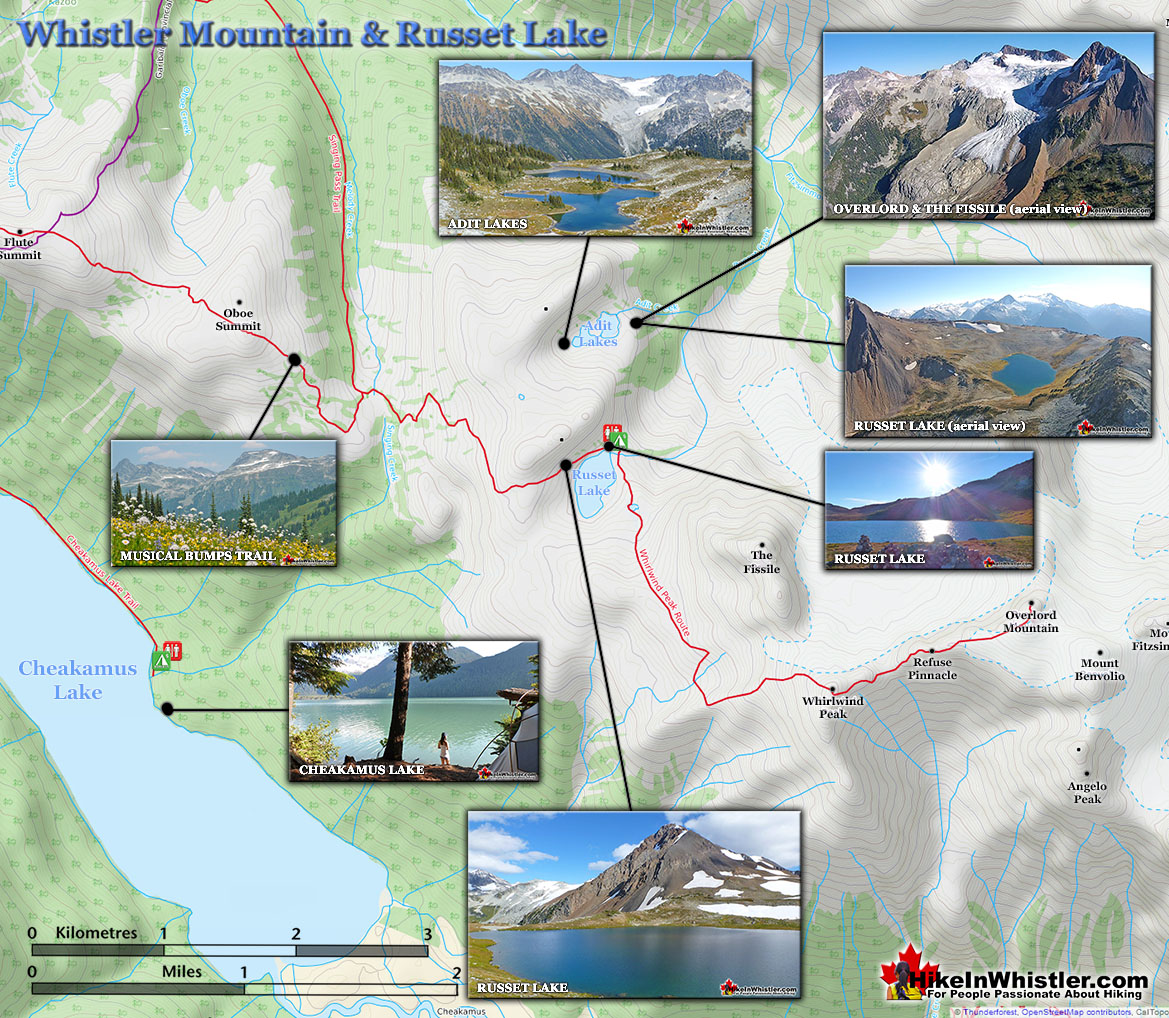 Wedgemount Glacier Crevasses
Wedgemount Glacier is another fairly accessible Garibaldi Park glacier with impressive crevasses.  Located at the far end of Wedgemount Lake, the glacier fills the valley almost to the summit of Wedge Mountain.  Wedgemount Lake is one of the most spectacular hikes in Garibaldi Provincial Park. Though it is a steep and exhausting hike, it is mercifully short at only 7 kilometres.  The elevation gain in that short distance is over 1200 metres which makes it a much steeper hike than most other Whistler hiking trails.  Compared with other Whistler hikes, Wedgemount Lake is half the distance of either Black Tusk or Panorama Ridge, for example,  at 13.5km and 15km respectively.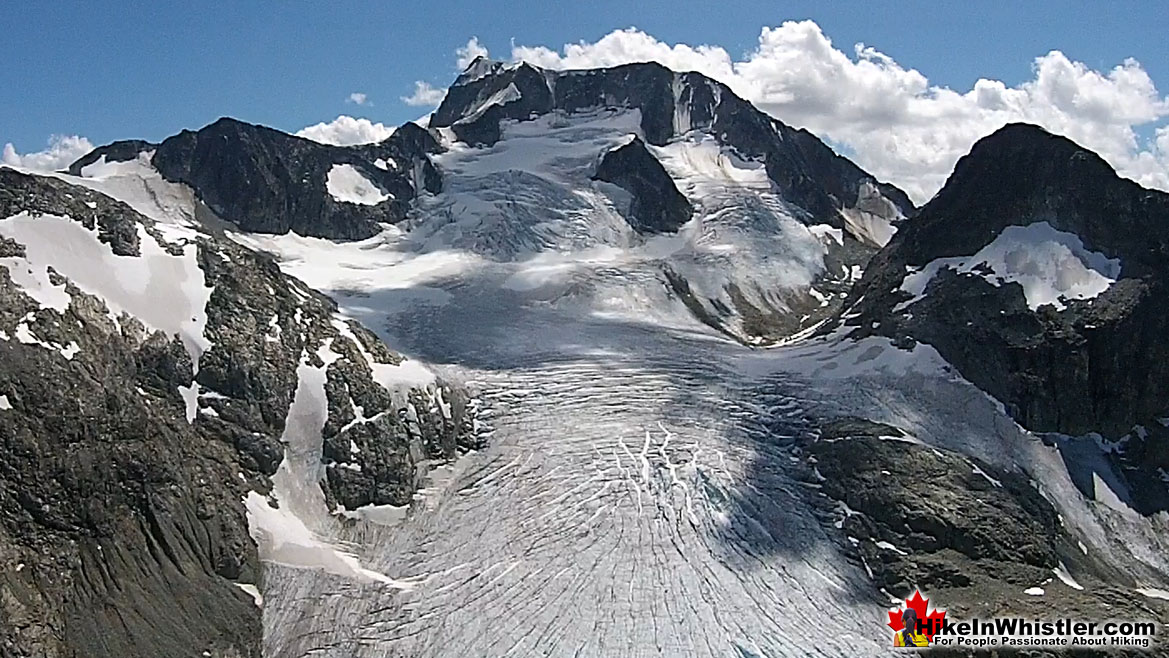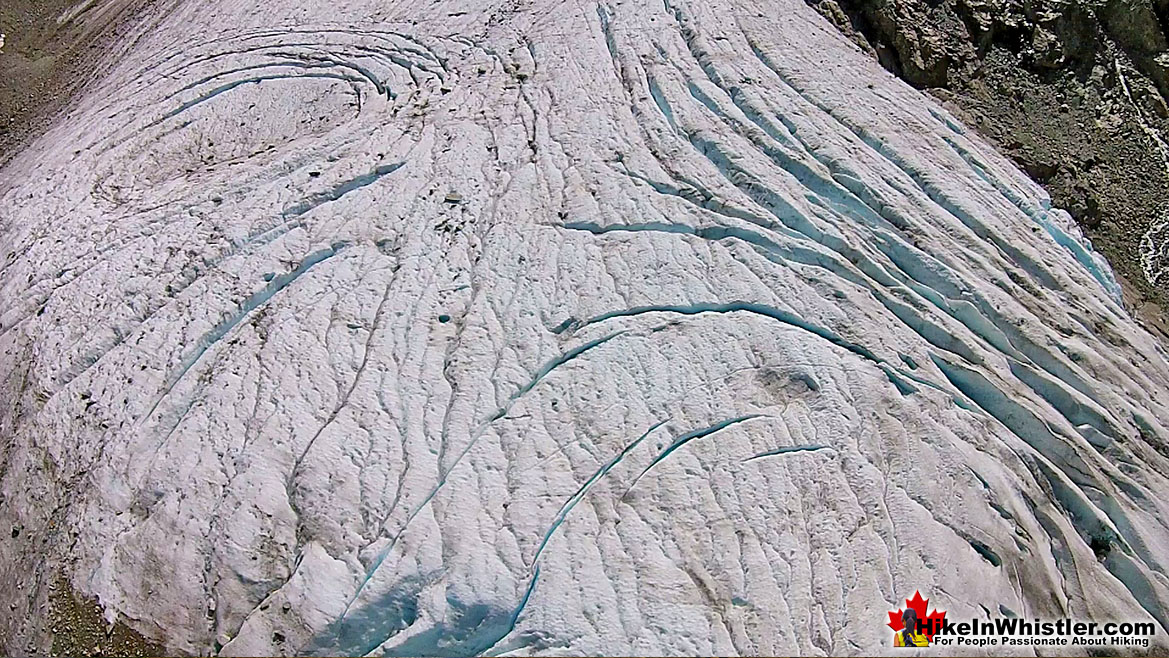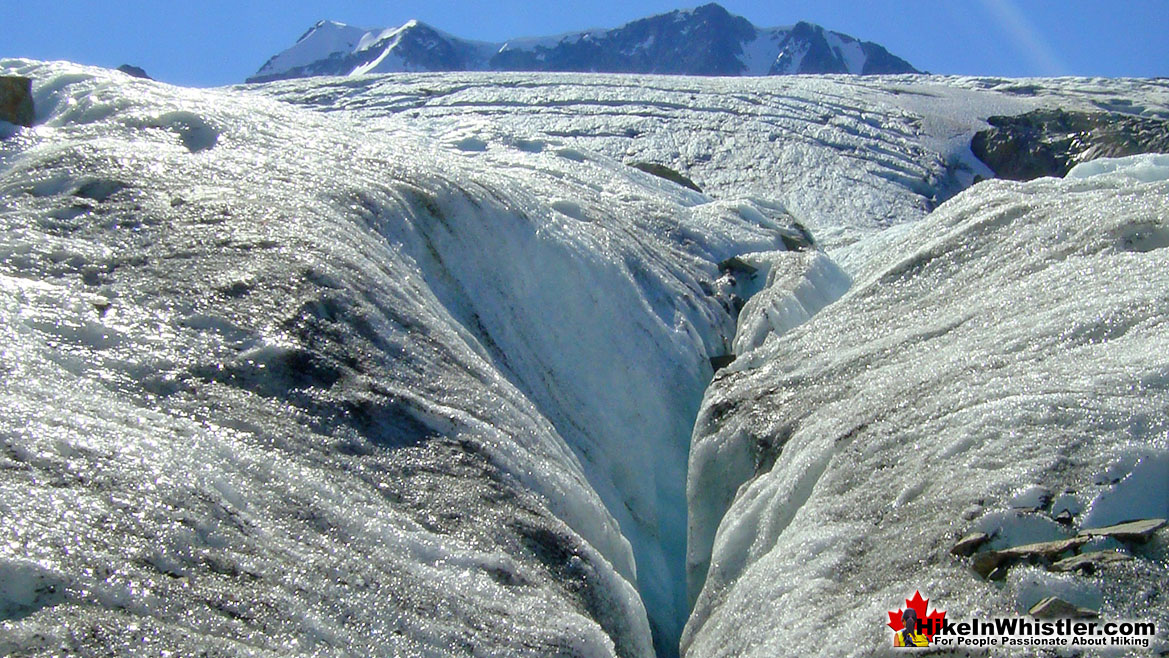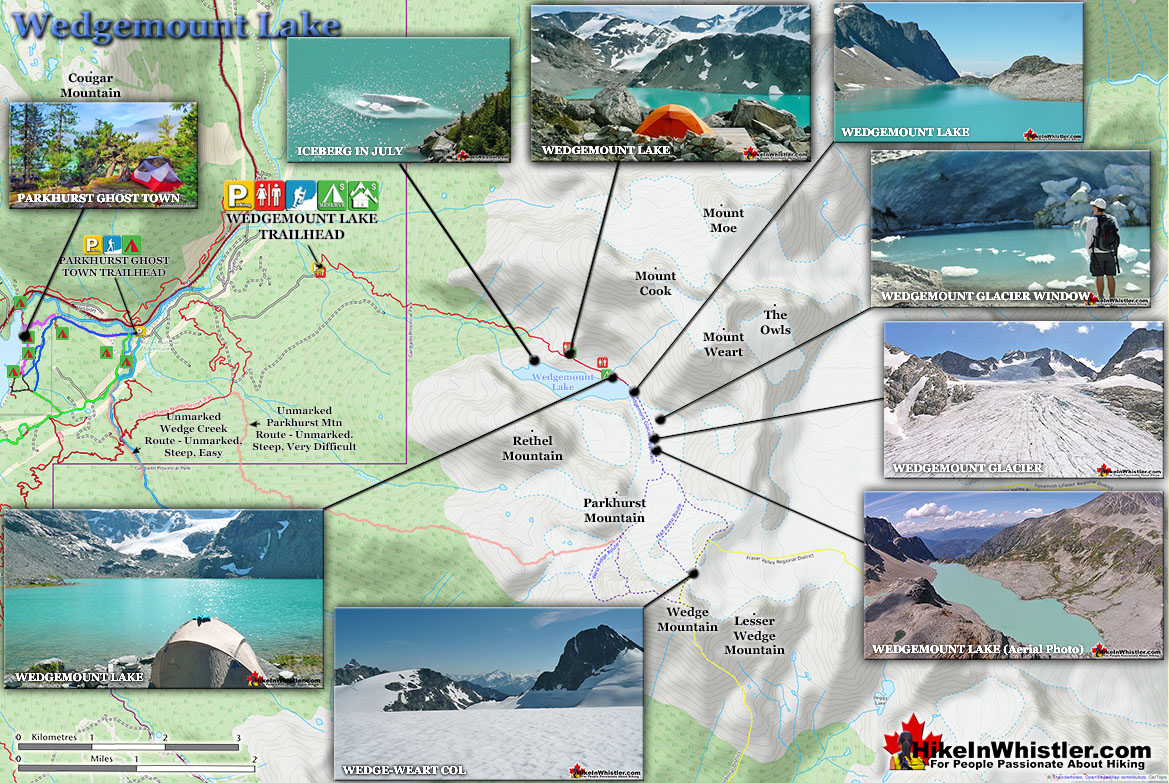 More Whistler & Garibaldi Park Hiking A to Z!

The Best Whistler & Garibaldi Park Hiking Trails!
Whistler & Garibaldi Park Best Hiking by Month!

Explore BC Hiking Destinations!