Oct 10th, 2022: Jane Lakes consist of three lakes that are well hidden in the vast wilderness adjacent to Whistler's Interpretive Forest.  West Jane Lake, East Jane Lake and Little Jane Lake are all so engulfed in the forest that they remain unseen until just a few metres away from the shore.  So hidden in fact, that when you do catch a glimpse of West Jane Lake, the biggest of the three, you can't help but be shocked at the sudden sprawling view.
Whistler & Garibaldi Hiking

Alexander Falls  

Ancient Cedars  

Black Tusk  

Blackcomb Mountain  

Brandywine Falls  

Brandywine Meadows  

Brew Lake  

Callaghan Lake  

Cheakamus Lake  

Cheakamus River  

Cirque Lake 

Flank Trail 

Garibaldi Lake 

Garibaldi Park 

Helm Creek  

Jane Lakes 

Joffre Lakes  

Keyhole Hot Springs  

Logger's Lake  

Madeley Lake  

Meager Hot Springs 

Nairn Falls  

Newt Lake 

Panorama Ridge 

Parkhurst Ghost Town 

Rainbow Falls  

Rainbow Lake 

Ring Lake  

Russet Lake  

Sea to Sky Trail 

Skookumchuck Hot Springs  

Sloquet Hot Springs 

Sproatt East 

Sproatt West  

Taylor Meadows  

Train Wreck  

Wedgemount Lake  

Whistler Mountain

January 

February 

March 

April 

May 

June 

July 

August 

September 

October 

November 

December
It's not so much the grand size of West Jane Lake, though it is shockingly, unexpectedly, wonderfully huge.  But the absolutely perfect reflection off the mirror-like surface of the lake to show Black Tusk as you've never seen it before.  The wondrous geologic anomaly that captivates hikers in Garibaldi Park, skiers on Whistler Mountain and everyone that has driven almost anywhere in Whistler, is now both surprisingly close and perfectly twinned by the mirror reflection off the water.  West Jane Lake is just 700 metres long, but the first vantage point you get when you see it through the trees seems to magnify it.  You kind of expect a small lake, like Newt Lake on Cougar Mountain, or Alpha Lake in Creekside.  But this lake has sections of vertical cliffs and a substantial and unbroken wilderness around it.  The forest is so deep around the lake that, even if there were other people around, you would never spot them.  No visible trails across the lake, no cut trees, no other hikers.  Nothing at all.  Just absolute silence.  Fall hiking in Whistler has a subtle serenity that you just don't get in the much busier summer months.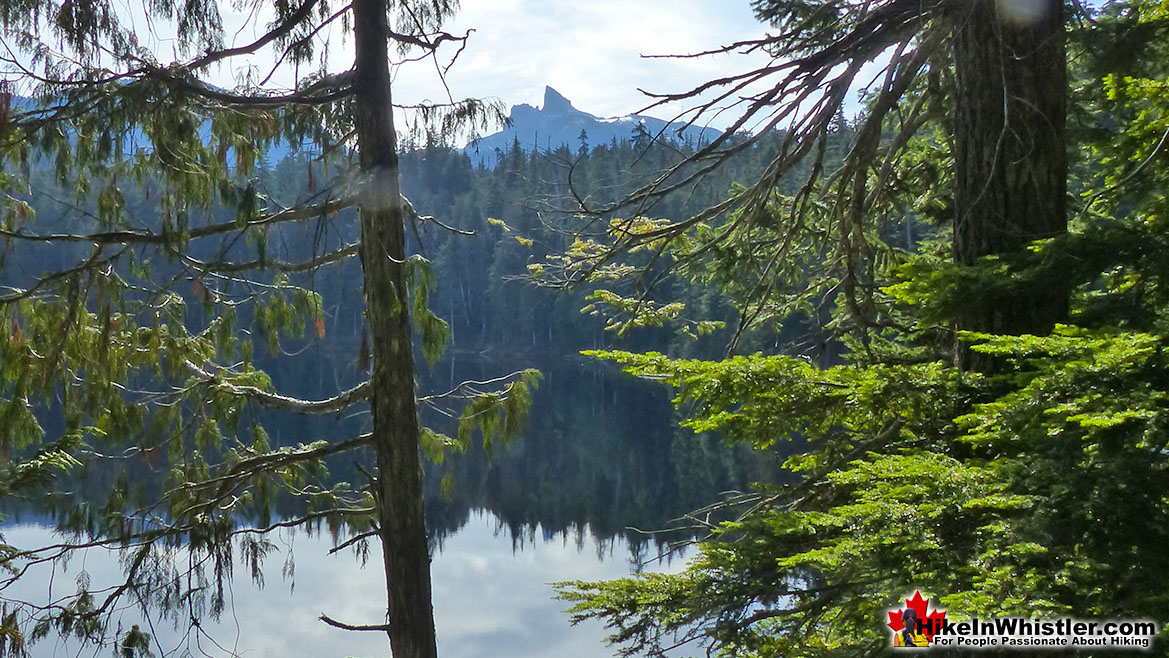 Jane Lakes is a surprising contrast to Whistler Interpretive Forest which border cuts across the eastern end of East Jane Lake.  Here at the western edge of West Jane Lake you have pristine wilderness and perfect solitude.  The Interpretive Forest exhibits wide sections of cut forests and interpretive signs depicting the replanting of several areas.  The once thickly forested 8 kilometre drive to the Cheakamus Lake trailhead, used to be a deep dive into British Columbia's Coastal Rainforest.  This past spring the dark, serene forest was gutted and transformed into a haunted wasteland of tree stumps.  A preventative measure to create a defensive zone to halt a forest fire that could potentially sweep through the valley.  Both strategically prudent and expensive, measures like this hedge bets against forest fire catastrophes in the near future, but slash and tear the beauty out of a forest in the present. 
Jane Lakes Beautiful Wilderness
Jane Lakes have somehow remained a perfect wilderness, despite laying in the shadow of a giant chainsaw.  The chainsaws revved up a dozen years ago, but a small but resonating outcry centred around the environmental effect on the fish population but the kibosh on that.  A similar, but much less vocal objection to the logging above Parkhurst and around the Wedgemount Lake trailhead fell on deaf ears.  Out of sight and out of mind, the "new" trailhead parking for Wedgemount Lake is startling to say the least.  The sound of cutting and falling trees is a bit unnerving as you get out of your car at the modified trailhead, relocated a couple years ago.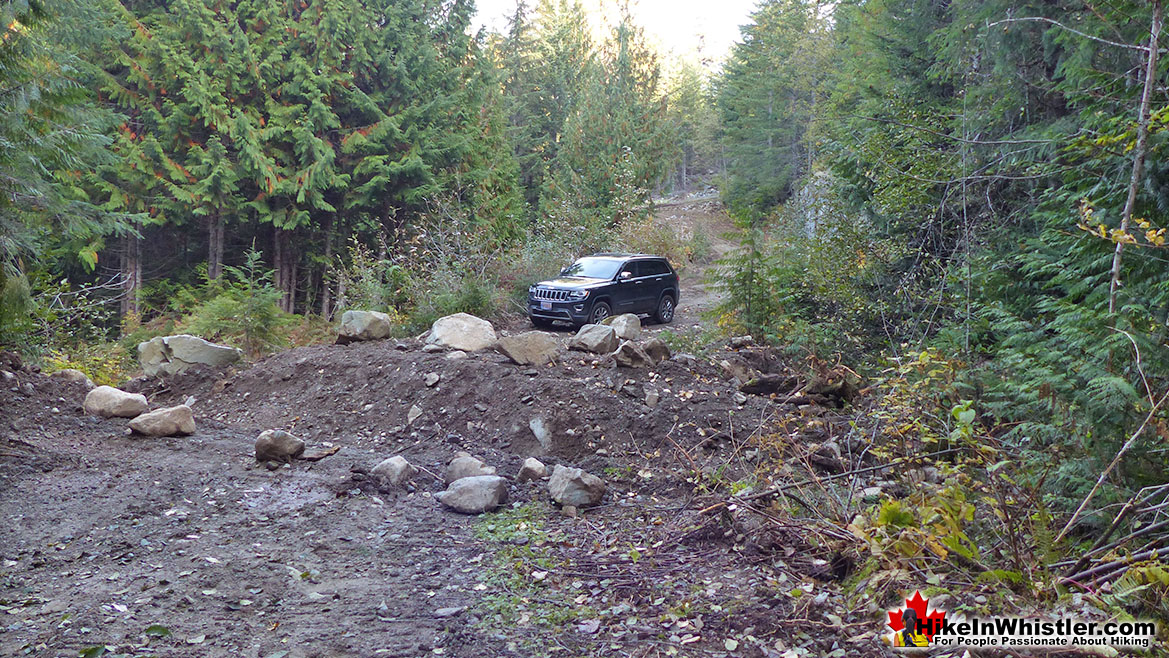 Though you do see quite a few big tree stumps along the new Jane Lakes West trail, decades have passed since then and the forest has regrown quite a bit.  The old Jane Lakes Forest Service Road is now the Jane Lakes West trail.  Barricaded with boulders and a deep and wide trench in the last few days, it is now a great hiking and biking trail to the lake.  The 4.1 kilometre trail has been worked by an excavator and dozens of creek beds have been dug across the old road.  A considerable amount of work has gone on over the summer which you quickly notice while hiking the trail.  Every couple minutes you come across a brand new trench across the trail with a small creek flowing through.  Soon, these creeks will be torrents of water and you can't help but wonder how the water moved before these trenches.  With a couple years of forest growth and bridges across these creeks, it is easy to visualize this trail being quite beautiful.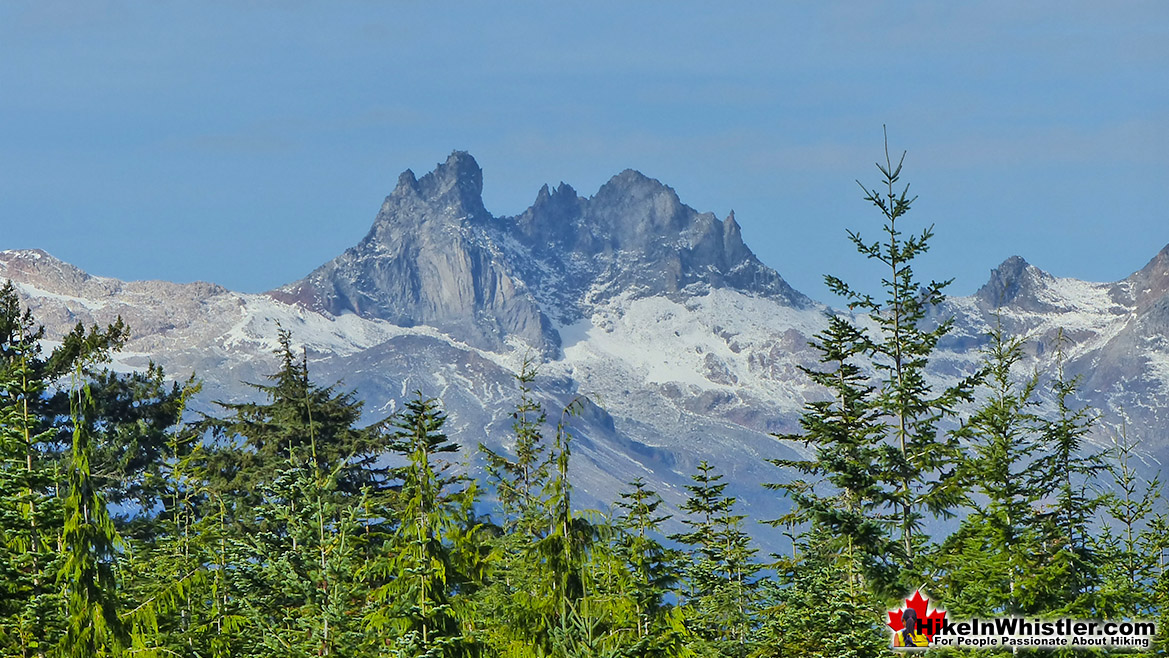 The Jane Lakes West trail already has some great viewpoints and highlights.  Several areas along the trail, you emerge from the trees and get a great view down the valley.  The unmistakable, jagged peak of Mount Fee is nicely visible from several places.  The trail also cuts through large boulder fields from crumbling cliffs.  Further along you come to, and actually trip over a stunning remnant of a geologically recent phenomenon called the Cheakamus Valley basalts.  During the end of the last ice age, basaltic lava flows pools against the retreating glacier that filled Cheakamus Valley.  The rapid cooling of the lava resulted in sets of intersecting, closely spaced fractures that formed regular arrays of angular, six sided columns of stunning symmetry.  At several places along the trail, you come to a cliff wall of these bewildering columns of rock known as columnar jointing.  These alien looking walls are in various stages of crumbling and breaking apart and the Jane Lakes West trail is possibly the best place around to touch and admire them.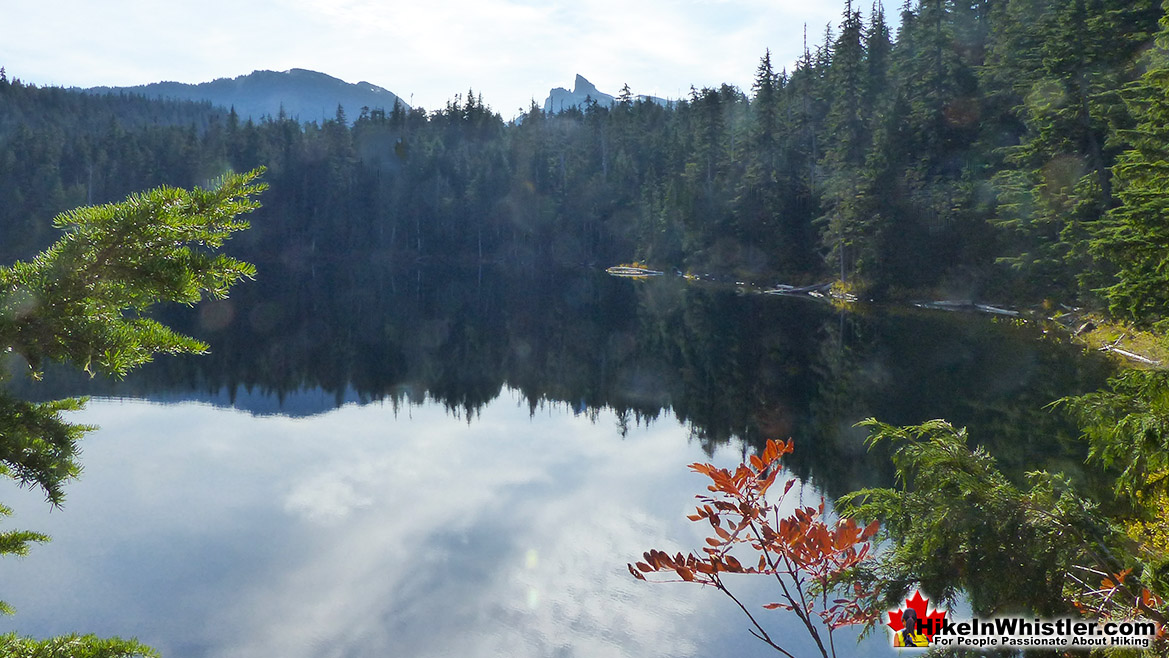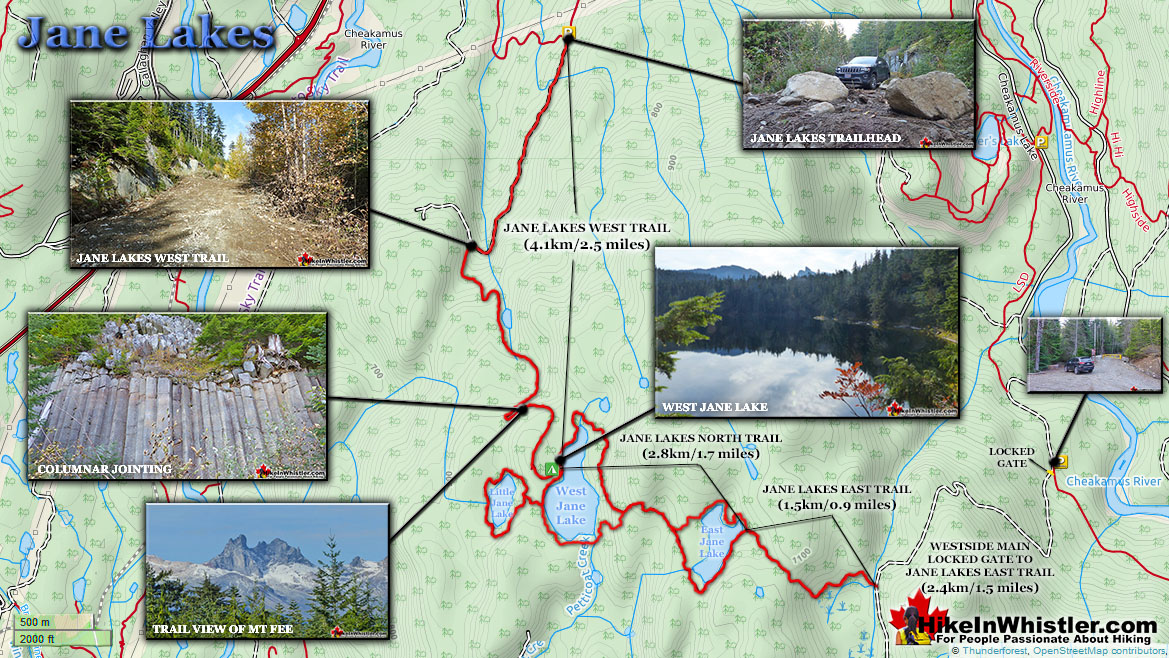 More hiking info, directions and maps for Jane Lakes..
More Whistler Updates!

Whistler & Garibaldi Park Hiking Glossary A to Z
Whistler & Garibaldi Park Best Hiking by Month!

Explore BC Hiking Destinations!