Keyhole Hot Springs (aka Pebble Creek Hot Springs) is located 100 kilometres from Whistler(Village Gate Blvd). Though most of the 100 kilometres is on logging roads, it is driveable by most cars without any trouble. The massive Innergex hydroelectric project has turned this once quiet wilderness into a war-zone. On the plus side, the old logging roads near Keyhole Hot Springs are now well maintained and smooth.
Beautiful drive to get there with lots of sights
Pools at the edge of Upper Lillooet River
Evidence of Mt Meager's eruption 2400 years ago
Wild & free place in a gorgeous setting
Campsite is large, spread out & scenic

Drive through the debris field from 2010

Trail is packed with geological curiosities

The impressive Keyhole Falls is nearby

Upper Lillooet River is beautiful!

Often crowded or closed by park wardens

The hot springs at Keyhole flow out of the ground adjacent to the swirling, crashing and wonderfully glacier coloured water of the Lillooet River.  The colour varies with the season, but for the most part it is a wonderful, deep, milky turquoise.  When the sunlight penetrates the deep valley, the milky turquoise changes to an unnaturally bizarre, emerald green colour as it swirls all around you. Sitting in the springs you look across to the vertical rock face and the massive, truck sized chunks of it that lay in the river next to you. The Lillooet is fed from various glaciers and snowy mountains visible all the way to Pemberton. At the Lillooet River crossing in Pemberton Meadows take a look in the distance and you will make out the spectacularly jagged and violent looking peak of Mount Meager. It is also a good place to reflect on the fact that Mount Meager produced the larges volcanic eruption in Canada, in the last ten thousand years. It occurred about 2400 years ago and Keyhole and Meager Hot Springs are symptoms of current volcanic activity and another major eruption is possible.
Remote and Beautiful Keyhole Hot Springs
For such a remote place, Keyhole Hot Springs have a pretty elaborate hot springs layout as well as a very large(unmaintained) camping area in the deep forest, high above the hot springs about a 10 minute walk away. Signs of semi-permanent tarp dwellings can be seen in stages of ruin, but overall the campsite area is amazing.  With the exception of being dark due to the thick forest and fresh water a steep, 5 minute walk away, it is perched on a wonderful cliff with great views of the river below and cliff and mountains and waterfalls across.  If the campsite had a dozen tents within it, you could space them out enough to not see or hear each other fairly easily.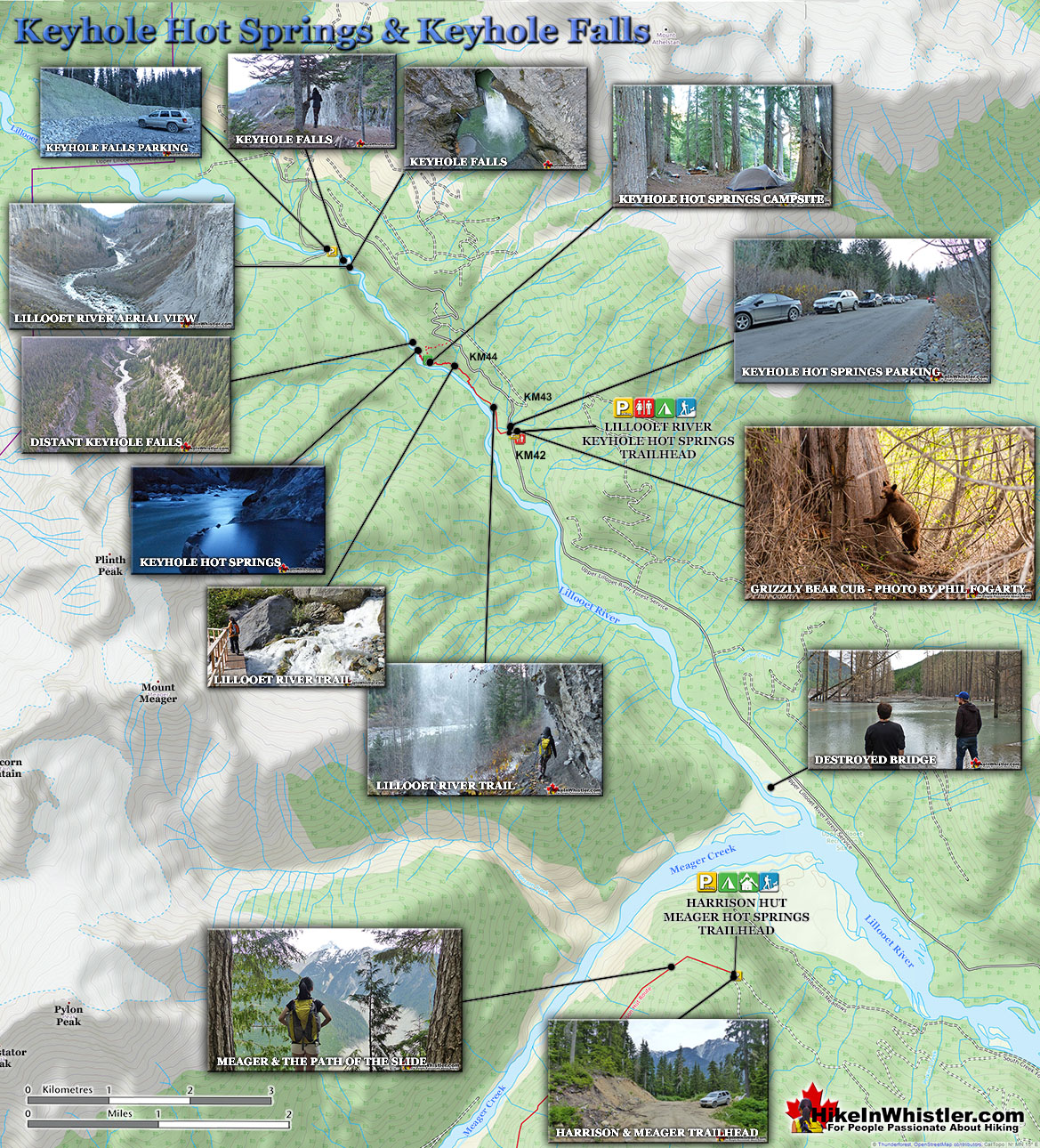 Parking & Trailhead Directions to Keyhole Hot Springs

Keyhole Hot Springs is way to far to realistically bike to and no public transit gets even close. Driving is the only real option, however, Innergex, understandably doesn't seem too welcoming for tourists into the area. They have, however, managed to build this nice trail quite quickly.  When you look at the construction sites, it is astounding to note that the hot springs lay absurdly close to enormous sites, before, above and beyond the springs. If you are curious, drive just past the hot springs parking area and take a look(from afar) at the powerhouse excavation site.. breathtaking. From Whistler Drive north on Highway 99 until you reach Pemberton.  When you reach Pemberton turn left at the traffic lights(gas station) and after 1k you will come to a roundabout, left here and drive 200 metres to the T junction, you will see a sign for "The Meadows" turn right here and and another "The Meadows" sign in a couple hundred metres pointing left.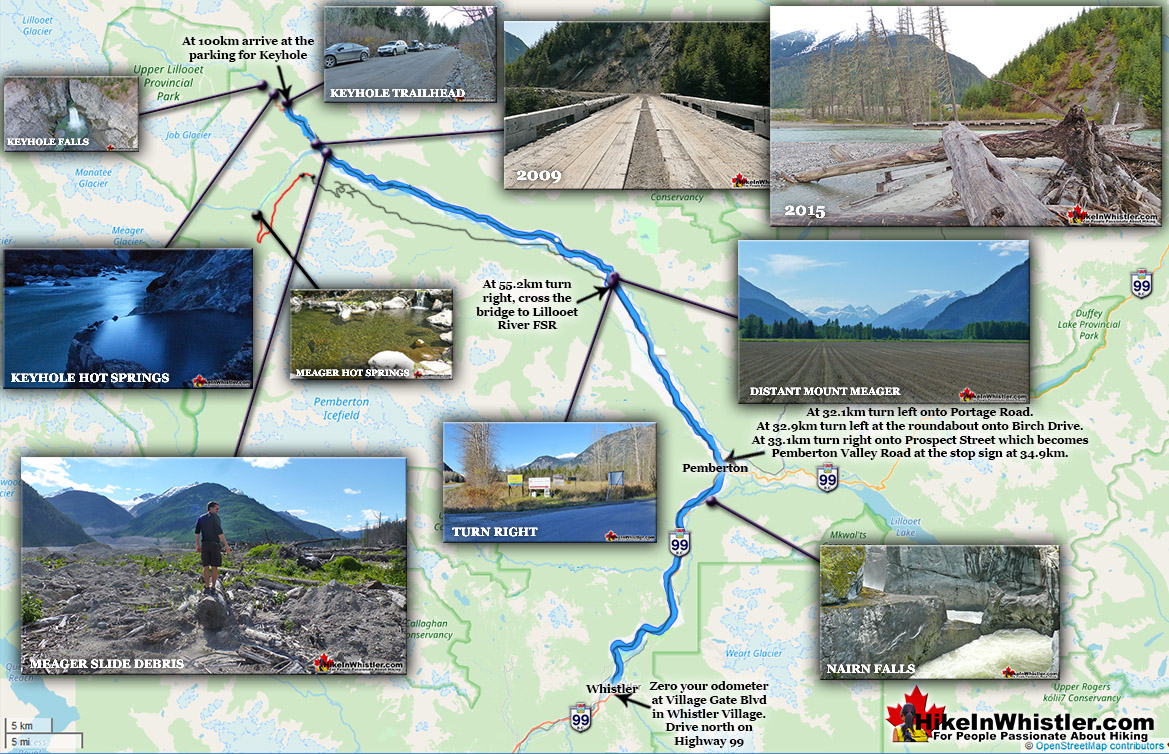 More info for Keyhole Hot Springs..
Garibaldi Park Wildlife & History

Plants of the Whistler Region is an excellent book that includes great pictures and descriptions of most trees you will find in Whistler. Small enough to fit in your pocket and comprehensive enough to identify most things you will encounter growing in the forests of Whistler. Along with conifer trees and broadleaf trees the book has chapters on flowers, berries, ferns and shrubs. You can find Plants of the Whistler Region on Amazon, the Whistler Library and at Armchair Books in Whistler Village. The author Collin Varner has a wonderful series of Plants of.. books on various regions beyond Whistler. Plants of Vancouver and the Lower Mainland, Plants of the Gulf and San Juan Islands and Southern Vancouver Island, and Plants of the West Coast Trail. In the last couple years he has started a new series of books. The Flora and Fauna of Coastal British Columbia and the Pacific Northwest and Edible and Medicinal Flora of the West Coast: British Columbia and the Pacific Northwest.  A Passion for Mountains by Kathryn Bridge is a fascinating look at Don and Phyllis Munday's prolific exploration of the mountains in BC.  Based out of Vancouver, they were dominant figures of the climbing community in the early 1900's.  In 1923 they visited their friend Neal Carter in Alta Lake(Whistler) and explored the mountains around the valley.. many for the first time!
**We participate in the Amazon Services LLC Associates Program and earn a small commission on purchases we link through to Amazon at no extra cost to you.  We only link to books and products we love and highly recommend.  Thanks for your support!**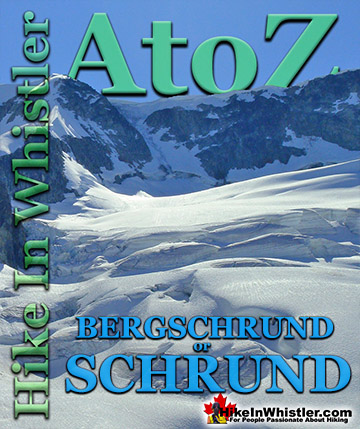 Bergschrund or abbreviated schrund: a crevasse that forms from the separation of moving glacier ice from the stagnant ice above. Characterized by a deep ...
Read more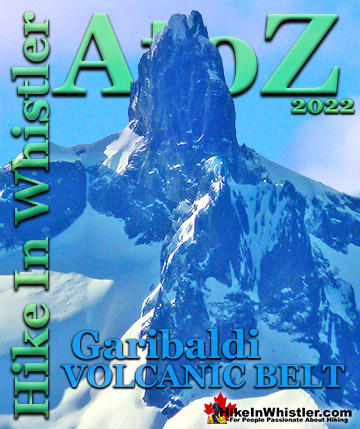 The Garibaldi Volcanic Belt is a line of mostly dormant stratovolcanoes and subglacial volcanoes largely centred around Whistler and extending through much ...
Read more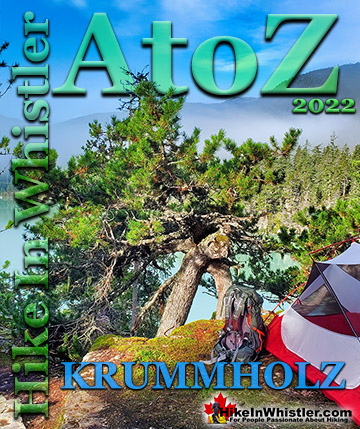 When you hike in the alpine in Whistler and
Garibaldi Provincial Park
, you will often encounter unbelievably hardy and sometimes mangled looking trees.  ...
Read more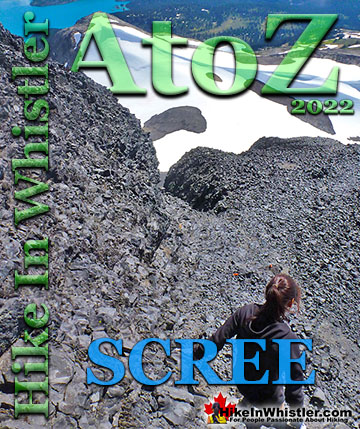 Scree: from the Norse "skridha", landslide.  The small, loose stones covering a slope. Also called talus, the French word for slope. Scree is mainly formed ...
Read more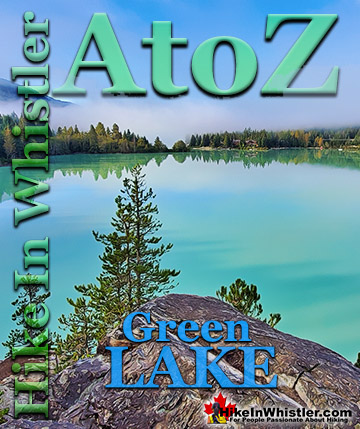 Green Lake is the marvellously vivid, green coloured lake just north of Whistler Village.  Driving north on the Sea to Sky Highway, Green Lake appears ...
Read more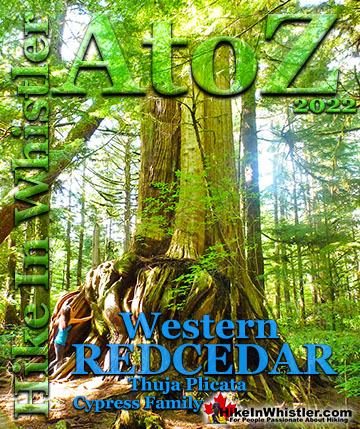 Western redcedar is a very large tree commonly found in the Pacific Northwest. Frequently growing up to 70 metres and with a trunk diameter of 7 metres, ...
Read more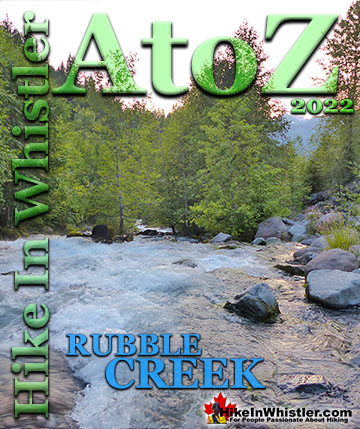 The Rubble Creek trailhead is the main access point for many of the best hikes and sights in
Garibaldi Provincial Park
.  Rubble Creek is located midway ...
Read more
Whistler & Garibaldi Hiking

Alexander Falls  

Ancient Cedars  

Black Tusk  

Blackcomb Mountain  

Brandywine Falls  

Brandywine Meadows  

Brew Lake  

Callaghan Lake  

Cheakamus Lake  

Cheakamus River  

Cirque Lake 

Flank Trail 

Garibaldi Lake 

Garibaldi Park 

Helm Creek  

Jane Lakes 

Joffre Lakes  

Keyhole Hot Springs  

Logger's Lake  

Madeley Lake  

Meager Hot Springs 

Nairn Falls  

Newt Lake 

Panorama Ridge 

Parkhurst Ghost Town 

Rainbow Falls  

Rainbow Lake 

Ring Lake  

Russet Lake  

Sea to Sky Trail 

Skookumchuck Hot Springs  

Sloquet Hot Springs 

Sproatt East 

Sproatt West  

Taylor Meadows  

Train Wreck  

Wedgemount Lake  

Whistler Mountain

January 

February 

March 

April 

May 

June 

July 

August 

September 

October 

November 

December