December 21st, 2019: Way up in the Callaghan Valley on the back side of Mount Sproatt is an abandoned gold mine.  Old cement foundations and two unexpectedly beautiful lakes mark the location of Northair Mine, abandoned in 1982.  For about 5 years it was a fairly productive gold mine that extracted 5 tons of gold.  Largely forgotten for years, in the last decade it has come to life with colour of graffiti artists and muralist.
Whistler & Garibaldi Hiking

Alexander Falls  

Ancient Cedars  

Black Tusk  

Blackcomb Mountain  

Brandywine Falls  

Brandywine Meadows  

Brew Lake  

Callaghan Lake  

Cheakamus Lake  

Cheakamus River  

Cirque Lake 

Flank Trail 

Garibaldi Lake 

Garibaldi Park 

Helm Creek  

Jane Lakes 

Joffre Lakes  

Keyhole Hot Springs  

Logger's Lake  

Madeley Lake  

Meager Hot Springs 

Nairn Falls  

Newt Lake 

Panorama Ridge 

Parkhurst Ghost Town 

Rainbow Falls  

Rainbow Lake 

Ring Lake  

Russet Lake  

Sea to Sky Trail 

Skookumchuck Hot Springs  

Sloquet Hot Springs 

Sproatt East 

Sproatt West  

Taylor Meadows  

Train Wreck  

Wedgemount Lake  

Whistler Mountain

January 

February 

March 

April 

May 

June 

July 

August 

September 

October 

November 

December
Alexander Falls 
Brandywine Falls  
Cirque Falls  
Holloway Falls 
Keyhole Falls 
Nairn Falls 
Rainbow Falls 
Shannon Falls 
Train Wreck Falls 
Wedgemount Falls
New this past year Kups has created a marvellous mural on the broad, south facing, outside wall of the cement foundations.  The walls were almost completely free of paint just a decade ago.  In 2014 some murals started appearing, including the blue Get to High Ground mural and the Robot Snake by REKO in 2014.  In 2019 Northair Mine has become pretty beautiful with a staggering collection of murals and graffiti art.  With uneven collection of foundation walls you find yourself wandering around as if looking at an art exhibit.. which it sort of is.  Especially when you consider Kups is a much in demand and award winning professional muralist.  His new Ravens mural has definitely given the place a surreal and beautiful aspect to it that it never had before.  Northair Mine has always been a pretty surreal place, hidden up in the wilderness and the addition of beautiful and colourful murals makes it even more special.  Northair Mine is located way up in the beautiful Callaghan Valley.  From Whistler Village, drive south on the Sea to Sky Highway for 13.8 kilometres and turn right onto Callaghan Valley Road.  Drive up into the Callaghan Valley for 7.6 kilometres and just after you cross the bridge over Callaghan Creek turn right onto the Callaghan Creek forest service road.  The gravel road is pretty good for the first couple kilometres until you make a sharp left turn and the road deteriorates quickly.  Still manageable by most vehicles, however there are a couple very deep waterbars that might surprise you.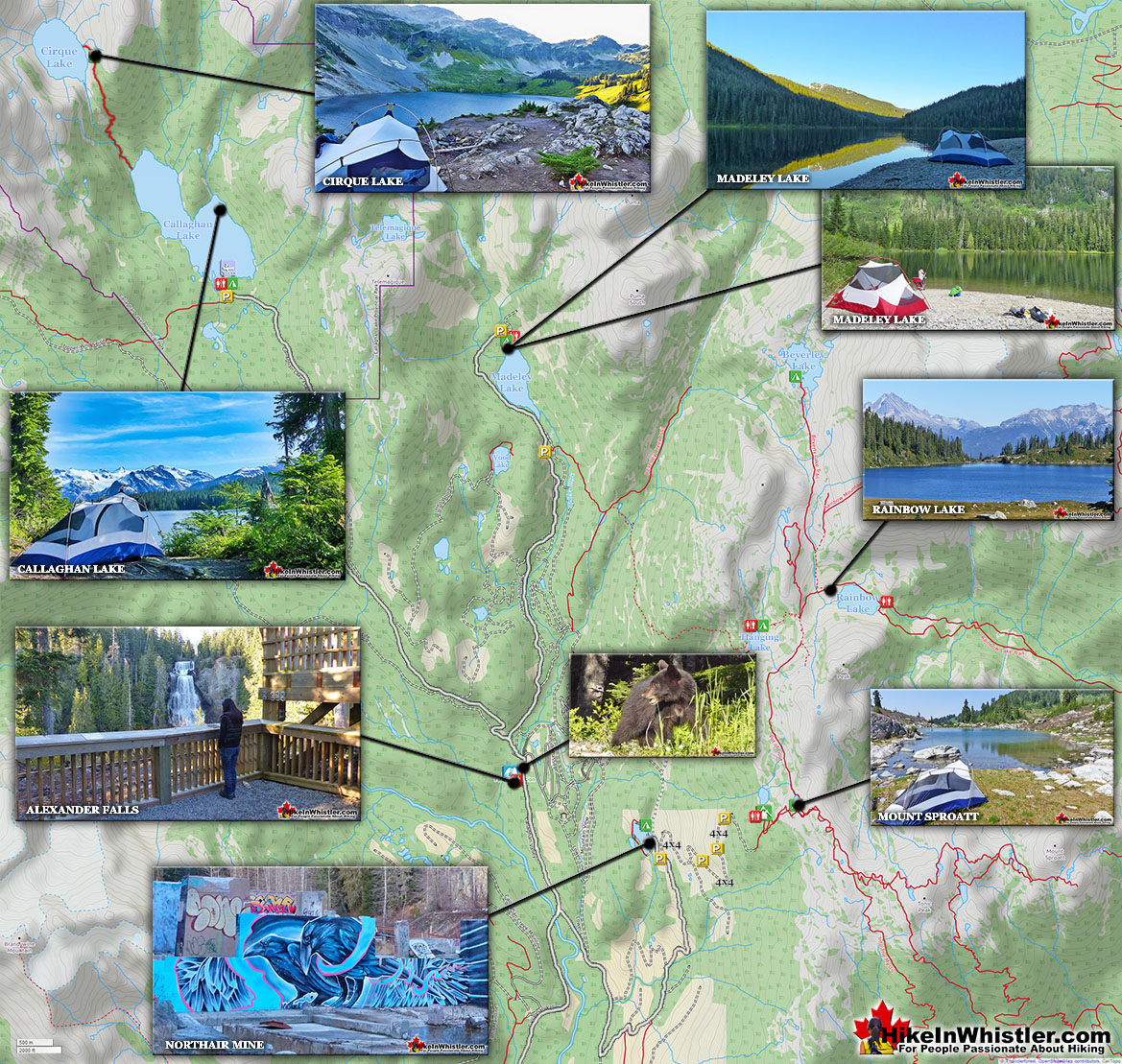 Northair Mine Before the Murals
A decade ago Northair Mine was a blank canvas and a bit bland compared to the ever-changing collection of beautiful murals we see today.
Ravens by Kups in 2019
In 2019 Kups created this amazing mural of ravens.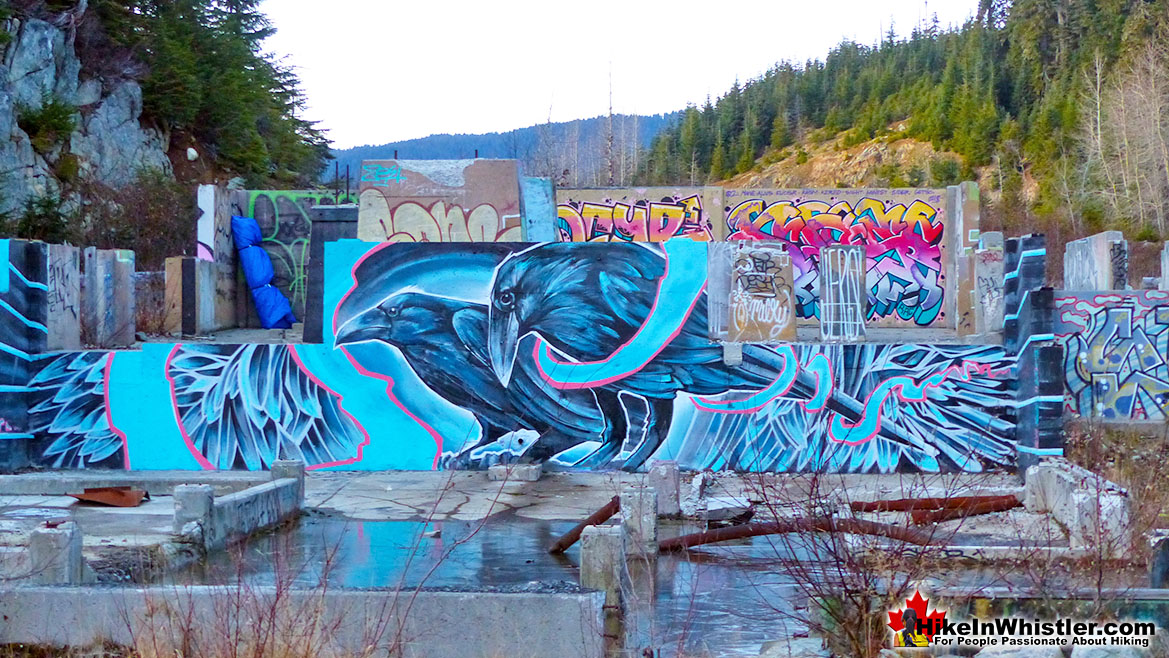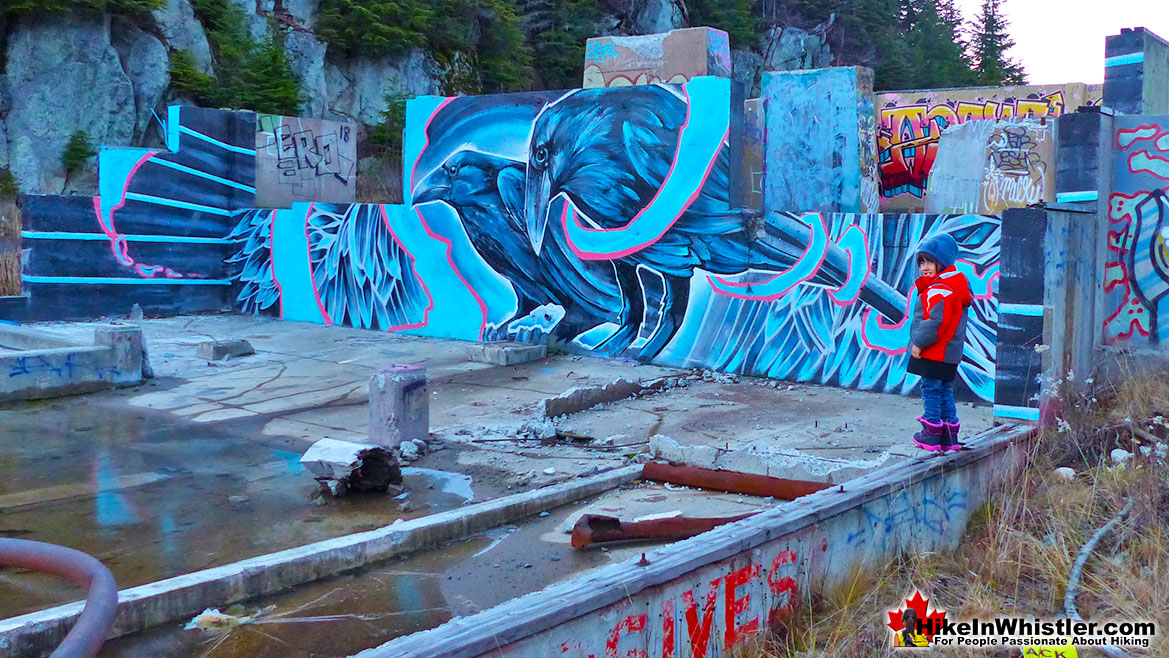 The Creation of the Ravens Mural 'Soar' by Kups
Colourful Murals at Northair Mine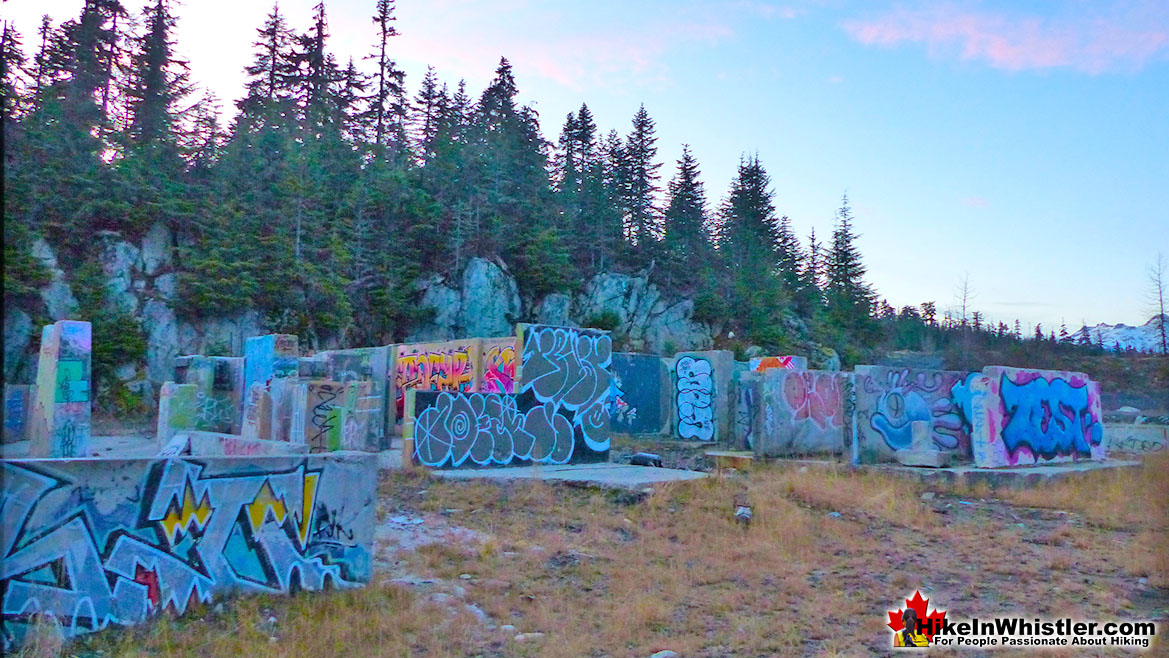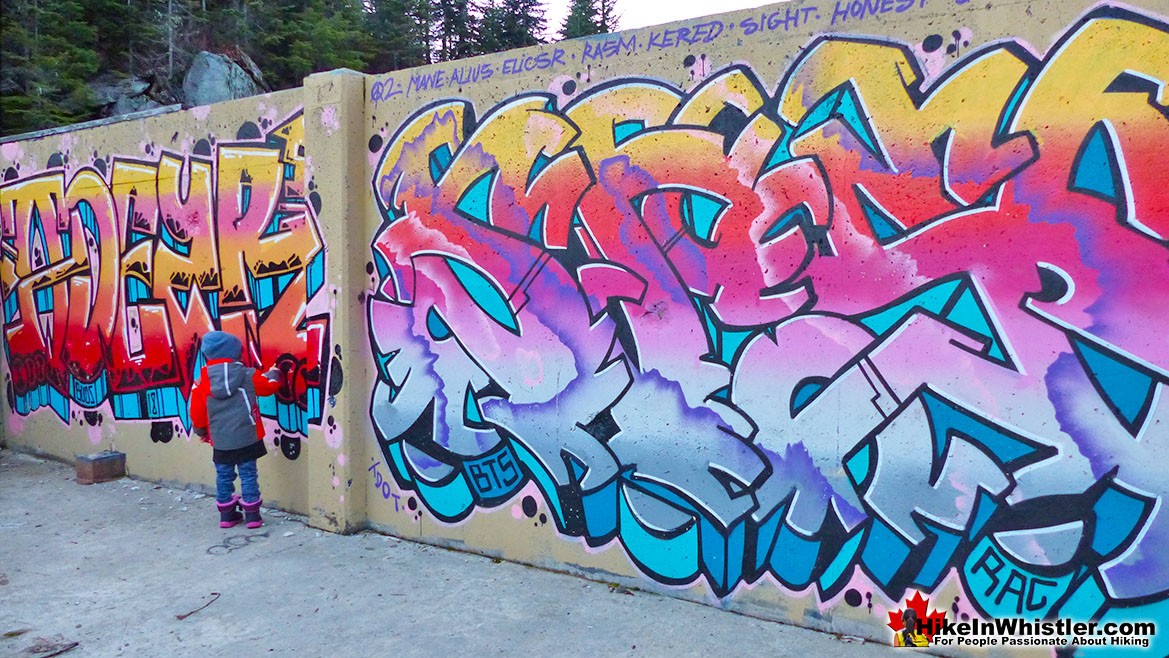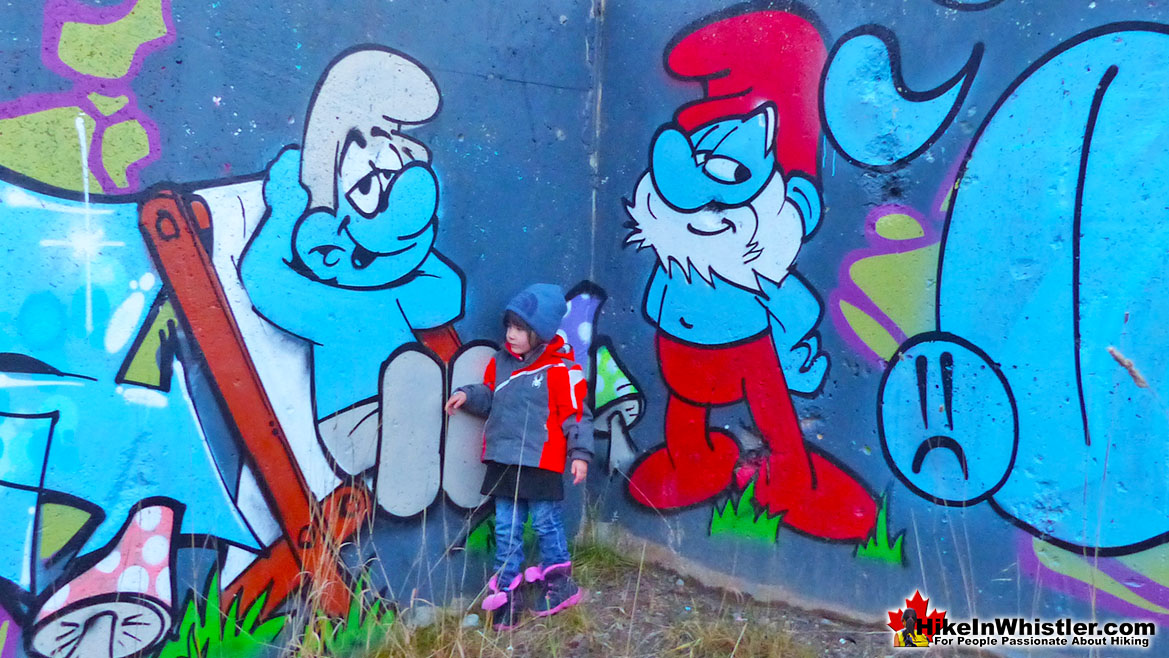 Northair Mine Driving Directions
From Whistler Village, zero your odometer at Village Gate Boulevard and turn south onto the Sea to Sky Highway.  At 13.8 kilometres turn right onto Callaghan Valley Road.  At 21.4 kilometres turn right onto Callaghan Creek FSR.  Follow this logging road until you reach Northair Mine at 26.8 kilometres.  The turnoff into Northair Mine is not obvious so keep an eye on your odometer to know when to turn left.
May 10th, 2019: 
Whistler Train Wreck
is home to several stunning murals painted on the old wrecked boxcars.  Mixed with graffiti art, some of murals stand ...
Read More
October 21th, 2018:
Pack smart by putting heavier items close to your back and higher up your pack.  Be organized and think of keeping important things ...
Read More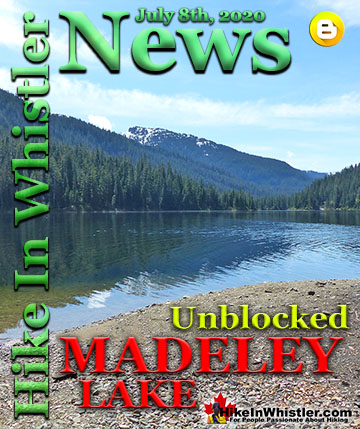 July 8th, 2020:
One of Whistler's most impressive drive-to mountain lakes,
Madeley Lake
is accessible once again. It appears a large public outcry forced, or ...
Read More
Read More
December 27th, 2021:
The Rubble Creek trailhead to Garibaldi Provincial Park is not being snowplowed this winter(2021/2022).  Last winter, after years of ...
Read More
May 3rd, 2019:
The beautiful murals that make
Whistler Train Wreck
the magical place it is today, began appearing in 2011.  Artists ranging from aspiring ...
Read More
Whistler & Garibaldi Hiking

Alexander Falls  

Ancient Cedars  

Black Tusk  

Blackcomb Mountain  

Brandywine Falls  

Brandywine Meadows  

Brew Lake  

Callaghan Lake  

Cheakamus Lake  

Cheakamus River  

Cirque Lake 

Flank Trail 

Garibaldi Lake 

Garibaldi Park 

Helm Creek  

Jane Lakes 

Joffre Lakes  

Keyhole Hot Springs  

Logger's Lake  

Madeley Lake  

Meager Hot Springs 

Nairn Falls  

Newt Lake 

Panorama Ridge 

Parkhurst Ghost Town 

Rainbow Falls  

Rainbow Lake 

Ring Lake  

Russet Lake  

Sea to Sky Trail 

Skookumchuck Hot Springs  

Sloquet Hot Springs 

Sproatt East 

Sproatt West  

Taylor Meadows  

Train Wreck  

Wedgemount Lake  

Whistler Mountain

January 

February 

March 

April 

May 

June 

July 

August 

September 

October 

November 

December