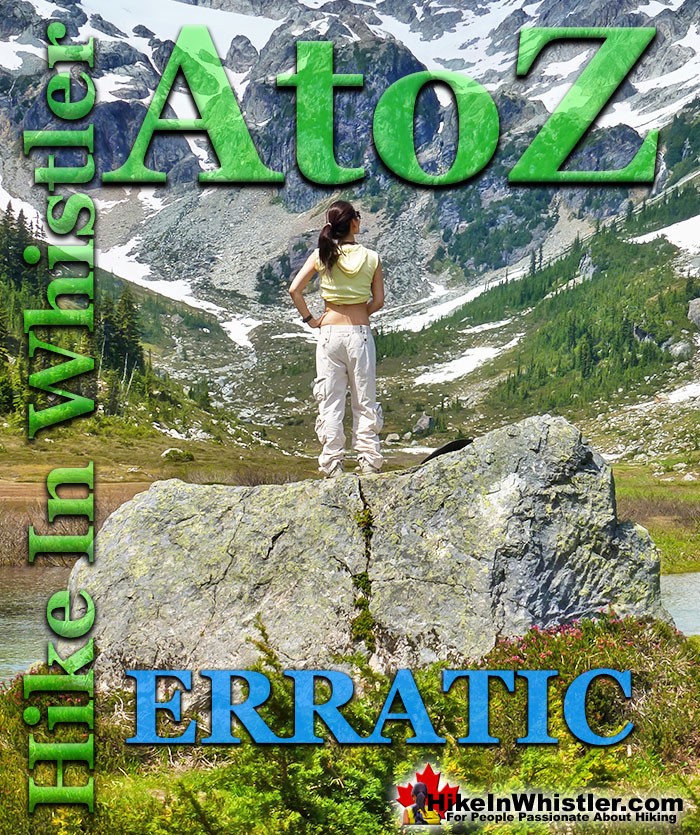 Erratic or glacier erratic is a piece of rock that has been carried by glacial ice, often hundreds of kilometres.  Characteristic of their massive size and improbable looking placement.  Erratics are frequently seen around Whistler and Garibaldi Provincial Park.  Either as bizarre curiosities or a place to relax in the sun.  On a sunny day, a large sun-facing erratic will often be warm and sometimes even hot, providing a comfortable and surreal place to rest. 
Whistler & Garibaldi Hiking

Alexander Falls  

Ancient Cedars  

Black Tusk  

Blackcomb Mountain  

Brandywine Falls  

Brandywine Meadows  

Brew Lake  

Callaghan Lake  

Cheakamus Lake  

Cheakamus River  

Cirque Lake 

Flank Trail 

Garibaldi Lake 

Garibaldi Park 

Helm Creek  

Jane Lakes 

Joffre Lakes  

Keyhole Hot Springs  

Logger's Lake  

Madeley Lake  

Meager Hot Springs 

Nairn Falls  

Newt Lake 

Panorama Ridge 

Parkhurst Ghost Town 

Rainbow Falls  

Rainbow Lake 

Ring Lake  

Russet Lake  

Sea to Sky Trail 

Skookumchuck Hot Springs  

Sloquet Hot Springs 

Sproatt East 

Sproatt West  

Taylor Meadows  

Train Wreck  

Wedgemount Lake  

Whistler Mountain

January 

February 

March 

April 

May 

June 

July 

August 

September 

October 

November 

December
During the last ice age, glaciers covered British Columbia, and where Whistler is today, the glaciers were two kilometres thick.  Glaciers from the last ice age can often be measured by the grinding marks made on the mountains they covered.  In the mountains around Whistler you can see just a few that poked through the glaciers, leaving their peaks jagged.  Other, shorter mountains around Whistler can be easily recognized as completely covered in ice.  Shown by their rounded, glacier ground peaks.  The most impressive erratics lay in an area with dissimilar rock types in the surrounding mountains.  For example, rock and mountains around the erratic should be of different colour, texture and composition.  An erratic should look very out of place and distinct from its surroundings.  Erratics are frequently the result of glaciers carrying or grinding the erratic as it slowly moves down a glacier valley.  Rock slides from mountains can deposit house sized boulders onto a glacier which then slides down a valley for centuries, eventually releasing it.  These erratics are easy to trace back to their parent rock by matching them to identical rocks up the likely ice flow route.  Ice rafting is another way erratics have been moved great distances.  Ice rafting results from an ice dam breaking apart and tremendous volumes of water and ice flooding through.  These erratics are often detected by the high water marks left by the floods that moved them.  Another cause of erratics is via icebergs floating in the ocean and eventually releasing the rock encased in the melting ice.
Brandywine Meadows Lounge Chair Erratic
 Monstrous Erratic Along the Brandywine Meadows Trail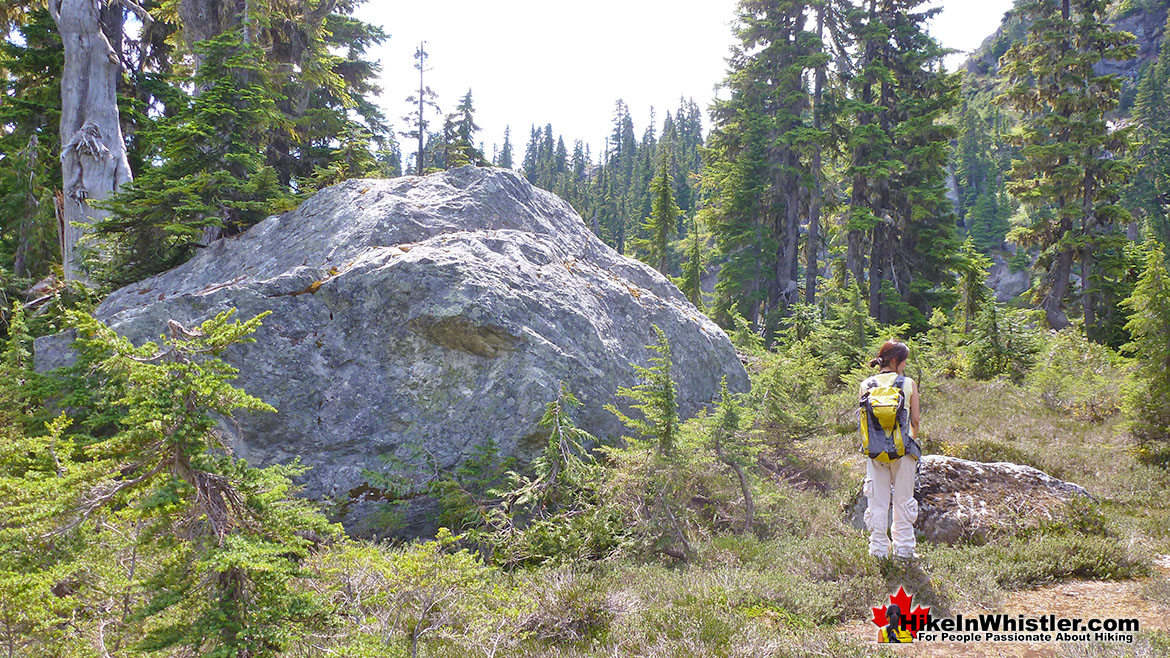 Enormous Broken Erratic Along the Flank Trail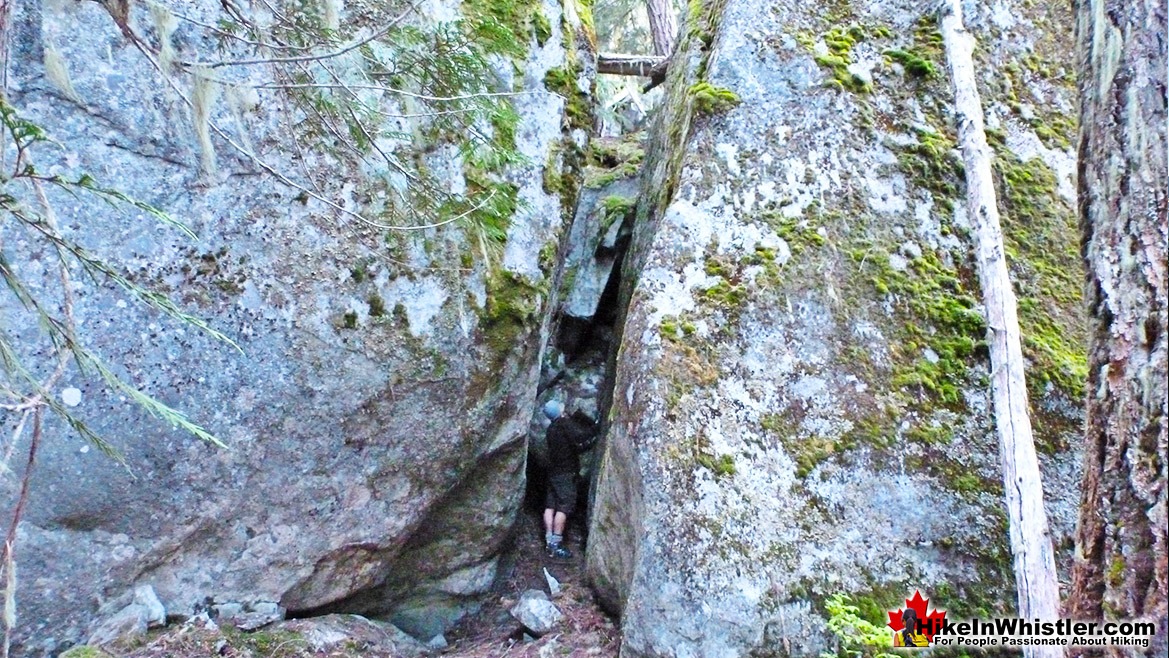 Erratic at Beautiful Wedgemount Lake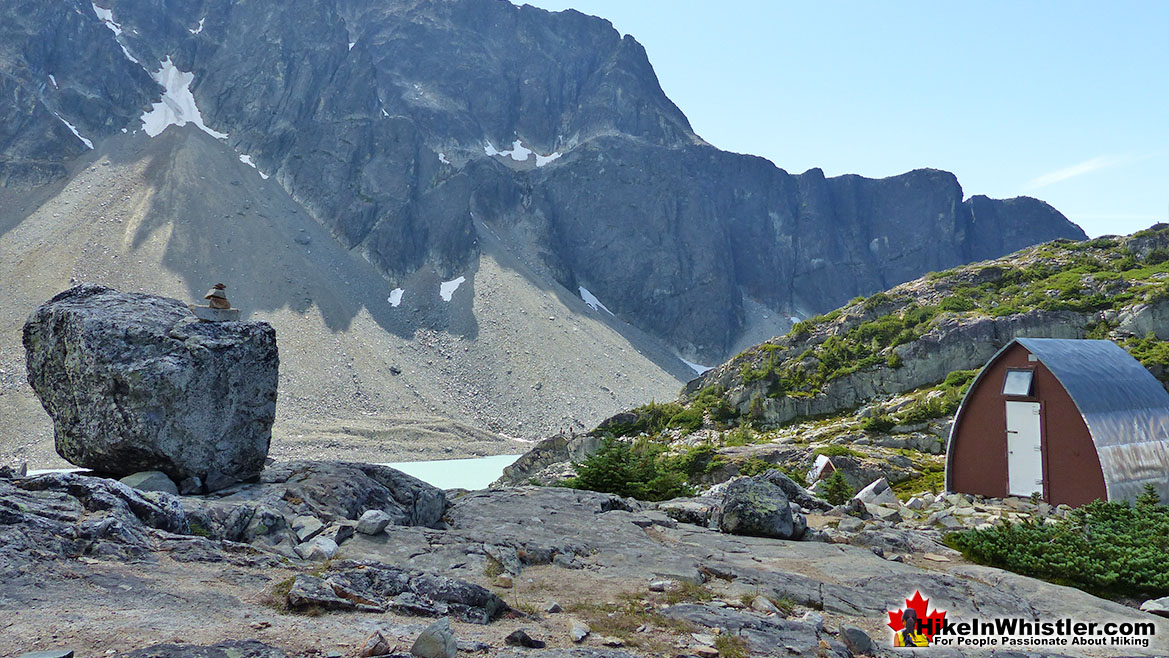 Erratic at Russet Lake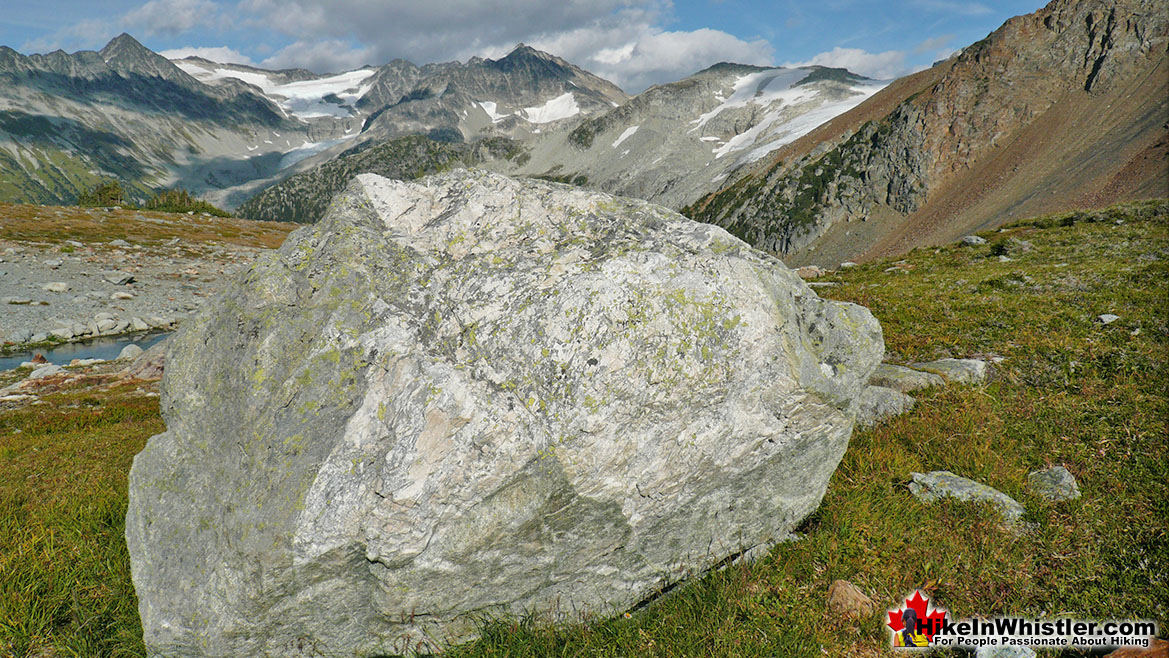 Erratic Split by a Tree on the Helm Creek Trail
More Whistler & Garibaldi Park Hiking A to Z!

The Best Whistler & Garibaldi Park Hiking Trails!
Whistler & Garibaldi Park Best Hiking by Month!

Explore BC Hiking Destinations!