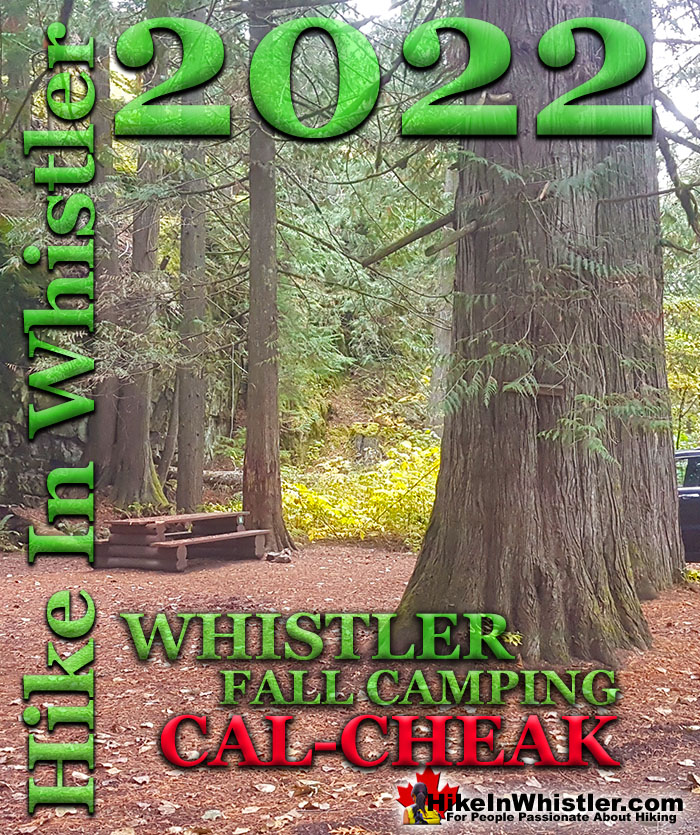 October 22nd, 2022: The Cal-Cheak campground just south of Whistler sits in a tranquil, huge tree forest, nestled between Callaghan Creek and Cheakamus River.  Both Callaghan Creek and Cheakamus River are huge and chaotic torrents of turquoise water that surround the campground on three sides.  Cal-Cheak Recreation Site is divided into three campsite areas, Callaghan Camp is adjacent to Callaghan Creek, the North Camp is along Cheakamus River, and the South Camp has both merging around it. 
Whistler & Garibaldi Hiking

Alexander Falls  

Ancient Cedars  

Black Tusk  

Blackcomb Mountain  

Brandywine Falls  

Brandywine Meadows  

Brew Lake  

Callaghan Lake  

Cheakamus Lake  

Cheakamus River  

Cirque Lake 

Flank Trail 

Garibaldi Lake 

Garibaldi Park 

Helm Creek  

Jane Lakes 

Joffre Lakes  

Keyhole Hot Springs  

Logger's Lake  

Madeley Lake  

Meager Hot Springs 

Nairn Falls  

Newt Lake 

Panorama Ridge 

Parkhurst Ghost Town 

Rainbow Falls  

Rainbow Lake 

Ring Lake  

Russet Lake  

Sea to Sky Trail 

Skookumchuck Hot Springs  

Sloquet Hot Springs 

Sproatt East 

Sproatt West  

Taylor Meadows  

Train Wreck  

Wedgemount Lake  

Whistler Mountain

January 

February 

March 

April 

May 

June 

July 

August 

September 

October 

November 

December
The beautiful, Cal-Cheak suspension bridge spans Callaghan Creek just before it flows into Cheakamus River.  Over fifty, well spaced and organized, drive-in campsites are dispersed throughout the forest and you are never more than a stones throw from a water view.  The Sea to Sky Trail runs right through the middle of Cal-Cheak and splits into two routes heading south on either side of Cheakamus River.  They meet again a couple kilometres downriver after the Whistler Bungee Bridge which crosses Cheakamus River at a dizzying height.  Another couple kilometres away, the Sea to Sky Trail takes you through Brandywine Falls Provincial Park, yet another beautiful sight within walking distance from your camp.  With the excellent location and beautiful setting, you would expect Cal-Cheak to be expensive, but it is remarkably cheap.  Because it is a Recreation Sites and Trails BC campground, the campsite fees are very low at just $15 per campsite, per night.  By way of comparison, the two other Whistler campgrounds that are privately owned charge over $45.  They have lots of amenities like showers, electricity, flushing toilets, internet, etc.  But with more amenities, they obscure the wilderness and take away what most people are looking for.. to get away from civilization.  At Cal-Cheak you are immersed in the wild, beautiful wilderness and connected to Whistler via the Sea to Sky Trail.  Cal-Cheak Recreation Site is easy to find off the Sea to Sky Highway, just 13 kilometres south of Whistler Village.  Unfortunately there is no left turn lane, so you have to drive 0.8km further down the highway and turn right onto Callaghan Lake Road and do a U-turn.  Back onto the highway, heading north for 0.8km and turn right at the sign for Cal-Cheak Recreation Site(Whistler Bungee is also down here and you will see that highway sign as well).  After you turn off the highway, you will immediately cross the train tracks and down the gravel road that runs between the three Cal-Cheak campground areas.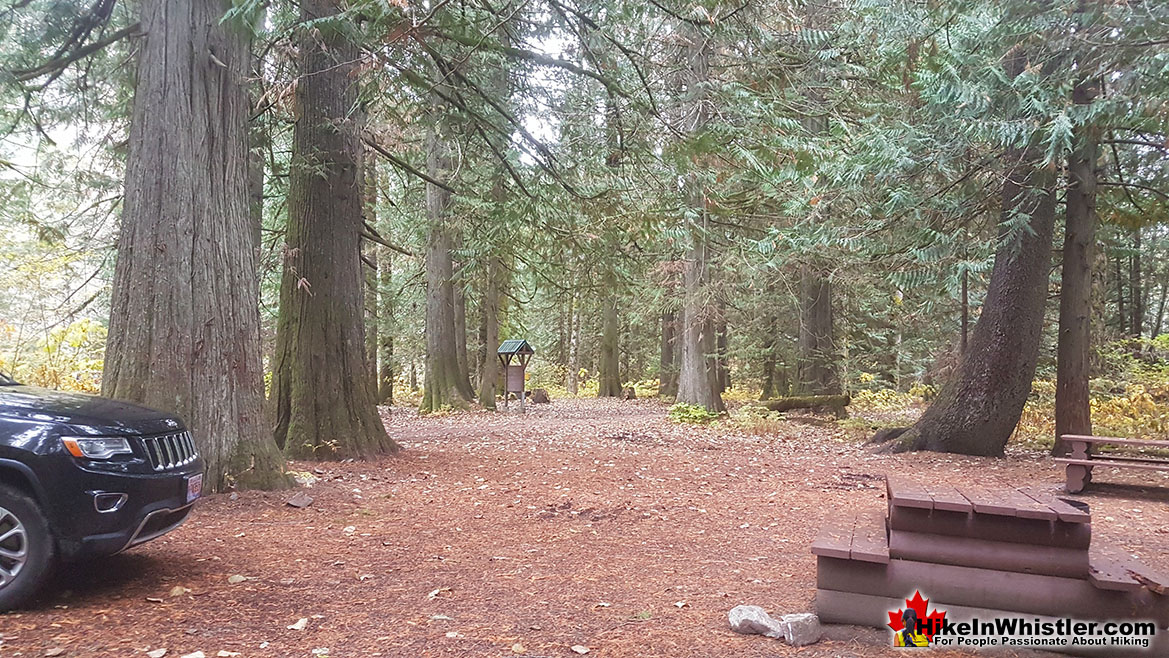 Cal-Cheak Campsites: Callaghan Camp and North Camp
The first entrance you will pass on the right and is nicely located along Callaghan Creek with 16 drive-in campsites in the forest.  Being the first of the three campsite areas, Callaghan Camp tends to be the least serene and feels a bit busier than the other two.  There are three outhouses(one is wheelchair accessible) and two bearproof storage areas.  The second entrance will be on the left where the gravel road bends to the right.  This campground(North Camp) is found at the end of a short gravel road leading to a ring road with 10 drive in campsites all around it and mostly backing onto Cheakamus River.  Big trees, beautiful river and fewer campsites make this area very tranquil and hidden feeling.  The forest here has some huge trees and nice rock cliffs that give it a more secluded and private feel.  Also, the Cheakamus River is big and impressive as it bends around a nice grassy area with picnic tables that is very sunny in the morning.  The thick forest blocks the sun from much of the rest of the campsites in Cal-Cheak, but the North Camp gets some morning sun here.
Cal-Cheak Campsites: The South Camp
The third set of campsites is found further down the gravel road towards the Whistler Bungee Bridge, on the right.  The South Camp has 23 campsites in an excellent location where the Cheakamus River and Callaghan Creek meet.  Lots of beautiful, water views and the suspension bridge crosses Callaghan Creek here.  You also get a fair bit of sun here along Cheakamus River, though most of the campsites here are clustered in the forest.  As with the Callaghan Camp, these campsites can feel a bit busy compared to the 10 sites at the North Camp, though the South Camp has arguably the best location of the three.  The suspension bridge and the converging Callaghan Creek and Cheakamus River make it the most scenic of the three campsite areas.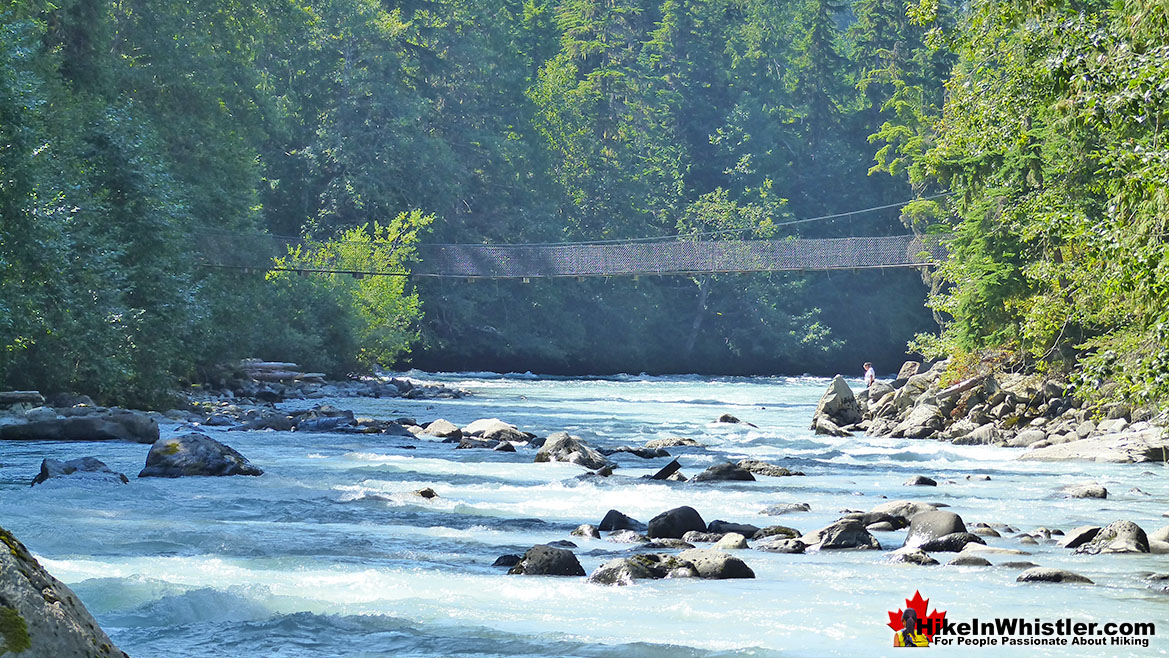 Cal-Cheak Recreation Site
Cal-Cheak Recreation Site is maintained by a caretaker from May 1st to October 31st.  Outside these dates you can camp for free, though snow may prevent you from driving into the campsites.  Snowfall in the area varies from year to year, but often only falls consistently in late November until March, though takes until late April to melt from the campsites.  The gravel access road to the Whistler Bungee Bridge is used year-round and though hard packed with snow in the winter, is drivable by non 4x4's for the section of road leading to the three campsite entrances.  Campsites cannot be reserved and fees are payable by cash to the Site Operator.  You will find envelopes and a drop box at the first campsite to pay by cash once you select your campsite.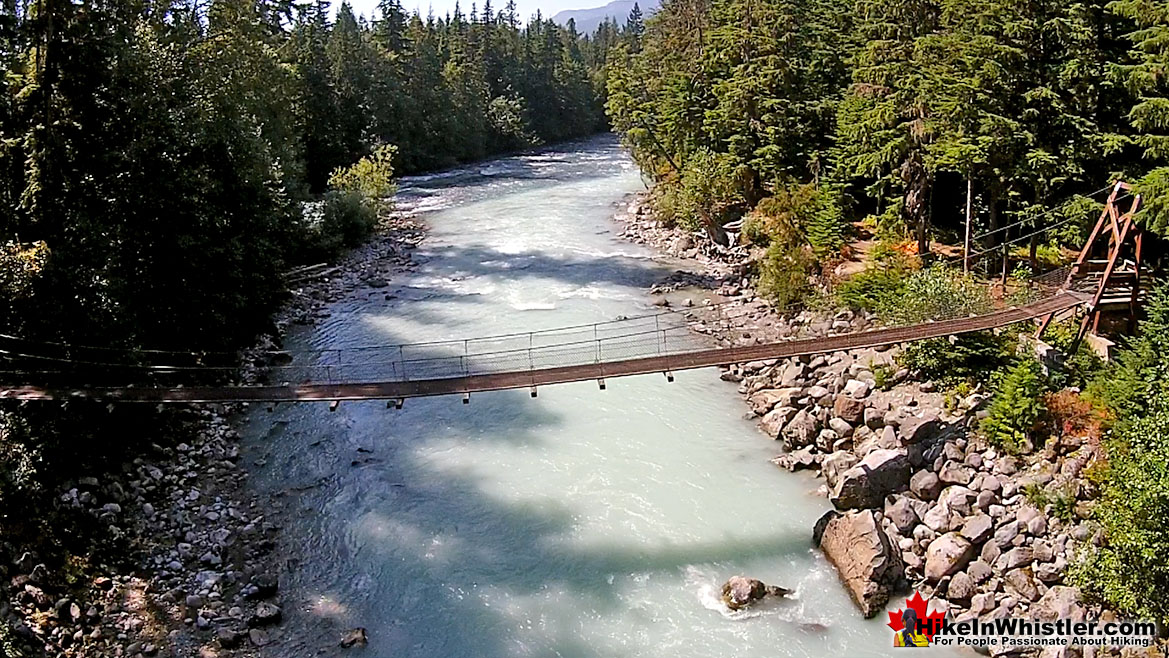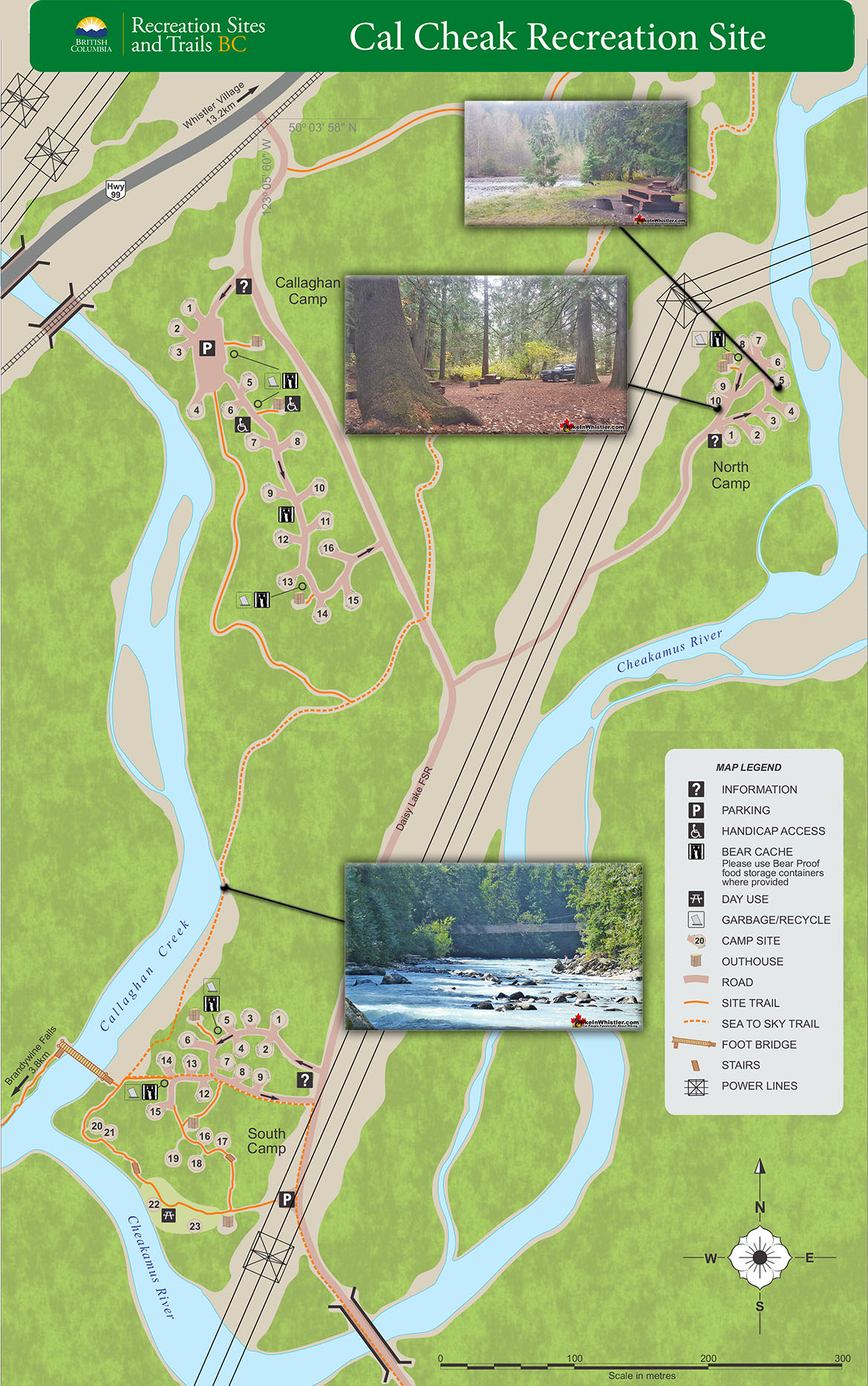 More Whistler Updates!

Whistler & Garibaldi Park Hiking Glossary A to Z
Whistler & Garibaldi Park Best Hiking by Month!

Explore BC Hiking Destinations!