Ring Lake is a fantastically serene and wonderfully remote lake similar to Cirque Lake, but considerably farther to hike to reach it. The 10 kilometre(6.2 mile) hike takes you through a rarely hiked forest, then to an idyllic meadow filled with ponds and ringed with distant, mountains, then finally up an over some steep terrain to reveal this very hidden lake. 5 kilometres(3.1 miles) into the hike you come to Conflict Lake with trails running around it.
Idyllic lake high up in the mountains

Nice and varied trail infrequently hiked

Lots of accessible alpine routes beyond the lake

Black Tusk's little brother sits across the lake

Ring Lake feels wonderfully far from the world

Trail starts from beautiful Callaghan Lake

The trail is longer than other Whistler trails
No wow factor like Wedgemount or Joffre Lakes
Easy to lose the trail if you aren't careful

Local tour company marches groups through

Whistler & Garibaldi Hiking

Alexander Falls  

Ancient Cedars  

Black Tusk  

Blackcomb Mountain  

Brandywine Falls  

Brandywine Meadows  

Brew Lake  

Callaghan Lake  

Cheakamus Lake  

Cheakamus River  

Cirque Lake 

Flank Trail 

Garibaldi Lake 

Garibaldi Park 

Helm Creek  

Jane Lakes 

Joffre Lakes  

Keyhole Hot Springs  

Logger's Lake  

Madeley Lake  

Meager Hot Springs 

Nairn Falls  

Newt Lake 

Panorama Ridge 

Parkhurst Ghost Town 

Rainbow Falls  

Rainbow Lake 

Ring Lake  

Russet Lake  

Sea to Sky Trail 

Skookumchuck Hot Springs  

Sloquet Hot Springs 

Sproatt East 

Sproatt West  

Taylor Meadows  

Train Wreck  

Wedgemount Lake  

Whistler Mountain

January 

February 

March 

April 

May 

June 

July 

August 

September 

October 

November 

December
Journeyman Lodge sits near Conflict Lake. A wilderness lodge operated by Callaghan Country, a tour company that operates in the valley. They offer a range of alpine activities, far more serene than across the valley on Whistler Mountain and Blackcomb Mountain. Signs along the trail and at Conflict Lake indicate which trail to take to reach Ring Lake, a further 5 kilometres from Conflict Lake.  The trail from Conflict Lake to Ring Lake passes through a huge valley for a couple kilometres, then abruptly ascends on the right side of the valley. The trail is poorly marked in this section and you have to keep bearing right to avoid descending back into the valley. The trail is occasionally maintained, however owing to heavy winter snow, the trail gets pretty brutalized every winter.  Because of the winter destruction, the visible trail in some parts disappears and you find yourself wondering if you are still on your way to Ring Lake. The key to staying on the right route, you quickly figure out, is to keep to the right side of the valley. Three kilometres of, at times very steep, but not technical trail gets you to the magnificent Ring Lake and the imposing Ring Mountain across the emerald green water.
Finding the Trailhead to Ring Lake
The trailhead to Ring and Conflict Lakes is very close to the Callaghan Lake Provincial Park campsite. From the campsite, drive a couple hundred metres as if returning to Whistler and you will see a clearing on the right and a very well worn trail. From this trail you will see plenty of signs to guide you first to Conflict Lake in 5 kilometres, then Ring Lake, another 5 kilometres past Conflict. The 5 kilometre hike to Conflict Lake is quite relaxed and easy as you don't gain any significant elevation. The 5 kilometres from Conflict to Ring Lake is very steep, and though marked well with flagging tape and cairns, if often difficult to follow. Though the 10 kilometre trail is comparatively longer than most other Whistler hiking trails, the reward when you reach the end is magnificent. Unspoiled wilderness. Jagged mountain peaks, evidently from geologically recent volcanic activity. Snowy mountains beyond, and the stunningly clear and serene Ring Lake filling the valley.  Ring Lake and Conflict Lake have their own, unmarked trailhead, a stones throw from the parking/campsite area for Callaghan Lake Provincial Park.  It is very easy to find once you arrive at Callaghan Lake. Just a few metres outside/before the campsite/parking area at Callaghan Lake you will see a large area at the edge of the road with room for about 8 cars.  The wide and very visible trail enters the forest and almost immediately crosses a large bridge over Callaghan Creek. Shortly after that you will spot trail signs at various stretches of the trail.  Easy to follow and with good distance markers.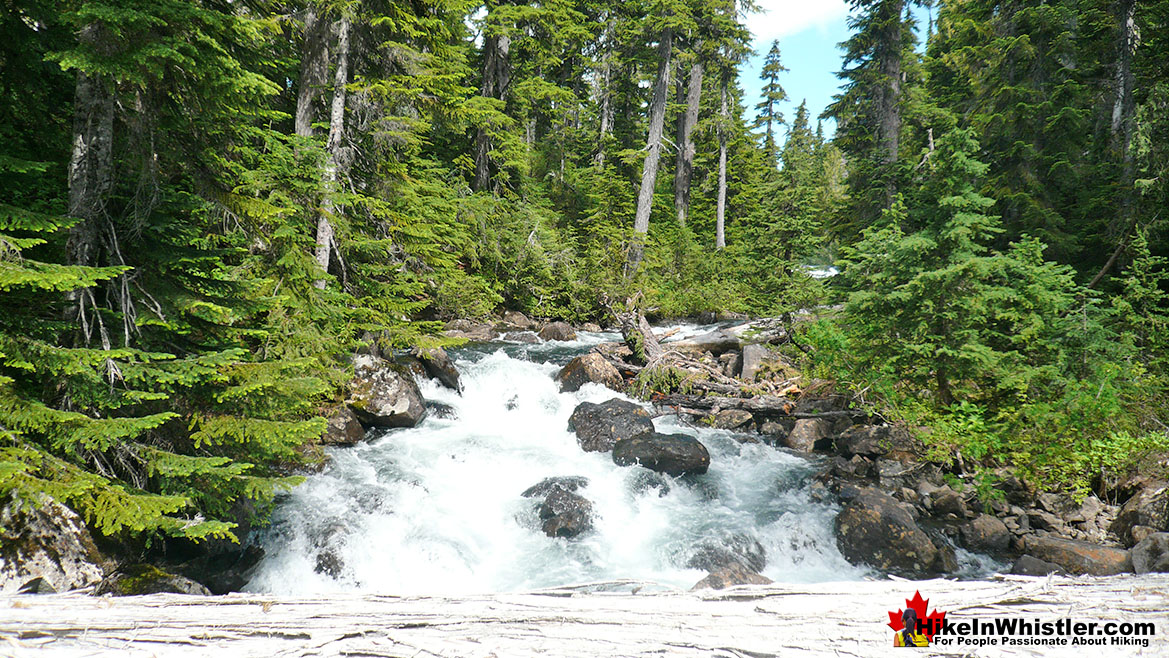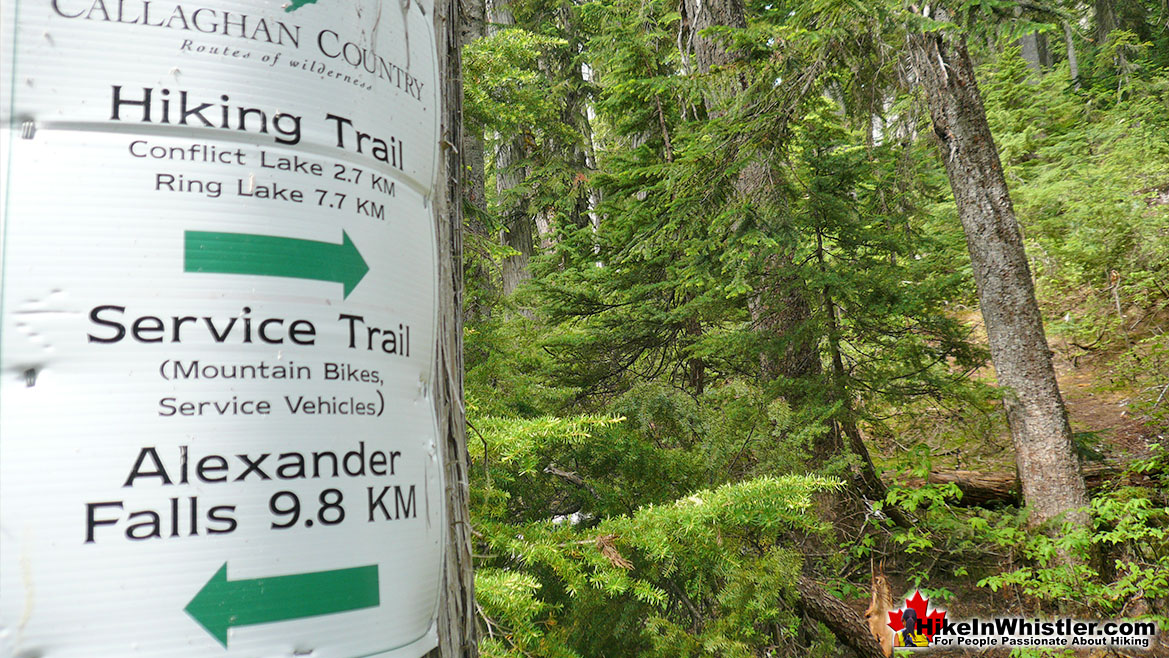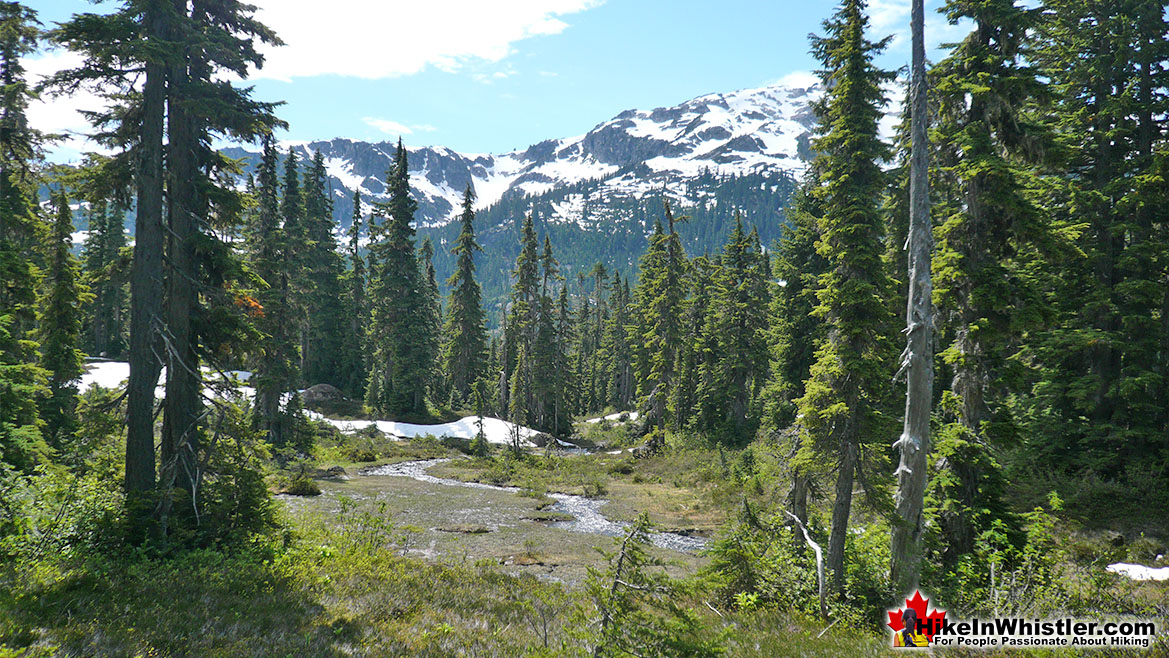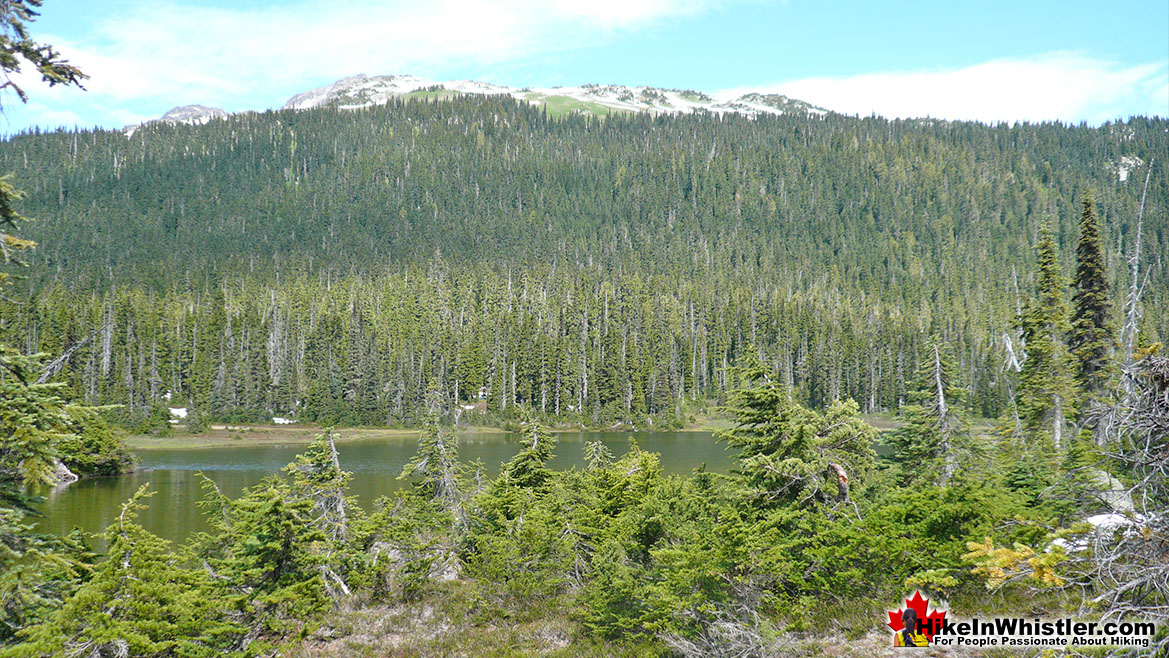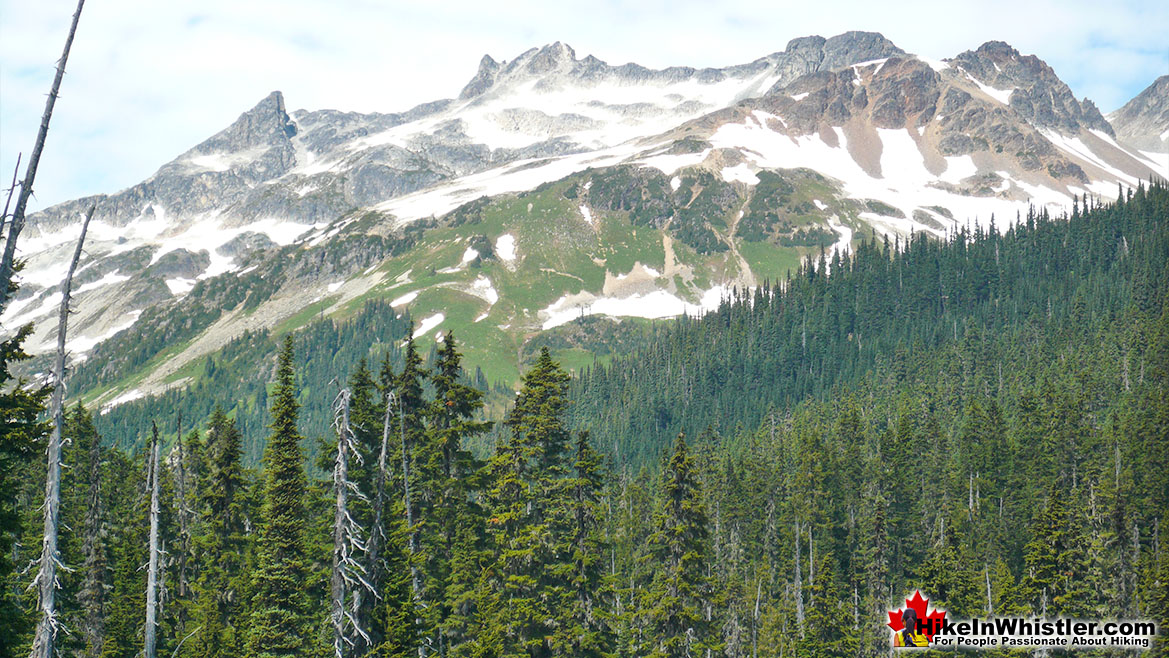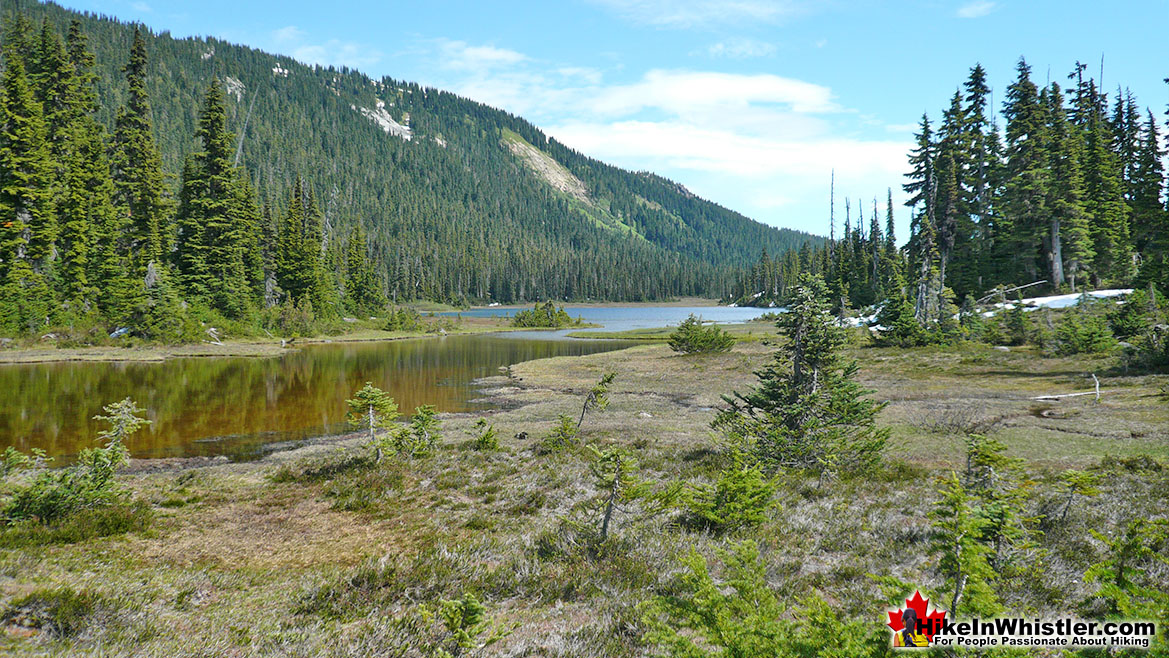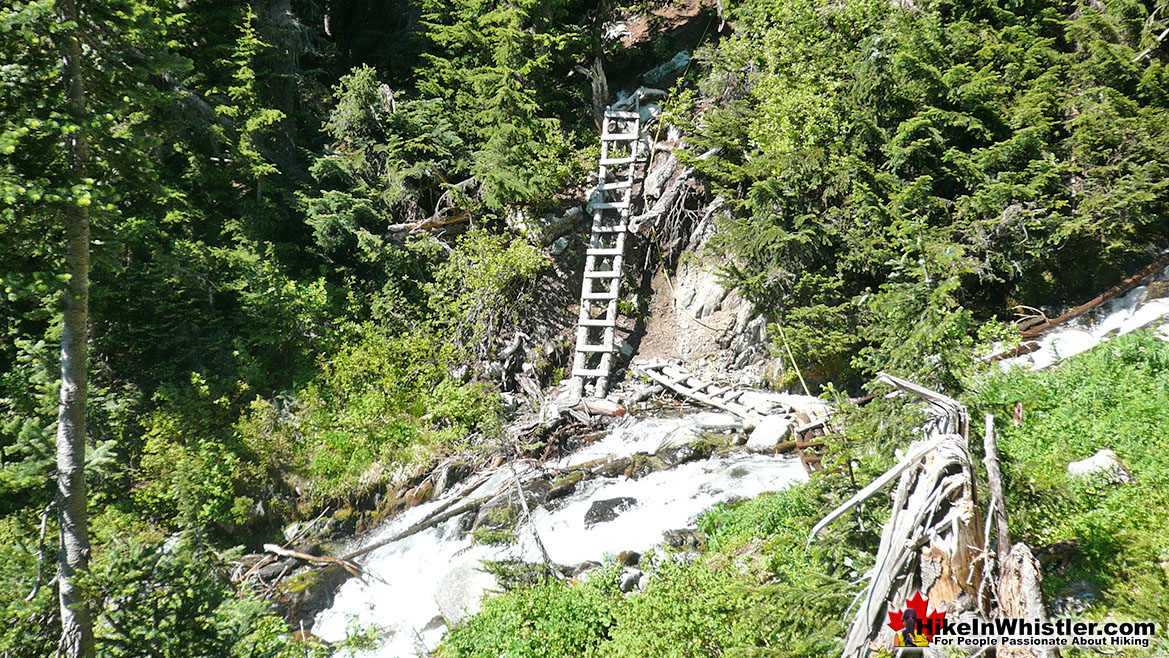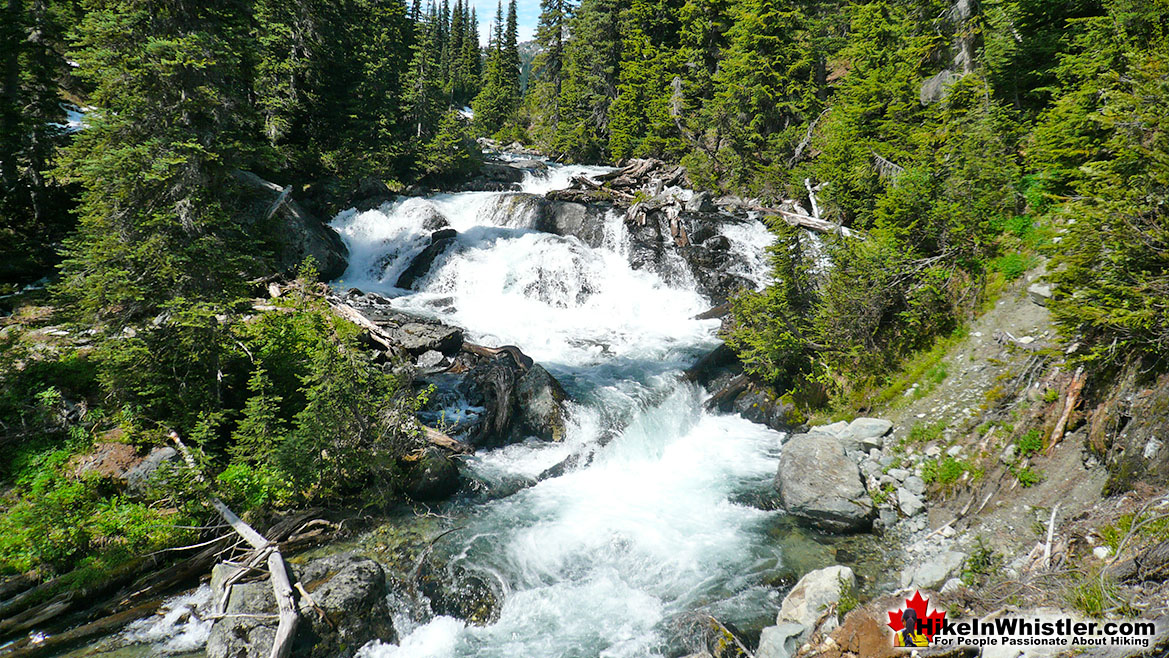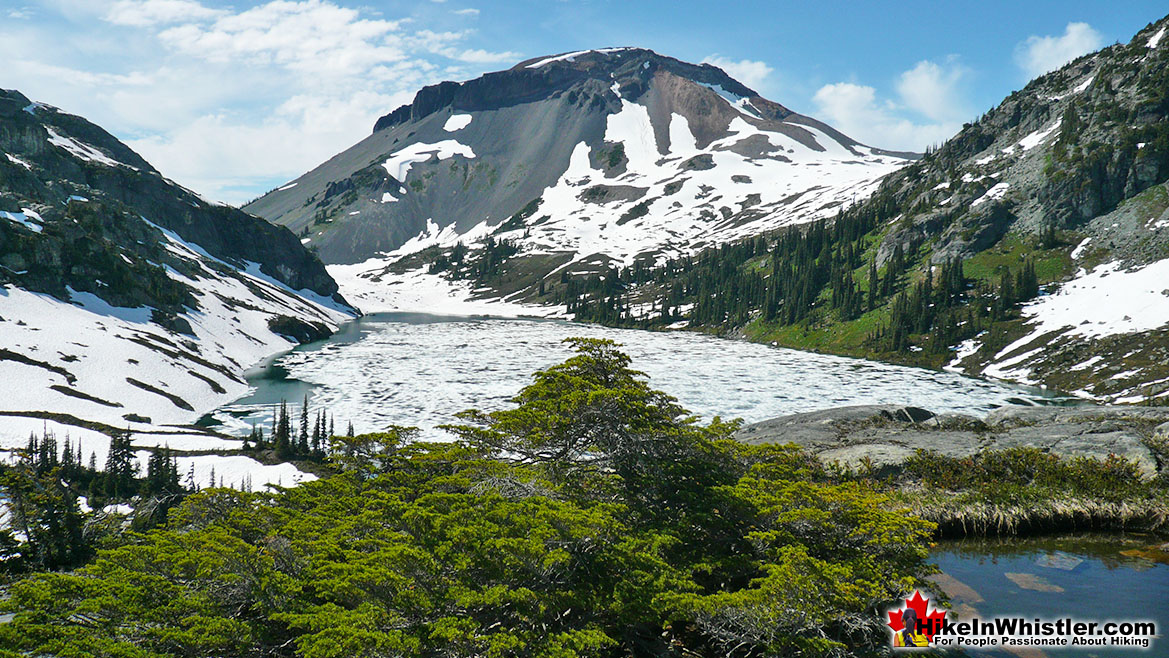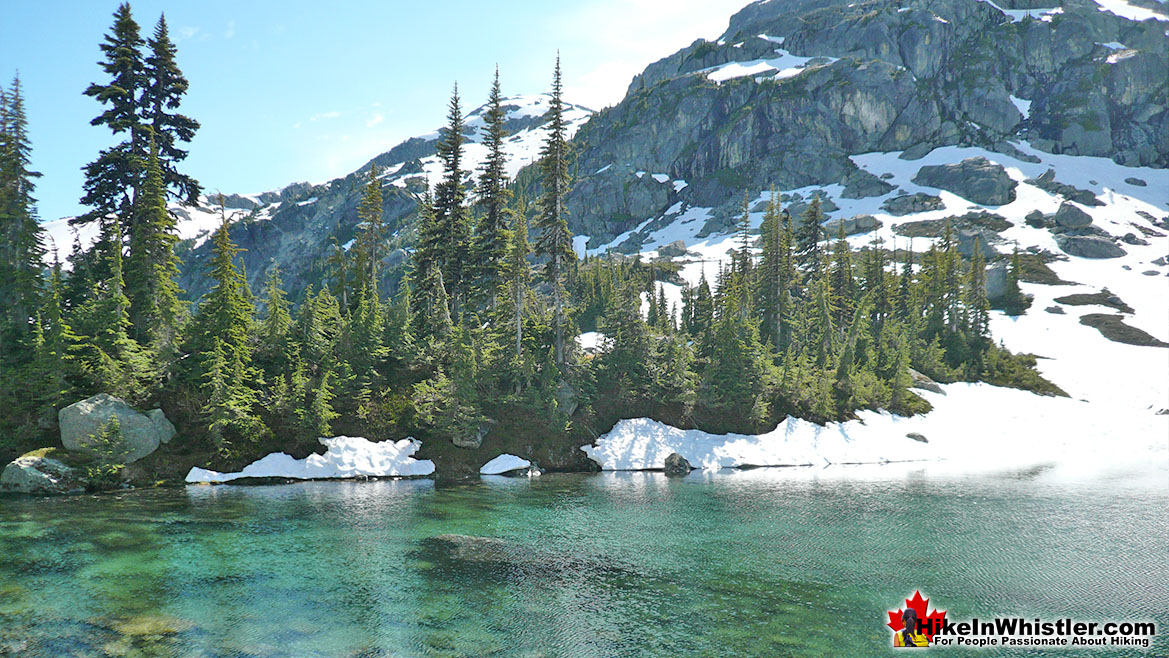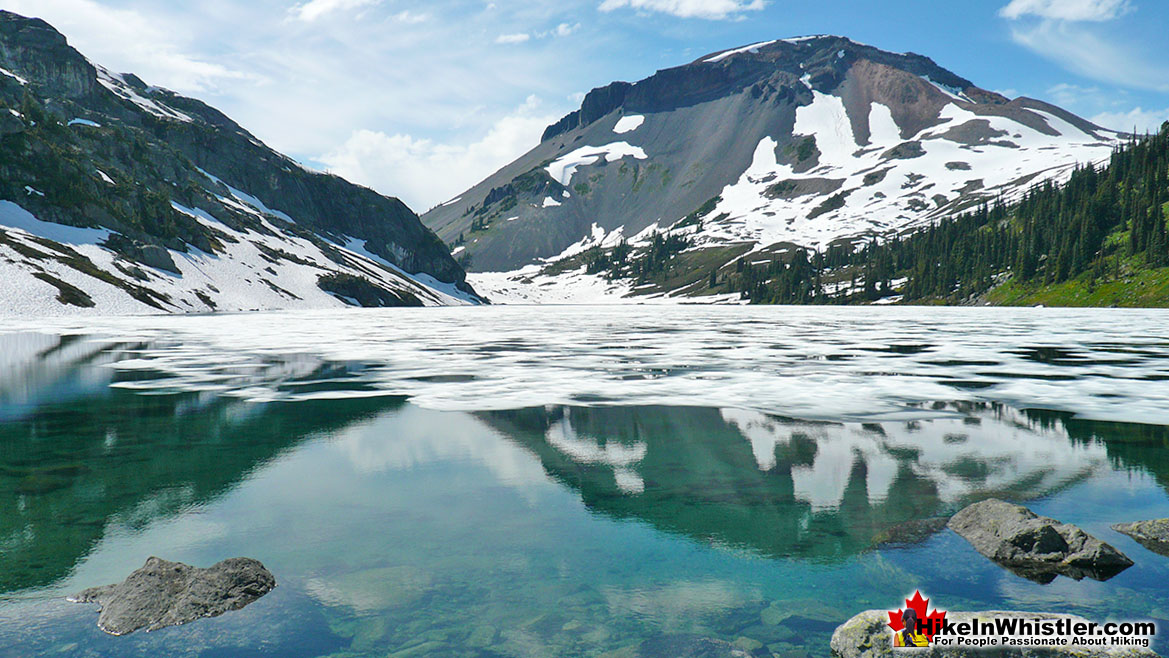 Trailhead & Parking Directions to Ring Lake

The Callaghan Valley Road turnoff to Callaghan Lake is 13.8km south of Whistler Village. From Whistler drive 13.8 kilometres on the Sea to Sky highway towards Vancouver, then turn right at the sign for Whistler Olympic Park. Drive up the beautiful, winding road for about 9.6 kilometres. The sign for Callaghan Lake will be just before Whistler Olympic Park, you will turn left, cross a bridge and drive a bumpy logging road for 8.5 kilometres. This logging road is usually deep with snow until mid June, however the road is blocked by a gate until May 15 every year. The trailhead for Ring and Conflict Lake is on the left, about 100 metres before the Callaghan Lake campsite. There is room for about 6 vehicles at this unmarked trailhead.  There are plenty more parking spaces at Callaghan Lake, an outhouse, boat launch and several nice drive-to campsites.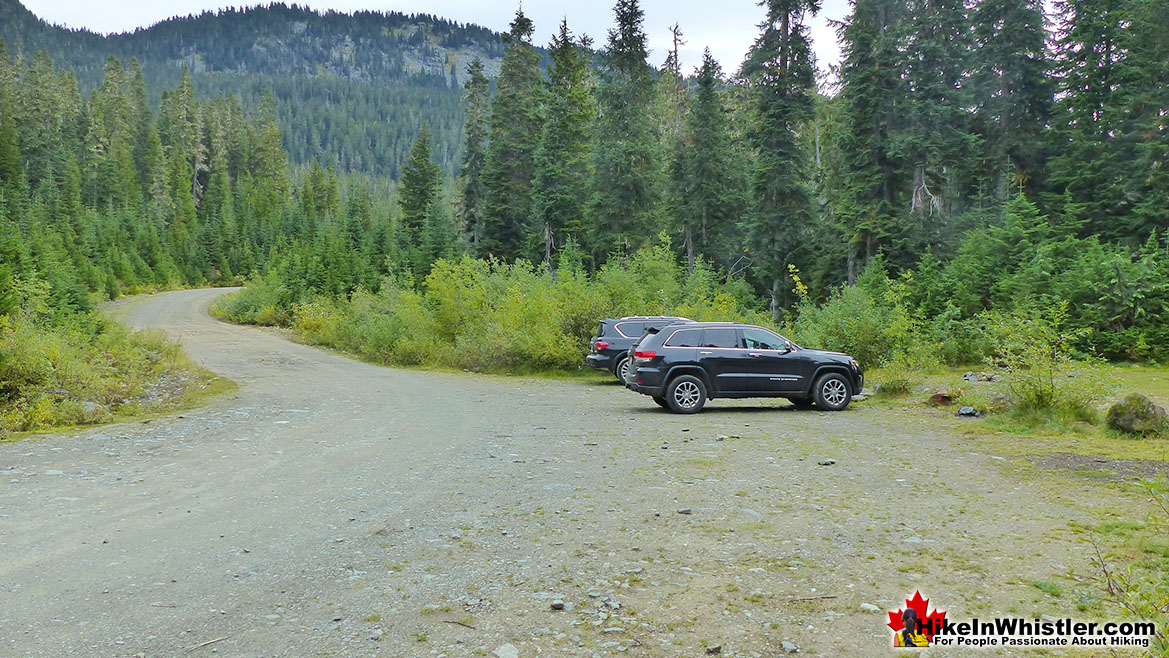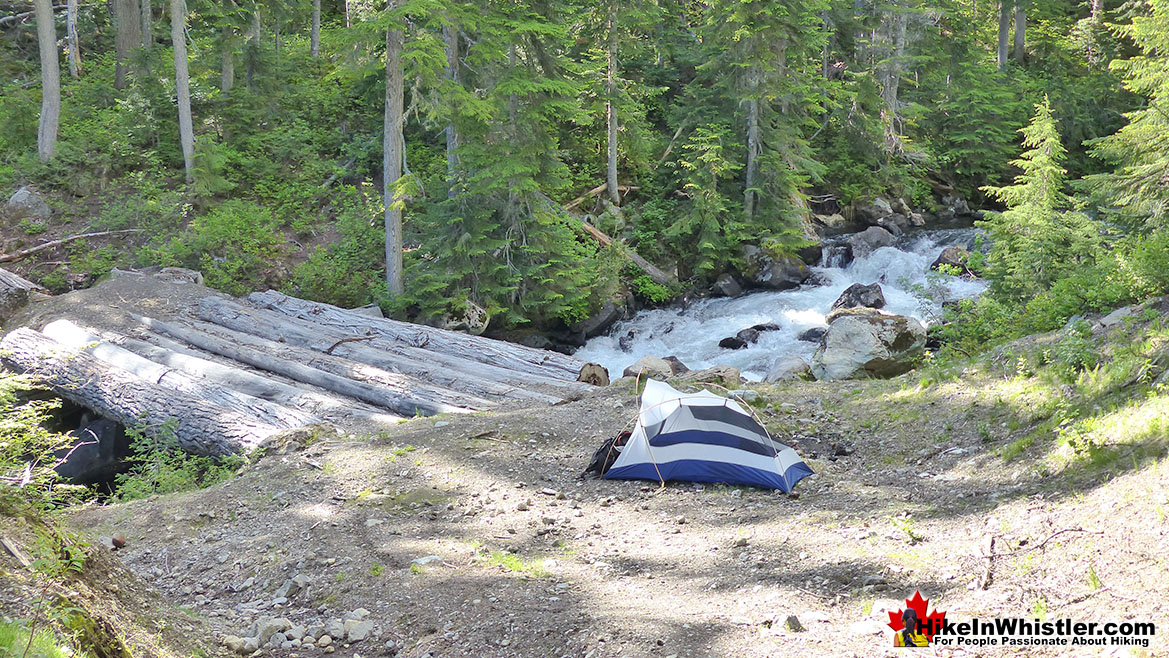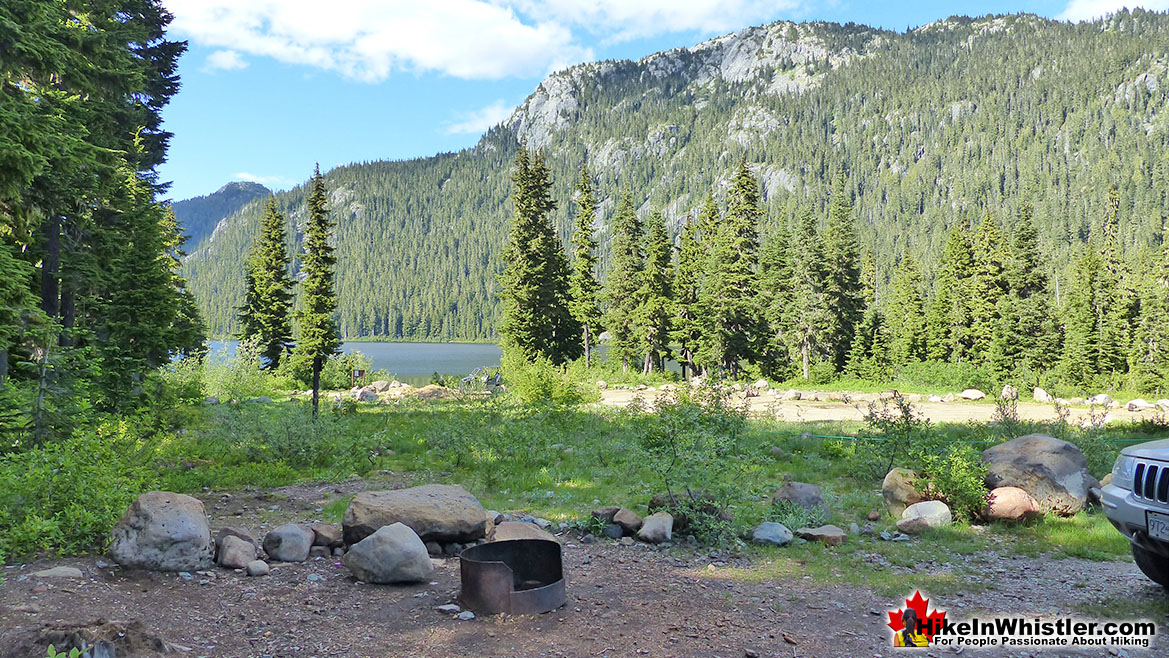 More Great Hiking Around Ring Lake

The Callaghan Valley lays quietly across from Whistler despite being home to some incredible hikes.  Ring & Conflict Lake and Cirque Lake are two phenomenal hiking destinations in the valley that few people have even heard of. Cirque Lake resides high above Callaghan Lake at the end of a very steep, though very short hike that runs startlingly close to the almost vertical falls that empty Cirque Lake. Ring and Conflict Lakes sit high up in the mountains 10 kilometres west of Callaghan Lake. You will never, or at least comparatively rarely see anyone on the trails to Cirque Lake, Conflict Lake or Ring Lake for several reasons. First is location.  Despite the Callaghan Valley being tremendously beautiful geographically. The distant mountains are snow covered, even in September.  The lakes are emerald coloured and crystal clear. The forests are an untouched blanket of beautiful green.  The creeks, rivers and waterfalls are everywhere in your view or if not in view, heard as distant sounds of running water. Despite this beauty, it seems that the biggest reason for the Callaghan Valley's lack of use as a hiking destination is its location next to Garibaldi Provincial Park.
The beautiful and well known park focuses all the throngs of hikers in the justifiably popular areas of Garibaldi Lake, Black Tusk, Taylor Meadows, Wedgemount Lake and Elfin Lakes.  Laying outside this monstrously famous Provincial Park exists the relatively untouched and unknown Callaghan Valley.  The second big reason of course is that the hikes in the Callaghan Valley are unmaintained or at least rarely maintained. The campsite at Callaghan Lake is maintained to a very high standard, however the trail to Cirque Lake is by comparison unmaintained.  Just finding the Cirque Lake trailhead is a challenge. There are flagging tapes along the trail after the trailhead. The third reason, at least for Cirque Lake, for being hardly hiked is the fact that the unmarked trailhead starts at the far end of Callaghan Lake.
So you need to canoe or otherwise, boat there. This added impediment surely contributes to this wonderful trail, continuing to be infrequently hiked. The fourth, more practical, yet inexplicable reason is that the road to Callaghan Lake Provincial Park is horribly unmaintained. Obviously grading this poor logging road is expensive, however it is beyond neglected. Boulders, waterbars and potholes exist on this road to such a high degree that the neglect seems malicious.  In fact, the moment you leave the deluxe road to the Olympic Nordic Centre the monstrous potholes begin, presumably scaring away any 4x4 lacking tourists Callaghan Lake Provincial Park bound. The Callaghan Valley gets a lot of drive in traffic since the recent paving of the road and installation of the fabulous Whistler Olympic Park for the 2010 Olympics. This road is open year-round and in the summer is frequented by bear watchers.  The grass along the road is a favourite for bears and in the summer months consistently ensures at least a couple bears along the route to the Callaghan Valley. Madeley Lake is an amazing place to camp.
If looking for solitude at a paradise, mountain lake, Madeley Lake is hard to beat.  Though somewhat popular with fishing, you are still likely to rarely see anyone at the lake in the summer and never in the fall. Once in a while you will see a car or two at the trailhead to Hanging Lake. If you have a canoe, Madeley Lake is a great place to paddle around or just float in the sun.  The trail from Madeley Lake to Hanging Lake is nice, however at times muddy.  Free of snow, usually from June to November most years(late May in 2015), this trail is a great way to avoid the much busier Rainbow Lake trail that starts from the Whistler side of this area.  If you can arrange to have someone drop you off at the trailhead you can hike all the way to Whistler Village via the Rainbow Lake trail and the Valley Trail.  The entire distance is about 23 kilometres and should only take about 6 hours, much of it steadily descending the beautiful Rainbow Trail.  The route is well marked and there are several map-boards along the route ensuring you find your way safely.
Two Fantastic Books About BC Hiking!

Here are two excellent books on hiking and geology of British Columbia.  Matt Gunn's Scrambles in Southwest British Columbia includes the various routes to the summit of Wedge Mountain as well as summit routes to the neighbouring peaks, Weart, Cook, Parkhurst and Rethel.  Mount Weart is the second highest mountain in Garibaldi Park and is located just north of Wedge Mountain, separated by the Wedge-Weart Col.  Published in 2005, Scrambles in Southwest British Columbia is still the best guide in print or online.  A Passion for Mountains by Kathryn Bridge is a fascinating look at Don and Phyllis Munday's prolific exploration of the mountains in BC.  Based out of Vancouver, they were dominant figures of the climbing community in the early 1900's.  In 1923 they visited their friend Neal Carter in Alta Lake(Whistler) and explored the mountains around the valley.. many for the first time!
**We participate in the Amazon Services LLC Associates Program and earn a small commission on purchases we link through to Amazon at no extra cost to you.  We only link to books and products we love and highly recommend.  Thanks for your support!**
Whistler & Garibaldi Park Hiking

Alexander Falls  

Ancient Cedars  

Black Tusk  

Blackcomb Mountain  

Brandywine Falls  

Brandywine Meadows  

Brew Lake  

Callaghan Lake  

Cheakamus Lake  

Cheakamus River  

Cirque Lake 

Flank Trail 

Garibaldi Lake 

Garibaldi Park 

Helm Creek  

Jane Lakes 

Joffre Lakes  

Keyhole Hot Springs  

Logger's Lake  

Madeley Lake  

Meager Hot Springs 

Nairn Falls  

Newt Lake 

Panorama Ridge 

Parkhurst Ghost Town 

Rainbow Falls  

Rainbow Lake 

Ring Lake  

Russet Lake  

Sea to Sky Trail 

Skookumchuck Hot Springs  

Sloquet Hot Springs 

Sproatt East 

Sproatt West  

Taylor Meadows  

Train Wreck  

Wedgemount Lake  

Whistler Mountain

January 

February 

March 

April 

May 

June 

July 

August 

September 

October 

November 

December