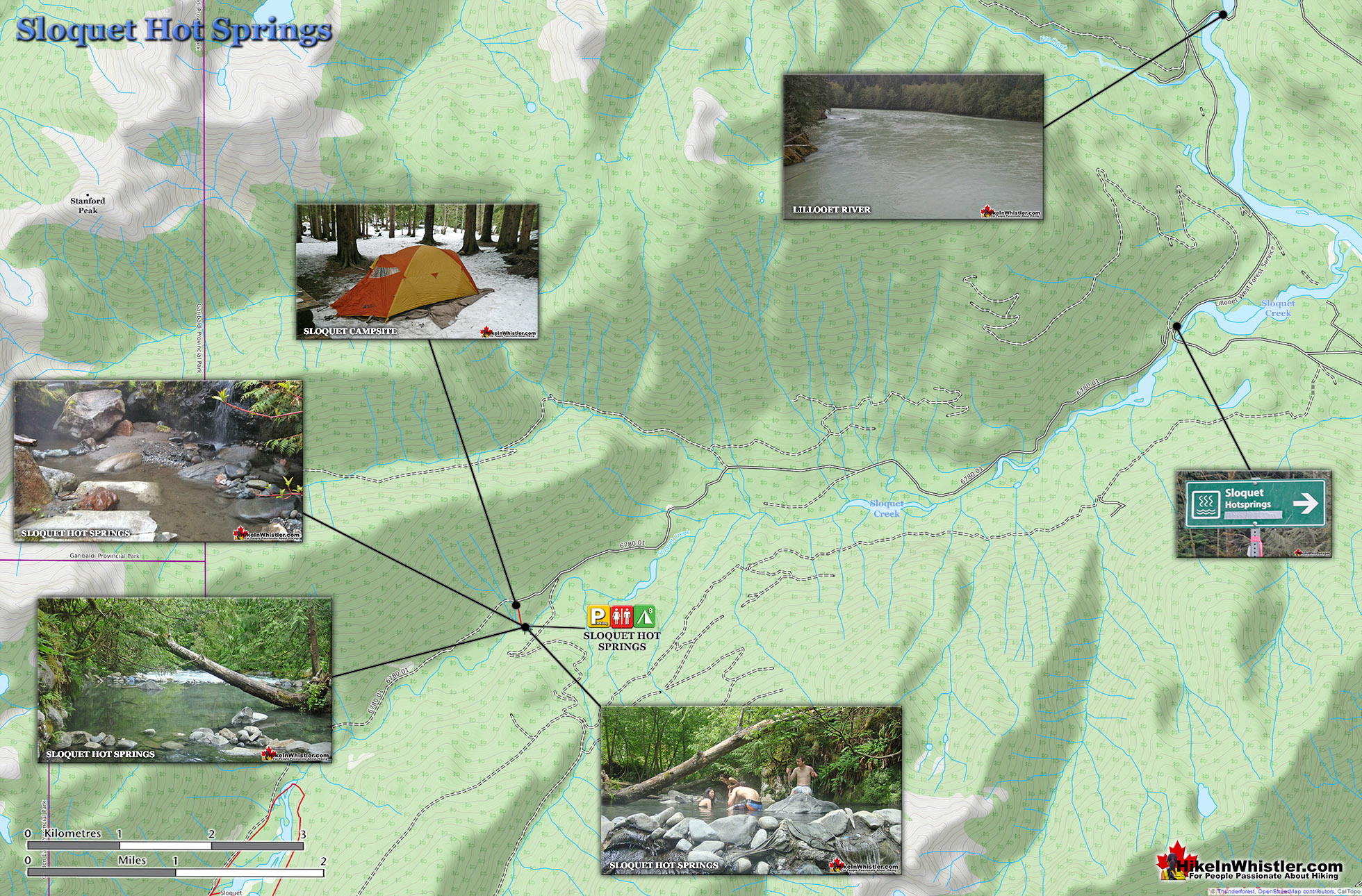 Sloquet Hot Springs is a wonderfully wild set of shallow, man-made pools fed by a small, all natural, and very hot, waterfall. The pools stretch from the waterfall to the large and crashing Sloquet River. The large, spread out campsite for the hot springs lies a short 5 minute walk from the springs. You have to follow a dark and quickly descending trail toward the crashing river.
Incredible setting for relaxing in deep wilderness
Fed by a waterfall & located next to a rushing river
Drive in campsites are nicely spaced in the forest
Springs & campsite are separated by a short trail
Skookumchuck is on the way to Sloquet
Several pools & two are quite large
Far from civilization so often quiet
Well laid out drive-to campsites
Hike there in winter & you will have it to yourself!
Campsite can get rowdy with tailgate parties
As you near, you can smell the unusual, but kind of nice hot springs scent, and you see steam rising all around you, some steam rising, bizarrely, out of the grass clearing on the edge of the river. On your left a rising cliff, on your right the crashing river.  The path narrows and steepens, leading to a large fallen tree which the trail seems to run to. So huge though as to not worry you walking the length of. Then, there it is.  The massive fallen tree flanks it. Nestled between the tree and a cliff, in a large triangular area, with the river forming the third side are the Sloquet Hot Springs. Sloquet Hot Springs is 142 kilometres from Whistler, which translates to well over 3 hours of driving.  Much of the driving is along the In-Shuck-Ch Forest Service Road, which runs the length of the very scenic Lillooet Lake and river. This gravel road takes you well into the wilderness, far from civilization and past quite a few nice sights along the way.  Though you will often find the campsite a loud and chaotic place with music playing and two or three campsite parties, the hot springs, a couple hundred metres away, serene and tranquil. This is one of the accidental beauties of Sloquet Hot Springs.
Sloquet Hot Springs Map
The campsite and the hot springs are separated by this steep, short trail and deep forest keeps them apart from each other. The tailgate parties that sometimes erupt at the campsite are far removed from the hot springs oasis wedged between the river, cliff and forest. Sloquet is quite a contrast to its closest, well known neighbour, Skookumchuck Hot Springs. Skookumchuck is shabby, institutionalized and far from natural. Sloquet is beautiful, natural and serene. It consists of seven pools formed with rocks positioned to segment pools out of what must have been one huge pool. Recently, in late 2013, dozens of volunteers did a massive cleanup of the pools, forming them into a more natural and even more beautiful place to be. More info for Sloquet Hot Springs...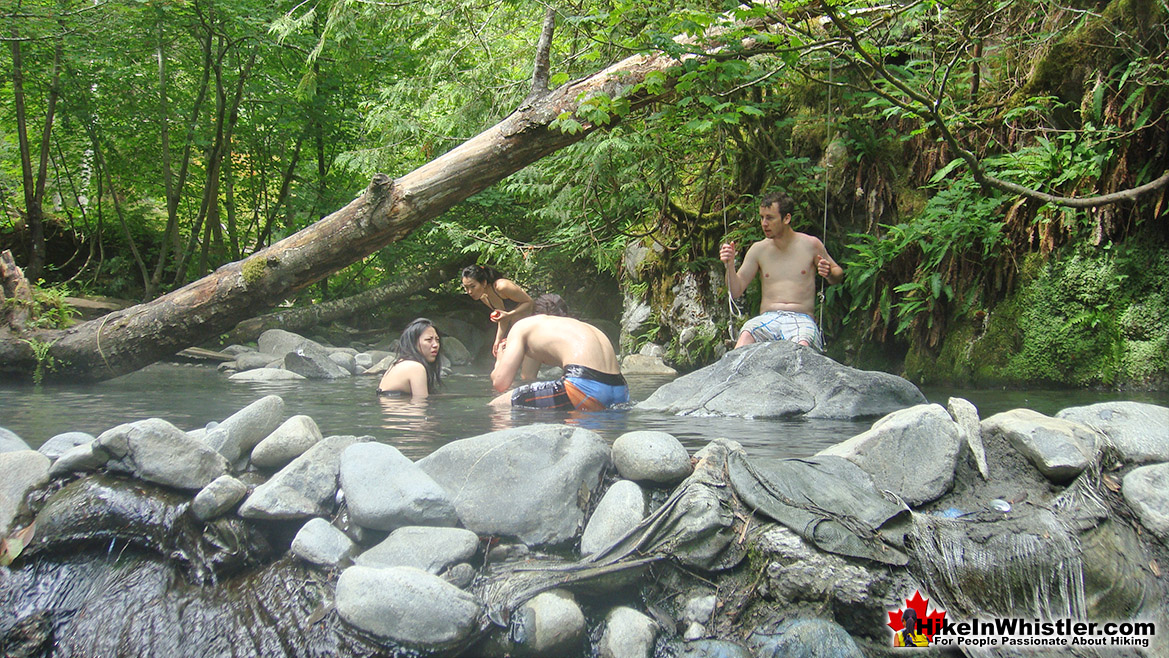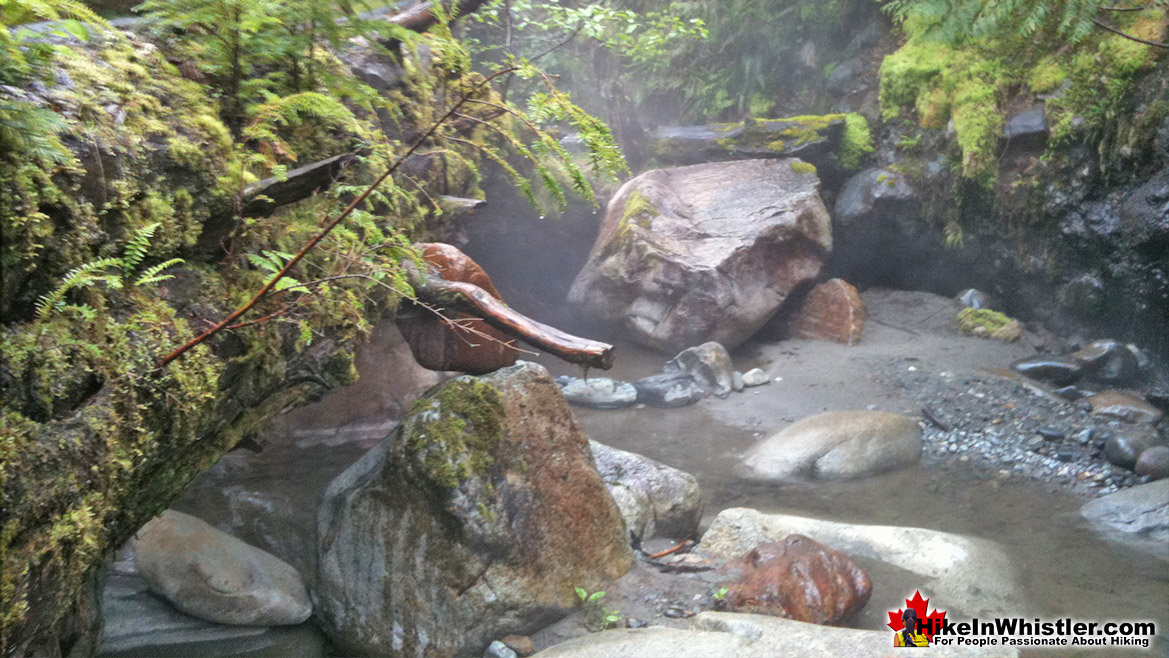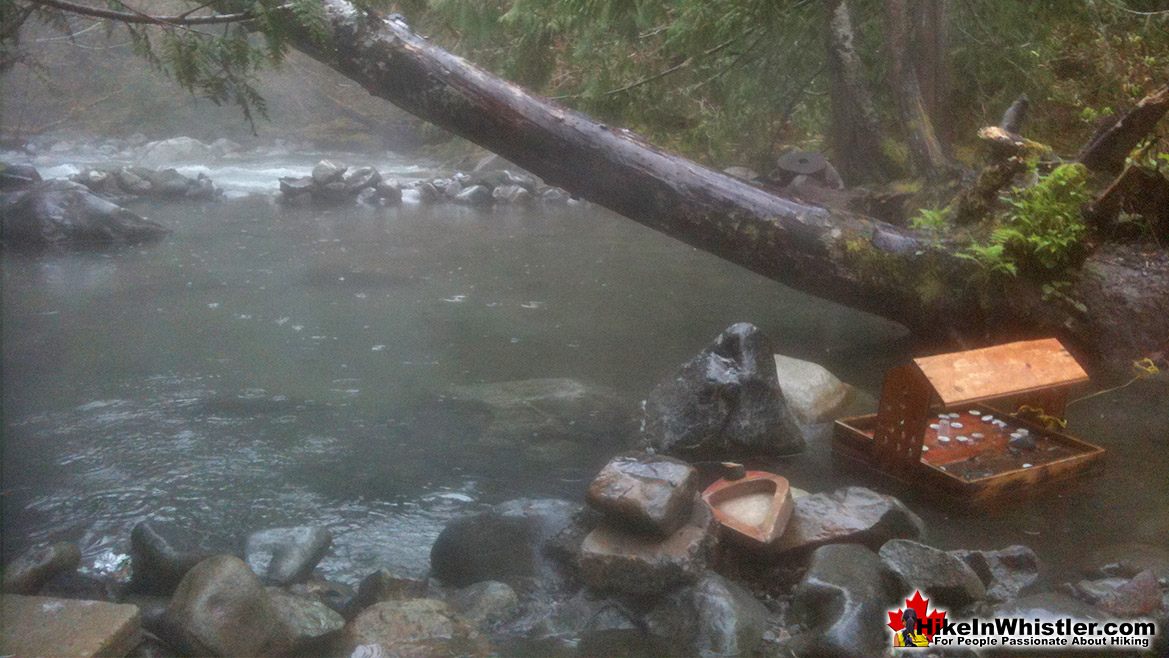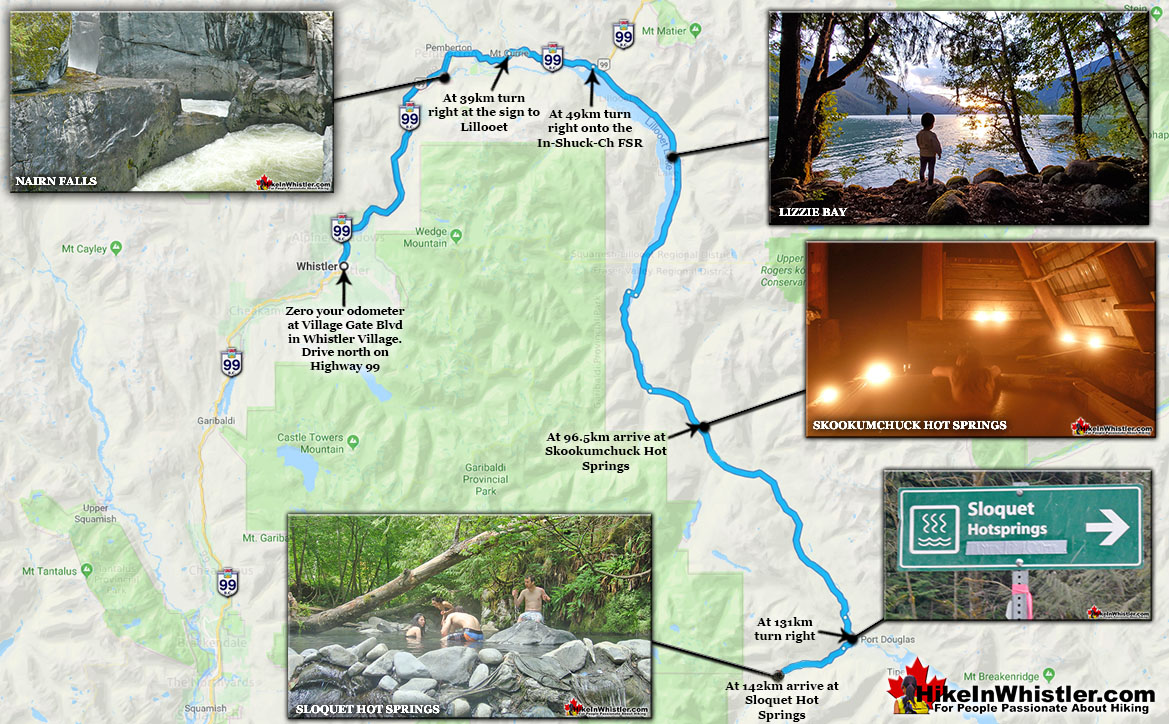 More Sloquet Hot Springs info here...
More Whistler & Garibaldi Park Hiking Maps!

Whistler & Garibaldi Park Glossary A to Z

The Best Whistler & Garibaldi Park Hiking Trails!