Mount Sproatt, or as it is known locally as  just Sproatt, is one of the many towering mountains visible from Whistler Village. Above and beyond Alta Lake, directly across from Whistler Mountain and Blackcomb Mountain, you will see this quiet giant. Its unremarkable appearance hides the growing network of trails that stretch through some startlingly beautiful terrain.
Multiple trailheads & access points
Wild, hostile terrain rarely visited by humans
Connecting trails to Rainbow, Hanging & Madeley
No crowds & endless idyllic tarns to swim
Dozens of perfect spots for a tent
Vast terrain full of adventurous routes

Dog friendly, unlike most Whistler trails

Easy to get lost in the vast alpine
No grand turquoise lakes like Wedge

Need a 4x4 to get to the Callaghan trailhead
Next time you walk through Whistler Village and cross the pedestrian bridge(with Village Gate Boulevard below you), you will see Mount Sproatt in the distance. It is the rocky giant, abruptly steep on one end and gently sloping on the other. At its summit you may be able to make out the small weather recording structure.  What you can't see from Whistler Village is the extraordinarily beautiful alpine paradise that lays beyond it. Lakes and tarns everywhere you look. Fields of alpine flowers and wonderfully mangled, yet strikingly beautiful forests of krummholz.  Hostile looking fields of boulders and absurdly placed erratics the size of trucks. Beyond, of course, endless stunning view of distant, snowy mountains. From the towering elevation of much of the Sproatt trail network you look across or even down on distant mountains.  Rainbow Mountain looks incredible from much of the trail. Four teeth-like, jagged grey peaks in a row that face you from Rainbow Mountain, just 5 kilometres away look enormous.
Sproatt West(Northair) Trail Map
A couple kilometres closer you spot Hanging Lake and the Lord of the Rings style valley that stretches 2 kilometres from its shores to the abrupt cliffs at your feet. Several times along the trail you see the clearly defined ski runs on Whistler Mountain and Blackcomb Mountain and once in a while you can spot Alta Lake and Whistler Village.  Though a hive of snowmobile and ski/riding activity in the winter and spring, Sproatt is infrequently hiked in the summer.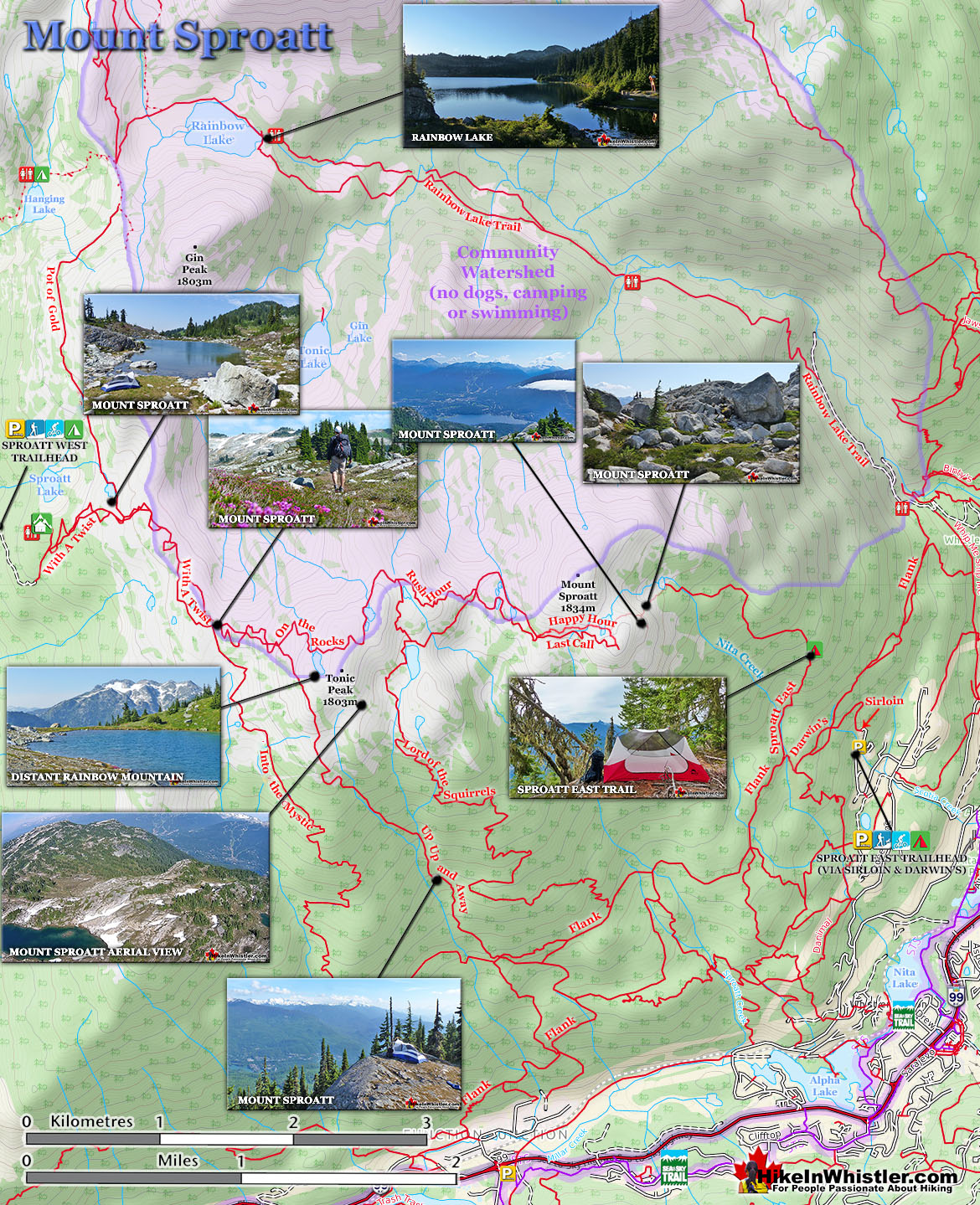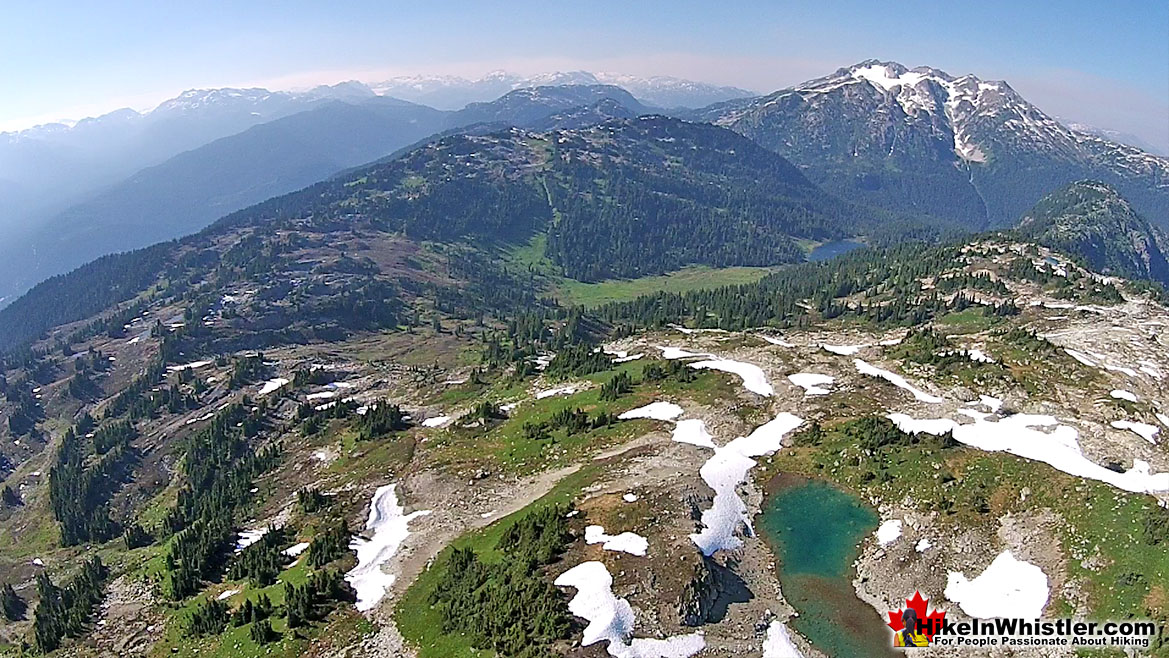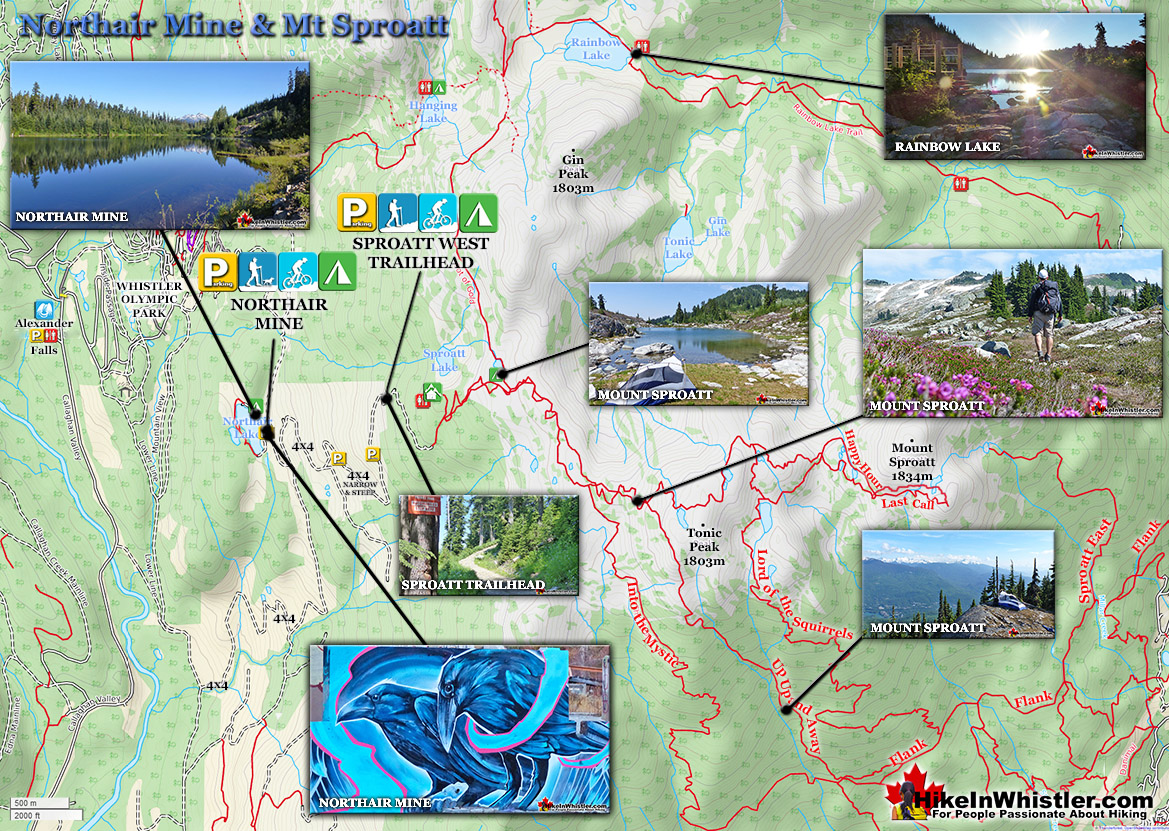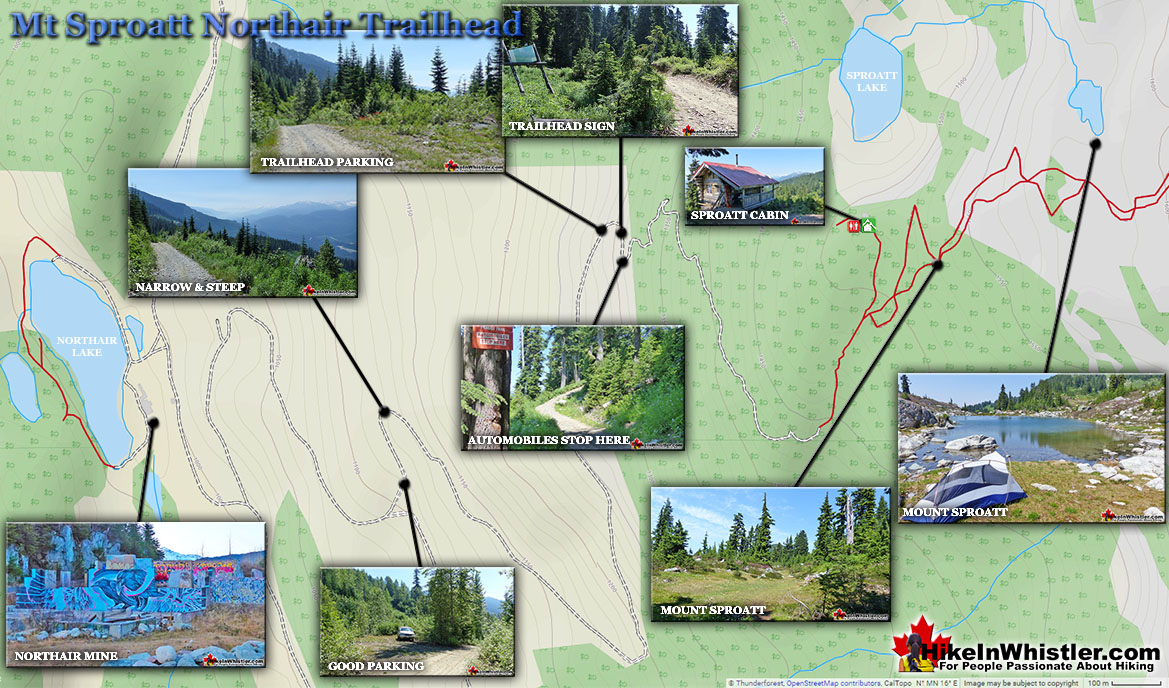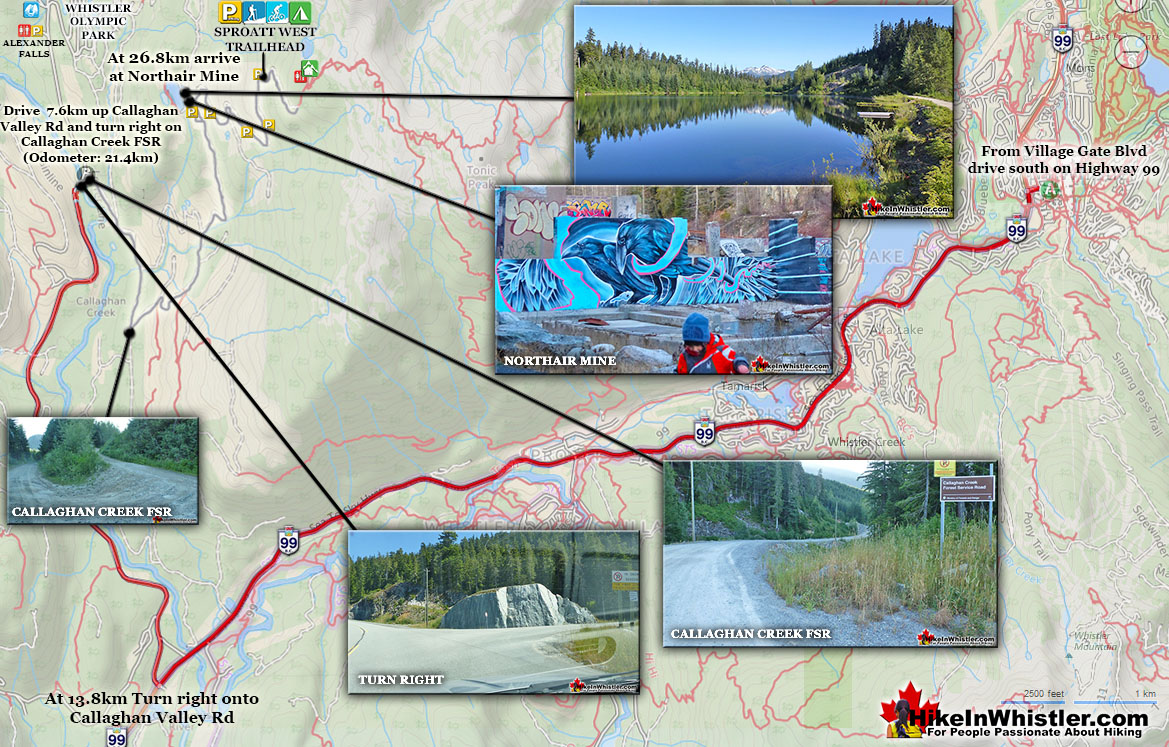 More Mount Sproatt Hiking Info...
Garibaldi Park Wildlife & History

Plants of the Whistler Region is an excellent book that includes great pictures and descriptions of most trees you will find in Whistler. Small enough to fit in your pocket and comprehensive enough to identify most things you will encounter growing in the forests of Whistler. Along with conifer trees and broadleaf trees the book has chapters on flowers, berries, ferns and shrubs. You can find Plants of the Whistler Region on Amazon, the Whistler Library and at Armchair Books in Whistler Village. The author Collin Varner has a wonderful series of Plants of.. books on various regions beyond Whistler. Plants of Vancouver and the Lower Mainland, Plants of the Gulf and San Juan Islands and Southern Vancouver Island, and Plants of the West Coast Trail. In the last couple years he has started a new series of books. The Flora and Fauna of Coastal British Columbia and the Pacific Northwest and Edible and Medicinal Flora of the West Coast: British Columbia and the Pacific Northwest.  A Passion for Mountains by Kathryn Bridge is a fascinating look at Don and Phyllis Munday's prolific exploration of the mountains in BC.  Based out of Vancouver, they were dominant figures of the climbing community in the early 1900's.  In 1923 they visited their friend Neal Carter in Alta Lake(Whistler) and explored the mountains around the valley.. many for the first time!
**We participate in the Amazon Services LLC Associates Program and earn a small commission on purchases we link through to Amazon at no extra cost to you.  We only link to books and products we love and highly recommend.  Thanks for your support!**
Whistler & Garibaldi Hiking

Alexander Falls  

Ancient Cedars  

Black Tusk  

Blackcomb Mountain  

Brandywine Falls  

Brandywine Meadows  

Brew Lake  

Callaghan Lake  

Cheakamus Lake  

Cheakamus River  

Cirque Lake 

Flank Trail 

Garibaldi Lake 

Garibaldi Park 

Helm Creek  

Jane Lakes 

Joffre Lakes  

Keyhole Hot Springs  

Logger's Lake  

Madeley Lake  

Meager Hot Springs 

Nairn Falls  

Newt Lake 

Panorama Ridge 

Parkhurst Ghost Town 

Rainbow Falls  

Rainbow Lake 

Ring Lake  

Russet Lake  

Sea to Sky Trail 

Skookumchuck Hot Springs  

Sloquet Hot Springs 

Sproatt East 

Sproatt West  

Taylor Meadows  

Train Wreck  

Wedgemount Lake  

Whistler Mountain

January 

February 

March 

April 

May 

June 

July 

August 

September 

October 

November 

December