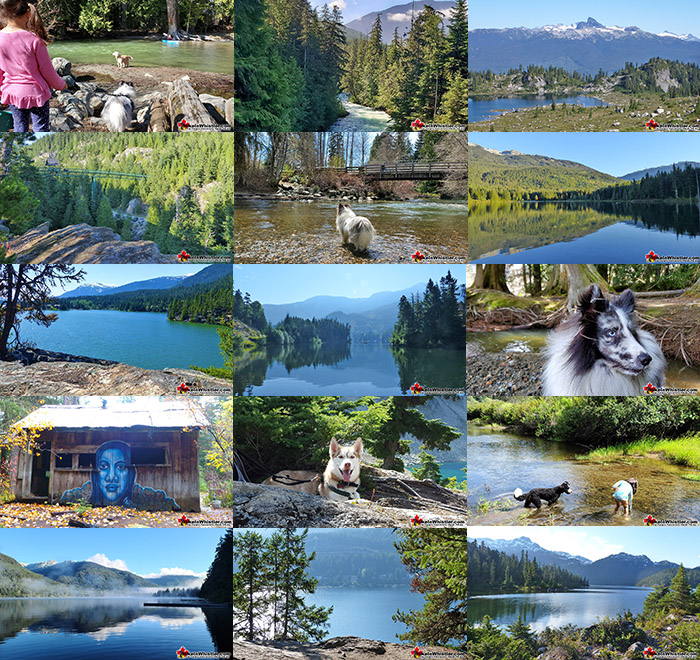 Whistler is very dog friendly and the number of wonderful hiking trails that your dog will love is huge. The massively varied hiking trails range from easy, short, close to Whistler Village to challenging, long and deep in the endless wilderness around Whistler. You can find dog friendly trails in and around Whistler Village that take you through deep, dark and magical forests.
Dog Friendly Whistler
Or you can drive beyond Whistler Village and take your dog to spectacular alpine lakes. Some requiring little or no hiking, while others are found after hiking challenging and long trails. Many of these places are comparatively quiet and often you and your dog will have the the wilderness to yourselves. In and around Whistler Village you have Lost Lake with its spider web of trails which emanate from the main, ring trail that circles the lake. Lost Lake is connected to Whistler Village by the Valley Trail which connects Whistler Village with all the neighbourhoods and lakes in Whistler.  The Sea to Sky Trail overlaps the Valley Trail and extends north around the tranquil and scenic wilderness up and around Green Lake to Parkhurst Ghost Town, another dog friendly paradise. The Sea to Sky Trail extends south of Whistler along a beautiful route along Alta Lake and through several of Whistler's wonderful parks. Lakeside Park, Alpha Lake Park and Nita Lake Park are all great dog friendly parks along the edge of Alta Lake. The Sea to Sky Trail then continues south to Cheakamus Crossing, where you will find an absolute paradise of gorgeous wilderness dog friendly trails. Cheakamus River, Logger's Lake, Whistler Train Wreck, Jane Lakes, and many more. The Sea to Sky Trail snakes its way further south to cross the Whistler Bungee Bridge high above Cheakamus River. Whistler Bungee Bridge is a beautiful destination on its own for a day out with your dog, and you can drive right to it. Beyond Whistler Bungee Bridge you can continue to Brandywine Falls in just a leisurely hour long wander through the forest, still on the Sea to Sky Trail. You come to the impressive falls that crash over a sheer cliff into the chasm below. This amazing, not too well known, dog friendly section of the Sea to Sky Trail can be done year-round, though in the winter you can't park at the Brandywine Falls end and have to start at the Whistler Bungee Bridge. 
Whistler Bungee Bridge Along the Sea to Sky Trail
Dog Friendly Whistler Valley Trail
Back in Whistler Village you have some terrific routes that lead from Whistler Village to some wonderful deep forest and very scenic hikes that are pretty easy, short and relaxing. You can set out on foot from the Village on the Valley Trail where it passes under the Sea to Sky Highway, and forks at the Whistler Golf Course clubhouse. The circle route around the golf course is under 5km long and very scenic as it runs though several forest sections and endless changing mountain views. The Valley Trail extends off both ends of the circle route, both leading to fantastic, dog friendly wilderness trails. Blueberry Park has deep forest trails that up and over Blueberry Hill and circle back along the shore of Alta Lake. There are four public piers along the way and you don't often encounter other people on this mostly overlooked side of Alta Lake. 
The River of Golden Dreams Along the Valley Trail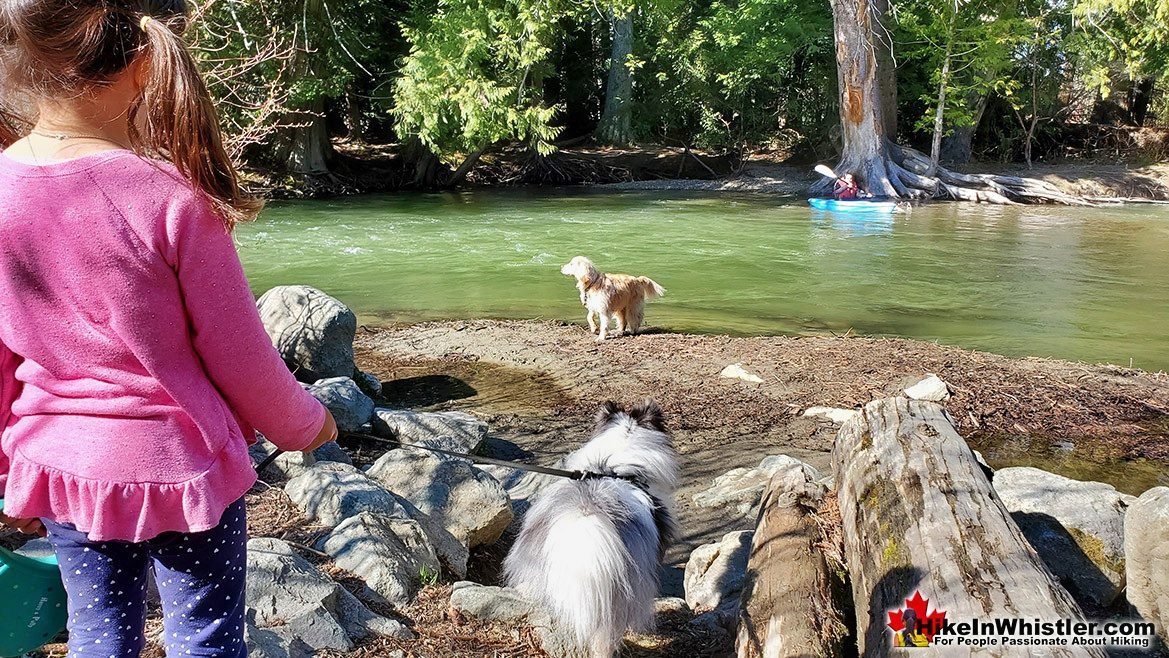 River of Golden Dreams and Emerald Forest
Extending in the other direction from Whistler Golf Course, the Valley Trail takes you along the River of Golden Dreams and to Emerald Forest, another serene wilderness network of trails that you often have to yourself. Trails meander in several directions though the thick forest carpeted in bright green moss.  The very hilly terrain is very fun and takes you through the forest and pops out and several unexpected locations. A doggy paradise! These are some of the best dog friendly hiking trails in Whistler that are easy and close to Whistler Village.
Easy and Close to Whistler Village
1. Whistler Golf Course
The Valley Trail that runs around Whistler Golf Course is a fantastic, convenient, scenic and very dog friendly place to take your dog. Whistler's Valley Trail runs from Whistler Village and passes under the Sea to Sky Highway to the Whistler Golf Course clubhouse. Here the Valley Trail branches off in both directions around the beautiful golf course in just under 5 kilometres. Paved all the way, the Valley Trail takes you past one gorgeous viewpoint after another. Mountain views, an impressive grove of big western redcedars and almost always you are surrounded by wonderful forest on one side and beautiful fairways on the other. More... 
2. River of Golden Dreams
The River of Golden Dreams is a very scenic creek that runs from Alta Lake near Rainbow Park through the forest for several kilometres to Green Lake. Whistler's wonderful Valley Trail runs alongside it for much of its length. A good starting point to take your dog is at the end of Lorimer Road in Whistler Cay.  Just a 2 minute drive from Whistler Village you will find free parking at the end of Lorimer Road. From here the Valley Trail runs in three directions, to Meadow Park, to Rainbow Park or toward Whistler Village along Whistler Golf Course. All three directions are beautiful and very dog friendly, though you may find you and your dog finding lots to do just steps from your car. There are two nice places you can easily access the River of Golden Dreams just a few metres from where you park.
3. Sea to Sky Trail
The Sea to Sky Trail in Whistler is an amazing trail that stretches throughout Whistler, well into the wilderness.  Your dog will be ecstatic at all the sights to see and for the most part, you will never see a car or road. There are trail signs everywhere you look and the Sea to Sky Trail passes just about every amazing sight in Whistler.  Incredible! It overlaps the Valley Trail through Whistler Village and along Alta Lake then extends all the way to Brandywine Falls. North of Whistler Village it takes you from Lost Lake Park up into the gorgeous wilderness around the back side of Green Lake. Dozens of impressive viewpoints look across Green Lake and the trail continues to Parkhurst Ghost Town at the far end of the lake. Parkhurst has its own network of trails that take you past old relics from the past. More...
Into the Wilderness Easy Trails
4. Blueberry Park
Blueberry Park is a wonderfully hidden forest park that runs along the edge of Alta Lake. You can walk there from Whistler Village in about 25 minutes or drive to the trailhead in 5 minutes. This quiet and secluded, deep forest park is a dog paradise and you can hike from the trailhead to the first of four public piers in just 2 minutes! You can continue past the piers and in just 10 minutes find yourself high up on Blueberry Hill to a viewpoint over Alta Lake. This relatively unknown park is never busy and you often encounter nobody else there. From the viewpoint the trail loops back down to where you started and at a relaxed hiking pace will probably take you well under an hour. Though with all the amazing scenery along the way, expect to take an hour. The piers are stunningly beautiful on a sunny day and especially during sunrise or sunset! More...
5. Lost Lake Park
Another of Whistler's great dog friendly parks that take you deep into a wilderness paradise is Lost Lake Park. Much more well known than Blueberry Park, Lost Lake Park is found just a 15 minute walk along the Valley Trail from Whistler Village. There are a few different routes to get there from the Village all are nice. Lots of trail signs along the way keep you from getting lost and once you enter Lost Lake Park you will find an enormous spider web of trails that branch off into the wilderness around this cute little lake. One main trail circles the lake and there are branching trails that take you to areas along the shore and other trails branch off up and away into the forest. Your dog will love Lost Lake and you can wander around the lake in 20 minutes or spend hours exploring the endless trails into the beautiful forest. More...
6. Emerald Forest
Just down from Whistler Village near the end of Lorimer Road is a wonderful wilderness that glows bright green due to moss carpeting the ground. Beams of sunlight through gaps in the forest reflect off the moss and light up the forest in a magical way and it became known as Emerald Forest. Very dog friendly trails crisscross the deep forest, up and over hills and alongside a pretty pond at the edge of Twentyone Mile Creek. Emerald Forest extends from Whistler Cay all the way to Alpine and is flanked by the Valley Trail on one side and the old gravel road that runs from Lorimer Road to Alta Lake Road. More...
7. Rainbow Falls
Rainbow Falls is a wild and beautiful place to take your dog into deep wilderness. A nice 2.2 kilometre loop trail runs from the trailhead up one side of Twentyone Mile Creek and returns along the other side. Along the way you hike through deep and often steep forest trails to the cute and scenic Rainbow Falls and the nice bridge crossing above the falls. Below the bridge is a wonderful collection of massive boulders surrounded by crashing water. A short trail next to the bridge leads down to the maze of boulders. The Rainbow Trail trailhead is found along Alta Lake Road, just a 7.3km drive from Whistler Village. Biking to the trailhead is more direct and just 5km from the Village. More...
8. Cheakamus River
Cheakamus River is the beautiful, crashing and turquoise coloured river that flows from Cheakamus Lake. Cheakamus River has quite an extensive network of hiking and biking trails that run alongside it near Cheakamus Crossing just 8km south of Whistler Village. Two popular trails, Riverside and Farside run along either side of Cheakamus River and connect at both ends by bridges making a nice 4km circle route. Another popular trail branches off the Riverside trail and takes you up to Logger's Lake, a beautiful lake which sits inside an ancient volcano. Logger's Lake trails include, the Lake Loop trail, Crater Rim trail, the Ridge trail, Upper Ridge trail, and the Lower Ridge trail. More...
9. Brandywine Falls
Brandywine Falls found along the Sea to Sky Highway 17km south of Whistler Village. The easy and short trail to the falls is just a few hundred metres and very dog friendly. The gorgeous falls drop 70 metres down into a huge gorge it has carved out. You can continue past the Brandywine Falls viewpoint to the Daisy Lake viewpoint over the valley. The viewpoints both have interesting interpretive signs letting you know what you are seeing. Back on the main Brandywine Falls trail you will see connecting trails to Swim Lake and the Sea to Sky Trail. Swim Lake is a great wilderness lake that your dog will love and few people visit. The Sea to Sky Trail takes you to the impressive Whistler Bungee Bridge just 2.5km away. More...
10. Whistler Bungee Bridge
Whistler Bungee Bridge is a beautiful, dog friendly sight to see near Whistler. Just 13km south of Whistler Village on the Sea to Sky Highway is the turnoff and 3km logging road to reach this beautiful sight. The bridge is part of the Sea to Sky Trail and is always accessible. You can park under the bridge and it takes just 5 minutes to walk up to cross the bridge, high over Cheakamus River. The view from the Bungee Bridge is amazing on its own, but across the bridge, the Sea to Sky Trail continues along the edge of the vertical cliff that extends down to Cheakamus River. This is also one of the viewpoints to watch people bungee jumping. Brandywine Falls is just a 30 minute hike through the nice forest along the Sea to Sky Trail. More...
11. Nairn Falls
Nairn Falls Provincial Park is found just 20 minutes north of Whistler along the Sea to Sky Highway. A relaxing, short and very dog friendly 1.2km trail takes you along Green River to the impressive falls. The falls crash through several angular and circular sections of rock carved by thousands of years of rushing water. A nicely constructed viewing area looks down on the crashing river as it surrounds you on three sides. There are even interpretive boards at the viewpoint explaining the interesting formation of the huge, round sections of the falls. Nairn Falls is an easy trail to take your dog and is accessible year-round. More information on Nairn Falls hiking here or snowshoeing here.
Into the Wilderness Moderate Trails
12. Whistler Train Wreck
Whistler Train Wreck is a fun, dog friendly place to hike to a surreal world of colourful, mangled old boxcars. The trailhead immediately enters deep forest along a constantly meandering route. After about one kilometre you reach the impressive Train Wreck bridge over Cheakamus River. The river crashes violently beneath you as you cross the bouncy, though very solid bridge. The sides of the bridge are just wire cables running horizontally about a foot apart, so you might want your dog on a leash in case they slip through. Across the bridge you find yourself in the midst of several wrecked train cars scattered in the forest. Whistler Train Wreck is accessible year-round and your dog will love it! More...
13. Parkhurst Ghost Town
Parkhurst Ghost Town is an incredible place to take your dog hiking in Whistler. The trailhead is located on the far side of Green Lake 13km from Whistler Village. Parkhurst has a huge network of hiking and biking trails running in and around it. This makes it a dog paradise as you can follow several different routes in and around Parkhurst and never encounter another human. The hike from the trailhead to Parkhurst Ghost Town is about 3km one way. A nice return route is up and along Parkhurst Ridge which takes you up along the hilly ridge overlooking Green Lake where the views are sensational and it is rare to encounter anyone. There are lots of possible routes to Parkhurst and we have lots of maps in information here...
14. Wedge Creek & Green Lake Loop
Another wonderful Whistler place to hike with your dog from the Parkhurst trailhead is the Green Lake Loop that runs along Wedge Creek. Just a few metres along the trail to Parkhurst you will come to the disintegrating old bridge over Wedge Creek. The old bridge is falling apart, but strangely beautiful like a moss covered skeleton over the green, crashing creek below. About 30 metres past the bridge you will see an unmarked trail on your left. This is the old Green Lake Loop trail that extends up and around Green Lake, but this short section runs along Wedge Creek up to Wedge Creek Falls. More...
15. Logger's Lake
Logger's Lake is a fantastic lake hidden up in the forest near Cheakamus River. Inside an old volcano, Logger's Lake is surrounded by interesting geologic features including the surreal and extraordinary columnar jointing which forms when lava cools against ice. These big pillars of hexagonal rock can be seen along the trail as well as high up on the cliffs from the shore of the lake. Deep forest, dog friendly trails run around Logger's Lake as well as up along the rim of the old volcano. Due to construction in Cheakamus Crossing, the road to Logger's Lake trailhead parking is blocked until 2024. A nice alternative is at MacLaurin's Crossing along Cheakamus River.  From there the hike to Logger's Lake is just 1.5km and mostly through the scenic forest along Cheakamus River. More...
16. Ancient Cedars &  Showh Lakes
Ancient Cedars and Showh Lakes have a nice network of trails that are very dog friendly. The Ancient Cedars trailhead parking is found 13.1km from Whistler Village at the end of a very potholed old logging road up Cougar Mountain. The popular Ancient Cedars trail is 5.1km roundtrip and though you are ascending much of the way, it is fairly relaxing and not too challenging. The trail takes you up to a hidden grove of massive trees, some estimated to be 1000 years old. Nearby Showh Lakes are found by hiking the connecting trail off the Ancient Cedars trail or by hiking up the brutal road from the Ancient Cedars parking. You can drive up this road if you have a 4x4, but definitely not with a car. More...
17. Flank Trail
The wonderful Flank Trail extends about 40km across Rainbow Mountain and Mount Sproatt along a route that extends from Northair Mine in the Callaghan Valley to Ancient Cedars on Cougar Mountain. Countless connecting trails crisscross the Flank Trail and it is generally hiked in small sections from one of the many access trails. One popular and close to Whistler Village one is the Rainbow Trail along Alta Lake Road. The Rainbow Trail takes you one kilometre up to the bridge crossing above Twentyone Mile Creek just above Rainbow Falls. This bridge crossing is actually part of the Flank Trail which extends in either direction. Just outside the edge of Whistler's watershed, the Flank Trail is dog friendly, though the trail to Rainbow Lake is not. More...
Into the Wilderness Wild and Secluded
18. Sproatt East Trail
The Sproatt East trail is a wild, steep and very dog friendly trail that extends all the way to the summit of Mount Sproatt. Most only hike part of the trail which almost immediately arrives at stunning views of Whistler Valley. The trailhead is way up the side of Mount Sproatt in Stonebridge, so you start the hike already high up the mountain. Three short connecting trails link to the actual start of the Sproatt East trail. The 600 metre Sirloin trail ascends up into the forest, crosses the Flank Trail and onto the short Darwin's trail which takes you over some very fun boardwalks before merging with the Flank Trail and finally the unmarked Sproatt East trail. The Sproatt East trail ascends quickly up to some amazing viewpoints over the valley far below and at just 2.4km. This is a worthy destination on its own and, though you gained a lot of elevation, 2.4km is fairly short and a good workout! More...
19. Newt Lake
Newt Lake is a wonderfully beautiful and wild mountain lake found by hiking a very rugged, unmarked trail off the Ancient Cedars trail. Though the Ancient Cedars trail is somewhat popular and fairly easy, the Newt Lake trail is the complete opposite. It zigzags through a chaotic forest of blown down trees, over hilly terrain and all the while following a faint, rarely hiked, though well marked trail. From the Ancient Cedars trailhead parking to Newt Lake is just under 5km and an absolute doggie paradise. The storm battered forest is fun and constantly changing from deep forest to sunny ridges to serene sloping meadows. When you reach the lake you will marvel at how amazing this hidden paradise is! More...
20. Jane Lakes
Jane Lakes is a great place to take your dog deep into the wilderness. The Jane Lakes West trailhead is found in Cheakamus Crossing just 12.5km from Whistler Village. The trail to Jane Lakes is just over 4km long and just a moderately challenging ascent up a well defined trail. Jane Lakes are very remote feeling lakes that are off the radar for most hikers, though recently is gaining popularity with mountain bikers. Trails continue around both lakes and the Jane Lakes East trail continues down to meet with the Westside Main FSR road next to the locked gate blocking the road to the microwave towers. If you just hike the Jane Lakes West trail to West Jane Lake and back you will cover just over 8km roundtrip. More...
21. Madeley Lake
Madeley Lake is a great, remote, paradise lake high up in the Callaghan Valley and very dog friendly. You can park just 600 metres from the lake at the recently installed gate blocking the Madeley Lake Road. There are a few short trails and access points around Madeley Lake, but the best spot is found at the far end of the lake in the Madeley Lake campsite. A short trail runs from the end of Madeley Lake Road to this old campsite and trails extend in a few directions. The small, pebble beach area is wonderful. South facing and sunny, the views are spectacular. More...
22. Callaghan Lake
Callaghan Lake is another beautiful, dog friendly mountain lake in the Callaghan Valley. You can drive directly to the shore of Callaghan Lake and there are not really hiking around the lake except the short trails at the campsite. Callaghan Lake is a fantastic escape from the world and just 32km from Whistler Village. About 8km of that is along the brutal logging road up to the lake, which is heavily cratered with potholes and crossed by several deep waterbars. Despite the horrible condition of the road, you almost always see regular (non 4x4) cars at the lake. More...
23. Cirque Lake
Cirque Lake is found in the vast, paradise wilderness up past the far end of Callaghan Lake up a short, but steep 2km trail. There are no established trails around Callaghan Lake, so you have to paddle your way to the unmarked Cirque Lake trailhead. Because you have to paddle there, the trail and Cirque Lake are never busy and your dog will love it. Cirque Lake has been carved out by the glacier that descends down Mount Callaghan and the crystal clear lake is surrounded by steep cliffs and sloping valleys all around. More...
24. Ring Lake and Conflict Lake
Ring Lake is a remote alpine lake similar to Cirque Lake but considerably farther to reach it. The long, 10km trail takes you through a nice forest of cedars then to a spectacular meadow filled with ponds and ringed with distant mountains. 5km into the hike you come to Conflict Lake with trails running around it. The trail continues from Conflict Lake and passes through a huge valley for a couple kilometres, then abruptly ascends on the right side of the valley. Another 3km of steep, but not technical terrain gets you to ing Lake and Ring Mountain across the emerald green water. The trailhead is found just a few metres from the Callaghan Lake Park campsite. More...
25. Northair Mine
Northair Mine is wonderful, hidden world high up in Callaghan Valley.  It was a gold mine run by the Northair Group from 1976 until was abandoned in 1982 due to waning profitability and slumping gold prices. The buildings and construction equipment were removed, leaving only the cement foundations and a scattering of metal cables.  For decades the foundations and surrounding area remained untouched except for the occasional visitor to the old ruins or the nice lake beside it. In the summer of 2013, the first mural in Northair Mine appeared, a creation of a professional Whistler artist PETKO. Soon, more murals appeared and these days murals and graffiti cover almost all the old walls and it has become a surreal art exhibit. More...
26. Brandywine Meadows
Brandywine Meadows is a nice, challenging and dog friendly hike into a massive flower filled valley high up in Callaghan Valley.  Located 40 minutes south of Whistler, this tough and sometimes muddy trail gains a huge 550 metres of elevation in just 3km (trailhead to valley). The trailhead is tricky to find and involves a fairly long gravel road journey that is passable without a 4x4, but barely. The route is strewn with potholes and some loose rock sections. Brandywine Meadows is popular for snowmobiling in the winter months and the bumpy ex-logging road to the trailhead is in poor condition in the summer. The hike takes you to the beautiful Brandywine Meadows stretching into the distance along a cute and crashing creek. More...
27. Brew Lake
Brew Lake is well hidden in the mountains and finding the trailhead is an adventure in itself. The old access road is overgrown and hard to drive, even in a 4x4. Cars can make it part of the way, then you have to hike up to the trailhead. More often frequented in the winter by skiers, the area is slowly becoming noticed in the summer months.  From the trailhead to the lake, you have a wild and often steep 3 hour hike packed with sights and thoroughly exhausting.  There are no facilities at the lake, just a beautiful wilderness paradise. There is a hut hidden up on Mount Brew, but it is mainly used in the winter. The Brew Lake trail is very challenging with an elevation gain of 745 metres in just 5km! More...
Whistler's Best Hiking Trails!
Whistler & Garibaldi Park Best Hiking by Month!

Explore BC Hiking Destinations!