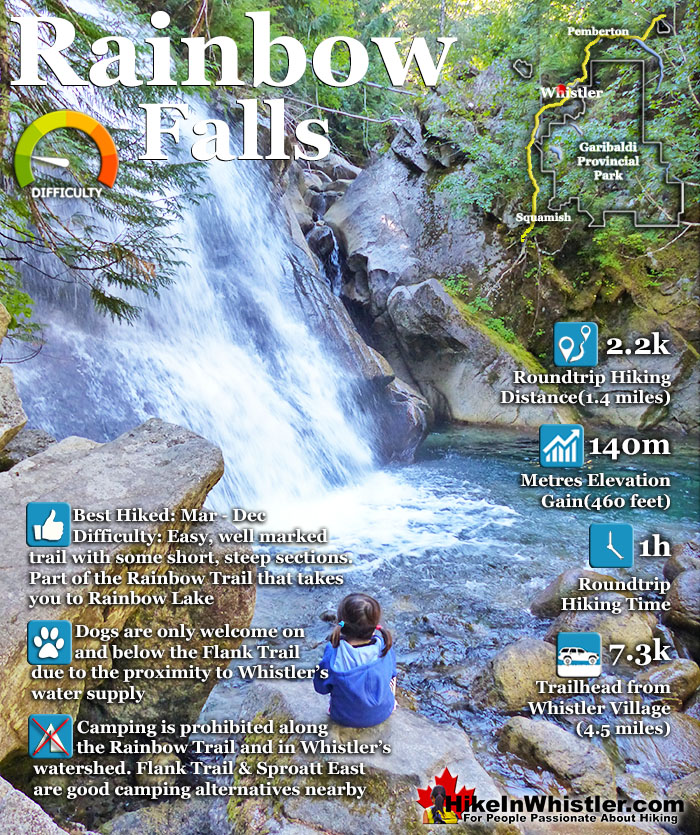 The short, winding, and ever-changing hiking trail to Rainbow Falls is the same as the much more popular trailhead for Rainbow Lake.  The trailhead is marked as the Rainbow Trail, and the trail quickly ascends into the forest winding left, right, up and down almost constantly.  Twentyone Mile Creek, always on your right can be either seen or heard as you hike through the forest to the somewhat hidden Rainbow Falls.
Short, family friendly trail to hidden falls
Much quieter than most other trails
Easy to bike or walk to from Whistler Village
Trail is always winding up & down, never boring
Great to do with the Flank Trail or Rainbow Lake
Rainbow Park is beautiful and easy to get to

The falls are not very big or impressive
Tricky to get a nice view of the falls

In 2017 the trail-side forest was thinned

Nice to see, but not a must see

Whistler & Garibaldi Hiking

Alexander Falls  

Ancient Cedars  

Black Tusk  

Blackcomb Mountain  

Brandywine Falls  

Brandywine Meadows  

Brew Lake  

Callaghan Lake  

Cheakamus Lake  

Cheakamus River  

Cirque Lake 

Flank Trail 

Garibaldi Lake 

Garibaldi Park 

Helm Creek  

Jane Lakes 

Joffre Lakes  

Keyhole Hot Springs  

Logger's Lake  

Madeley Lake  

Meager Hot Springs 

Nairn Falls  

Newt Lake 

Panorama Ridge 

Parkhurst Ghost Town 

Rainbow Falls  

Rainbow Lake 

Ring Lake  

Russet Lake  

Sea to Sky Trail 

Skookumchuck Hot Springs  

Sloquet Hot Springs 

Sproatt East 

Sproatt West  

Taylor Meadows  

Train Wreck  

Wedgemount Lake  

Whistler Mountain

January 

February 

March 

April 

May 

June 

July 

August 

September 

October 

November 

December
In late 2017, the once beautiful, dark and deep forest on the way to the falls was turned into a wasteland.  In an effort to control the spread of potential wildfires a large, 40 metre band of once lush rainforest was cut and trimmed.  Where you previously hiked through a serene and wild wilderness, largely untouched, now you hike through a sea of tree stumps and piles of dead trees and branches.  The trees that remain are the large, somewhat fire resistant ones, however these majestic trees have been hacked away, with their lower branches chain sawed away.  Almost the entire trail to Rainbow Falls feels like walking through a clear cut, instead of the forest paradise it once was.  Though hiking to Rainbow Falls is an ugly mess now, the forest directly along Twentyone Mile Creek remains somewhat untouched.  The trail has been widened and altered in a few places and the old Rainbow Falls trail sign has been removed.  The lower part of the Rainbow Falls trail has been somewhat hidden by a large, chain sawed tree.  Once your reach the water treatment building where the Rainbow Trail and Flank Trail continue left and the Flank Trail also on the right, the tree thinning ends and the lush forest begins again.   
Twentyone Mile Creek
Twentyone Mile Creek begins, 8 kilometres away as it drains from Rainbow Lake, making its way eventually to the River of Golden Dreams, before finally draining into Green Lake north of Whistler Village.  A couple minutes into the Rainbow Trail and you come to a fork in the path. You can take either path as they rejoin further up the trail, however taking the right fork is more scenic and only a little more of a steep climb.  A second fork in the trail appears a couple minutes later and this is the one that leads you to the somewhat hidden Rainbow Falls.  Depending on the time of year and water flow down Twentyone Mile Creek, the falls are always very pretty.
Best Time to See Rainbow Falls
For the adventurous, the best time to see Rainbow Falls is in August and September when the creek is low and you can get down to the marvellous creek bed.  To get there you hike down further along another path just a hundred or so metres back.  You will have passed the large, chain sawed tree along the right(creek) side of the trail.  At one end of the tree you will see a very visible trail descend steeply down to the creek.  You will see some beautiful views of the creek weaving its way through enormous boulders that have tumbled down over the centuries.  This part of the creek is flanked by steep cliffs and a nice, though very steep trail takes you down further still.  If you have kids with you, you want to be careful.  It is quite dangerous, however if you carry a toddler on your hip, you can inch your way down quite easily.  Not many people make it down to this magical little place as it is very easy to miss and most hikers are rushing along the trail to Rainbow Lake.  It is one of those amazing places surrounded by surreal, truck sized boulders, vertical cliffs, crystal clear glacier water in swirling, green pools.  And all this just 5 minutes down from the main trail.  Fantastic!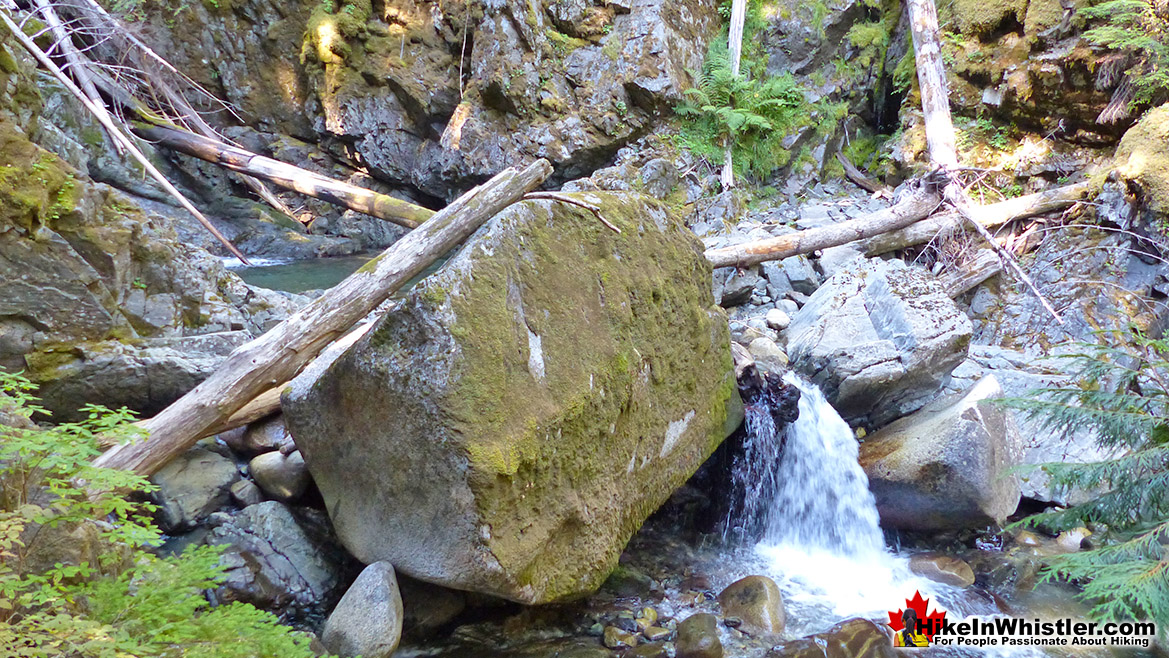 Trails From Rainbow Falls

After seeing Rainbow Falls, there are a couple more nice spots to see just a short hike further up the Rainbow Trail.  If you backtrack from Rainbow Falls and rejoin the Rainbow Trail, you will zig-zag up some short switchbacks, before coming out to the gravel access road to the water treatment building.  Here you will find a nice mapboard showing the Rainbow Trail and some of the connecting trails.  This section of trail overlaps with the 40 kilometre, Rainbow Sproatt Flank Trail, so you will see some "Flank Trail" signs as well as Rainbow Lake signs.  If you follow the Flank Trail as it ascends past the water treatment building on its right side, you will quickly come to the nice bridge across 21 Mile Creek. This is a great vantage point over this very scenic, boulder strewn creek below.  Much of the summer you will find the creek bed largely empty.  Just past the bridge there is a small slope leading to the massive boulders below.  Little, crystal clear pools snake through boulders the size of cars before reaching an abrupt drop-off of Rainbow Falls.  Not a very exciting place to view the falls, but the creek bed is very pretty and the huge, water rounded boulders are fun to climb over.  The Flank Trail continues for several kilometres beyond this bridge, eventually coming out near Ancient Cedars, well north of Whistler Village at the edge of Cougar Mountain.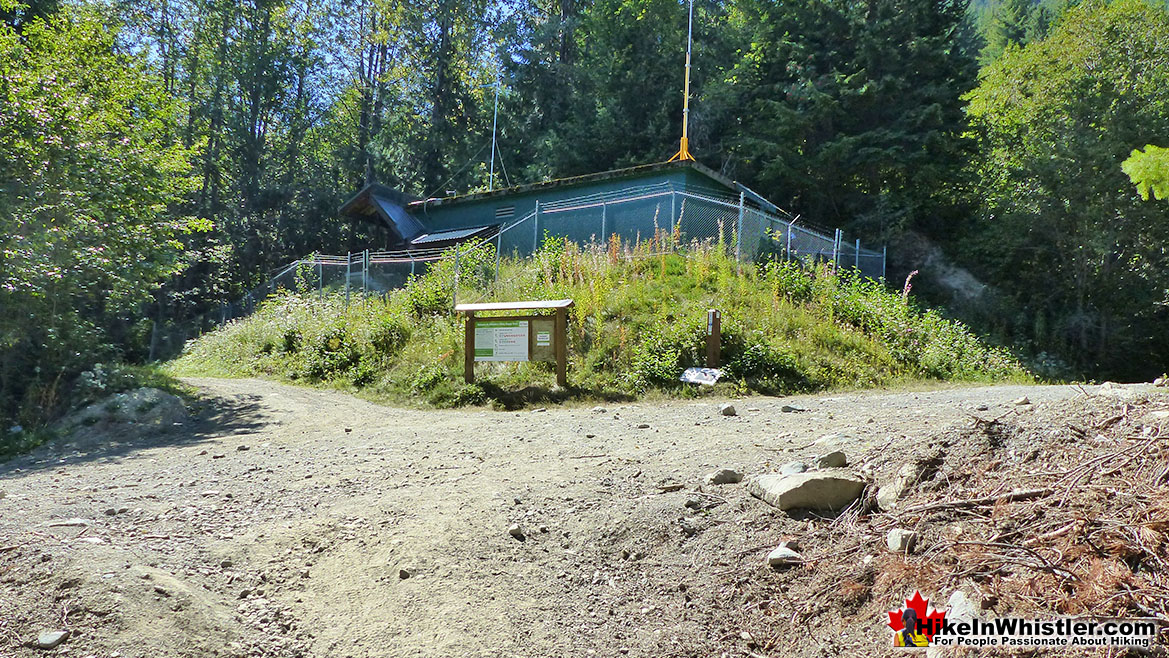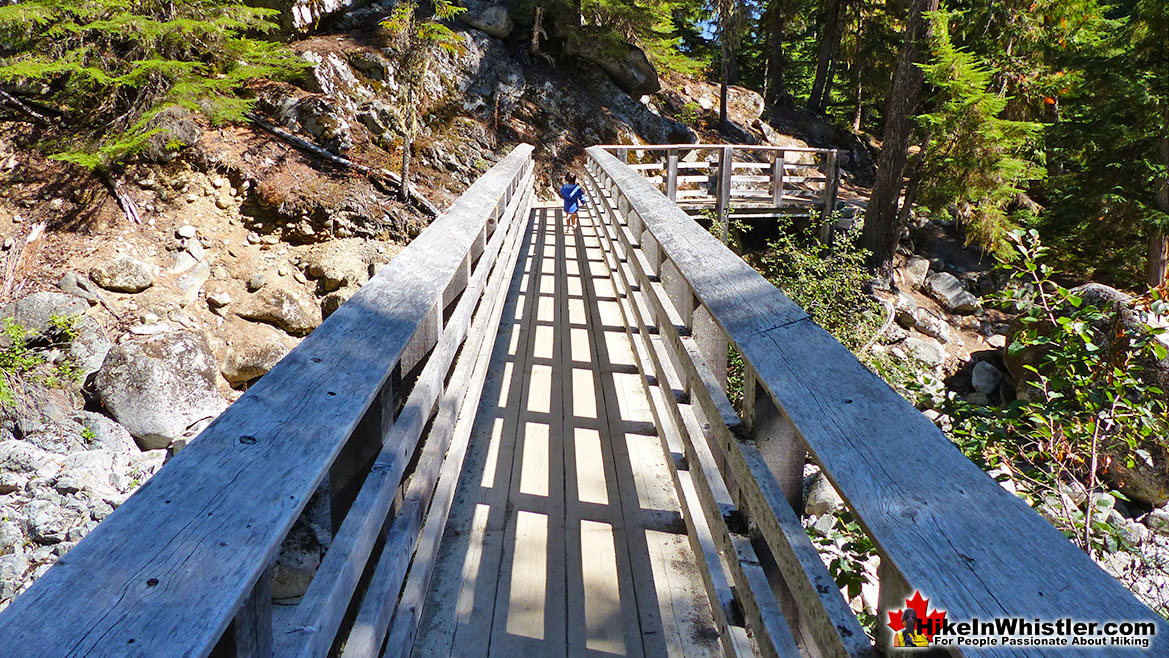 The Rainbow Falls(Rainbow Trail)trailhead is just a short 15 minute drive north from Whistler Village on Alta Lake Road.  Alta Lake Road skirts the far side of Alta Lake and connects with the Sea to Sky Highway in Alpine, north of Whistler Village as well as Creekside south of Whistler Village.  There is road side parking at the Rainbow Trail trailhead, as well as Rainbow Park just a couple hundred metres further south on Alta Lake Road.  At the trailhead you will see an excellent map-board indicating the trails in front of you. There are no signs to Rainbow Falls and you will just see signs for Rainbow Lake, Hanging Lake, Flank Trail and Madeley Lake.
Rainbow Falls Trail Map

The trailhead parking area to Rainbow Falls is the same as for Rainbow Lake and one of many access points to the Flank Trail.  If you are driving from Alpine, a neighbourhood north of Whistler Village, you will find the parking area/trailhead on your right.  There is room for about 20 cars to park and more parking can be found across the street at the A River Runs Through It parking area.  Be careful in the winter if there has been a lot of recent snow.  Where you park is often packed with snow and slopes down a bit.  You may be able to drive in, but not be able to back out easily.  Keep that in mind and park in a way that allows you to get out easily.  There is an excellent trailhead map of the area and you can get an idea of further places to hike beyond the short Rainbow Falls trek.  The Rainbow Falls side trail is somewhat easy to miss as it is unmarked.  Follow the Rainbow Trail and bear right at the two obvious forks in the trail.  Signs do not indicate where the falls are, but you will be able to follow the sound of crashing water.  Rainbow Falls are found before and to the right of the water treatment building and if you emerge here, you have passed the falls.  The Flank Trail runs here, up and to the right, past the treatment building.  The Flank Trail also connects further up the Rainbow Trail on the left. 
Getting to the Rainbow Falls Trailhead



Rainbow Falls is well within walking and biking distance from Whistler Village.  It takes about an hour to walk from Whistler Village to the trailhead or about 20 minutes by bike.  To walk or bike to the trailhead you take the Valley Trail from Whistler Village down to the end of Lorimer Road then continue of the Valley Trail to Rainbow Park.  From there it is just a 10 minute walk away along Alta Lake Road.  Taking a bus to the trailhead is not a great option as no buses go very close.  You can take a bus from the Village down to Whistler Cay, near the end of Lorimer Road, then start walking along the Valley Trail, but it only saves you about 30 minutes walking.  Driving directions to trailhead:  Zero your odometer at Village Gate Boulevard(in Whistler Village), drive north on Highway 99.  At 3.9km turn left onto Alpine Way, then at the next stop sign turn left onto Rainbow Drive.  Continue straight until at 7.3km you will see the trailhead sign, "Rainbow Trail" on your right, half buried in snow most of the winter.  There is room for several cars to park, but be careful if the parking area is packed with snow, you may be able to get in, but not be able to get out easily.  Keep that in mind and park in a way that allows you to get out easily.  Hike up the Rainbow Trail and to reach Rainbow Falls, bear right at the two obvious forks in the trail.  Signs do not indicate where the falls are, but there are several orange trail markers on the trees on the way.  Rainbow Falls are found before the water treatment building and the beautiful bridge over the river is just after the treatment building.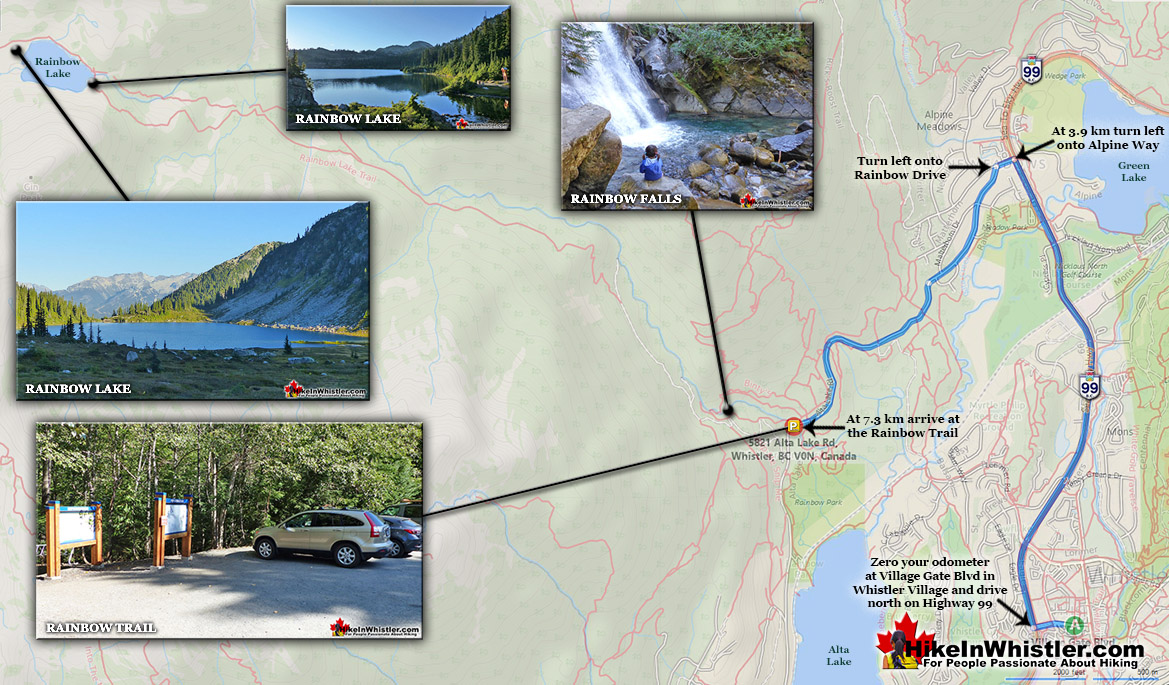 More Great Hiking Around Rainbow Falls

The Rainbow Sproatt Flank Trail overlaps and crosses the Rainbow Trail for half a kilometre.  Following the Flank Trail to the right takes you to a very scenic bridge over 21 Mile Creek.  Following the Flank Trail to the left leads you to a steady ascent for 400 metres along the Rainbow Lake trail to the trail turnoff to the Flank Trail.  The Flank Trail from here quickly ascends through more deep forest and finally after 15 minutes opens up and flattens out.  The views become beautiful and trail less tiring. Whistler Mountain, Blackcomb Mountain and Wedge Mountain all come dramatically into view and Alta Lake appears far below.  Just steps from the trail take you to pristine, snowy outcrops, perfect for taking in the view on a sunny day.. and with most of the Flank Trail south facing, sun will always be facing you over Whistler. Rainbow Lake is one of the original hiking trails in Whistler that has existed well before Whistler was called Whistler. The 8 kilometre trail is challenging though beautiful as it passes through an impressively huge forest of giant trees.  There are several wonderful bridge crossings and crashing river views.
Rainbow Lake itself is surreal and beautiful.  An unnaturally bright, green meadow extends from one side of the lake and a field of starkly white erratics litter the landscape along the shores of the crystal clear lake.  Rainbow Lake is Whistler's water source so swimming, fishing, dogs and camping are not allowed.  There are, you will quickly notice upon reaching Rainbow Lake, that a trail continues past the lake then forks.  The right fork takes you to the right and to the popular, though difficult scramble to the summit of Rainbow Mountain.
Whistler's Best Hiking Trails!
Whistler & Garibaldi Park Best Hiking by Month!

Explore BC Hiking Destinations!