Meadow Park is a huge recreation area in Whistler that has a hockey rink, huge gym, swimming pool, squash courts, baseball diamonds, tennis courts, basketball courts, ball hockey court and a wonderfully elaborate kids play park.  Meadow Park is wonderfully located along the River of Golden Dreams, a cute little, slow, winding river that connects Alta Lake and Green Lake.
Whistler & Garibaldi Hiking

Alexander Falls  

Ancient Cedars  

Black Tusk  

Blackcomb Mountain  

Brandywine Falls  

Brandywine Meadows  

Brew Lake  

Callaghan Lake  

Cheakamus Lake  

Cheakamus River  

Cirque Lake 

Flank Trail 

Garibaldi Lake 

Garibaldi Park 

Helm Creek  

Jane Lakes 

Joffre Lakes  

Keyhole Hot Springs  

Logger's Lake  

Madeley Lake  

Meager Hot Springs 

Nairn Falls  

Newt Lake 

Panorama Ridge 

Parkhurst Ghost Town 

Rainbow Falls  

Rainbow Lake 

Ring Lake  

Russet Lake  

Sea to Sky Trail 

Skookumchuck Hot Springs  

Sloquet Hot Springs 

Sproatt East 

Sproatt West  

Taylor Meadows  

Train Wreck  

Wedgemount Lake  

Whistler Mountain
Whistler Parks & Lakes

Alpha Lake Park  

Alta Lake Park  

Blueberry Park  

Green Lake Park  

Lakeside Park  

Lost Lake Park  

Meadow Park  

Nita Lake Park  

Rainbow Park  

Wayside Park
Along the River of Golden Dreams you will find impossibly idyllic picnic tables and park benches.  Wedge Mountain, Blackcomb Mountain and Whistler Mountain are stretched out before you with the serene river flowing past.  The kids play park has a variety of the usual slides and swings, but also a fun water park activated by a hidden button on a metal, ride on blue whale.  The button activated two opposing water guns, a little water slide and several fountains.  Surrounding the water park are lovely, grass areas for the parents to lay in the sun.  There are also several picnic tables between the water park and the rest of the kids area with slides and climbing walls.  Adjacent to the kids park is a ball hockey court that doubles as two basketball courts.  Next to that are some very nice tennis courts.
Meadow Park Water Park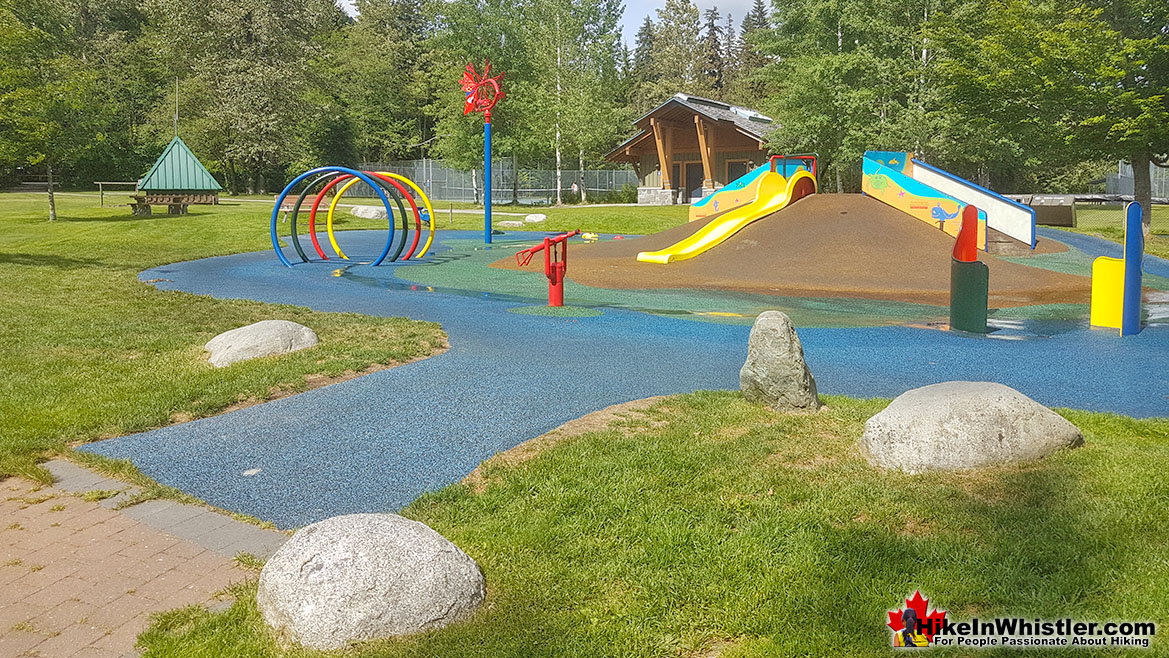 The Meadow Park Playground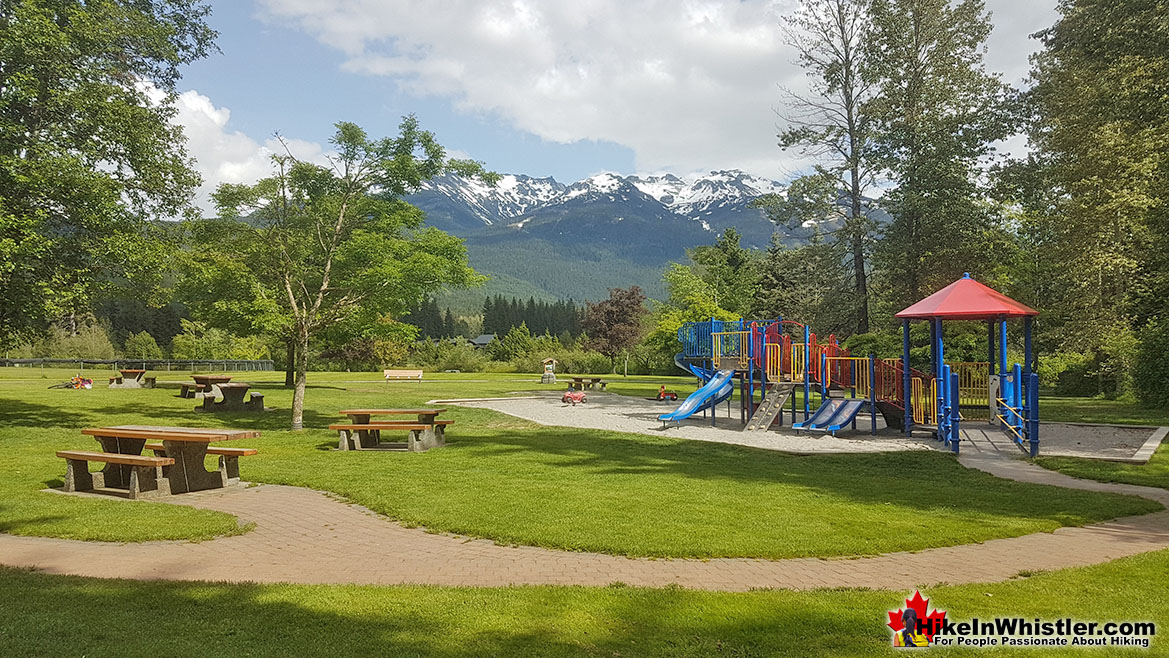 The River of Golden Dreams at Meadow Park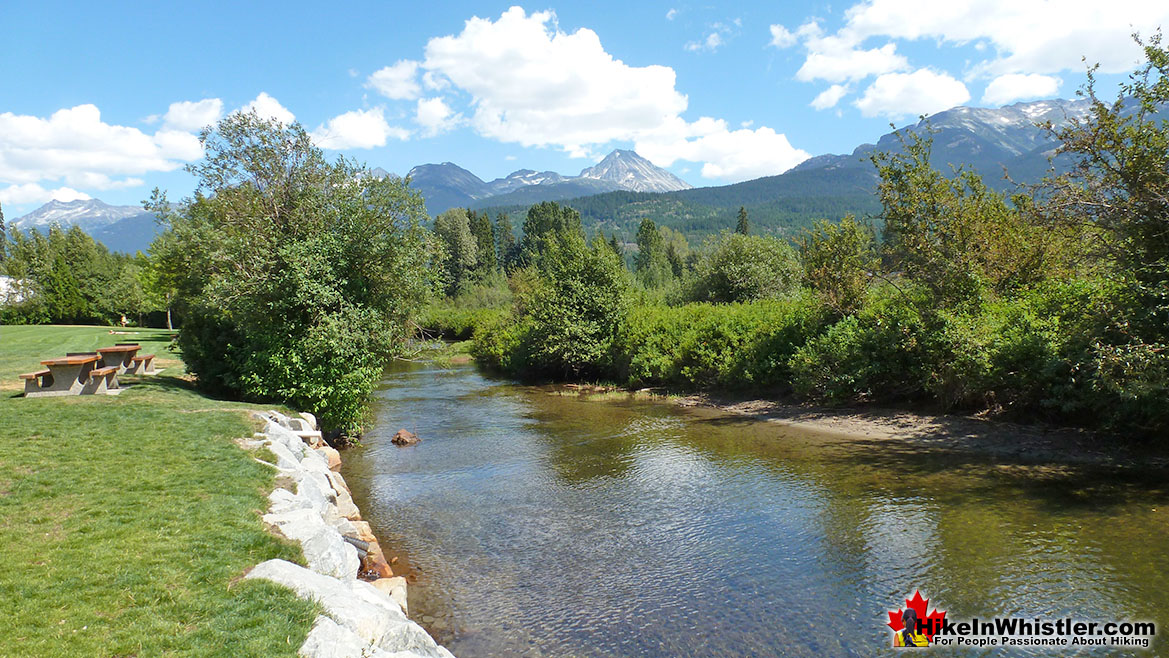 Mountain Views from Meadow Park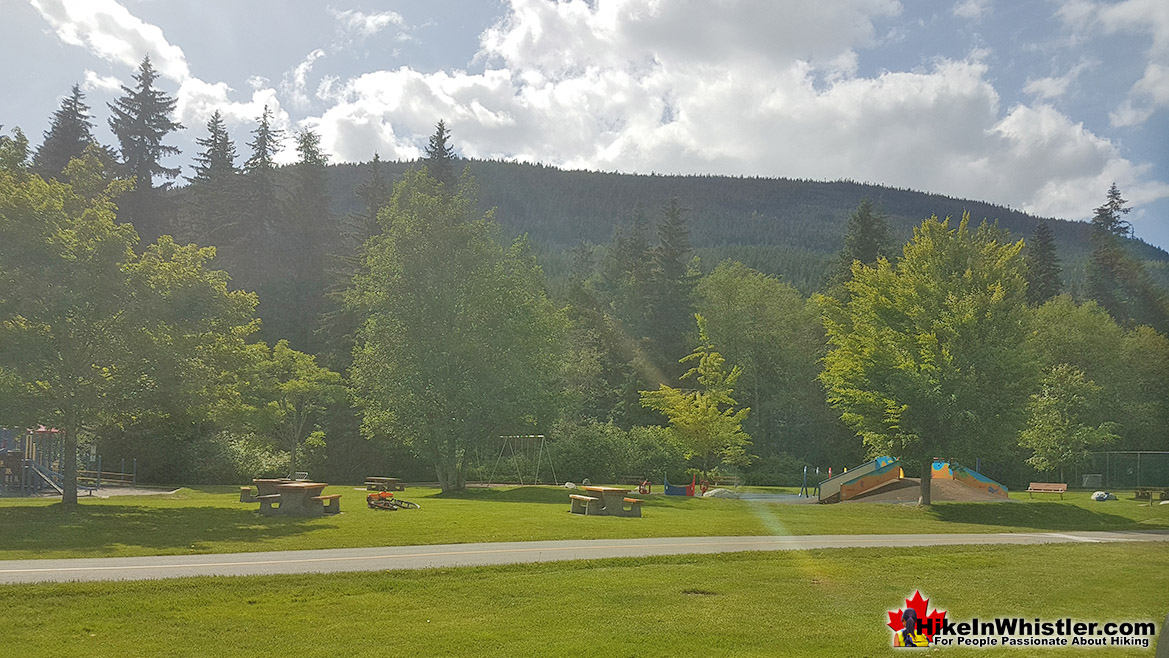 Whistler's Best Parks!
Whistler's Best Hiking Trails!
Whistler & Garibaldi Park Best Hiking by Month!

Explore BC Hiking Destinations!