Russet Lake is a surreal little paradise that lays at the base of The Fissile, in Garibaldi Provincial Park. The Fissile is the strikingly bronze mountain visible from Whistler Village.  From the Village look into the distance at the Peak2Peak Gondola hanging between Whistler Mountain and Blackcomb Mountain and you will see The Fissile. Its pyramid shape in the distance perfectly separates the two mountains.  
Whistler & Garibaldi Hiking

Alexander Falls  

Ancient Cedars  

Black Tusk  

Blackcomb Mountain  

Brandywine Falls  

Brandywine Meadows  

Brew Lake  

Callaghan Lake  

Cheakamus Lake  

Cheakamus River  

Cirque Lake 

Flank Trail 

Garibaldi Lake 

Garibaldi Park 

Helm Creek  

Jane Lakes 

Joffre Lakes  

Keyhole Hot Springs  

Logger's Lake  

Madeley Lake  

Meager Hot Springs 

Nairn Falls  

Newt Lake 

Panorama Ridge 

Parkhurst Ghost Town 

Rainbow Falls  

Rainbow Lake 

Ring Lake  

Russet Lake  

Sea to Sky Trail 

Skookumchuck Hot Springs  

Sloquet Hot Springs 

Sproatt East 

Sproatt West  

Taylor Meadows  

Train Wreck  

Wedgemount Lake  

Whistler Mountain
Whistler Aerial Views

Alexander 

Brandywine 

Blackcomb 

Callaghan 

Cirque 

Joffre 

Keyhole 

Logger's 

Madeley 

Panorama 

Sproatt 

Parkhurst

Rainbow 

Russet 

Train Wreck 

Wedge Glacier 

Wedgemount 

Whistler
Though Russet Lake is not terribly impressive in terms of size or colour, the valley around it is remarkably beautiful.  The colours of everything around Russet Lake seem to change from moment to moment in and extraordinary way. The distinctive colour of The Fissile and the stark grey of the mountains around contrast amazingly with the blue of the lake and green grass in the valley. So many different factors fill the place with colour.  There are several ways to get to hike Russet Lake.  The Singing Pass trail from the base of Whistler Mountain near the Whistler Gondola. The Musical Bumps trail that begins near the top of the Whistler Gondola near the Roundhouse Lodge.  Both routes take you deep into the magnificent Fitzsimmons Range.  The Fitzsimmons Range runs east from the summit of Whistler Mountain to Russett Lake.  Fitzsimmons Creek cuts between Whistler Mountain and Blackcomb Mountain, parallel to the Singing Pass trail.  Where the Fitzsimmons Range ends at Fitzsimmons Creek, the Spearhead Range begins and continues along a set of peaks resembling spearheads to Blackcomb Mountain.  These peaks include The Spearhead, Mount Trorey, Tremor, Shatter, Shudder, Quiver, and more.
Russet Lake Aerial Views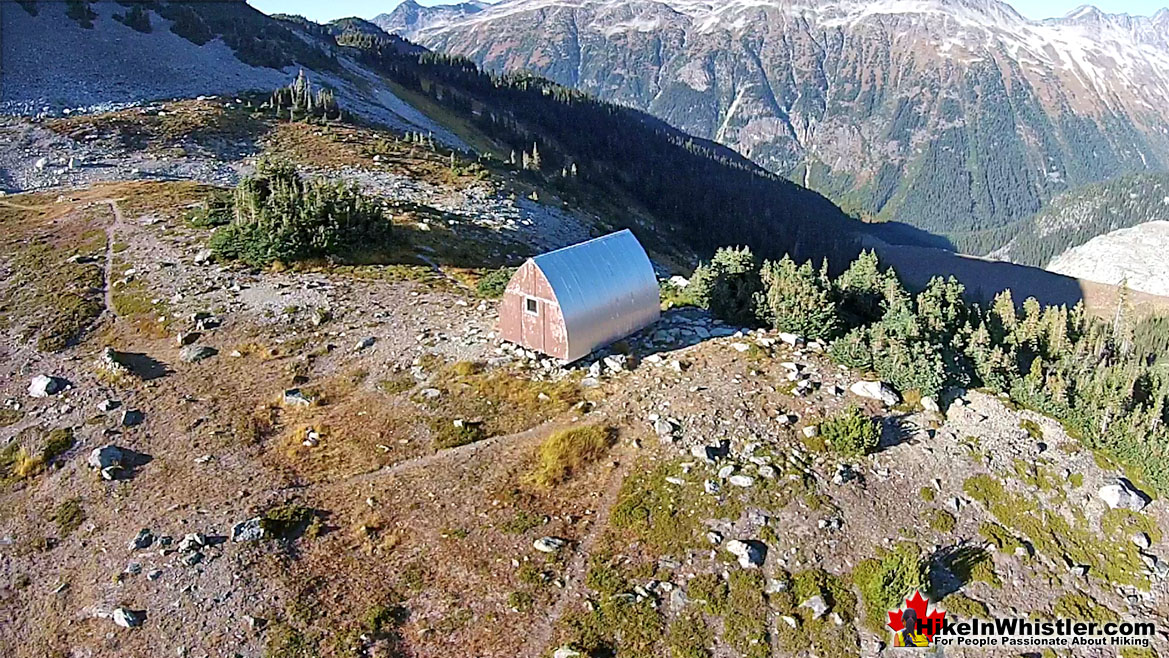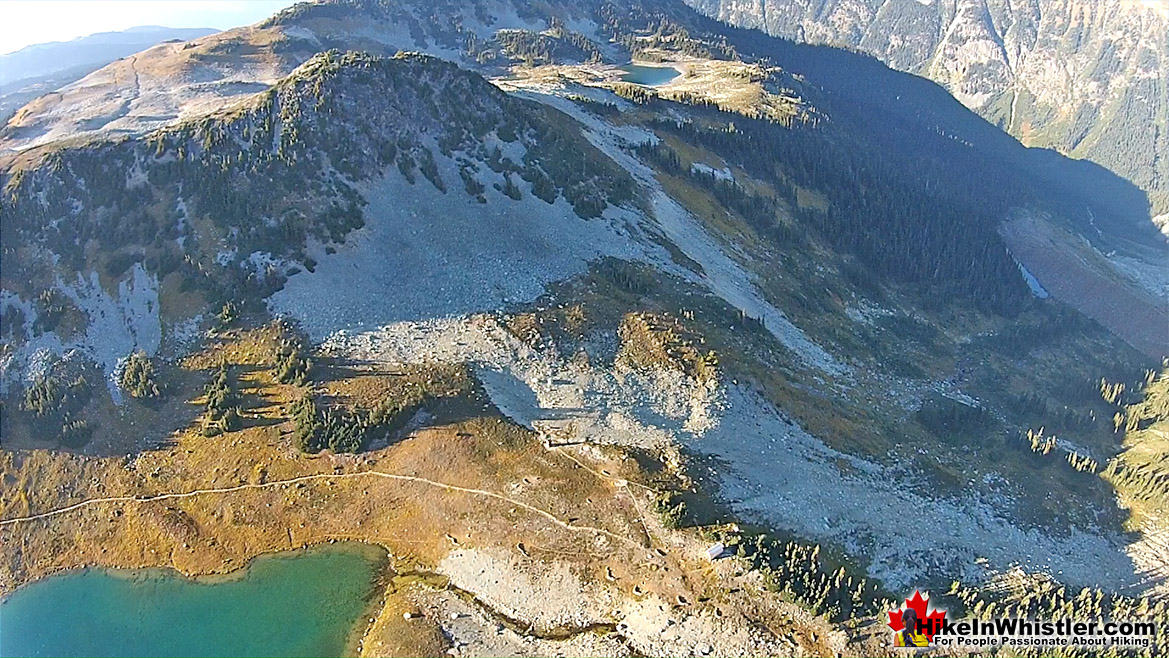 More info, details, directions and maps for Russet Lake
More Whistler Aerial Views!

Whistler & Garibaldi Park Hiking Glossary A to Z
Whistler & Garibaldi Park Best Hiking by Month!

Explore BC Hiking Destinations!