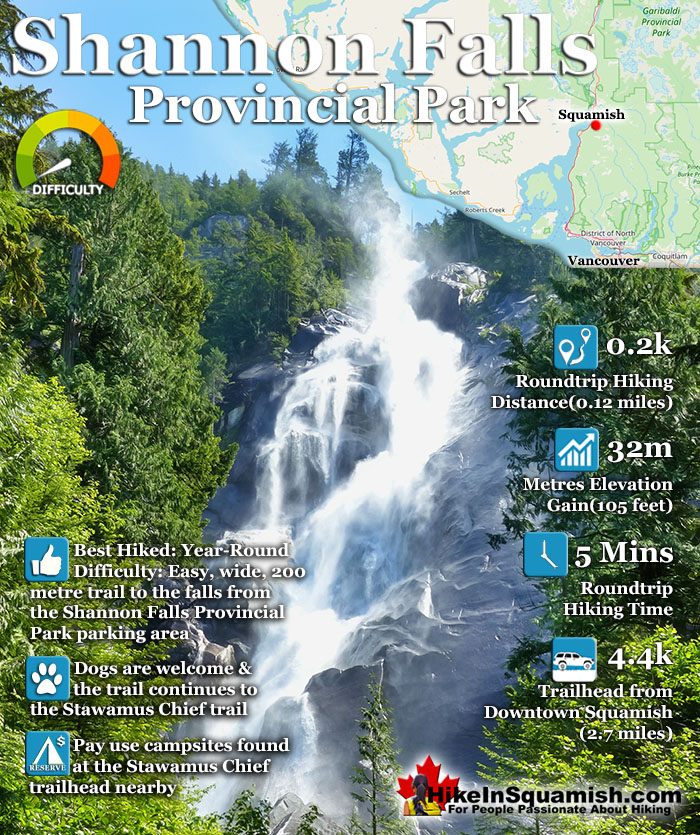 Shannon Falls towers above Howe Sound at 335 metres as the third tallest falls in BC.  The wonderful, though very short trail winds through a beautiful old growth forest to get to the base of the falls.  From your car to the viewpoint takes only about four minutes, however the trail continues a bit further to a higher viewpoint (five minutes higher). 
Dramatically crashing falls
View from very near
Short, convenient trail on Hwy 99
Continue hiking to the Chief
Nice facilities at the trailhead
Upper Shannon falls trail continues
Few people continue past the falls
Trail to upper falls is hard
Very busy with tour buses
Very short trail to falls

Squamish & Whistler Trails

Alexander Falls  

Alice Lake  

Ancient Cedars  

Black Tusk  

Blackcomb Mountain  

Brandywine Falls  

Brandywine Meadows  

Brew Lake  

Callaghan Lake  

Cheakamus Lake  

Cheakamus River  

Cirque Lake  

Elfin Lakes  

Flank Trail  

Garibaldi Lake  

Garibaldi Park  

Helm Creek  

High Falls Creek  

Jane Lakes  

Joffre Lakes  

Keyhole Hot Springs  

Levette Lake  

Logger's Lake  

Madeley Lake  

Meager Hot Springs 

Nairn Falls  

Newt Lake  

Panorama Ridge  

Parkhurst Ghost Town  

Rainbow Falls  

Rainbow Lake  

Ring Lake  

Russet Lake  

Sea to Sky Gondola  

Sea to Sky Trail  

Shannon Falls  

Skookumchuck Hot Springs  

Sloquet Hot Springs  

Sproatt East  

Sproatt West  

Stawamus Chief  

Taylor Meadows  

Train Wreck  

Upper Shannon Falls  

Wedgemount Lake  

Whistler Mountain
You can even continue along the trail and join with the Stawamus Chief trail which goes to the three summits of -The Chief. Shannon Falls Provincial Park has a concession stand as well as an information centre next to the parking area.  This parking area is day use only, so if you are hoping to camp overnight in the area, you have to park at the Stawamus Chief parking lot, just a 1 minute drive north of the Shannon Falls lot.  If you are planning to hike the Stawamus Chief, the Shannon Falls parking lot is arguably a better place to start from.  You can take a look at Shannon Falls and then take the connecting trail to join onto the trail to The Chief.  This route is only slightly longer, yet much more scenic.  Once you connect to the Stawamus Chief trail, you will find almost constant stairs to be prepared for quite a workout comparable to the Grouse Grind in Vancouver.
Stawamus Chief from Shannon Falls
The Chief is the mammoth rock face that towers over Squamish and has been iconic in this area for many centuries. Though hardly believable from looking at, the summit is only a one hour hike.  In fact there are three peaks, South (First), Centre (Second), and North (Third). Each accessible from the single trailhead.  The trailhead to The Chief is easy to find. From highway 99, in Squamish. Finding either Stawamus Chief Provincial Park or Shannon Falls Provincial Park are very easy.  The Chief is visible for several kilometres and both The Chief and Shannon Falls are visible from the Sea to Sky Highway.  From the highway watch for the provincial park signs for either park and. The large parking lots for Stawamus Chief Provincial Park are arranged next to the trailhead.  There is a nice campground, with plenty of tent sites just up the trail.  Shannon Falls is just 1 minute south of the entrance to The Chief on the Sea to Sky Highway and easily spotted.
The Shannon Falls Trail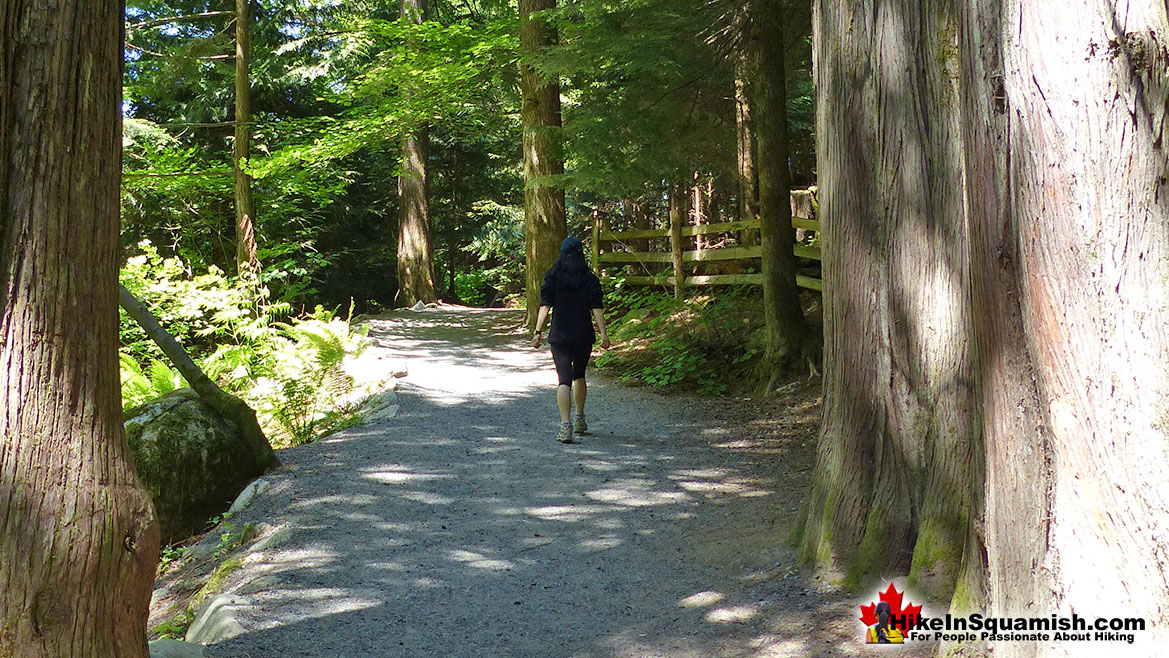 Beautiful Shannon Falls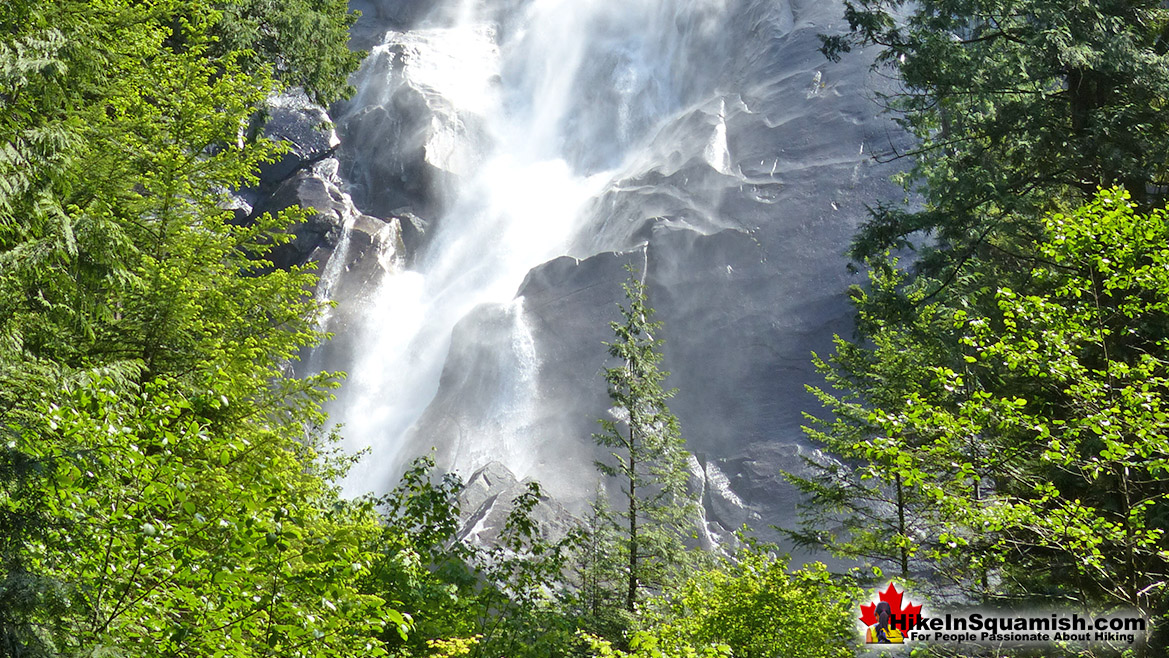 Stawamus Chief First Peak
 More Best Squamish Hiking - Shannon Falls

Best Whistler & Garibaldi Park Hiking Trails!
Whistler & Garibaldi Park Hiking by Month!

Explore BC Hiking Destinations!