Madeley Lake is a beautiful, remote mountain lake hidden high up in the Callaghan Valley.  From Whistler Village expect to take 40 minutes to drive there.  You can drive directly to the lake, however the access road is pretty bad with deep waterbars.  An average 4x4 can make it quite easily, though most cars with have great difficulty driving over the numerous deep water cut gouges in the road.  
Whistler & Garibaldi Hiking

Alexander Falls  

Ancient Cedars  

Black Tusk  

Blackcomb Mountain  

Brandywine Falls  

Brandywine Meadows  

Brew Lake  

Callaghan Lake  

Cheakamus Lake  

Cheakamus River  

Cirque Lake 

Flank Trail 

Garibaldi Lake 

Garibaldi Park 

Helm Creek  

Jane Lakes 

Joffre Lakes  

Keyhole Hot Springs  

Logger's Lake  

Madeley Lake  

Meager Hot Springs 

Nairn Falls  

Newt Lake 

Panorama Ridge 

Parkhurst Ghost Town 

Rainbow Falls  

Rainbow Lake 

Ring Lake  

Russet Lake  

Sea to Sky Trail 

Skookumchuck Hot Springs  

Sloquet Hot Springs 

Sproatt East 

Sproatt West  

Taylor Meadows  

Train Wreck  

Wedgemount Lake  

Whistler Mountain
Whistler Aerial Views

Alexander 

Brandywine 

Blackcomb 

Callaghan 

Cirque 

Joffre 

Keyhole 

Logger's 

Madeley 

Panorama 

Sproatt 

Parkhurst

Rainbow 

Russet 

Train Wreck 

Wedge Glacier 

Wedgemount 

Whistler
Located near Alexander Falls, Madeley Lake is surrounded by other great sights.  Whistler Olympic Park is nearby as well as Callaghan Lake Provincial Park.  The turnoff to Callaghan Lake just past Alexander Falls is the same turnoff you take to get to Madeley Lake.  Madeley Lake is your first right after crossing the bridge, while Callaghan Lake is 8 kilometres up this bumpy logging road.  The old logging road takes you along the left shore of Madeley Lake passing a couple good canoe/kayak launching spots.  The end of the road comes just before a disintegrating bridge blocked by a huge boulder.  The short trail to the Madeley Lake campsite is found just across this bridge on the right.  The campsite is largely unmaintained and is very rustic and beautiful.  An ancient outhouse, picnic tables and several metal fire pits dot the campsite with several large tent clearings.  Emerging from the deep forest of the campsite you come to a gorgeous gravel beach.  South facing, the beach is always sunny and magically serene.  The campsite at the end of Madeley Lake is very basic, though wonderfully remote feeling and rustic. The sun rises over the lake in the morning and you are bathed in sun most of the day.  In previous years you could also camp at the nearby Alexander Falls, however this is no longer allowed.  Also, keep in mind that this whole area in the winter is taken over by Callaghan Country and Whistler Olympic Park so access via skis comes with a usage charge.  Another campsite option in the area is the beautiful and large campsite area at Callaghan Lake Provincial Park nearby. Both the Madeley Lake campsite and the Callaghan Lake campsite are free.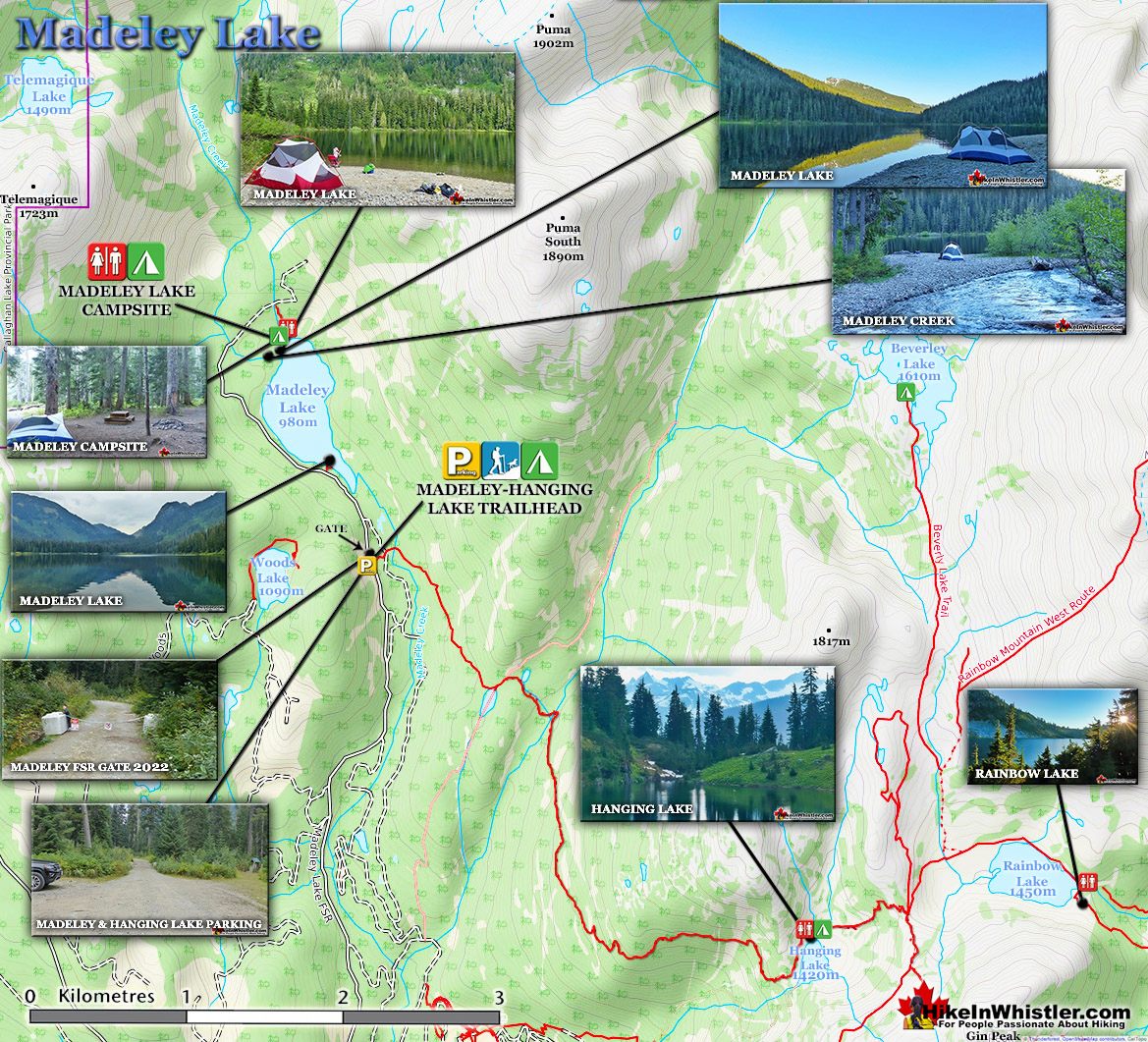 Madeley Lake Aerial Views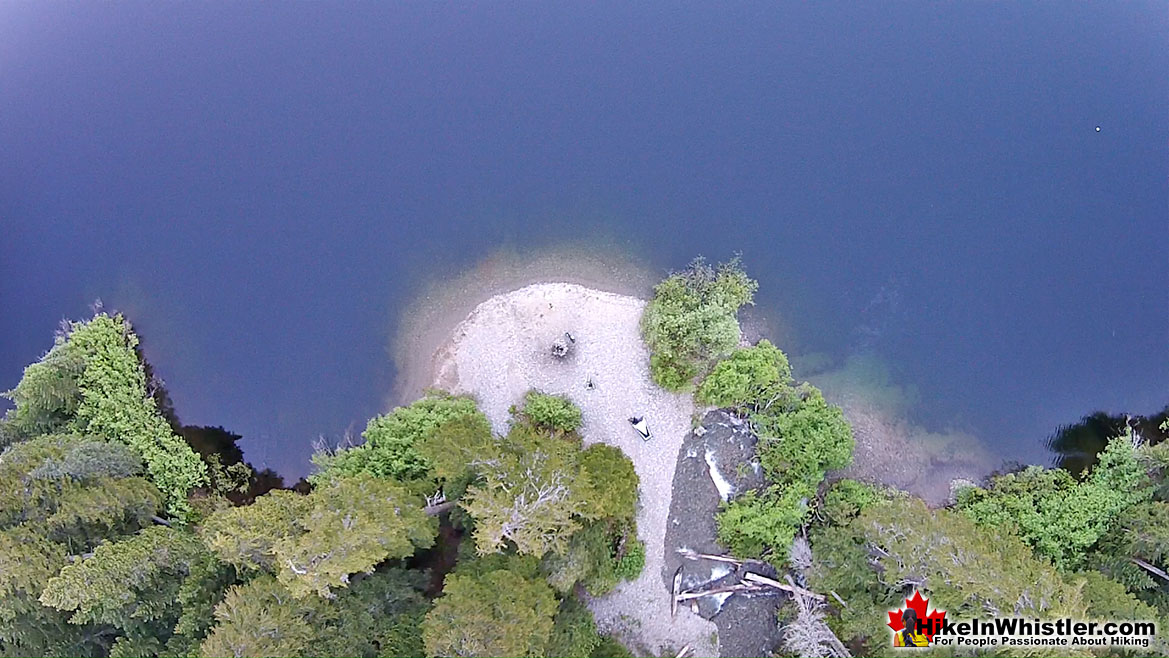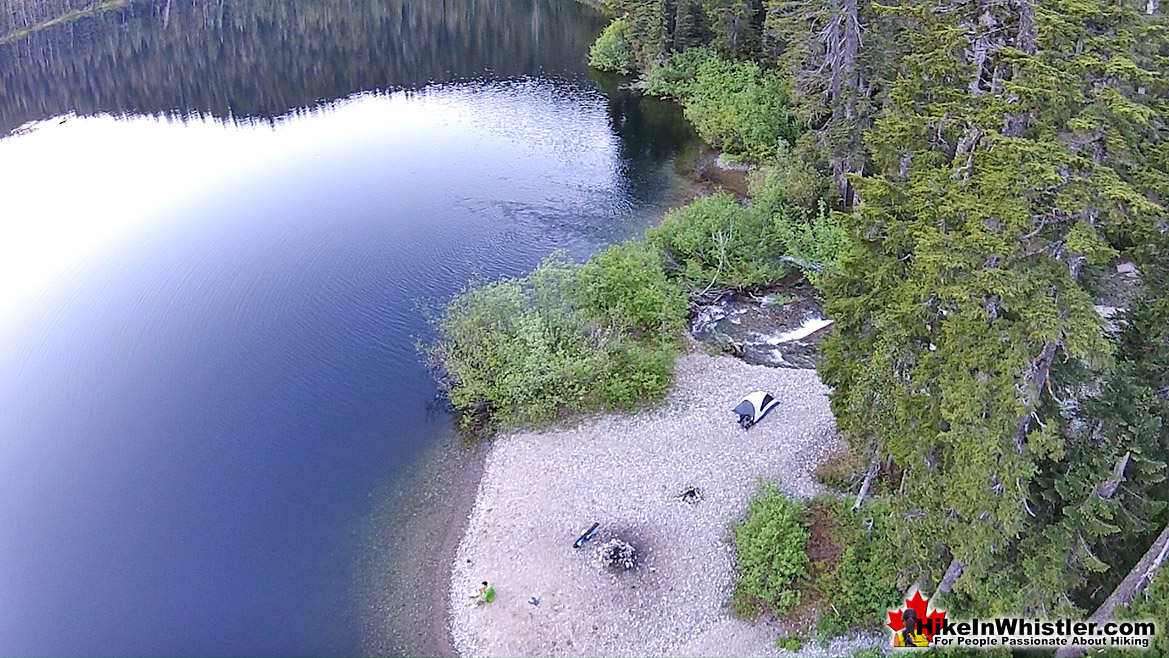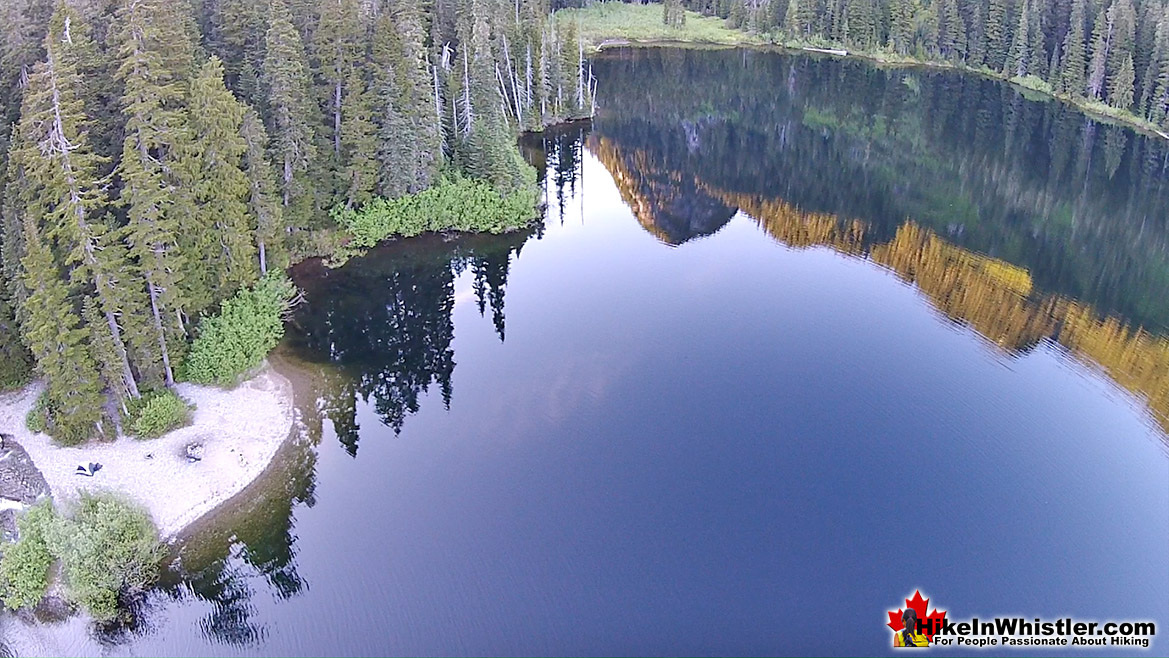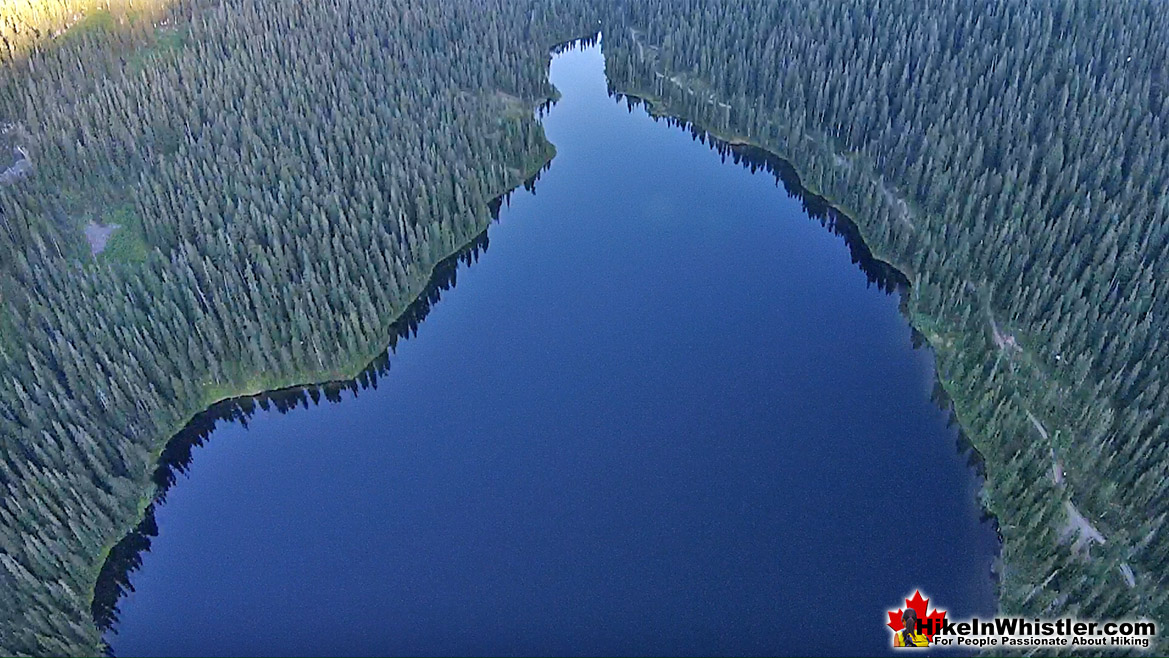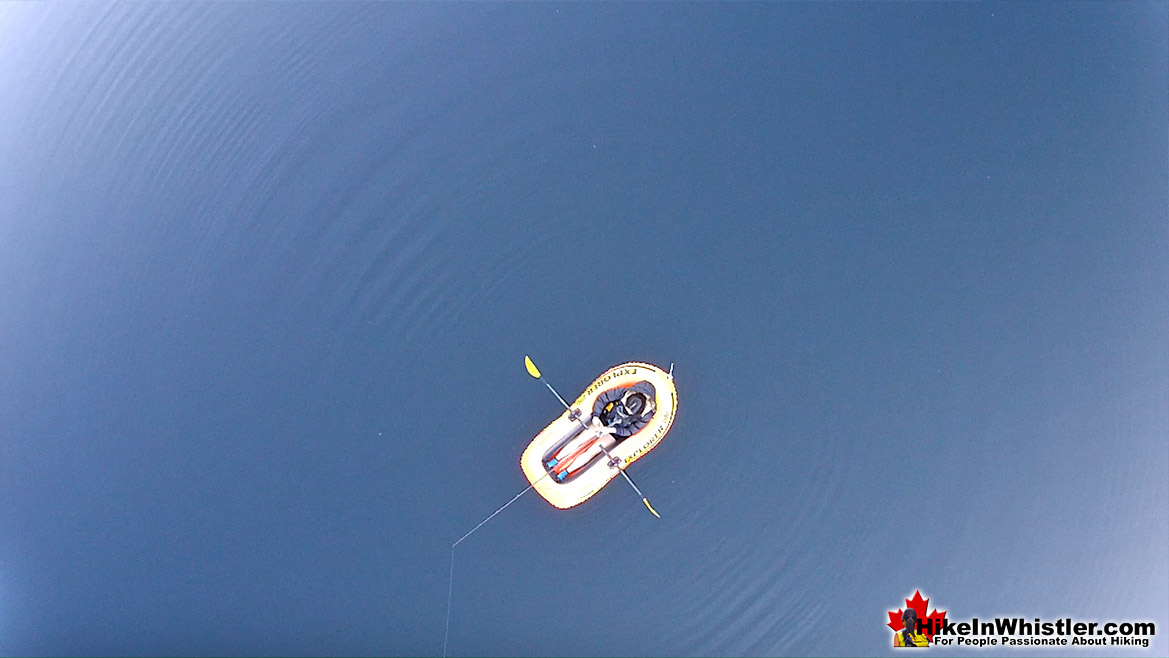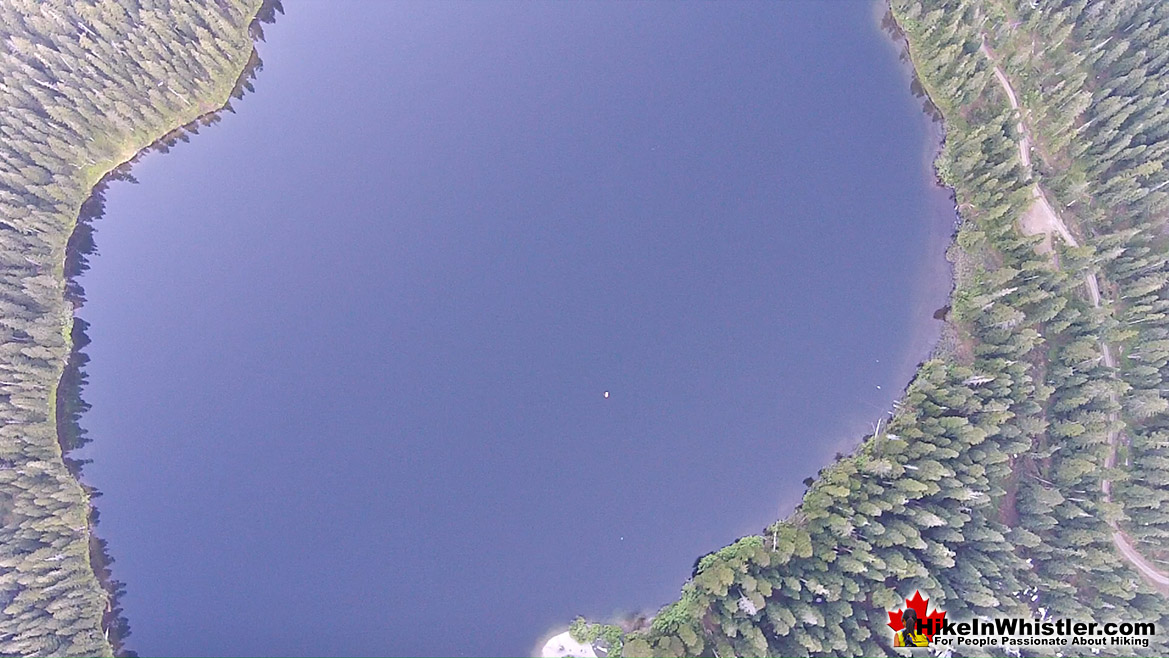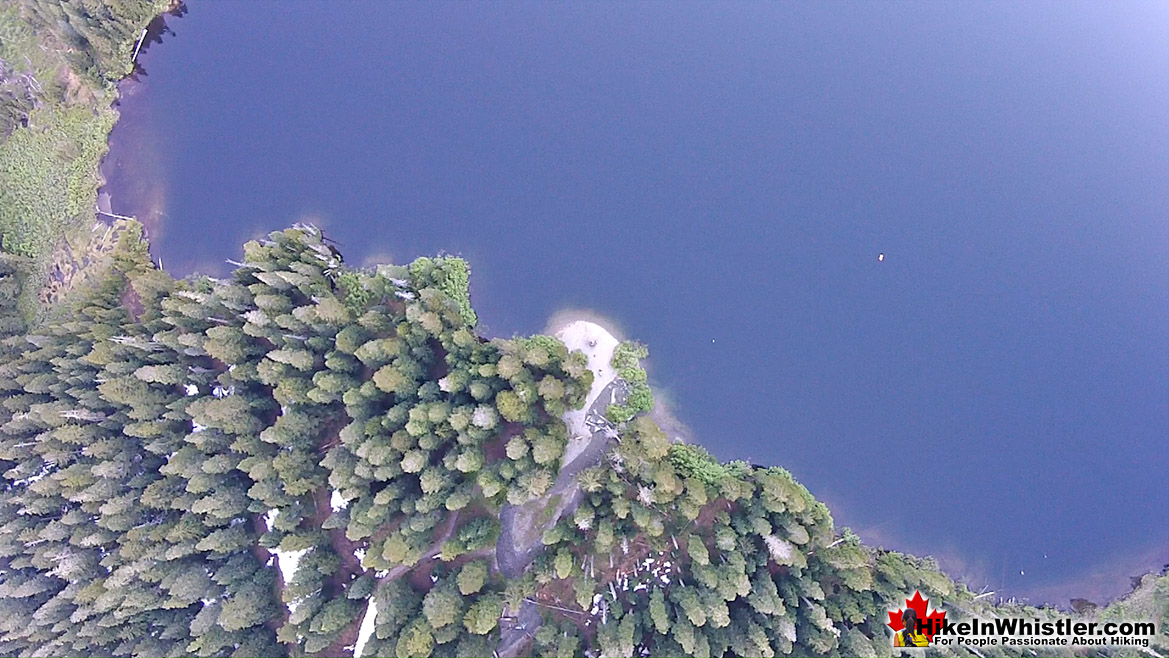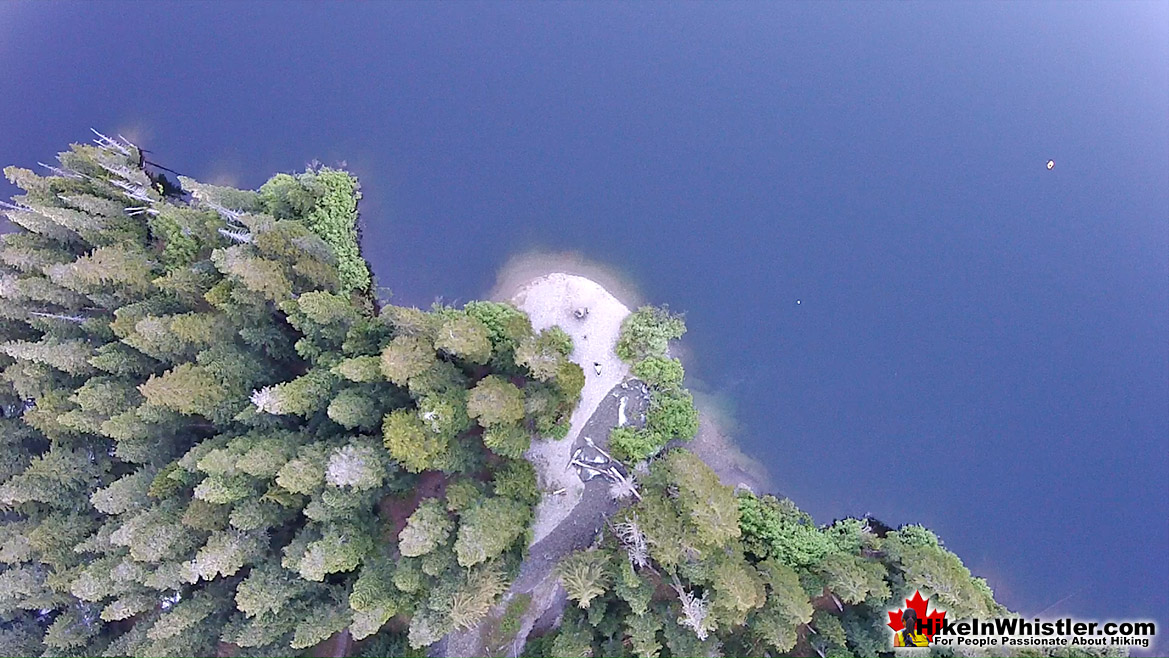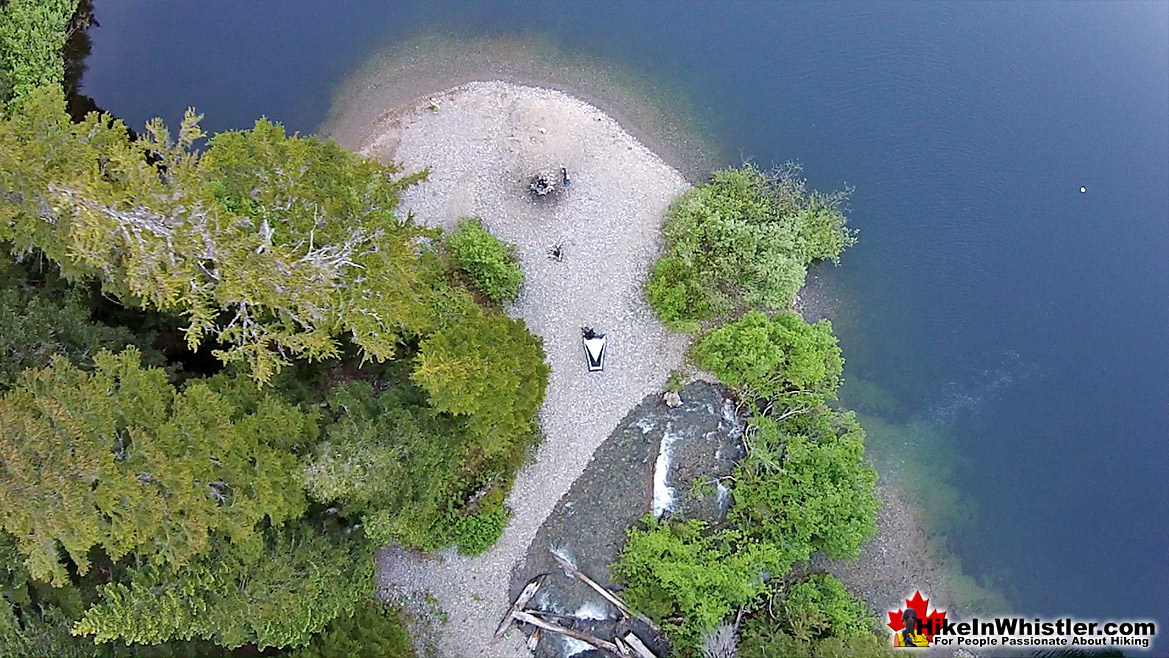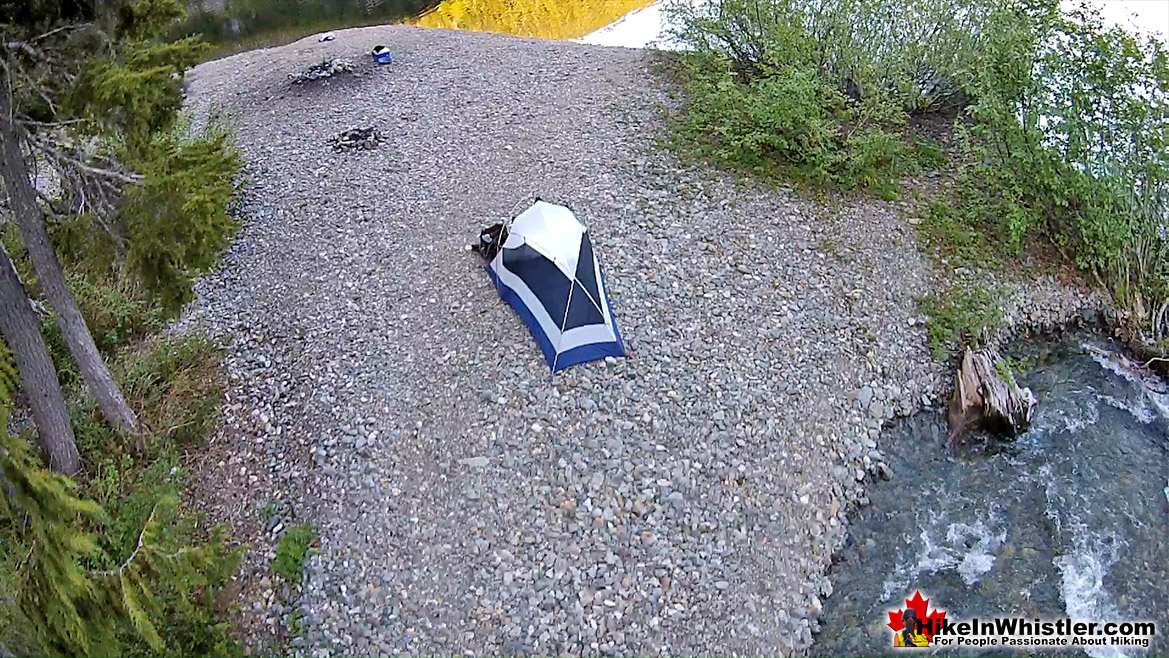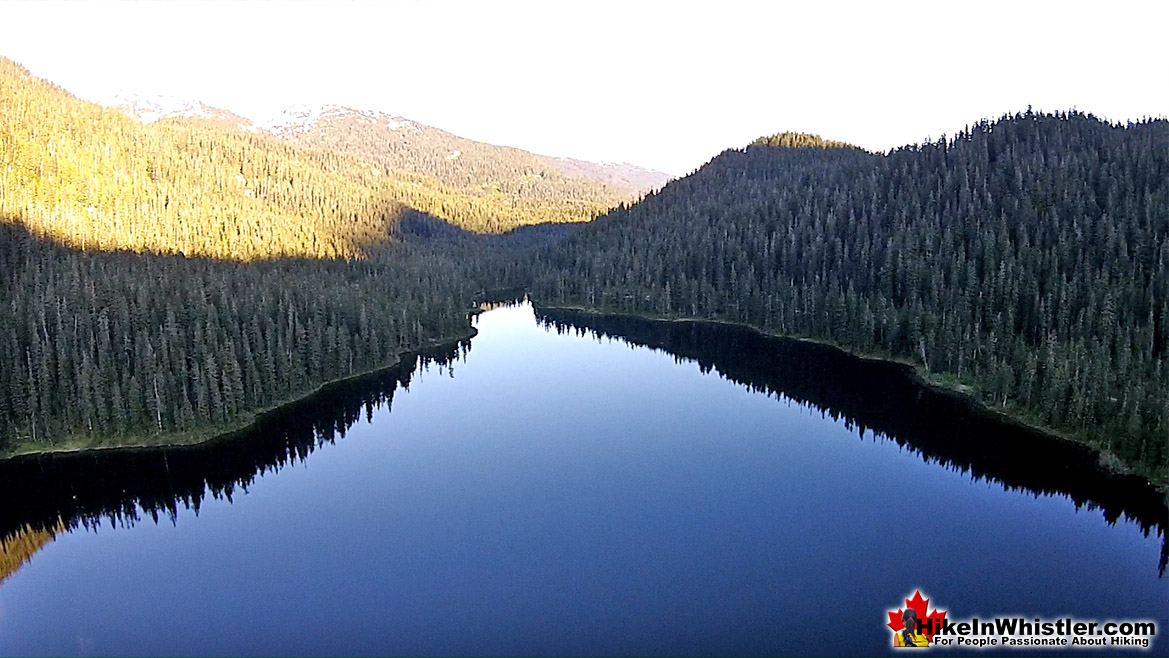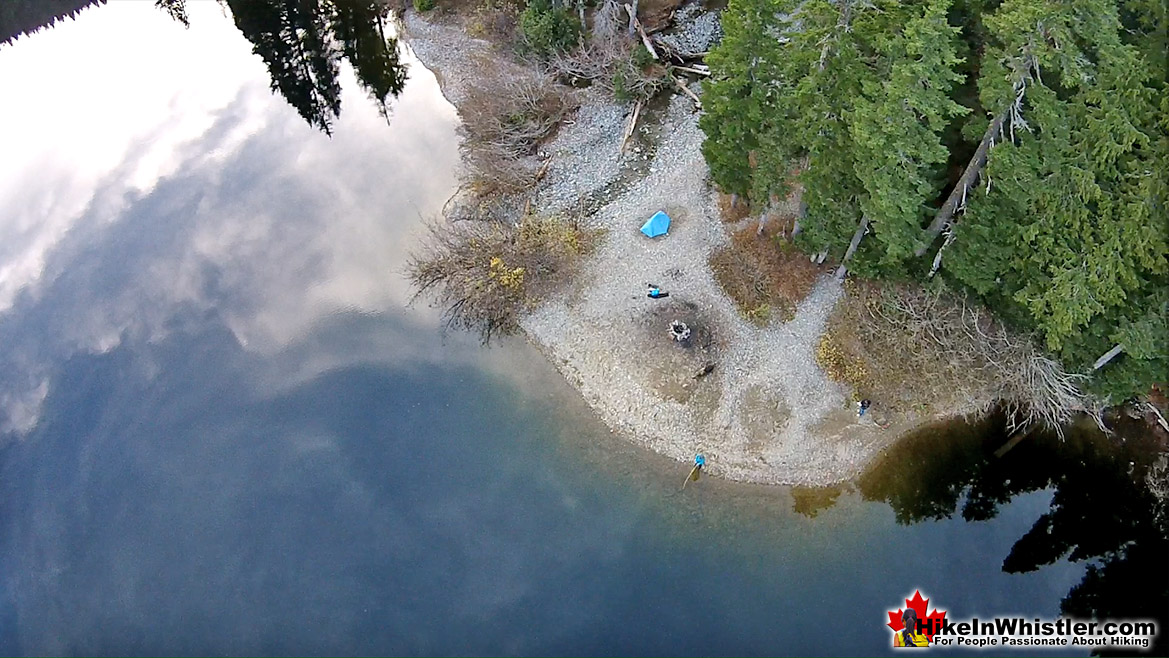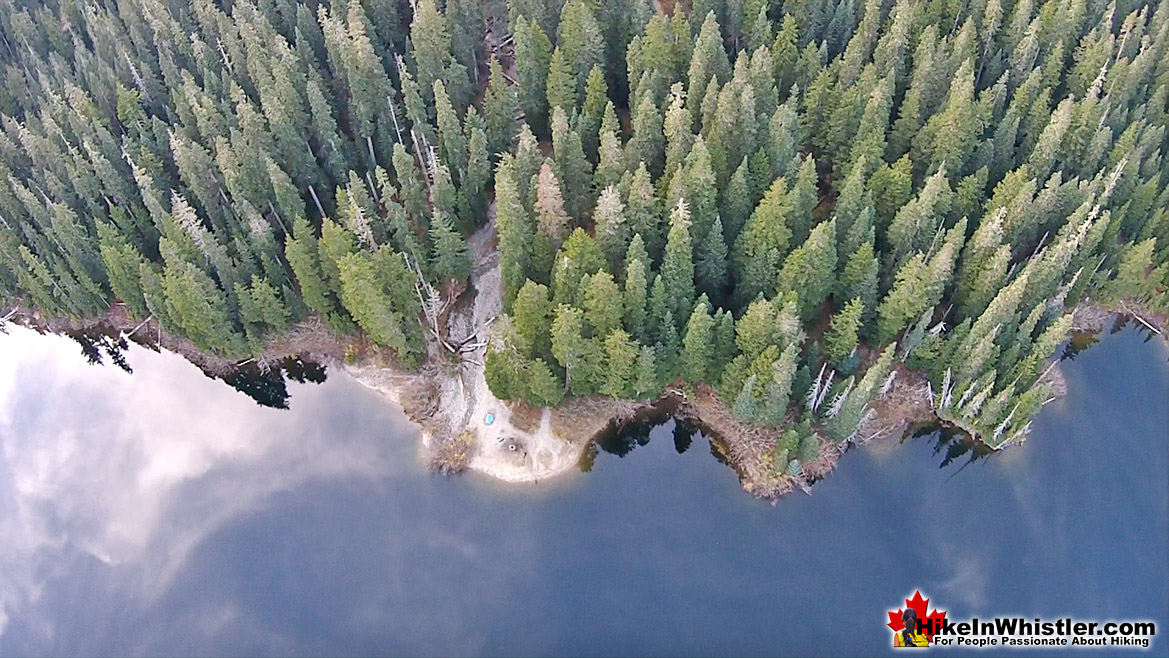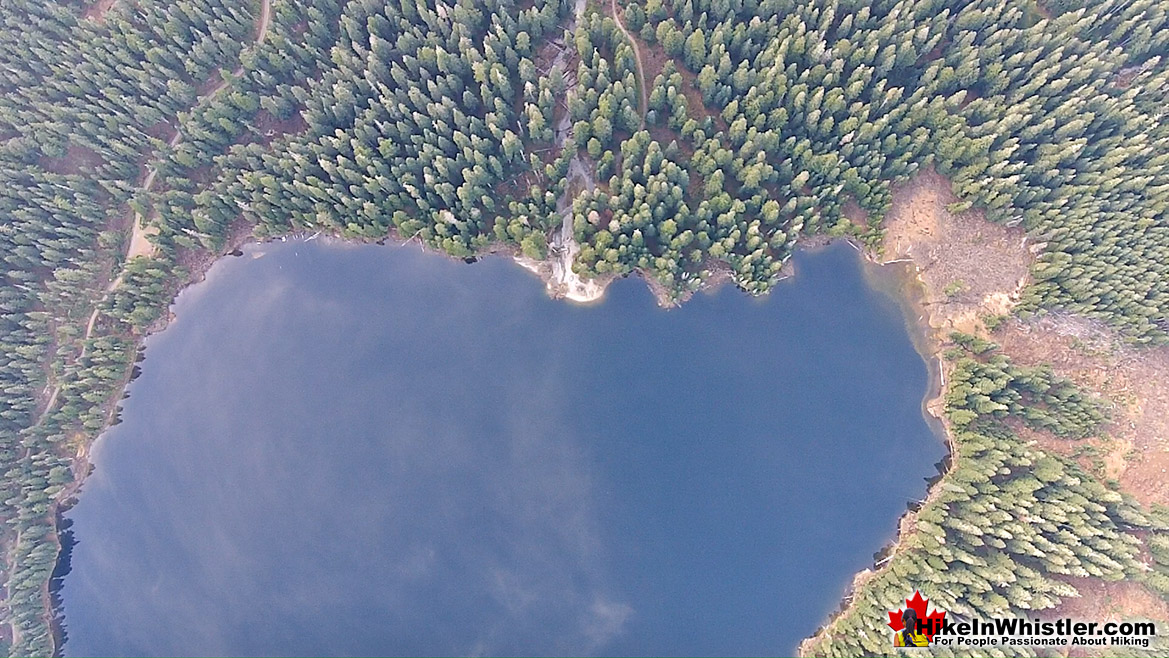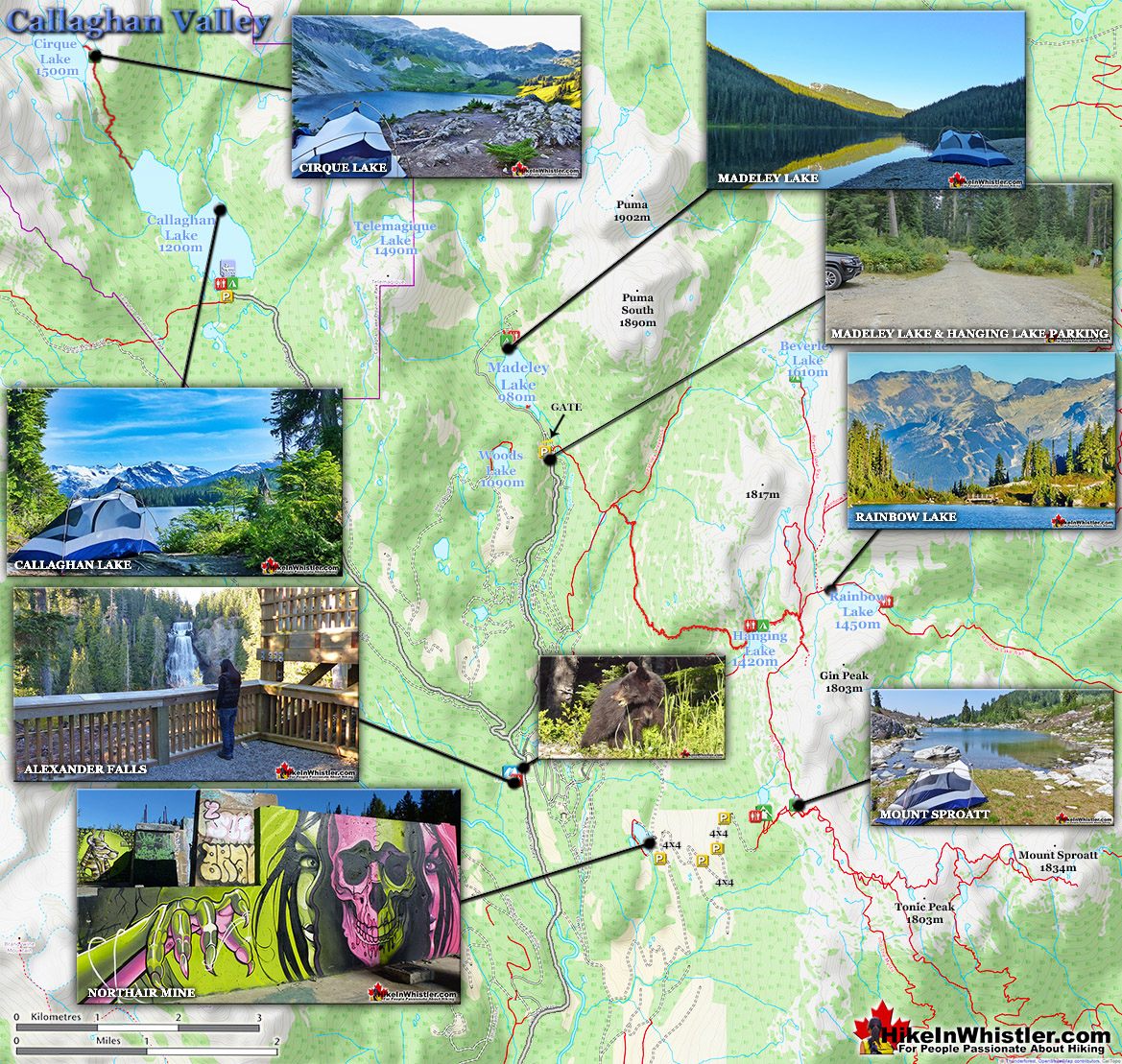 More info, maps and directions to Madeley Lake
More Whistler Aerial Views!

Whistler & Garibaldi Park Hiking Glossary A to Z
Whistler & Garibaldi Park Best Hiking by Month!

Explore BC Hiking Destinations!