Joffre Lakes Provincial Park is a gorgeous park with extraordinarily coloured lakes, waterfalls, stunning mountain peaks and ominous glaciers pouring into the valley.  Joffre Lakes is one of those incredible places that makes it hard to take a boring picture.  The three Joffre Lakes are some of the most stunning lakes you are likely to ever see.  Each lake gets progressively more beautiful and impossibly turquoise from one to the next.
Whistler & Garibaldi Hiking

Alexander Falls  

Ancient Cedars  

Black Tusk  

Blackcomb Mountain  

Brandywine Falls  

Brandywine Meadows  

Brew Lake  

Callaghan Lake  

Cheakamus Lake  

Cheakamus River  

Cirque Lake 

Flank Trail 

Garibaldi Lake 

Garibaldi Park 

Helm Creek  

Jane Lakes 

Joffre Lakes  

Keyhole Hot Springs  

Logger's Lake  

Madeley Lake  

Meager Hot Springs 

Nairn Falls  

Newt Lake 

Panorama Ridge 

Parkhurst Ghost Town 

Rainbow Falls  

Rainbow Lake 

Ring Lake  

Russet Lake  

Sea to Sky Trail 

Skookumchuck Hot Springs  

Sloquet Hot Springs 

Sproatt East 

Sproatt West  

Taylor Meadows  

Train Wreck  

Wedgemount Lake  

Whistler Mountain
Whistler Aerial Views

Alexander 

Brandywine 

Blackcomb 

Callaghan 

Cirque 

Joffre 

Keyhole 

Logger's 

Madeley 

Panorama 

Sproatt 

Parkhurst

Rainbow 

Russet 

Train Wreck 

Wedge Glacier 

Wedgemount 

Whistler
By the third lake the intense colour is breathtaking. The mighty Matier Glacier rises above and beyond the third lake, making the experience even more spectacular with such a looming presence.  Located an hours drive north of Whistler in the vast wilderness of mountains split by the Duffy Lake Road.  Expect to take an hour to drive the 61 kilometres to the trailhead.  There are three lakes in Joffre Lakes Provincial Park and all of them beautiful on their own.  The first lake, Lower Joffre Lake is just steps from the parking lot/trailhead and the views are already fantastic.  It has a wonderful turquoise colour that comes from light reflecting off particles of rock suspended in the glacier meltwater.  The lake is surrounded by pristine wilderness of uniformly idyllic trees.  Looking across the lake, two mountains frame a distant glacier, which looks strangely close and ominously huge.  It is the Matier Glacier which fills the steep valley above the third of the Joffre Lakes, Upper Joffre Lake, and marks the end of the trail that you just started.  Partway between Lower Joffre Lake and Upper Joffre Lake is Middle Joffre Lake.  More details, directions and maps for Joffre Lakes.
Joffre Lakes Aerial Views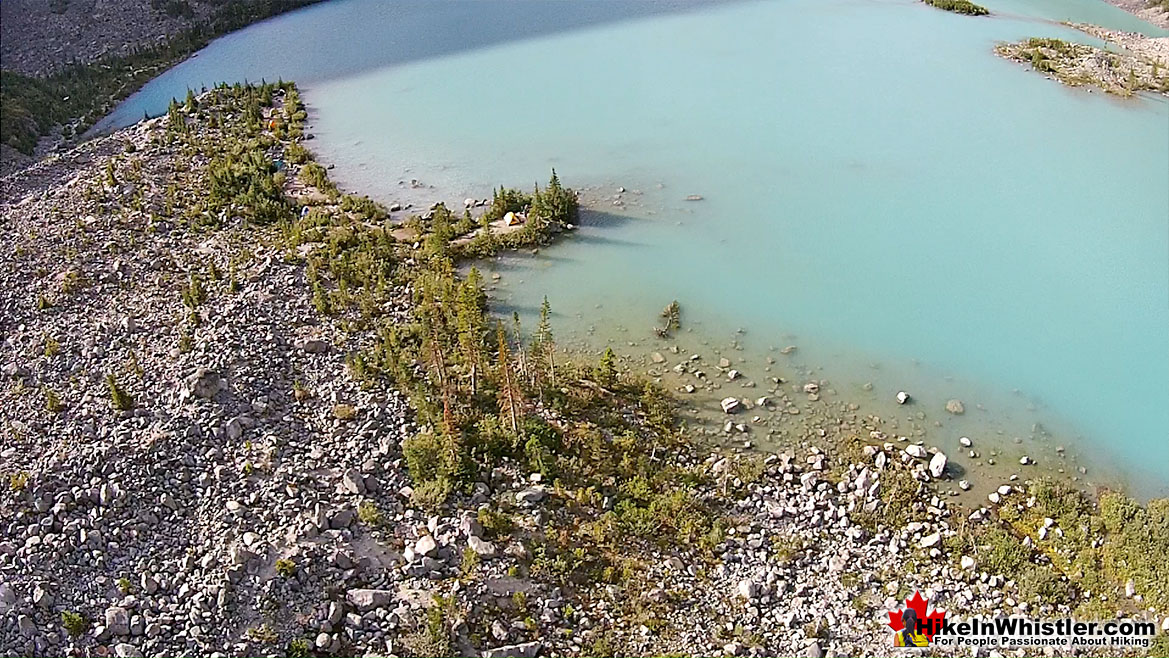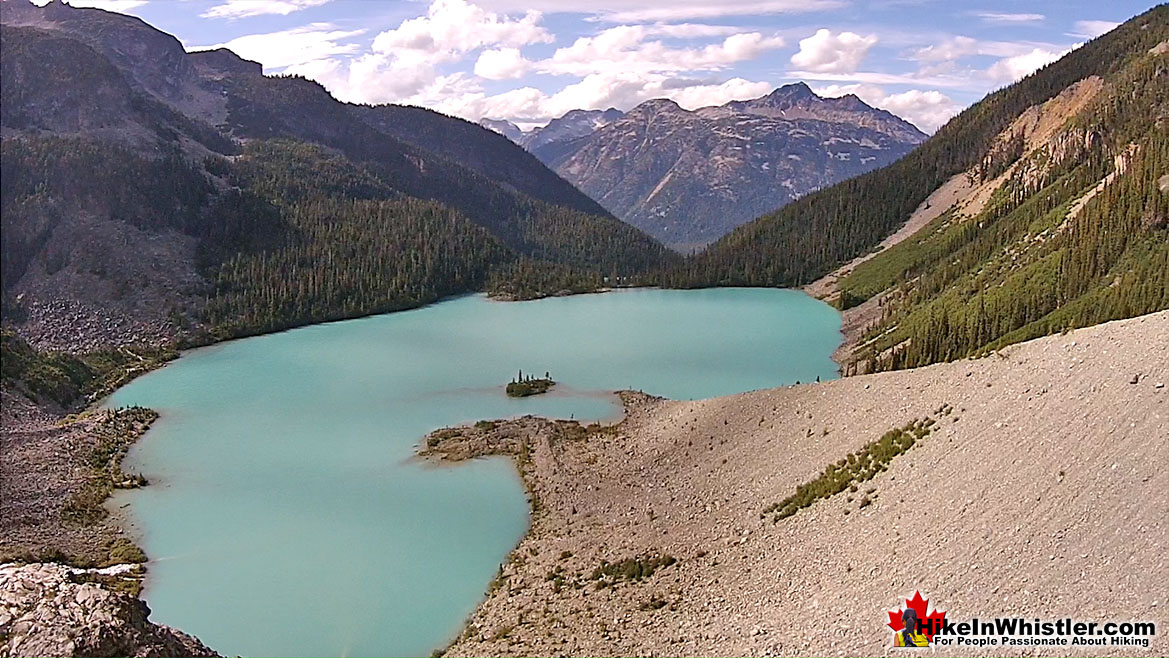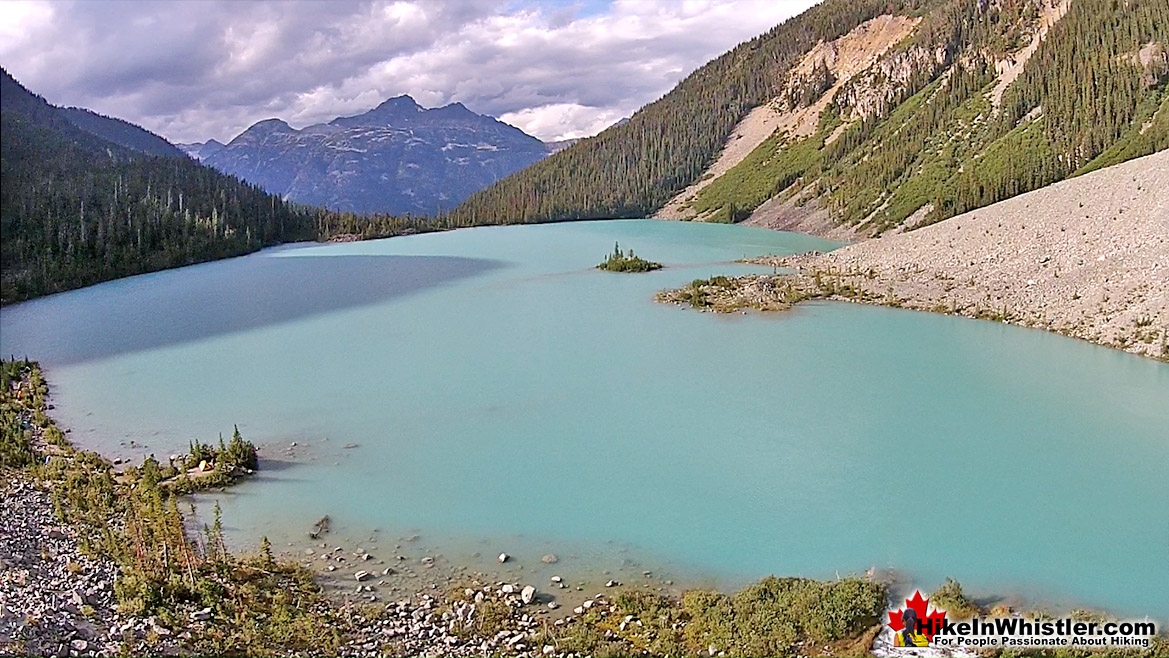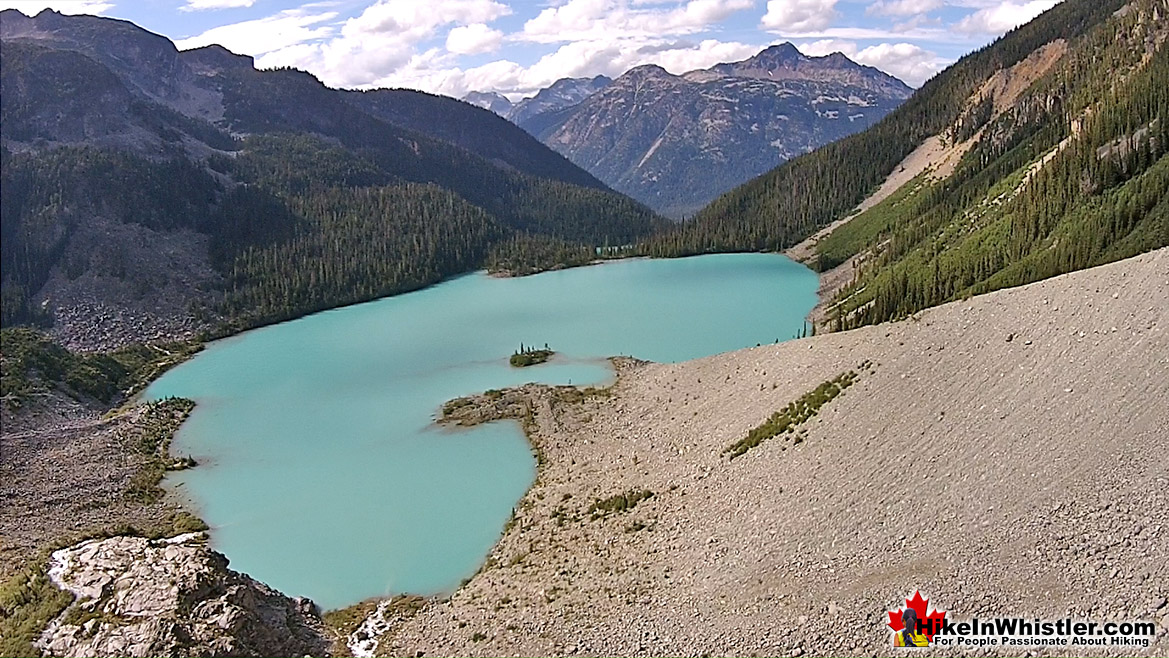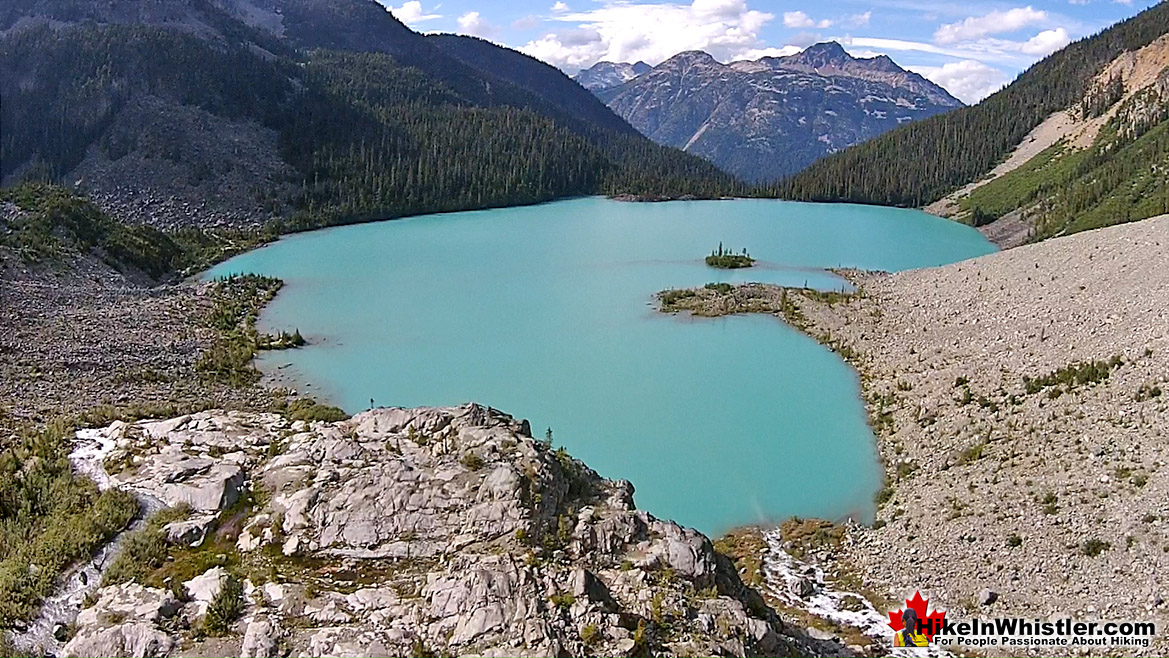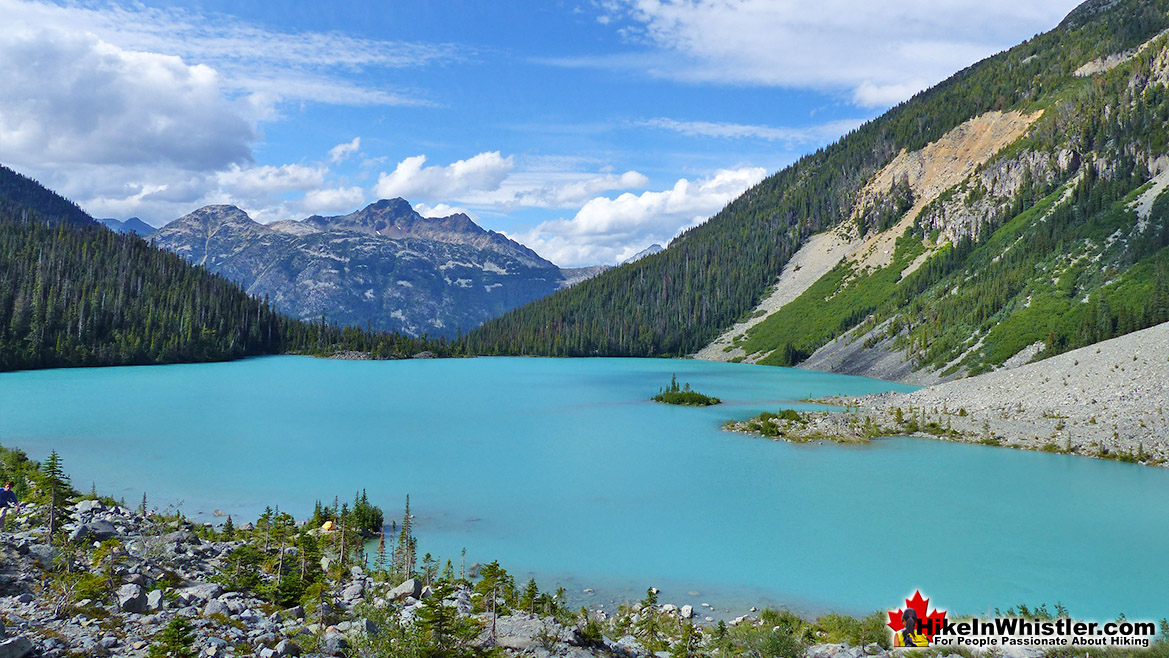 More details, directions and maps for Joffre Lakes
The Roundhouse Lodge is the centre of activity on much of
Whistler Mountain
.  It is where the Whistler Gondola drops off and next to where the
Peak 2 Peak
...
Read more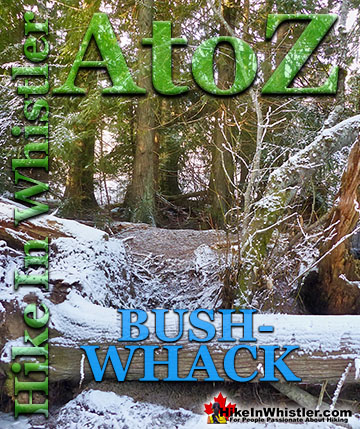 Bushwhack is a term often used in Canada and the United States to refer to hiking off-trail where no trail exists.  Literally means 'bush' and 'whack'.  To ...
Read more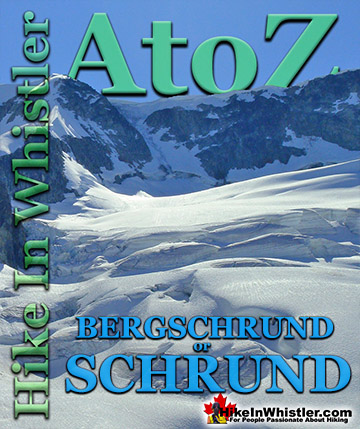 Bergschrund or abbreviated schrund: a crevasse that forms from the separation of moving glacier ice from the stagnant ice above. Characterized by a deep ...
Read more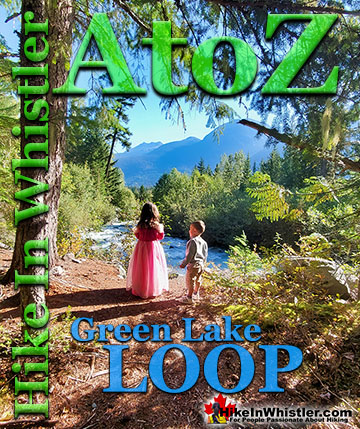 The Green Lake Loop is the original trail that runs around the back side of
Green Lake
.  Before the Sea to Sky Highway was cut through the valley in 1964, ...
Read more
Whistler can be expensive.  Everything worth doing seems to cost a lot of money.  But if you step back from the noise and crowds you may spot some secret ...
Read more
The Garibaldi Volcanic Belt is a line of mostly dormant stratovolcanoes and subglacial volcanoes largely centred around Whistler and extending through much ...
Read more
Read more
Whistler & Garibaldi Hiking

Alexander Falls  

Ancient Cedars  

Black Tusk  

Blackcomb Mountain  

Brandywine Falls  

Brandywine Meadows  

Brew Lake  

Callaghan Lake  

Cheakamus Lake  

Cheakamus River  

Cirque Lake 

Flank Trail 

Garibaldi Lake 

Garibaldi Park 

Helm Creek  

Jane Lakes 

Joffre Lakes  

Keyhole Hot Springs  

Logger's Lake  

Madeley Lake  

Meager Hot Springs 

Nairn Falls  

Newt Lake 

Panorama Ridge 

Parkhurst Ghost Town 

Rainbow Falls  

Rainbow Lake 

Ring Lake  

Russet Lake  

Sea to Sky Trail 

Skookumchuck Hot Springs  

Sloquet Hot Springs 

Sproatt East 

Sproatt West  

Taylor Meadows  

Train Wreck  

Wedgemount Lake  

Whistler Mountain

January 

February 

March 

April 

May 

June 

July 

August 

September 

October 

November 

December