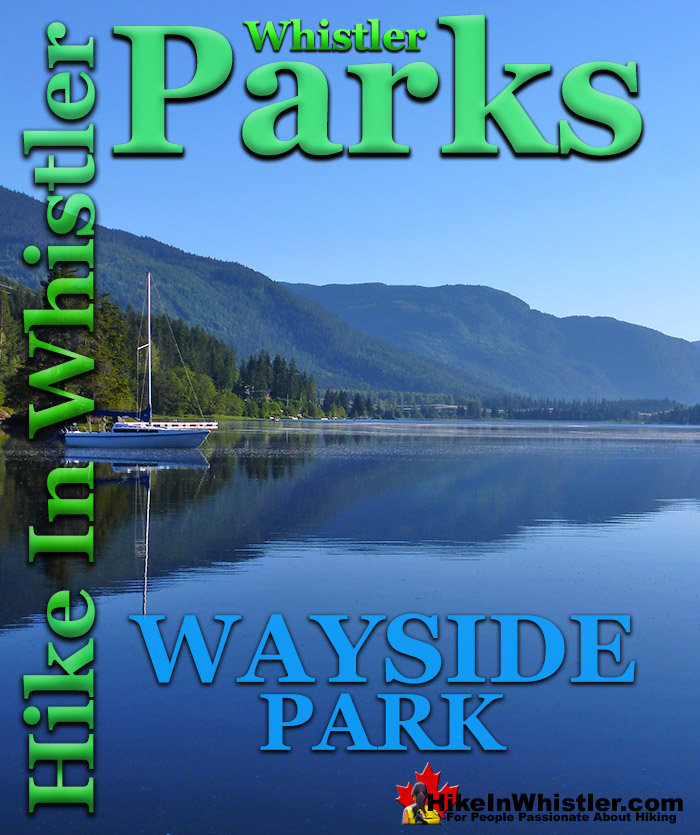 Wayside Park in Whistler is one of several idyllic parks along the shore of Alta Lake.  Rainbow Park, Lakeside Park and Blueberry Park are also along the shore of this huge lake that covers much of the valley edged by Whistler Village.  These four parks, all on Whistler's beautiful Valley Trail system, ensure that you are never far from one of several amazing vantage points over Alta Lake.
Whistler & Garibaldi Hiking

Alexander Falls  

Ancient Cedars  

Black Tusk  

Blackcomb Mountain  

Brandywine Falls  

Brandywine Meadows  

Brew Lake  

Callaghan Lake  

Cheakamus Lake  

Cheakamus River  

Cirque Lake 

Flank Trail 

Garibaldi Lake 

Garibaldi Park 

Helm Creek  

Jane Lakes 

Joffre Lakes  

Keyhole Hot Springs  

Logger's Lake  

Madeley Lake  

Meager Hot Springs 

Nairn Falls  

Newt Lake 

Panorama Ridge 

Parkhurst Ghost Town 

Rainbow Falls  

Rainbow Lake 

Ring Lake  

Russet Lake  

Sea to Sky Trail 

Skookumchuck Hot Springs  

Sloquet Hot Springs 

Sproatt East 

Sproatt West  

Taylor Meadows  

Train Wreck  

Wedgemount Lake  

Whistler Mountain
Whistler Parks & Lakes

Alpha Lake Park  

Alta Lake Park  

Blueberry Park  

Green Lake Park  

Lakeside Park  

Lost Lake Park  

Meadow Park  

Nita Lake Park  

Rainbow Park  

Wayside Park
Wayside Park sits near the bottom end of Alta Lake and at just 3 kilometres from Whistler Village is just an hours walk or 10 minute bike ride away.  The Valley Trail is a huge spider web network of paved walking/biking/running trails that connect Whistler Village to dozens of beautiful parks and sights.  Over 40 kilometres of trails throughout Whistler, with directions at every junction make the Valley Trail much more than just a transportation network.  It's an interpretive tour of the area, where you can wander on foot or by bike and use the signs at each junction to choose your route.  Whistler's Valley Trail is in fact, now part of the 180 kilometre Sea to Sky Trail that runs from Squamish to D'Arcy.  In the summer months, swimming and relaxing in the sun are the main attractions to Wayside Park.  The piers are a fantastic way to view Alta Lake as it stretches north, edged by forest, hills and mountains in the distance.  Canoeing, kayaking and paddleboarding are all popular from Wayside Park and Whistler Eco Tours has a popular rental area here in the summertime. They also do canoe rentals where you can start canoeing at Wayside Park and finish at Green Lake.  This 7 kilometre route takes you the length of Alta Lake then down the River of Golden Dreams to Green Lake.  The current moves with you the entire journey making it a very relaxing route to paddle.
Wayside Park on Alta Lake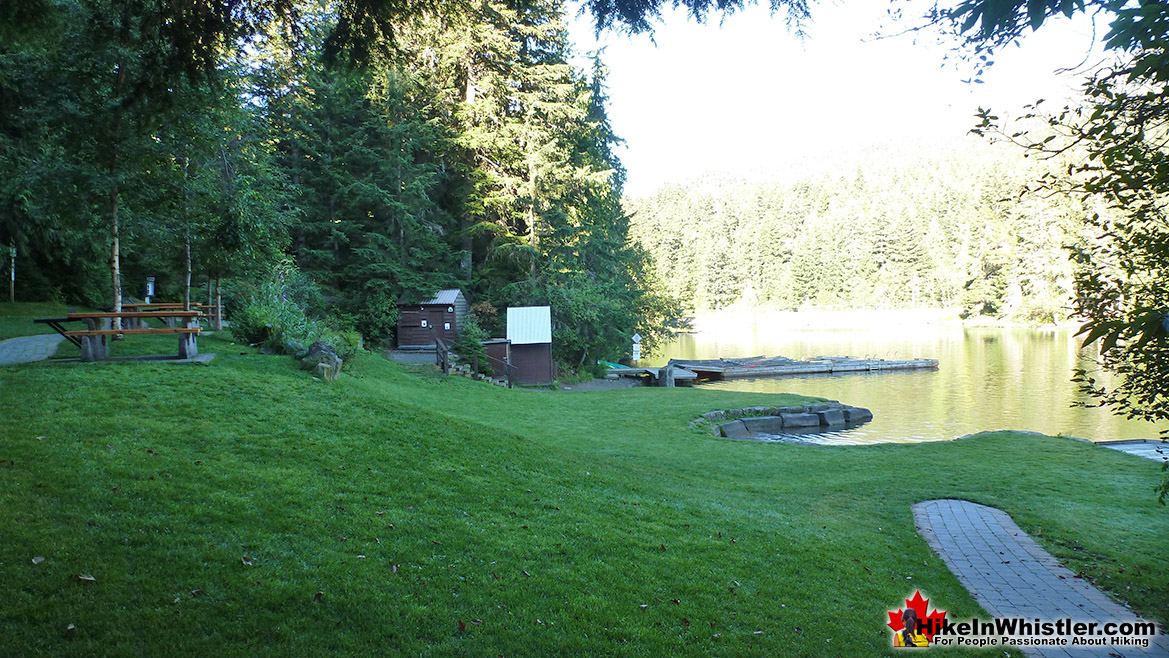 Valley Trail & Sea to Sky Trail
To walk, run or bike to Wayside Park from Whistler Village via the Valley Trail/Sea to Sky Trail.  Leave the Village by walking between Buffalo Bills and the Whistler Conference Centre, then under the Sea to Sky Highway, Valley Trail underpass.  From here the Valley Trail signs indicate where to go.  If you take the Valley Trail left you will go along the edge of Whistler Golf Course for a kilometre then the Valley Trail crosses onto St Anton Way, then zig-zags a couple more streets before arriving at Lakeside Park.  The Valley Trail has signs at each junction so you can't really get lost.  Continue through Lakeside Park and 1 kilometre later you will arrive at Wayside Park.
Wayside Park View of Alta Lake
Alta Lake Park
If you want to explore more then keep walking around the end of Alta Lake, turn right.  Walk along the edge of the lake and in a couple hundred metres you will pass a house on your right, just about 50 metres past this you will see a trail into the trees.  Follow this and bear right.  This leads to Alta Lake Park, a cute little forest park with a surreal set of giant, oversized chairs on the lake, odd car wrecks along the trail, and yet another beautiful pier on Alta Lake.
Wayside Park View Across to Alta Lake Park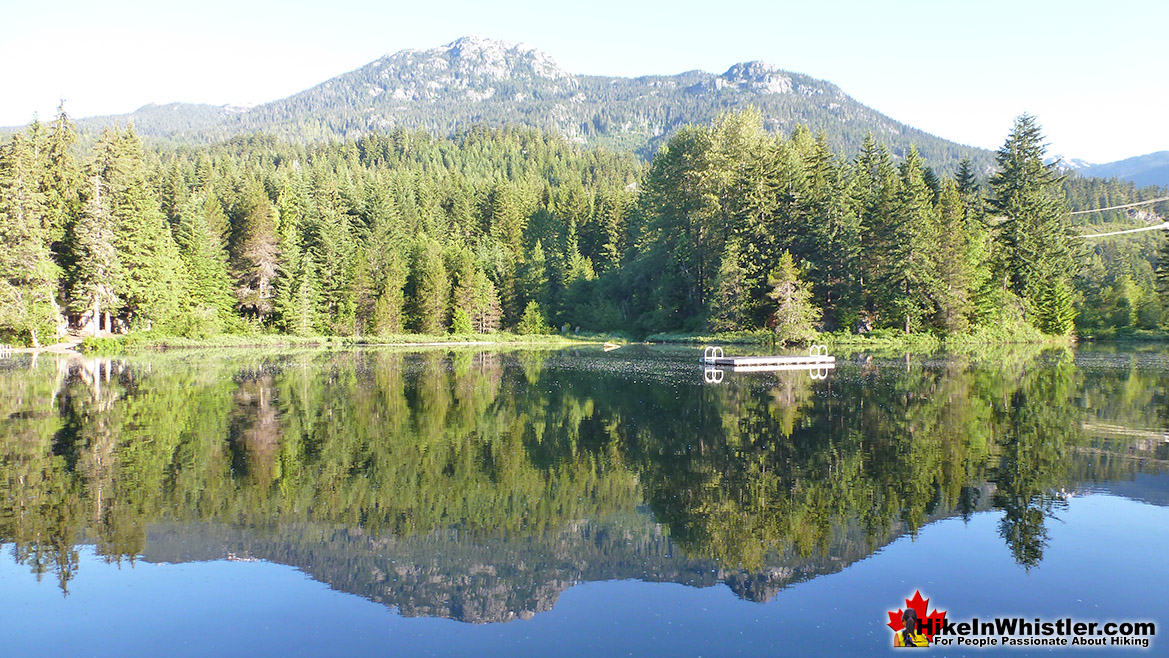 The Valley Trail to Rainbow Park
Back on the Valley Trail you even go further as the Valley Trail continues all around Alta Lake.  Follow the Valley Trail along Alta Lake and you will cross the train tracks and come to Alta Lake Road.  Continue along Alta Lake Road, keeping Alta Lake on your right.  You will get some terrific views of the lake and after 1.3 kilometres look for Rainbow Park on your right.  This gets you back on the Valley Trail and around the top end of Alta Lake and to the River of Golden Dreams at the end of Lorimer Rd.  From here the Valley Trail splits into two directions.  Left goes to Meadow Park and right moves you toward Whistler Village again via the Whistler Golf Course.  If you keep following the excellent signs at each juncture you will find your way OK.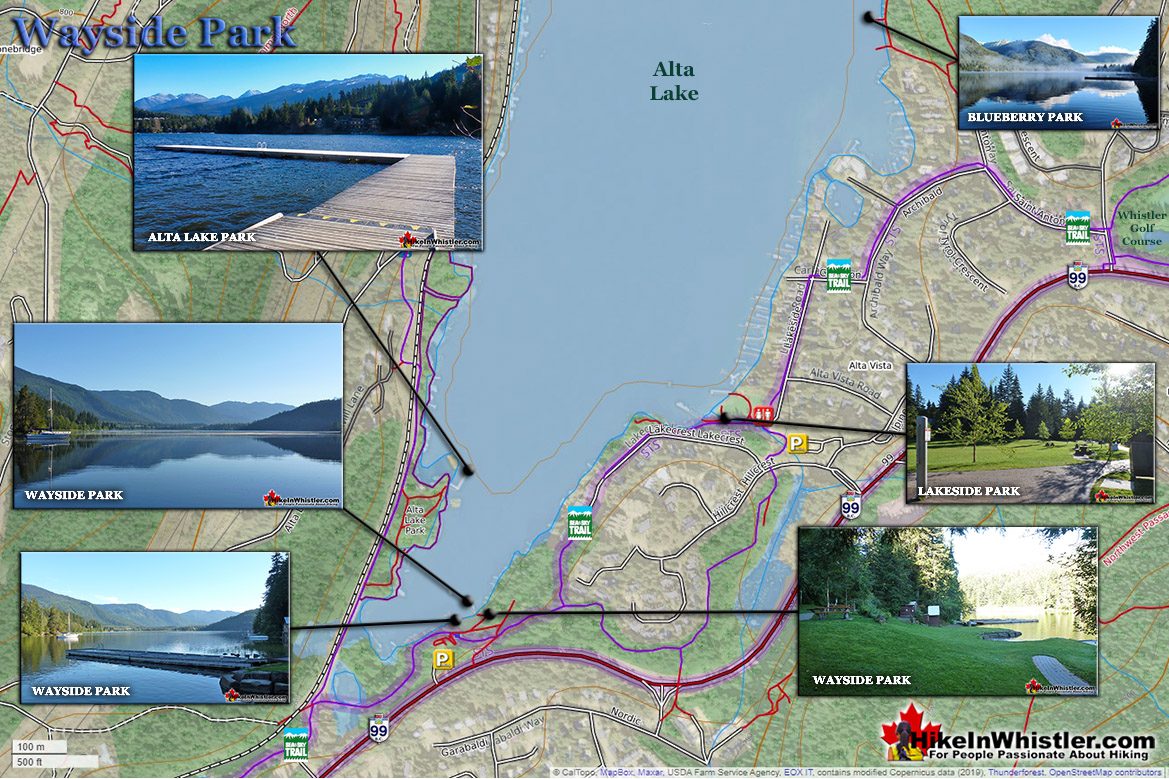 Whistler's Best Parks & Beaches!
Whistler's Best Hiking Trails!
Whistler & Garibaldi Park Best Hiking by Month!

Explore BC Hiking Destinations!