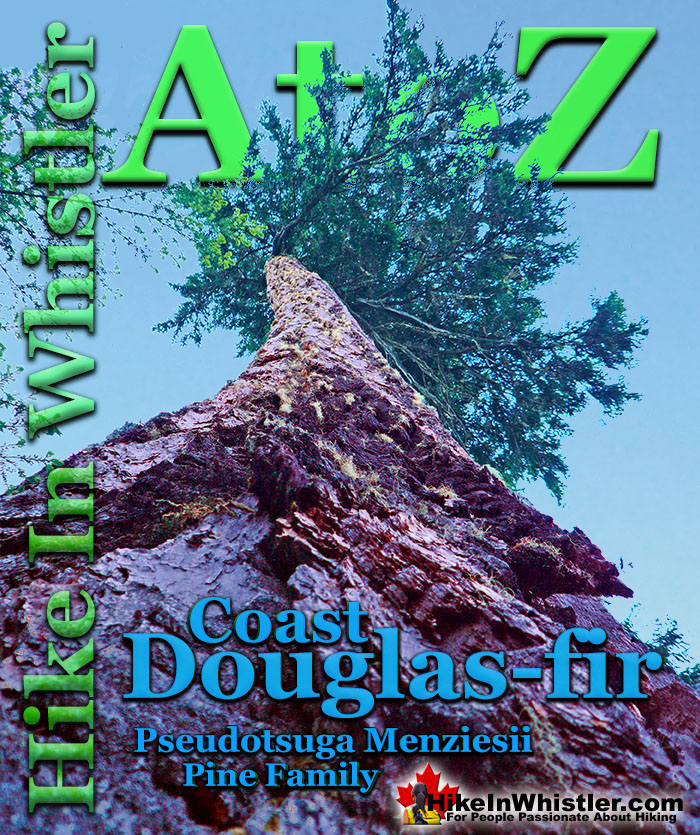 Coast Douglas-fir trees are medium to extremely large trees that you will encounter in Whistler and Garibaldi Park. They are the second tallest conifer trees in the world after the coast redwood and the third tallest of all trees in the world after Eucalyptus regnans. Coast Douglas-fir, also known as Pacific Douglas-fir, Oregon pine and Douglas spruce range along the coast of British Columbia, Washington and Oregon and have been known to reach heights of 120 metres (390 feet).
Whistler & Garibaldi Hiking

Alexander Falls  

Ancient Cedars  

Black Tusk  

Blackcomb Mountain  

Brandywine Falls  

Brandywine Meadows  

Brew Lake  

Callaghan Lake  

Cheakamus Lake  

Cheakamus River  

Cirque Lake 

Flank Trail 

Garibaldi Lake 

Garibaldi Park 

Helm Creek  

Jane Lakes 

Joffre Lakes  

Keyhole Hot Springs  

Logger's Lake  

Madeley Lake  

Meager Hot Springs 

Nairn Falls  

Newt Lake 

Panorama Ridge 

Parkhurst Ghost Town 

Rainbow Falls  

Rainbow Lake 

Ring Lake  

Russet Lake  

Sea to Sky Trail 

Skookumchuck Hot Springs  

Sloquet Hot Springs 

Sproatt East 

Sproatt West  

Taylor Meadows  

Train Wreck  

Wedgemount Lake  

Whistler Mountain

January 

February 

March 

April 

May 

June 

July 

August 

September 

October 

November 

December
Named after David Douglas, a Scottish botanist that brought specimens of the tree back to Scotland in 1827. Douglas-firs resemble fir trees but are not true firs, which is why the spelling is usually shown to be hyphenated as Douglas-fir. Nineteenth-century botanists had such difficulty classifying Douglas-firs that they have been wrongly classed as pine trees, spruce trees, hemlock trees and fir trees. Interestingly, the final classification became the new genus Pseudotsuga, which translates as "false Hemlock". There are lots of great places in Whistler to see big and old coast Douglas-fir trees. Emerald Forest has several beautiful, close to 400 year old giants. Next to the playground at Alpha Lake Park has a grove of huge 300 year old coast Douglas-firs. Hanging over the valley trail along Nita Lake is a beautiful 600 year old. Not as impressively huge as you would expect for its age, this old tree is slow growing due to its rock cliff location that deprives it from water. Yet another excellent place in Whistler to encounter big coast Douglas-firs is along the Sea to Sky Trail along Green Lake. Here you will find countless big and beautiful monsters between 400 and 500 years old. Spotting coast Douglas-fir trees in Whistler is pretty easy. One thing to look for is deeply furrowed and orange tinted bark.
Coast Douglas-Fir Bark
Though in young trees bark is thin, smooth, grey and contains numerous resin blisters, on mature trees it is extremely thick. Long vertical ridges of thick bark with furrows up to 20cm or 8 inches deep. The only other tree in Whistler you may mistake for a coast Douglas-fir based solely on the bark is an old mountain hemlock. Compared side by side, the difference is quite obvious. Mountain hemlock bark is furrowed as well, but the furrows are much less deep and the bark overall is smooth. Also, coast Douglas-fir bark has an uneven and chunky look to it, whereas mountain hemlock is comparatively smooth. Also, coast Douglas-fir bark has very noticeable orange highlights to it, whereas mountain hemlock is fairly uniformly grayish brown.
Another easily recognizable feature of the coast Douglas-fir can be found on the seed cones. If you look closely at a coast Douglas-fir seed cone you will see what is usually described as the back half of a mouse, two feet and a tail, poking out from between the scales. This three pointed bract is easy to spot and guarantees you have a coast Douglas-fir.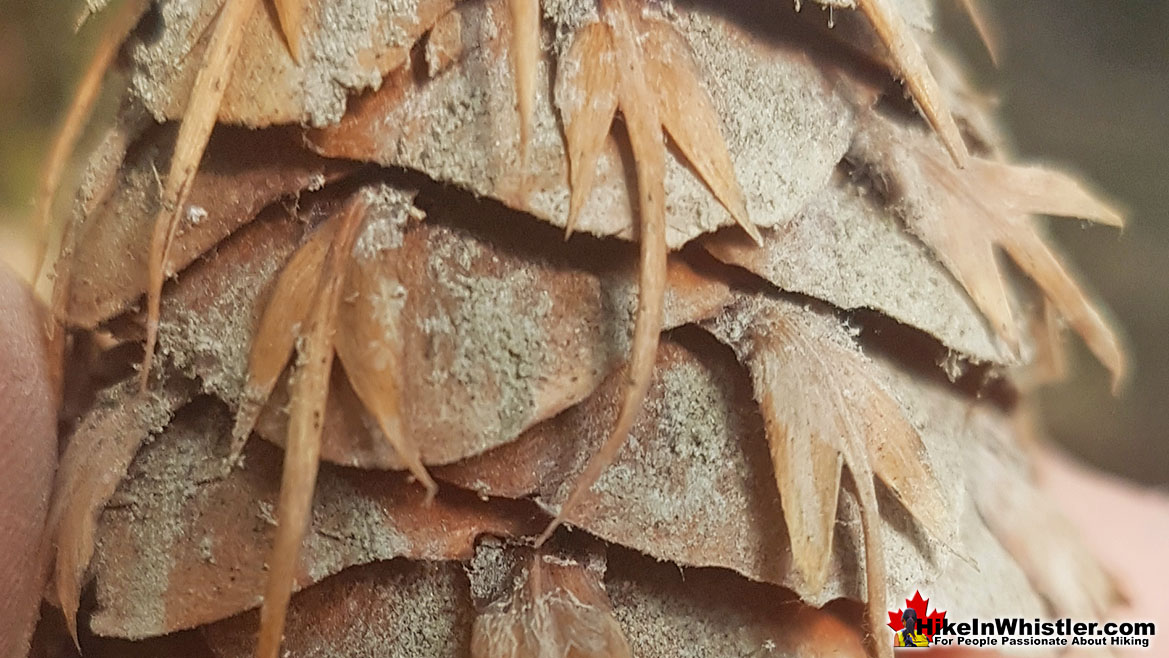 How to Identify a Coast Douglas-Fir
To identify a coast Douglas-fir from a distance, look for upswept branches near the top which resemble smiles. Most other trees in the forest have downswept branches. The top of coast Douglas-fir trees, called its leader, points straight up, which differentiates them from western hemlocks and western redcedars which does not. Western hemlock leaders bend over and Douglas-fir leaders are flat. Coast Douglas-fir trees require a lot of sun to survive and are easily outcompeted by western hemlock and western redcedars, which are far less shade intolerant. Interestingly in forests dominated by large coast Douglas-firs, you generally don't find many coast Douglas-fir seedlings. In the battle for growth on the relatively dark forest floor, western hemlock and western redcedar seedlings survive and grow in shade, while the coast Douglas-fir seedlings die off.
Whistler has an interesting and very old Douglas-fir that hangs over the Valley Trail next to Nita Lake (pictured below). In recent years a tree survey was done and compiled in Whistler's Old and Ancient Trees guide. This deceptively small tree was estimated to be almost 600 years old.
More Whistler & Garibaldi Park Hiking A to Z!

The Best Whistler & Garibaldi Park Hiking Trails!
Whistler & Garibaldi Park Best Hiking by Month!

Explore BC Hiking Destinations!