January 1st, 2020: Happy new year in Whistler and the snow is finally falling.  We have winter down sleeping bags for rent that are incredibly compact, lightweight and very, very, very, very warm!  Our sleeping bags are rated to -12c/10f!!  We also rent MSR Evo Elite snowshoes which are about as good as it gets for snowshoes.  Well designed, easy to use and very comfortable, Evo Ascent snowshoes are ideal for Whistler's beautiful snowshoe trails!
Whistler & Garibaldi Hiking

Alexander Falls  

Ancient Cedars  

Black Tusk  

Blackcomb Mountain  

Brandywine Falls  

Brandywine Meadows  

Brew Lake  

Callaghan Lake  

Cheakamus Lake  

Cheakamus River  

Cirque Lake 

Flank Trail 

Garibaldi Lake 

Garibaldi Park 

Helm Creek  

Jane Lakes 

Joffre Lakes  

Keyhole Hot Springs  

Logger's Lake  

Madeley Lake  

Meager Hot Springs 

Nairn Falls  

Newt Lake 

Panorama Ridge 

Parkhurst Ghost Town 

Rainbow Falls  

Rainbow Lake 

Ring Lake  

Russet Lake  

Sea to Sky Trail 

Skookumchuck Hot Springs  

Sloquet Hot Springs 

Sproatt East 

Sproatt West  

Taylor Meadows  

Train Wreck  

Wedgemount Lake  

Whistler Mountain

January 

February 

March 

April 

May 

June 

July 

August 

September 

October 

November 

December
Alexander Falls 
Brandywine Falls  
Cirque Falls  
Holloway Falls 
Keyhole Falls 
Nairn Falls 
Rainbow Falls 
Shannon Falls 
Train Wreck Falls 
Wedgemount Falls

To celebrate the new year in Whistler we are offering 15% off everything until March 31st 2020!  That's 15% off our already low prices on snowshoes, sleeping bags, tents, hiking stoves, backpacks, sleeping pads and a lot more.  We don't just rent the best quality hiking gear at bargain prices, but we deliver and pick it up for free.  That means you can arrive in Whistler, check into your hotel and your gear will be waiting for you in your room!  When you are finished exploring the amazing trails in and around Whistler and Garibaldi Provincial Park you can drop everything off at the Bell Desk or Front Desk of your hotel.  It doesn't get any easier or more convenient than that!  If you are staying in an AirBNB or live in Whistler, we happily deliver and pickup anywhere in Whistler for free.  Driving up from Vancouver?  We also deliver and pick up to Rubble Creek trailhead in Garibaldi Provincial Park for free(rentals must exceed $100 for delivery to Rubble Creek).  We rent everything you could possibly need to hike in Whistler and beyond. We Rent complete hiking kits, so all you need is to bring clothes, food and drinks. All our hiking gear is top quality, ultralight and very expensive.. but not for you.  We have the best gear at the best prices and our sleeping bags are ultralight, ultra-compact, down, and rated to -12c/10f. Way more warmth than you need for an October night in the mountains! We also rent individual items as well as our complete 1 person hiking kits and complete 2 person hiking kits. We rent the best gear, we deliver it to you anywhere in Whistler for free, we pick it up anywhere in Whistler for free. We love Whistler and love getting you out in the amazing Canadian wilderness in and around Whistler!
Snowshoeing Elfin Lakes in Garibaldi Park!

Elfin Lakes in Garibaldi Provincial Park is another beautiful place to snowshoe.  Located at the south end of Garibaldi Park, the Elfin Lakes trailhead is found in Squamish.  The trail is not overly difficult, however it is quite long.  A consistently uphill, 11 kilometre(6.8 mile) trail through some spectacular scenery takes you to the marvellous Elfin Lakes hut.  This two level, heated hut even has electric lights that run on solar power.  A wonderful oasis in the mountains, the Elfin Lakes hut is surrounded by spectacular mountain views in all directions and deep snow well into May!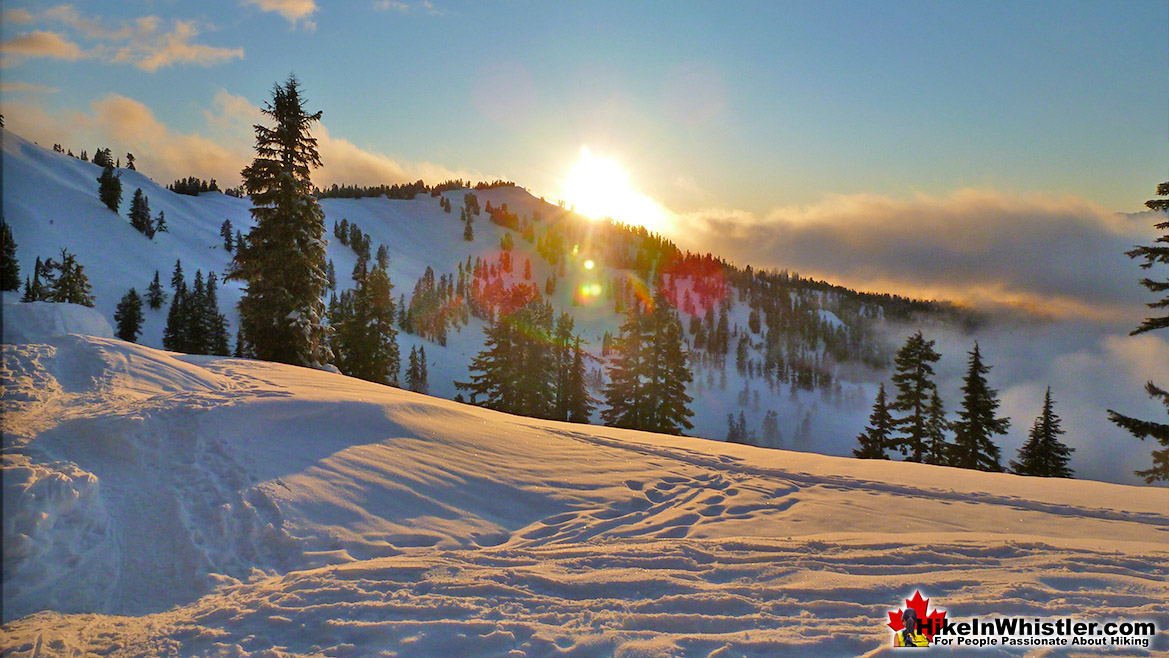 Snowshoeing Joffre Lakes Provincial Park!

For more challenging snowshoeing, Joffre Lakes Provincial Park is hard to beat.  A long, though beautiful drive into the mountains, north of Pemberton takes you to this moderately challenging, 11 kilometre(6.8mile) roundtrip snowshoe trail.  The frequently steep, winding trail takes you through a winter paradise and around, or over three frozen lakes.  In the summer Joffre Lakes is insanely popular with hikers.  In the winter, on snowshoes, you will find Joffre Lakes wonderfully serene.  Positioned high up in the mountains, Joffre Lakes gets tremendous amounts of snow and on a sunny winter day you'd have trouble finding more of a winter wonderland anywhere else in the world!
Rainbow Falls Snowshoeing in Whistler!

For easier snowshoeing, Rainbow Falls is a good option.  Located just a short drive from Whistler Village, the Rainbow Trail is a beautiful trek through the forest in a winter wonderland to a hidden waterfall surrounded by deep pillows of powdery snow.  At the height of winter, you will be amazed at the amount of snow piled into this hidden little corner of the world.  The winding trail is never boring as it meanders left, right, up and down.  The Flank Trail bridge above the falls is very scenic and fun to snowshoe down to and explore around and under it.  The Rainbow Falls trail is steep and varied enough to be challenging, but short enough to not break a sweat.  Certainly kid friendly, though you would never get a stroller up the path.
Parkhurst Ghost Town Snowshoeing in Whistler!

Back in Whistler, an excellent place to snowshoe is to Parkhurst Ghost Town.  Sitting on the far side of Green Lake, Parkhurst was a thriving logging community several decades ago.  It has since been abandoned except for intermittent squatter communities over the years.  Most famously, it was the home of Toad Hall, an idyllic collection of ski bums that will forever be memorialized by Chris Speedie's Toad Hall picture of 14 naked people posing with ski gear.  Toad Hall is long gone along with all, but one of the old Parkhurst houses which is painted with a large, haunting blue face.  Wandering around Parkhurst you will stumble upon many old relics.  An enormous log loader sits ominously at the edge of Green Lake.  Throughout the forest you will find several ancient trucks from the 40's and 50's as well as other vehicles, fuel tanks, house foundations, logging machinery and collapsed houses.  Snowshoeing to Parkhurst can be a bit tricky due to the confusing trail, however, if you find Green Lake frozen enough to walk across, you can walk there in 5 minutes from Green Lake Park.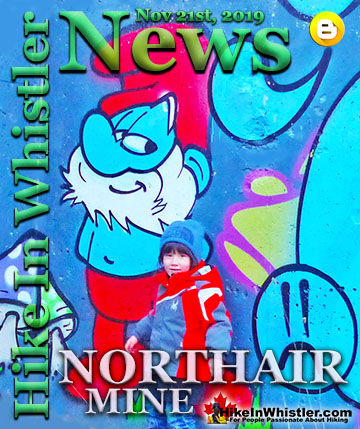 December 21st, 2019:
Way up in the 
Callaghan Valley
on the back side of
Mount Sproatt
is an abandoned gold mine.  Old cement foundations and two ...
Read More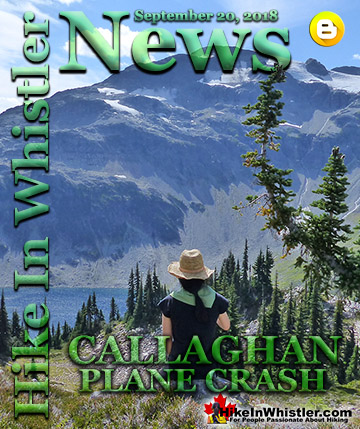 Read More
October 21th, 2018:
Pack smart by putting heavier items close to your back and higher up your pack.  Be organized and think of keeping important things ...
Read More
May 3rd, 2019:
The beautiful murals that make
Whistler Train Wreck
the magical place it is today, began appearing in 2011.  Artists ranging from aspiring ...
Read More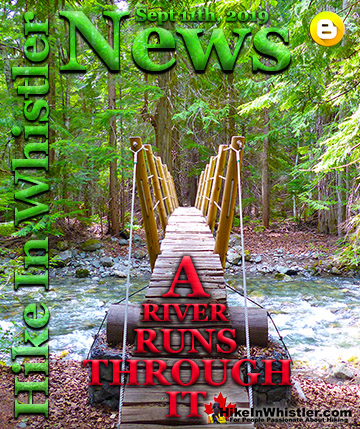 Sept 11th, 2019:
 The notoriously difficult biking trail in the wilderness between 
Emerald Forest
and
Rainbow Park
is a pretty fun place to wander around.  It ...
Read More
Read More
Whistler & Garibaldi Hiking

Alexander Falls  

Ancient Cedars  

Black Tusk  

Blackcomb Mountain  

Brandywine Falls  

Brandywine Meadows  

Brew Lake  

Callaghan Lake  

Cheakamus Lake  

Cheakamus River  

Cirque Lake 

Flank Trail 

Garibaldi Lake 

Garibaldi Park 

Helm Creek  

Jane Lakes 

Joffre Lakes  

Keyhole Hot Springs  

Logger's Lake  

Madeley Lake  

Meager Hot Springs 

Nairn Falls  

Newt Lake 

Panorama Ridge 

Parkhurst Ghost Town 

Rainbow Falls  

Rainbow Lake 

Ring Lake  

Russet Lake  

Sea to Sky Trail 

Skookumchuck Hot Springs  

Sloquet Hot Springs 

Sproatt East 

Sproatt West  

Taylor Meadows  

Train Wreck  

Wedgemount Lake  

Whistler Mountain

January 

February 

March 

April 

May 

June 

July 

August 

September 

October 

November 

December