April 29th, 2019: Back in 2011 a group of Whistler artists met at Whistler Train Wreck and transformed it from a bland array of wrecked train cars into a stunning, surreal art exhibit.  The seven mangled train wrecks lay scattered in the forest along Cheakamus River for decades, before being brought to life by talented Whistler mural artists.  The Train Wreck Paint Jam, an all day, all night graffiti artist party organized by Chili Thom and Kups.
Whistler & Garibaldi Hiking

Alexander Falls  

Ancient Cedars  

Black Tusk  

Blackcomb Mountain  

Brandywine Falls  

Brandywine Meadows  

Brew Lake  

Callaghan Lake  

Cheakamus Lake  

Cheakamus River  

Cirque Lake 

Flank Trail 

Garibaldi Lake 

Garibaldi Park 

Helm Creek  

Jane Lakes 

Joffre Lakes  

Keyhole Hot Springs  

Logger's Lake  

Madeley Lake  

Meager Hot Springs 

Nairn Falls  

Newt Lake 

Panorama Ridge 

Parkhurst Ghost Town 

Rainbow Falls  

Rainbow Lake 

Ring Lake  

Russet Lake  

Sea to Sky Trail 

Skookumchuck Hot Springs  

Sloquet Hot Springs 

Sproatt East 

Sproatt West  

Taylor Meadows  

Train Wreck  

Wedgemount Lake  

Whistler Mountain

January 

February 

March 

April 

May 

June 

July 

August 

September 

October 

November 

December
Alexander Falls 
Brandywine Falls  
Cirque Falls  
Holloway Falls 
Keyhole Falls 
Nairn Falls 
Rainbow Falls 
Shannon Falls 
Train Wreck Falls 
Wedgemount Falls
Chili Thom, who recently passed away in 2016, was a cherished local artist with over 400 stunning paintings of Whistler and British Columbia landscapes.  Kups is an insanely gifted mural artist with startlingly beautiful works just about everywhere you look in Whistler.  Many of the most stunning paintings in Whistler Train Wreck are Kups creations.  The first train wreck you come across after you cross the bridge over Cheakamus River has The Hidden Agenda mural inside.  This enormous mural from floor to ceiling of an old man with a flowing white beard stretching out to the words, the hidden agenda projects com.  The entire wall inside the car is painted from end to end.  The Hidden Agenda mural blends into purple and another surreal mural of a face surrounded by floating pink flowers.  There is something wonderful about entering a rusting, mangled train car in the wilderness and find the inside brilliantly painted in a hypnotically unexpected way.  The Hidden Agenda car is the first wrecked boxcar that you will encounter on the Train Wreck trail almost immediately after crossing the Train Wreck suspension bridge.  It is connected to another boxcar that hangs precariously over a cliff above Cheakamus River.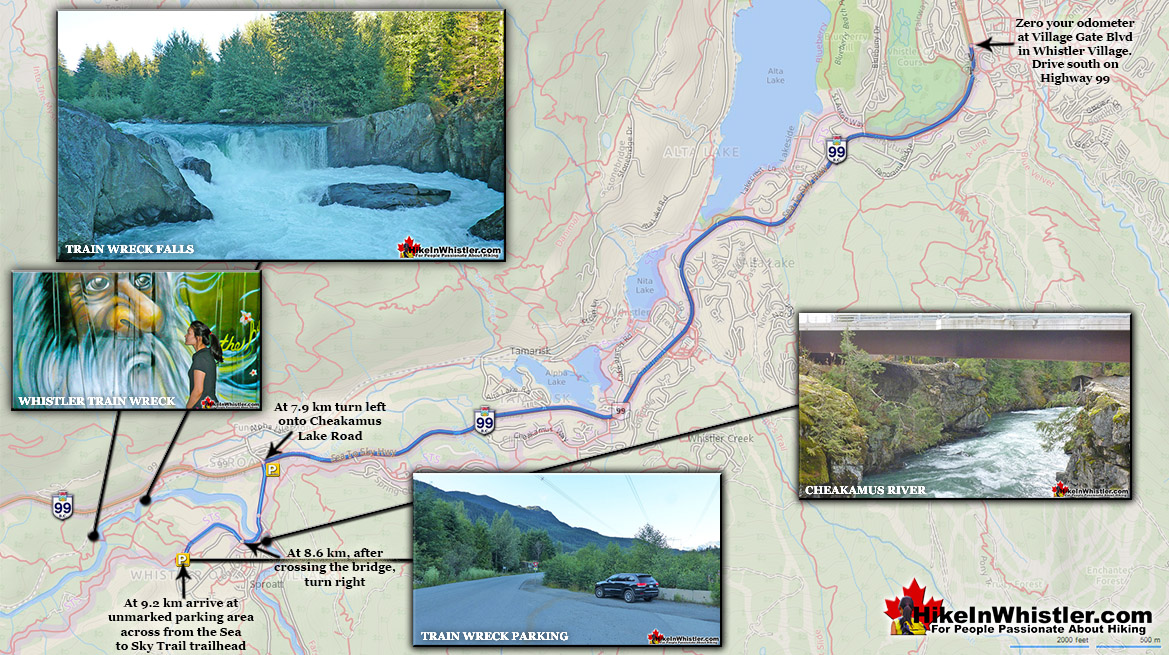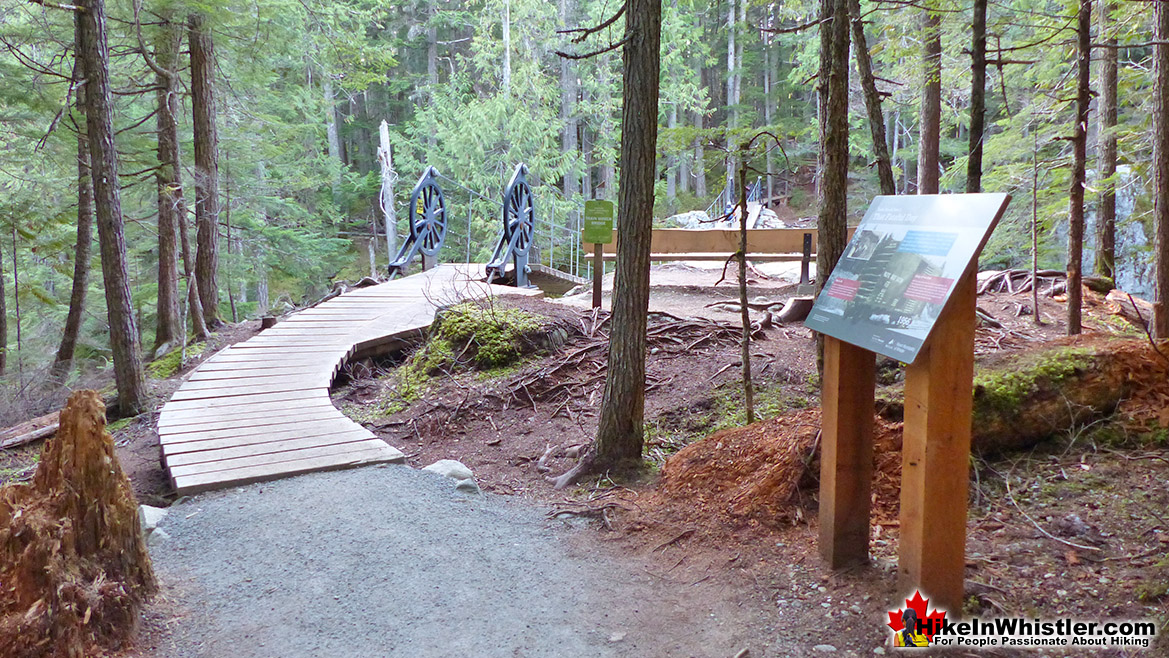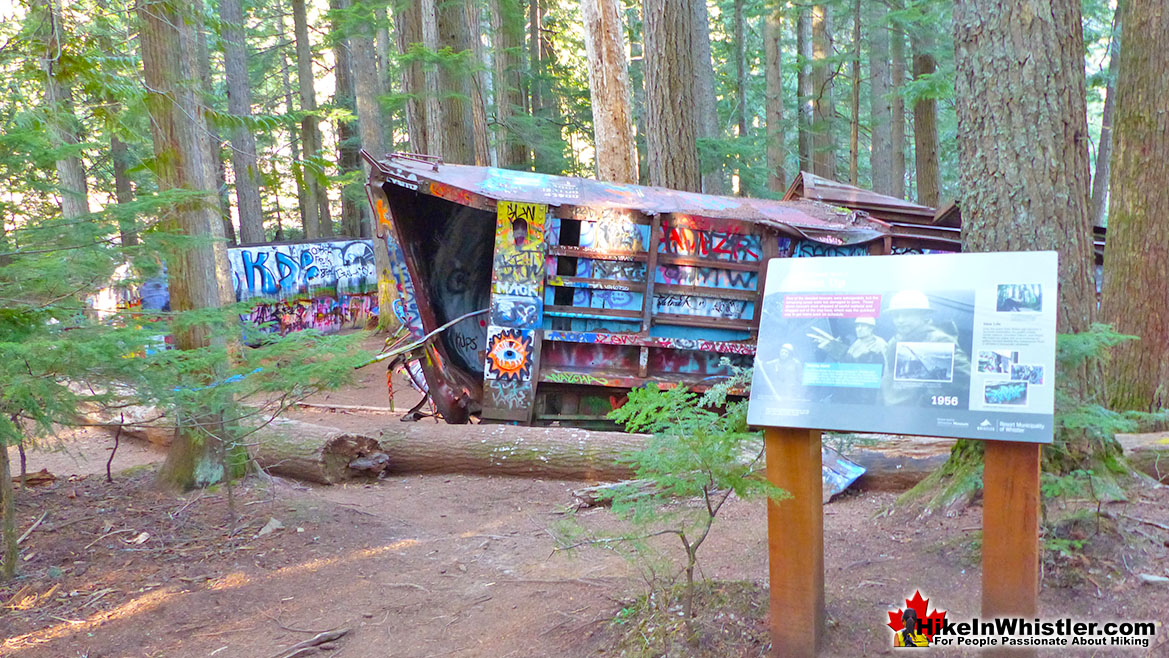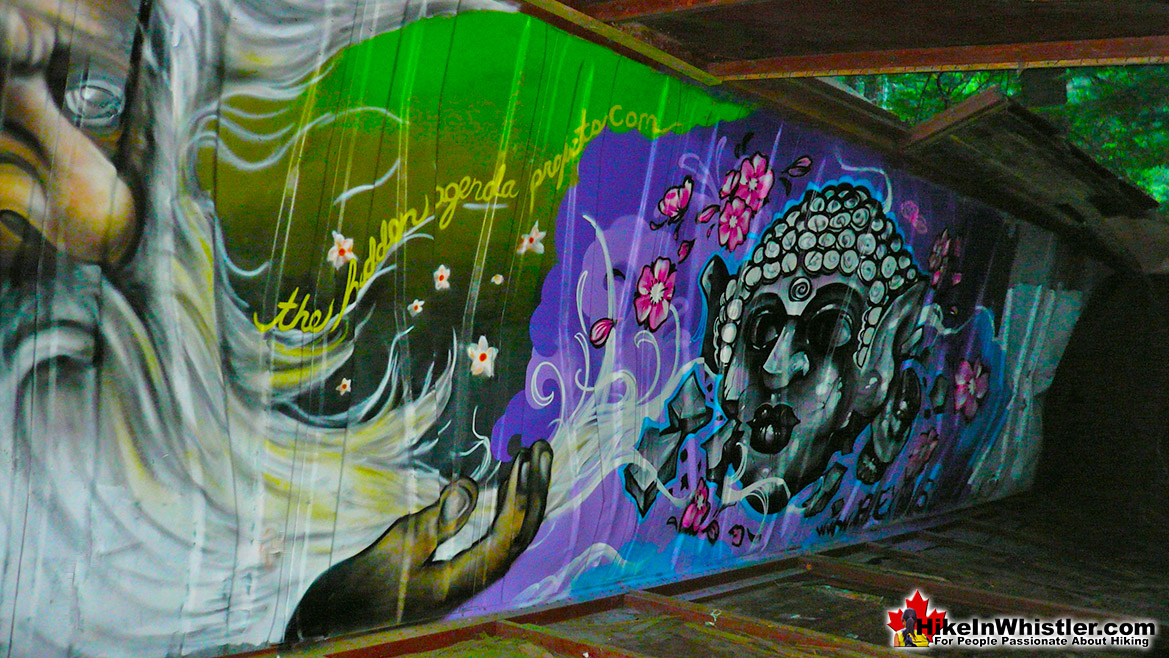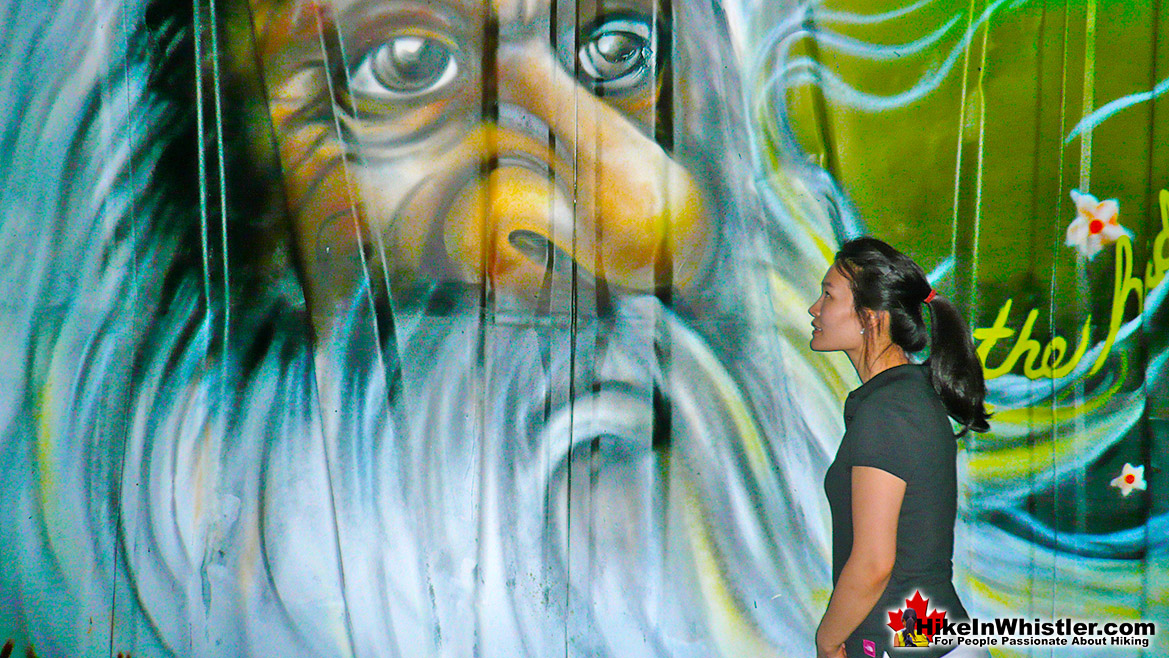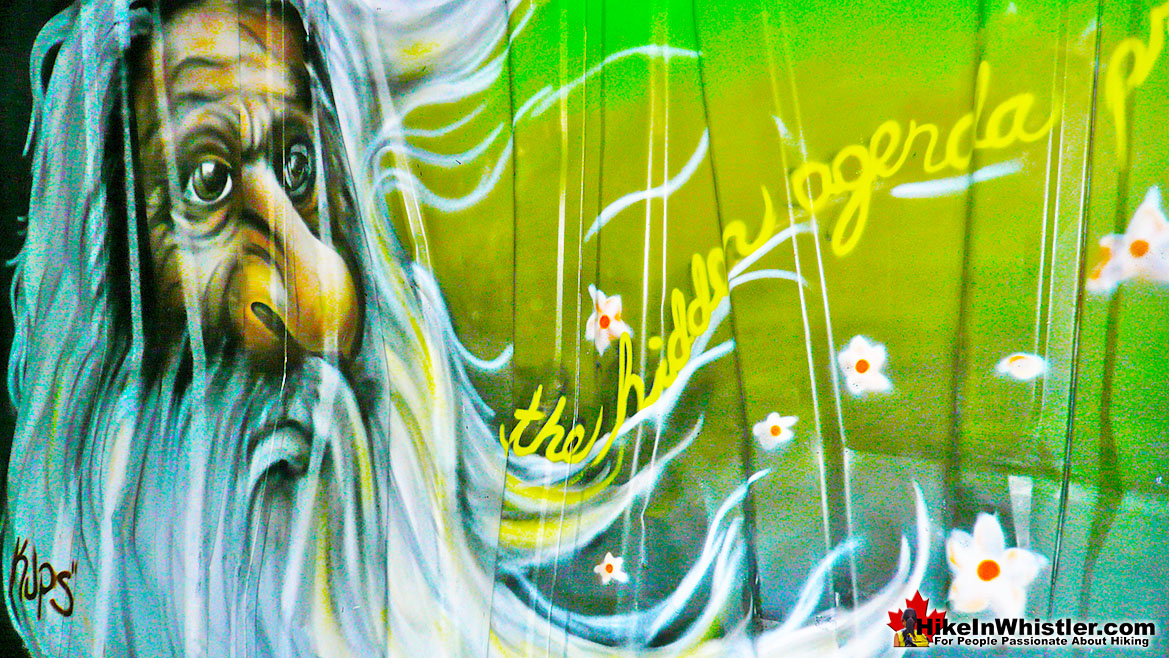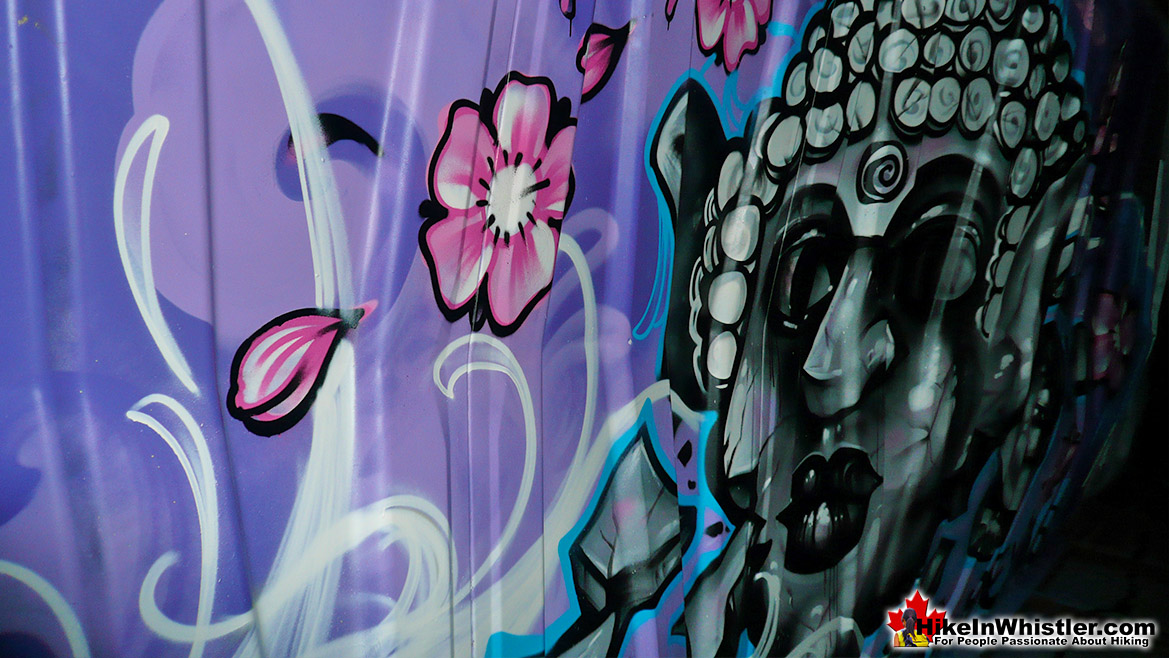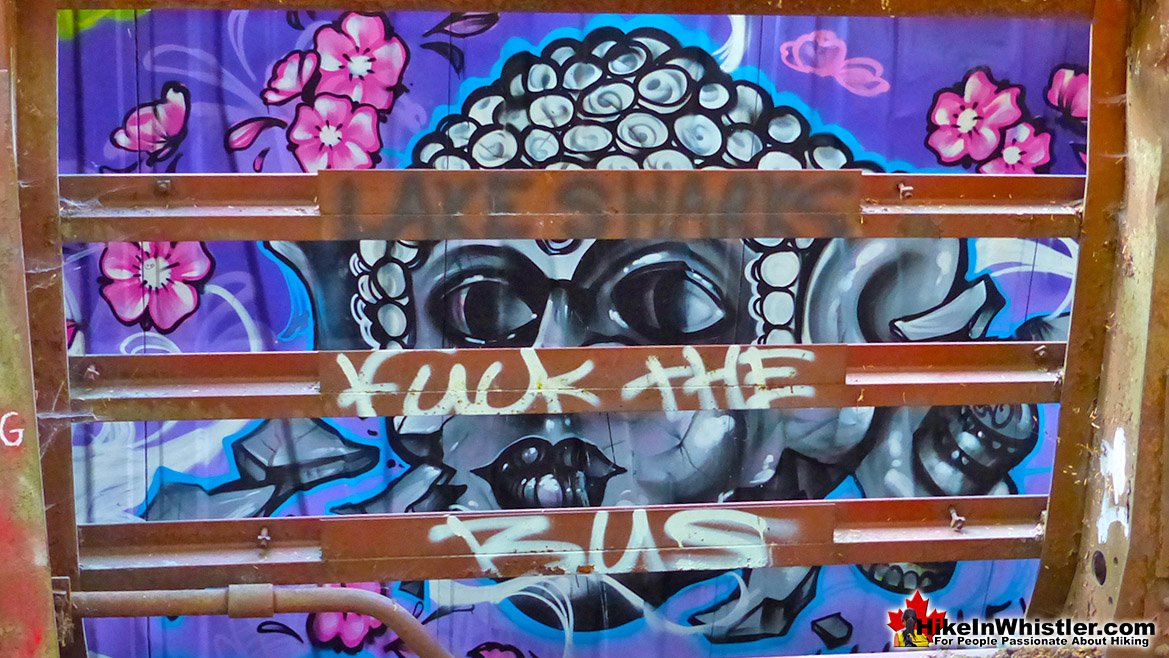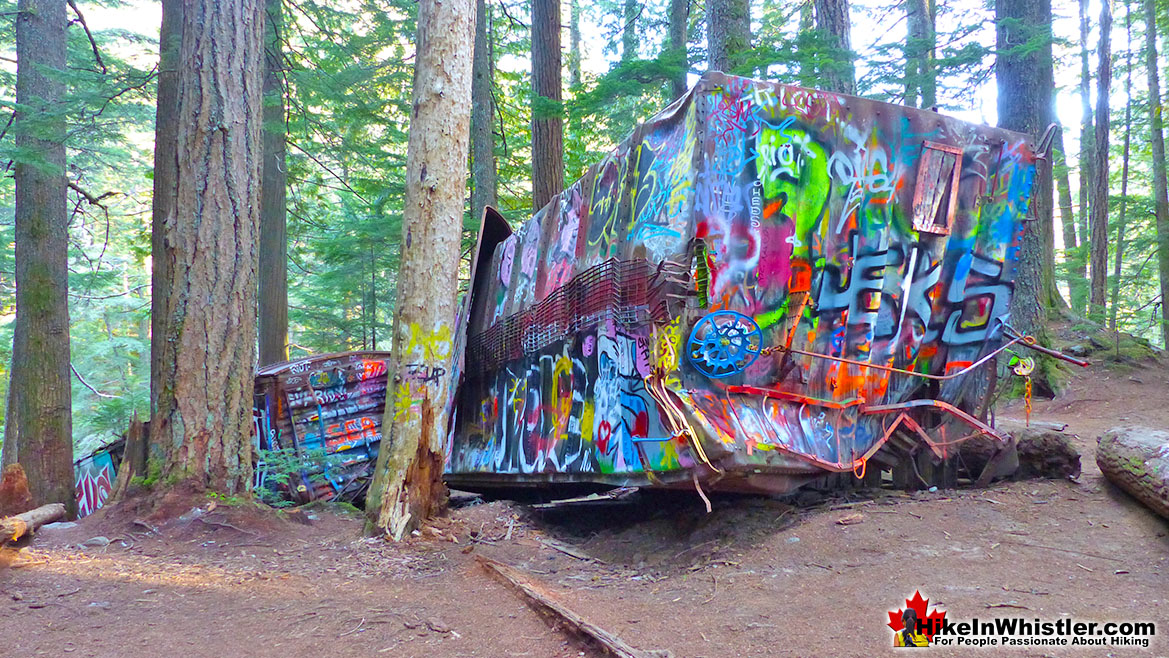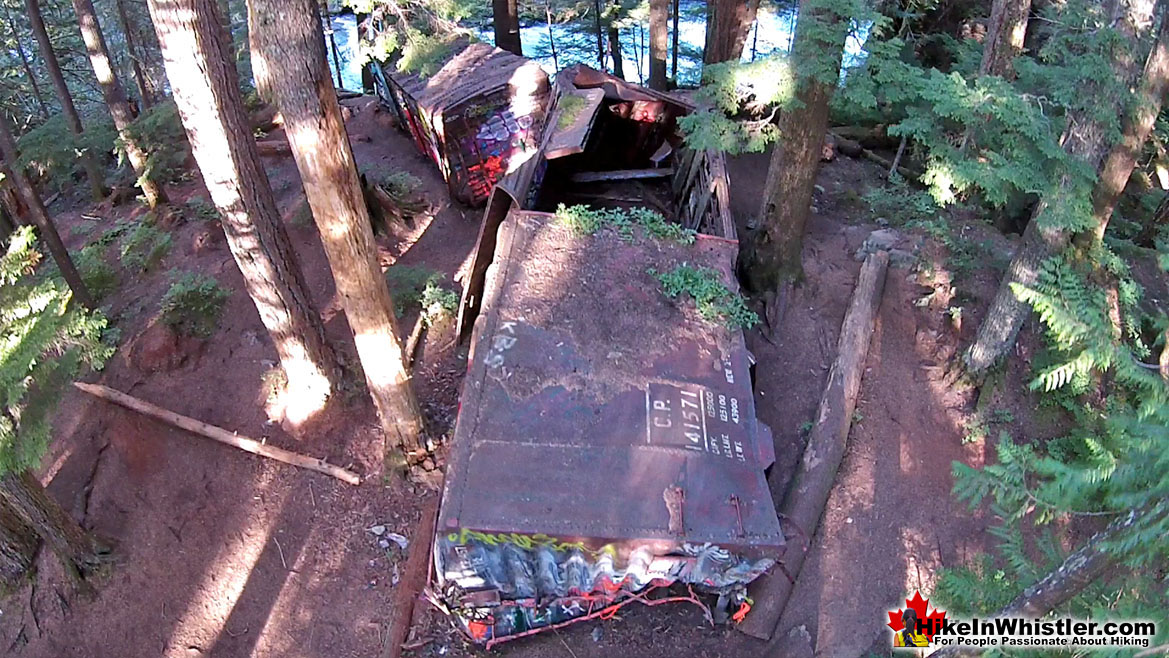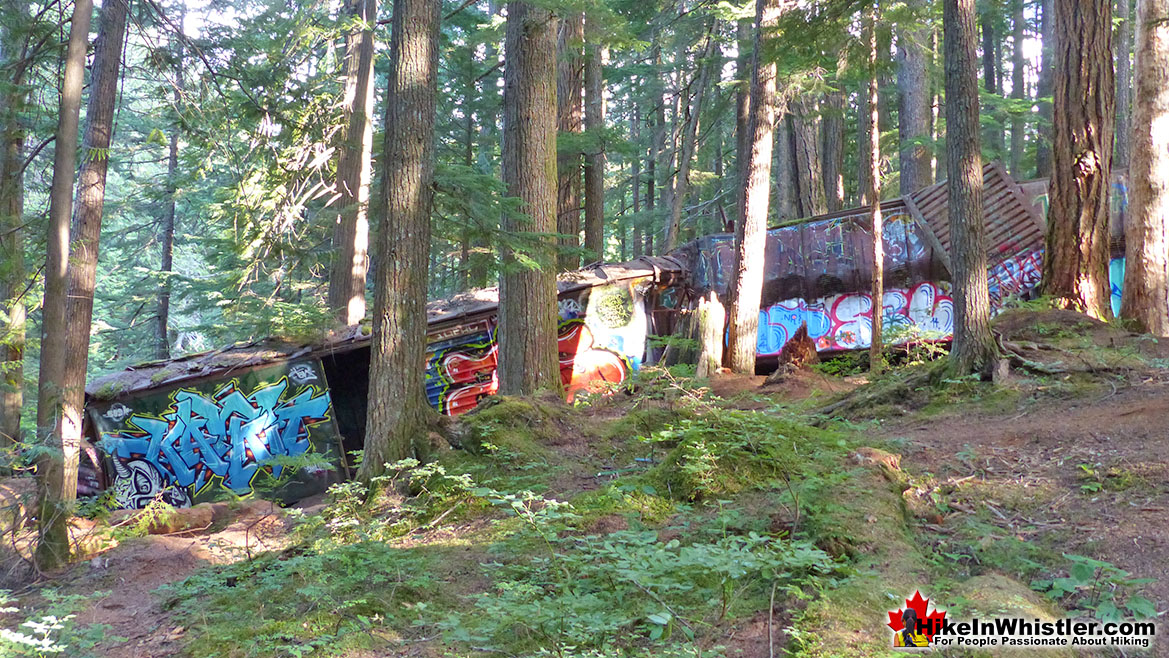 October 21th, 2018:
Pack smart by putting heavier items close to your back and higher up your pack.  Be organized and think of keeping important things ...
Read More
Read More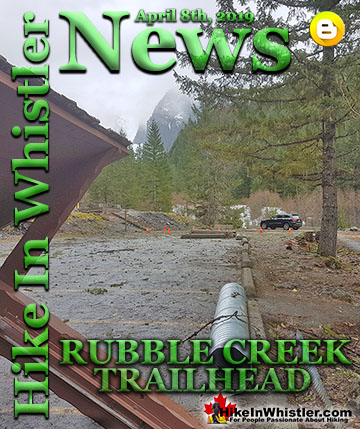 Read More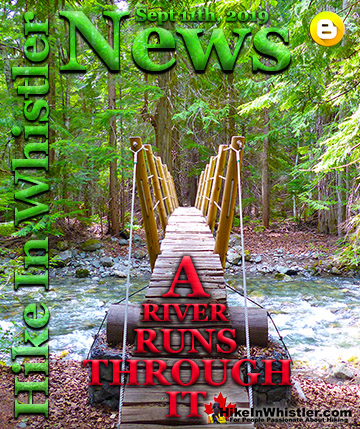 Sept 11th, 2019:
 The notoriously difficult biking trail in the wilderness between 
Emerald Forest
and
Rainbow Park
is a pretty fun place to wander around.  It ...
Read More
May 3rd, 2019:
The beautiful murals that make
Whistler Train Wreck
the magical place it is today, began appearing in 2011.  Artists ranging from aspiring ...
Read More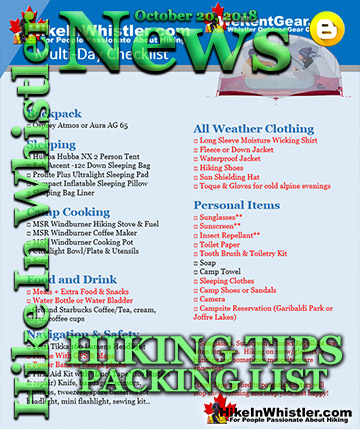 October 20th, 2018:
A little knowledge before you head out into the wilderness is a good idea.  Especially if you are new to hiking or in unknown terrain.  ...
Read More
November 23rd, 2021:
Wonderful winter 2021/2022 hiking gear rental sale.  25% off everything!  Use code: WINTER on checkout.  We now rent 4 season tents!  MSR ...
Read More
Whistler & Garibaldi Hiking

Alexander Falls  

Ancient Cedars  

Black Tusk  

Blackcomb Mountain  

Brandywine Falls  

Brandywine Meadows  

Brew Lake  

Callaghan Lake  

Cheakamus Lake  

Cheakamus River  

Cirque Lake 

Flank Trail 

Garibaldi Lake 

Garibaldi Park 

Helm Creek  

Jane Lakes 

Joffre Lakes  

Keyhole Hot Springs  

Logger's Lake  

Madeley Lake  

Meager Hot Springs 

Nairn Falls  

Newt Lake 

Panorama Ridge 

Parkhurst Ghost Town 

Rainbow Falls  

Rainbow Lake 

Ring Lake  

Russet Lake  

Sea to Sky Trail 

Skookumchuck Hot Springs  

Sloquet Hot Springs 

Sproatt East 

Sproatt West  

Taylor Meadows  

Train Wreck  

Wedgemount Lake  

Whistler Mountain

January 

February 

March 

April 

May 

June 

July 

August 

September 

October 

November 

December